With the growth of eCommerce, there are dozens of South African businesses taking the opportunity and starting their online stores. To succeed in such a rat race, they need to hire the best eCommerce website development company in South Africa that fulfills their requirements and creates attractive websites.
It is not easy to choose the best one among many agents. To help you choose the right one, we recommend a few top solution providers in this article.
The Trend Of eCommerce Development In South Africa
1. Gradually grow
As lifestyles get busier and technology changes and responds, consumers seek new, more convenient ways to meet their selling needs. The opportunity to sell online has helped some businesses make more money and grow successfully. 
South Africa's eCommerce sector is growing now more than ever before. In 2020, South Africa's eCommerce grew by 66% compared to before.
Many South African companies start as online brands, the e-commerce market is expanding. Therefore, the need to hire e-commerce developers has increased, especially in search of reputable service providers to help businesses compete with other companies.
2. Local & outsource trends have become more popular
While some brands praise the benefits of outsourcing in growing their businesses by reducing operating costs and improving the service quality, others prefer an in-house team.
However, a common problem with local development companies is that the cost of hiring local agencies is quite expensive, and SMEs with low budgets will find it difficult to pay such a large amount.
Thus, many businesses opt for outsourcing to get quality services within their financial capability. Among the hot spots for e-commerce web development, Asia is still a favorable destination.
Best E-commerce Development Company In South Africa
Location: KZN Midlands, South Africa
Established in 2002, Stone Hut Designs, with impeccable development skills, has successfully developed an innovative and user-friendly website for all types of businesses.
The team of experts communicates well through practical communication tools to provide updates and feedback on progress. They implement teamwork and precision in the workflow. The client has always been delighted with the team's timeliness in delivering a successful and quality platform.
Service Categories: Web Design and Development.
Location: Berea, South Africa
Poptag Agency is a software company founded in 2012. They provide e-commerce development, digital strategy, and business consulting solutions.
A team of UX website design and development experts provides clients with professional services and expertise to create world-class websites.
Service Categories: Web Development, Digital Design & Branding, Google Ads & Online Marketing.
Location: 42 Hans Strijdom Avenue, Cape Town, South Africa
Bermont is a web development company in South Africa. Founded in 2016, the company provides high-quality services to large and medium-sized companies and institutions in e-commerce.
Bermont has a deep understanding of clients' needs, enabling them to deliver ideas requiring minor modification. Clients can expect a communication partner committed to immersing themselves in the client's business.
Service Categories: Web Development, Web Applications, Progressive web applications, Software Development.
Location: Boksburg, South Africa
Ahmad Digital Agencies is a digital agency based in Boksburg, Gauteng.
Ahmad Digital Agencies offer their clients high-quality work, and they are all satisfied with the result. The team resolved issues quickly and continued to provide support when needed. They also have excellent communication skills for ongoing conversations throughout the project.
Service Categories: Web Design, Graphic design, SEO, E-commerce Development, Digital Marketing Support.
Location: 1 Longmead, Cnr Delius And Chopin Street, Vanderbijlark, Gauteng, 1911
TransformIT Dynamics has a long time in the web development business in South Africa. Over the years, they never cease to provide high-quality products and are delighted with their client's business growth.
TransformIT Dynamics provides innovative ideas and provide superior technology. They manage projects well through a sequential approach with clear goals, controlled processes, and precise documentation and accountability.
Service Categories: Custom Software Development, E-Commerce Development, Mobile App Development.
Location: 199 Pritchard Street, Northriding, Johannesburg
Syber Grupe is a small South Africa-based web agency. The team follows a solution-oriented approach and has received positive feedback. They think outside the box and work on the vision and direction of the platform.
SyberGrupe's ability to provide a fully functional and modern website helps improve the company's digital presence and credibility. The team was responsive and internal stakeholders were impressed with their proactive approach to project management.
Service Categories: E-commerce Development, SEO Services, Web Development, Web Design, Google Ads, Business Analysis.
Suggested Company For Outsourcing
Each of the above-mentioned agencies can be the best eCommerce development company in South Africa, as long as they can meet your requirements. Of course, this isn't the only way to own a great website. If you're concerned about budget, outsourcing is also a brilliant solution to build a website.
Vietnam is an excellent destination for outsourcing as the price for hiring developers is much lower compared to other countries. Better talent at a cheaper cost is a winning match for outsourcing companies.
And Tigren is one of the best outsourcing website development companies in Vietnam. For over 10 years, we have had many successful projects for clients from all over the globe, including South Africa.
Our team members always put our best into delivering the highest possible results. During the development process, our clients are constantly updated on the progress and we also give them the advice to ensure everything's on the right track.
Clients coming to us can either choose a web development package for fixed prices or a custom service to meet their requirements and budgets. After we come to an agreement for the project, you'll receive your new website as early as 1 month!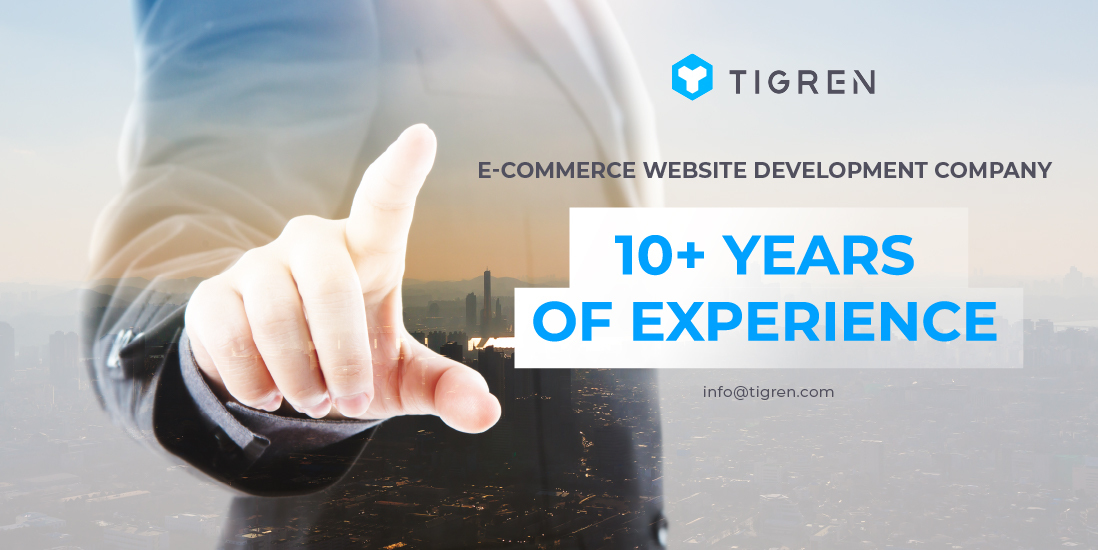 Sum Up
The best eCommerce development company in South Africa is actually the one that fits your requirements and can deliver your desired result.
Hiring an e-commerce development agency is an effective way to succeed, although it can be difficult, especially when you expand your search to include a global talent pool. Therefore, precise advice on how and where to recruit great talent must be followed. You have to define your requirements and budget to build a website clearly, then find and pick the best e-commerce website design company for you, the best e-commerce development company is when it meets all your needs and situations.