To build an e-commerce business in 2022, you no longer need to hire an in-house development team. Outsourcing e-commerce web development is easy and convenient and offers many benefits to your business. In the following articles, we'll shed light on how to outsource e-commerce web development.
Reasons To Outsource E-commerce Web Development Services
1. Reduce Cost
The main benefit of outsourcing is the promise of saving budgets. Hiring an in-house team is always more expensive than working with a freelancer or e-commerce development company. Outsourcing can save 20% to 70% of the development cost. The final cost depends on where you outsource.
2. Access top-notch web developers
Outsourced web development brings together marketing, web development, and design experts. So you have easy access to talented and experienced development teams worldwide. You don't have to spend time training employees. The outsourcing provider has been tasked with assembling a professional team to work directly on your project.
3. Scale hassle-free
In addition to technical developers, the outsourcing team includes many positions: project managers, designers, QA, and marketers. This means that you have all the people you need in one place. Outsourced teams adapt to these requirements without your intervention. You just tell them what you want and monitor their work.
4. Meet your business priorities
Outsourcing website development lets you focus on your business while leaving the product to those who do it best. Typically, clients are more involved in outsourcing initially when many topics are discussed. Once you have a deal with your web development outsourcing company, all you have to do is watch the results from time to time.
5. Start with rocket speed
Outsourcing software development can get you through projects fast, especially if you find experienced developers and have expertise in website design in your industry. This allows you to validate your company idea quickly, fix bugs, and improve your website.
Steps To Outsource eCommerce Web Development
1. Define Your Goals and Needs
Before you start looking for an outsourced provider for web development, it's essential to define a clear set of goals for your project. Create a general description of your web project, write down your objectives, and determine a budget. It's also a good idea to compile a list of questions to ask potential outsourcing teams.
2. Select a reputable outsourcing web development company
While analyzing the market for a suitable agency to outsource, consider the following factors:
Have appropriate locations: Consider countries – Indicate a few locations that you choose, to consider some companies in that country to see which one is most suitable.
Meet your specifications
Be an expert in your field
Establish reasonable prices
Have been available on the market for a long time
Have great feedback from satisfied customers
Successful collaboration with a legit outsourcing company will help you develop your project in the best way using cutting-edge technologies.
3. Communicate with an outsourcing provider
Good communication between your business and the outsourcing team is one of the keys to the success of your project. Ask questions, clarify any issues, and provide as much information about the future project as possible.
During the discussion, state your idea and business requirements for a website, and you need to consider what services they will offer. After both parties agree on the right idea and service, the next step is to sign the contract.
4. Lay a foundation of trust by signing a contract
Contracting protects you from unwanted changes while outsourcing e-commerce website development. In this contract, make sure you state the agreed cost, timetable, technical requirements, and other information. 
The great benefit of an outsourced business model is that it allows you to quickly scale or downsize projects, establish excellent communication with product managers, and conduct maintenance and product support after deployment.
5. Control your website development process remotely
Stay in touch with your project manager and monitor the development process once the collaboration begins. You need to:
Deadline for checking intermediate results
Preliminary design of your app or website
Budget estimates for website development and strategic elements
These agreements should form the basis of your contract with the web development outsourcing company. Remember to sign a non-disclosure agreement (NDA) to prevent confidential information.
Outsource E-commerce Web Development With Tigren
Hiring a developer in Vietnam is less expensive than hiring a developer in other countries. Better talent at a cheaper cost is a winning match for outsourcing companies. That's why Vietnam is an excellent destination for outsourcing.
And Tigren – as one of the best outsourcing software development companies in Vietnam, we have had many successful projects. We offer a wide selection of development outsourcing services. Various companies come to use our services, from large enterprises to small startups, and they are all satisfied with the quality of our service.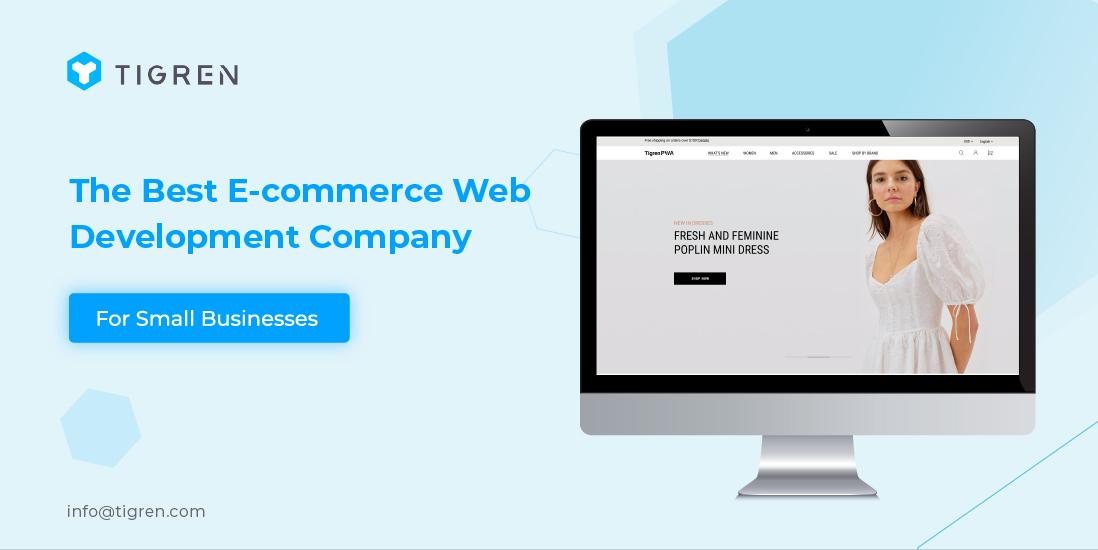 Wrap Up
To outsource e-commerce web development services is a clever option for many businesses. When outsourcing e-commerce projects, the key is to find out who knows what they're doing and how to do it best. A professional and dedicated outsourcing team will also provide you with analytical services.
Read More:
Outsourcing Web Development Cost: What Affect Your Spending?
What Is Offshore Outsourcing Web Development?
Outsourcing Web Design: Affordable Cost & More
Benefits Of Outsourcing Web Development For Web Owners And Agencies