SKU
Magento 2 Banner Manager
The Magento 2 Banner Manager Extension is a powerful tool that allows store owners to create and manage unlimited banners on their websites. Let's try this wonderful extension to bring your user interface to a higher level and more importantly, enhance customers' experience in your store.
Upload and manage all banners effectively
Immensely convenient to create banners with widgets
Easily add banners on numerous outstanding positions
Display banners on Any Favorite Pages on the website
Support various kinds of display: all images, slider, random,…
30-DAY Money Back
FREE Lifetime Updates
30-DAY Free Support
What Problems Does
Magento 2 Banner Manager

 Solve?
Draw customers' attention to your featured items or special offers with eye-catching banners.
Would you like to visit a website that is full of text or a website that is a harmonic combination of text and images? Almost all people in the world prefer the second option. As a store owner, you have to pay attention seriously to this issue in order to build a friendly user interface and attract more customers.
By using our Banner Manager Extension for Magento 2, managing all images displayed on your e-commerce website has become easy and more convenient than ever. You can create banners for sales, promotions, or store outstanding service introduction,… in appropriate positions to draw customers' attention.
This Is How It Does

Create And Manage All Banners With Ease
1. Create new banners and blocks in a couple of minutes
Step 1: Upload Banners (images)
Step 2: Create Banner Blocks and assign images to those Blocks
Conversely, you can create Blocks first, then go back to create and assign Banners to each Block. Both of the ways are absolutely similar.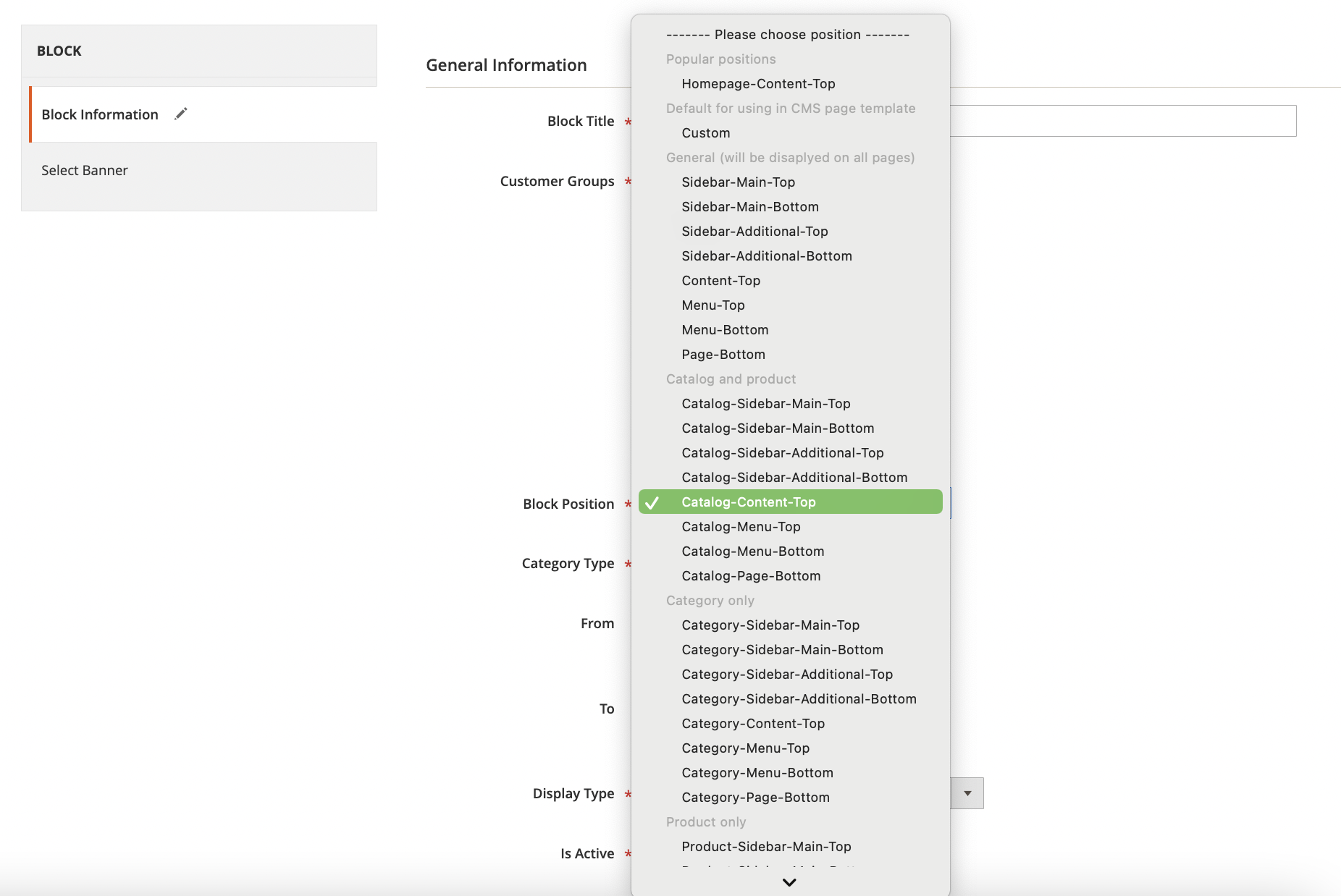 2. Add banner blocks in a variety of eye-catching positions
As you can see, all positions are divided into 8 groups, with great 40 positions in total. The first one is the most prevalent position – Homepage-Content-Top; almost all stores set banners in this place and then can pick others more if any. Further options consist of Default, General, Catalog and product, Category only, Product only, Customer and Cart and Checkout.
In most of these groups, there are full of different alternatives from Top to Bottom. Depending on your purposes, you can opt for an or several appropriate positions to get the best result.
3. Choose among different types of displaying block images
There are a total of 9 display types for the banner block on your website. Among that, "Slider" and "Basic Carousel" are considered as the most popular ones, which are simple but friendly and professional. Besides, if you prefer utilizing "Slider", combining in the range of three or four images is highly recommended to get the strongest effect.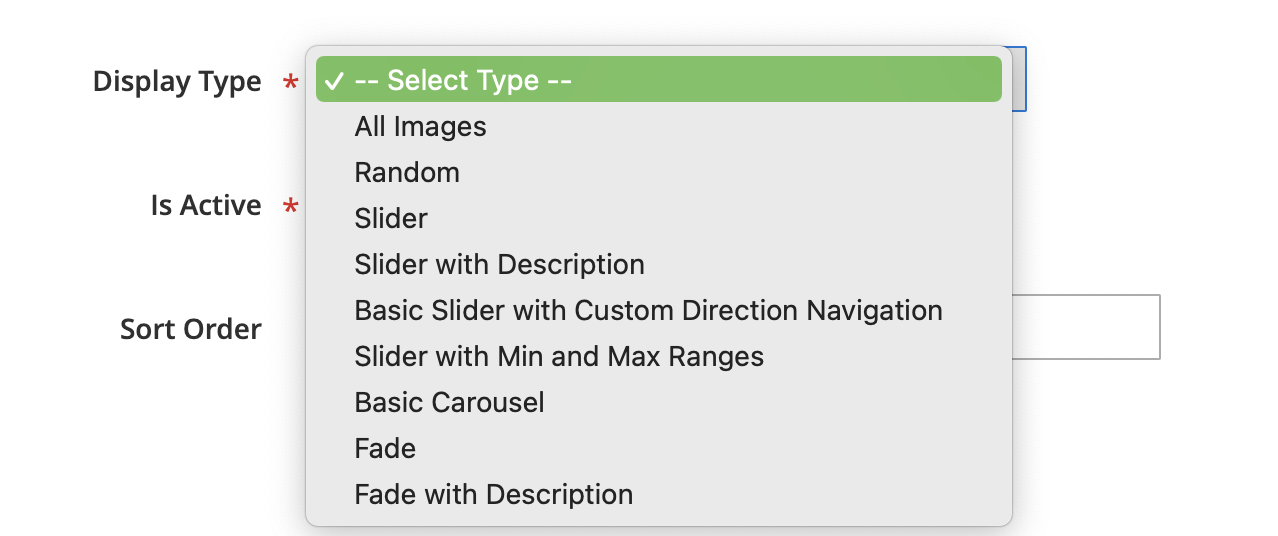 Wisely Arrange Banners Using Widgets
You can simply create banner blocks from BANNER MANAGER with available options for positions. However, in order to have immensely more choices, you should go with WIDGETS afterward. With Widgets, you can choose all or any pages on your website to set banners.
For example, if you select "All Product Types", you can post to all items belonging to this group or select only one or several ones. Depending on the chosen page, you continue to have many positions correspondingly.
Because in Widgets there are more specific groups and pages for you to opt for, the number of positions is also significantly higher than creating banners in the usual way. Hence, banner content would be more close to page content at the same time.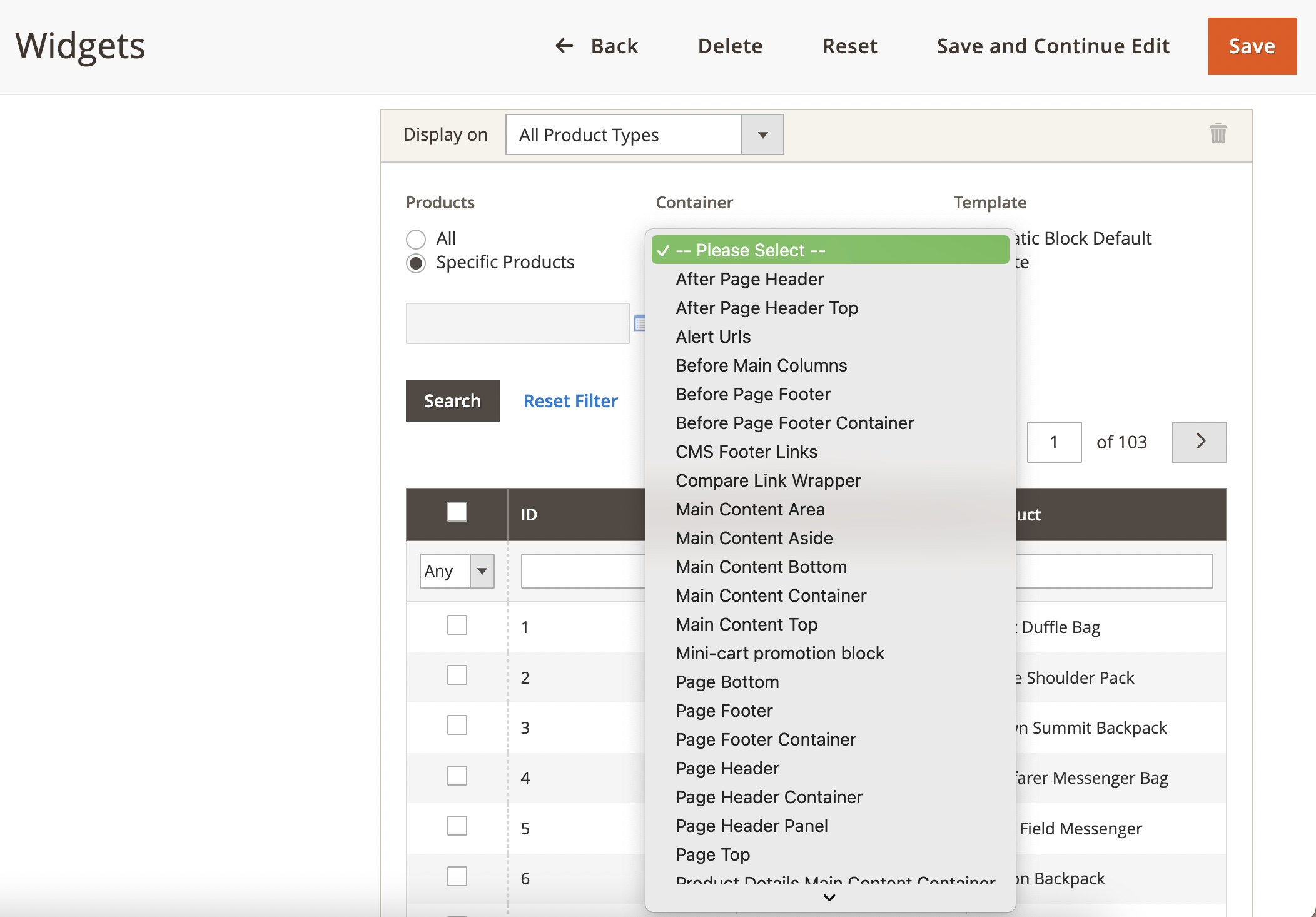 Useful Tips For Using
Magento 2 Banner Manager

To Drive Purchases
Simple and common elements make the most effective banner ads. These are similar to traditional advertising: a strong headline, strong visuals, an attention-getting offer, and a clear call to action. The headline and visuals must work together to capture viewer attention and interest. The offer needs to convey value, and the call to action must clearly, convincingly, and easily lead viewers to learn more, express an interest, or make a purchase. You should strongly pay attention to those factors to take advantage of banners to enhance sales for your online store.
Full Features
Create various promo banners and blocks
Display blocks in plenty of page positions
Choose customer group(s) who can see the banners
Set time for displaying every banner block
Sort order for banners in each block
Select among different display style
Add banners to more flexible positions with widgets
Link banners to target pages
View eye-catching promo banners and banner sliders
Why It Must Be Tigren's
Magento 2 Banner Manager
 Extension?
Cost Saving
Essential Functions
Enthusiast Support
Version 1.3.0: Updated (Compatible with Magento 2.4.x)

Version 1.2.0: Updated (Compatible with Magento 2.3.x)

Version 1.1.0