E-commerce website design services can come at different price ranges, which is super confusing when you first look at them!
But don't worry, the price of web design is the result of many factors, and there are quite some cheaper options that are still guaranteed high quality. If you are a small business owner looking for affordable yet credible e-commerce web design services, this article is what you need.
Tips To Cut Down E-commerce Web Design Cost
1. Using Ready-made Options
Here are the two premade options you can use:
The first is open-source or basic e-commerce design themes and templates ($0 – $200). And then, integrate extensions/ plugins to support the theme if needed.
Benefits
They are all low-cost options, many extensions are free.
Themes available in theme stores are diversified in the category, layout type, etc., for you to pick out the best match. They provide customizable positions so that you can make changes to your liking from color, font, featured buttons, logo,…
To enhance the performance further, extensions can come to help. However, remember not to integrate too many extensions. This could slow down your web speed due to the heavy workload the server must carry.
Tips
These solutions only allow minor modifications to what has been mostly fixed. This means that your online store will hardly stand out from others to attract customers.
If you have no clue about web design, or the design fundamentals in general, chances you should use a custom web design service from a professional agency.
2. Using Web Development Package
If you purchase a web development package, you'll get a generous discount in total as there's a reduction for each service.
Benefits
You get a complete website designed according to your requirements, making it unique in the market.
Second, in case of issues, you can turn to the provider's support service. Because the provider built your website, they know its architecture in and out and can troubleshoot much faster. So you'll always keep your site stable and secure.
You can ask for a discount on a custom web design service if you want to make significant changes to the storefront.
Tips
Prioritize a web development package with a decent web design look and feel. Check out the designs of their previous projects to see if that's your style.
Make clear all the tasks and costs from the beginning to avoid extra fees generated.
3. Outsource Web Design Services Overseas
Outsourcing is another option that many would go for. While web designers in the US charge $75 – $150 an hour, the rate drops to $25 – $40/hour for outsourcing to a web design and development company in Vietnam.
Benefits
Outsourcing is the only one allowing you to enjoy premium quality at a considerably comfortable price. A reliable web design agency can deliver a website as you wish.
Many agencies even provide you with a free consultation and valuable suggestions to enhance the site design when you outsource to them.
Highly skilled developers can finish the project in a short time. Then you can start selling and making money sooner with a beautiful and practical storefront design.
The best thing is that whether you use a full custom service or web development package from the outsourcing providers, the total price has been decreased many times compared to local agencies.
Tips
Use a custom web design service on the premade options to cut costs instead of building everything from the beginning.
Check their websites to see whether they provide a transparent work process, ongoing support, and service packages that make sense.
Criteria Small Businesses Need To Consider Other Than Cost
Site Performance
Storefront design needs to support the delivery of site functionalities. For instance, if your e-commerce site employs the live chat feature, then the design must have a place to carry it.
Therefore, take note of the alignment between the functions and the look so that all of your intentions can be well delivered. Also, functional themes focus heavily on ensuring excellent site performance for you to check out.
UX Design
This is a crucial part of every e-commerce website. E-commerce sites must maintain a positive user experience to attract prospects to purchase.
An excellent UX design will help you ensure a conversion-oriented, user-friendly buying journey. One point worths great notice is the check-out process. Make sure it's straightforward.
Also, leave them with available choices to purchase as a guest or a subscriber, and don't forget to include a confirmation page with details. UX design is all about creating a hassle-free experience for the users.
How Can Small Businesses Use All The Reduced Web Design Cost Options?
To get a good deal of quality yet affordable web development service, you can reach out to a professional like Tigren.
We are a leading e-commerce web development agency based in Vietnam. We have over 10 years of accompanying hundreds of businesses to successfully enter the e-commerce world.
We provide many affordable options and complete web development packages with numerous benefits such as free support from 3 to 12 months, a short time built within 1 to 6 months.
So if you are looking for web design services or web development packages, drop us a message for a free consultation today!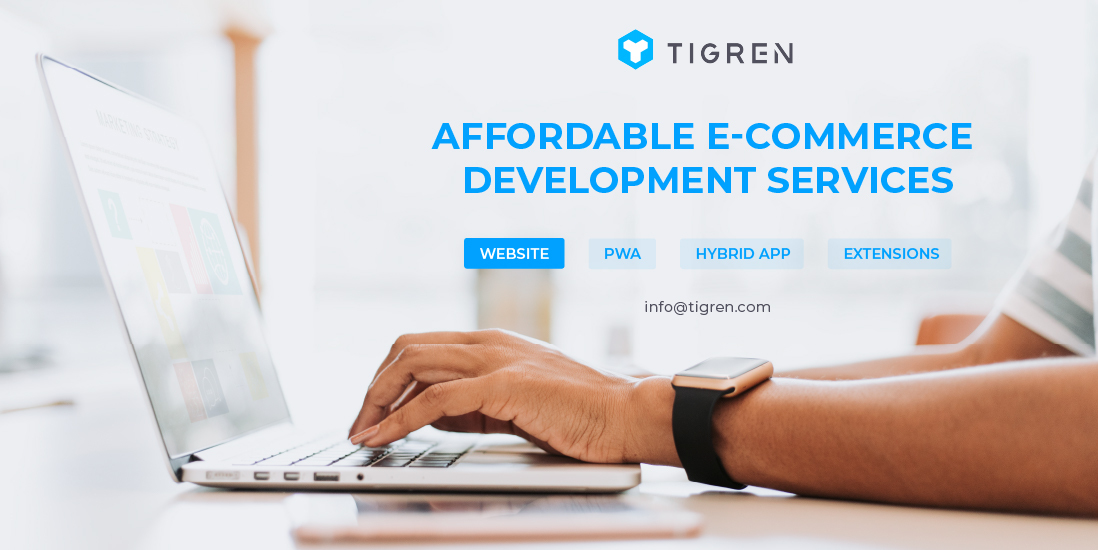 Takeaway Keys
There are 3 ways you can efficiently reduce the costs for e-commerce website design services: ready-to-use options, a full web development package, or outsourcing web design services to a low hourly rate country.
Whatever your choice, ensure your web design is eye-catching and practical for an optimized UI and UX. In the end, the goal of an excellent e-commerce website is to sell!
Read More:
Should I Go For Cheap Website Design Packages?