In the digital age, establishing an online presence is essential, but for many aspiring entrepreneurs and small business owners, the cost of building a website can be a daunting hurdle. The thought of investing heavily before even securing your first customer is a gamble that can discourage the most passionate innovators.
That's where budget-friendly website builders come into play.
Our curated list of the cheapest website builders is designed to arm you with the tools to craft a professional online presence without breaking the bank. We've scoured the market to bring you a curated selection that balances cost-effectiveness with feature-rich capabilities, ensuring you don't have to compromise on quality for price.
Whether you're launching a startup, showcasing a portfolio, or opening an online store, our guide will help you navigate through cost-efficient options to find the perfect platform to turn your digital dreams into reality.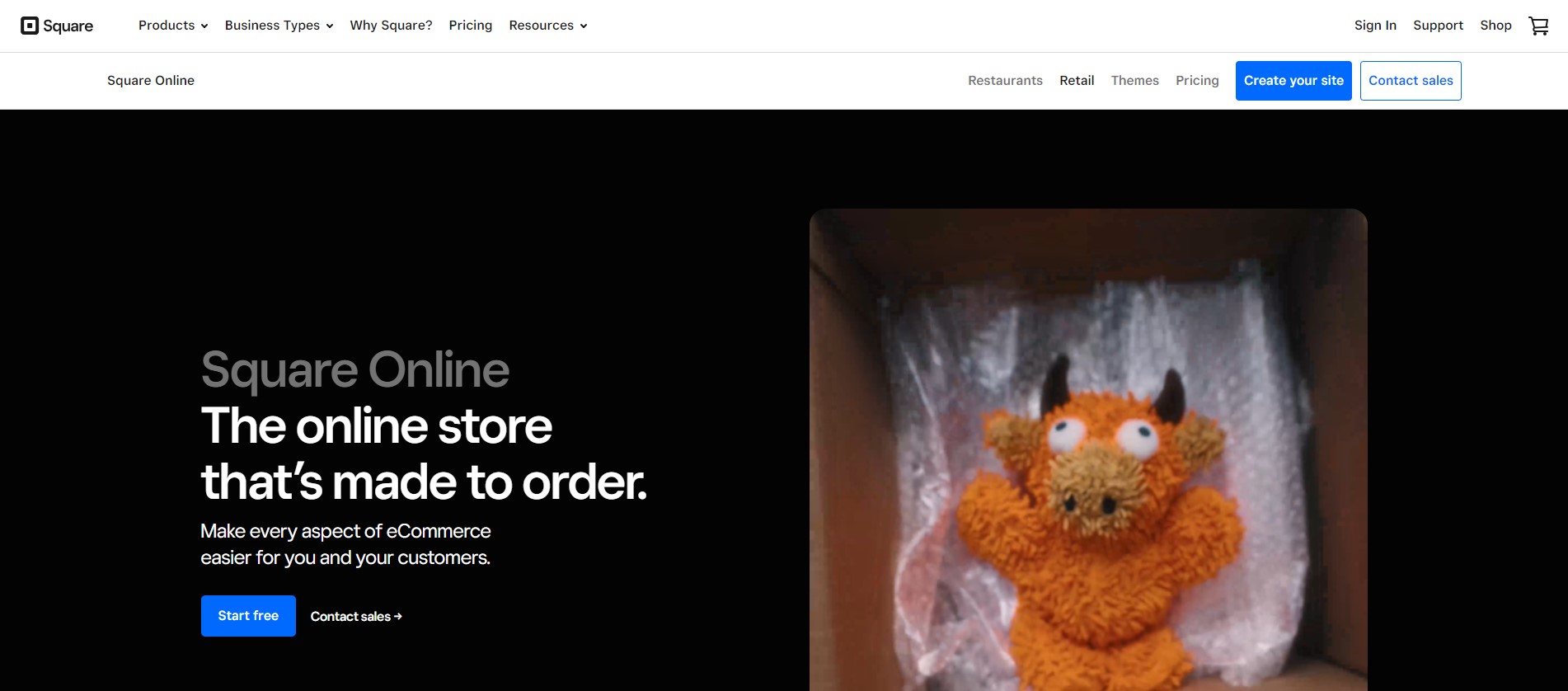 Square's free plan is a strong starting point for new online businesses, with no monthly fees and a transaction fee of 2.9% + 30¢.
It includes a website builder with SEO tools, sync with Square POS, pickup, local delivery, and shipping options, the ability to sell on social media platforms, and accept various payment types for faster checkout.
For businesses aiming to drive growth and streamline operations, the Plus plan builds on the Free plan by adding website themes, expanded site customization (including connecting to a custom domain and removing Square branding), QR code ordering, customer accounts for tracking orders and loyalty rewards, advanced item settings, PayPal integration, subscriptions, and a free domain for the first year.
The Premium plan is designed for scaling businesses and includes all the features of the Plus plan. It offers a lower processing rate of 2.6% + 30¢ per transaction, real-time shipping rates, premium customer support, and waived in-house delivery fees.
Design and Customization: Square offers customizable website themes preloaded with layouts and sections to drive conversions, enhanced branded experiences with carousel banners, videos, and a free media library, and extensive layout and design controls for a personalized website.
Commerce and Sales Features: Integration with Square POS keeps in-person and online orders and inventory in sync. SEO tools and social media integrations help to attract customers. The Plus plan allows for personalized customer accounts to encourage repeat business.
These plans and features make Square an adaptable option for anyone looking to start or expand their online business presence, with a range of tools to help businesses grow and connect with their customers.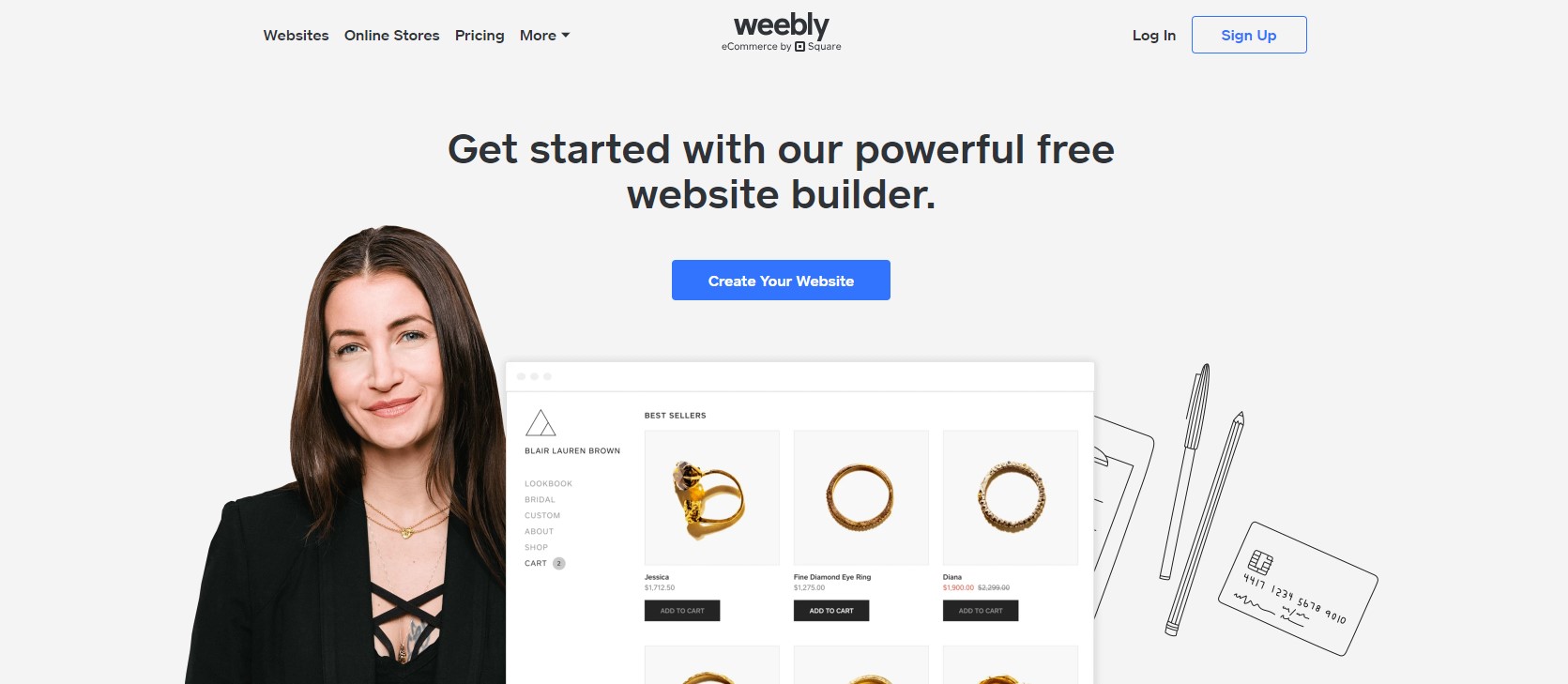 Weebly offers a range of pricing plans designed to cater to various users, from those looking to create a basic personal website to businesses in need of advanced features to drive growth and manage operations. Here's a breakdown of Weebly's plans and features:
Free Plan ($0/month): This plan is ideal for basic use and includes free SSL security, 500MB storage, and SEO features. It allows you to add a third-party embed code and includes a shopping cart for e-commerce functionalities with a 3% transaction fee.
Personal Plan ($10/month billed annually or $13 month-to-month): In addition to the Free plan features, the Personal plan allows you to connect to a custom domain and provides unlimited storage. It's suitable for personal websites and includes basic e-commerce features with a 3% transaction fee.
Professional Plan ($12/month billed annually or $16 month-to-month): This plan is geared towards professionals looking to connect their domain and add more customization. It includes all features from the Personal plan with the addition of site search, advanced site stats, phone support, and removed Square ads. The e-commerce transaction fee is reduced to 2%.
Performance Plan ($26/month billed annually or $29 month-to-month): Designed for businesses, this plan adds features that drive growth and manage operations. It includes all the features of the Professional plan plus advanced e-commerce features like item reviews, shipping labels, abandoned cart emails, and gift cards. The e-commerce transaction fee is further reduced to 0% for this plan.
Across all plans, Weebly offers a variety of e-commerce features such as a shopping cart, unlimited items, item badges, item options, quick shop, digital goods, inventory management, in-store pickup, an automatic tax calculator, and the ability to accept payments through PayPal.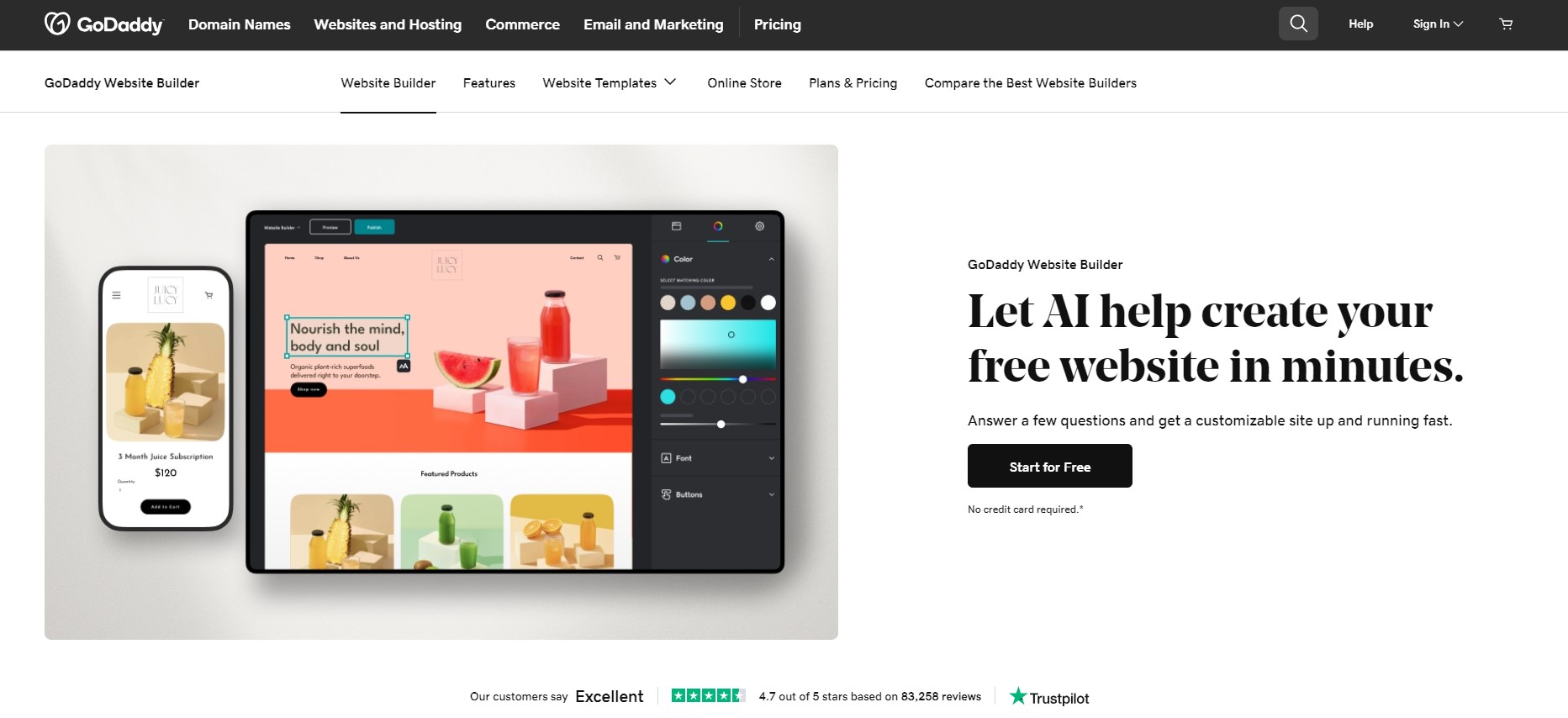 GoDaddy provides an AI-powered website builder that simplifies the creation process. By answering a few questions, users can get a customizable website up and running quickly, with no credit card required to start​​.
Even with the free version, GoDaddy includes email and social media marketing tools, one-time appointments, GoDaddy Payments for starting to sell online, SSL certificates for website security, 24/7 customer support, and branded content creation with GoDaddy Studio​​.
When users are ready to expand their capabilities, GoDaddy offers plans starting at $9.99/month when billed annually.
These plans include the ability to connect a custom domain, offer flexible shipping options, enhance SEO, set up recurring appointments, add a full-featured online store, send email and text appointment reminders, sell on various marketplaces, accept online payments for services, list products on Google Shopping, and sync orders and inventory across channels​​.
Basic Plan ($9.99/month): This plan includes a website, marketing tools, and payment solutions, with a 23% savings when opting for an annual term​​.
Premium Plan ($14.99/month): Aimed at businesses requiring online appointments and advanced marketing tools, offering a 34% savings with an annual term​​.
Commerce Plan ($20.99/month): This plan is designed for businesses that want to sell anywhere with an online store, including marketplaces and point-of-sale solutions, offering a 22% savings with an annual term​​.
GoDaddy's Website Builder is thus a versatile and scalable solution for users looking to create and grow their online business.

Wix's free website builder is a gateway to limitless creativity. With its suite of advanced functionalities, users can bring any vision to life, crafting websites that are not only visually appealing but also brimming with functionality.
Free, Yet Professional: Starting a website with Wix is straightforward. From picking a template to dragging and dropping various design elements, the process is intuitive. Plus, the added benefit of free, reliable hosting and the ability to design a professional logo at no cost enhances the appeal of Wix as a cost-effective solution for building a professional online presence.
Templates for Every Need: Jumpstart your website creation with over 900 free, customizable templates, meticulously crafted for various industries. Whether you're a novice or a seasoned web developer, Wix caters to all with its smart drag-and-drop editor, extensive design options, and AI-driven site creation tools.
Performance and Security at Its Core: Wix is designed for optimal performance, ensuring fast loading times and top-tier SEO capabilities. Coupled with enterprise-grade security and a resilient infrastructure, it promises a smooth, uninterrupted online experience.
Inclusive and Accessible: Emphasizing inclusivity, Wix includes tools that make websites accessible to all, broadening your audience reach.
Wix's free plan is more than just a website builder; it's a comprehensive toolkit for anyone looking to establish a strong digital footprint without immediate investment.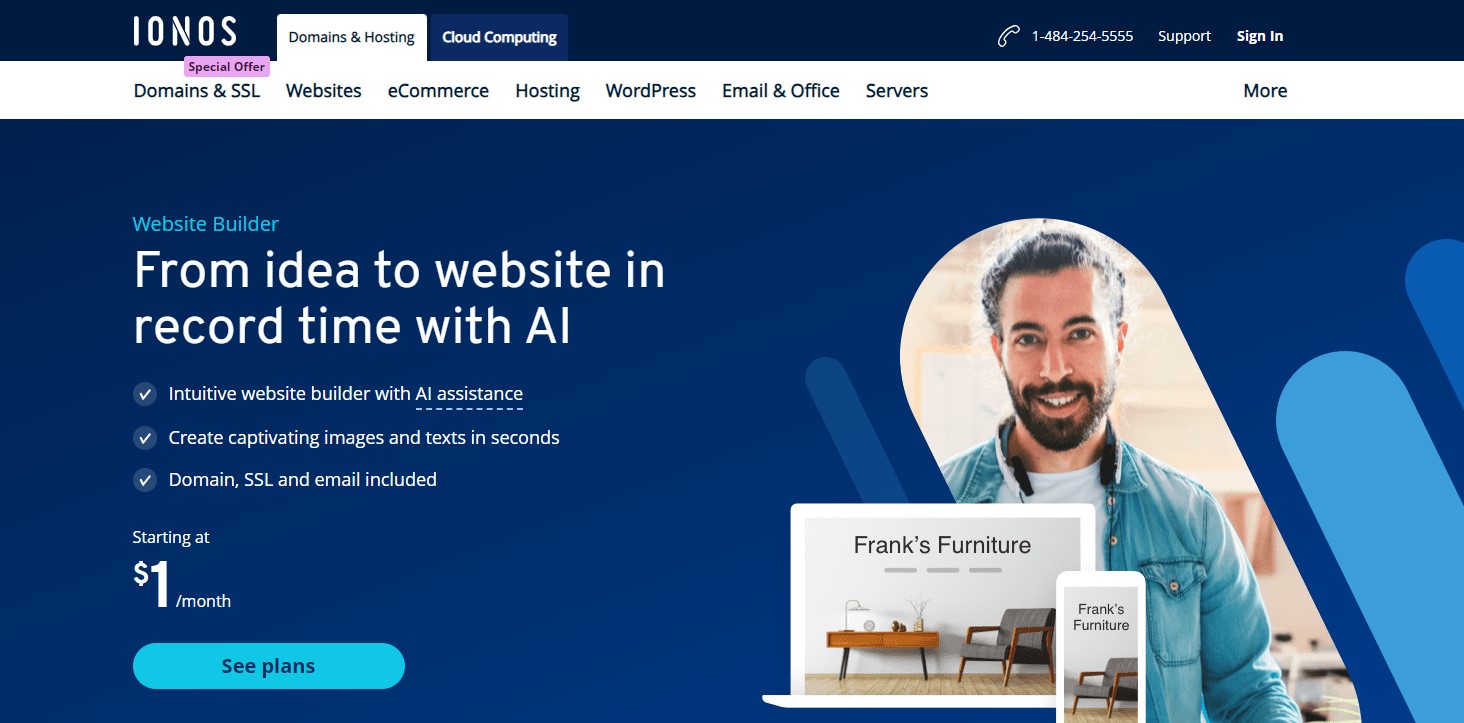 IONOS offers an affordable and accessible entry into website building, particularly for those who are looking for a straightforward and rapid development process. With their Website Builder, starting at just $1/month, you can leverage AI to go from idea to website in record time.
Here's a concise breakdown of what IONOS provides:
AI Website Generator: IONOS has introduced an AI Website Generator that promises to significantly reduce the effort required to get a website up and running. By simply entering a few business details, the AI generates a fully customizable website complete with relevant images and text.
Professional Templates: For those who want more control over their website's design, IONOS offers a range of professional templates. These are optimized for mobile devices and come with AI features to help tailor the website to specific needs and industries.
Ease of Use: The platform is designed for ease, allowing users to create their online presence in three simple steps. First, choose a template or use the AI Website Generator. Then, edit your content with the aid of AI features. Finally, once you're satisfied, publish your site to get it online with your own domain name.
AI-Assisted Features: Beyond just website templates, IONOS provides AI tools for content creation and image generation. With the AI Text Generator and Text Improver, users can create compelling content efficiently. The AI Image Generator aids in creating custom images that enhance the visual appeal of the site.
This combination of user-friendly design, AI assistance, and cost-effective pricing makes IONOS an attractive choice for individuals and small businesses looking to establish an online presence without a steep learning curve or significant investment.

Hostinger's website builder includes a 30-day money-back guarantee and offers an introductory price of $2.49 per month, with a renewal rate of $6.99 per month.
This plan includes unlimited bandwidth, a free domain, email, SSL certificates, and support for up to 100 websites, along with e-commerce features and zero transaction fees.
AI-Powered Start: The platform's AI starts the process by asking three simple questions to create your website, generating SEO-friendly content and relevant images. Further customization is possible with a drag-and-drop editor, which simplifies the design process.
Customization and Templates: Hostinger offers over 150 responsive and fully customizable templates suitable for various types of websites, including business sites, online stores, blogs, and portfolios. These templates allow for easy editing of color schemes, fonts, and layouts.
eCommerce Support: For those looking to set up an online store, Hostinger provides robust e-commerce capabilities, allowing you to sell up to 500 products without additional transaction fees and support over 20 payment methods for a seamless checkout process.
No Coding Required: The service emphasizes that no coding knowledge is required, allowing anyone to build a site easily. It also boasts of its mobile-responsive designs, ensuring that websites look good on any device.
This wealth of features, combined with ease of use and affordable pricing, positions Hostinger as a competitive option for those looking to build a website efficiently and cost-effectively.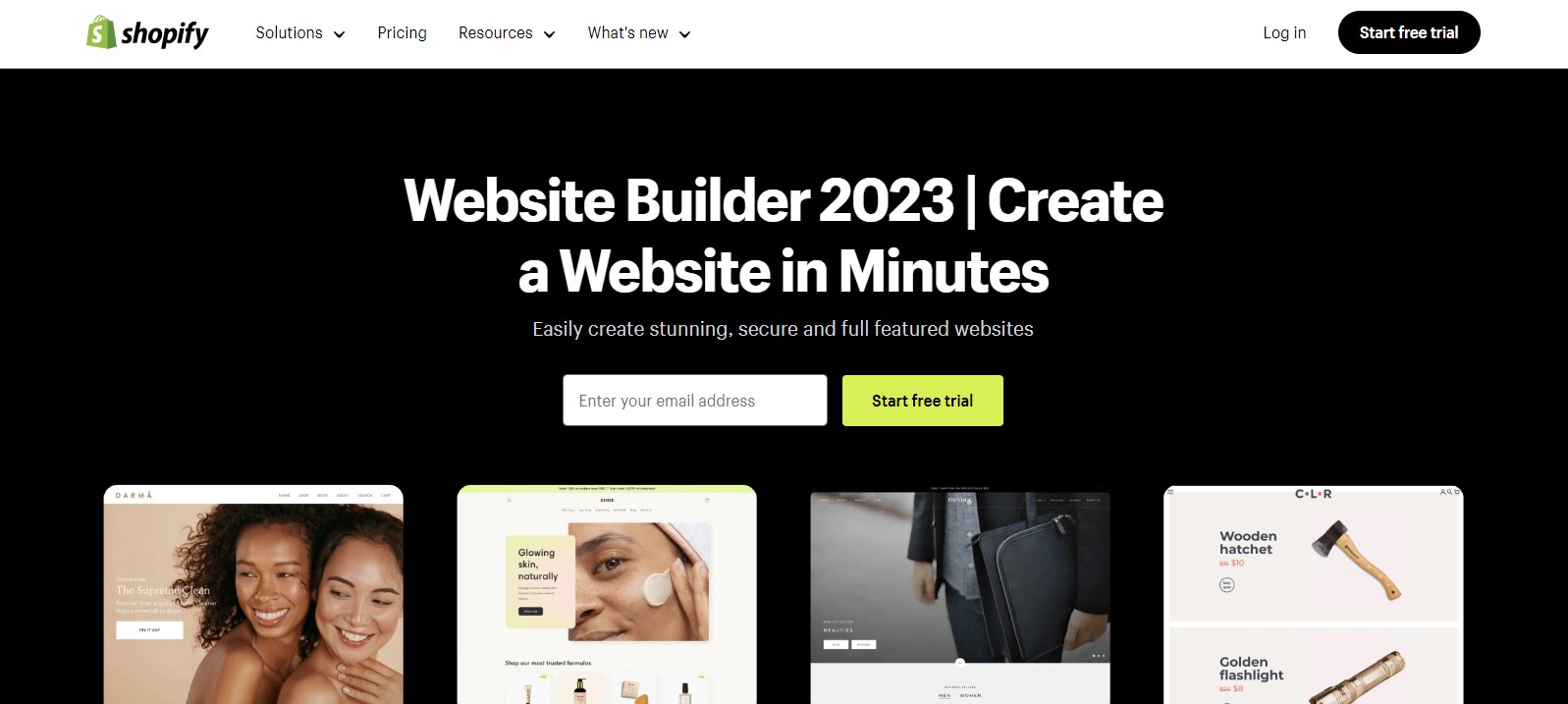 Shopify allows new users to start for free and then enjoy a special introductory offer of $1/month for the first three months. After a 3-day free trial period that doesn't require a credit card, users can choose from various plans tailored to their needs.
Their Basic Plan is tailored for individuals and small businesses, providing all the essentials needed to create a store, ship products, and process payments. After the introductory offer, the plan is priced at $39 USD per month, with credit card rates of 2.9% + 30¢ USD for online transactions and 2.7% + 0¢ USD for in-person sales.
Regardless of the chosen plan, Shopify users can benefit from a set of core features.
This includes the ability to easily build an online store with a highly efficient one-click checkout system, expand reach through various sales channels by listing products across top social media platforms and online marketplaces, and utilize Shopify's Point of Sale (POS) system that includes staff management and inventory tracking.
Alternative Solutions:
Starter Plan – $5/month: Ideal for selling products at events and through social media and messaging apps.
Retail Plan – $89/month: Designed for in-store sales with advanced staff, inventory, and loyalty features.
Shopify Plus: Starting at $2,000/month, this plan offers enterprise-level power for high-volume businesses, providing a comprehensive solution with additional features and support.
Shopify's range of plans and robust features make it a versatile choice for entrepreneurs and businesses looking to establish or expand their online presence.