B2B ecommerce is a vast potential market for many businesses, but not every company will succeed. It requires a lot of work, money, and time to make a name in B2B like these 7 B2B ecommerce examples. Take a look at these enterprises and learn how they've found loyal clients in the market.
B2B Ecommerce
Business to business (or B2B) describes the selling of products and services directly between two companies. B2B ecommerce involves transactions between manufacturers and wholesalers or wholesalers and retailers through online sales portals.
B2B sellers work with:
Wholesalers
Large retailers
Organizations (schools, clubs, non-profit)
Resellers
7 Examples Of Successful B2B Ecommerce Brands
Following are the most inspiring B2B ecommerce examples in the market.
Polycom is a leader in providing collaboration and content solutions, such as video conferencing and voice calling, enabling genuine human connection and association.
The company's website is a perfect example of a B2B ecommerce platform – simple and easy to use on a global scale. Customers can select their country to efficiently use the website in their language for a better experience.
More friendly to B2B buyers is this platform is the clear and direct navigation – products and services. Also, there is a chatbox to support clients. Inquiries may be submitted instantly with the "Request a Quote" and "Request a Demo" functions.
The top concern for B2B buyers is automatic reordering when buying online. Establishing a procurement process that provides regular deliveries allows B2B businesses to build long-term relationships and enhance their trust in your brand.
An excellent example of this is Vitality Medicine. Vitality Medical offers recurring shipping options for any product purchased and free shipping for repeat purchases over a certain quantity.
The company offers flexible pricing for different groups, and they make sure people know it. When you enter the site, there's a giant banner slide: "We offer B2B pricing to Government Agencies; Residential Groups; Hospitals and Physicians; Rehabilitation Facilities and Schools".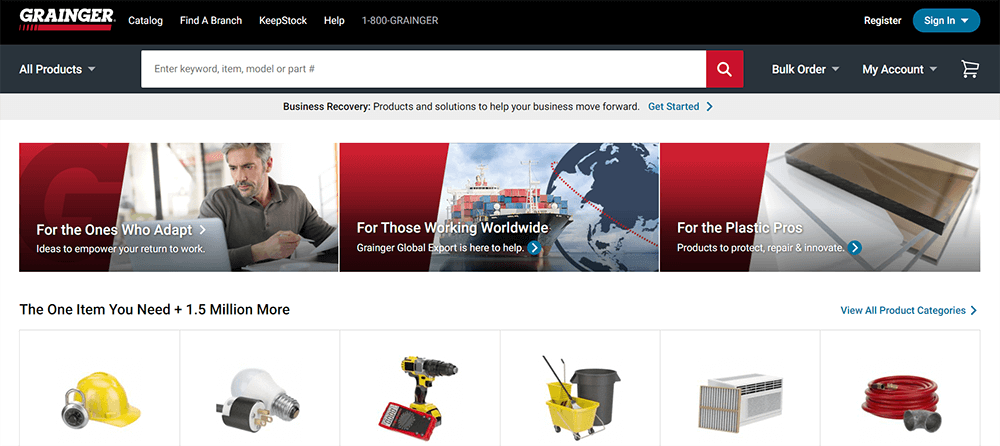 Grainger, a leading supplier of industrial plant management equipment, invests heavily in its online platform and generates billions of dollars in ecommerce sales.
The company makes sure the order process is straightforward. They also provide advanced search filter options with a suggestion list, making it easy to find products.
Grainger also lets shoppers compare products when selecting a specific product to get the best option.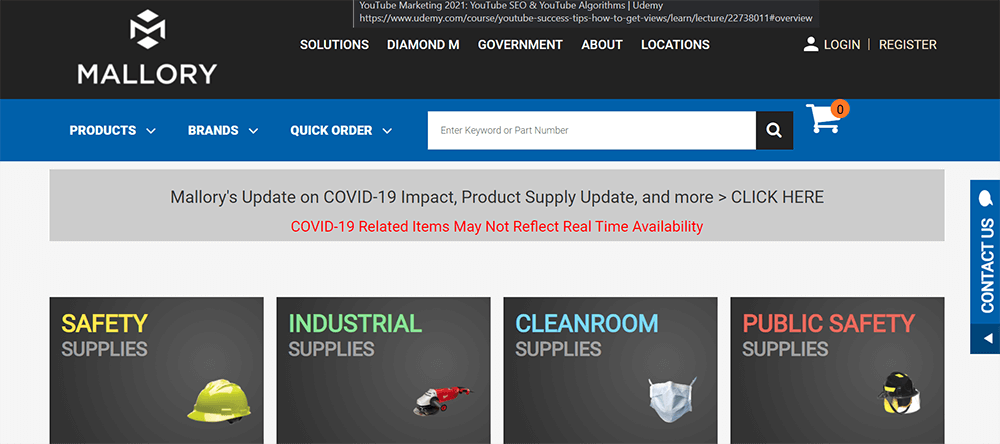 Several factors make Mallory's website a great example of a B2B ecommerce storefront.
First, they group similar items into one expandable view. For example, safety vests come in a variety of sizes. So they organize the results under one entry. When a customer clicks on View Options, the list expands to show size options, real-time availability, and pricing.
Additionally, the search bar and cart icon are set to stay on-screen even when shoppers scroll down the page.
Mallory's website allows buyers to customize their products. Customers can upload their logo, preview it on the products and check the cost of the update.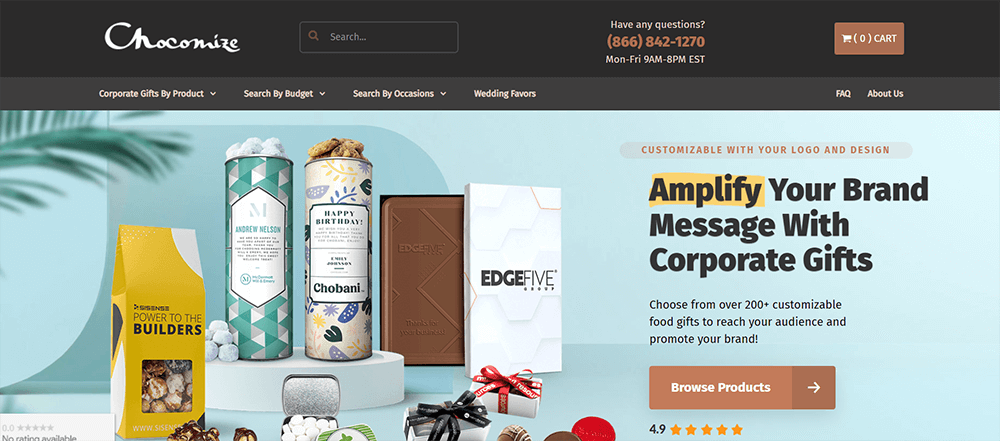 This is one of the leading companies in providing promotional gifts, exceptionally customizable chocolate gifts for business buyers who want to promote their brand.
On Chocomize's website, customers will find keywords such as "custom chocolate squares" or "custom company chocolates." It's clear that their SEO strategy is very effective, placing the site at the top of the first page of Google search results when searching for "corporate custom chocolates" or "custom chocolate bars."
The site also offers discounts when customers place large orders. One of the advantages of the platform is the "Budget Search" and "Occasion Search" functions in the menu bar, which can help buyers quickly find the right product at a reasonable price.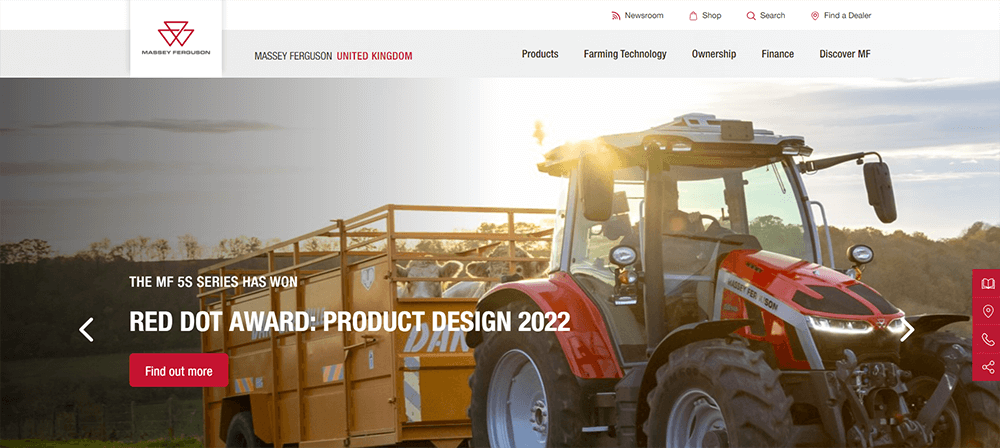 Massey Ferguson is probably the best example of how you can create a unique and successful brand without putting too much on a website.
The site cleverly uses 3 colours – red, white, and black- to show its brand identity. Plus, the colors are designed to make important contents pop up.
Also, the site uses navigation creatively. Everything is neatly presented. Clients can overview a product from the drop-down menu, then discover details if they're interested. This is a small but intelligent detail, letting clients save time on finding products.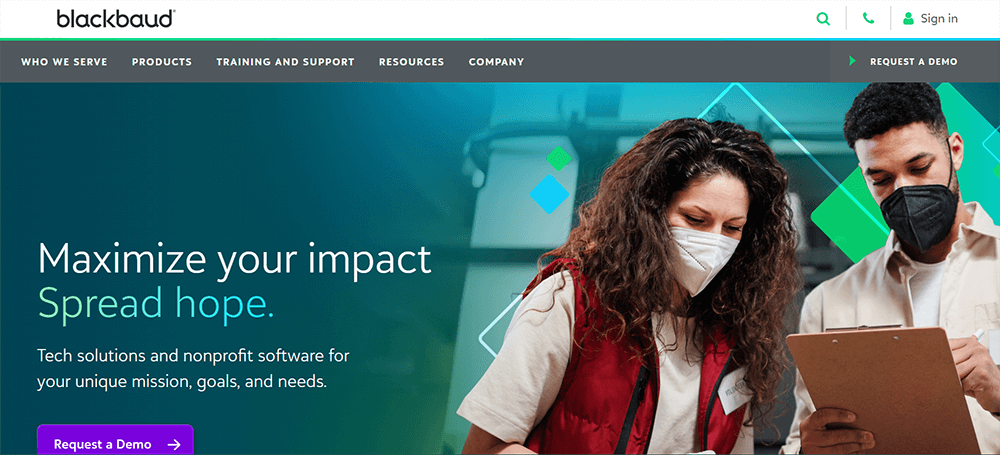 Blackbaud is the last of this list of B2B ecommerce examples.
At first glance, this website looks ordinary. Then you quickly realize that Blackbaud put a lot of effort into adding tons of valuable infographics and case studies.
However, its real success lies in the interactive content that Blackbaud offers. It includes quizzes, surveys, and two different calculators. These essentially allow you to test the success of your enterprise clients yourself.
How To Create An Effortless B2B Shopping Experience?
1. UI/UX Design: Make Yourself Easy
An interactive and well-designed user interface is the first step in creating a positive and personalized customer experience:
Optimize your website: To create a positive customer experience, you need to simplify and reduce the steps required to fulfill orders and personalize your website.
Predicted order errors: Order errors are the number one reason for abandoned purchases. It is vital to create automated systems to identify root causes and improve processes over time.
Consumer-Centric Innovation: Technology is the best ally in ensuring a positive B2B customer experience. Watch over tech trends so you may apply the suitable ones in time.
2. Customer Service: Make It Fast
The goal is to provide efficient and fast virtual and on-site service:
24/7 Self-Service: If a continuous straight line is not feasible for your business, you need to deploy an automated online platform.
Quick Reply: Automated systems are invaluable tools for retargeting customers via email or messaging and improving customer service.
Payment and Delivery System: Upgrade your entire order-to-cash process by connecting it to your payment system, delivery provider, etc. From delivery to returns, you can't let friction maintain consumer confidence.
3. Back-end integrations: Make it personal
Back-end integration enables more manageable and accurate real-time access to customer data to predict their behavior. A customer-centric approach can help you better understand your audience to build long-term relationships.
Recommendation
If you want to build an efficient B2B e-commerce website, let Tigren help you.
What makes Tigren a perfect agency for B2B website development?
Attentive and helpful customer service, available 24/7.
Experts in web development who constantly improve their skills.
Experience working with international clients in many fields.
Reasonable price quotes and affordable e-commerce development packages.
Free support.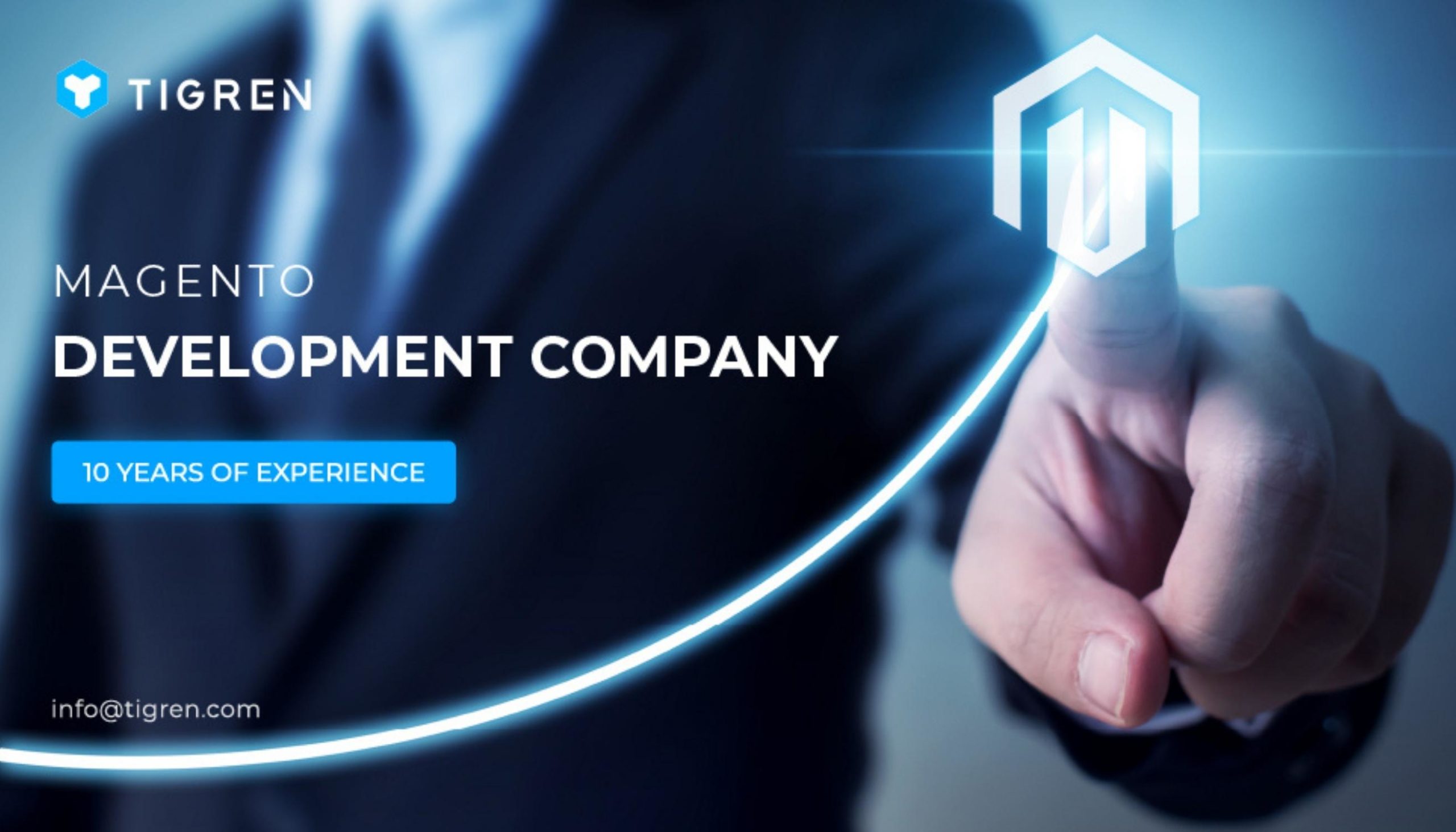 Sum Up
Providing the best e-commerce experience for your B2B customers is no easy task. But as you have seen from the above B2B ecommerce examples, some have achieved remarkable success.
Hopefully, you've gained some inspiration and even learned something practical from these enterprises to use for your business.