More people are switching to a mobile device in the US instead of a PC or laptop. This, predictably, results in huge demand for mobile apps. Mobile apps provide many benefits to users while also assisting businesses in achieving higher ROI. As a result, app development is becoming increasingly popular. So, if you're looking for the top app development company in the USA, this article can come in handy. Let's dive right in!
Best App Development Company USA: List Of The Best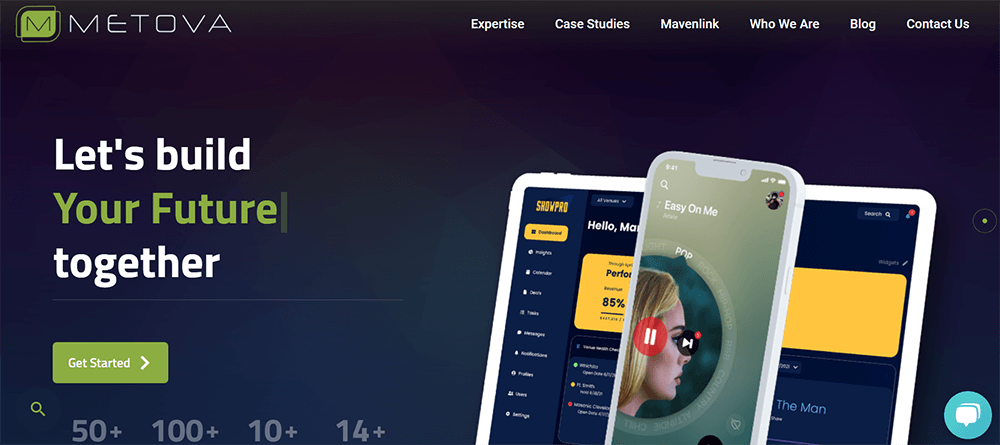 Metova is a strategic mobile and digital product company. Since 2006, they have delivered over 1000 mobile and digital solutions for the world's leading enterprises and consumer-facing companies, including Dropbox, Yelp, Blue Cross Blue Shield, and many state agencies across the US.
Services: App Development, Quality Assurance & Automated Testing, Mobile Backend Engineering, Security & Compliance.
Address: 3301 Aspen Grove Dr. Ste 301 Franklin, TN 37067
Phone: 5014725864
Hourly rate: $150 – $199/hr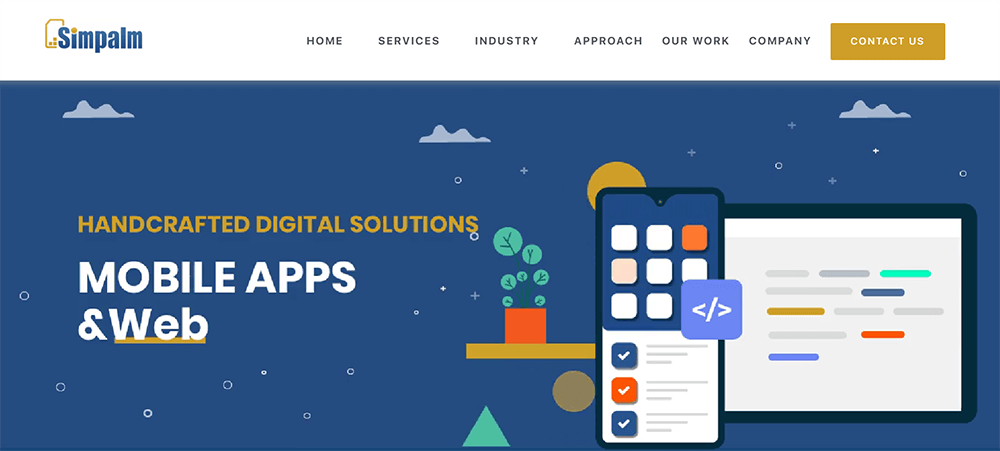 Simpalm is a web and mobile app development company with offices in Chicago and DC area. Since 2009, they have delivered 300+ mobile and web solutions for startups, enterprises, non-profits, and other organizations.
Services: Cross-platform Mobile App Development, AWS, Azure, PHP.
Address: 5640 Nicholson Lane, Suite 220 North Bethesda, MD 20852
Phone: 3018255331
Hourly rate: Undisclosed
It is one of the best mobile app development companies that work and support clients in each step, from discussing ideas to launching. They ensure their mobile app design grabs users' attention and fulfills their needs. Whether it is a native, hybrid, or cross-platform app, the app developed by Elluminati differentiates and stays worthy of your brand.
Services: Mobile app development, mobile app design, graphic designing services, etc.
Address: 1201 Oleander Ln, Waxhaw, NC 28173, United States
Phone:+1 415-547-0560
Hourly rate: Undisclosed
ChopDawg is an app development company founded in 2009 in the USA. Since 2009, they have partnered with startups and enterprises worldwide to launch 350+ next-generation apps with major brands like Siemens, Mister Softee, LA Gear, Six Flags Great Adventure.
Services: Cross-Platform Apps for iOS, Android, Web, App Branding, App Analytics Integration.
Address: Howard Street Philadelphia, PA 19122
Phone: (800) 490-1476
Hourly rate: $100 – $149/hr
Red Foundry is a development consulting and mobile app design company. Founded in 2009 and led by seasoned business and technology executives, they help clients "Mobilize Their Business" by creating award-winning native mobile applications for the iOS and Android platforms.
Services: App Development, App maintenance, Mobile SDK Development.
Address: 400 W. Huron, Unit 803 Chicago, IL 60654
Phone: 888-406-1099
Hourly rate: $150 – $199/hr
Blue Label Labs is a design and development agency based in the US with over 10 years of experience. They have partnered with a wide range of companies, brands, and founders with over 350 products across many devices.
Services: Strategic Business Consulting, User-Centric Design, Experienced Engineering.
Address: 175 Varick Street New York, NY 10014
Phone: 2078905983
Hourly rate: $100 – $149/hr
Dogtown Media is a mobile media development company. Since 2011, their team of hardened techies has launched over 200 apps and expanded their design and development services in mobile app analytics, multi-media publishing, AI, and IoT.
Services: Cross-platform App Development, iPad Apps, NodeJS, UI UX, API Development.
Address: 228 Main Street, Suite 4 Los Angeles, CA 90291
Phone: (888) 814-7010
Hourly rate: $100 – $149/hr
Sidebench is a strategy, design, and app development firm in Los Angeles. They are a diverse group of digital strategists, technologists, tinkers, and thought leaders. The company has launched various apps and products with significant clients, including Oakley, NBCUniversal, Accel, Lightspeed.
Services: HIPAA Compliant Products, UI/UX Design, Mobile & Web Apps, User Research, System Integrations.
Address: 2912 Colorado Ave Santa Monica, CA 90404
Phone: 310-893-3589
Hourly rate: $150 – $199/hr
Disadvantages Of Hiring US Local Companies And Solutions?
The average cost of local US app development agencies is considerably high. This could be more difficult for small businesses with a small budget. So, what can be the alternative solution? It all boils down to outsourcing.
Outsourcing app development company helps you save a considerable amount of expense. The labor cost varies by country and location. The hourly rate in some Asian agencies is $20-$40 compared to $100-$149 in the US. Moreover, outsourcing helps you save your time, access global talents, control the quality, and get business support.
Therefore, businesses should outsource app development companies if they want to get good services at a much more affordable cost.
The Best Outsourcing App Development Provider?
If you are looking for an ideal app development provider, Tigren could be your outsourcing partner. We are a driving mobile app development company with solid expertise in building high-performing and feature-packed mobile apps. We offer high-quality services with cutting-edge mobile app design.
Our services include cross-platform Mobile App Development and Magento Mobile App Features. If you are looking for an ideal software partner that helps you save much cost, don't hesitate to contact us at [email protected].
Wrap Up
Hopefully, you have found this blog post easy to follow with the best app development company in the USA. However, budget for businesses is more of a problem especially small ones or startups. With many mentioned benefits, outsourcing can be your better and alternative option for app development to help you with good service at a much lower cost.
Read More:
The 7 Best E-commerce Development Company In The USA