With online shopping becoming so popular, fashion has moved beyond traditional stores, and now everyone can find what they want with just a few clicks.
In this article, we've handpicked some of the best fashion ecommerce sites that are changing the way people shop online.
Whether you dream of having your own fashion brand or just need some style inspiration, this article will show you the top fashion ecommerce sites that are setting new standards in the industry.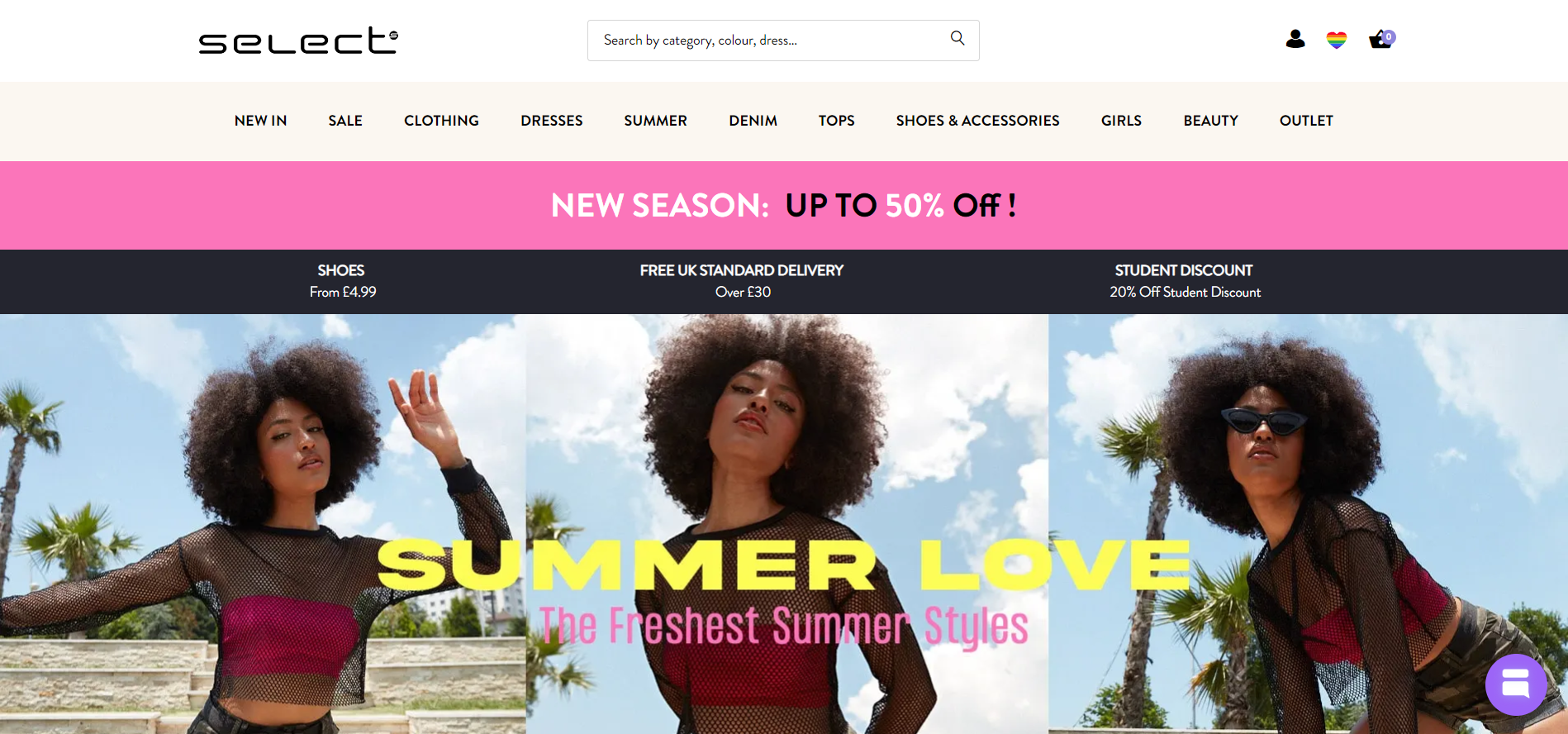 Select grabs attention with its bold and eye-catching discount call-to-action, accompanied by a relevant message that resonates with its target audience. Visitors can quickly notice the delivery rate, ensuring transparency from the start. The site's design follows a clean, spacious, and organized aesthetic, featuring minimal fonts for a sleek look. A brilliant move by Select is showcasing real snapshots of their items on previous Instagram purchasers in the footer of the homepage, fostering trust and inspiring customers with potential outfit combinations.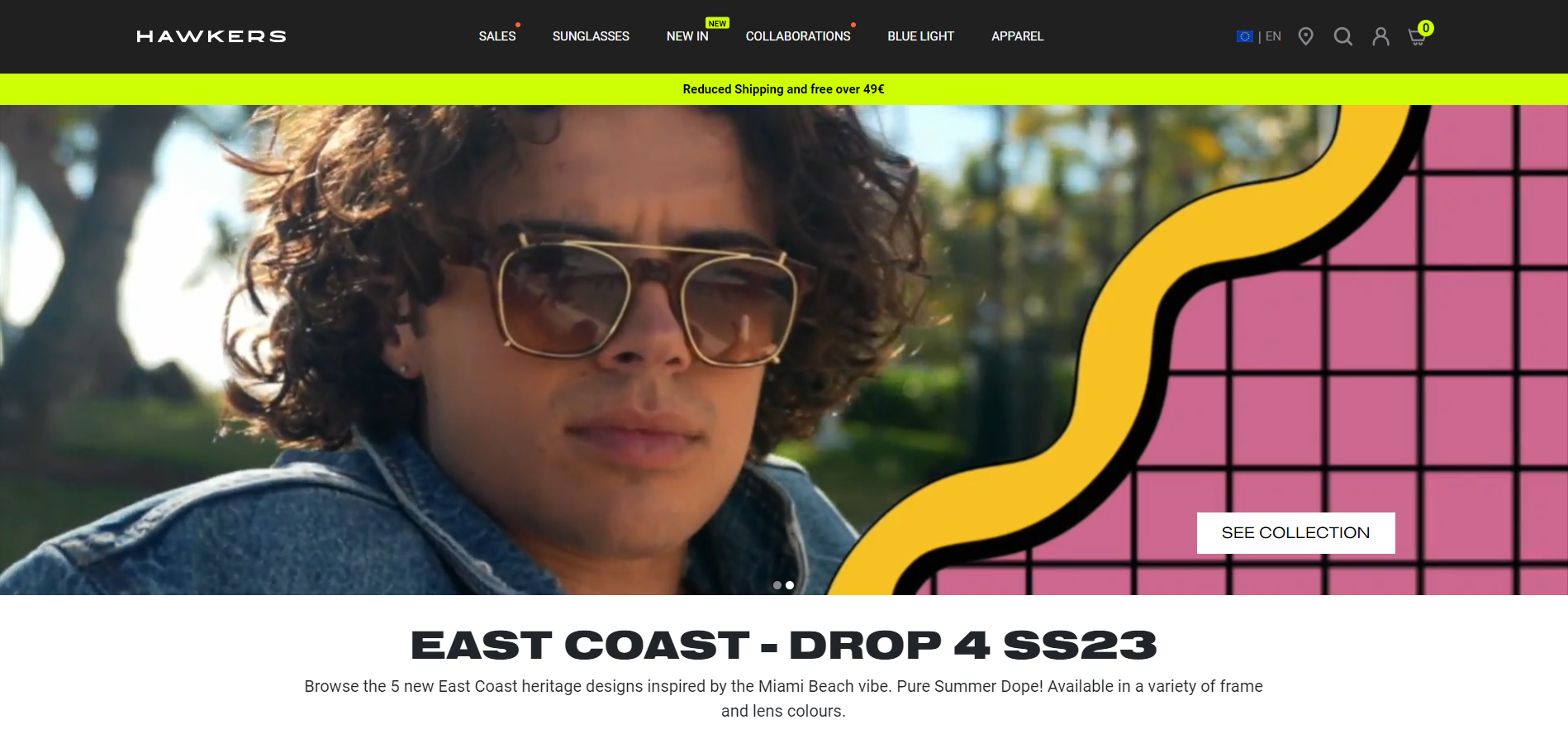 Hawkers is an excellent choice for shoppers seeking region-specific products. With its user-friendly interface, customers can easily navigate through various categories and enjoy personalized features such as delivery information, store locations, and exclusive vouchers or discounts. Notably, the site cleverly uses a red mark to pique users' curiosity about new arrivals, creating a sense of urgency to explore the latest seasonal specialties. Additionally, Hawkers impresses with high-quality product images that allow for zooming in, showcasing intricate details and alternate angles for a comprehensive shopping experience.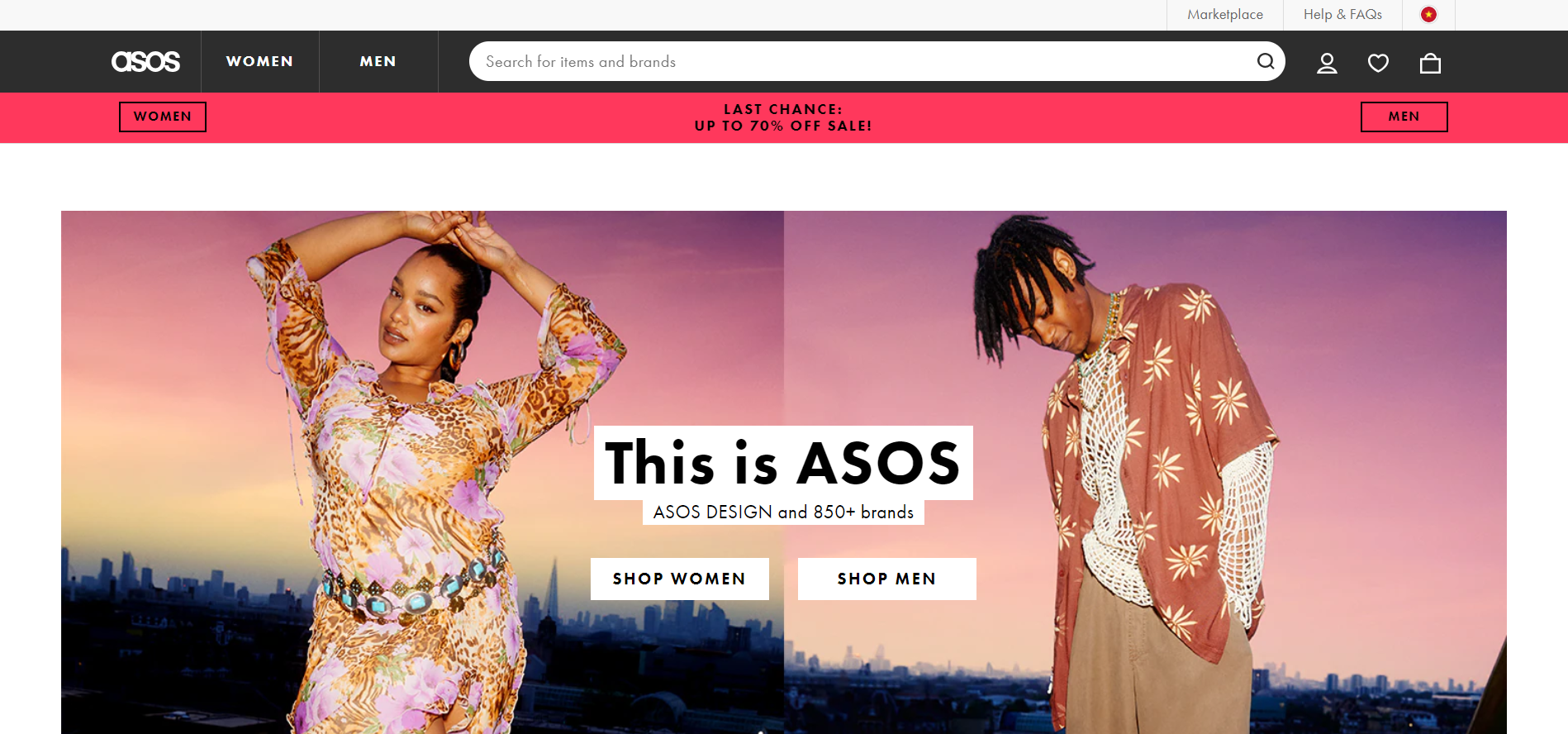 Asos is a leading fashion ecommerce site, boasts a sleek and minimalist homepage that effectively showcases its brand identity and directs users to explore further. By placing widgets in the footers, the site ensures an unobtrusive viewing experience. Notably, Asos caters to students with attractive discounts while also offering premium shipping services to customers in over 13 countries. With its appealing interface and customer-centric approach, Asos remains a go-to destination for fashion-forward individuals.
Lavish Alice exudes a delightful feminine and tranquil atmosphere with its captivating pastel color palette that complements its stylish products. What sets Lavish Alice apart is its remarkable use of video footage featuring models wearing their clothes, demonstrating the garments' comfort and versatility for all body sizes. The site also fosters a sense of community by incorporating Instagram pictures and a curated hashtag. Lavish Alice offers a unique line of sculpology and an intelligent 'buy now, pay later' policy, catering to diverse customer preferences.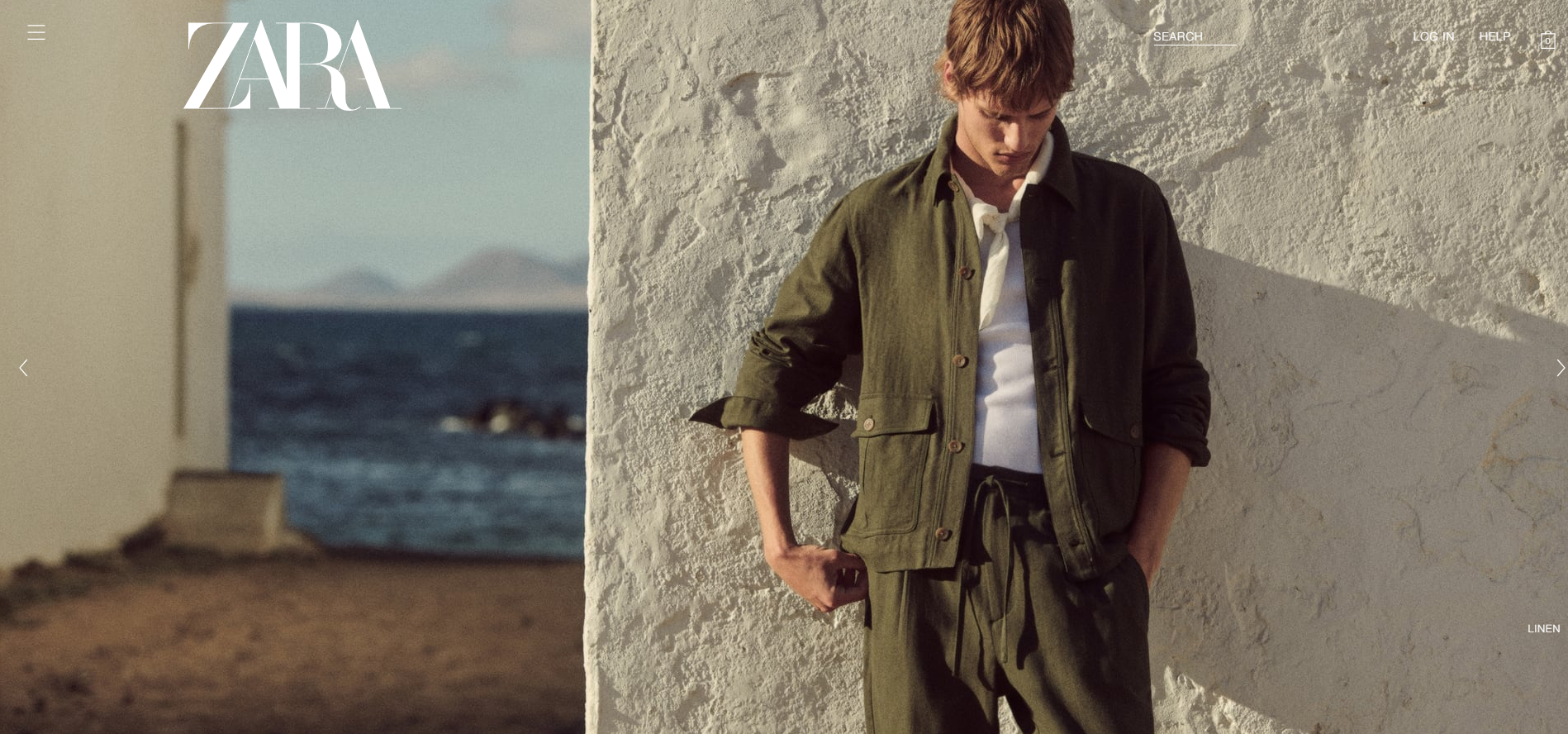 Zara is a renowned fashion e-commerce site. Taking unconventional approach with its homepage, Zara emphasizes its new mission of sustainability through technology. By sharing behind-the-scenes stories, Zara builds trust with its customers. The site's minimalistic design ensures a seamless browsing experience, with widgets that do not feature distracting drop-down menus. Moreover, Zara impresses with its smart alternative feature, which suggests similar products when a specific size or color is out of stock, ensuring a satisfying shopping experience.
Top Vintage captivates users with its minimalistic design that exudes a genuine vintage aesthetic through carefully selected colors, fonts, and prominent filters. Impressively, the site caters to a global audience by offering support in up to five languages and multiple currencies, accompanied by a diverse range of payment options. Top Vintage values customer engagement, providing features like blog posts, reviews, and a shop-by-brands section, ensuring a personalized and interactive shopping experience.
Sneakerdistrict brings users simple yet distinctive fonts and layouts. The site showcases high-quality images that exude style and swag, with captivating switching effects. Notably, Sneakerdistrict adopts an unconventional approach with a minimalistic header banner that prioritizes essential information, optimizing space for crucial content. The site also prioritizes customer service, offering a live chat feature for immediate assistance and providing a dedicated space for online reviews, ensuring a seamless and interactive shopping experience.
Chubbies have excellent check-out incentives and delivery policies. The brand's distinct identity shines through its vibrant color palette and clever, lighthearted copy that effectively conveys its core values and brand voice. Notably, Chubbies incorporates social proof elements, such as star ratings on platforms like Trustpilot, to instill trust and alleviate potential buying barriers or perceived risks. With its engaging and trustworthy approach, Chubbies offers a delightful shopping experience for fashion enthusiasts.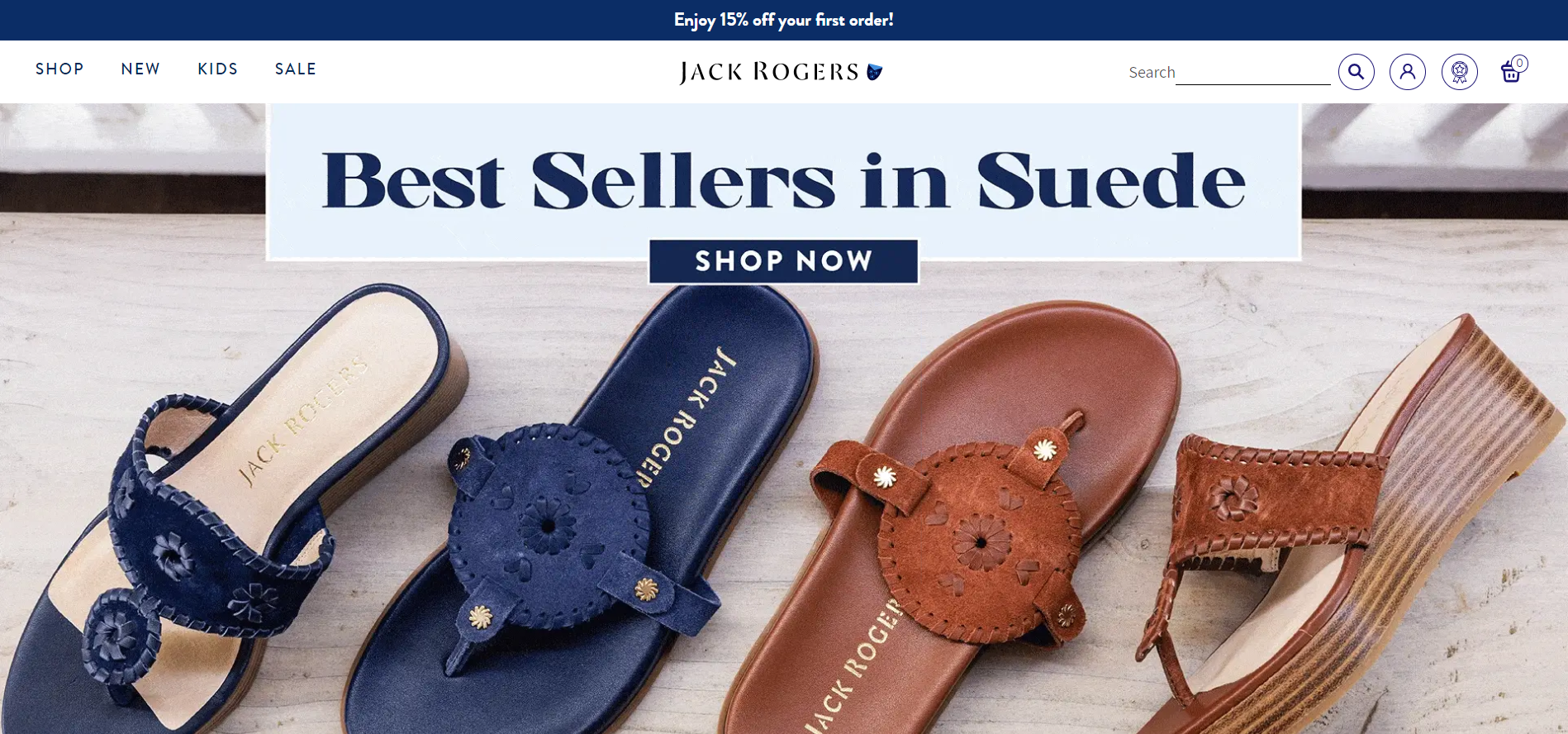 Jack Rogers offers a remarkable selection of footwear with an extensive range of colors and sizes. The site employs a clever smile points system, leveraging previous customer feedback to enhance the shopping experience. Furthermore, Jack Rogers utilizes a smart strategy to encourage users to log in, providing personalized contact and enticing them to join the loyalty program. With its minimal and tidy design, featuring a bold color and font combination, Jack Rogers delivers a visually appealing platform for fashion enthusiasts.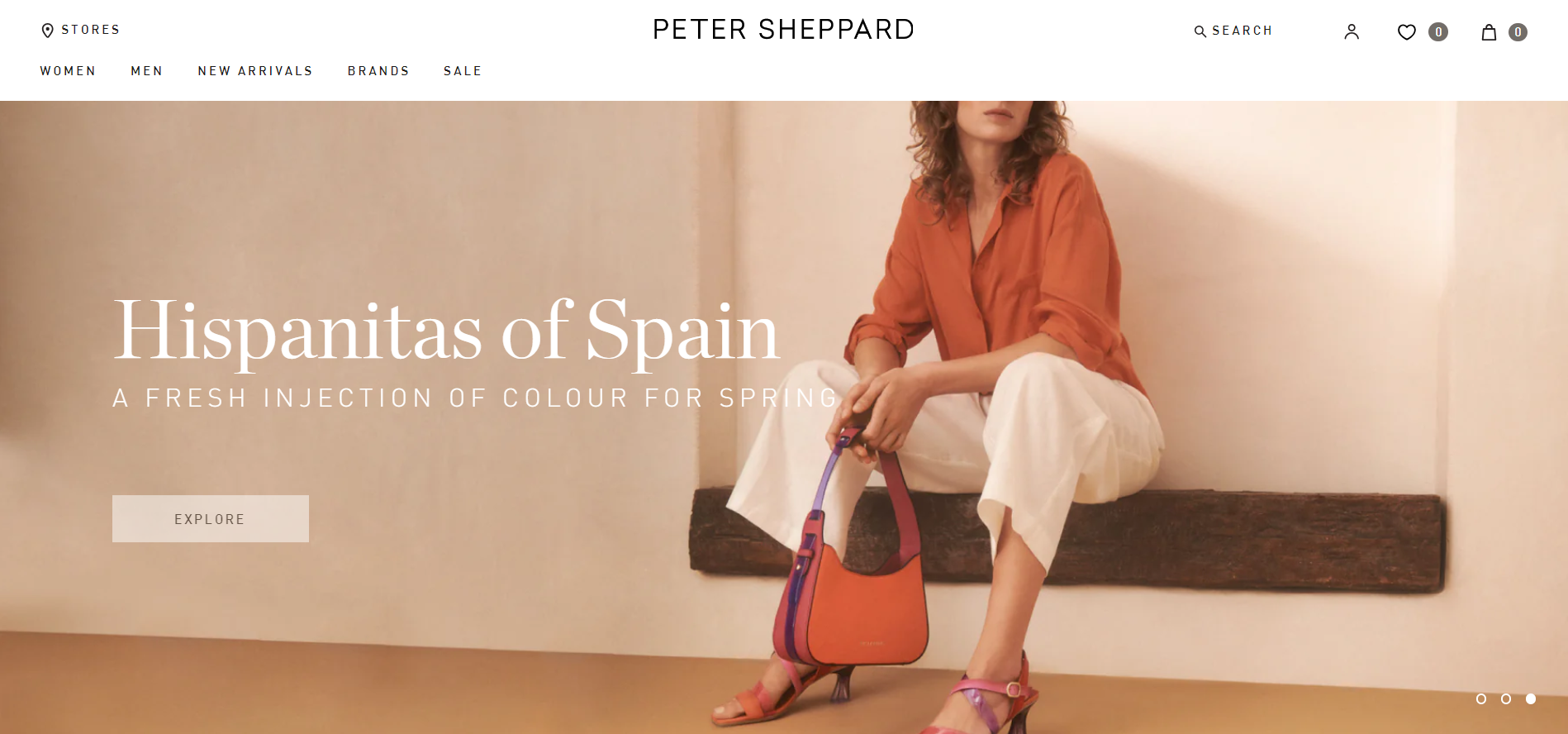 Peter Sheppard impresses with its well-organized categories, smartly positioned on the left side for easy navigation without causing visual imbalance. The site captivates users with compelling images that evoke a sense of elegance, utilizing carefully selected color sets. Notably, Peter Sheppard excels in features that address customers' concerns when purchasing shoes online, offering options to discover the right fit and orthotic-friendly shoes for both women and men. With its user-friendly interface and customer-centric approach, Peter Sheppard provides a seamless and worry-free shopping experience.
Greats immediately impresses customers with its prominent offering of "Free Shipping & Return for all orders," prominently displayed at the top. The site's design embodies luxurious simplicity, delivering an efficient and visually pleasing experience with clear call-to-action buttons. The product images are equally compelling, standing out with ample white space that allows the items to shine. With its customer-focused approach and aesthetically pleasing design, Greats offers a delightful shopping experience for fashion enthusiasts.
Peepers excels in creating a sense of FOMO (fear of missing out) through its clever and witty copy, complemented by a minimalist font and design. The site incorporates smart features such as an order tracking system, wholesale purchase options, and personalized care through quizzes to help customers find the perfect pair. Additionally, Peepers establishes strong social proof by showcasing recognition from world-renowned newspapers and magazines. With its engaging approach and user-friendly features, Peepers offers a compelling and trusted platform for fashion-forward individuals.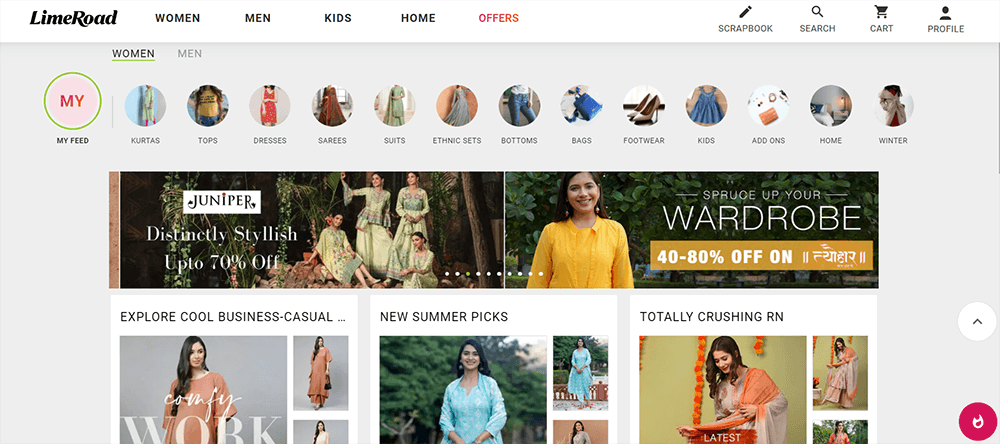 Limeroad sets itself apart by placing full-body photos as the first product images, featuring real individuals wearing the clothes. This allows customers to effortlessly visualize how a dress looks in real life. Moreover, Limeroad operates as a third-party marketplace, enabling vendors to upload stories and posts showcasing their products using hashtags. Buyers can follow vendor accounts, provide ratings and feedback through stories, engage in chat for suggestions, and seamlessly place orders. Limeroad fosters a dynamic and interactive shopping experience for fashion enthusiasts.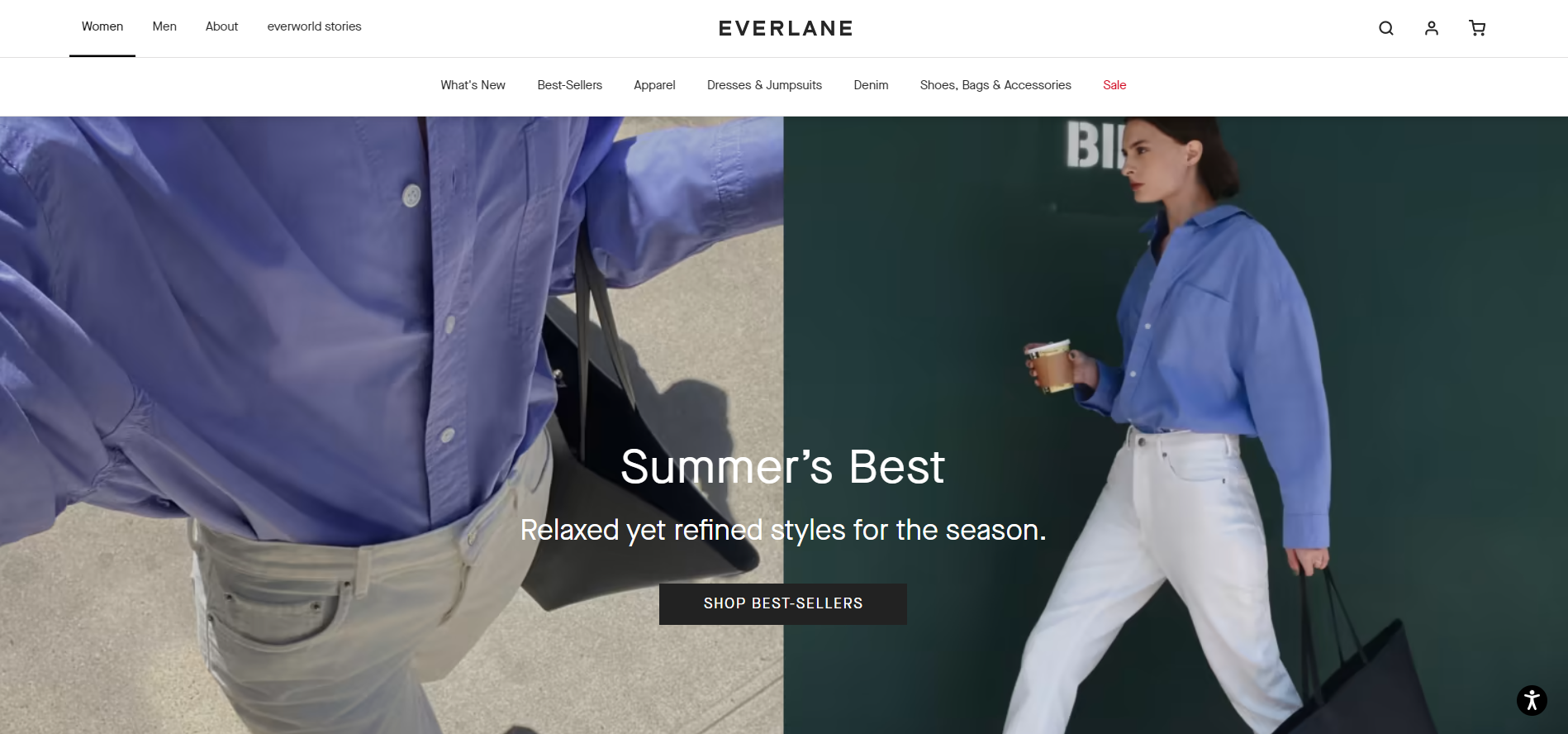 Everlane establishs authority through honest explanations of its transparent and sustainable policies. The site showcases real images from Instagram feedback and curated reviews, solidifying its credibility. Moreover, Everlane impresses with its fantastic product ideas, offering natural-made, sketchy, and comfortable quality items. The overall design creates an intimate and daily feel for users, with carefully chosen fonts and images. With its commitment to transparency and appealing product selection, Everlane provides a trustworthy and enjoyable shopping experience for fashion enthusiasts.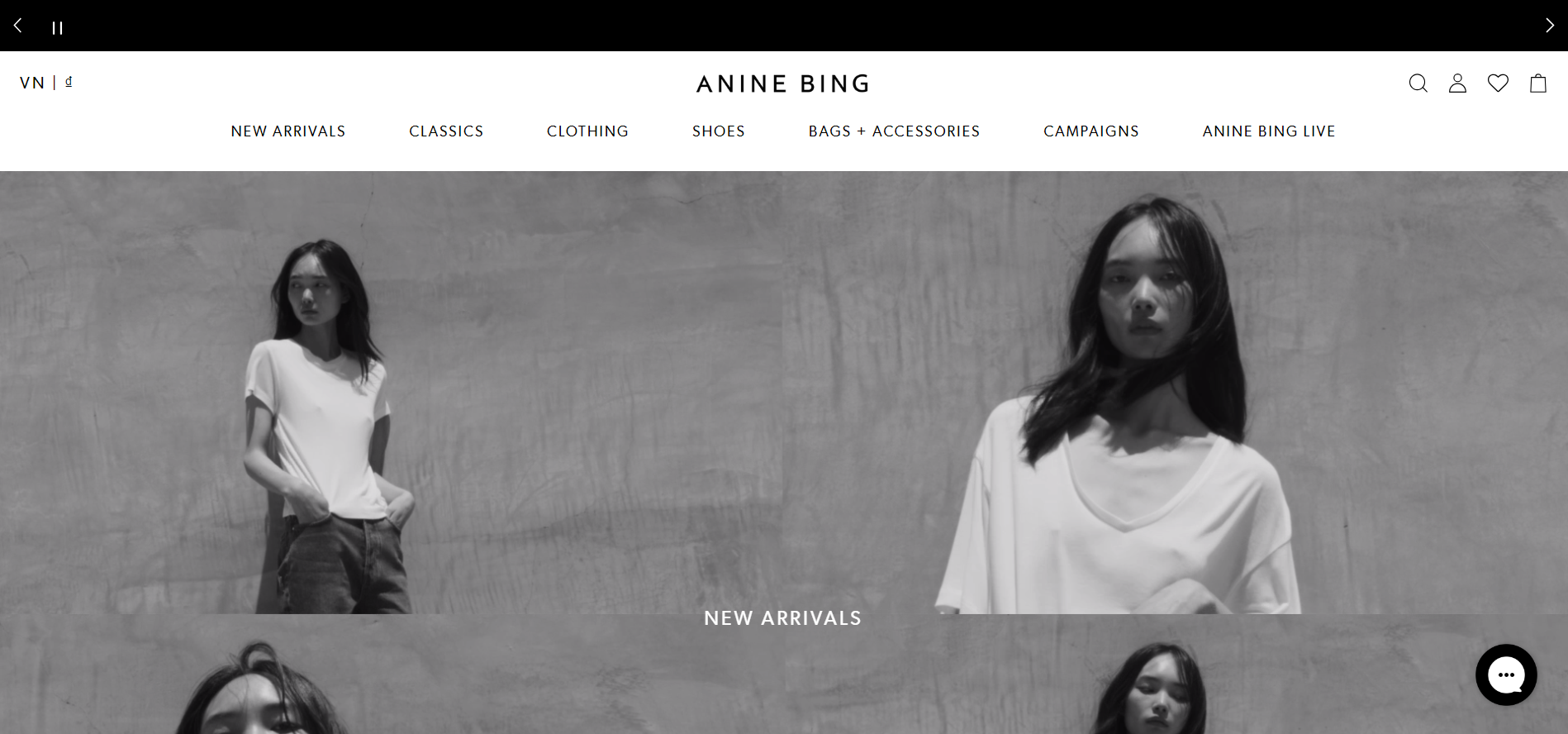 Annie Bing successfully captures an artistic and luxurious vibe through its black and white monotone aesthetic, accompanied by captivating shots. The site's banner utilizes symbols to offer an exclusive giveaway, presenting customers with a straightforward, no-brainer deal. Additionally, Annie Bing stays ahead of the curve by incorporating the latest eCommerce trends, such as video content and live streams, ensuring an engaging and up-to-date shopping experience for visitors.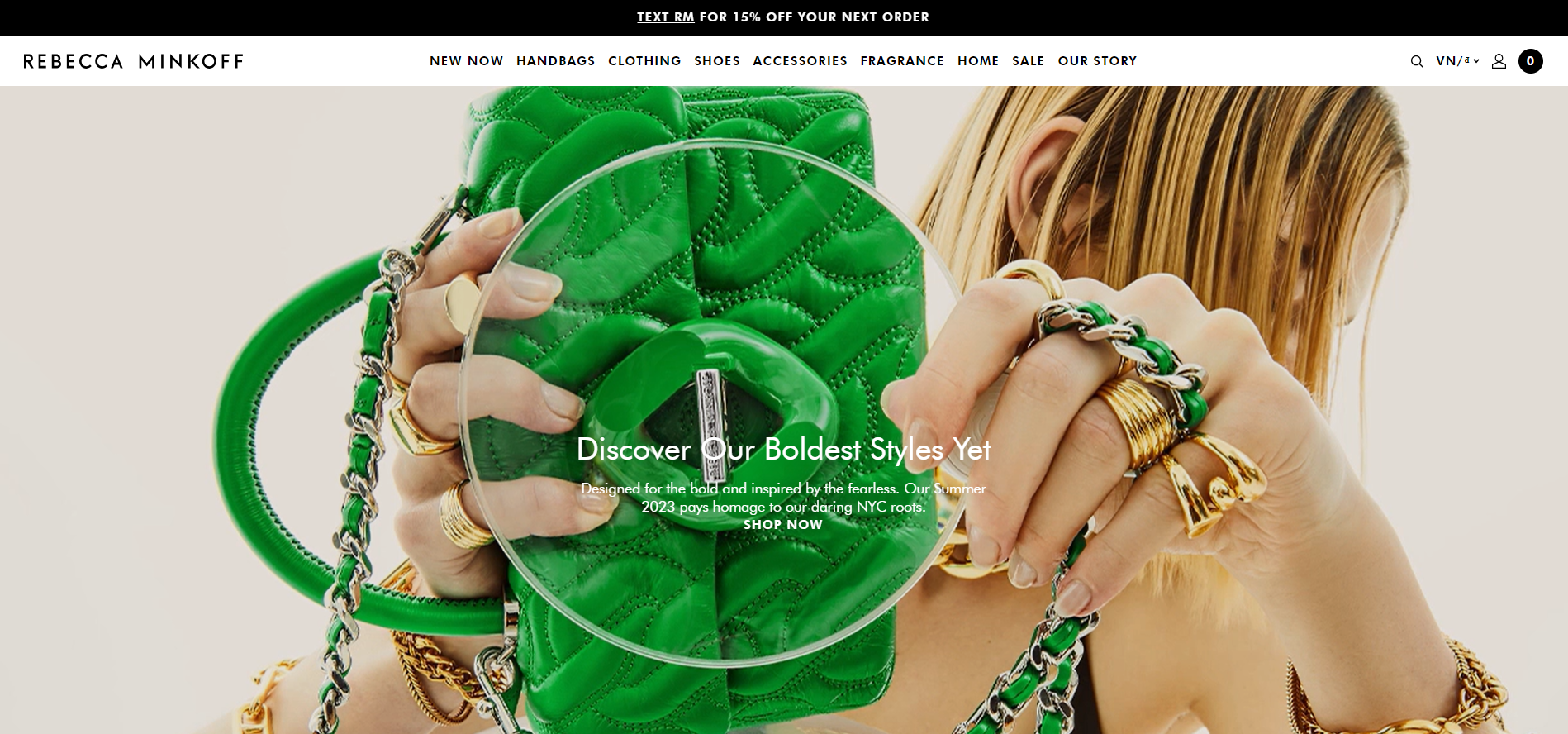 Rebecca Minkoff has a visually dynamic design, featuring overflowing visuals that create a harmonious and visually engaging chaos throughout the store. The brand's spirit is beautifully reflected through minimal use of words or borders, allowing the visuals to speak for themselves. Notably, Rebecca Minkoff highlights its offerings with excellent incentives, such as free shipping for domestic shoppers and a fair referring policy. Additionally, the site appeals to impulsive buyers with a promising "buy now, pay later" option. With its visually stunning presentation and customer-centric approach, Rebecca Minkoff offers a delightful shopping experience for fashion enthusiasts.
Pangaia boasts a clean and polished banner that aligns with its goal of promoting diversity. The brand offers an array of attractive product ideas featuring vibrant colors, eco-conscious materials, simplicity, and timeless appeal. Pangaia's product portfolio is thoughtfully expanded to cater to the growing population seeking ethically sourced products for everyday use. With its commitment to sustainability and a wide range of offerings, Pangaia fulfills the specific needs of conscious consumers in their quest for ethical fashion choices.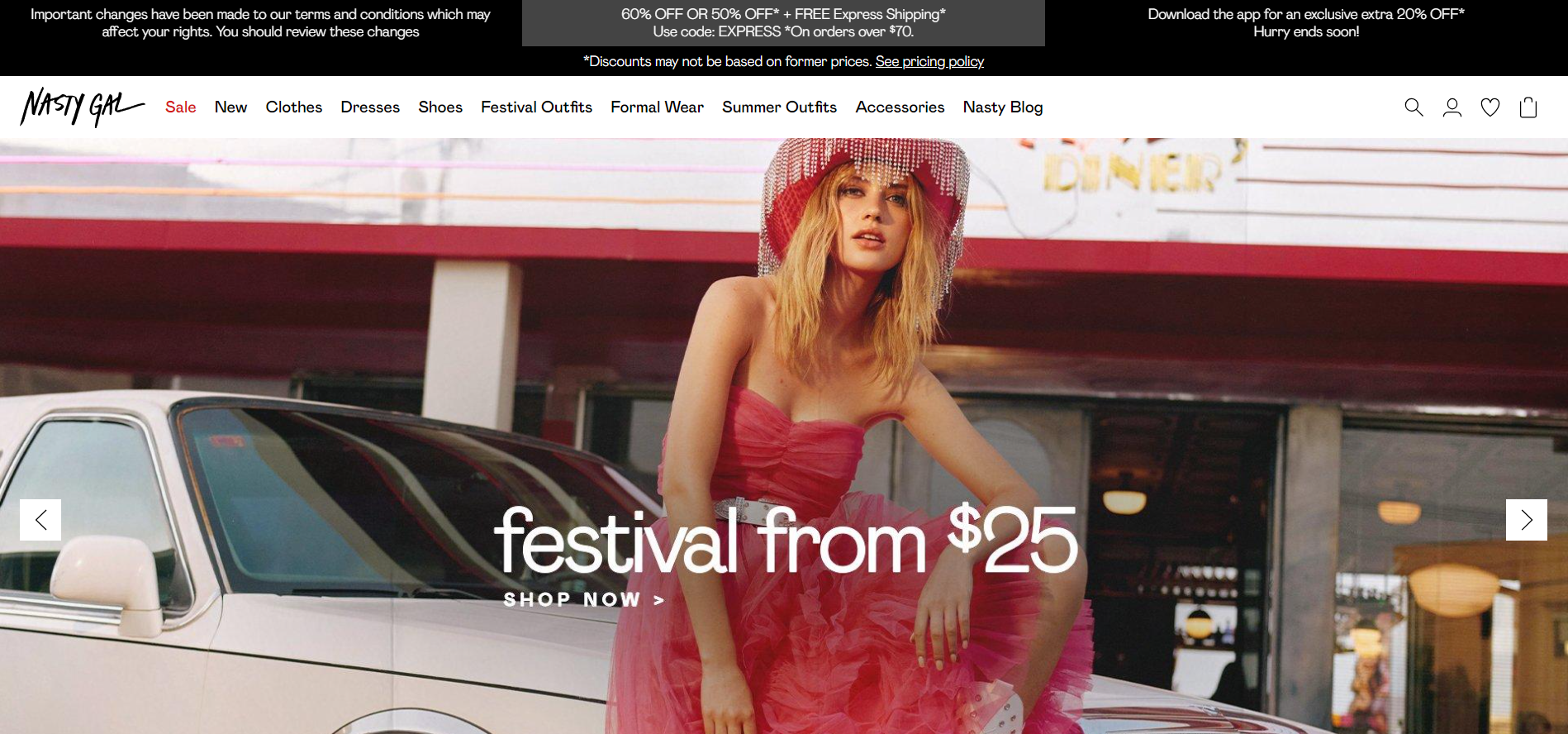 Nasty Gal, a notable fashion ecommerce site, excels in creating a sense of urgency and offering shipping incentives with their sassy copy. The site cleverly utilizes scarcity tactics to drive customer engagement. Moreover, Nasty Gal features a smart standalone area dedicated to the most-visited pages, ensuring easy navigation for users. With an extensive range of occasion wear, the brand helps their customers maintain a consistent and stylish look, allowing them to shine wherever they go.
Soludos is impressive with its simple yet powerful design concept, capturing details of the shoes from close-up vignettes to how they look on feet. The overall appearance of the site exudes a neat, spacious, and aesthetically pleasing atmosphere, enhanced by imagery with a sunny and beachy vibe. By eliminating unnecessary elements, Soludos allows its products to take the spotlight. Furthermore, the brand demonstrates a smart commitment to sustainability with transparent return and exchange policies, aligning with its mission.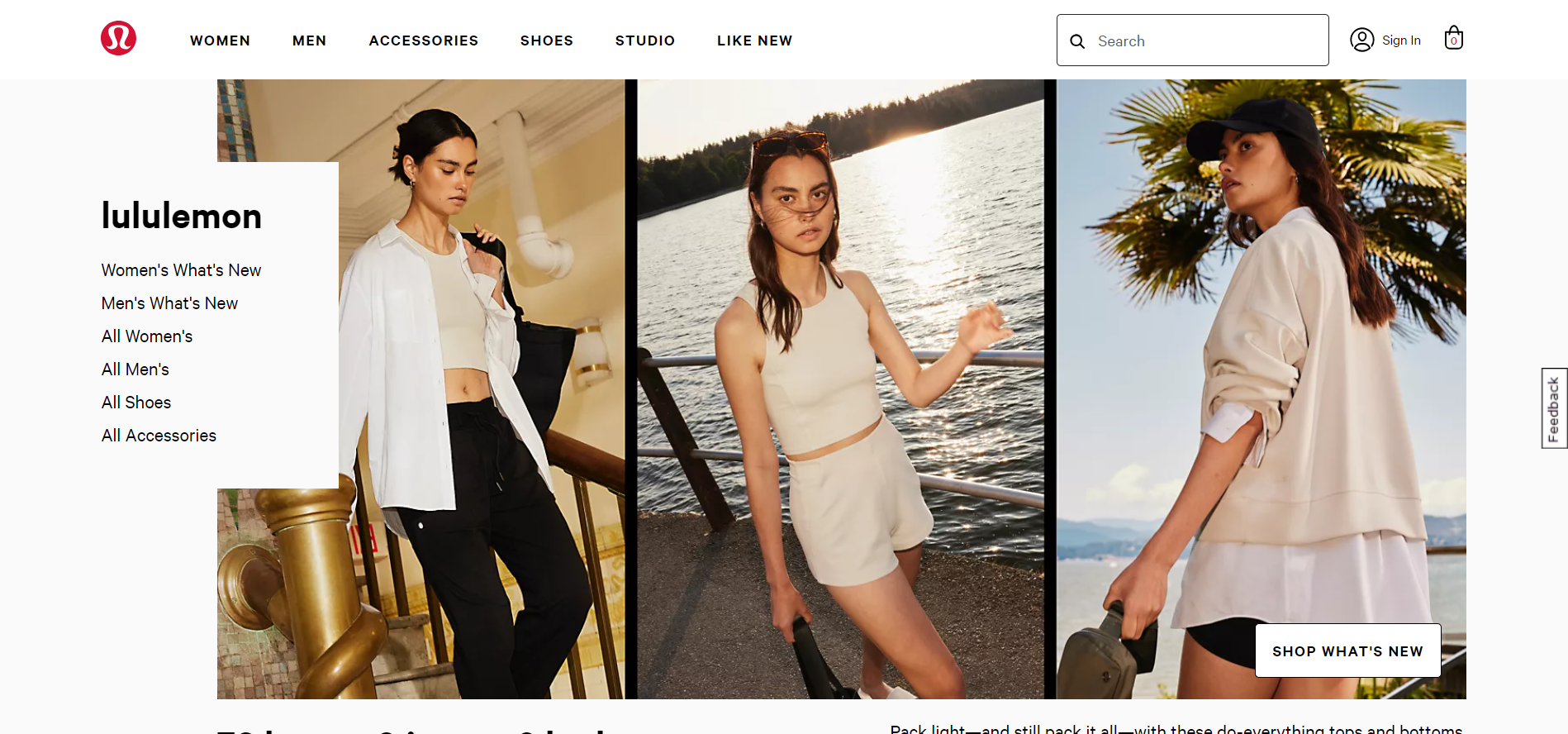 Lululemon has redefined daily wear with its athleisure offerings, which are set to remain a top trend for years to come. The brand's timeless designs provide both comfort for exercise and skin-friendly materials. Additionally, Lululemon wins the hearts of its audience by featuring models from diverse backgrounds, fostering inclusivity. Moreover, the brand's commitment to sustainability is evident through initiatives like the "Like New" program, promoting a more eco-conscious approach.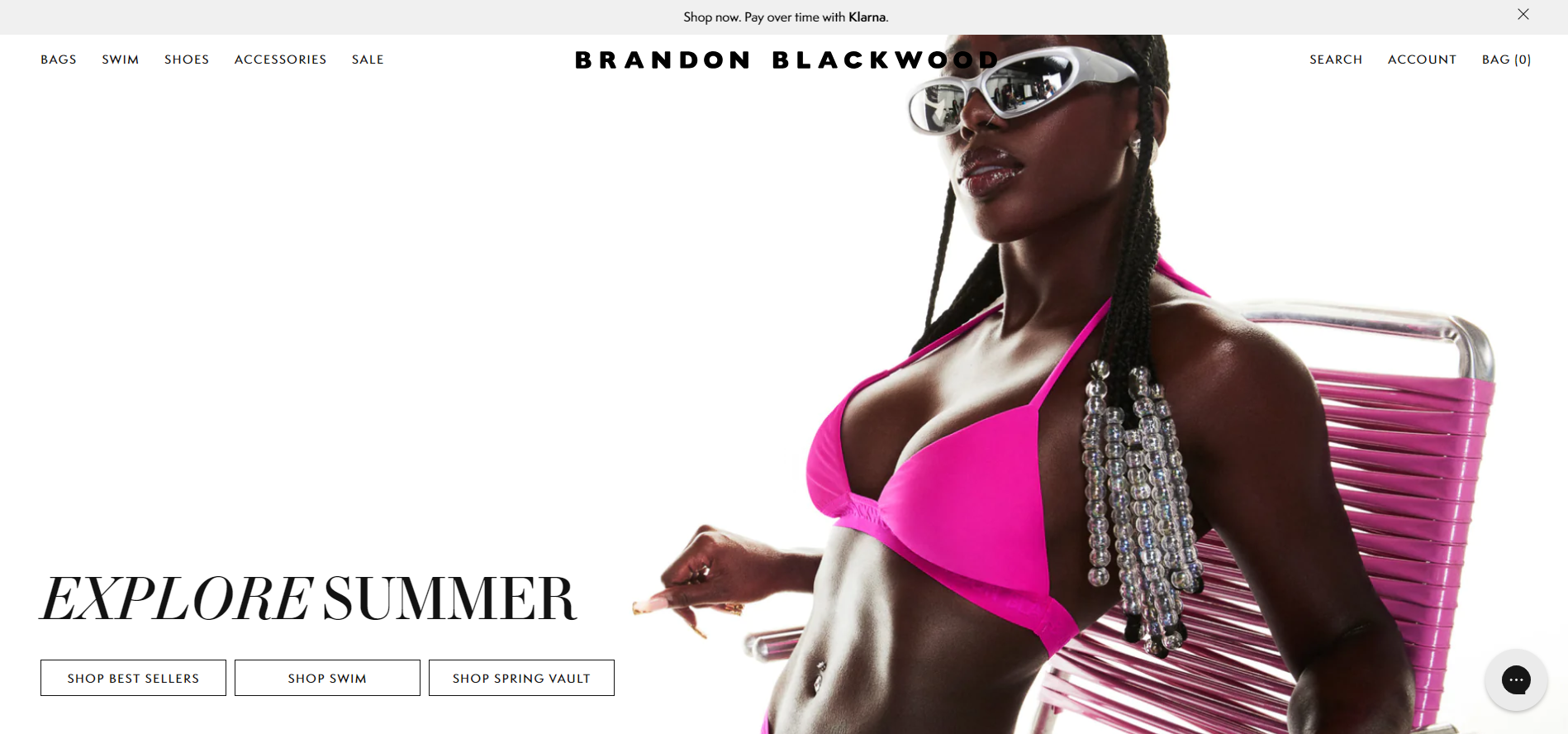 Brandon Blackwood has gained significant popularity with its striking statement bags that boldly address current issues, such as "End Systematic Racism." The site's design follows a super straightforward approach, with a minimalist product list lacking color and size filters. Instead of providing detailed explanations, Brandon Blackwood prioritizes branding, aiming to establish a strong connection with customers. Through its thought-provoking designs and minimalist aesthetic, the brand offers a unique and impactful shopping experience.
TomBoyX, a notable fashion ecommerce site, specializes in offering comfortable undergarments and swimwear in six distinct styles, catering to a diverse range of sizes, colors, and patterns. Embracing inclusivity, TomBoyX eliminates labels, serving the larger community as a whole. The site pays attention to detail, providing zoom-in features that showcase texture, real colors, and how the items look on a person. With a simplified banner that focuses on the most essential words, TomBoyX ensures a straightforward and engaging shopping experience.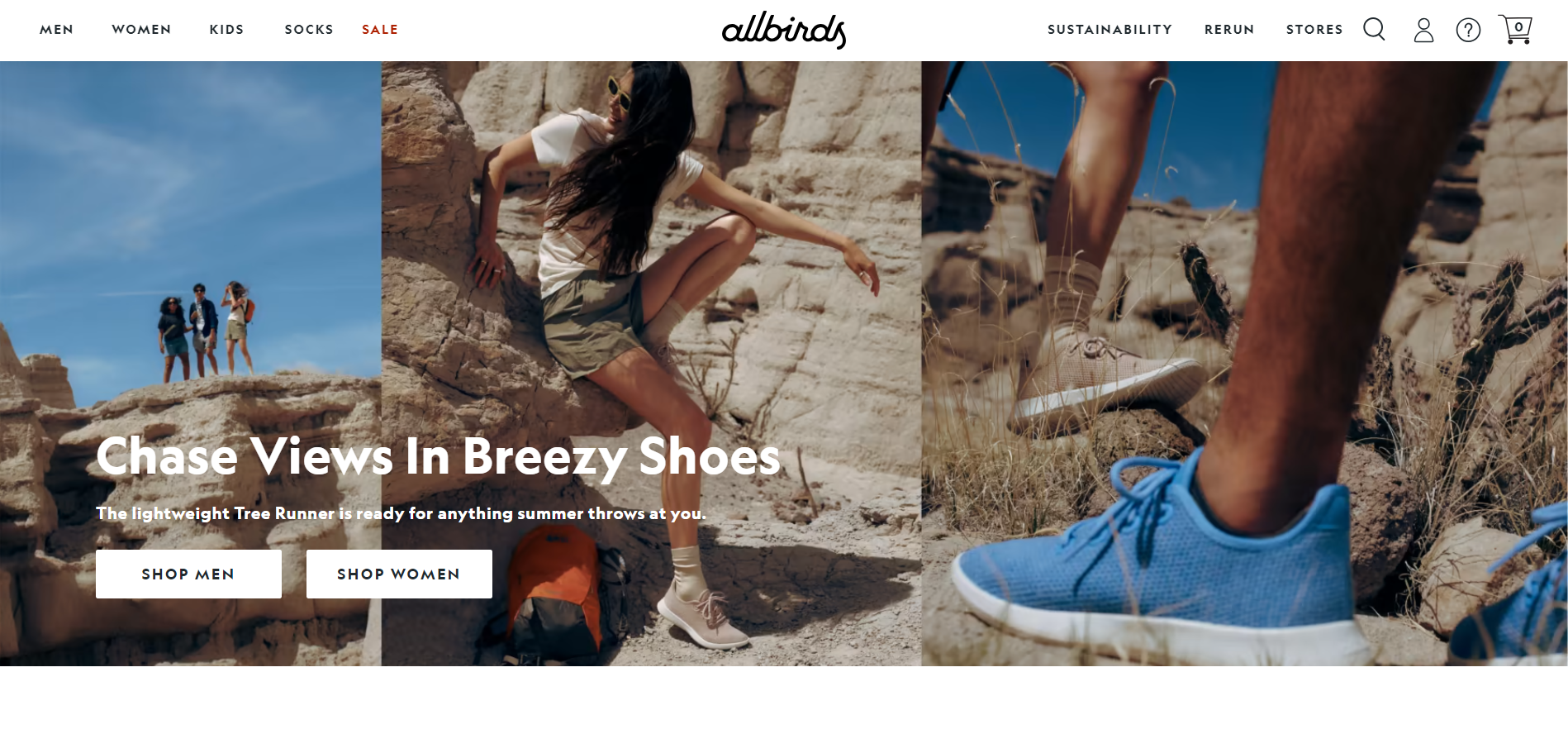 Allbirds stands out for its commitment to sustainability and environmental care. The store impresses with a brilliant combination of witty and compelling copy, dynamic visuals, and effective call-to-action prompts. The overall aesthetic and engaging feel of the homepage create an inviting atmosphere. Allbirds also establishes authority and builds trust through elements like being a certified B-corp and sharing practical stories of taking action towards sustainability. With its eco-conscious approach and engaging features, Allbirds offers a compelling shopping experience for environmentally-conscious consumers.
Outdoor Voices captivates with its bright and soothing color palette. In their videos, models exude confidence, joy, and relaxation through their expressive movements, creating a positive and inviting atmosphere. The brand's purpose shines through in their creative process, emphasizing inspiration and the continuous journey of creating and recreating. Outdoor Voices successfully instills a sense of goodness and encourages customers to join them in their active lifestyle.
Start Your Fashion Ecommerce Site Today
If you feel inspired when checking out some of the best fashion ecommerce sites, there's a great chance that you and the online fashion business are meant to be.
Honestly, just follow what you love, and focus your time and energy on creating meaningful relationships with your audience, and you can get help for the rest of it.
No one starting out can know all and be perfect. That's why Tigren would like to help you develop, maintain, and scale your fashion ecommerce site.
We are an outsourcing ecommerce development agency with a decade-worth of expertise, based in Vietnam. Our mission is to help businesses across the globe achieve their goals and accelerate ROI.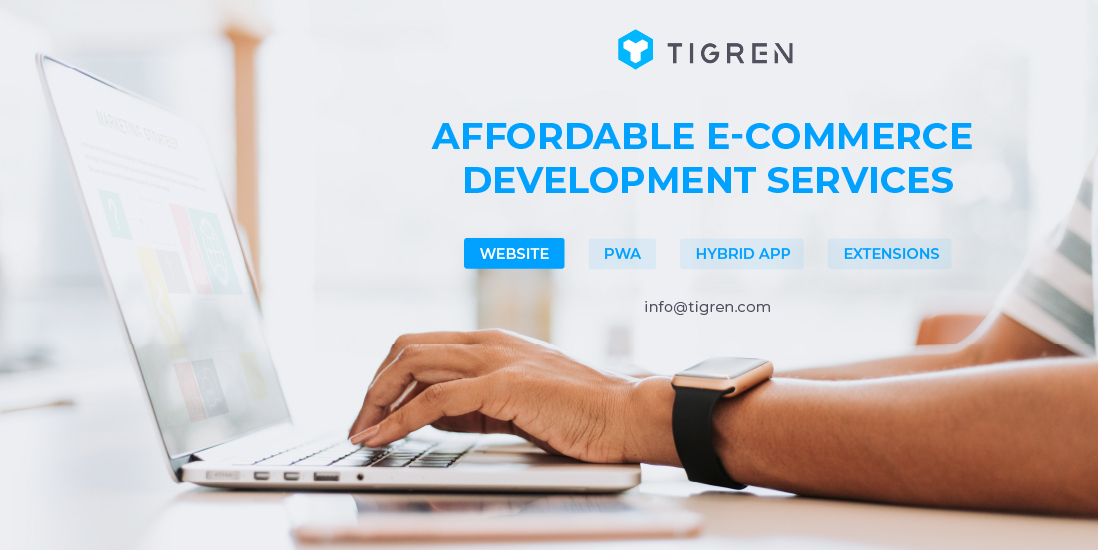 Read more:
Free & Premium Magento PWA Fashion Themes
"Is Selling Clothes Online Profitable" – The Answered Revealed