When it comes to ideas and inspiration for a fashion brand, looking out on your ecommerce competitors' sites to learn about their uniqueness is a good choice. In fact, there might be too many great sites out there that you can't even decide which one you like best.
Don't worry. Trust your gut and let your inner intuition glows! Here you go, our 20+ absolute best fashion ecommerce sites in 2022, check it out for your next hot and steaming idea.
Revealed: 24 Best Fashion Ecommerce Sites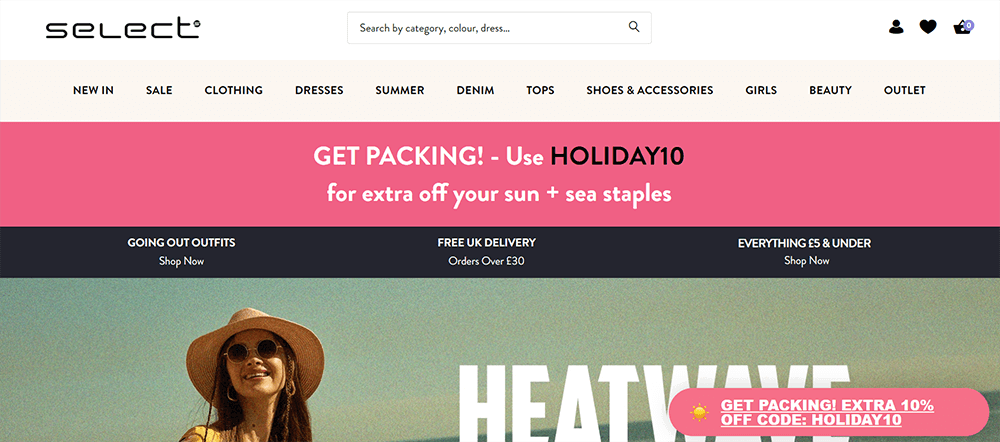 A bold and eye-catching discount CTA, with a relevant message that calls out the characteristics of its audience, and visitors can notice the delivery rate right away.
The design has a clean, spacious, and organized look with minimal fonts.
At the footer of the homepage, they show real snaps of their items on previous purchasers from Instagram, which is brilliant. It gives room for trust and inspiration for buying combos.

A top filter for region-specific distributed products, delivery information, store locations, and vouchers/ discounts makes it convenient and personalized.
A red mark on new-in creates a curiosity peak in users, just like if they don't check it out now, they might miss out on some specialty of the season.
High-quality pictures with zoom-in verso and details or a different angle of products.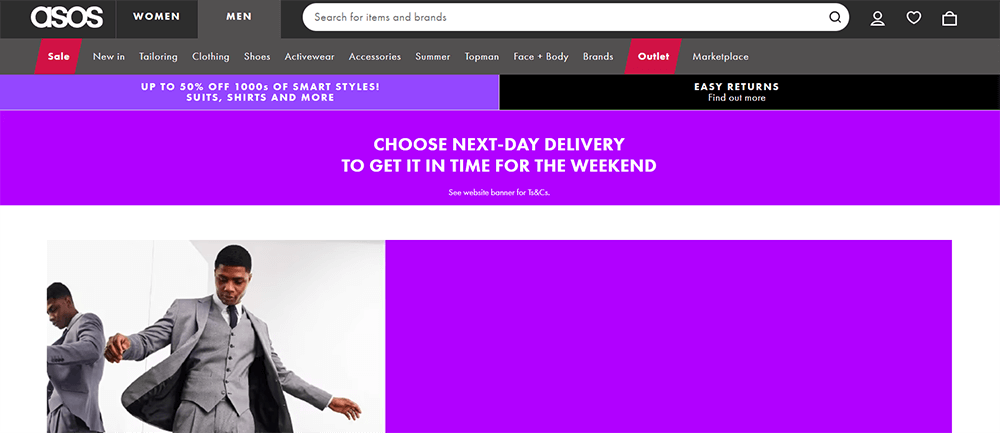 Another distinctive homepage with a clean and simplified look of what the store is all about and where you can check more.
The widgets are placed at the footers to avoid view disturbance.
Hit their target of students with great discounts while providing premium shipping to over 13 countries.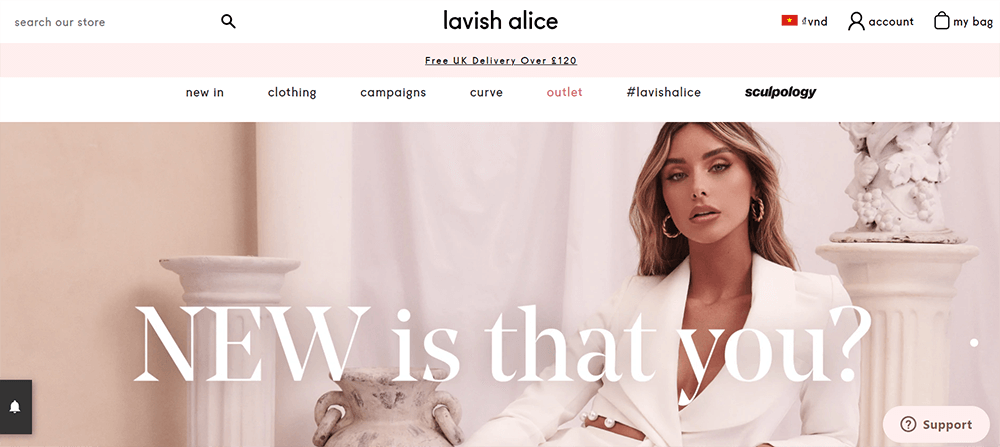 It has a lovely feminine and serene vibe using the pastel color palette that goes well with the product's styles.
Fantastic way of featuring the video footage of models wearing their clothes, showcasing their comfy in moving regardless of their sizes.
Room for Instagram's pictures and a curated hashtag to build community.
Build a special line of sculpology and a smart 'buy now, pay later' policy.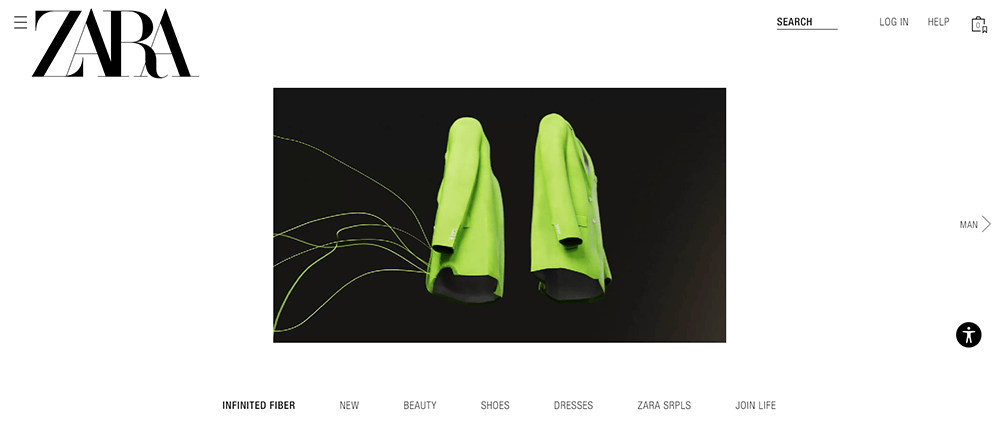 An unconventional homepage stresses its new mission of creating sustainable products using technology by telling a behind story to build trust.
Minimal design with no drop-down in the widgets to avoid disturbance.
A smart alternative with similar products when a size or a color runs out of stock in the filter section.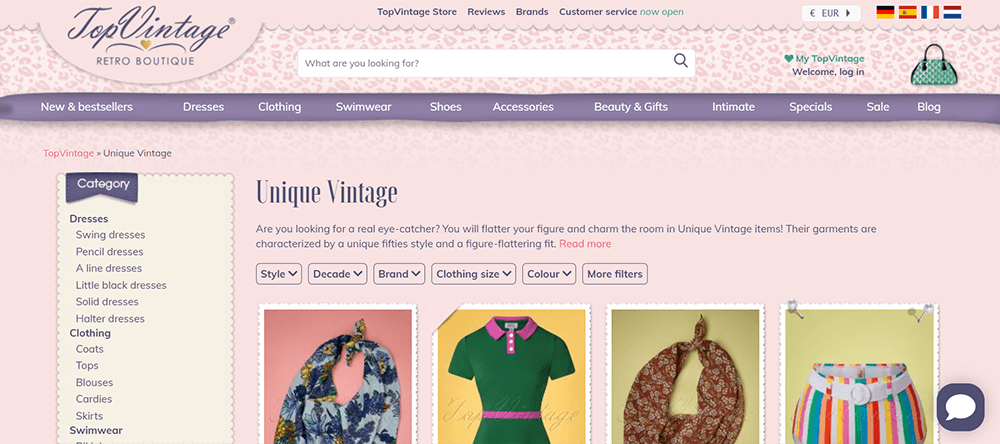 A minimal design with a relevant vintage vibe from color to font and fore-front filters.
Available in up to 5 languages and multiple currencies with a wide range of payment options.
Room for customers' features such as blog posts, reviews, and shop by brands.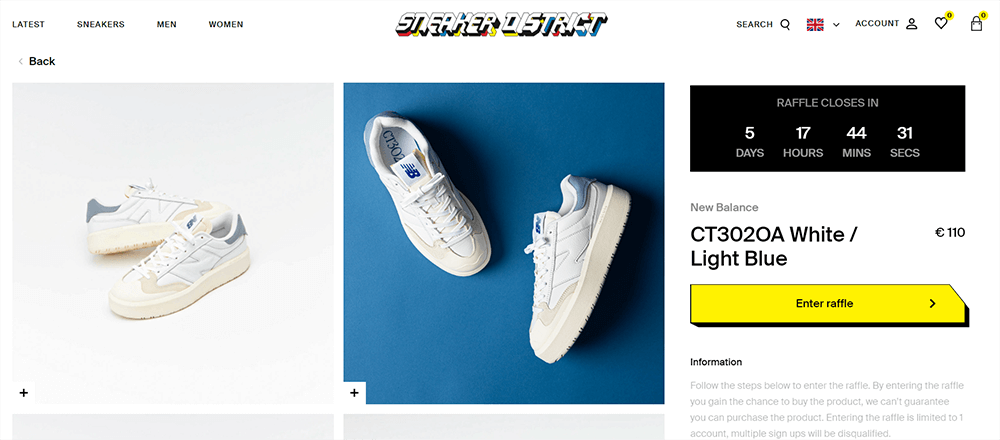 Simple but unique fonts and layouts, with high-quality, swag, and switching by effect images.
Unconventional, minimalized header banner with only the necessity, save space for the important.
Live chat's available for customer services and place for online reviews.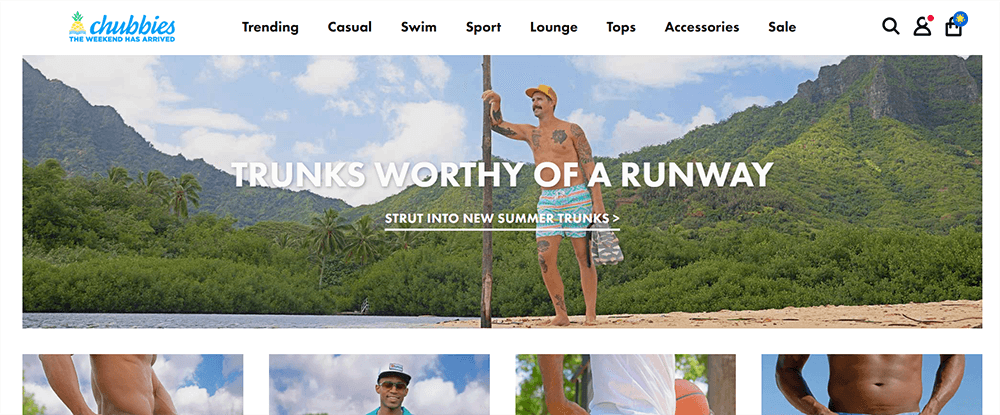 Great check-out incentives and delivery policy.
Embracing the use of vibrant colors and witty, cheeky, and joyful copy that smoothly delivers the core value and brand voice.
Each project is infused with social proofs, a star rate on Trustpilot if available, a great way to reduce buying barriers or perceived risks.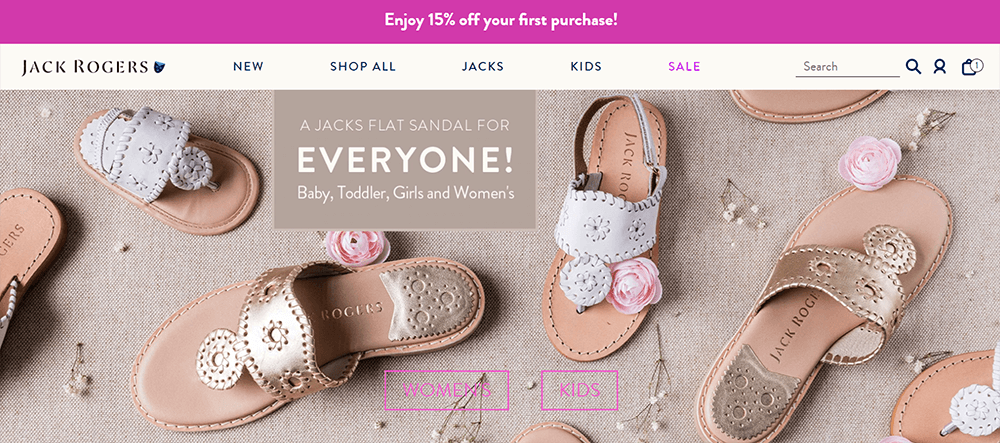 There is a great extended list of colors and sizes for each footwear, with the clever use of previous feedback through the smile points system.
The smart way of getting users to log in for their contact and encourage them to join the loyalty program.
Minimal, neat design with a bold choice of color and font combo.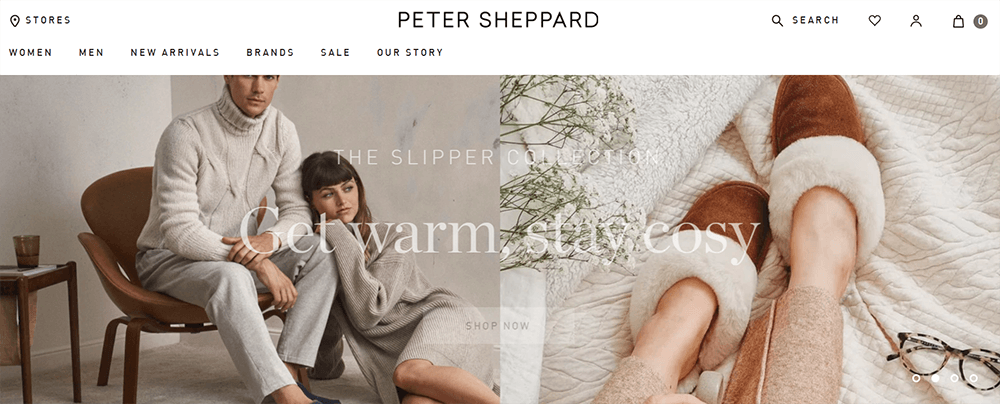 Great categories adjustment to the left side without feeling disproportionally irritated.
Compelling images to the senses with an elegant choice of color sets.
Brilliant use of features: discovering the right fit and/or orthotic friendly shoes for women and men that hit just right the customers' worry about purchasing online.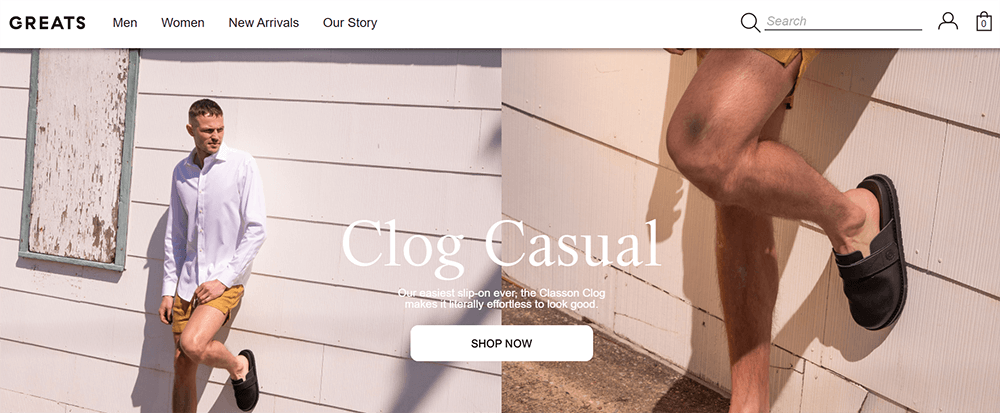 Impress customers with their line of "Free Shipping & Return for all orders" right on the top.
The design's luxurious simplicity is on-point, efficient, and eye-resting with clear CTAs. The product images also stand out with sufficient white space.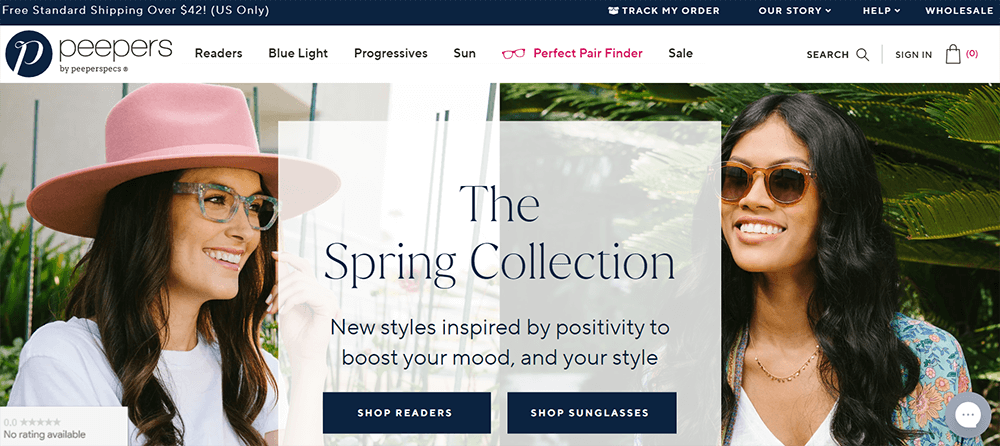 The copy does excellent on bringing the FOMO in a witty way while supporting the minimal font and design.
Smart adoptions for an order tracking system, wholesale purchase, personalized care to find the perfect pair with quizzes, and strong social proof with world-recognized newspapers and magazines.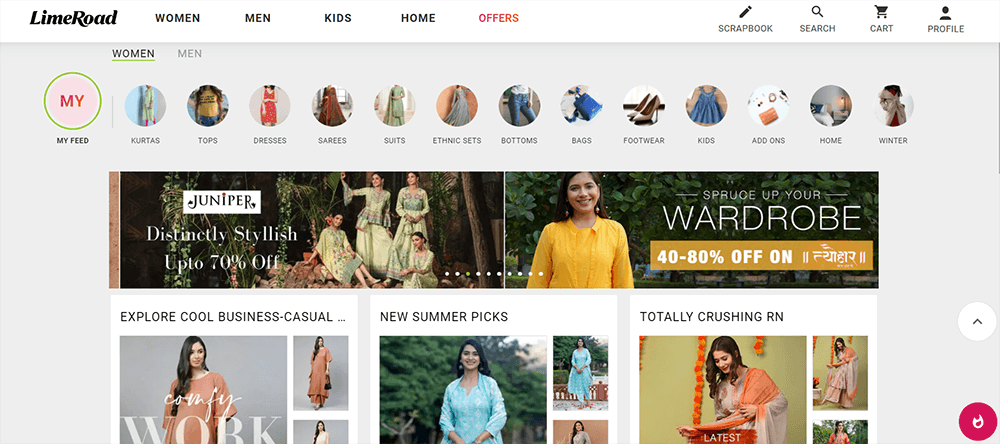 Place the full-body photo as the first product image, with a real person wearing them, making it effortlessly for customers to view how a dress looks in real life.

It's a third-party marketplace for vendors to upload stories and posts of products with hashtags, and where buyers can follow their accounts, give ratings and feedback through stories, like, chat for suggestions, and push orders.

Everlane nailed the authority building with honest explanations of their transparent and sustainable policy, providing real images from Instagram feedback and their own collected reviews.
Their product ideas are fantastic, with natural-made, sketchy, and comfy quality. The whole design brings an intimate, daily feel to users, from fonts to images.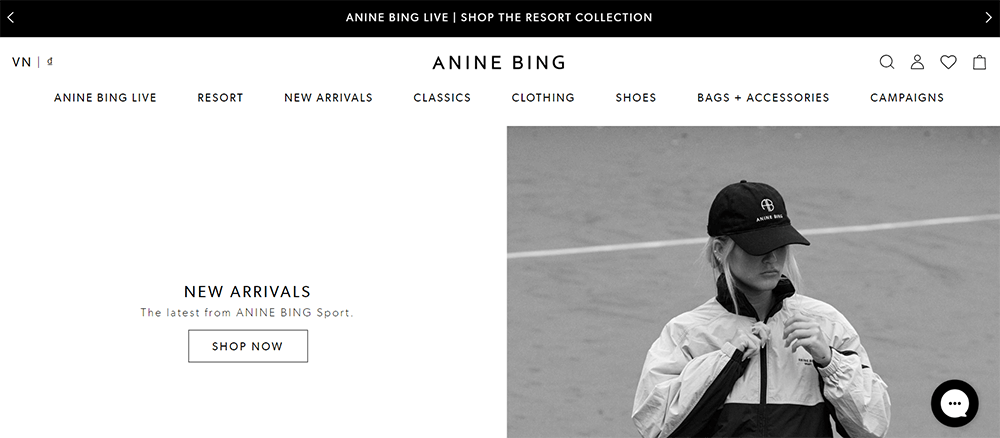 The artistic and luxurious vibe is well captured in the black and white monotone, with appealing shots.
The banner utilizes symbols with a straight-up, no-brainer deal for an exclusive giveaway.
The web adopts eCommerce's latest trends, such as video and lives.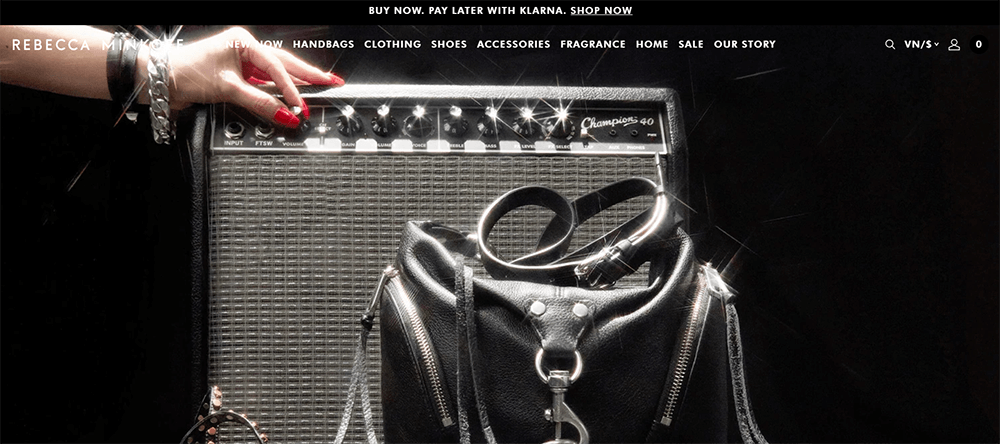 The visual is overflowing to all edges creating pleasing and harmonious chaos, appearing in all store parts, with the least illustrated words or borders needed. They reflect just the spirit that the brand is trying to express.
Excellent spotlighting over free shipping treat for domestic shoppers, fair and square referring policy, with a promising "buy now, pay later" for impulsive buyers.
Super clean and neat banner, with the logo implying the goal of diversity.

Their product ideas are attractive with bright colors, eco-conscious, simple, and forever on-trend.
Their product portfolio is expanded in a meaningful way to fulfill the specific needs of an increasing population looking for ethical sourcing products for everyday lives.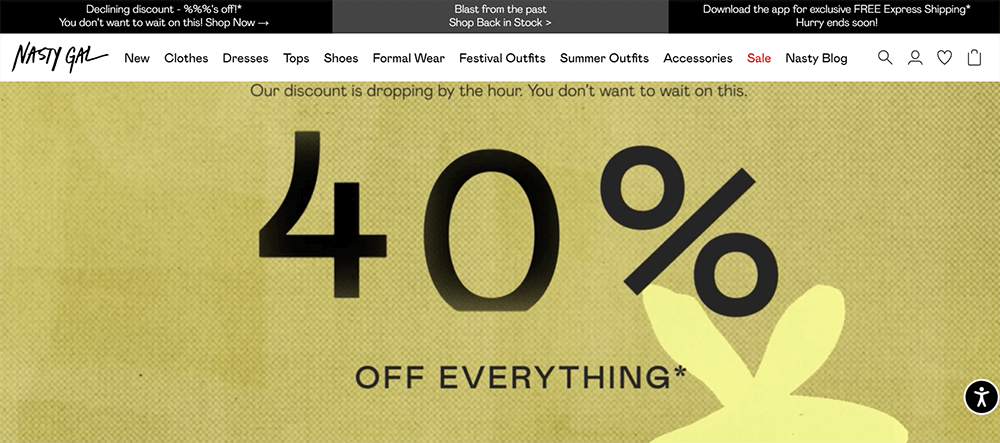 Nice use of scarcity and shipping incentives with a sassy copy.
Smart standalone area for most-visited pages in the quick links.
Extensive range of occasional clothes that help their girls keep it consistent and shine wherever they go.
From a close look at the vignette on the shoes to the way they look on your feet, a simple but powerful design idea.
Overall, the site looks neat, spacious, and aesthetic with the sunlight and beachy vibe images. Dropping all unnecessary fluff gives room for the products to shine themselves.
Smart move on the sustainability mission with transparency on return and exchange policy.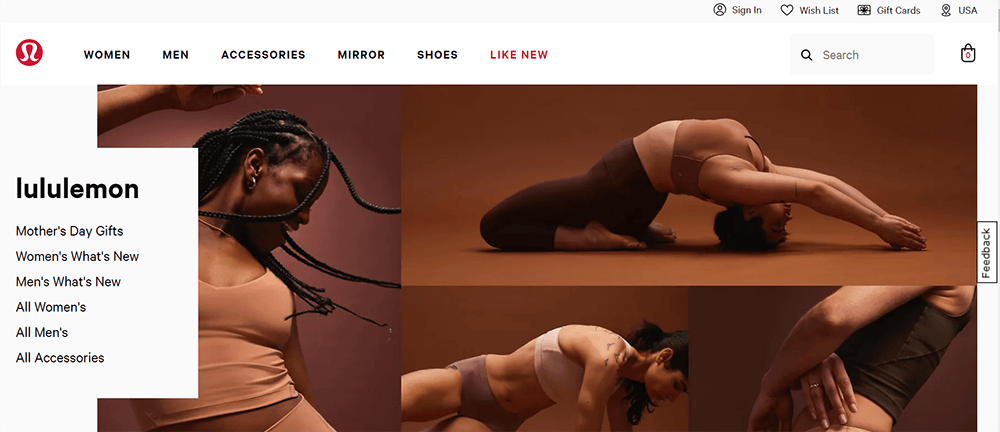 The brand themselves in a revolution in daily wearing with athleisure, and it's continuing to be trending in years to come due to the timeless design, comfy for exercising, and healthy for the skin.

Another point to score the audience's heart is that their models come from diverse backgrounds.
The brand rolls out the "Like New" program to promote sustainability.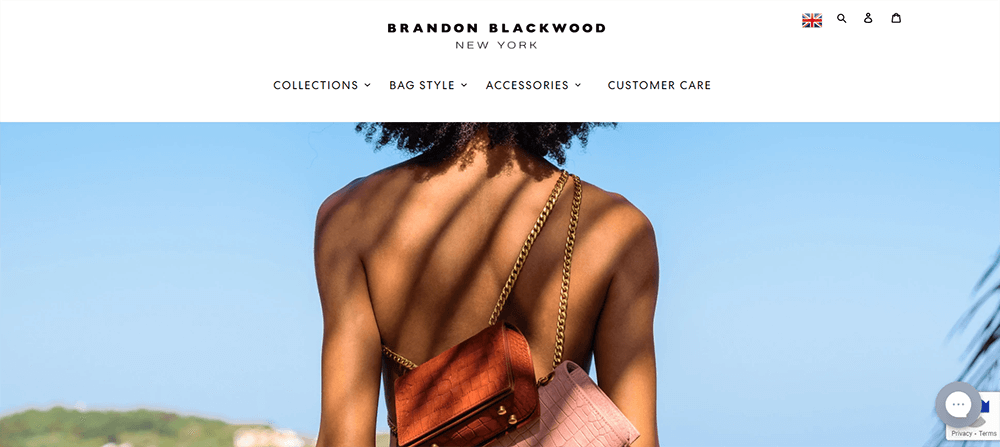 Blackwood has already become popular with his bold statement bags that stress the current issues like "End Systematic Racism."
The design is super straightforward. Notice that the product list doesn't have a color and size filter, thus making the page even more minimalist.
The site focuses on branding rather than description or explanation that comes closest to the customers.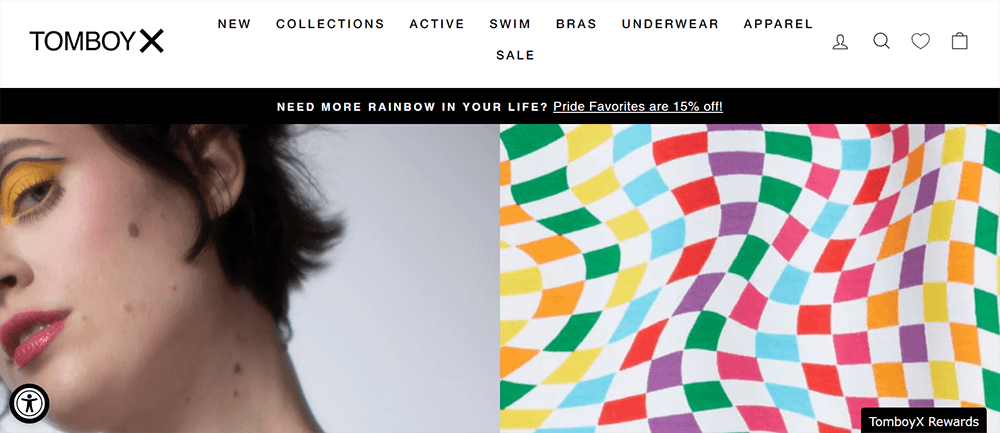 Showcasing the forever comfy undergarments and swimwear under 6 different styles but dozens of sizes, colors, and patterns, serving the larger community as a whole, with no labels.
Nice details on the zoom-in, showing texture, real colors, and real look of it on a person. Super simplified banner with words that matter.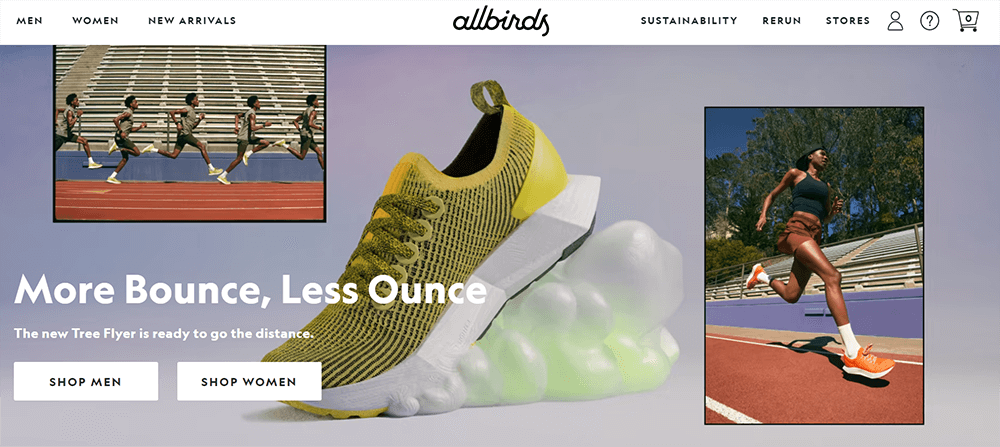 Allbirds is another apparel store all about sustainability and care for the environment.
Excellent combo of witty, compelling copy, dynamic visual, and call-to-action prompts. Love the aesthetic and engaging feel of the homepage altogether.
Great authority and trust-building elements from certified B-corp to practical stories of taking action.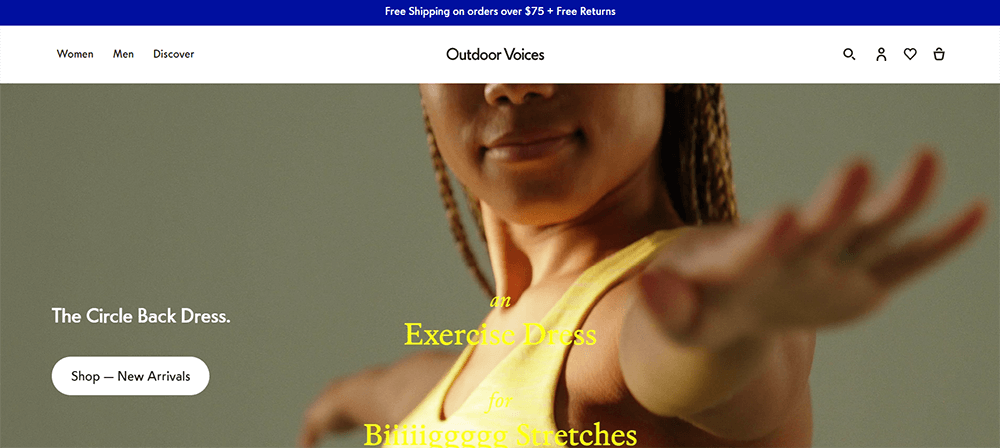 They give it a bright and gentle color tone while all the models confidently express joy and movements in a relaxing way in the video, making the audience feel good about joining them.

Love their brand purpose and the process of creating and recreating with inspiration.
3 Characteristics Of A Successful Fashion Ecommerce Site
Design
Humans absorb information by processing words and through compelling images. Combining the impact of words and pictures can create a distinctive memory of your brand identity in the customers' minds.
When discussing web design, it's really about how it contributes to the overall message that the business wants to convey. It should utilize specific details like font expression, color palette, images, and broad context as the layouts, interactions, and brand story flow.
There's a tendency to quickly adopt the latest trends and renew oneself as a fashion brand. But as the world strives toward diversity, inclusivity, equality, and eco-friendliness, design patterns such as genderless, seasonless, and sustainability are highly favored in years to come.
Customer Experience
A good design commands a proper structure. An ecommerce store should be about usability or the strategic mapping of user experience (UX). The UX designers will look at how they can figure out each type of interaction on-site, minimize all the unnecessary actions taken by visitors, and focus on building a meaningful engagement.
What you want is to anticipate and fulfill customers' needs and inquiries before they generate them in their heads, the result is a smooth and hassle-free buying experience with the least skepticism and perception of risk possible.
Smart Product
A unique niche idea or a new product line that helps fulfill customers' wishes and demands is worth a thousand words. Take an example with Pangaia, one of the faster brands adopting the ethical sourcing method into business.
Their idea of clothes is like a breath of fresh air, simple, comfy, and everlasting, relieving all women and men from having trouble picking suitable outfits for hanging out. Thus, they see incredible growth shortly after its establishment, with an increase of over 500k web visits after 2 months.
4 Tips to Grow Your Fashion Ecommerce Site
Listen To Your Target Audience
Your target audience is the most valuable asset, as 80% of your revenue came from 20% of repeat buyers. They are the ones who usually get updates from your brand and are willing to express their thoughts or suggestions so you can improve your services.
Because they are the ones who stay with your brand, that's why listen to their opinions, answer to as much feedback as you possibly can, and consider adopting their reasonable requests.
Heads Up With The Latest Fashion Trends And Updates
Always stay updated with what's going on around your customers. Time changes, taste changes, and fashion evolves. Before, no one would buy a solid T-shirt as it breeds a sense of lacking distinctiveness of person, plain Jane.
But now, young people see it as an eco-conscious act to minimize the use of dyeing colors or simply an act of minimalistic to avoid wasting time choosing the clothes. If you miss out on these movements, you miss out on opportunities. Spend some time visiting other stores to gain ideas for inspiring ecommerce website designs.
Focus On Your Audience Base
The larger the audience base, the larger the number of frequent purchasers. Building an audience is one of the best ways you can do for a sustained business.
Humans have a sense of belonging. By staying close to your customers, you're building a win-win relationship that fosters understanding and care, and they'd stay around longer.
Plus, any space provided for their feedback to be heard and solved will give them reassurance and calm of mind, especially when it's online shopping.
Optimize For Greater Time-On-Site
Loading speed is an everlasting problem for a fashion ecommerce site. No matter how well you've practiced all the strategies and tips above, without a proper functioning website to save your customers' time and patience, it's not going anywhere soon.
The optimization can involve every part in the backend of your website or just several areas. Start by running site testing or try all the suggested speed-improving advice until you nail the one. But once your business grows, we recommend hiring a continual support service.
Start Your Fashion Ecommerce Site Today
If you feel inspired when checking out some of the best fashion ecommerce sites, there's a great chance that you and the online fashion business are meant to be.
Honestly, just follow what you love, and focus your time and energy on creating meaningful relationships with your audience, and you can get help for the rest of it.
No one starting out can know all and be perfect. That's why Tigren would like to help you develop, maintain, and scale your fashion ecommerce site.
We are an outsourcing ecommerce development agency with a decade-worth of expertise, based in Vietnam. Our mission is to help businesses across the globe achieve their goals and accelerate ROI.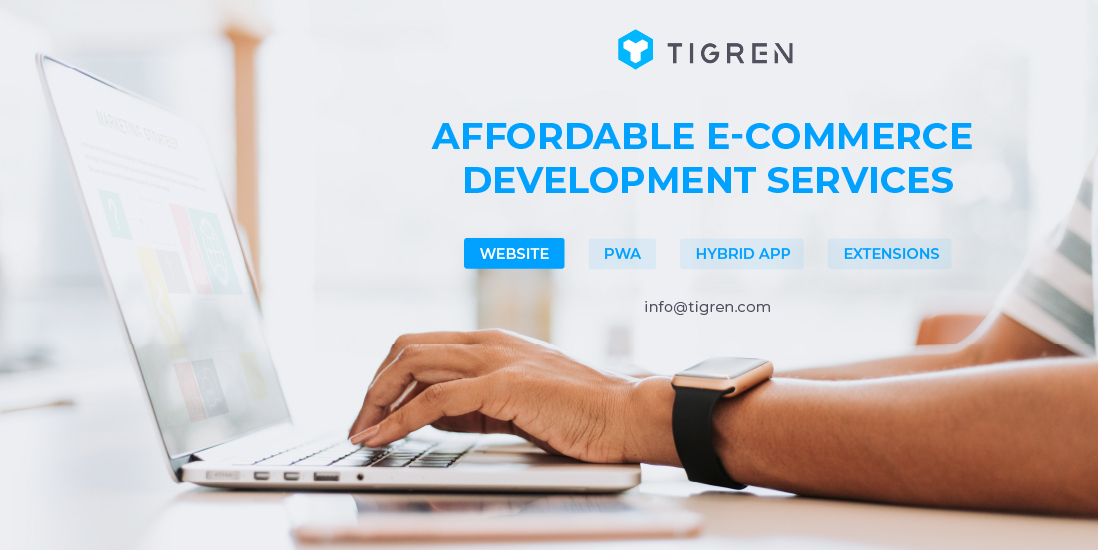 Read more:
How To Start A Gold Jewelry Business Online Without Mistakes | 2022 Guide