Magento themes and templates play a pivotal role in the success of online businesses. Why? The website design is the "silent ambassador" of your brand. Also, a good design will encourage your shoppers to find out more about your products. For start-ups, choosing the right themes for their Magento eCommerce stores would be halfway to success. Therefore, we endeavor to create a list that shows more than 50 of the best free Magento themes for both Magento 1 and Magento 2, which would be valuable suggestions for you when seeking a proper and responsive theme for your e-commerce store.
These Magento themes cover a variety of topics from fashion, furniture, and electronics to building materials, fitness, and so on. In spite of being free, you should ignore any of them since they are all responsive, modern, attractive, and effective for sale conversions.
Let's discover now!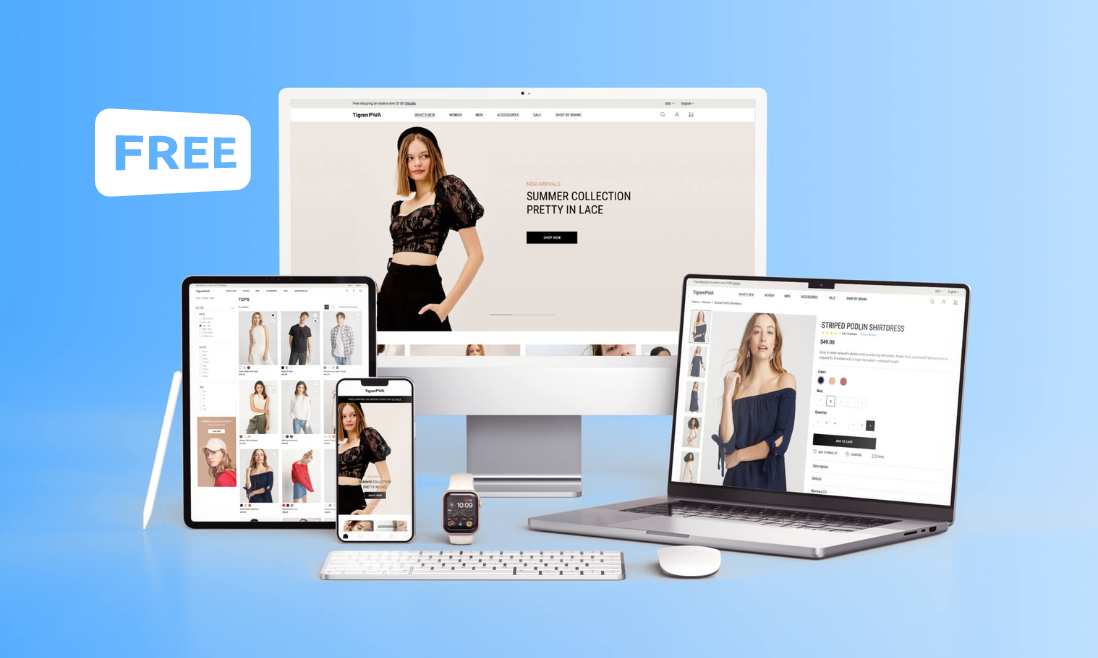 TigrenPWA is a special free Magento 2 theme that was designed with Progressive Web App (PWA) technology. PWA is an emerging web development trend that refers to websites that are behaviorally responsive and can be installed on mobile devices without the need for app stores or installation procedures.
TigrenPWA theme can load faster than any traditional Magento 2 themes, as well as more SEO- and mobile-friendly. Moreover, it gives your site the abilities to be added and create a shortcut on mobile home screen and send push notifications directly to customers' phones. This helps them stay informed about your latest products or services, makes it easier for them to find what they're looking for, and increases their overall satisfaction with shopping on your site. In short, all of these factors work together to create an engaging experience for your customers.
View TigrenPWA demos or download now.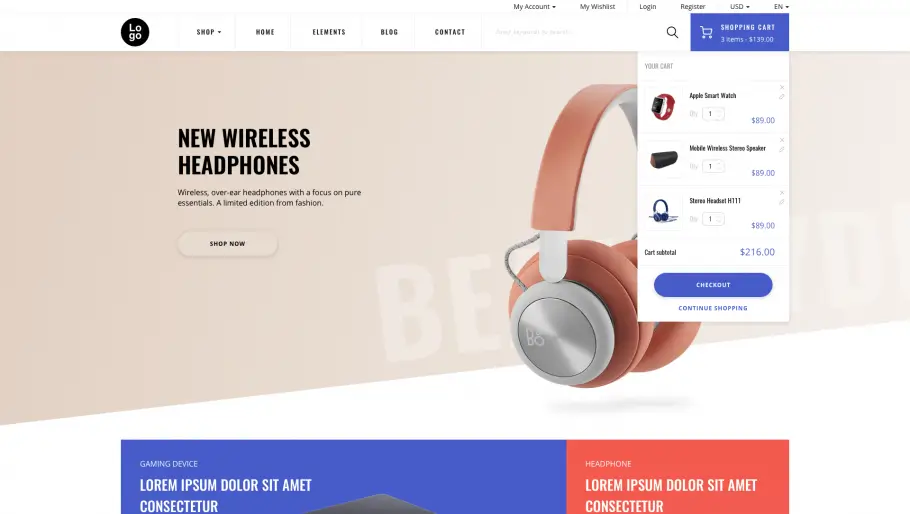 From many surveys, the digital and electronics Magento stores make up the largest proportion of the total Magento online businesses, only after that of fashion websites. Owing to that, the demand for Magento digital themes is always high. Therefore, in this list of the best free Magento themes for Magento 2, we would like to suggest several ones for the electronics fields.
The first one is B.geek, a modern and well-designed responsive Magento 2 digital theme. This theme comes bundled with many helpful extensions to boost your sales such as Today deals, Banner slider, and Product highlights. Besides, it is compatible with the latest version of Magento 2 and most Magento plugins.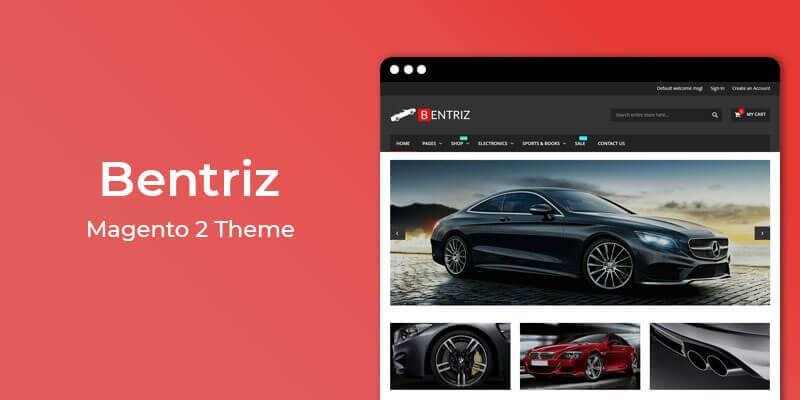 If you're running a site with a variety of car parts and tools, then Bentriz is one of the rare free Magento 2 themes that you should consider. It's a good choice because of its clean and classy layout. In addition, the theme is fully responsive, meaning that you can use it on any device, including smartphones, hybrid tablets, and desktop computers. The theme is available for download for free, with all the features included, which is another bonus.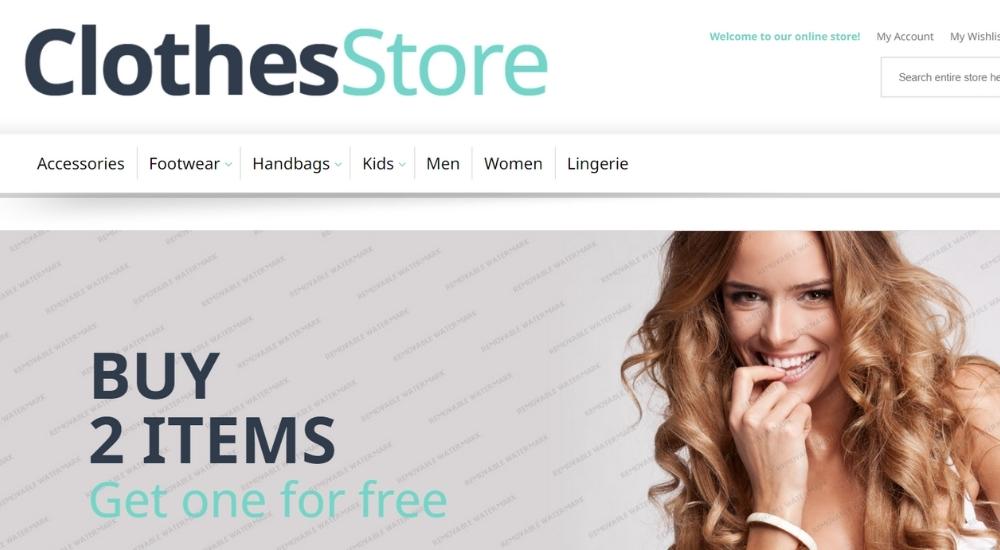 Looking for a great Magento theme for your online clothing store? Look no further than ClothesStore! This pro-designed free Magento sample offers a powerful set of features that add usability and style to any website. With its clean layout and minimal design, ClothesStore is perfect for any business strategy. This theme also offers a variety of cool effects including parallax scrolling, animated pictures, full-width sliders, and images.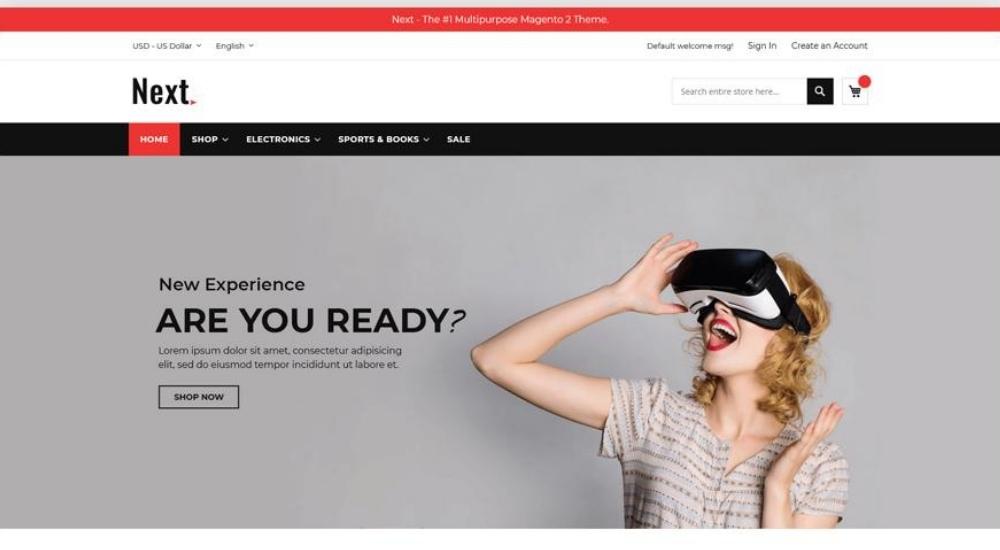 Looking to sell electrical products like cameras, TVs, music systems and gadgets? Check out this free Magento template! Next is a modern and fully responsive theme that will make your site stand out. It comes with comprehensive documentation and a user guide to help you get started. Plus, it's compatible with all mobile devices and retina screens.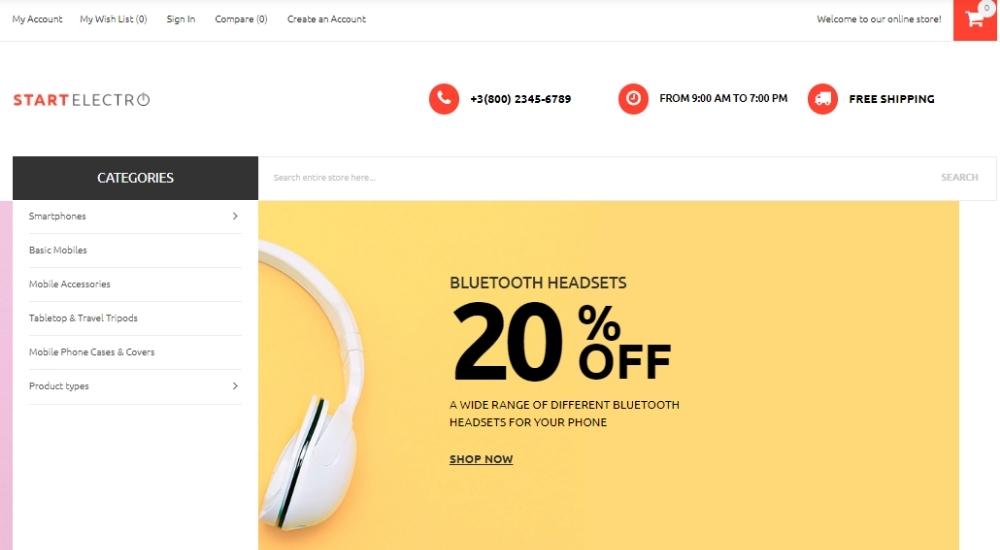 If you want a Magento theme for online stores selling electronics? StartElectro is the perfect solution! This responsive Magento 2 theme has a professional look and feel, and comes with configurable swatches – ideal for showing customers the different colors, patterns or designs available for your products. With StartElectro, you can be sure that your online store will be a success!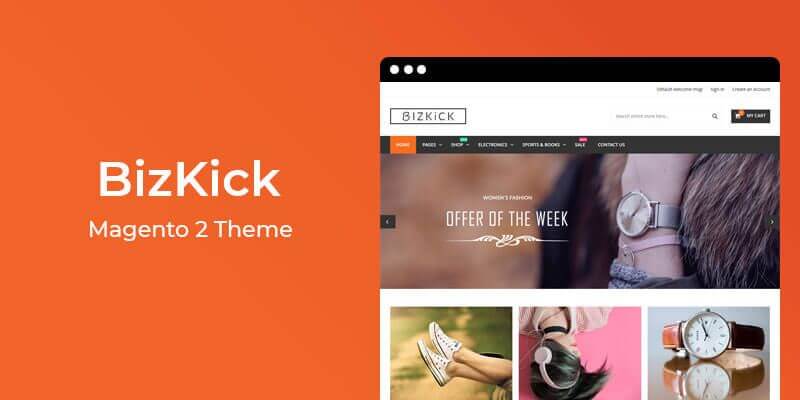 This free responsive theme is perfect for fashion, accessory, shoe, and apparel stores. With its clean and classy layout, Bizkick will help give your store a more professional look that will stand out from the competition. New and sale product labels will grab your customer's attention, while the product tab makes it easy to highlight your products' features. So don't wait any longer, give Bizkick a try.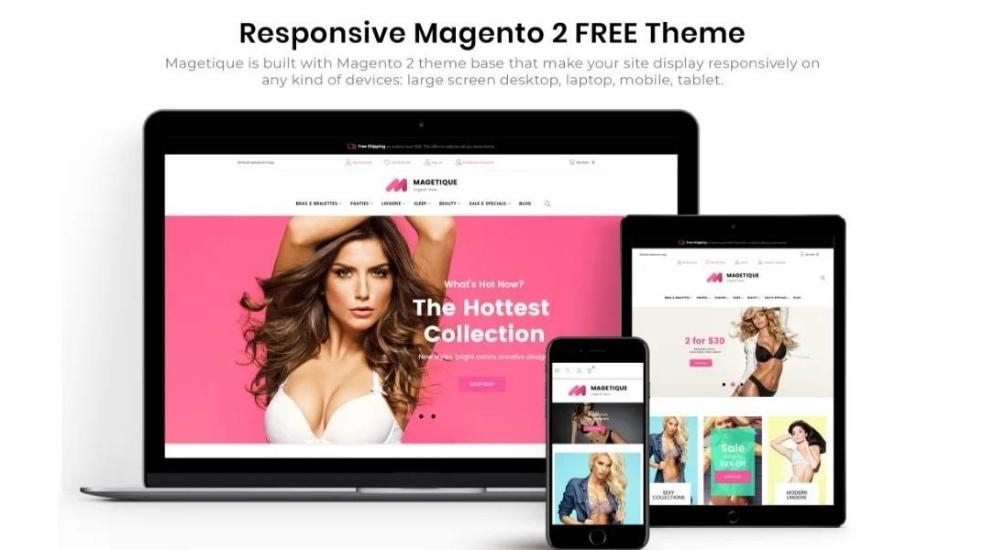 Every business needs a good web presence. If you want your store to stand out and impress potential customers, it needs to be slick, professional, and well coded. The Magetique Lingerie theme is the perfect template for you to use for your online store. This template is 100% responsive so it will adapt to any screen size so everyone can view your store and products in an easy-to-read format.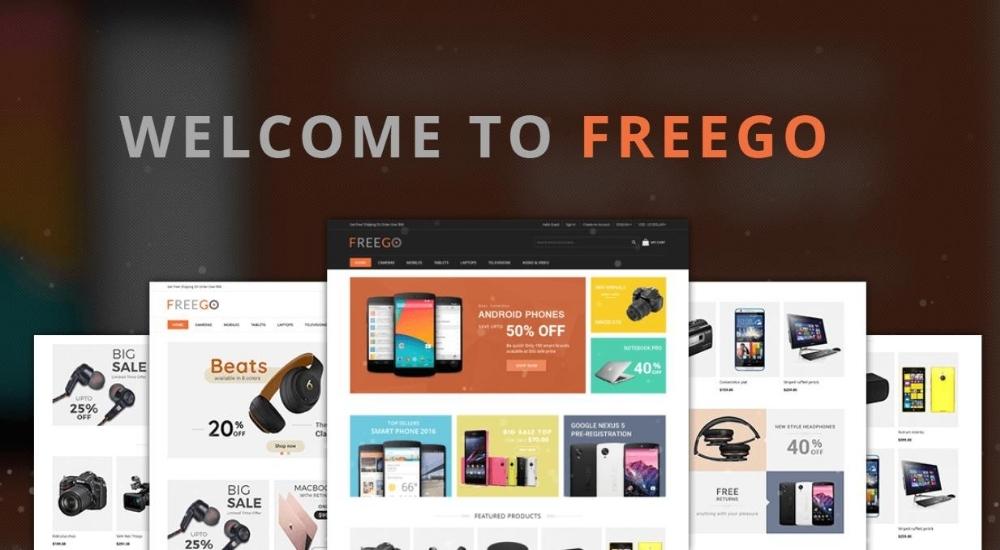 In order to make your Magento shop look more appealing to visitors, choose a responsive theme that will display perfectly, regardless of the device or the browser of your visitors. FreeGo has a beautiful design that makes it a great option for your store. It is designed in a simple, elegant style that is easy to use and highly flexible to customize. This Magento theme has a neat and clean look with elegant colors and a range of font types, so it's easy to read. FreeGo is also available for free, so it will not cost you anything to try it out!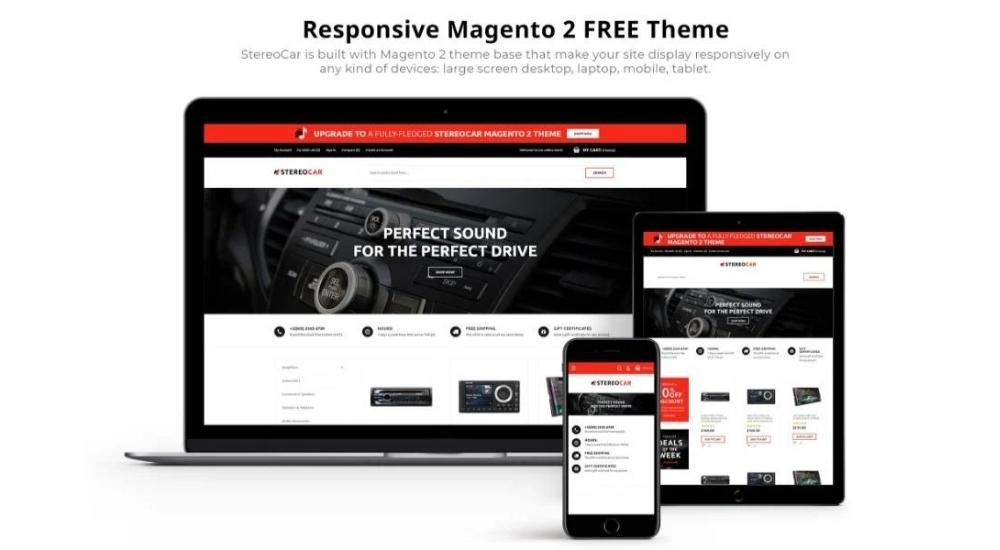 Do you want to provide your customers with an unforgettable experience without spending a penny? StereoCar – a free theme for Magento is the perfect solution! This responsive skin for your online store is designed to please the senses of your customers, with a transparent slider and fresh graphic design that makes your eCommerce platform come alive. And best of all, it's entirely free and does not require any installation or modification of Magento code. Let's give your customers the experience they deserve today with the StereoCar theme!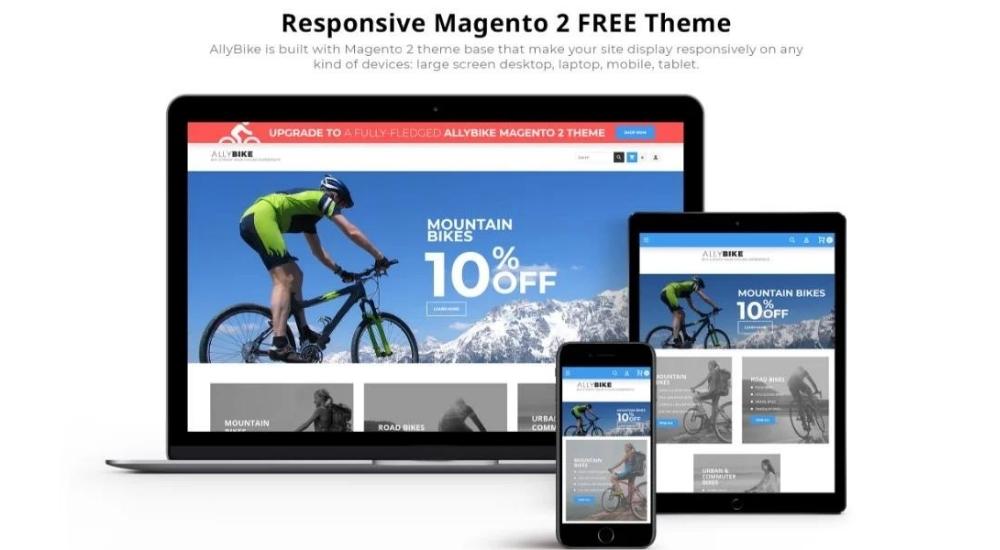 With its modern design, AllyBike is an excellent choice for any store selling bikes, whether new or used. Featuring a variety of color choices and a responsive design, this Magento theme will help your shop stand out from the competition. You'll be able to show off and organize your inventory with a clean and spacious homepage, blog, and product pages. You'll also have access to many useful marketing and SEO tools that will help you get the attention your online store deserves.

The F2 theme provides a creative design, featured with responsiveness, image slider, dropdown menu, and sticky header. Apart from it, this theme includes its PSD file in the package. If you're looking to create a professional online store, this template is a great place to start. It's been designed in accordance with the latest web trends, so it offers a compelling look and unmatched functionality.
Plus, it's not overloaded with visual effects, which ensures faster loading speed for your site. The structured menu and layout of the theme help you keep the content looking more organized. And if necessary, you can easily adapt this fashion store Magento template to any project.

All store owners want to provide their users with the best possible shopping experience. The Ketty Clothing theme has been built for Magento 2 to ensure that your store is the best it can be and provides you with the set of tools necessary to improve your store's performance and uplift sales. The Ketty Clothing theme features a responsive design that looks good on any device, a great variety of easily configurable options to customize it to your needs, as well as rich product catalog with built-in SEO support.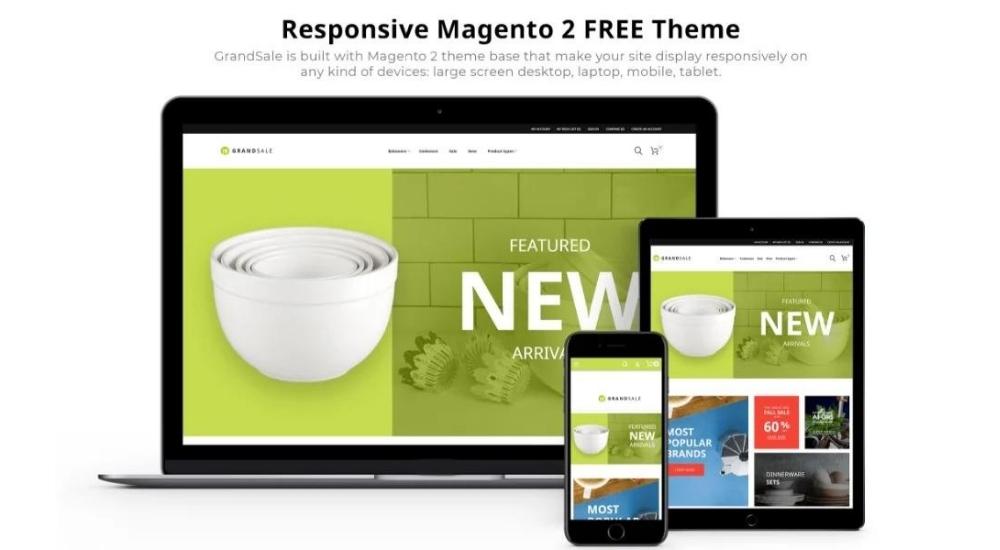 If you're looking to start a new business and you want to be unique, having a website should be at the top of your list. There are many website templates and themes that you can buy, but it's often more cost-efficient to build one yourself. The GrandSale theme by Rockthemes is a free download and comes with full customization options so you can fully customize the template to match your specific needs. The professional, clean code and fully responsive layout will help you build an online store that will stand out among your competitors.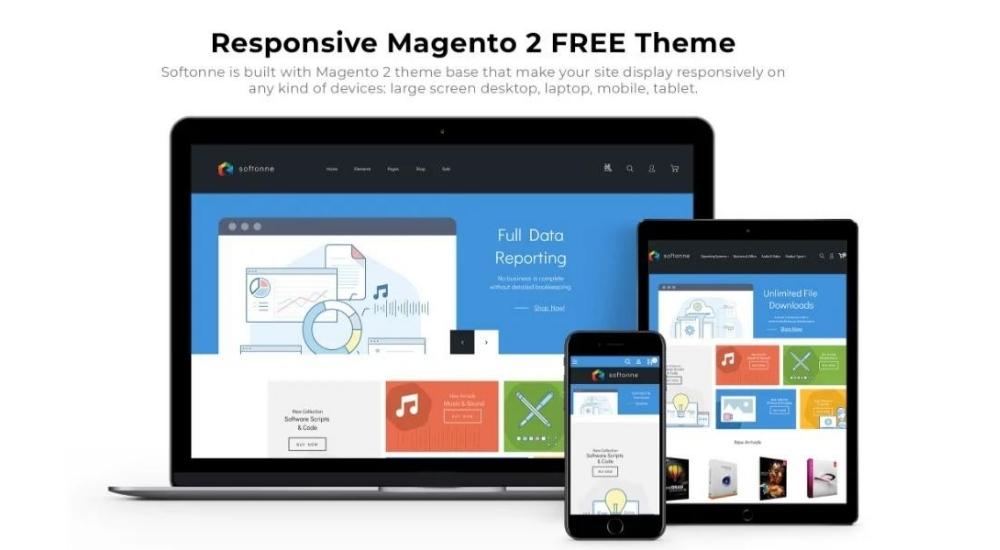 Your new store is going to look great on any device with this responsive Magento template. It features boxed and wide layouts and an attractive header. Update the store with just a few clicks with the easy visual module composer. Use the responsive slider and showcase your products in a unique way. In addition, the template is SEO friendly with built-in Schema.org code and optimized for speed with lightweight code and caching.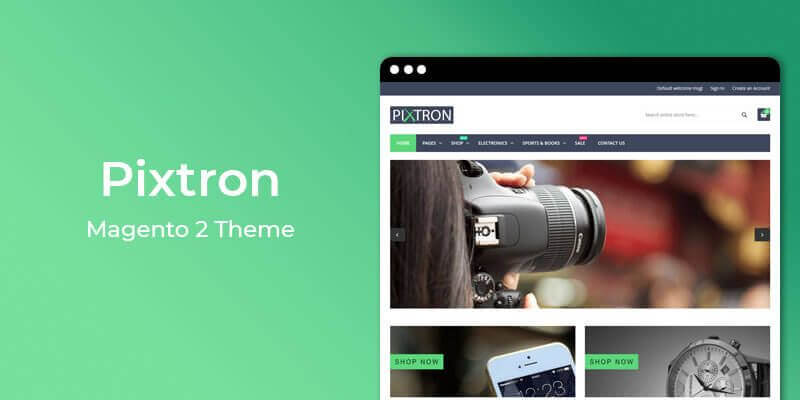 Pixtron is a free Magento 2 theme that is perfect for electronic, digital, mobile, and TV stores. Its color palette includes green, dark blue, and white. The theme is designed and coded according to current Magento standards, which will help improve your ranking in search engines like Google and Yahoo. The clean and classy layout of Pixtron makes your store look more professional and grab your customer's attention with its unique block design. You can easily convey your product features with the Product Tab feature.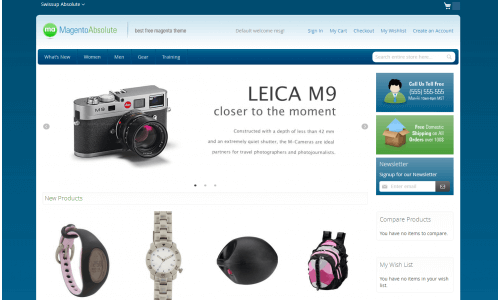 If you are looking for a professional theme for your Magento 2 store, Absolute is perfect for you! It comes with several built-in plugins that can improve your eCommerce store. For example, you can use the image slider plugin so you can display your latest products with ease. The various add-ons it comes with are sure to improve your eCommerce store. Absolute is a theme that has everything you need and more to adapt your eCommerce site.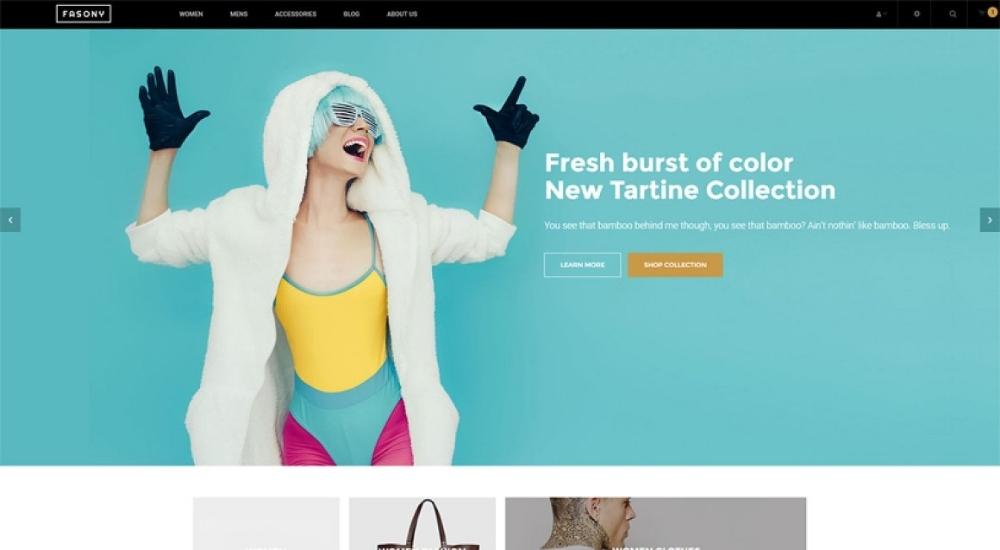 If you want an eCommerce website that's guaranteed to be professional, you need the help of a professional. Ves Fasony, Inc. specializes in converting static websites into eCommerce stores for business owners and individuals. These professionals, who have over 20 years of experience, have kept customer satisfaction as the number one priority in their work. This is why they will never go back on their word, or give you anything less than the best they have to offer.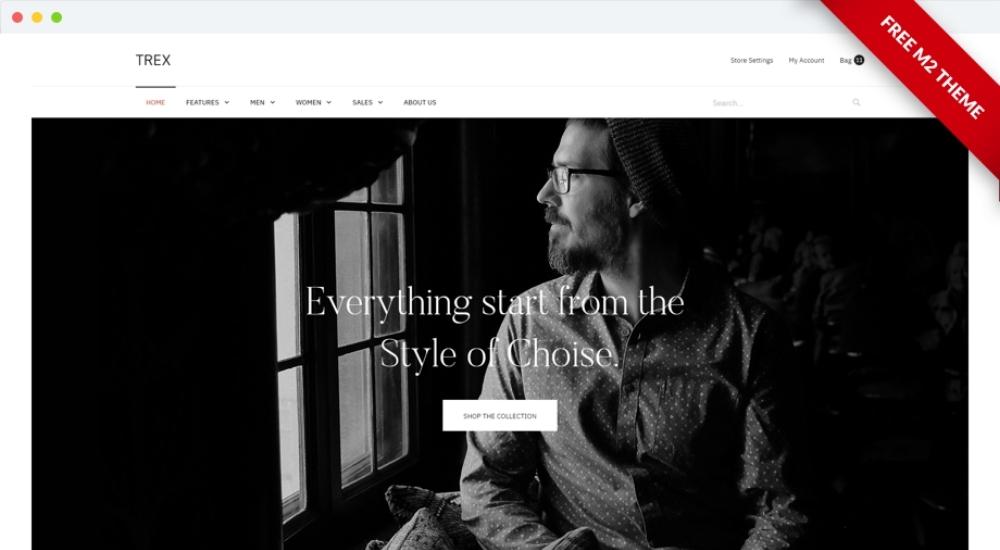 Seeking a sleek and modern Magento 2 theme? UB Trex is perfect for your online store with a minimalistic feel. The flat homepage design is easy on the eye and can be adapted to different Magento 2 product ranges. Other great features include the flexible list & grid view, handy mini cart, and the ability to extend functionality with ease. Plus, the fully responsive design ensures that your store looks great on any device.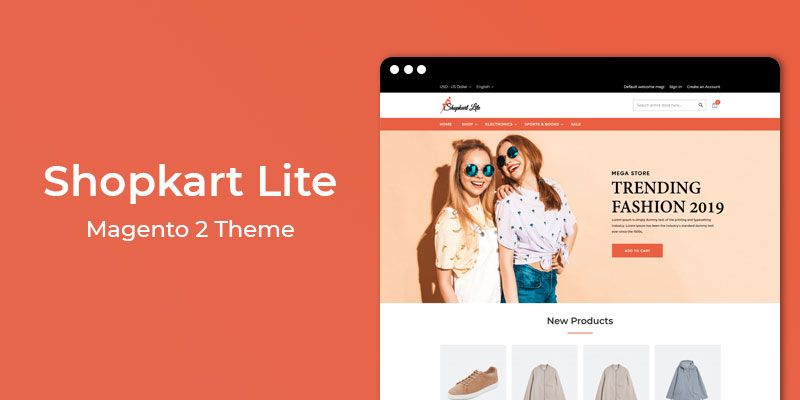 If you're in the market for a clean, stylish, and powerful Magento theme for your online clothes store, Shopkart Lite is a great option to consider. With a variety of features and cool effects like parallax scrolling, animated pictures, full-width sliders, and images, this theme can help you create the online store of your dreams. So why not give it a try?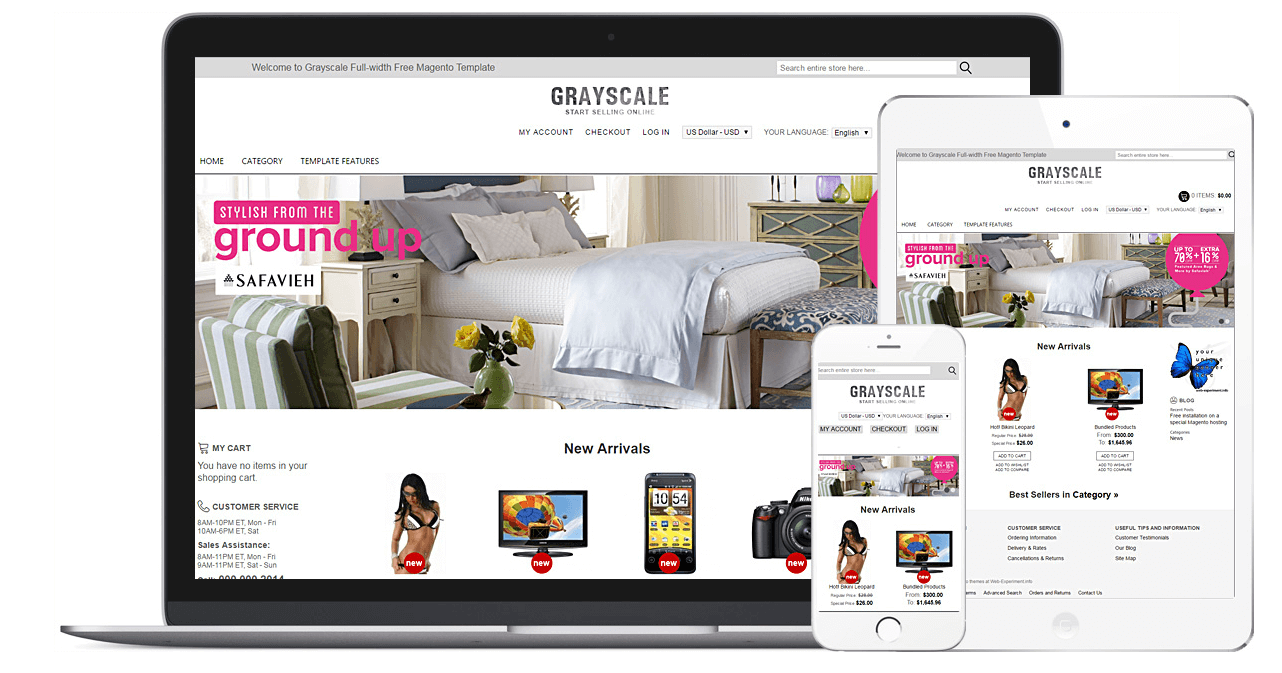 This Grayscale Magento template shows a simple and clean design that suits absolutely any purpose. There are eight popular Magento extensions are packed with the theme: catalog light, product image, custom mega menu, back to top button, lightbox 2, easy tabs, blog, and instant search.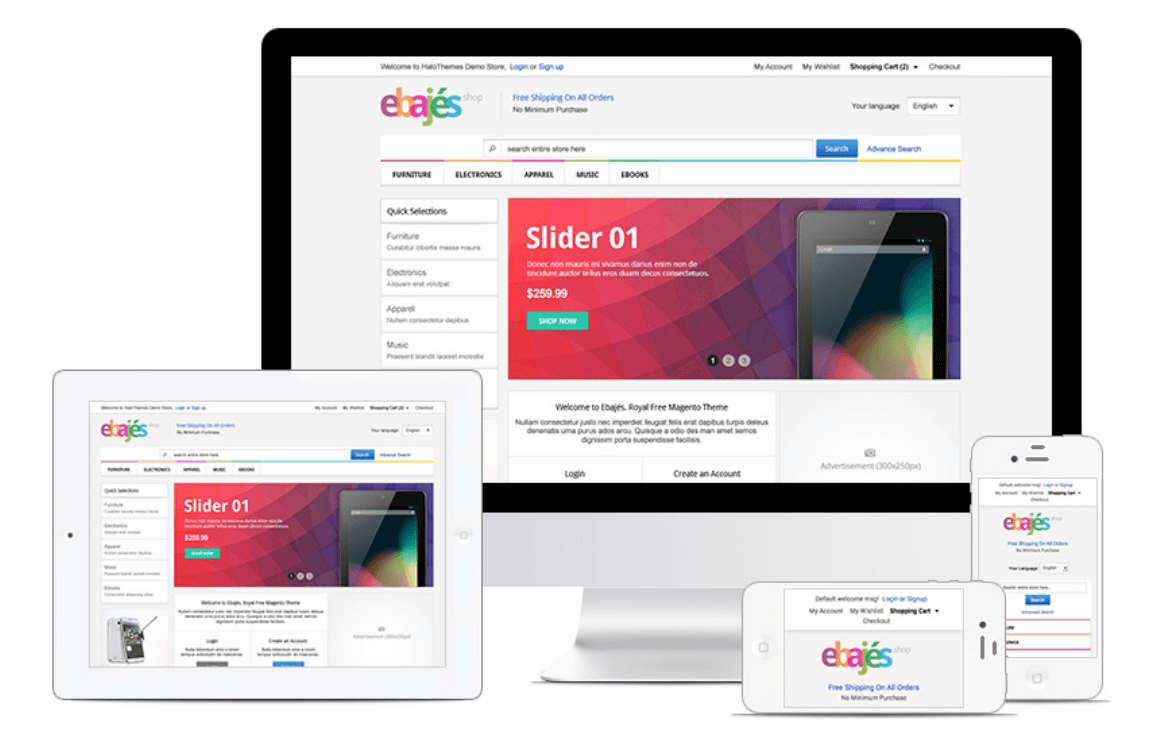 The Ebajes Shop theme is an archetypal online store design with a professional look and feel. The theme is responsive and compatible with a vast selection of popular eCommerce plugins and technology. The theme is available for free download. It includes a set of custom widgets that will help you to display the latest information on your website and give you an opportunity to create an interesting and easy-to-use site navigation. If you are looking for an old-school web design for a high-tech online store, it might be the one you should try.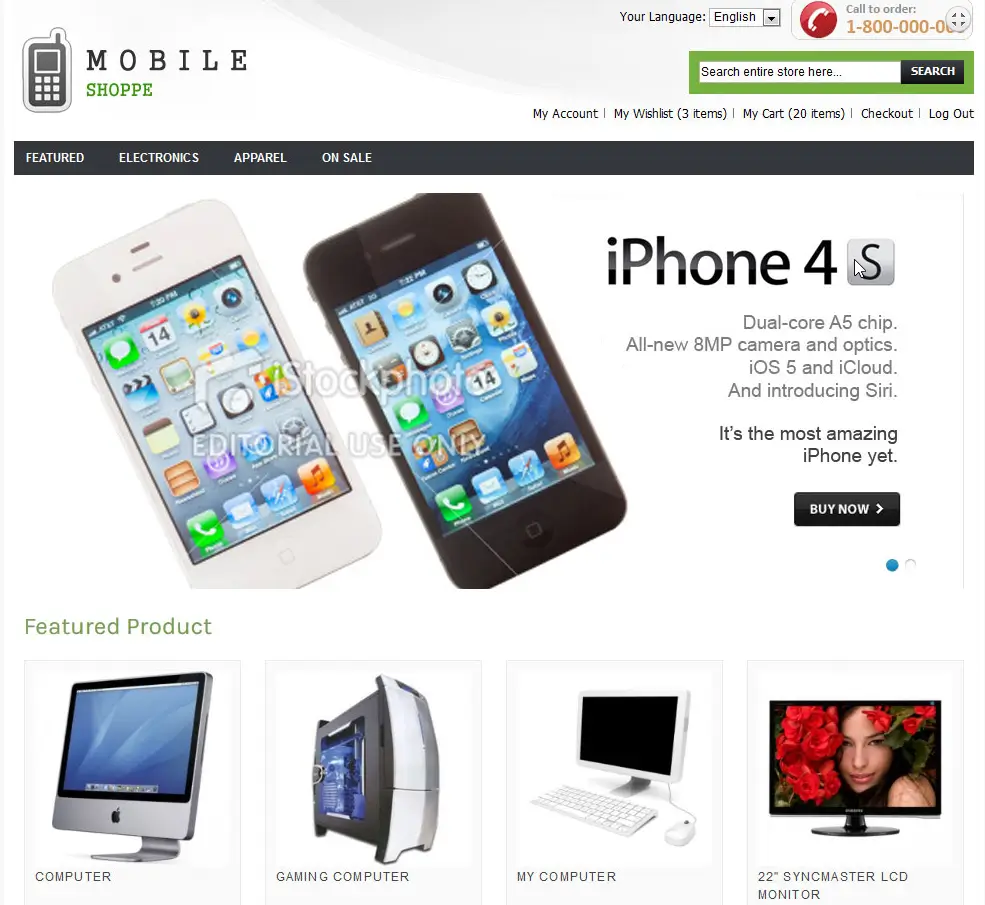 The Mobile Shoppe is a theme optimized for speed. It is built upon Bootstrap v3.0.0, one of the most widely used frameworks for a responsive and mobile optimized WordPress theme. It has a high standard of CSS, HTML, and Javascript quality. It is also responsive, so it will have a mobile theme and a full theme that fits on all devices.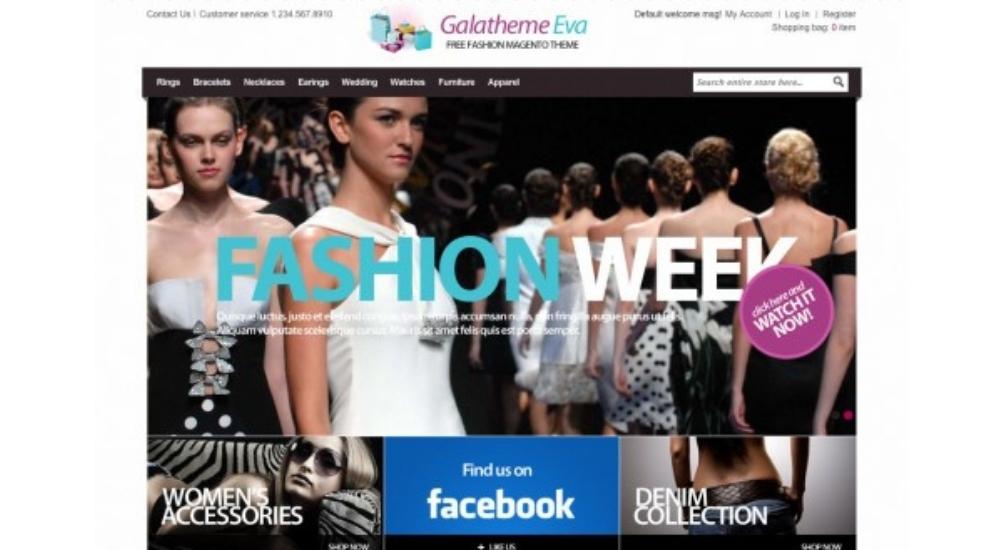 With Galatheme Eva you can create a beautiful online store. That's because it's fast, attractive, and easy to use. Plus, it's responsive, meaning it will work well on all devices, from phones and tablets to laptops and desktops, so your customers can browse your products in all their devices, wherever they are. It also looks great and can help brand your business.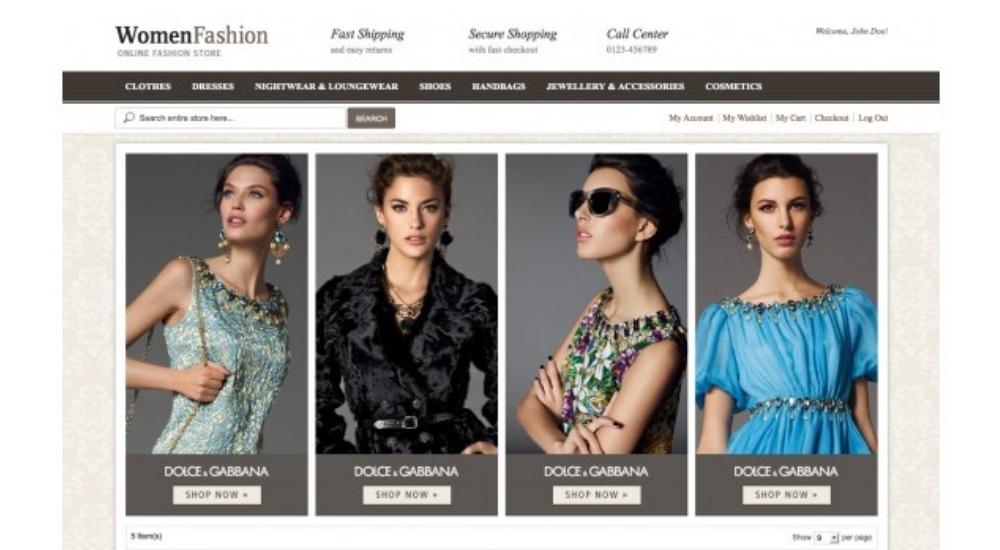 Design your dream online store with one of many professional Magento theme layouts from Pagayo. This selection of themes offers a range of powerful features and a clean, minimal design to give your website the perfect look. This fashion theme will help you create an online store that is both stylish and user-friendly.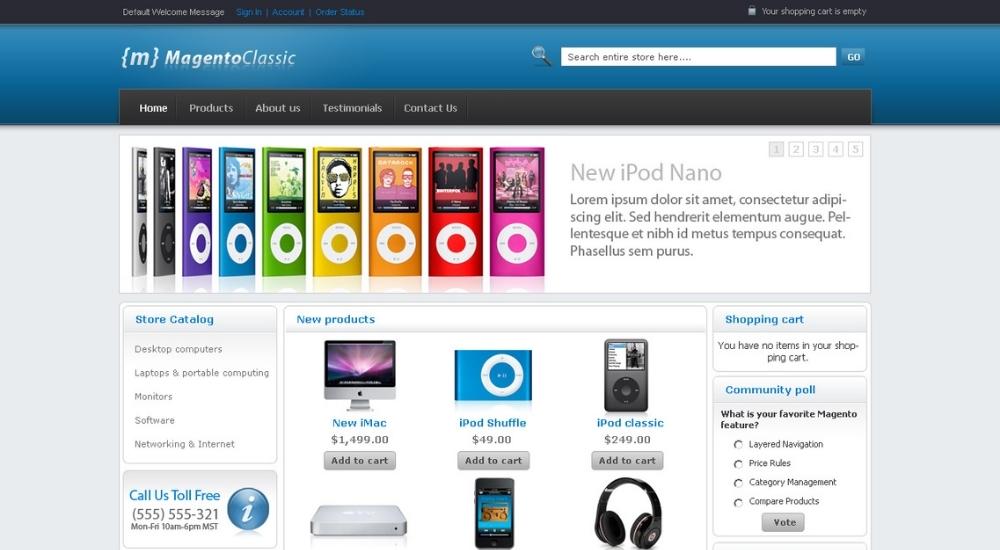 Looking for a free Magento template to help sell cameras, TVs, music systems, gadgets, smartphones, household appliances, and other electrical goods? The Classic theme from TemplateMonster is a saft option. This theme comes complete with comprehensive documentation and a user guide, making it easy to get started. Plus, the modern design and amazing color combination are sure to make your store stand out from the competition. And with fully responsive design, MagentoClassic is compatible with all mobile devices and retina screens.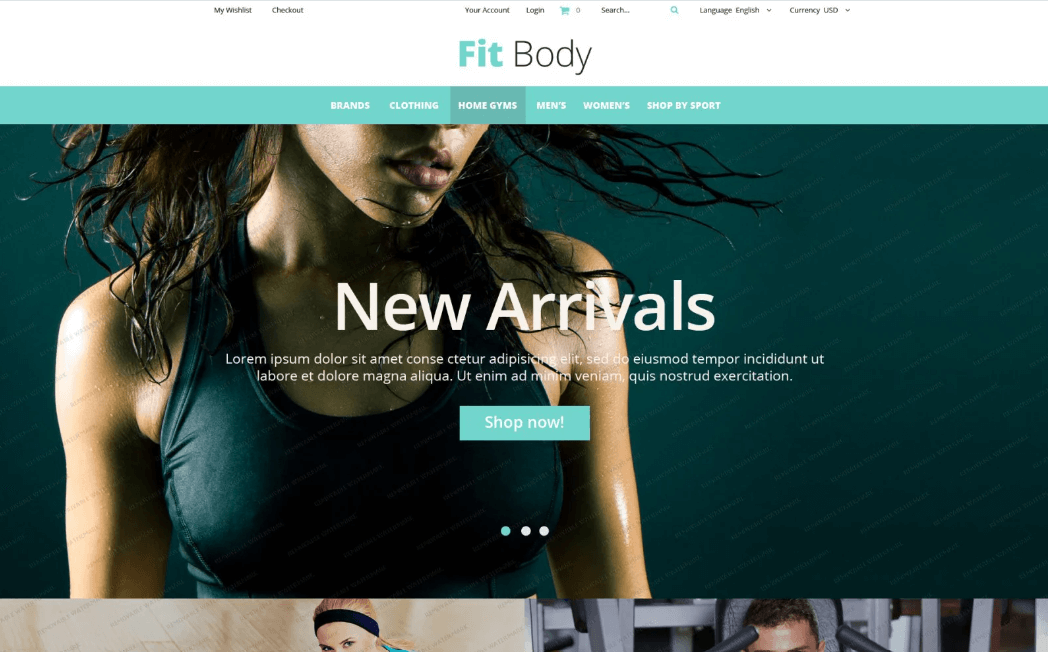 The Fit Body theme is a well-designed free Magento 2 theme for sports and gym equipment. The theme has a bunch of Bootstrap features and clean code underlaying the theme that allows you to manipulate the theme in a broad range. What is more, the template is Retina-ready which saves the image quality in high resolution. The Fit Body theme is a good choice for you. The lists are a great way to improve a block of content, especially when you have a long list of items you want to add in your writing. Take a look at the real example we have used for this segment.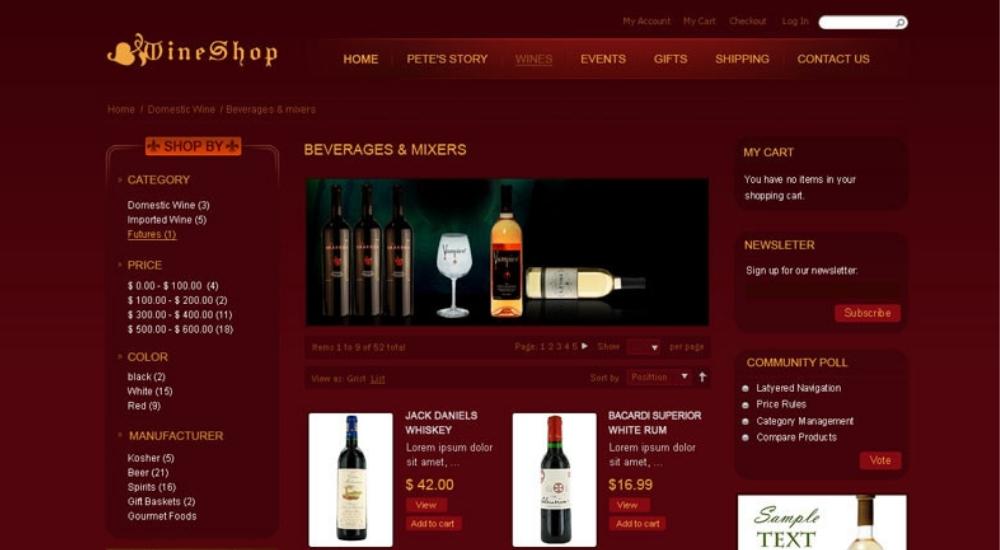 The Wine Shop Magento Theme is a beautiful, colorful theme perfect for any wine-related product. The main banner and sub-banner are both great examples of the graphics and style this template has to offer. The deep, bold reds and rustic classical style make it ideal for a wine shop or any other wine-based vendor. The featured products are showcased perfectly on the home page, making it easy for customers to see what you have to offer. Additionally, the Wine Shop Theme is updated to be fully compatible with all Magento versions. This makes it easy to install and use for anyone, regardless of their level of experience.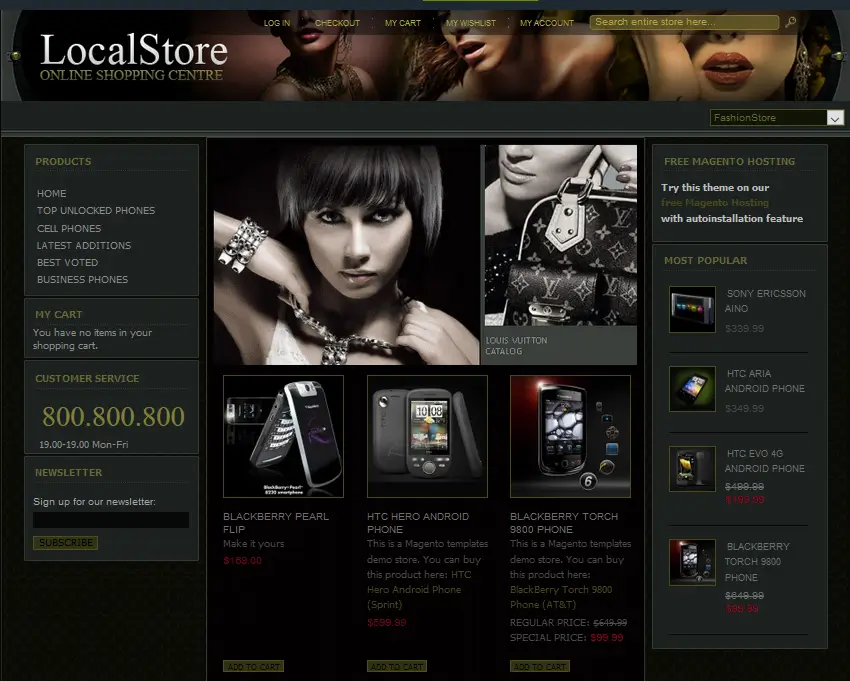 This free Magento theme is available in dark mode. On the backend, you can enable the following modules: vertical canvas menu, subscribe for newsletter, most popular products list, home page banners, shopping cart side-bar, and customer service block.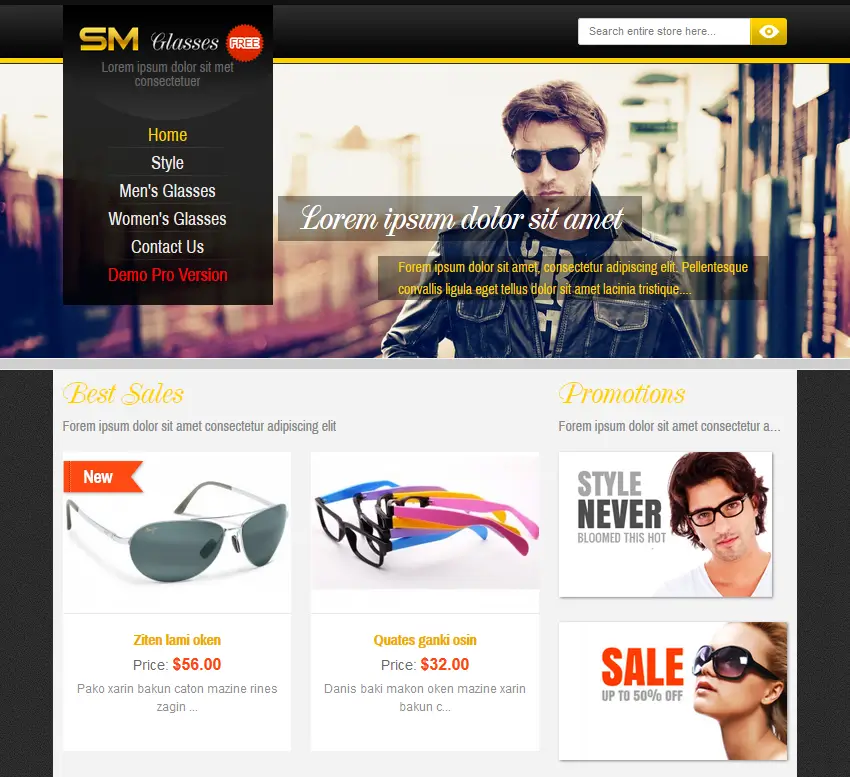 SM Glasses applies on a black background to make products on the e-commerce store more outstanding. There are two types of menu for us to choose from CSS or Split menu. Magento stores that sell accessories such as glasses, watches, jewelry can take this free Magento theme into consideration.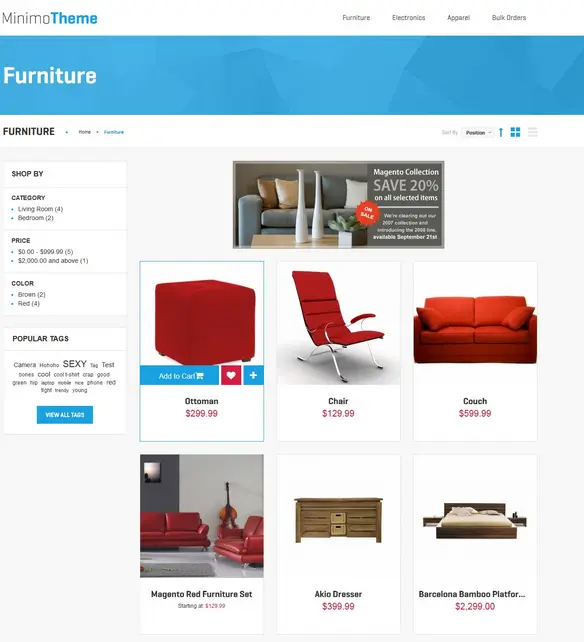 Regardless of the type of product you are using, you can always be sure that your products will be displayed gorgeously with Minimo. It's a flexible theme that gives you the power to combine a multitude of layouts, fonts, and colors to make a unique product page. With this theme, you'll be able to catch the eye of all your potential customers, even if you have a lot of other extensions running.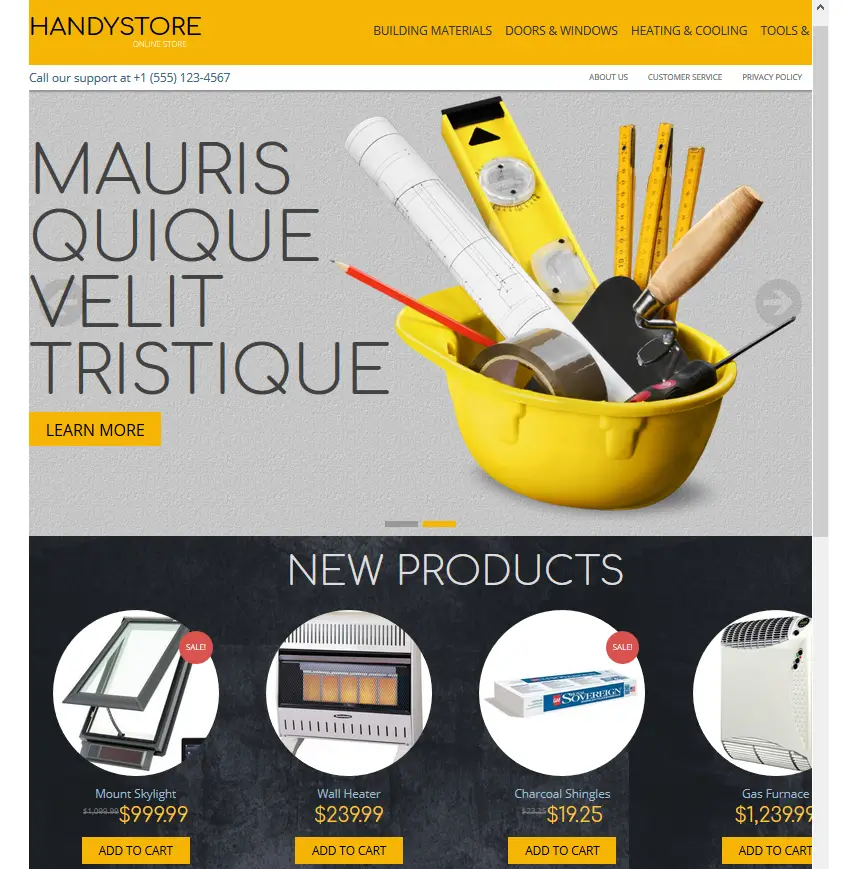 HandyStore is a versatile website template that comes with portfolio pages, services pages, blog pages with post formats, contacts page and more. So, it basically helps you run the game in your industry in all kinds of woodwork and carpentry: construction companies, mechanic workshops, plumbers, auto shop markets, carpentry workshops, maintenance services, metal construction companies, mining services, gardeners, welding company, fuel industry & so on.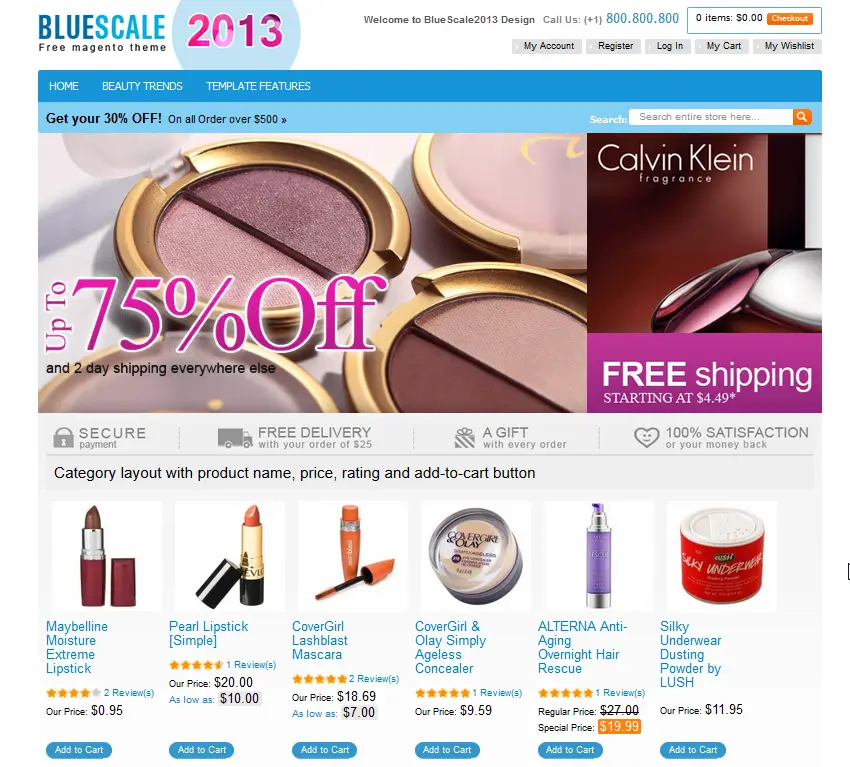 If you're in a hurry and need a theme to set up shop, you can check out Magento BlueScale theme. This free theme is easy to install, doesn't require a lot of configuration, and is a great way to create a simple store. Three homepage demos are available (one with a full width layout), you can use quick view to display a product's details on hover, the theme comes with a custom menu, and it's responsive so it'll display properly on mobile devices.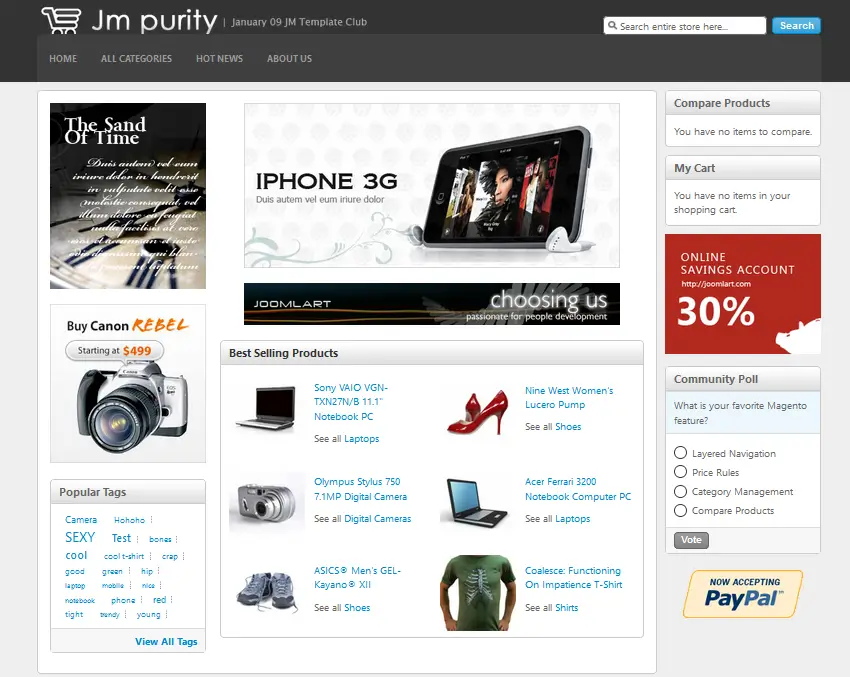 JM Purity is a simple, clean, and professional theme that allows users to do a lot of customization with just a few steps. With the smart mega menu solution, you can show your content neatly and help shoppers navigate your eCommerce site easily. With easy to find widgets, you can set up your blog and contact page, which many users have found useful. In addition, there are also bundle packages which include theme layout, a child theme, and a developer license for all of the plugins that are included with JM Purity.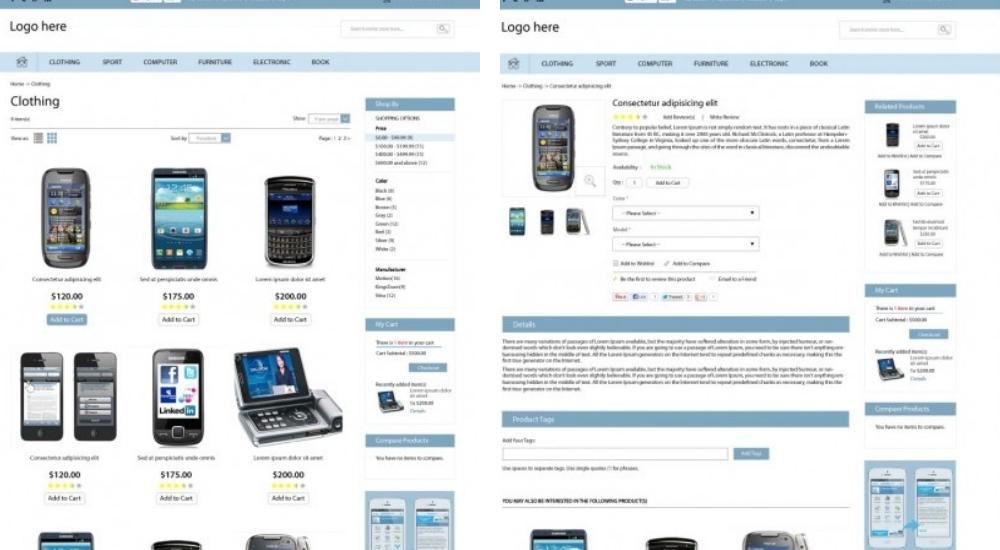 MageCloud has partnered with buzzthemes to offer the Buzz Intro Theme, a highly responsive, easy-to-customize, and browser-friendly Magento module. This theme is developed and distributed by buzzthemes, boasting compatibility across major browsers and smartphones, and following Magento's coding standards. The design leverages simple colors for easy customization, featuring a standard home page layout with banner slider, featured products, and static blocks.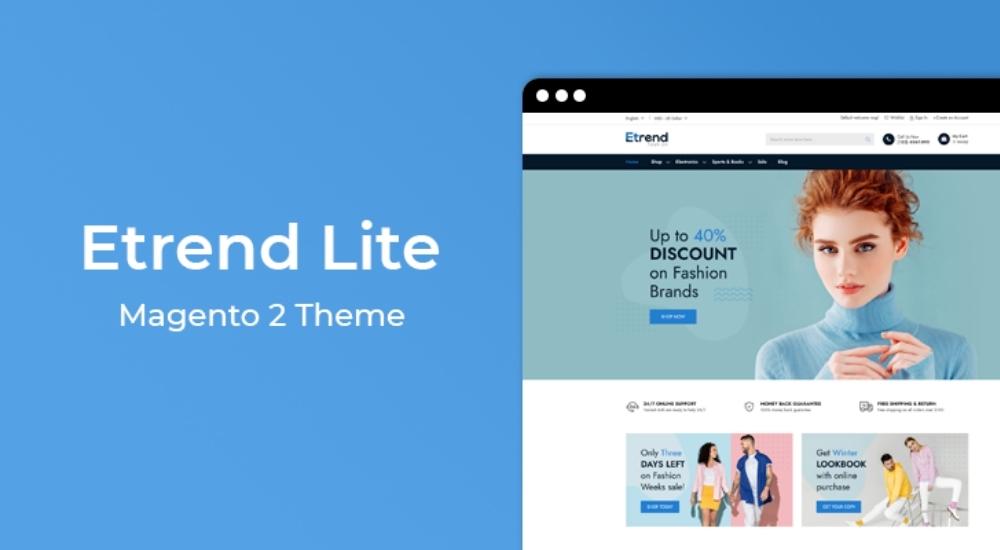 Etrend is a free Magento theme that's guaranteed to please your customers' senses. With a transparent slider and fresh graphic design, your online store will come to life like never before. And best of all, there's no need to spend a penny. This is entirely free. Give your customers an unforgettable experience today with Etrend!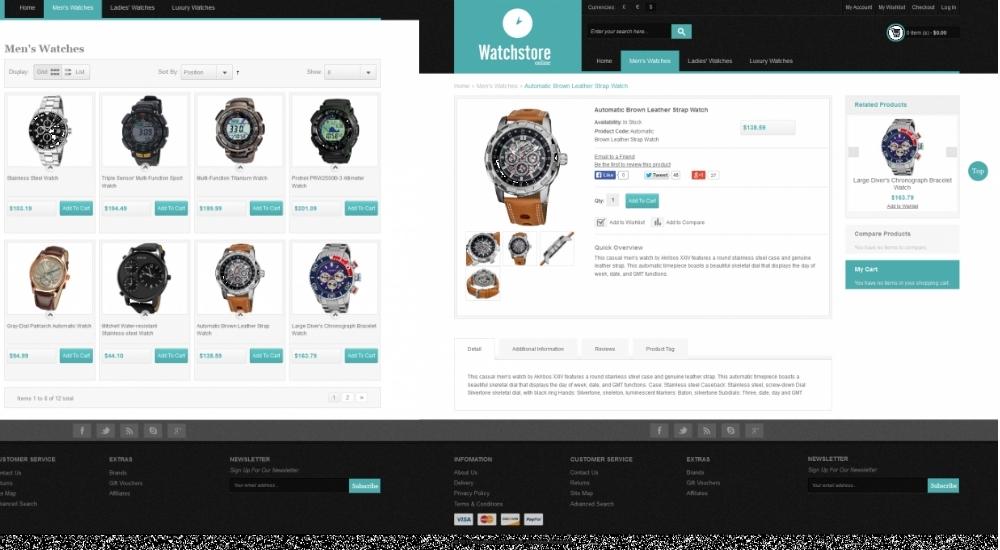 Watch Store is one of the best free Magento themes that aimed to promote watches. The template is modern, 100% responsive, and easy to customize. It includes powerful sections for promoting products that would easily fit into many e-commerce stores.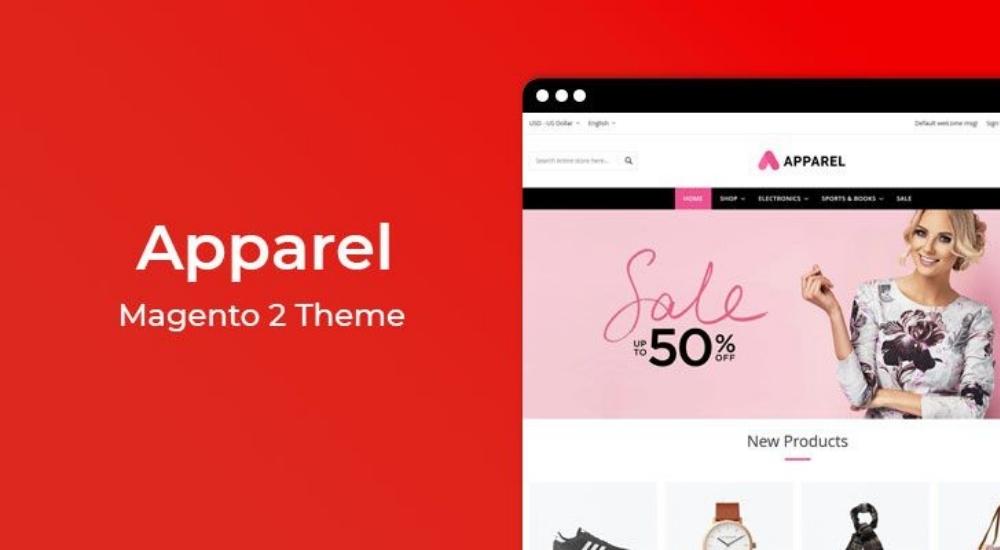 If you are in the business of selling clothes, furniture, watches, jewelry or food, then this is the perfect Magento 2 theme for you. With its modern and attractive design, along with various animations, your online store will stand out from the rest. And because it is fully responsive, it will look great on any device. Give your customers what they want and make your purchase today!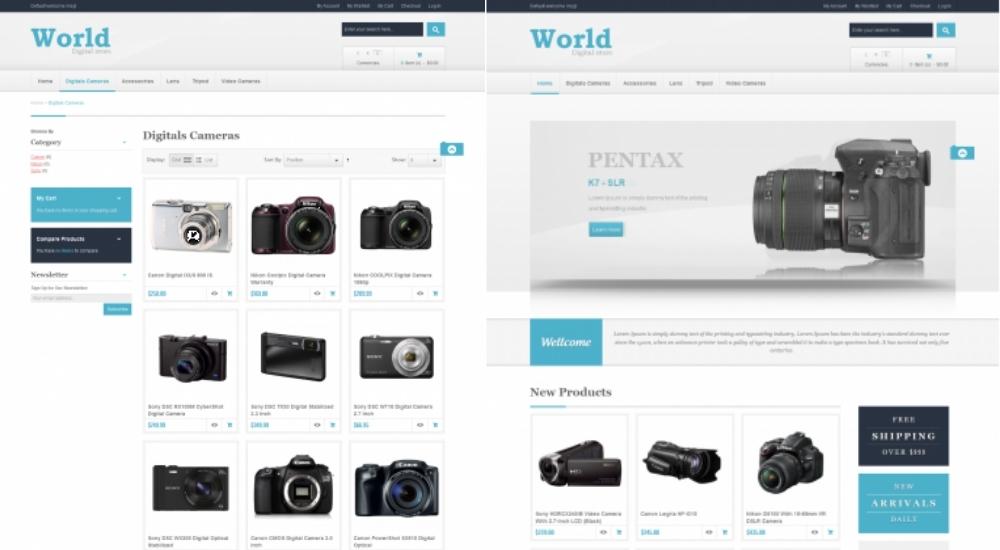 Introducing World Digital Store, the great Magento 2 theme for those seeking a simple yet stylish design. This theme is perfect for any type of product range and comes with handy features and fully responsive design. With no limits on extending functionality, World Digital Store is the perfect choice for anyone looking for the Magento 2 theme.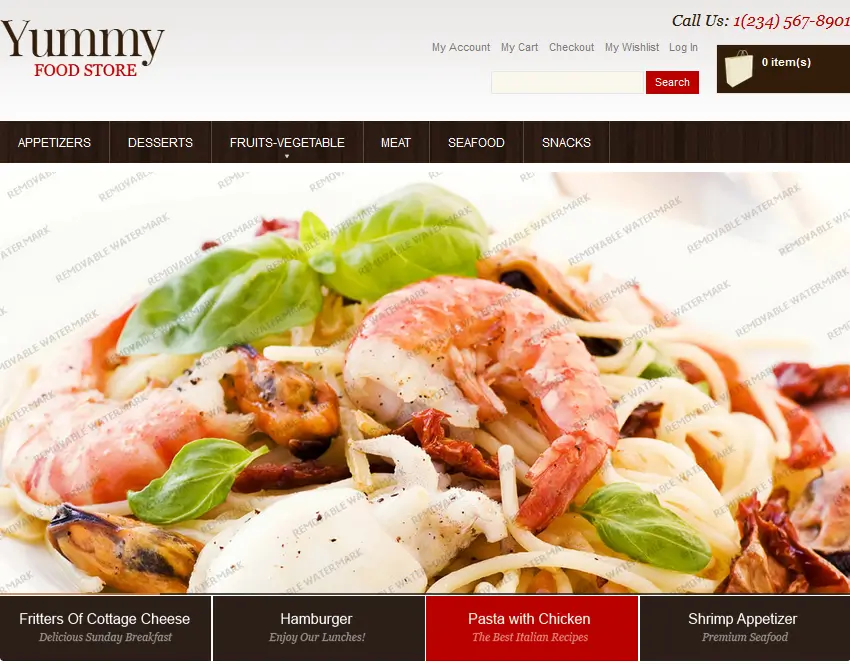 A responsive Magento theme is the best way to get your eCommerce business online quickly and efficiently. With just a few clicks to install the Yummy theme into your online store, you can start your project and be confident in a positive result. The professionals who created this theme did their best to turn your business into a profitable one, so you can be sure that you're making a wise decision by choosing this option.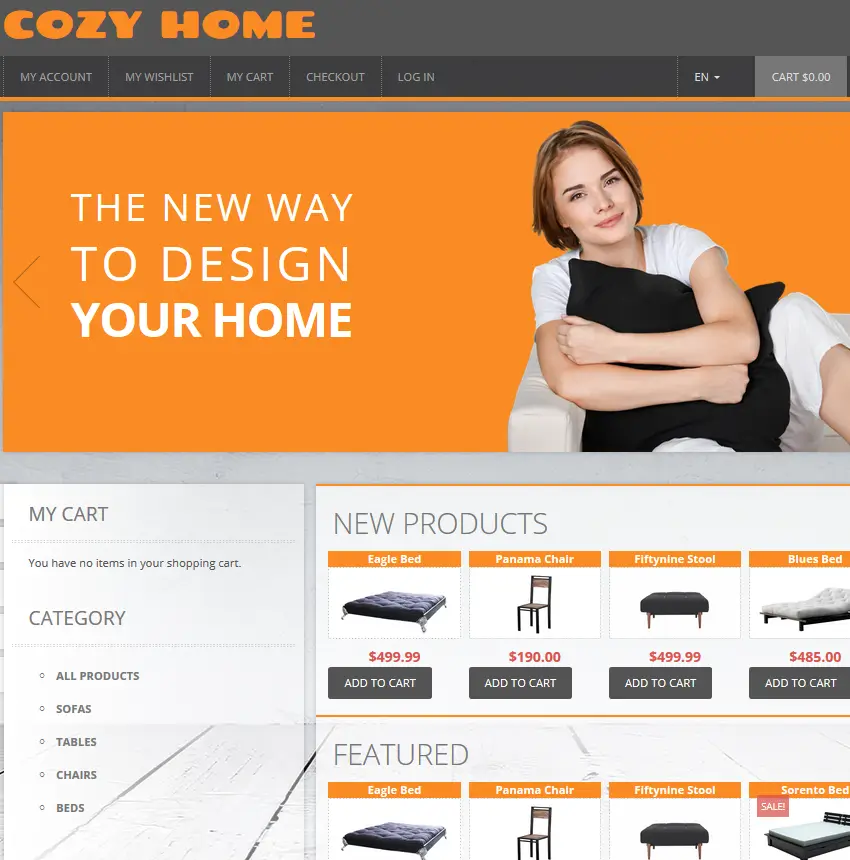 The free Cozy Home theme for Magento is a nice theme for any kind of eCommerce store with modern and clean design. This theme introduces many innovative features and offers tons of customizable options, giving you total control over your store's look and feel. The theme has a responsive design, meaning it is fully optimized to display perfectly on tablets, smartphones and desktops.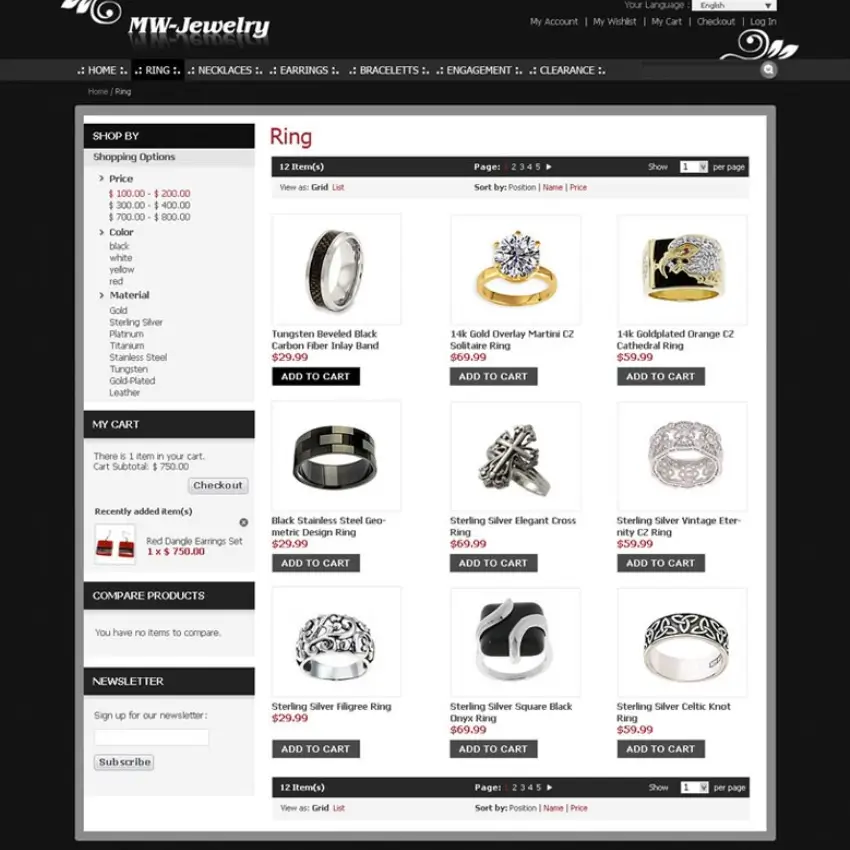 If you're looking for an online jewelry store that's both professional and stylish, look no further than MW-Jewelry theme. Our team of experienced designers have created a black and white layout that's sure to make your website stand out. All of our sub pages are fully customizable, so you can easily edit them to fit your needs. And because we're compatible with all Magento versions, you can be sure that our theme will work with your existing website. So if you're looking for a jewelry theme that's easy to use and edit, MW-Jewelry theme is not a bad choice.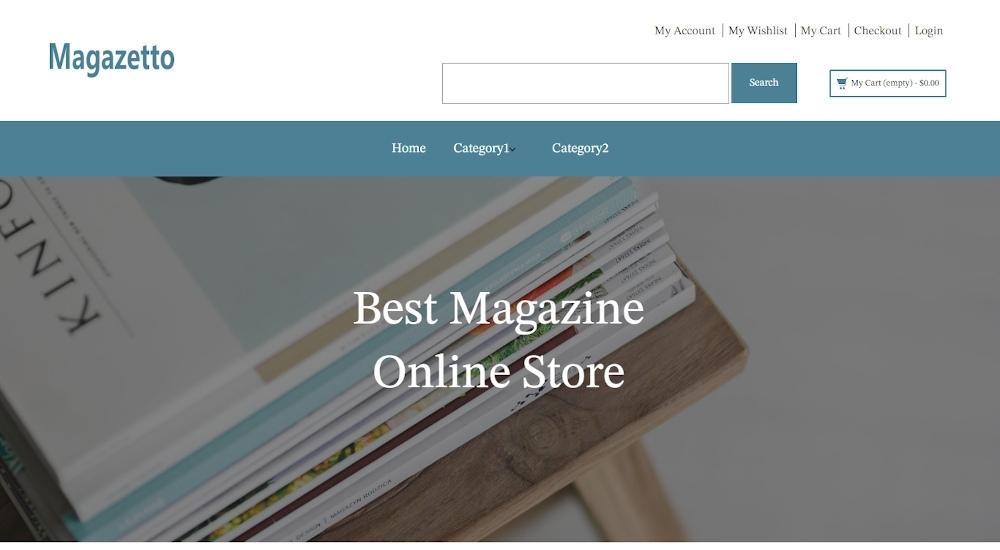 The Magazetto theme is a great choice for magazine/ book online store with a minimalistic and easy-to-use design. This theme is perfect for light product ranges and comes with plenty of features,and fully responsive design. Plus, there's no limit to extending functionality with this theme, making it a great option for those who want complete control over their website.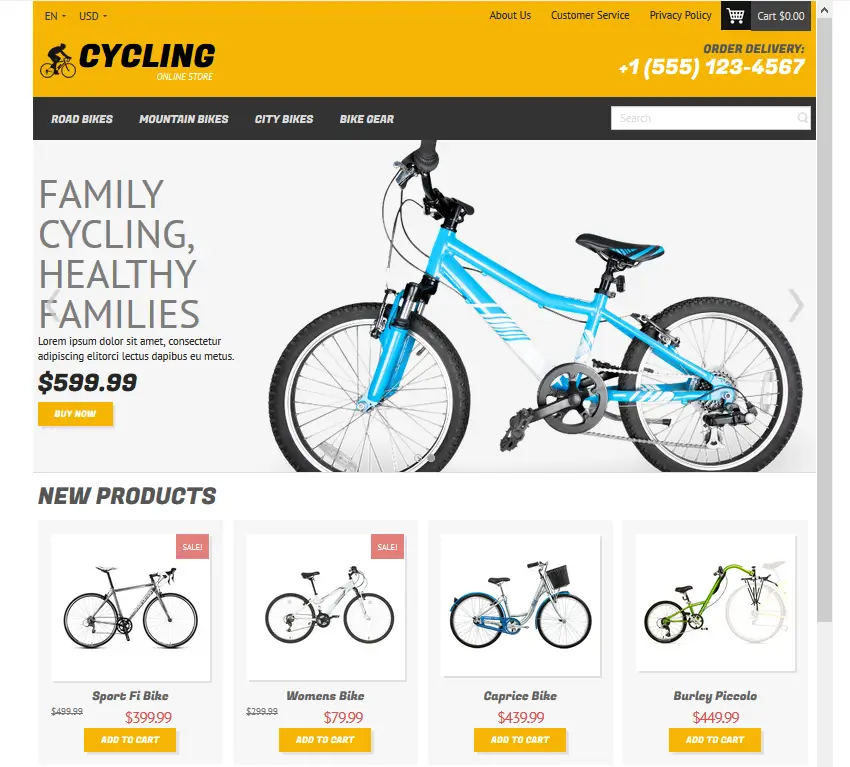 Cycling theme for Magento helps you create your online bike store quickly and easily. This is a responsive, clean and modern theme with great features and a huge number of simple yet powerful options. It can be perfect for various kind of eCommerce store, not only for bike ones. Cycling theme is the best way to showcase products while maintaining a professional look!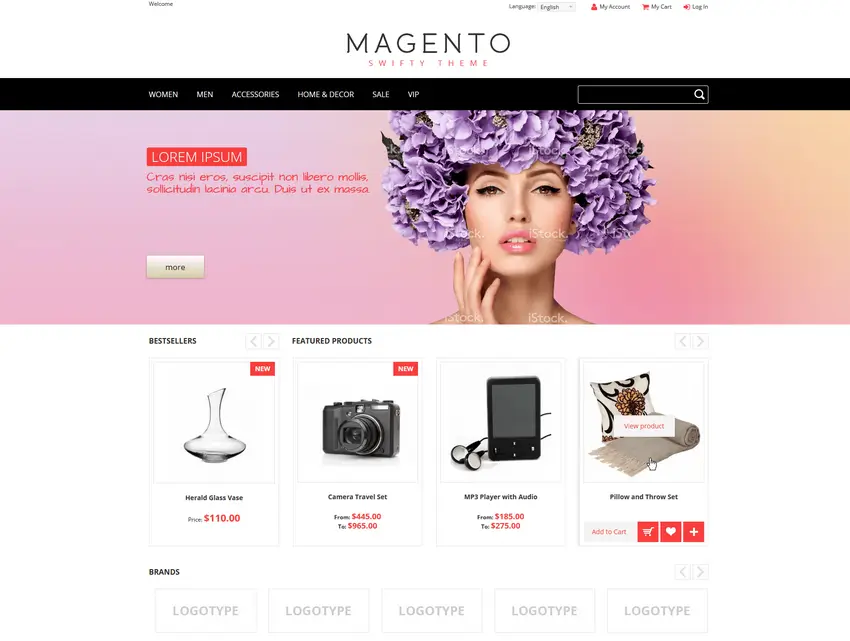 Swifty theme for Magento is the right choice for building any kinds of eCommerce store. It has an elegant design that has multiple custom options on the admin panel. With its help, store owners can easily change the font, font size and colors; add multiple sidebars, widget areas, different layouts and set up a customized logo, footer and banner. With the help of Swifty theme for Magento, store owners can create a customized website, modify the look and feel of the products without programming skills.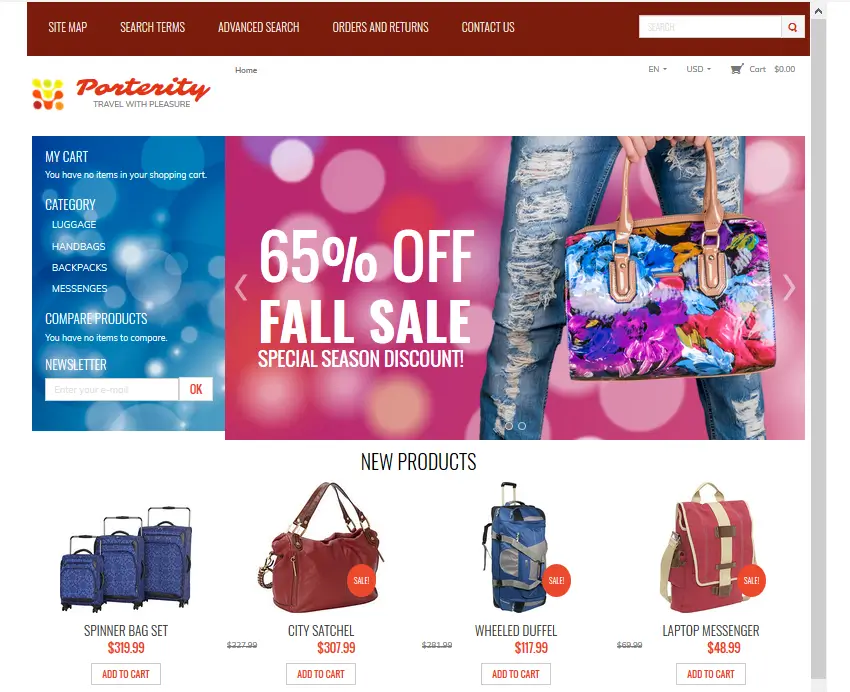 Porterity is perfect for selling clothes, furniture, watches, jewelry, food and more. This theme has many attractive animations and a modern design. Plus, it's fully responsive so your customers will have a great experience whether they're viewing your store on a computer, tablet or mobile device.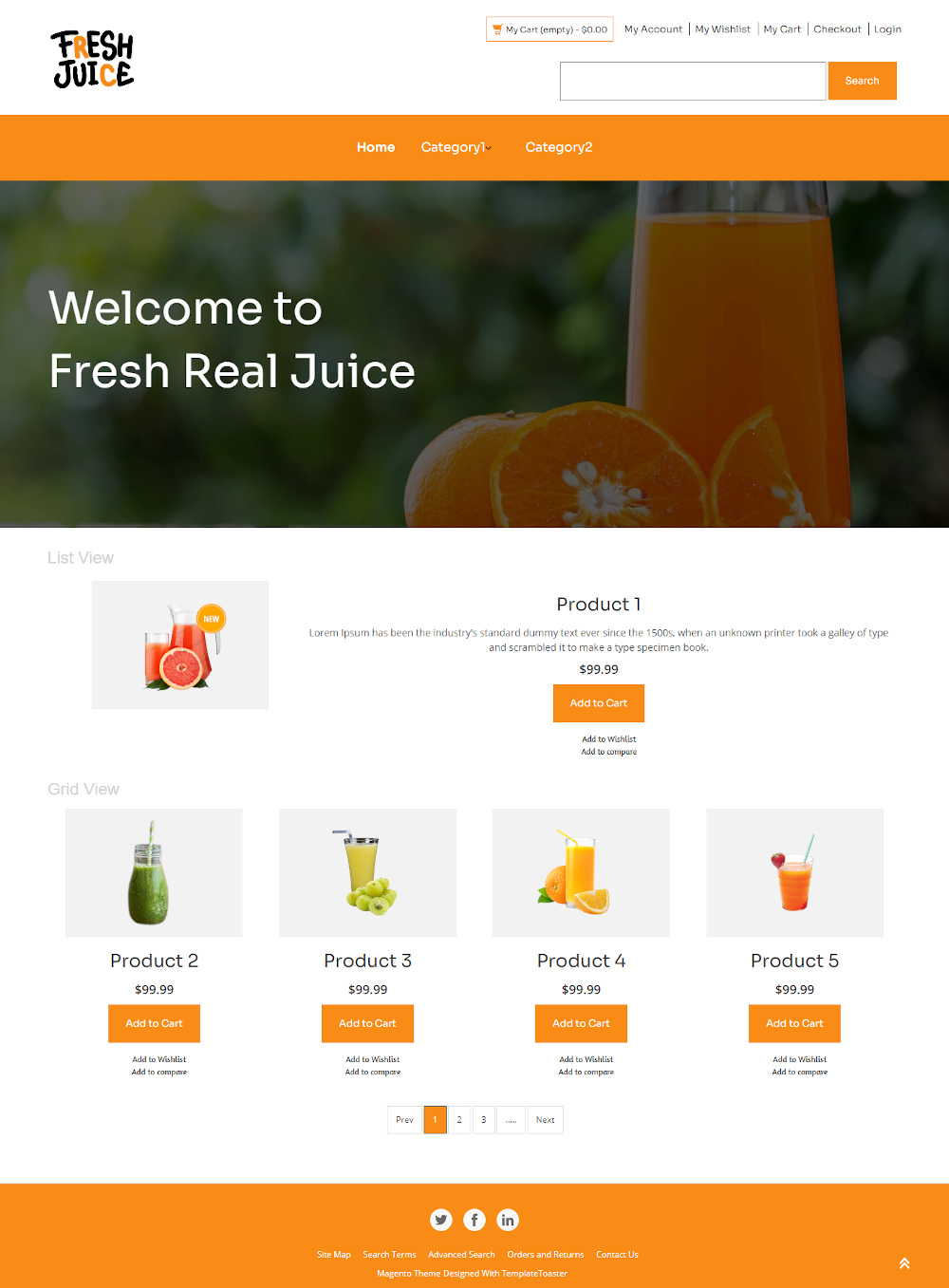 The Fresh Juice Magento Theme is an excellent choice for any juice shop or marketplace because of its useful features and stunning design. It is a simplified, cross-browser compatible theme that can give you a fully functional website with minimal effort. You can also configure your website in different languages because it comes with multilingual support. Additionally, it has Google Font integration, grid layout, coloring options, social share buttons, SEO & speed optimization, RTL support, and typographical options to modify the design.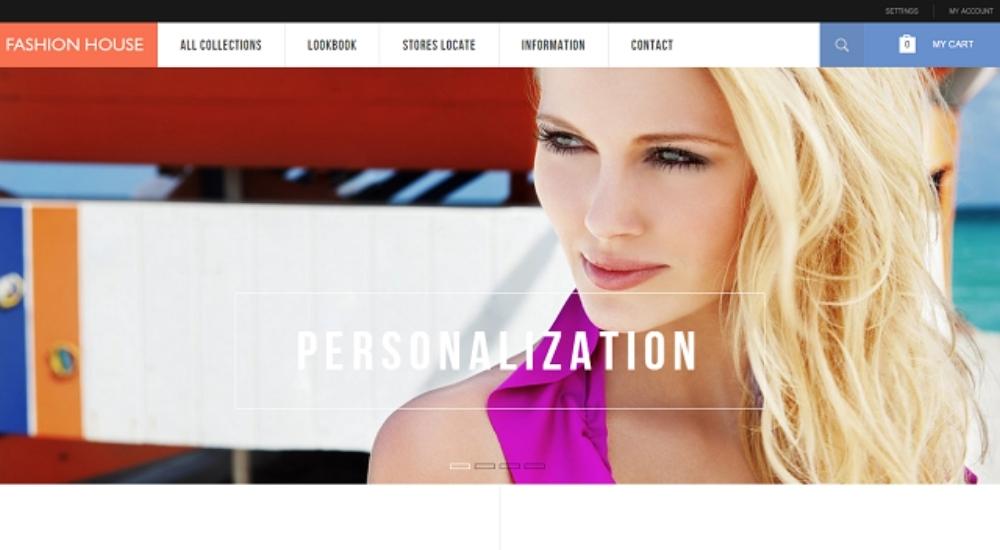 Looking for a Magento 2.3.x theme that is perfect for online stores selling clothes, furniture, watches, jewelry, food or accessories? Let's consider the Fashion House theme! This responsive theme has modern and attractive design, with many attractive animations. Whether you sell clothing, furniture, watches, jewelry or food, this theme is ideal for you.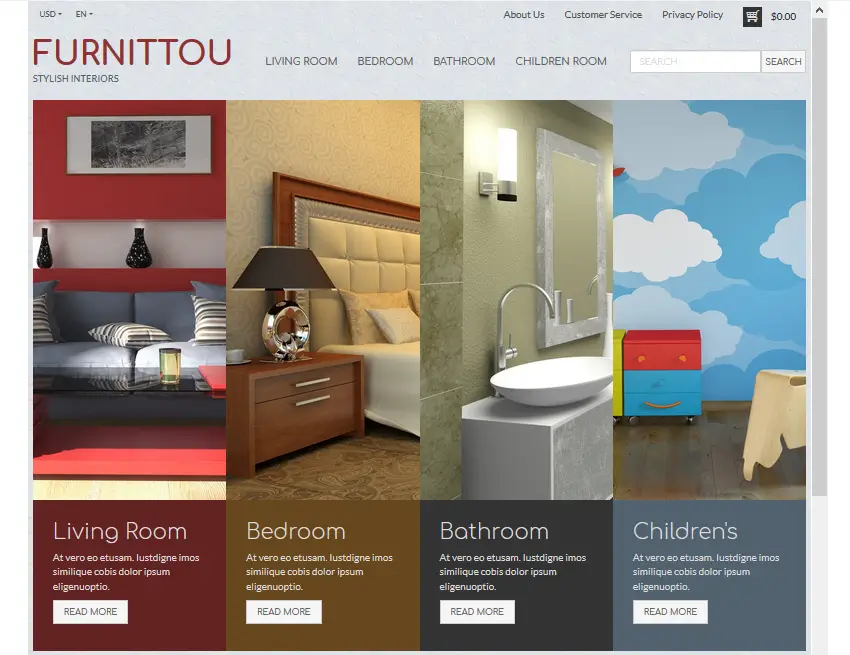 Furnittou is a free Magento theme that's ideal for setting up an online furniture store. It's responsive and equipped with all the necessary eCommerce features, plus it has adaptive functions for displaying the site correctly on any device. It's also been optimized for speed and compatibility with all browsers. Some of the key features of the Furnittou theme are: flexible layouts, custom widgets, user-friendly theme settings, and optimized for search engines.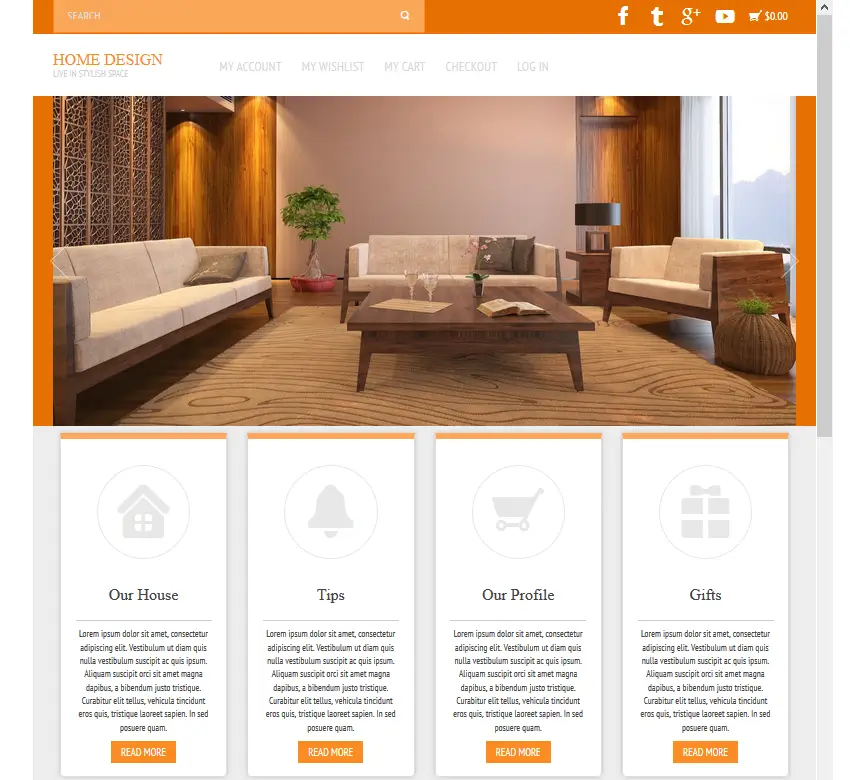 When trying to sell home goods, especially if you're new to the industry, it's important to try to make the process as painless as possible for your customers. With this Home Design Magento template, customers will be able to find all the home goods they need within your store. Additionally, this template is fully responsive, so you can use it to reach customers on their phones and tablets.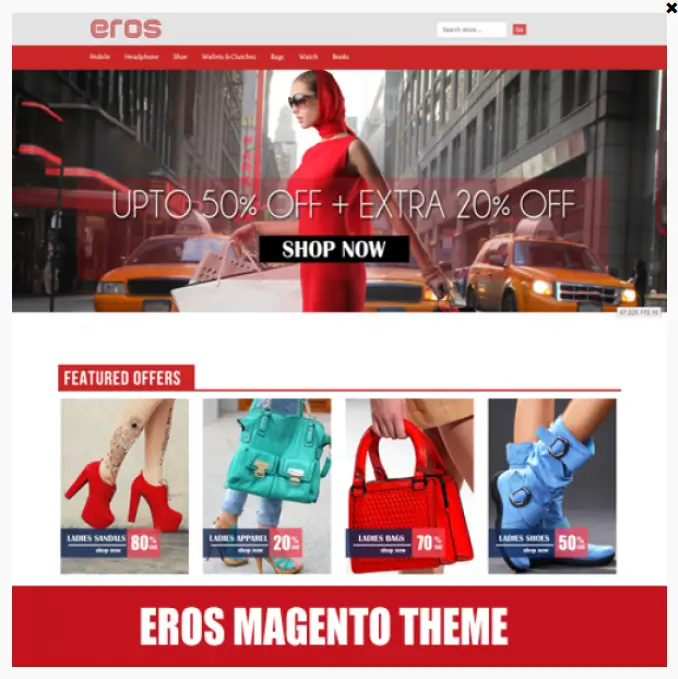 Using a pre-made theme or template can be a great way to get your store up, but it's also important that you know what you're getting before you commit. Eros Magento theme by Fedobe offers an attractive way to get your store started, but like any other template, you'll have to pay attention to what it can and can't provide for your needs.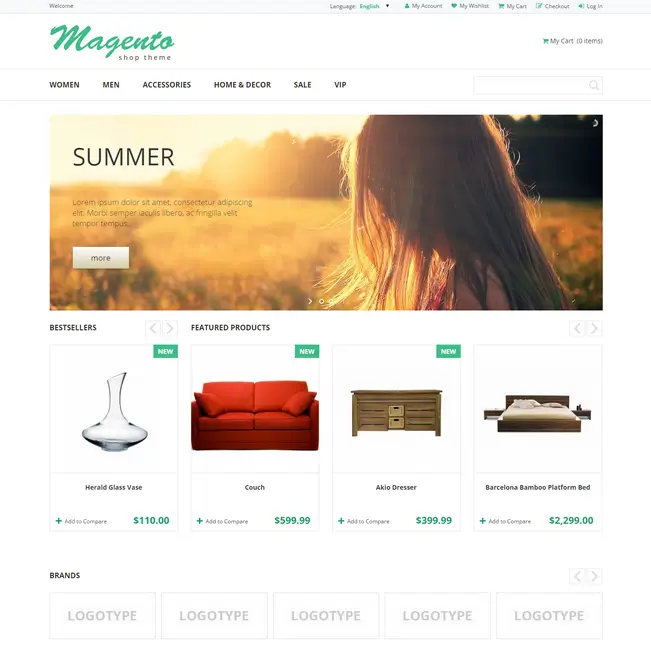 Introducing Crystal – a free Magento theme that's sure to breathe new life into your online store! With its clean design, impressive slider, and bright color scheme, it's guaranteed to grab the attention of all your potential customers. Best of all, you can refresh the look of your eCommerce platform absolutely free in just a few clicks: simply download the package from our website, upload it to your server, and activate.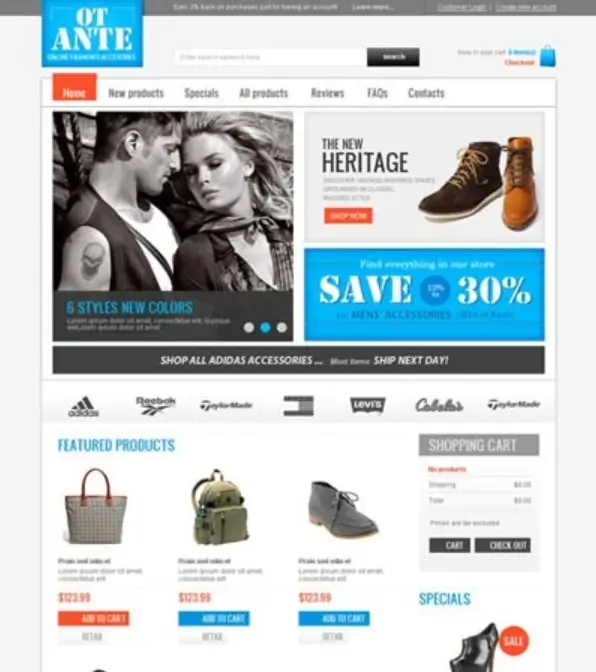 Ot Ante is a free Magento theme that focuses on a clean and modern design. It offers extensive functionality and flexibility when it comes to marketing. It comes with a wide range of customization options that will allow you to truly make it your own and it comes fully responsive and optimized for mobile devices. Ot Ante comes with many features like full responsive design, multiple layouts, Ajax features, mega menu, etc. It's fully compatible with different Magento versions and is available in multiple languages.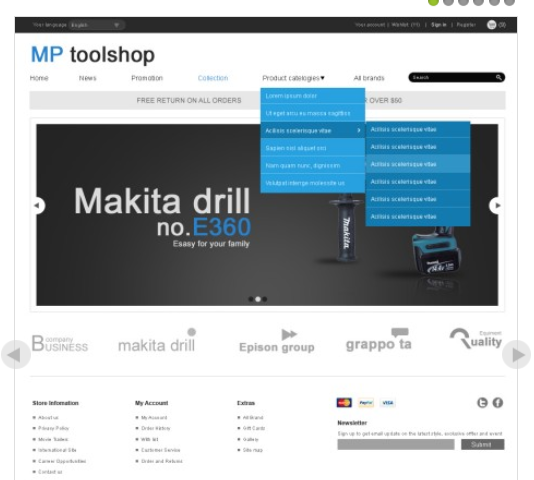 Leading the way with the latest technology is what MP Toolshop strives for. you'll get a light and easy interface that makes it simple to add pictures, articles and other details to your website. MP Toolshop has the modern look and feel that you're looking for. It's easy to use, even easier to make changes. Its sleek and beautiful design means your store will be the most elegant one on the block. With built-in easy-to-use customization tools you can rest assured that your shop will be ready for prime time!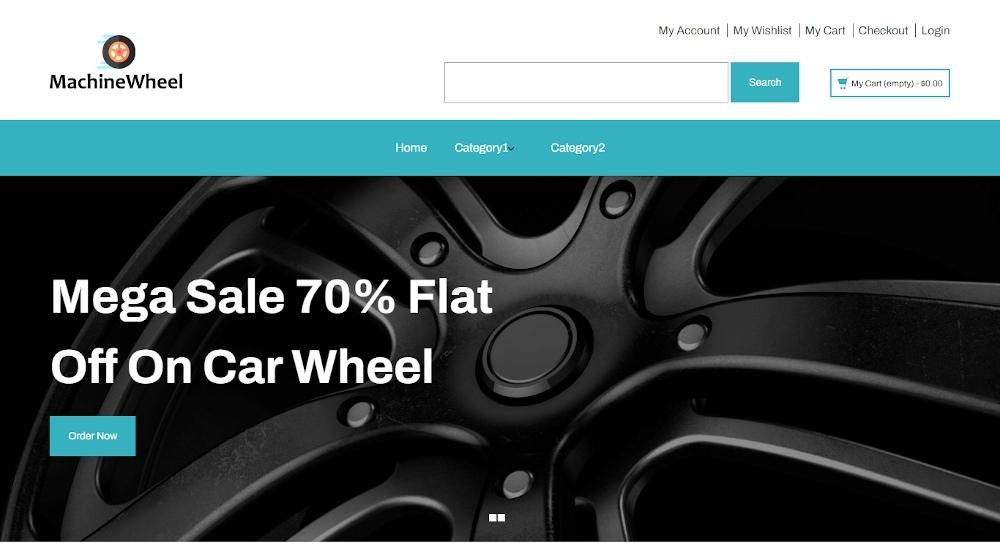 Starting your online car wheels store can be easier with the right solution. This Machine Wheel Magento theme is designed specifically for car wheel shops, with a responsive design, support for multiple languages, fully customizable features, SEO optimization, RTL support, social share icons, grid layout, color schemes, speed optimization, unique favicons, YouTube video integration, custom JS & CSS integration, and more. With pre-designed pages, you can get started quickly.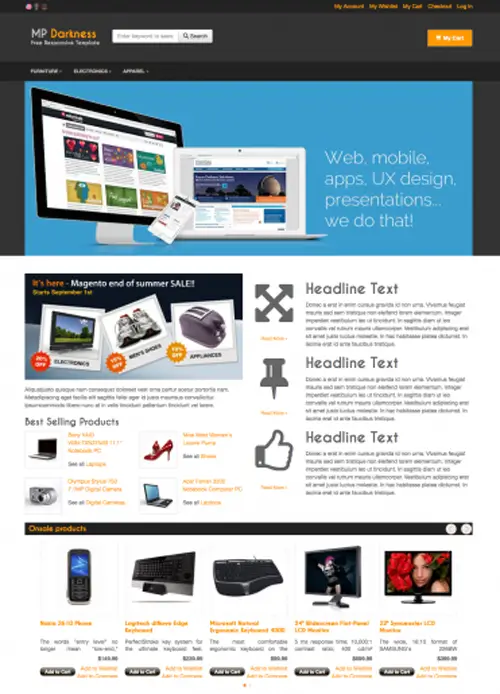 The Magento MP Darkness responsive theme by MagPassion is a great option for those looking for a dark color scheme that is still professional and easy on the eyes. The Twitter bootstrap 3 integration is also a plus, as it provides an easy way to keep your pages looking consistent and responsive across all devices. Additionally, all customer pages are customized to provide a unique and fully-personalized experience.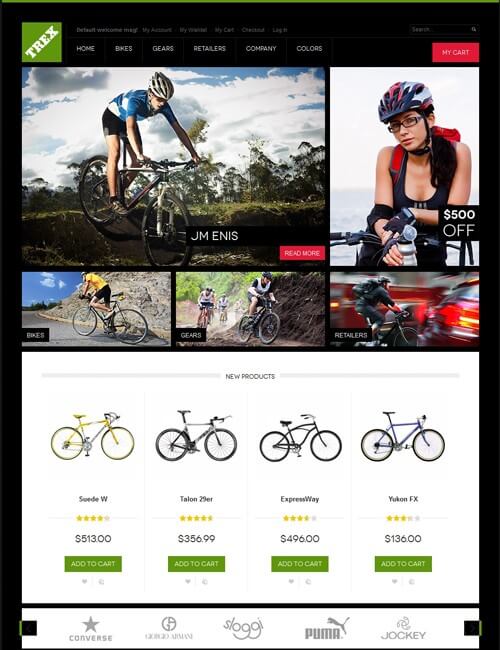 If you are searching for a bicycle theme for Magento 2, let's have a look at Trex theme. It applies a black background and bright colors for elements (green & red) to bring a fresh and lively style. Thanks to Trex, you can easily make your products stand out from the crowd and get them noticed by all the visitors of your website. This can help you increase the conversion rate of your products and the amount of sales, which is the ultimate goal of any store.
Wrapping Up
There is no way to know what is better – free Magento themes or paid ones. However, if you are a novice, it is probably better to start with a free one. Getting acquainted with free ones is a good practice for later buying premium ones. When you're looking for the best free Magento themes, pay attention to their design, technology and support.
Hope that you can find a favorite one among this long list of the best free Magento themes. More catchy ones will be updated in the next week.
After selecting one that can satisfy your aesthetics, you might need to look for an experienced Magento development company to apply the chosen theme to your eCommerce store. What do you think about Tigren?
We have been delivering high-quality Magento web design and development services since 2012. That's why we can know what is best for your Magento store and how to do it. Contact us now, we are excited to hear about your project!
Related Posts:
Top 10 Fastest Magento 2 Themes for Merchants
The Most Fascinated and Recommended Magento 2 Themes