Struggling to find a reliable print-on-demand company that meets all your business needs? It's a common hurdle for many entrepreneurs diving into the online market.
In this blog post, we're going to tackle this challenge head-on.
We'll guide you through the top print-on-demand companies, analyzing their features, pricing, and what sets each apart. This article aims to arm you with the knowledge to choose the best partner for your business journey. Let's begin this exploration to find your ideal print-on-demand match.
Top 8 Best Print-On-Demand Companies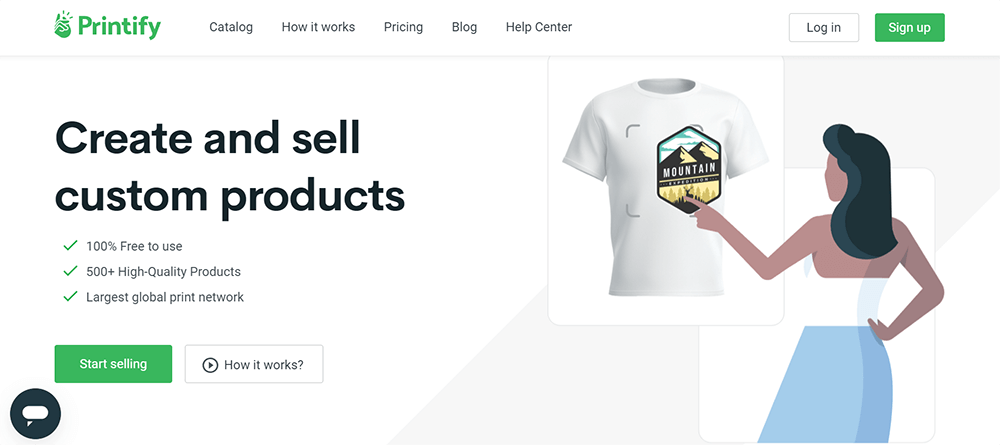 Printify stands out as a prominent player in the print-on-demand landscape, offering a wide range of customizable products. Known for its user-friendly platform, Printify connects merchants to a global network of print providers. This model enables you to design and sell custom products online with ease.
Features:
Extensive Product Catalog: Printify boasts a diverse catalog featuring over 800 products, ranging from apparel to home accessories.
Global Print Provider Network: Their extensive network of print providers across various locations enables faster shipping and reduced costs.
Integration with E-commerce Platforms: Seamlessly integrates with popular e-commerce platforms like Shopify, Etsy, and WooCommerce, making it ideal for online store owners.
Mockup Generator: A user-friendly tool that allows you to create realistic product images for your store.
What Makes It Unique:
Printify's unique selling point is its extensive network of print providers, which not only ensures product diversity but also reduces shipping times and costs. This approach offers a significant advantage, especially for businesses targeting a global customer base.
They boast over 6 million merchants and have delivered products worth over $500 million through their network of over 110 printing locations​​​​.
Pricing:
Free: The free plan is designed for merchants starting a business and allows for unlimited product designs and up to 5 stores per account.
Premium: The Premium plan, aimed at merchants with growing sales, costs USD 29 per month (billed annually) and includes up to 10 stores per account, unlimited designs, and up to 20% discounts on all products.
Enterprise: For significant daily sales, there's an Enterprise plan with custom pricing, offering unlimited stores, unlimited designs, and additional discounts.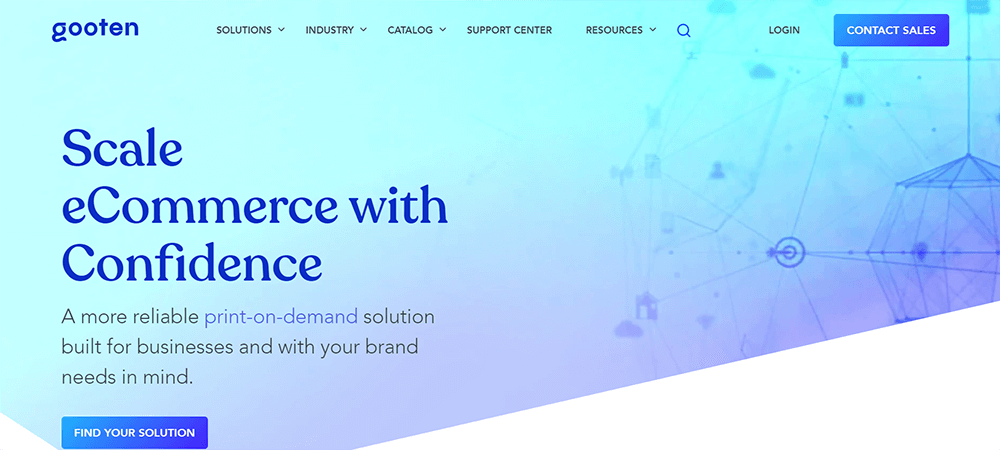 Gooten positions itself as a forward-thinking print-on-demand service, ideal for visionary brands in the eCommerce sphere. It emphasizes eliminating the traditional challenges of bulk inventory and unsold products by producing items only upon sale. This approach makes it suitable for various business types, from start-ups to established brands.
Features:
Smart Supply Chain: Gooten simplifies online selling by integrating a smart supply chain, offering guidance through its 7-step process for success and scalability.
Seamless Integration: It easily integrates with major eCommerce platforms, offering both standard and custom API solutions for a streamlined fulfillment process.
Extensive Product Range: Over 150 high-quality products are available, including specialty items, ensuring flexibility and variety for stores.
User-Friendly Design Tools: A mockup generator allows for real-time visualization of designs on products.
Efficient Store Management: Gooten enables adding final designed products to stores directly from its platform and supports multi-store design storage.
What Makes It Unique:
Gooten's unique advantage lies in its dual approach to sourcing. It combines the benefits of single-source and multi-source manufacturing, leveraging a network of over 30 manufacturers. This setup offers the capacity and flexibility of a large global supply chain without the complexity of managing it, which is particularly beneficial for e-commerce businesses seeking efficient scalability.
Pricing:
Gooten operates on a no-fee model. There are no monthly fees or hidden charges for using its platform. Costs are incurred only for product and shipping when a customer makes a purchase, making it a cost-effective choice for businesses.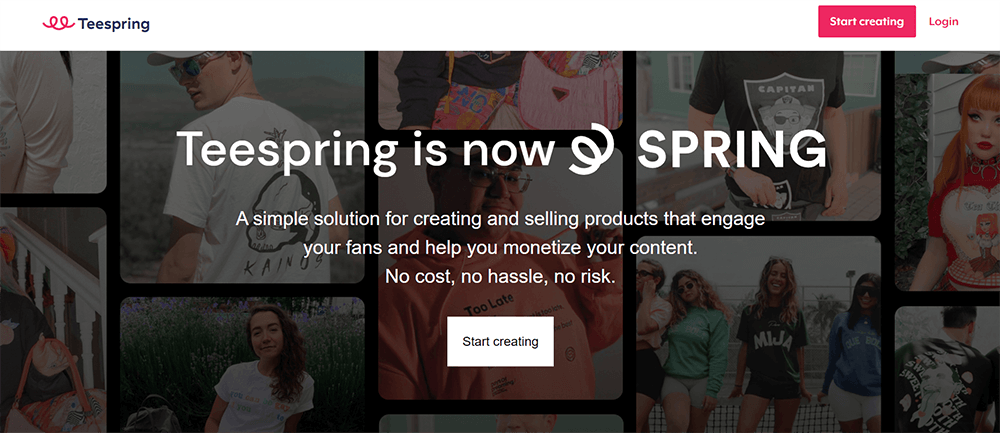 Spring, formerly known as Teespring, has evolved into a dynamic social commerce platform that empowers creators to design, promote, and sell custom products online. Its print-on-demand model eliminates the need for upfront costs or inventory, allowing creators to focus on creativity and sales without the financial risks traditionally associated with merchandise.
Features:
Social Media Integration: Spring uniquely allows creators to connect their social channels, streamlining the promotion and sale of merch directly to fans.
Custom Storefronts: Users can set up their own stores, optimized for conversion, and reflective of their unique brand identity. This includes the option to connect a custom domain.
Wide Product Range: Over 180 physical products are available for customization, along with digital downloads, providing a diverse array of options for creators.
What Makes It Unique:
Unlike many competitors, Spring offers a free, customizable storefront with a custom domain. This feature makes it particularly appealing to creators and beginners without existing websites. Another standout feature of Spring is its ability to sell digital products alongside print-on-demand merchandise, offering creators a broader scope for income diversification.
Pricing:
Spring is 100% free to use, and creators keep 100% of the profit. Spring's fee is included in the base cost of the product.
For instance, if a t-shirt's base cost is $10 and it's sold for $24, the creator keeps $14. There are no fees for the number of colors used in designs or the quantity of items sold.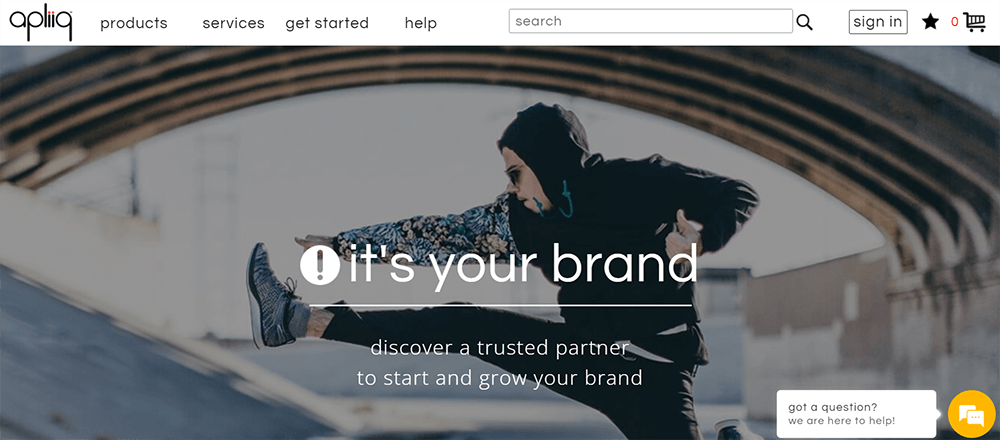 Apliiq is a print-on-demand platform specializing in fashion and lifestyle apparel. It positions itself as a trusted partner for brands, handling everything from production to shipping, allowing brand owners to focus on growth. With Apliiq, you manufacture products only when an order is placed, reducing the traditional burdens of inventory and overproduction.
Features:
Luxury and High-Quality Products: Apliiq offers a broad range of luxury, high-quality apparel options, including eco-friendly garments. Their focus on sourcing the best products ensures customer satisfaction.
Efficient Fulfillment: Swift domestic shipping, competitive fulfillment times, and minimal upfront costs for inventory are key features. Apliiq provides a balance of cost-effective services and quality, helping brands streamline their operations.
What Makes It Unique:
Apliiq differentiates itself with a strong focus on fashion-forward and premium products. This tailored approach is designed to meet the specific needs of fashion and lifestyle brands, ranging from budding entrepreneurs to established entities looking to scale.
The platform also allows for combining branding on demand with print-on-demand, a strategy used by major brands to enhance perceived value and customer recognition.
Pricing:
Pricing on Apliiq varies based on product and design. Generally, you can expect about a 50% margin on products resold to customers. For detailed pricing, Apliiq provides immediate quotes online.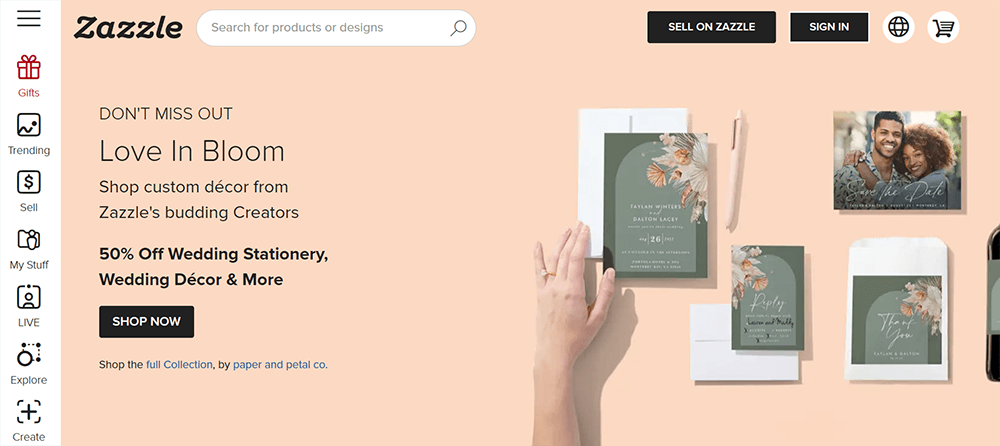 Zazzle, a California-based print-on-demand marketplace established in 2005, allows designers to create and sell personalized items globally. It's known for its extensive range of customizable products and a platform that caters to both individual creativity and business needs.
Features:
Extensive Product Range: Zazzle's catalog boasts over 3,200 items, offering immense diversity for customization.
Design Flexibility: Designers can use Zazzle's free tool and templates for customization. Additionally, Zazzle allows customers to tweak designs, like changing fonts or text, to meet their unique requirements.
Brand Partnerships: Zazzle offers officially licensed products from well-known brands like Disney, Star Wars, Marvel, and Harry Potter, which creators can personalize.
What Makes It Unique:
Zazzle supports international shipping to over 100 countries, making it an excellent platform for reaching a global audience. The Zazzle Pro Program, designed for successful creators, offers a tiered system based on sales volume, providing additional incentives and benefits.
Pricing:
Joining Zazzle is free. It offers paid plans like Zazzle Plus and Zazzle Plus Premium, providing benefits like unlimited standard shipping and faster shipping options. Creators set their own royalty rates, with Zazzle recommending a range of 10-15%. The final profit margin is determined by the creator based on the product's base cost and the selling price.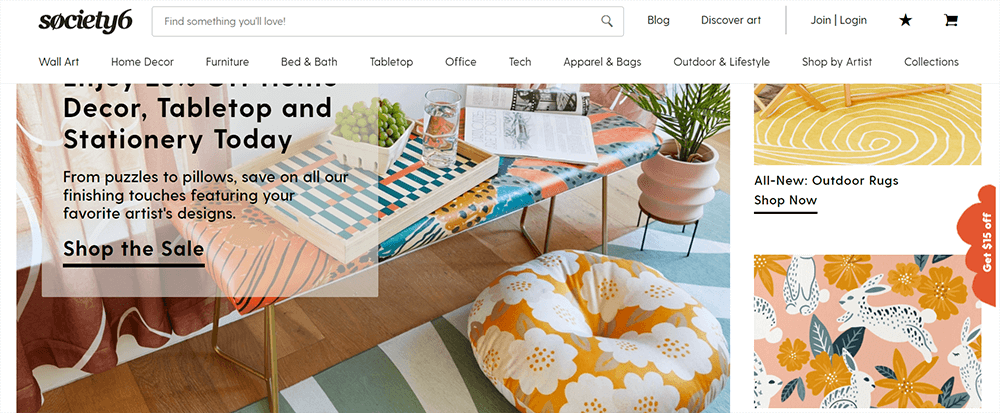 Society6 is an online marketplace for artists to sell their art in various formats, including wall art, furniture, home décor, lifestyle products, and apparel. It stands out for its strong community of artists and offers a comprehensive solution covering printing, shipping, and customer service.
The platform is known for enabling artists to connect with a vast audience globally, making it a valuable tool for both emerging and established artists.
Features:
Easy Account Setup: Artists can easily create a profile on Society6, where they showcase their work and bio, similar to a personal website. This profile is critical in helping customers understand the artist and their work.
Art Upload and Customization: Society6 allows artists to upload their art in specified formats, ensuring compatibility with a variety of products. The platform provides clear guidelines for art submissions, catering to different product requirements.
What Makes It Unique:
Diverse Product Range: Society6 stands out with its wide range of products for art prints, allowing artists to explore various mediums for their work.
Community and Support: The platform is known for its supportive community and provides a lot of guidance for beginner artists, facilitating an environment where they can thrive and profit from their creativity.
Pricing:
Options include Lite (Free), Basic ($4.99/month), and Pro ($12.99/month). The Basic Plan offers up to 100 design uploads and pricing control, while the Pro Plan allows up to 10,000 uploads, sales analytics, and exclusive product discounts.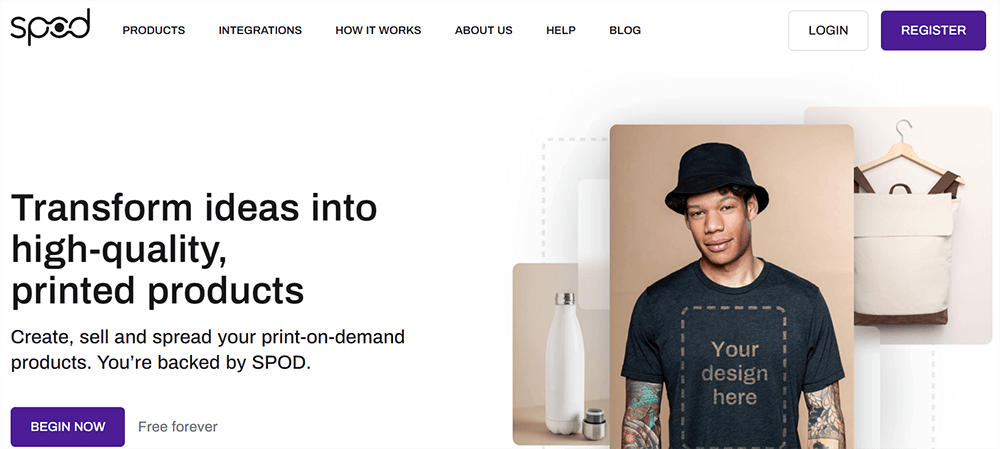 SPOD, a dropshipping print-on-demand service, offers a comprehensive solution to create, build, and expand print-on-demand offerings. It's designed to support the entire process from production to delivery, allowing you to focus on growing your brand while SPOD handles the logistics.
Features:
Rapid Production: SPOD prides itself on its efficiency, producing 95% of orders within 48 hours, ensuring quick delivery to customers.
Global Reach with Local Production: With facilities in the US and EU, SPOD offers a global reach while maintaining a local feel in its operations.
E-commerce Integrations: The platform seamlessly integrates with multiple sales channels, making it easy to connect products to various e-commerce systems.
What Makes It Unique:
With 20 years of industry experience, SPOD is powered by Spreadshirt, a leader in print and fulfillment, adding credibility and reliability to its services. SPOD emphasizes quality, ensuring that your brand is represented with high-quality products. This commitment to quality is a cornerstone of their service offering.
Pricing:
SPOD operates with no recurring costs. Charges are only incurred for the order value and shipping costs when an order is placed, with shipping costs varying based on order value, shipping type, and destination.
While SPOD itself does not have recurring fees, the shop system or marketplace you integrate with might have its own fees, which need to be considered separately.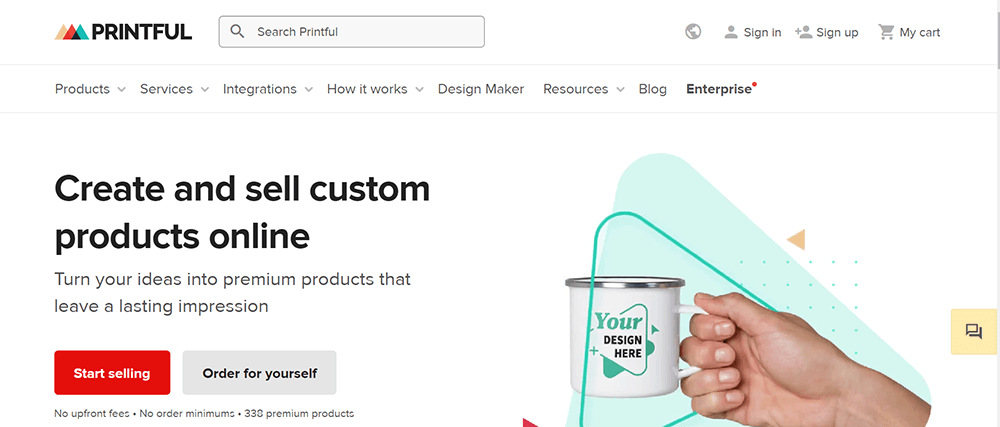 Printful specializes in processing, packing, and delivering custom goods worldwide. Its print-on-demand model eliminates upfront costs and leftover stock, as products are fulfilled only when a customer places an order. This approach ensures no upfront fees or minimum orders, simplifying the fulfillment process for sellers​​.
Features:
Effortless Fulfillment: Automated order fulfillment and efficient global shipping are provided, simplifying the logistics for sellers.
Unmatched Quality: With a reship rate of only 0.24% due to quality concerns, Printful ensures high-quality products. This is achieved through advanced machinery and a rigorous 3-Step Quality Check​​​​.
What Makes It Unique:
Its worldwide shipping capability, coupled with round-the-clock, multilingual support, makes it accessible and reliable for a global customer base​​. The low reshipment rate due to quality issues highlights Printful's commitment to quality.
Pricing:
There is no monthly fee for using Printful's basic services. Costs are incurred only for products purchased and their shipping, payable after an order is placed.
Additional services, such as Warehousing & Fulfillment, incur service fees. Moreover, Printful provides optional tools that can be accessed through a monthly subscription, but these are not mandatory for basic service use.
How to Choose The Right Print On Demand Company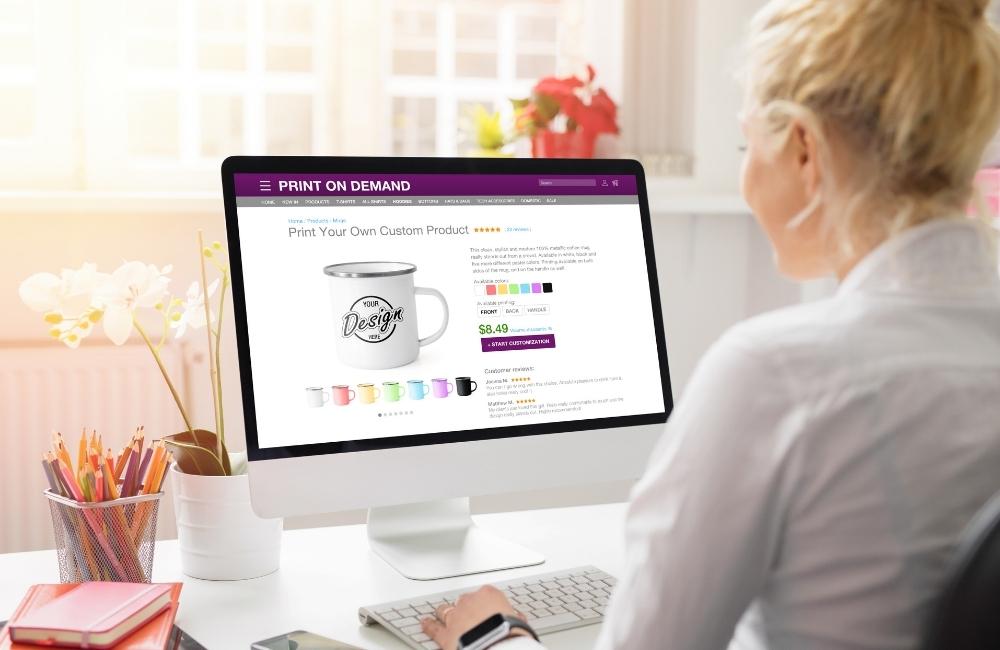 To choose the right print-on-demand company, consider the following factors:
Pricing Plans and Flexibility: Look for affordable pricing plans with flexibility, like discounts on bulk orders and transparent shipping costs. Consider companies offering various integrations, especially if you need easy product import options for website builders and CMS platforms.
Range of Products: A wide range of high-quality products is crucial. Pay attention to the quality of materials, inks, and packaging. Quality products enhance customer satisfaction and help in building a good brand reputation.
Fast and Reliable Shipping: Since the company will handle shipping for your dropshipping business, ensure they have credible shipping services to avoid disappointing customers.
Good Return/Refund Policy: Ensure the company has a clear return or refund policy for issues like damaged packages or late deliveries. This safety net is vital for customer satisfaction and business reputation.
Reliable and Available Customer Service: Opt for a company with responsive and helpful customer service. 24/7 support and a self-service center are significant advantages.
Good Track Record and Social Proof: Research the company's reputation through online reviews and ratings on their official website and platforms like Google Business. A strong social proof presence on their website can be a good indicator of reliability and quality.
FAQ
1. Is print-on-demand business still profitable?
Print-on-demand (POD) business can still be profitable in 2023 and beyond. According to Straits Research, the global POD market is expected to grow at a CAGR of 25.3% from 2023 to 2031, reaching a value of $45.6 billion by 2031.
2. What is a good profit margin for print-on-demand?
A good profit margin for print-on-demand (POD) products is typically between 20% and 40%. This range allows you to cover your costs and make a reasonable profit on each sale. However, the exact amount you can charge will depend on several factors, such as the cost of your products, your target market, and your competitors' prices.
3. Can I start print-on-demand with no money?
You can start a print-on-demand business with no money. POD is a business model where you don't have to buy any inventory upfront. Instead, you partner with a POD supplier who will print and ship your products on demand. This means that you only pay for the products that you sell.