In today's digital landscape, a compelling website can make or break a small business. But with so many options, finding the right web design company can be overwhelming. That's why we've curated a list of the Top 19 Best Website Design Companies for Small Businesses.
These experts specialize in translating your brand into a visually appealing and user-friendly online presence. Whether you're aiming for a sleek minimalism or bold creativity, these companies have proven track records in delivering top-notch designs. Join us as we explore a diverse range of design partners that can help your small business stand out in the vast digital marketplace. Your ideal web design company might just be a click away – ready to transform your vision into a virtual masterpiece and drive business growth.
Top 19 Best Web Design Companies For Small Business
To make it easier for you to find companies that suit your budget, we'll list the best web design agencies for small businesses in ascending price order.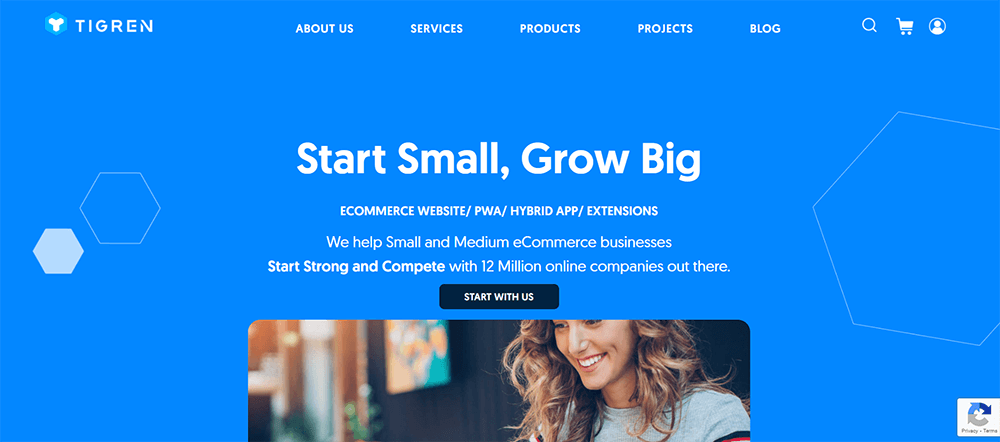 Reviews: 4.8/5
Pricing: Min project: $1,000+. Hourly rate: $25 – $49/hr
Key clients: ShopEddies, Tiny Blessings, Stock In The Channel, MarginFrame, TechDirect, Croft, Haute Rouge, Ski & Board Online, etc.
Tigren is a business with over ten years of experience building eCommerce websites using Magento. This is one of the prime examples of the best web design companies for small business. The agency is headquartered in Vietnam, where the cost of living is meager. Thus, businesses can turn to Tigren if they seek an affordable website design agency.
In particular, Tigren also has an optimal website building process and an effective customer care policy. These two factors help ensure that Tigren's customers will always have a high-quality website at the lowest possible budget without any problem.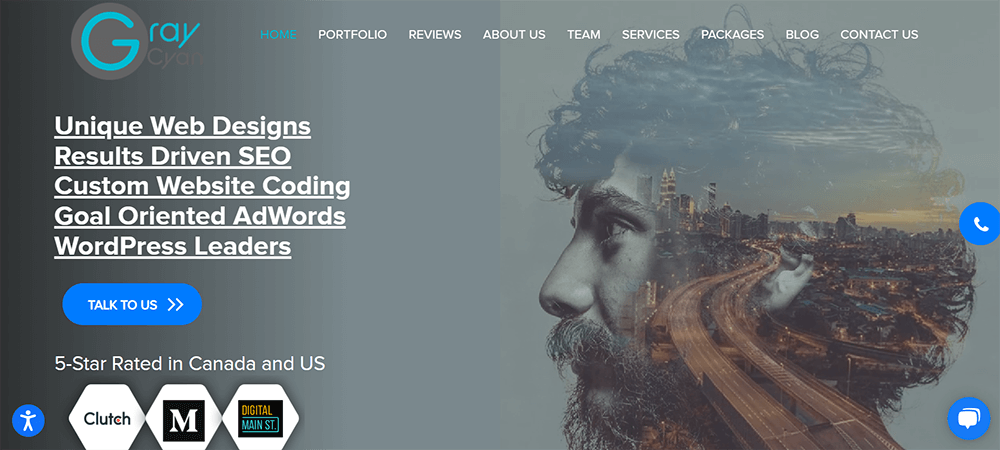 Reviews: 4.9/5 – 56 reviews
Pricing: Min project: $1,000+. Hourly rate: $25 – $49/hr
Key clients: Homes First Society, Eagle's Flight, Best New Product Awards, AIS Technologies Group, McGill University.
GrayCyan is renowned for its creative acumen and functional design approach. Selected for their impressive ratings, budget-friendly options, and seamless cultural alignment, GrayCyan emerged as the perfect fit for businesses in search of an effective digital solution. Their comprehensive services encompassed visually engaging mockups, impactful video editing, innovative infographics, and a cohesive website design.
Tangible success was evident in their ability to meet launch deadlines, achieve desired aesthetics, and seamlessly incorporate feedback. GrayCyan's adept project management was reflected in their timely deliveries and efficient communication through various platforms. In an era where digital presence is paramount, GrayCyan Experiential Websites stands out as a powerful ally for small businesses, elevating their brand on the digital stage.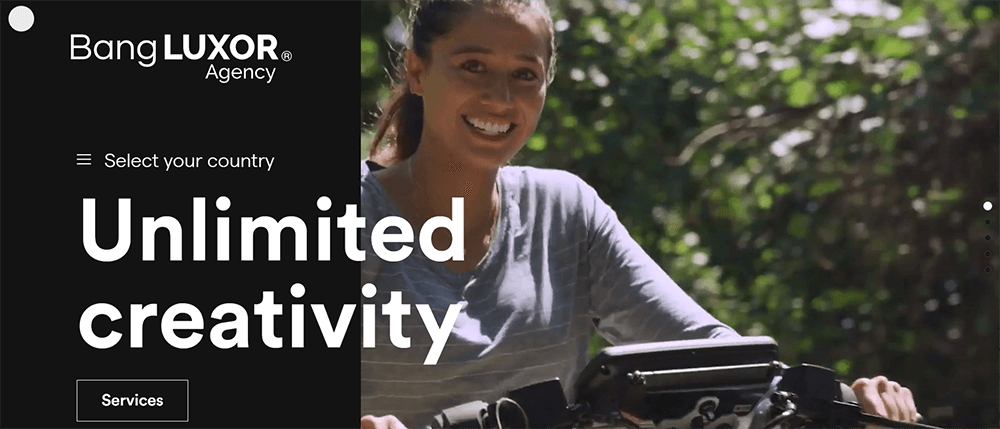 Reviews: 4.9/5 – 36 reviews
Pricing: Min project: $1,000+. Hourly rate: $25 – $49/hr
Key clients: Università della Svizzera italiana, MantiK Store, Istituto Scolastico Leonardo Da Vinci, E&E Art.
By specializing in brand consulting, digital interface creation, and marketing tools, BangLUXOR has etched its name as a dynamic force in the digital landscape. Operating across six countries, BangLUXOR's global reach showcases its effectiveness in building a digital community. Their vision is crafting exclusive designs that resonate with current market trends, reflecting each client's unique value proposition.
Their transformative work propelled a client's website to the number one position in search engine rankings. The agency's adept project management and direct communication contribute to seamless collaborations, emphasizing their professionalism. BangLUXOR's distinctive strength lies in their attentive listening, coupled with imaginative proposals that transcend convention; infusing creativity and strategy.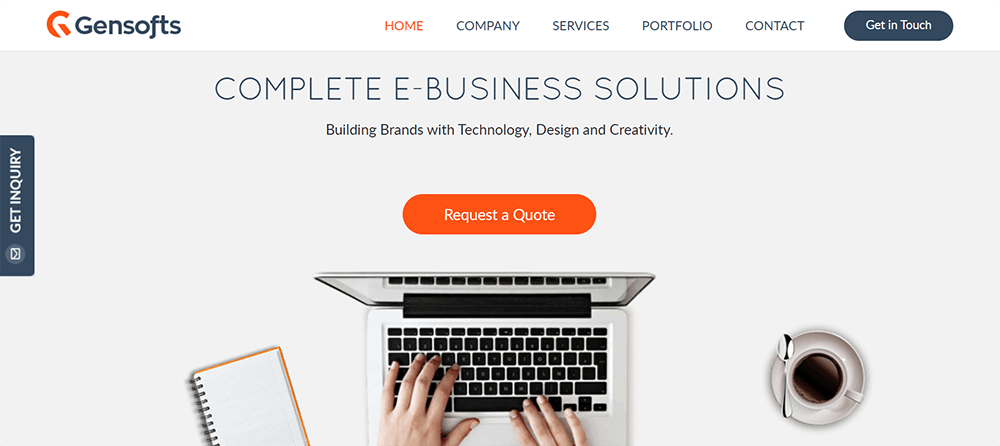 Reviews: 4.7/5 – 11 reviews
Pricing: Min project: $1,000+. Hourly rate: $25 – $49/hr
Key clients: MendaxHC, Doggy Dates, Osaka Coffee, Career Sync, Stellarseo, Hayes Development.
Gensofts Infosolutions emerges as a trailblazer among the best website design companies for small businesses. Founded in 2008, this offshore IT powerhouse offers a comprehensive suite of web design and development services, providing an all-encompassing solution for clients. Gensofts' focus on blending cutting-edge methodologies with user-centric design, catering to diverse budgets.
Gensofts Infosolutions brings exceptional communication and project management. Leveraging platforms like email, WhatsApp, and Google Meet, Gensofts ensures a seamless collaboration experience. Their commitment to adhering to budgets and timelines underscores their professionalism. They deliver products that align with clients' visions, maintaining brand integrity and fostering lasting connections. Their reliability and punctuality further enhance their credibility.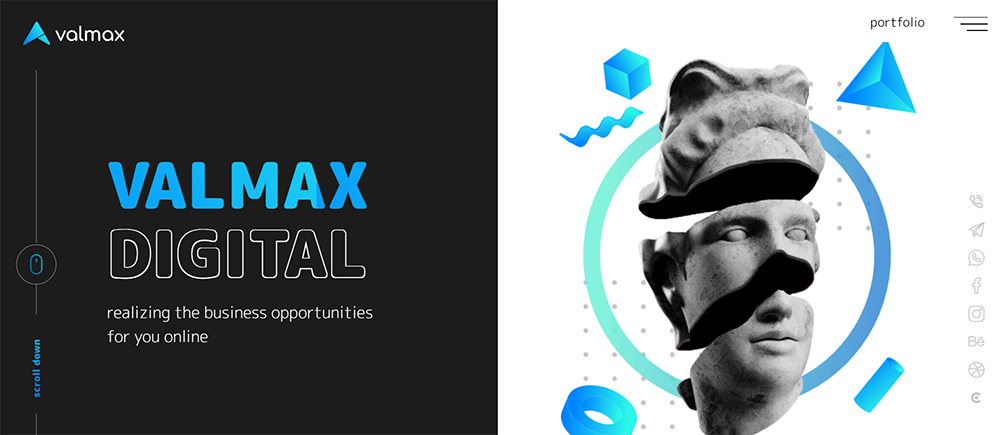 Reviews: 5/5 – 17 reviews
Pricing: Min project: $1,000+. Hourly rate: $25 – $49/hr
Key clients: Law company Privilegija, Inshiy, happy body, Megasoft ML, Amigo Tour, Star Trans Logistic.
Valmax Digital emerges as a premier website design company for small businesses. Committed to transforming digital aspirations into reality, their proficient team crafts remarkable digital solutions that resonate. Their services span from visual brand identity to custom web development, combining innovation and functionality. Recognized as a Top Web Design Company and Top WordPress Development Company by Manifesto, and a Top Rated Plus Upwork Agency, Valmax Digital's credibility is undeniable.
Valmax understand and enhance client visions showcases their commitment. Websites crafted by Valmax Digital garner positive audience response, boosting press coverage and campaigns. Valmax Digital's exceptional dedication, professionalism, and creative acumen position them as a prime choice in small business website design. Their capability to turn digital aspirations into impactful realities makes them a definitive leader in the digital realm.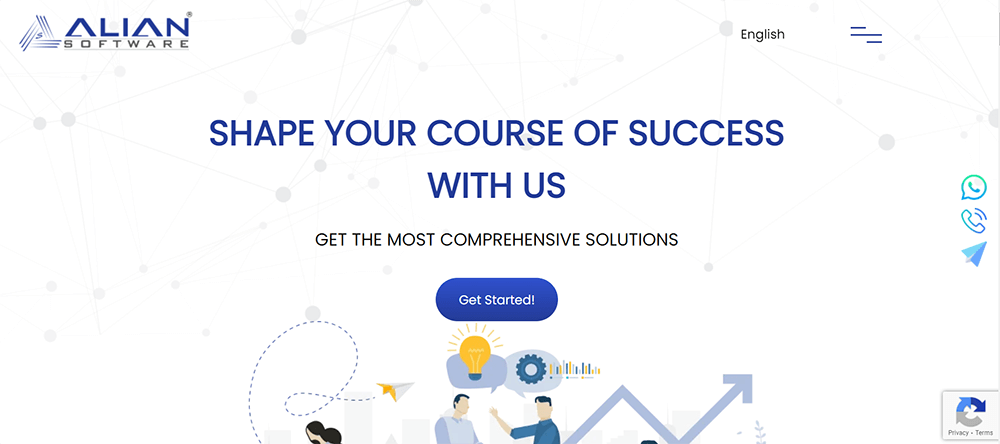 Reviews: 5/5 – 22 reviews
Pricing: Min project: $1,000+. Hourly rate: $25 – $49/hr
Key clients: SayMeGrace, Ko-kane, WorldPost, Cloud-Bookeeper, Diamond Home.
Alian Software Inc is a global IT brand and acclaimed IT services agency, celebrated for its exceptional software solutions. Distinguished by its commitment to innovation, Alian Software offers a wide spectrum of tailored IT solutions across various technologies. With a dedicated team of over 120 skilled professionals, the company boasts 155K+ hours of Upwork experience, having successfully completed 8k+ projects, leaving clients worldwide content.
Alian Software constantly refine IT solutions for clients, create tangible value for businesses, they fuel universal growth and success. Alian Software's in-house team encompasses a range of skilled professionals including UI/UX designers, e-commerce developers, front-end and back-end developers, mobile app developers, and QA testers. Their prowess has earned the trust of industry leaders who rely on Alian Software's economical and state-of-the-art solutions.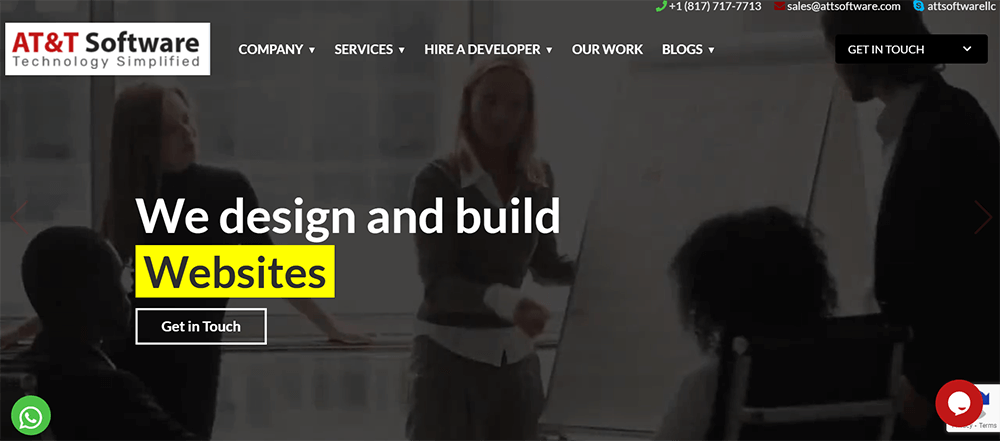 Reviews: 5/5 – 24 reviews
Pricing: Min project: $1,000+. Hourly rate: $25 – $49/hr
Key clients: Oralb, Photigy, Ouyoa, Firstindia, Demitto, Activebaby, Skooli, Demitto, Partica.
Attractor Software LLC leads the league of top website design companies for small businesses. Since 2012, they've been synonymous with custom software development, offering outsourcing solutions for projects of varied complexities. From data analysis web forms to pioneering e-commerce and financial tech systems, their track record resonates with excellence.
Experience and dedication converge, yielding high-quality products tailored to clients' needs. Their proficiency is evident in functional, user-friendly applications that redefine industry standards. Beyond development, Attractor Software LLC immerses in projects, handling challenges adeptly. Their seamless takeover from previous vendors reflects adaptability and collaboration.
Reviews: 5/5 – 18 reviews
Pricing: Min project: $1,000+. Hourly rate: $25 – $49/hr
Key clients: Activa Pharmacy, Mr GreenClean Auto Detailing, North Pine Camping & Cottages.
Mojo Media stands out as a finest website design companies for small businesses. Operating from Toronto, Canada, this award-winning agency has mastered the art of crafting captivating and tailor-made websites. Driven by a close-knit team of passionate creatives, Mojo Media consistently surpasses expectations. Their impact spans across North America, empowering small and mid-sized businesses to boost leads through skillfully designed websites.
Mojo Media's hallmarks include efficiency, creativity, and robust communication. They deliver successful launches within budget and timelines, facilitated through channels like Zoom and phone calls.Their work consistently translates into heightened traffic, engagement, and conversion rates. Their receptiveness to feedback, adherence to deadlines, and innovation set them apart. Their ongoing partnerships are marked by reliability, innovative thinking, and meticulous attention to detail.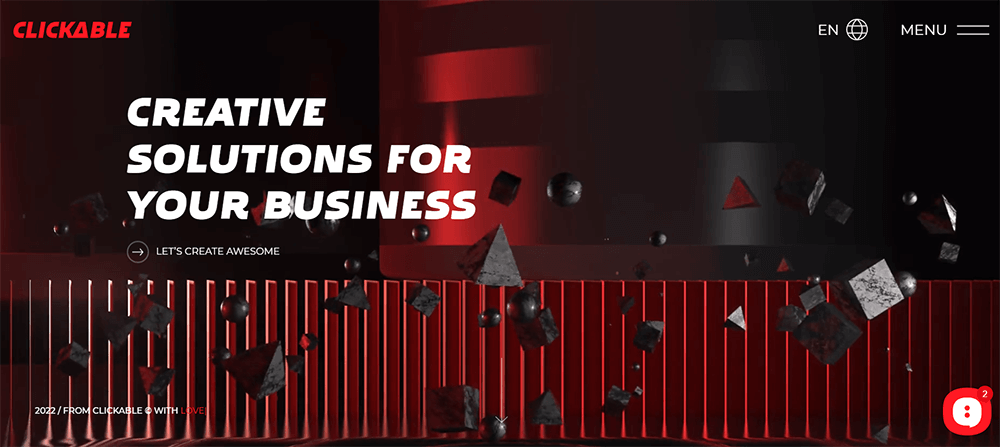 Reviews: 5/5 – 10 reviews
Pricing: Min project: $1,000+. Hourly rate: $25 – $49/hr
Key clients: Nike, CyberSport Bets, Fizz, Chairball, Mondrian Spaces, Fleur De Lis, Hard Fit.
Clickable Agency is relatively young compared to other names on this list. The company was only established in 2015. Their creative prowess shines through in crafting compelling landing pages, high-CTR banners, and innovative online advertising formats. With a focus on generating results, they've garnered new customers and elevated campaign performance.
Their professionalism, smooth workflow, and direct communication are evident in client feedback. The agency's impact is not just aesthetic; its design efforts have translated into a slew of new leads and heightened brand reach. Clickable Agency is undeniably a go-to choice for small businesses seeking creative excellence.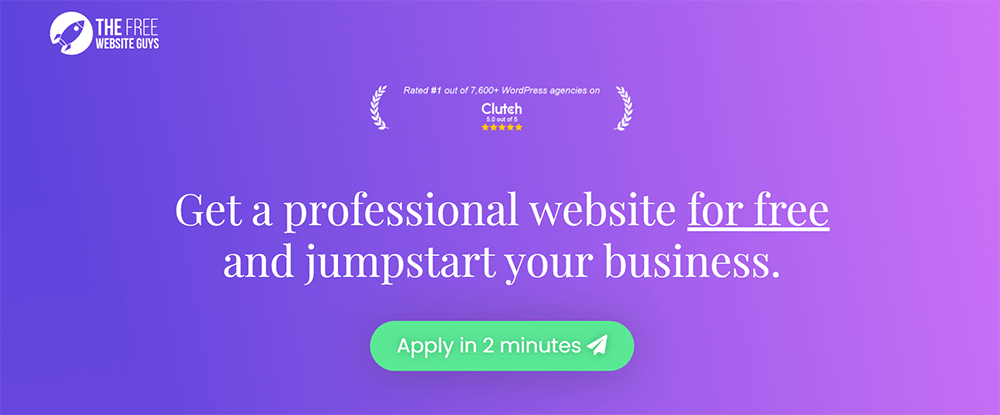 Reviews: 5/5 – 488 reviews
Pricing: Min project: $1,000+. Hourly rate: $25 – $49/hr
Key clients: Optimate, Faro, Explore Moreno, Banbha, Freckles n Frowns.
Counted among the elite website design companies for small businesses, The Free Website Guys redefine excellence. Esteemed as the world's highest-rated web development agency, their free-website service outshines industry giants. Their unmatched reputation extends across Clutch, Capterra, G2, and more, bolstered by countless glowing reviews.
The Free Website Guys' impact resonates in their ability to align the final product with clients' visions. Thoroughness, commitment, and transparent communication hallmark their approach. Their innovation and dedication make them a prime choice for small businesses aiming for digital excellence.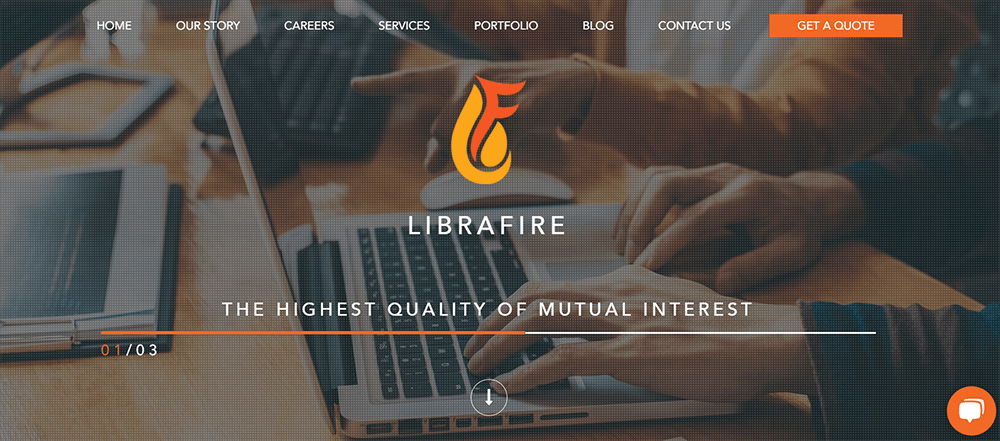 Reviews: 5/5 – 21 reviews
Pricing: Min project: $1,000+. Hourly rate: $25 – $49/hr
Key clients: SelfKey, Rocchi, Interpret Group, Breeo LLC, Team Viewer.
LibraFire is one of the most dedicated web design agencies. This firm's working style is dedicated, proactive and precise. With dedication and precision, they craft outstanding web development and design solutions tailored to diverse needs. Their expert team ensures timely delivery and a top-quality product, elevating businesses online.
Beyond aesthetics, LibraFire's focus lies in achieving measurable business goals, from improved user experiences to reduced bounce rates and increased engagement and leads. Their responsiveness and attention to client preferences set them apart. LibraFire's technical prowess is evident in their professional UI/UX implementations. Notable for cost-effective solutions and seamless communication, they emerge as an ideal partner for small businesses aiming to thrive in the digital landscape.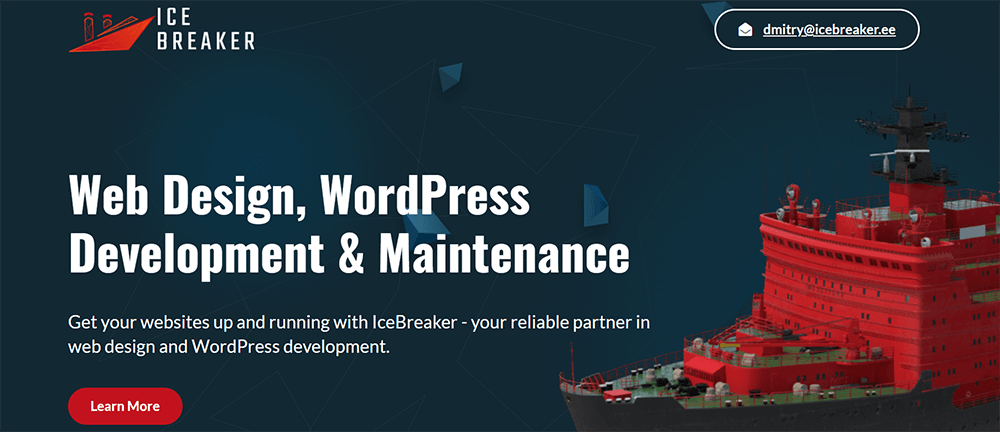 Reviews: 5/5 – 10 reviews
Pricing: Min project: $1,000+. Hourly rate: $25 – $49/hr
Key clients: Pierre, Native Feather, Workever, C&D, Landscout.
Although just established in 2018, Icebreaker has made a strong impression thanks to its high sense of responsibility. WordPress is their bread and butter, and they utilize the most up-to-date tools for the top results. Their services encompass advanced Elementor development, WooCommerce and Shopify expertise, UI/UX design, and more. They also collaborate with digital marketing agencies, offering white label solutions to enhance their capabilities.
Client feedback highlights their success in aiding business expansion, marked by dedication and collaboration. Icebreaker. Agency delivers quality designs and transparent communication via email, messaging apps, and Zoom. Timely deliveries and a willingness to enhance projects define their approach. Icebreaker. Agency's role as a transformative force in small business web design is clear, creating remarkable online presences that leave a lasting impact.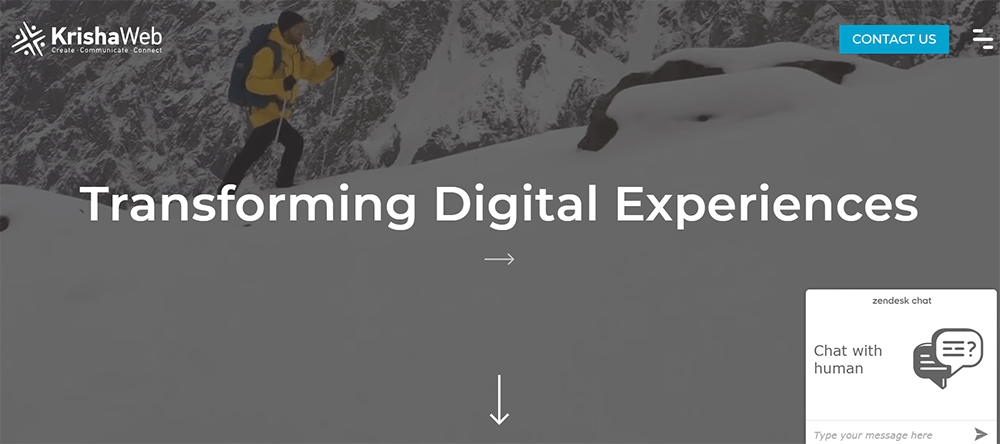 Reviews: 5/5 – 34 reviews
Pricing: Min project: $1,000+. Hourly rate: $50 – $99/hr
Key clients: HP, Toshiba, DELL, American Dental, NHL Pharmacy, Florida Lumber, Panda Kitchen.
KrishaWeb is one of the best candidates for any business looking for quality ecommerce web design services. This company was established in 2008, serving 1950+ companies globally. With a team of 105+ experts, they offer tailored services, including Brand and UI/UX Design, Web and Software Development, and more.
KrishaWeb's app development streamlined efficiency and customer experience. Their meticulous project management, dedication, and timely delivery shine. They excel in amplifying social media interactions and enhancing website performance. Despite minor time zone differences, KrishaWeb consistently delivers. Their fair pricing and quality-driven approach garner appreciation. KrishaWeb's successful track record, responsiveness, and exceptional communication set them apart. In the realm of small business digital transformation, they lead the way with their commitment to excellence.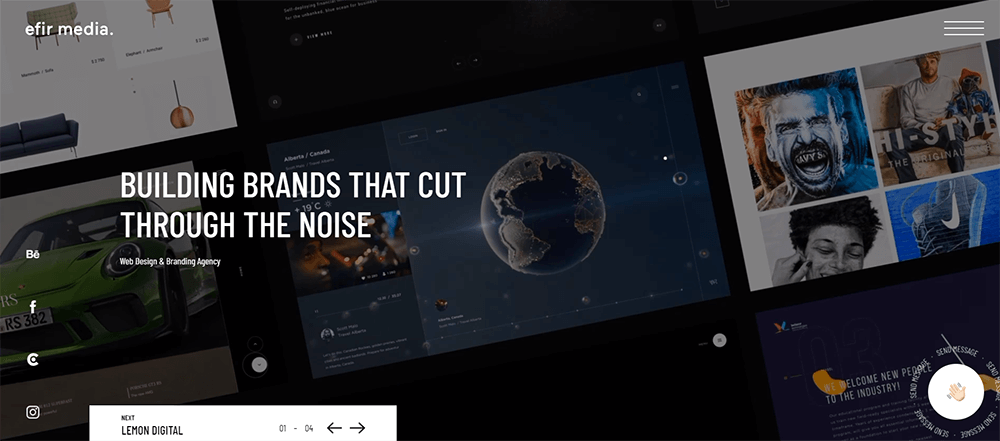 Reviews: 5/5 – 17 reviews
Pricing: Min project: $1,000+. Hourly rate: $50 – $99/hr
Key clients: Spiral Scout, JKJ, Pitstop, Overall Murals, Ultraviolet Way, Lemon Digital, Glassbox, ArchiPro.
Efir Media excels among the best website design companies for small businesses. With a transformative approach to design, they create unforgettable brand experiences that drive results. Their 2022 successes include 26 projects and a 178% revenue increase for clients. Efir Media's successful website deliveries, emphasize backend performance and user-friendliness.
Their well-established processes, communication, and transparency stand out, fostering trust. Their impact extends to improved Core Web Vitals, achieving optimal results. Despite time zone differences, Efir Media remains dedicated, available, and understanding. More than a design agency, Efir Media partners with businesses to craft digital experiences that succeed. They bring digital dreams to life, ensuring small businesses thrive in the digital realm.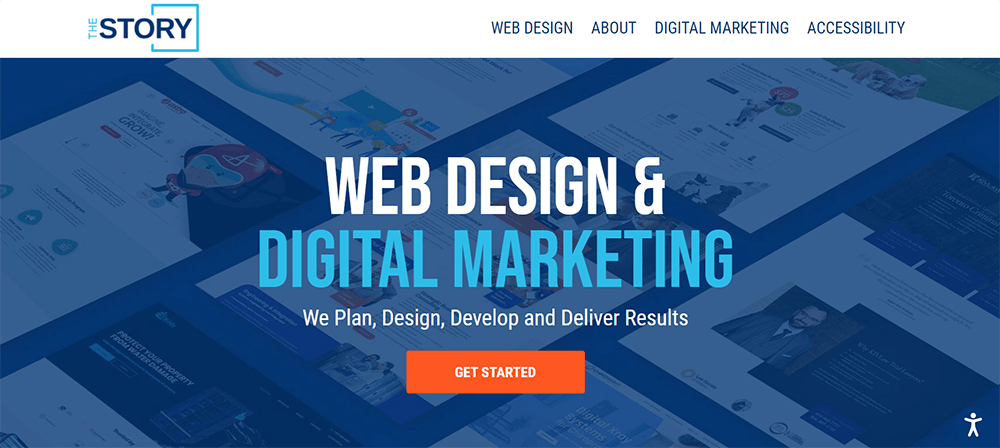 Reviews: 5/5 – 25 reviews
Pricing: Min price for a project: $1,000+. Hourly rate: $50 – $99/hr
Key clients: BVD Group, 300 CyberSecurity, ChiroSight, FastnEasy, Astro Payments, Saleforces Training.
The Story Web Design has spent 10 years building superior websites that amplify brands and achieve business goals. They offer top-tier web design and development, fostering lasting relationships through exceptional results. Their proven process ensures brand alignment and quality experiences across devices.
With strategic expertise, clear deliverables, and award-winning design, they excel in on-time delivery. Client feedback highlights seamless consumer experiences and effective communication. The Story Web Design empowers clients with both beautiful sites and the tools to manage and scale them independently. Their commitment to excellence and impact makes them a trusted choice for small businesses seeking powerful web solutions.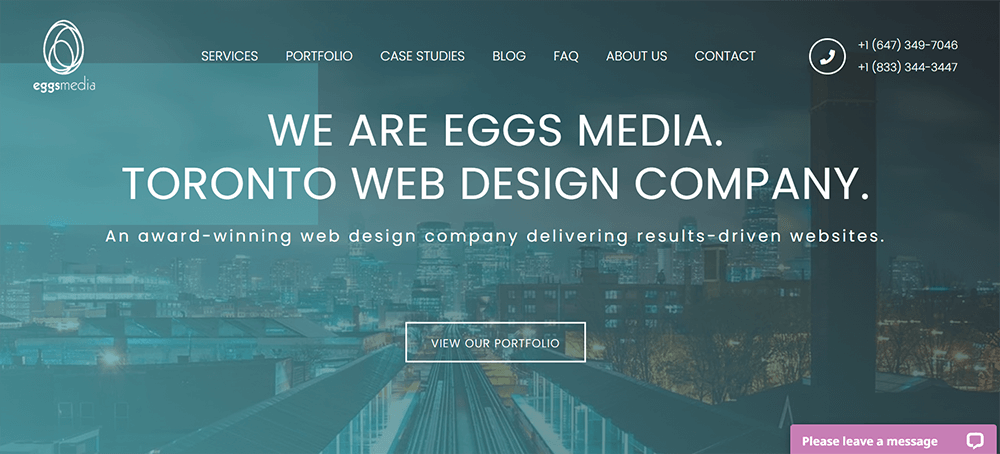 Reviews: 4.9/5 – 24 reviews
Pricing: Min project: $1,000+. Hourly rate: $50 – $99/hr
Key clients: Government of Ontario, University of Toronto, AECOM, University of Ottawa, SendtoNews.
Eggs Media excels among the best website design companies for small businesses. They prioritize both aesthetics and functionality, creating websites that ensure success. Their client-centric approach ensures brand alignment, resulting in strategies and products that satisfy unique needs.
Client feedback is impressive. Eggs Media's fixes led to a beloved website design for mental health professionals and users. The launch generated sign-ups and positive feedback. Partnership inquiries surged due to Eggs Media's work. They offer solid project management within budget, with trustworthy options. Eggs Media's SEO success places client websites on the first pages of searches. Their responsiveness, communication, and flexibility make them a trusted partner for impactful online presence.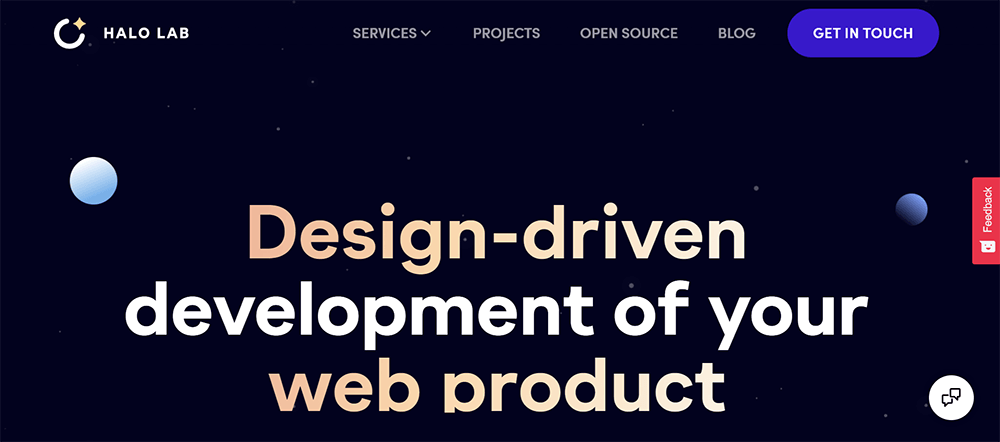 Reviews: 4.9/5 – 41 reviews
Pricing: Min project: $1,000+. Hourly rate: $50 – $99/hr
Key clients: Auth0, Mobalytics, Mighty Buildings, Wave Video, KKL-Luzern, Glance Clock, Udemy.
Halo Lab stands out as a top choice among the best website design companies for small businesses. They approach projects as partners, dedicated to delivering value through creativity, innovation, and quality. Services range from transforming user experiences with UI/UX design to cultivating brand identity through branding, website development, and full-cycle web application development. Their expertise extends to ensuring product excellence through quality assurance and driving growth with SEO and
Halo Lab's efficient performance and design capabilities shine through in their work. They delivered a website ready for launch, demonstrating responsiveness and timely delivery. Halo Lab's impact is evident in client success stories, such as a 35% increase in web traffic and a 20% decrease in bounce rates after the launch of a new site. Their communication, proactivity, and commitment to success make them a reliable partner for businesses aiming to excel in the digital realm.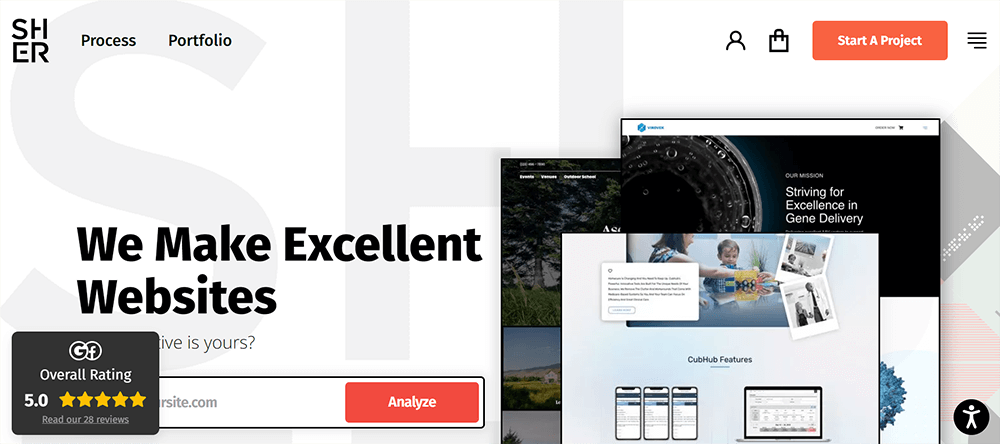 Reviews: 4.9/5 – 17 reviews
Pricing: Min project: $5,000+. Hourly rate: $50 – $99/hr
Key clients: Lendistry, data.world, Vivida Dermatology, Live Oak Venture Partners, Engagedly, Anonomatic.
The Sher Agency stands out among small business website design companies by focusing on websites' pivotal role in the sales cycle. Their approach centers on building trust, clear communication, driving action, and ensuring a positive user experience.
Client feedback highlights their ability to deliver visually appealing and functional websites while maintaining excellent communication. Their attention to detail and responsiveness contribute to producing work aligned with clients' visions. Notably, their work has led to improved conversion rates for clients. The Sher Agency's commitment to quality and results makes them a valuable choice for businesses aiming to maximize their online impact.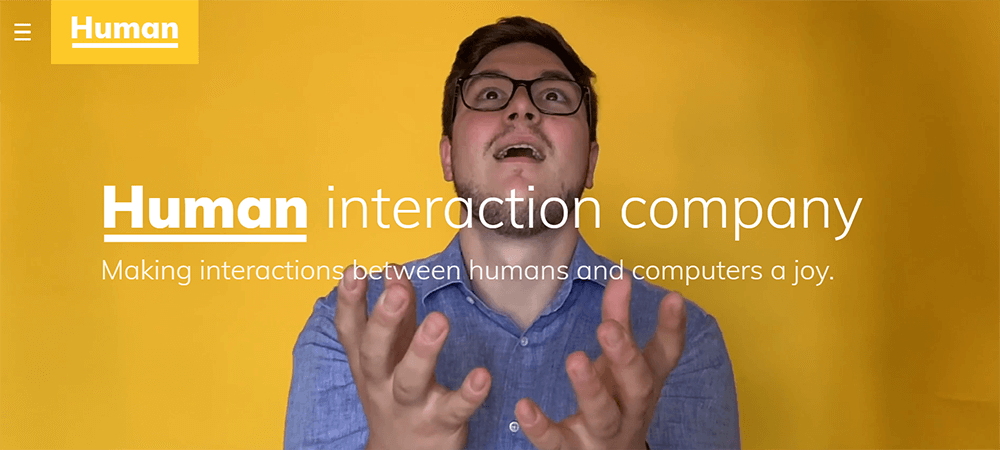 Reviews: 4.9/5 – 17 reviews
Pricing: Min project: $5,000+. Hourly rate: $50 – $99/hr
Key clients: Diners, A1, Coolinarika, Podravka, Lino, Jamnica, Beck's, RTL Croatia, Nova TV, Zadovoljna.hr.
Human is probably the company with the most extended history in the web development market. This company was founded in 2001. They have more than 20 years of experience building online stores for small businesses. This company has contributed significantly to many success stories of regional brands and SMEs.
Their commitment to people-first values is evident in their approach. As a full-service digital marketing agency, Human partners with mid-sized businesses, offering a range of digital marketing specialties from branding to SEO. Their mission extends beyond business growth, aiming to create a thriving culture for both employees and clients. Human's combination of talent, empathy, and emotional intelligence sets them apart. They take pride in fostering employee happiness and building strong client relationships, aligning marketing strategies with meaningful business outcomes. Human's dedication to meaningful work and human connection makes them a notable choice for businesses seeking both growth and a positive impact.
Best Web Design Companies For Small Business – FAQs
Can I create my website for free?
You can design your website at no cost using open-source platforms like Magento. However, you will need to have HTML and CSS knowledge to succeed. In addition, you also need to pay a small fee for the domain name and hosting.
How much do small businesses pay for a website?
This cost depends on many factors, such as website complexity, number of features, uniqueness, etc. However, on average, a small business in the US spends between $2,000 and $10,000 on a website. You can reduce this cost by using a ready-made template.
How do I choose the suitable web design company for my business?
There are many factors to look at to choose the best web design company for a business. However, five factors are most often considered: the price, the development team, the portfolio, previous customer feedback, and customer service.
Bottom Line
Suppose you do not have much technical knowledge of website building. In that case, hiring a web development agency will be the most efficient way of both time and money. Don't be afraid to invest in your website because this is where you come into contact with your customers most of the time. Good websites can help you break even and earn profit very quickly. As a result, a suitable eStore design partner is vital if you want to have a successful online business.