"How to build an online grocery store" is one of the hottest keywords in recent times. This is a big surprise for some people, even e-commerce experts, since many previously thought the grocery store business model would be challenging to convert online.
Reality shows the opposite! Grocery shopping has been expanding at a significant pace. The data even shows many outstanding potentials in this industry. Still in doubt? We will show you some statistics that support the growth of online groceries later. Let's dig into this!
Why Should We Build Online Grocery Store?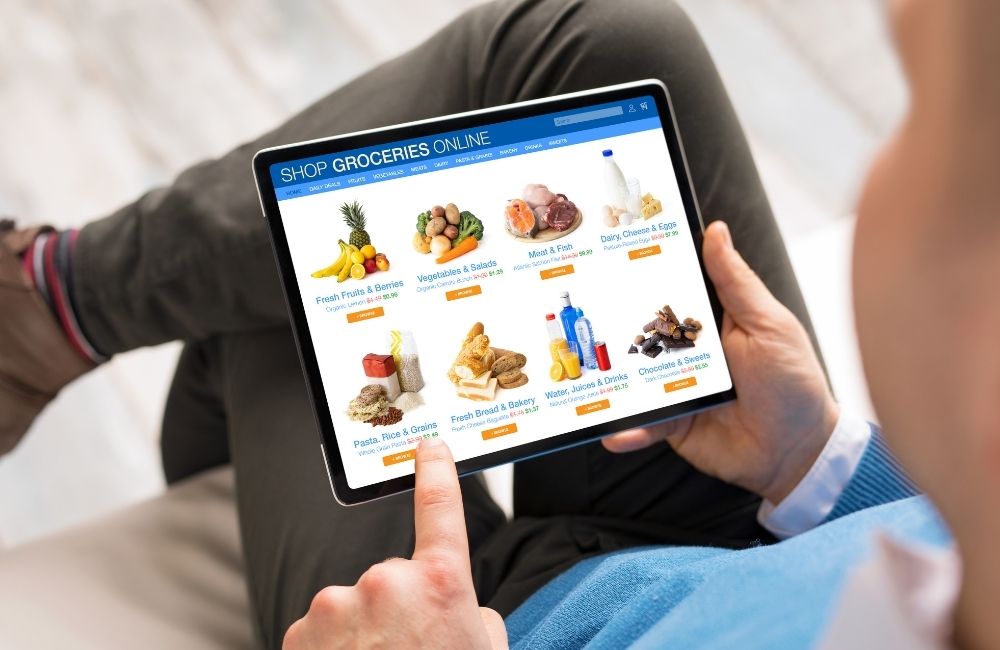 The Covid-19 impact
The COVID-19 pandemic did not give birth to grocery shopping online. It has been a trend for a while. Even so, Covid-19 did give this business model a massive boost in popularity.
According to a study in 2018, only 6% of all consumers ordered groceries online more than once a month. Two years later, this stat reached 74%. As a result, the total spending on this service is estimated at $89.2 billion.
When the epidemic is well controlled, by 2022, 70% of buyers are still in preference shopping for groceries online. This proves that consumer behavior has changed.
Online grocery purchases have nearly quadrupled since 2019, and by 2025, they will account for 22% of all supermarket sales.
Fast lifestyle
Currently, people are living in a hurry to complete their daily job-to-be-done. The more developed the economy and society, the busier people will be. This is especially true for young workers or those with children.
Therefore, even when there is a need for essentials, most people are too busy or too tired to go to the grocery store in person. They would like to spend more time on work or short rest.
In such cases, online store browsing seems to be a better solution. They only have to spend five to ten minutes completing an order, which is more convenient than going to the store, finding a line, and waiting to pay. This is also one of the main reasons more people have changed to online grocery shopping in recent years.
M-commerce development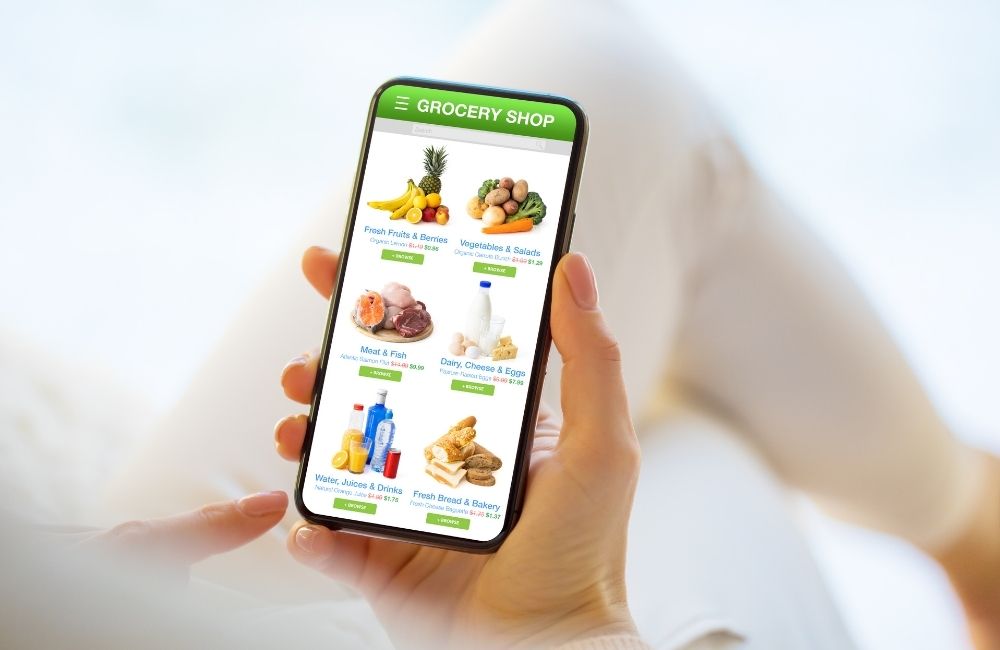 Besides consumer behavior changes and epidemic impact, technology development is also a big reason driving the online retail industry. Currently, scientists are inventing more modern technologies to help optimize users' shopping experiences.
M-commerce is a prime example of this evolution. Research has proved that its sales are estimated to reach $3.56 trillion in 2021, 22.3% higher than the previous year.
Besides, according to mobile shopping stats, the m-commerce sector was worth around $1.4 trillion in 2017. This statistic has doubled about 4 years later, which means m-commerce was approximately $3.5 trillion in 2021. This significantly proves m-commerce potential.
3 Interesting Facts About Grocery Store
#1. Slim profit
Before we go further about how to build online grocery store, you should first understand how a grocery store earns money since many were shocked when they first started running this business.
The grocery in general and the e-commerce grocery, in particular, have a slim profit margin per commodity. According to a study, the net profit margin of this business model is about 2.2%. In other words, if your store sells an item for $10, it will make 22 cents (this figure can increase for specialty grocers such as natural food stores). This figure is relatively low if compared to other industries.
However, this is understandable since convenience stores are not product manufacturers. They are just distributors. Therefore, although they will be able to import products at a lower price, it is not enough to make them earn too high a profit.
#2. Make money on volume
As we said above, a grocery store usually makes just a few cents per item. But they make up for the low-profit margin with volume. This is the same for eStores, but they have the advantage of broader reach than brick-and-mortar shops.
These types of stores will often sell products that have a low shelf life and need frequent repurchasing. As a result, they have many repeat buyers and loyal customers.
As for online grocery stores, they can reach more customers every day and provide more convenient service than brick-and-mortar stores. This makes those indirect grocery stores' daily revenue very high compared to traditional ones.
#3. Most profitable items
Every industry has specialized products that are more attractive than the common ones. The same is seen in this type of e-commerce industry. Here are the top 10 most appealing goods in groceries:
Non-grocery items: Motor oil, lawn furniture, light bulbs, coolers.
Prepared Foods.
Cereal.
Brand name over-the-counter medications.
Cosmetics and Beauty Supplies.
Deli Meats and Cheeses.
Butcher Meats.
Batteries.
Out-of-Season Products: fruits and vegetables that don't grow year-round in your area
Spices.
How To Start Your Online Store Grocery Store?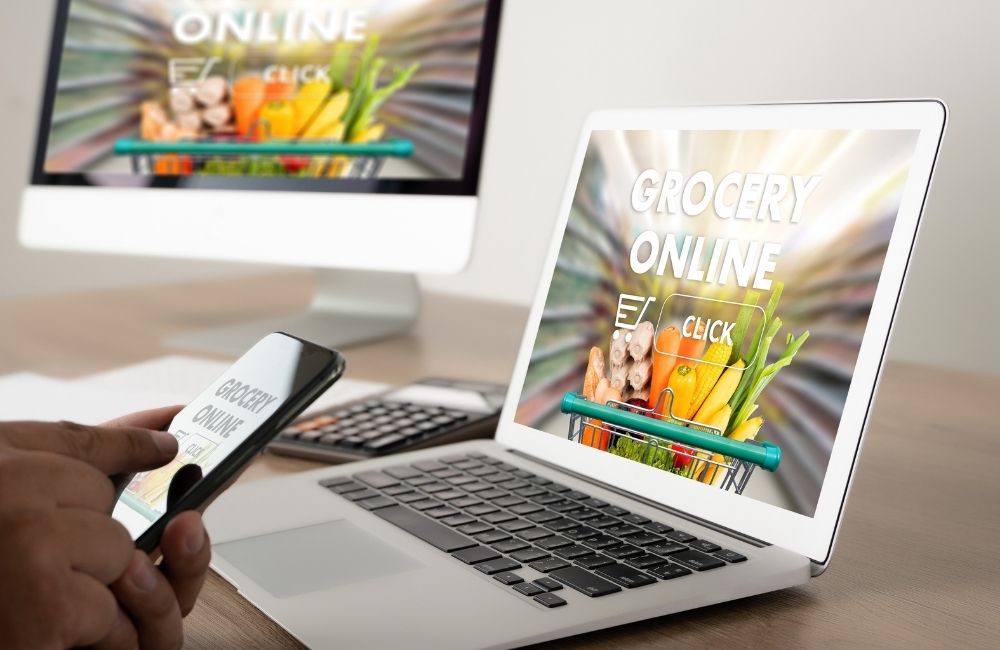 #1 Conduct market research
The first and most important step is definitely market research. This is when you research and assess your store's potential and market demand. It would be best if you rent some experts for this.
However, if you want to do it yourself, here are some ways. You can use questionnaires to gather opinions of people around your area. On the other hand, a little keyword research through Google Keywords is also a good idea to identify your customers' interests and find ideas to make your store more visible when they search online.
Don't forget to collect data about your competitors. Have a quick glance at both online and offline grocery stores in your area. Try to collect as much important information as possible, such as their pricing strategy, target customers, stimulus programs, etc.
#2 Identify target customers
A clear and specific target customer orientation from the beginning is essential since this is the premise for all settings with your store later.
For example, if your store focuses on young people, you may want a balance of fresh food and fast food.
In addition, you also need to build a brand identity suitable for your target customers. Only then will they care about your brand. So don't do this step carelessly.
You should rely on the research results in step one to do this. Compile your three typical target audiences and do the survey again to find the most potential audience.
You should identify customer characteristics in as much detail as possible. Here are a few things you should list to get a clearer picture of your audience: gender, age, place of residence, work, psychology, behavior, interests, etc.
#3 Look for product sources
Product sources are vital; it is what will determine your profit margin. If you successfully find suppliers with good promotions, your profit margin will be even more significant. As a result, your store will have a better competitive advantage.
However, you will be selling many items from dozens of different brands, so you will also have to work with a variety of sourcing partners at the same time. In fact, each product has so many suppliers. So, how to decide which brand you will cooperate with?
The simplest way is to survey your customers to find out which brands they are most interested in and then contact the brand's suppliers to see if they can become your partner.
Another way is to ask around your network. Ask on some forums or online communities that know about this kind of product supply. They can give some names, which you can contact and test out their products yourself.
Pro tip:
Manage Your Financials – Capital is the life of any business. Your store cannot run smoothly if you do not have enough money for the necessary operations. Therefore, spend enough on good imports, but not too much. If you are on a tight budget, consider purchasing from only 3 suppliers per product.
#4 Build your brand identity
Now it's time for you to define your e-commerce store. Try to draw your store image most clearly based on your target customers' characteristics. If you haven't heard of the term brand identity, these are your brand's visible elements, such as color, logo, slogan, packaging, etc.
First, design your brand identity, including your store name, logo, tagline & slogan, colors & fonts, etc. Make it as memorizable as possible.
Once done, give some of your wishes about your brand personality and note them down. What character do you want your store to have? It can be simple but modern or individuality but caring, as long as it suits your target customers well.
Spend a while thinking about it. This will significantly affect the language you should use to converse with your customers and your eStore decoration style.
You can also design your role with the customer. You can be a dedicated waiter or a comprehend friend. This will affect how you appear on social media and your customer service.
#5 Choose your website building platform
After sketching, the next step is to build online grocery store. But first, you need to choose a platform that suits your needs and desires for your future e-commerce site.
Currently, there are many reliable e-commerce web builders. However, in our opinion, the three most prominent ones are Magento, Shopify, and WooCommerce. If you do not know anything about these three names, we'll give you some key information.
The first is Shopify, this is an all-in-one platform. This platform is geared towards ease of use for its customers. Even if you don't know much about website technology, you can still build your own website in a day or two.
The second is WooCommerce, which is an e-commerce plugin of WordPress – the most famous website builder in the world. Therefore, it enjoys quite a few benefits from WordPress. However, it is still missing some critical e-commerce functions.
Finally, there is Magento, which is a platform designed specifically for e-commerce activities. It is packed with many powerful functions and the latest technology for online business. If you plan to stick with your grocery business for a while, Magento sounds like a good sense of investment.
#6 Build online grocery store website
First, you need to understand that the website is your official storefront on the internet. You will conduct business activities and communicate with customers entirely through it. Therefore, a proper online store is a premise that determines your conversion ability.
On the other hand, you can introduce customers to your products or help them find the goods they are looking for offline sales. With online grocery, your customers will have to do all of the above alone. Therefore, an easy-to-understand user interface is essential.
Besides, your web performance is what determines the user experience. It also significantly influences the search engines' evaluation of your eStore. Therefore, your website building process needs to be very careful to optimize your website effectively.
Since your website is essential, we highly recommend outsourcing an ecommerce website development company to ensure the best results. We believe Tigren would be a good candidate if you're wondering where to start.
This is a company that offers quality products at competitive prices. They also have a team of very experienced programmers along with dedicated customer care staff. We believe they will meet all your needs.
Pro tip:
Examine customer touchpoints – People are willing to pay more for a better experience. It would help if you observed every time customers interact with your store with some surveys. Ensure each touchpoint brings a good experience for buyers.
#7 Organize your delivery team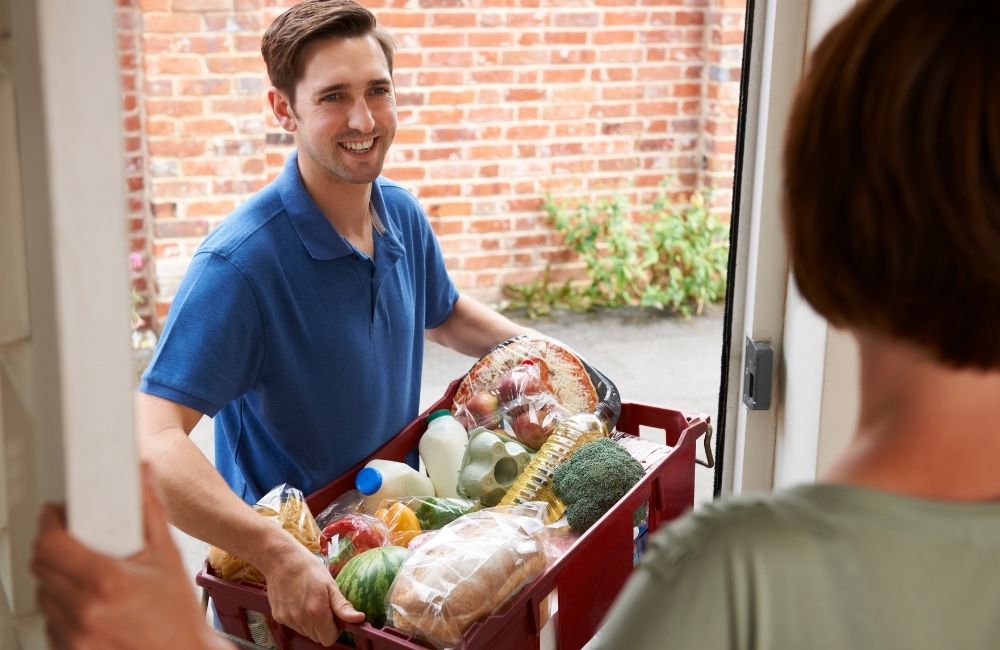 Unlike traditional stores, online ones do not need cashiers, stackers, staff, or work directly at the store.
Instead, you need staff in charge of administration, marketing, etc. However, you can add these positions later. The most important thing that requires urgent attention is your delivery team. These working positions are significant for online groceries since customers often need the items they order immediately. Moreover, the shelf life of your products is usually not long.
Pro tips:
Home delivery available – As we said above, people who buy groceries online are often quite busy, lazy, or have physical restrictions. Therefore, they will not like going to the stores themselves to pick up the ordered items. For them, home delivery is the most suitable solution, and they are willing to pay for this service.
Remote collection points are an excellent way to save shipping costs and serve your customers wholeheartedly. This will significantly enhance the shopping experience for customers who live far from your headquarters. Specifically, you should consider setting up a remote pick-up service where all orders are delivered to a pick-up location at a specific time for an hour or two, with your driver waiting on the spot.
#8 Make an e-commerce marketing plan
You can't sell if customers don't know you. Especially when you're selling online, it's unlikely that customers will accidentally find you on their way home. Therefore, it would help if you built your presence through online and offline marketing strategies.
Regarding online marketing campaigns, you can develop strategies for SEO, digital ads, social media presence, email marketing, etc. These are all strategies that take time, effort, and money to be highly effective. You have the options to learn and execute some marketing techniques yourself or hire an expert if you want to boost a significant element.
Regarding the offline marketing campaign, you can conduct a door-to-door campaign, banner, standee, or flyer to inform potential customers living in your area about your grand opening. Although these methods do not require a lot of knowledge to implement, you should still invest enough time to learn what is the most effective design method for communication.
Pro tip:
Lots of sales & vouchers – As you know, online convenience stores are notorious for their thin profit margins. Therefore, if you want to have a large enough money monthly, you need to launch continuous stimulus campaigns. Even if those items cut into profit margins, weekly and monthly sales seem to be good options.
Top 3 Common Fears Of Customers When Buying Groceries Online
Quality and fresh concern
This is the biggest weakness of online shopping, users cannot verify product quality by themselves. This can be a big psychological hurdle for people planning to order through your store for the first time.
On the other hand, since grocery shopping involves buying various goods, from battery products to natural fresh food, your customers may be worried whether the quality of the product will deteriorate during the way its shipment. In addition, they might be concerned about whether the products are hygienic and safe they might be concerned about whether the products are hygienic and safe because they do not get to see the product's condition firsthand before it is delivered.
Although these are troublesome psychological barriers, you can still solve them easily by increasing your store's reputation with previous customer feedback corners. Also, pay great attention to packaging and shipping. When people see how well-packaged their items are, they're more pleased.
Safe concern
Unlike traditional shopping, online shopping requires consumers to provide private data, such as bank details, email, phone number, home address, etc. This may raise some concerns about personal information leakage from your customers.
They may even stop buying if your brand's reputation is not big enough to convince them.
In addition, some skeptical customers may worry about scams. This is quite understandable since some bad businesses didn't deliver goods even when they were paid. With the news about those online situations flooding the internet, it's no surprise that shoppers often feel nervous.
In fact, online purchasing is an exchange that depends on trust. You can't sell anything if you are not credible.
To solve this problem, offer them several payment methods, including paying with credit cards or after they've received their order (cash on delivery – COD). This will help ease their doubts about you. However, some customers may not receive the goods they ordered in some cases. You can change to a prepaid payment method once you've built up enough reputation to get the best result.
Customer service concern
The comfort of the familiar is appealing to consumers. Customers often favor the stores they visit more often because they know what they can get here. More specifically, they know who to turn to when problems arise.
However, for online shopping, it cannot be denied that customers have to manipulate the shopping process themselves completely. While this can give them a sense of comfort, freedom, and privacy, they'll also have no idea who to talk with when they're in trouble.
Solving this problem is quite simple, you just need to add an FAQ page and clearly note your hotline, mail, and social media at the bottom of the website. Try to support them in solving their problem as dedicated as possible to enhance your customer's positive experience.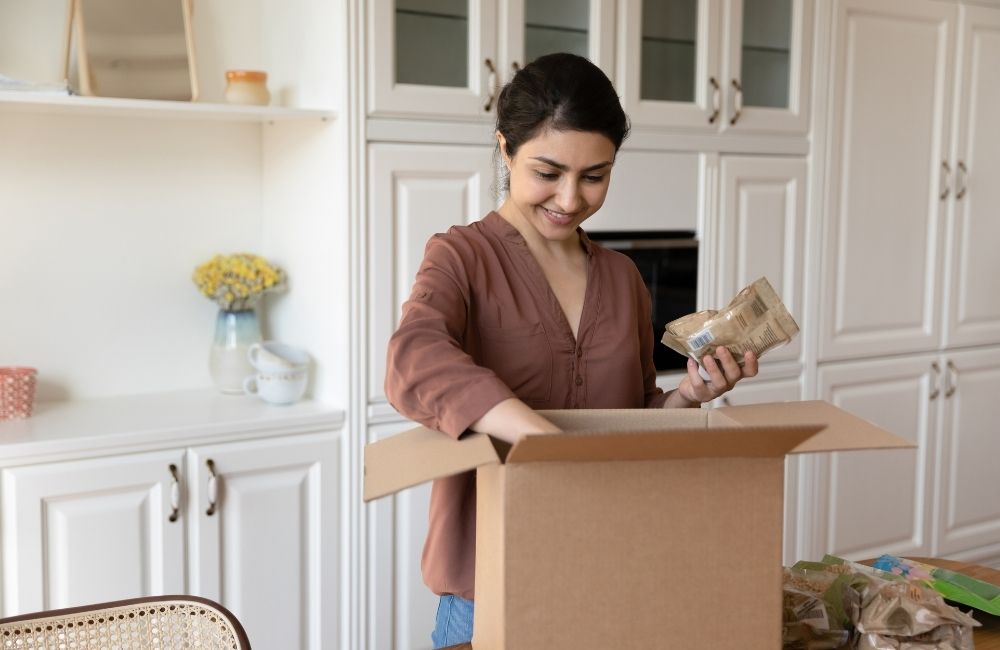 Online Grocery Store Building FAQs
1. Is the online grocery business profitable?
The grocery business has a relatively low profit per product, only about 2.2%. However, you can still earn a large amount of money on sell volume.
2. Are Mobile apps necessary for an online grocery store?
Yes, it would be great if you could invest in a mobile app. Shopping through mobile apps always provides a better experience for consumers. On the other hand, its special functions also help you increase the conversion rate.
3. How much does it cost to build online grocery store website?
This depends on many factors, such as the e-commerce platform, building methods (theme or from scratch), web development agency quote, etc. The price range can be anywhere between $5,000 and $55,000.
Bottom Line
Currently, e-commerce and m-commerce are developing very strongly. Customers increasingly prefer online shopping at home through their electronic devices. This is especially true for the retail industry in general and the convenience shop in particular since they have been witnessing rapid growth. Therefore, if you plan to build an online grocery store, do not hesitate to note down your ideas and implement them as soon as possible.
However, since this industry has a relatively low-profit margin per product, the success rate will rise if you have detailed and clear business plans. We hope this article has provided you with useful information for your next steps.