Did you know that e-commerce businesses that utilize marketing automation tools experience an average revenue increase of 77%? One of the most renowned marketing platforms for optimizing strategies in the e-commerce world is DotDigital.
Our latest blog provides you with an in-depth overview of DotDigital, highlighting its pivotal role in e-commerce, and offers a step-by-step guide to seamlessly integrate DotDigital into your Progressive Web App (PWA).
What is DotDigital?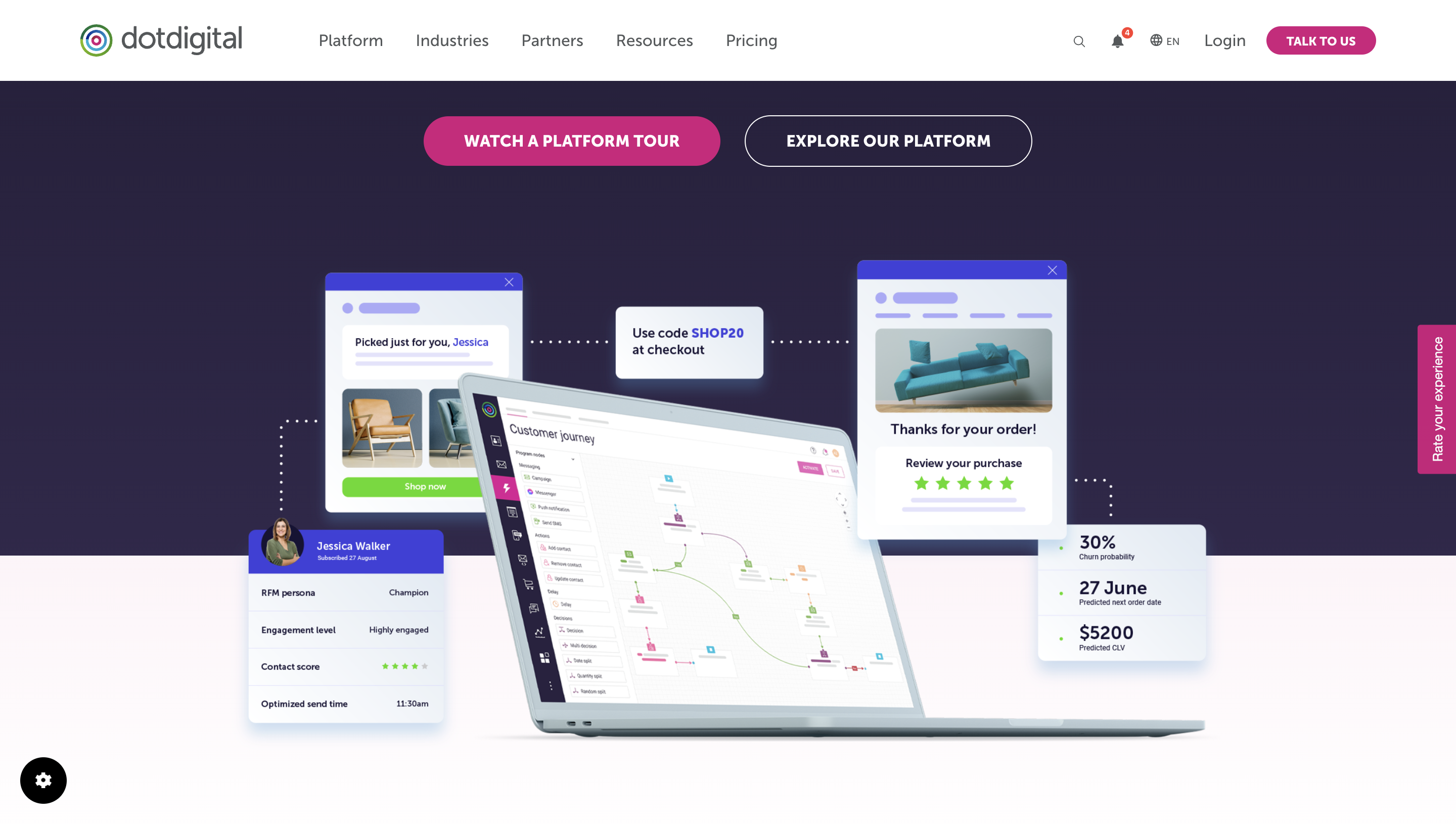 DotDigital is a Software-as-a-Service (SaaS) marketing platform designed to help businesses create, manage, test, and send data-driven automated campaigns.
Dotdigital is a reputable platform that has garnered numerous accolades, including the 2023 Top 50 Marketing Products Best Software Award, the Summer 2023 Leader Entrepreneur Award, and the Summer 2023 Best Support Entrepreneur Award.
DotDigital is highly regarded in the field of marketing and technology thanks to its exceptional features, namely:
Email Marketing
SMS Marketing
Social Media Marketing
Customer Segmentation
Personalization
Cross-channel Automation
Optimization
Reporting and Analytics
Why is DotDigital important to your online store?
DotDigital is crucial for your online store because it offers several key benefits that can significantly enhance your eCommerce operations.
All Historical Customer and Order Data
DotDigital allows you to access and utilize historical customer and order data. This information is invaluable for creating targeted marketing campaigns, analyzing customer behavior, and making data-driven decisions to improve your store's performance.
Wishlists, Cart Contents, and Reviews
With DotDigital, you can effectively manage and leverage customer wishlists, cart contents, and product reviews. This data can be used to personalize product recommendations, recover abandoned carts, and encourage customers to complete their purchases.
Store Website Browse Behavior and Social Profiles
The platform tracks and provides insights into your customers' website browsing behavior to help you tailor marketing campaigns and content to their preferences. Additionally, it can also integrate social profiles, enabling you to engage with your audience on social media more effectively.
Custom Attribute Mapping for Customers and Orders
DotDigital offers the flexibility of custom attribute mapping for customers and orders. This feature enables you to capture and utilize specific customer data that is relevant to your business, ensuring a more personalized and efficient marketing approach.
How to implement DotDigital for PWA
Integrating DotDigital into your Progressive Web App (PWA) is a crucial step to harness its powerful marketing capabilities. To seamlessly implement this fantastic marketing platform, follow the steps below.
1. Login
First of all, to initiate the integration process, you need to log in to DotDigital. Here is the login link for you.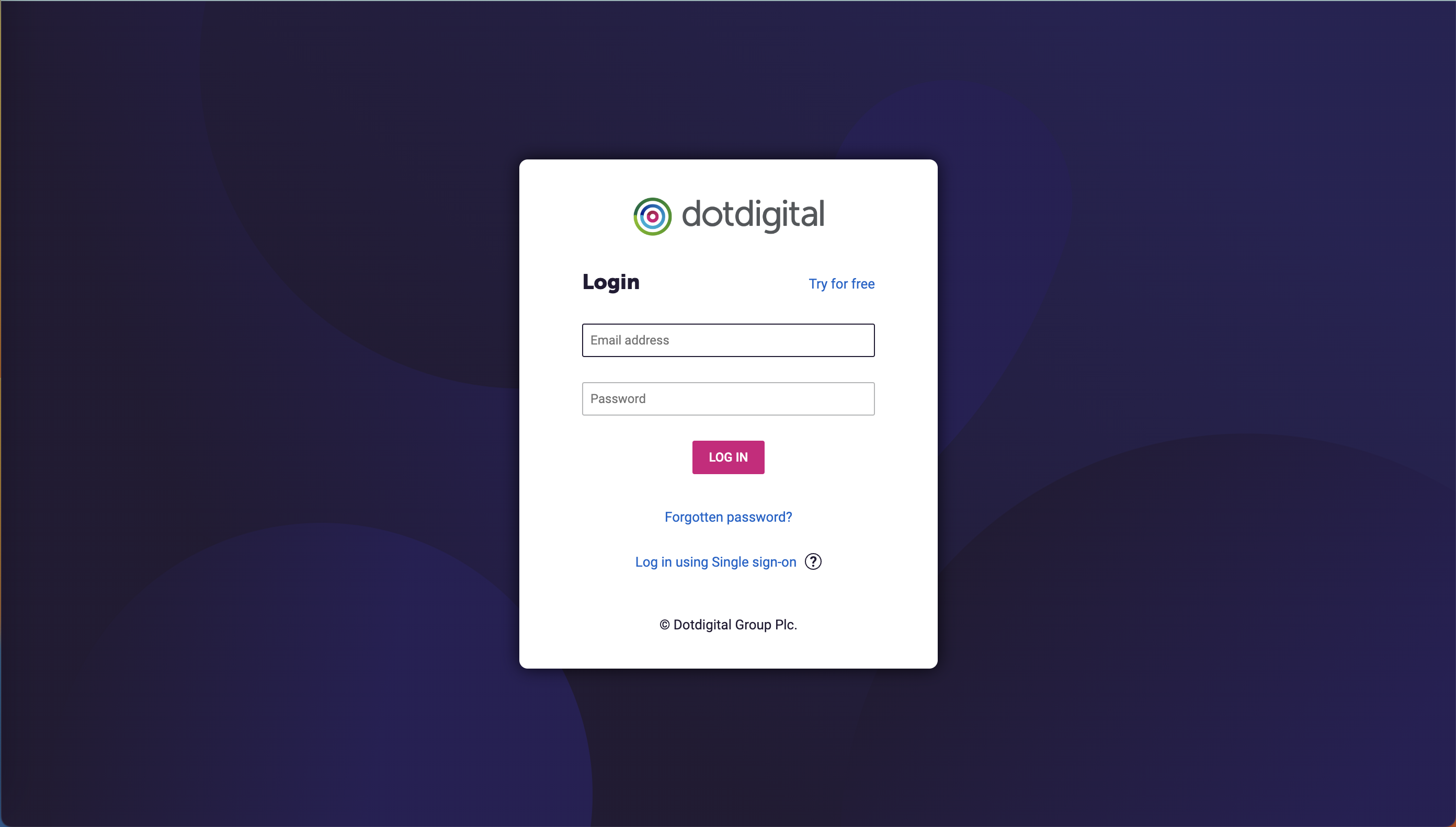 2. Create API users
To set up API users, which are essential for data access and management: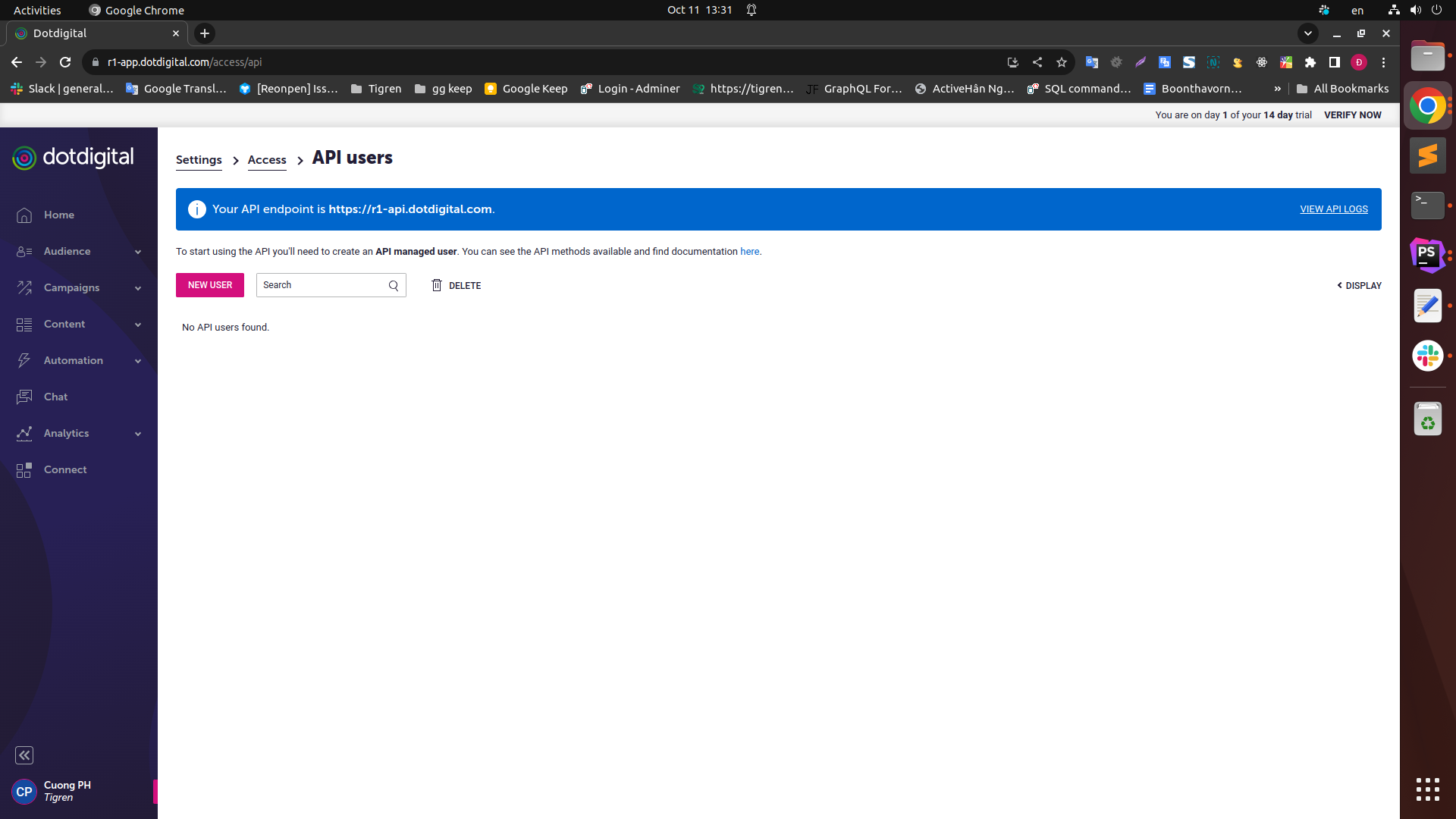 3. Configure your Magento PWA
DotDigital's capabilities extend to seamless integration with your Magento Progressive Web App (PWA). To make this happen, head to your Magento PWA admin panel, and then:
Navigate to Stores -> Configuration -> Dotdigital -> Account.
Fill in the user and password created on the DotDigital page.
Save the configuration.
Click "Set Up Integration" to automatically configure your integration and add all necessary settings to your DotDigital account.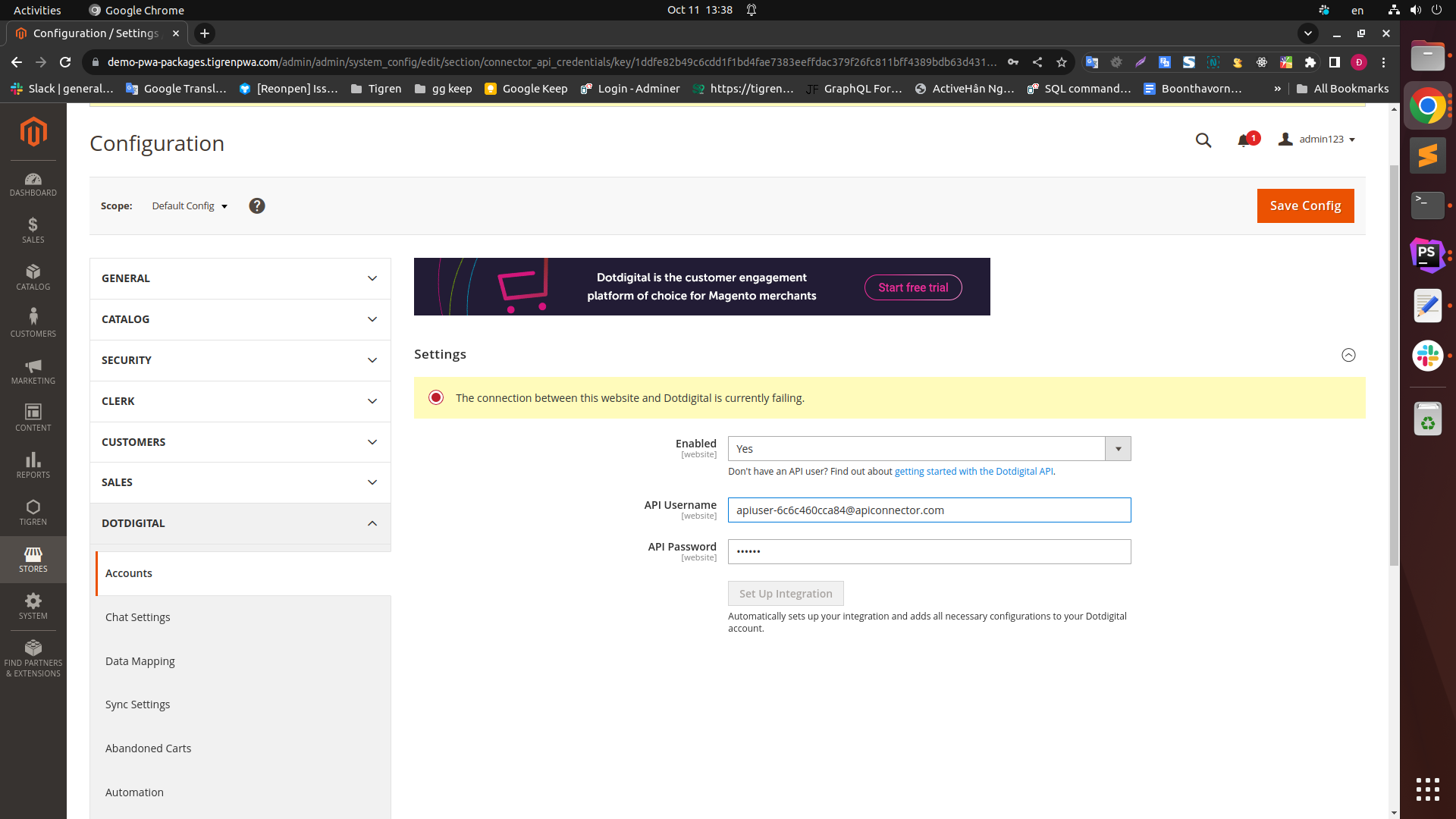 4. Set up Chat
DotDigital offers a chat feature that can be a valuable addition to your online presence. To set it up, you can customize the chat widget according to your preferences.
Access the chat settings via the Chat Setting link. After customizing, be sure to click Save and generate the provided code.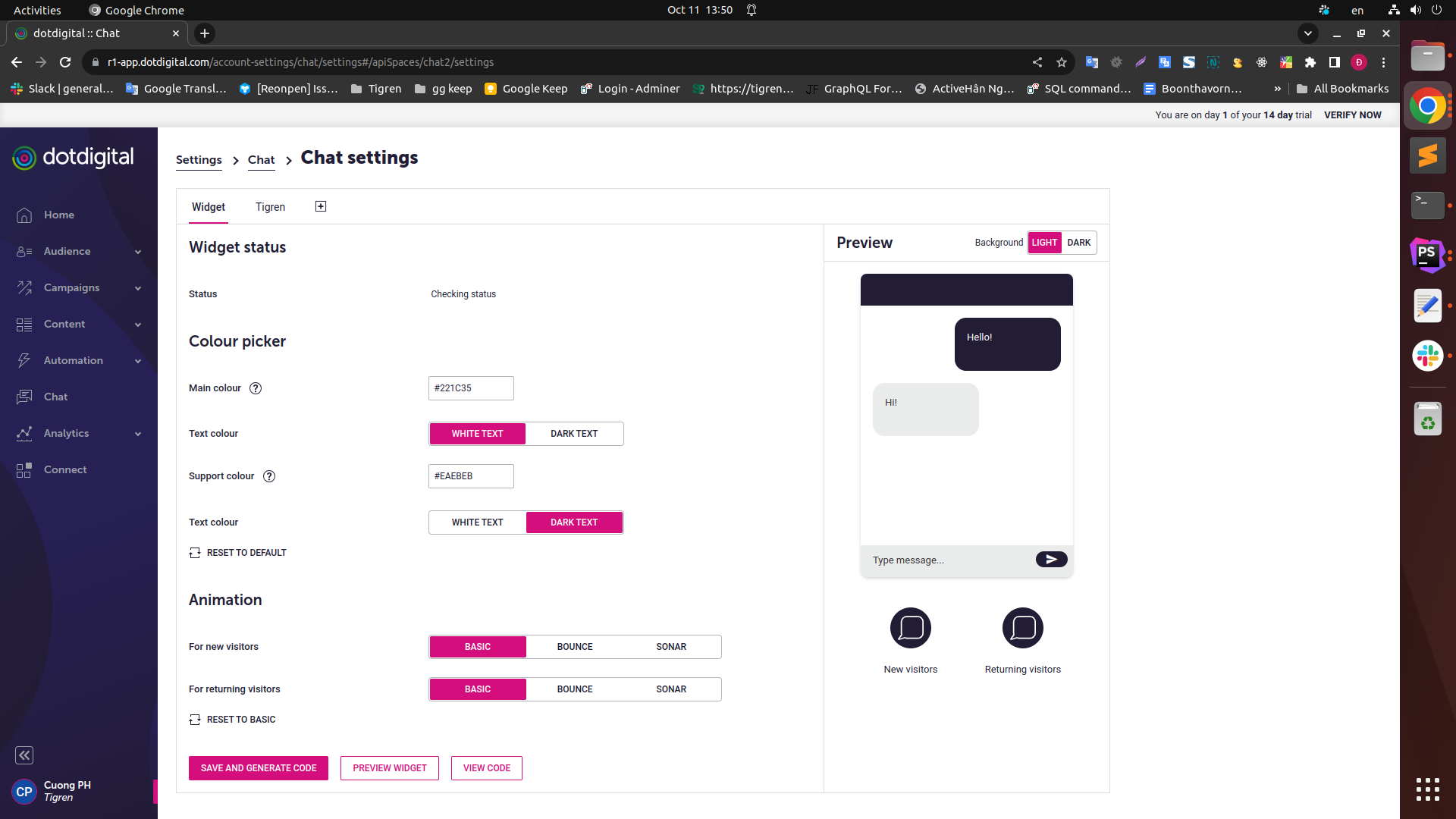 In your Magento PWA, configure chat settings by heading to Stores ⇒ Configuration ⇒ Dotdigital ⇒ Chat Settings. Here, you can enable the chat setting, and if you wish to change the chat widget, click "Configure Chat Widget" to be redirected to the Chat Setting page.
5. Create web behavior tracking profile
A web behavior tracking profile allows you to define which website domains are eligible for transmitting WebInsight data to your Dotdigital account. WebInsight data collection occurs during a session, which commences recording user actions the moment they land on your website and continues until they depart or remain inactive for 35 minutes.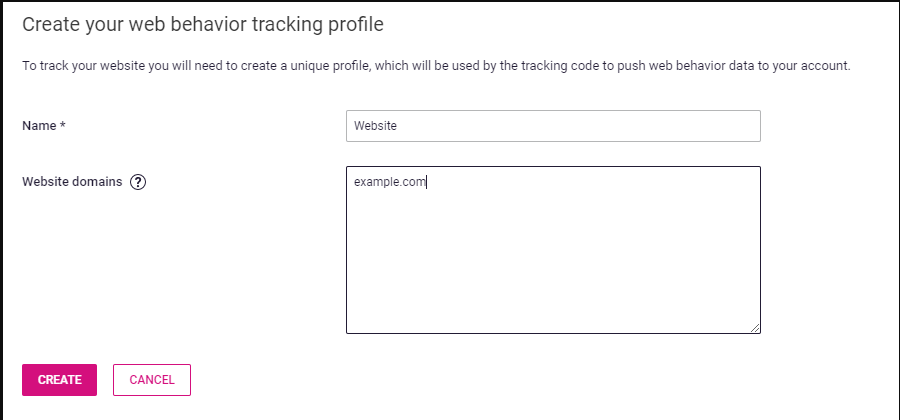 To create a web behavior tracking profile:
Expand the User menu and go to Settings ⇒ Access ⇒ Web behavior profiles.
Select NEW PROFILE.
For Name, enter a name for your profile.
For Website domains, enter up to 15 unique website domains where this code might be placed (If you want to be able to track more than 15 unique domains, you can create an additional web behavior tracking profile)
Select CREATE.
Achievements enabled by DotDigital integration
Comprehensive Customer Information Tracking: Track, collect, and report a wealth of customer information to understand your audience, tailor marketing strategies, and provide a more personalized customer experience.
Access to Historical Customer and Order Data: Access and utilize historical customer and order data to make informed decisions, target your marketing campaigns, and optimize your online store's performance.
ROI (Return on Investment) Tracking: Tracking and measuring the return on investment helps you understand the effectiveness of your campaigns and where to allocate resources for the best results.
Page Tracking: Page tracking provides insights into user behavior, helping you fine-tune your website's layout and content to enhance the user experience.
Chat Feature Integration: This real-time communication tool enhances customer support, enabling you to engage with visitors, answer queries, and provide assistance promptly.
DotDigital PWA add-on: An ideal solution for your PWA
With all the valuable features mentioned above, it's easy to grasp the significance of DotDigital for your Progressive Web App (PWA).
If you're tech-savvy and prefer to maintain full control over the integration process, you can use our step-by-step guide. This approach allows you to customize the integration according to your unique needs and preferences, ensuring a tailored solution for your business.
Alternatively, for a seamless and time-saving integration experience, you may consider the DotDigital Magento PWA Add-on. With just a few simple clicks, our experts will assist you in seamlessly integrating this remarkable marketing platform into your PWA. This option enables you to harness the full power of DotDigital without the need for extensive technical expertise.
Conclusion
The power of DotDigital is truly remarkable, and it's an experience you won't fully grasp until you've tried it for yourself. Our hope is that this blog has shed light on the incredible potential of this marketing platform and how it can seamlessly integrate into your Progressive Web App (PWA) to supercharge your business operations.
While the DIY approach is always an option, we also offer a simpler solution through our DotDigital PWA Add-on. With this, you can effortlessly harness the power of DotDigital, ensuring that your business runs optimally and engages customers effectively.