It is safe to say that the search for the best eCommerce solutions is nothing but a wild goose chase, given the fact that eCommerce service providers are constantly diversifying and innovating their products. Nevertheless, some of these products, such as a content management system, still make their way to the top and attract significant attention. Among them is Drupal vs Magento.
This article provides the nuts and bolts of these two platforms before making a comparison based on several critical criteria. Note that the goal of our comparison is not to find the best web builder. As mentioned above, there is virtually no best platform in the whole ecosystem of eCommerce. Instead, it depends on customers' needs and pockets to decide, as what suits one may not be of great use to another. Accordingly, this comparison between Drupal vs Magento does not intend to find a winner. Instead, we focus more on helping online businesses to access each platform based on specific criteria, thereby choosing the one best suited to them.
An Overview Of Drupal

Drupal is a free and open-source content management framework (CMF). A CMS combines CMS (content management system) and WAF (web application framework). Drupal is mainly written in PHP and supported by a MySQL database. Besides, it provides a backend framework.
Drupal is an easy-to-use yet powerful tool to build and manage online content on your eCommerce site. As stated on its website, Drupal is suitable for three main groups (Marketers, Developers, and Agencies), but in fact, you can use Drupal to create all sorts of websites to suit your purpose. The platform also meets the needs of numerous industries such as Retail, Technology, Government, Education, and Healthcare, to name but a few. Moreover, to yield the best outcome for your website, Drupal has various powerful built-in features, which will be discussed later in this post.
In 2001, Drupal was first intended as a message board so that Dries Buytaert and Hans Snijder, two students from the University of Antwerp, could exchange information and share daily news. The name of this platform was mispronounced as "Drop" and later "Drupal," a Dutch word that means "drop." In Jan 2001, it was officially launched as an open-source project. The current version is Drupal 9, and the next version, Drupal 10, is set to be released in December 2022.
Drupal powers at least 14% of the top 10000 websites worldwide. The list of its partners can arouse envy from any other CMS provider. For instance, Tesla, NASA, Harvard University, GRAMMYs, The White House, The Official Website of the French and New Zealand Government are just some of the live websites currently using Drupal.
PROS
CONS
– Effective for building large and complex websites
– Unparalleled power, flexibility, and scalability
– Lots of plug-ins, extensions, and themes
– Mobile-first approach
– Multilingual support
– Strong security
– Huge community, mainly professionals
– Difficult to fully comprehend and master
– Complicated interface
– High system and storage requirements
– Lack of high-quality themes in its free version
An Overview Of Magento

If you look online with phrases like "best eCommerce solutions" or "best online tools for businesses", you will easily see countless lists of the best platforms, each with thousands of users.
What's so special about them? The thing is, you're much more likely to come across the name Magento in almost all those recommendations! Just a small experiment is enough to prove the impacts and the popularity of Magento in the world of eCommerce.
Magento is a free, open-source website building platform, designed specifically for eCommerce purposes. Like Drupal, this CMS is also written in PHP. Magento is built mainly using the Zend framework. Laminas and Symfony are also other frameworks that Magento developers have recently added to its codebase.
Magento is synonymous with its feature-rich packages, including many useful tools and plug-ins. It is currently one of the most flexible CMS that will allow users to customize their online stores to their heart's content. Moreover, Magento's top-notch security also makes a name for itself.
Magento has been around since 2008. Varien Inc. first developed and officially launched it in March 2008. Ten years later, Adobe acquired Magento in June 2018 and renamed it Adobe Commerce. However, the name Magento is still bandied around in the industry these days. Its partners include some big names, such as Ford Motor, Nike, Coca-Cola, Bvlgari, and Liverpool.
PROS
CONS
– Great flexibility & scalability
– Unlimited customizations allowed
– Feature-rich library
– High security
– Mobile-friendly
– SEO-friendly
– Large community support
– Average loading speed
– Complicated and time-consuming development process
– High cost (especially the Commerce Edition)
– A lot of technical knowledge required
Drupal vs Magento: Key Criteria Of Comparison
1. Ease of use
We hate to break it to you, but neither Drupal nor Magento is as straightforward as other CMS you may know. By contrast, both platforms are tough to use and require a lot of knowledge and experience, such as coding skills or programming language mastery.
For a non-techie, starting out on your own and finding the right path for configuring your eCommerce store will be the most burdensome thing ever, even in the presence of a user guide. Instead, it is crucial that you seek professional help.
2. Learning curve
Bear in mind that learning to use a platform (effectively) is totally different from just going ahead and using it. Simply put, learning is a process of switching between lessons, gaining knowledge and hands-on experience while using something is the final outcome of that process. This criterion of the learning curve is more dedicated to any tech geek or developer out there who wants to give either Drupal or Magento a try.
Regarding the two platforms' learning curve, Drupal wins by a nose. It is a little bit easier to learn and master than Magento. Statistics show that learning Drupal requires patience and daily commitment of just 15 to 30 minutes, and the result will be evident before long. By contrast, Magento proves to be tougher and more time-intensive. In fact, Magento is one of the most difficult content management systems to learn. It may take up to 6 months (or more) for a developer to fully master Magento.
3. Purposes
As mentioned, Drupal can be used for numerous purposes in nearly all the existing industries. Specifically, Drupal provides a website solution for the sectors of Retail, FinTech, Sports & Entertainment, Decoupled, Travel & Tourism, High Tech, eCommerce, NGOs, Healthcare, Education, and Government. Literally a whole ecosystem!
By contrast, Magento mainly focuses on eCommerce-related purposes, such as setting up an online store, managing products, offering solutions to payment and logistics, and taking care of customers, you name it.
4. Platform functionality
It is hard to compare the two platforms in this regard, as both CMS is extremely rich in features, tools, and extensions that serve different purposes.
Some of the prominent features of Drupal are:
Performance & Scaling
Multilingual Support
Accessibility Control
Marketing Automation
Personalization
Content Authoring
Magento proves itself as a worthy opponent of Drupal, as shown by an extensive list of features:
Analytics & Reporting
Product Management
Payment Gateways
Logistics & Delivery
Search Engine Optimization (SEO)
PWA Studio
5. Content management
There is also no clear winner in this category. Despite having all the features of a CMS, Drupal itself still releases a stock element, namely Drupal Core, with all the essentials to manage online content. Drupal Core is well received by eCommerce businesses worldwide. Its latest version is Drupal Core 10.0.0-alpha4.
Magento is also a full-featured and robust CMS in itself. At first, it will take some time to grasp the nuts and bolts and familiarize yourself with its interface. However, Magento should be relatively easy to use once you get the hang of it, with the three most basic elements of pages, blocks, and widgets. You are also given full control over your store, as Magento allows unlimited customization of themes, designs, and features.
6. Pricings
Pricing is a factor that requires any business owner an enormous amount of calculation and consideration. As an eCommerce business, keeping track of your cost structure is of utmost importance, and taking steps to allocate it is even more crucial. You don't want to splash out on a platform to run your store, only to find yourself stone broke when the cash flow is directed to another sector, like marketing or customer service.
That said, both Drupal and Magento are far from cheap. The entry to Drupal may be free of charge, yet its maintenance and development may turn out to be super expensive. In some cases, the total cost may even add up to tens of thousands of dollars per year.
Similarly, Magento offers a free version, namely Magento Open Source, but you still have to pay for hosting. If you choose to subscribe to Magento Enterprise Edition, you are to pay between $22,000 and $125,000 per year. Moreover, if you decide to invest in Magento Commerce Cloud Edition, the cost falls somewhere between $40,000 and $190,000 per year.
7. Security
Pricings aside, security is another factor worth considering when it comes to choosing a web building platform. The good news is that both Drupal and Magento are well-protected.
Drupal comes with robust security. In fact, it ranks among the safest and best protected CMS out there. It contains such features as encrypted passwords and a highly scrutinized codebase. The company policy is that they will announce the nature of each security vulnerability after releasing a fix. Accordingly, Drupal allows users to subscribe to a free mailing list to receive their latest security reports. All of this is done to ensure a smooth flow of information among users so that unexpected problems can be reported and fixed in time.
Magento also has a firm security system. This platform is equipped with enhanced password management, improved cross-site scripting prevention (XSS), adaptable file permissions, and frequently updated security patches. Just like Drupal, Magento strives to provide users with the most reliable system, ensuring their website and sensitive customer data are well protected.
8. Community
At the moment, Drupal has up to 1.4 million members, over 125,000 of whom are actively contributing. Every month, about 1500 members will collaborate with each other based on their tasks, roles, skill, and area. The goal is to create free Drupal components, such as free modules, themes, and distributions.
Magento also has a large community, given its long history (since 2008) and the fact that it's used by both developers and businesses alike. As of April 2022, Magento has a user base of approximately 250,000 merchants worldwide. The platform encourages sharing courses, training, content, and even Adobe certification among its community members.
Drupal Vs Magento: Which One Do You Choose?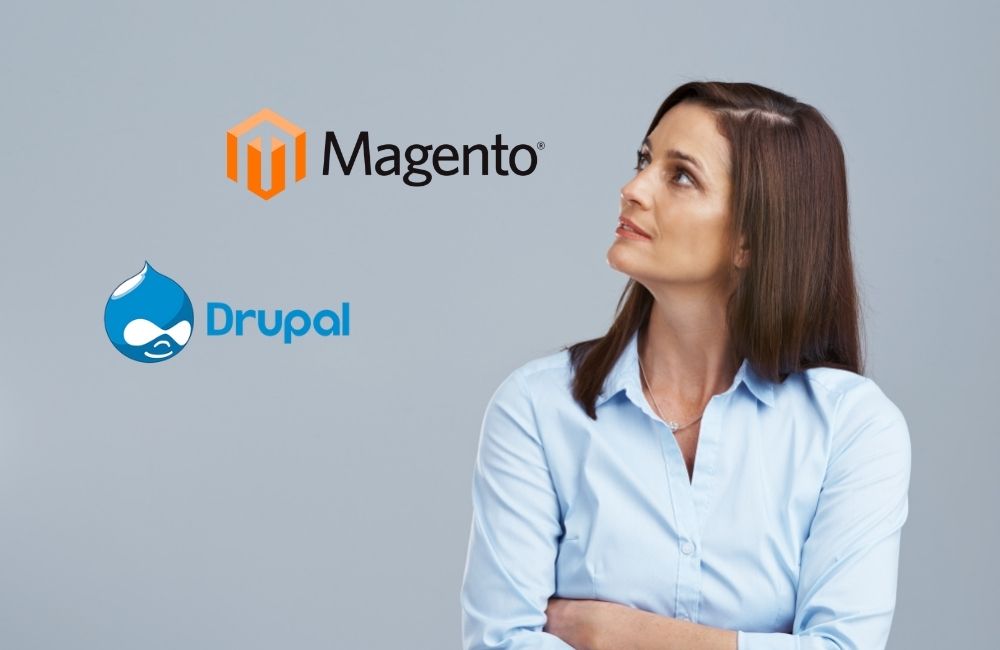 With Drupal, you can create websites of any kind and do almost anything with them. We say Drupal has unparalleled power, flexibility, and scalability. Drupal is most suited to SMEs with complex, content-heavy, and high-traffic websites.
As regards Magento, three of its versions are expected to benefit businesses of all sizes. While Magento Open Source works well for SMEs with limited budgets, Magento Commerce Edition is better suited for large corporations to meet their customer needs and customization requirements.
If you are torn between these two platforms and are financially capable of affording both, we suggest that you adopt Drupal and Magento. This is actually possible with the headless architecture. A combination of Magento as a front-end and Drupal as a backend will definitely create the best store ever. Plus, this approach will offer you the capability of making adjustments on the frontend or backend without affecting the other's performance!
Bottom Line
The recommendation of combining Drupal vs Magento has concluded our comparison of these two platforms. Once again, we feel an urge to repeat that there's no better eCommerce platform between them. There is only one eCommerce platform that is better suited to your needs and pocket, so remember to give it some serious thought before making a final decision.
This is the end of our article. We hope it has given you all the needed information. Thanks for reading!