Eye-catching, highly converting website design has always played an essential role in successful online sales. No matter how great a business's products are, if its e-commerce website looks tedious, the chance of conversion is already cut by half.
Whether you are about to build a new online shop or thinking about redesigning your existing website, you can learn from this list of e-commerce website examples to see why customers love them.
20 Best E-commerce Website Examples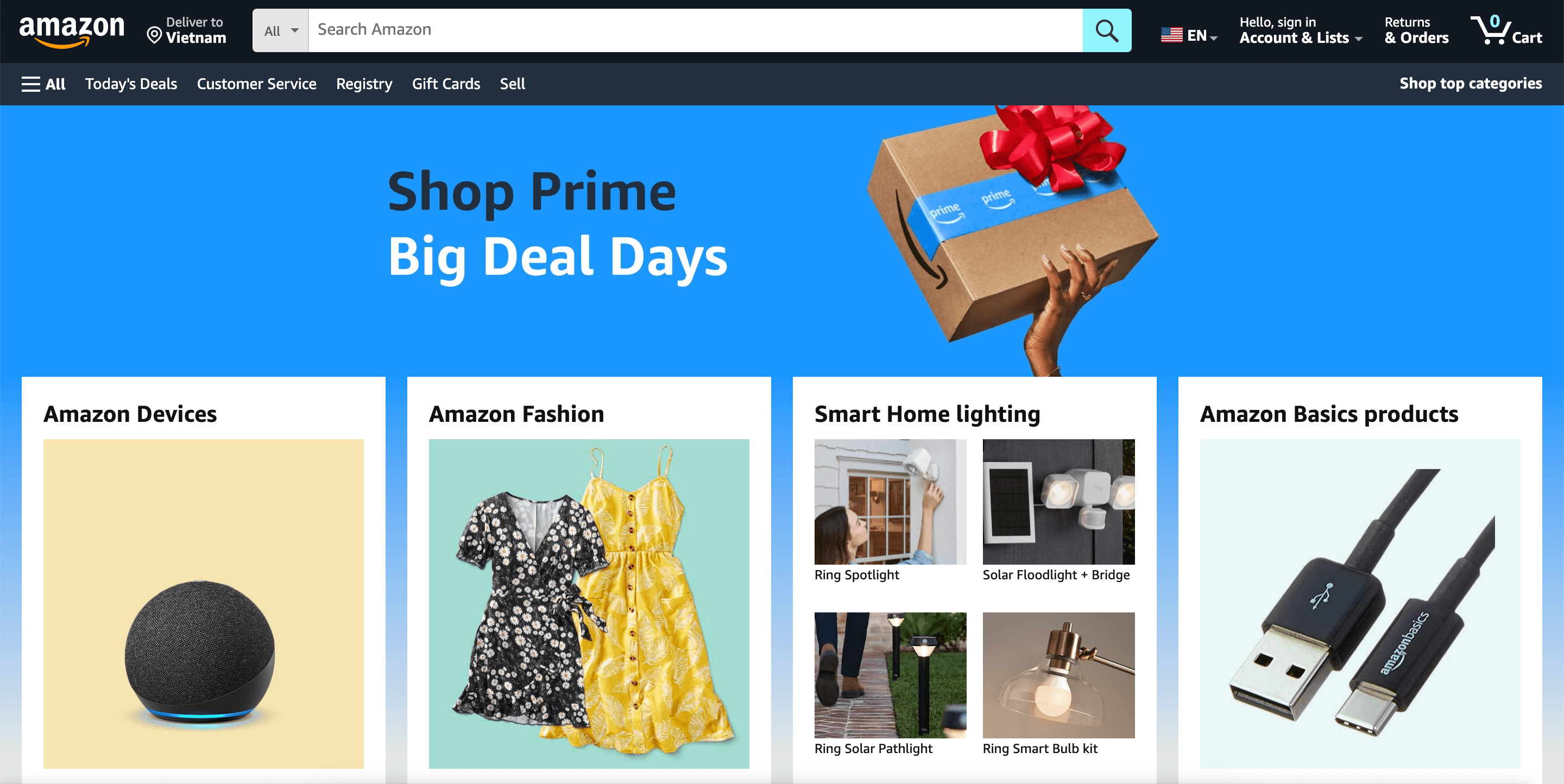 Amazon is a prime example of what a tremendous e-commerce store should look like, as its user-friendly website design instantly makes it easy for customers to find what they need.
To speed up the shopping experience, customers can use the on-site search bar to find desired items, with multiple filtering options that help display the most relevant products.
Even with millions of products, Amazon has done a great job simplifying its interface. For example, all product category pages are hidden in the hamburger menu of the sidebar.
This way, users don't feel overwhelmed by the abundance of options, making the online store easy to navigate.

Eco-friendly footwear retailer Thesus (previously known as Alice + Whittles) prioritizes earning customer trust by offering a hassle-free online shopping journey. They prominently showcase their shipping and return policies, and also provide a flexible payment option for those unable to pay all at once. Their commitment to excellent customer service is evident on the homepage, featuring a convenient size guide and easy access to return information.
If you want to create a minimalist online store, check out Welly. This US-based first aid eCommerce website has a modern design that puts its products at the center.
The interface is clean and straightforward, with a lot of white space. A well-implemented typography hierarchy improves the readability of a website, making it easier for customers to understand what your business is about.
Another standout feature is the color scheme – the site primarily uses white for the background and green for the text, while orange is the accent color. This color combination helps direct users' eyes to essential elements like the call-to-action (CTA) button. This is an excellent method to improve your conversion rate.
If you want to create a website for the accommodation business, check the Scott Resort & Spa website design for reference. The clean and simple design allows visitors to relax and inspire them to book a quick getaway at the resort.
The site uses compelling images to sell its offers-from full-width galleries to loop videos. In addition, there are smooth scrolling animations to enhance the user experience.
Near the bottom of the page is the resort's Instagram feed. In addition to serving as promotional material, it also provides compelling social proof.
Another unique feature is full-screen overlay navigation-a stylish solution that provides plenty of space for more information.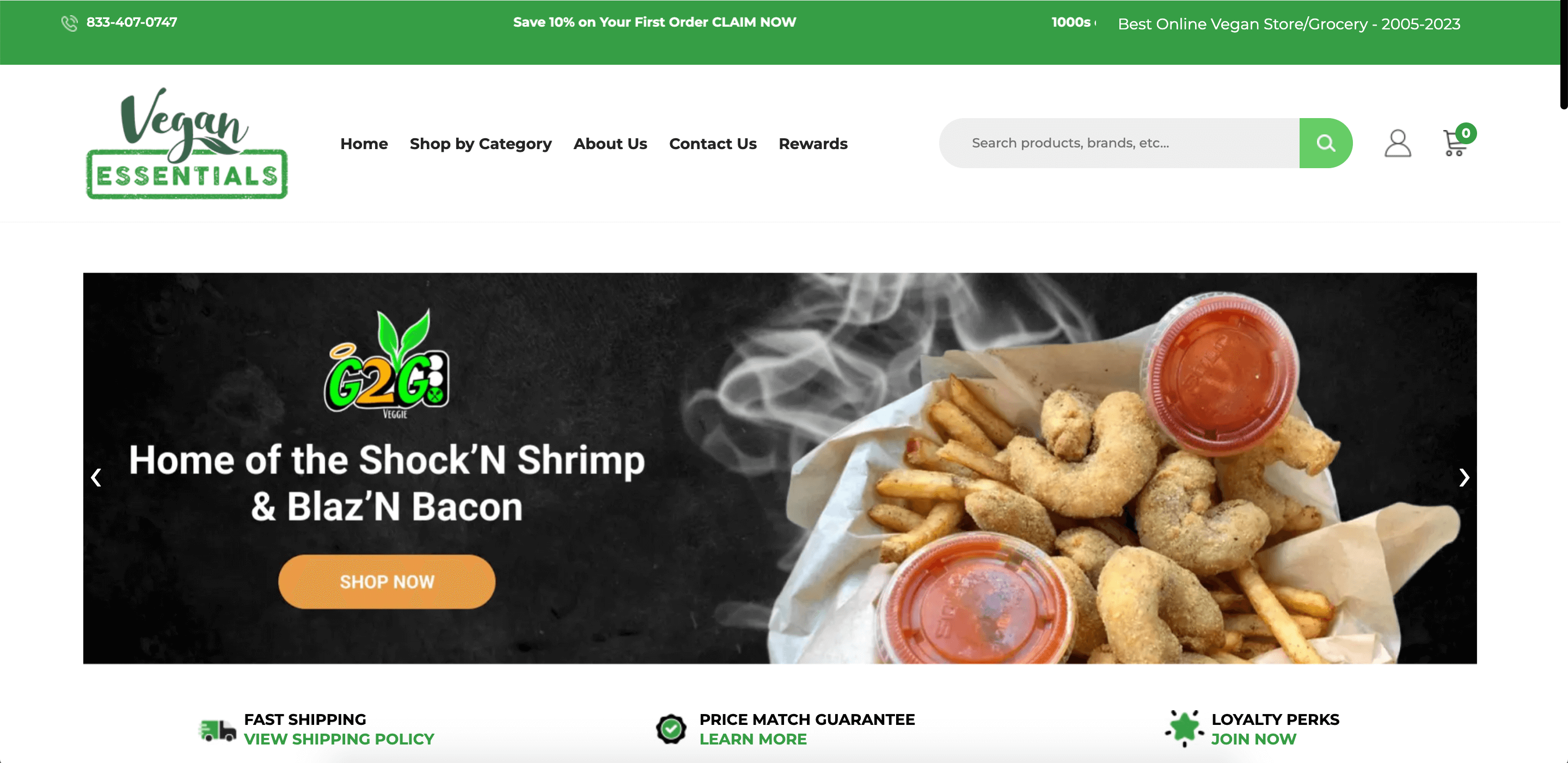 The Vegan Essentials website is an excellent example of a wide range of products. A precise classification and marking system allow users to find their needs quickly.
One feature worth mentioning is the filtering option. Since this e-commerce store caters to people with specific eating habits, it has special filters that allow customers to find products based on their ingredients.
In terms of design, Vegan Essentials' website is branded. In addition to the green color scheme, it also uses decorative plant-related elements. They are also placed at the bottom of the page to minimize interference.
Nalen Ayurveda provides skin care products for those who want something different from what you find in your local pharmacy. The online business is full of outstanding natural cosmetic product categories.
The homepage set the tone, a well-combined, simple product image of ginger root placed in a wooden pestle and mortar. This is a robust visual effect-you can almost smell the sweet and spicy flavor of this root.
The entire web layout design is fresh and airy. This reflects the nature of their skincare products. Product descriptions are not dry recitations of details that hit the customer's emotions.
Bite's online store is one of the best examples of effective e-commerce websites. The beautifully designed homepage captures visitors' attention and perfectly conveys why their all-natural toothpaste is worth buying.
For example, it has a recommendation slider with quotes from well-known publications. Near the bottom of the page, you can also find a collection of customer reviews.
The homepage answers basic questions about the product, such as its benefits and how to use it effectively. It also has several hero shots for demonstration.
All these elements work together to eliminate potential obstacles in the customer journey. Therefore, visitors should be more confident in conducting transactions.
Simple Chocolate has a unique online store. Although it may seem unconventional, it is suitable because its design elements distinguish it from other e-commerce sites.
For example, the navigation menu uses a slanted layout to create a unique spin, while page interactions make the browsing experience more dynamic. Instead of acting as trivial features, they encourage visitors to stay on the site longer.
Another significant element is testing a page. Shoppers can fill out their billing, shipping, and payment processing details all together on one page, simplifying the transaction process.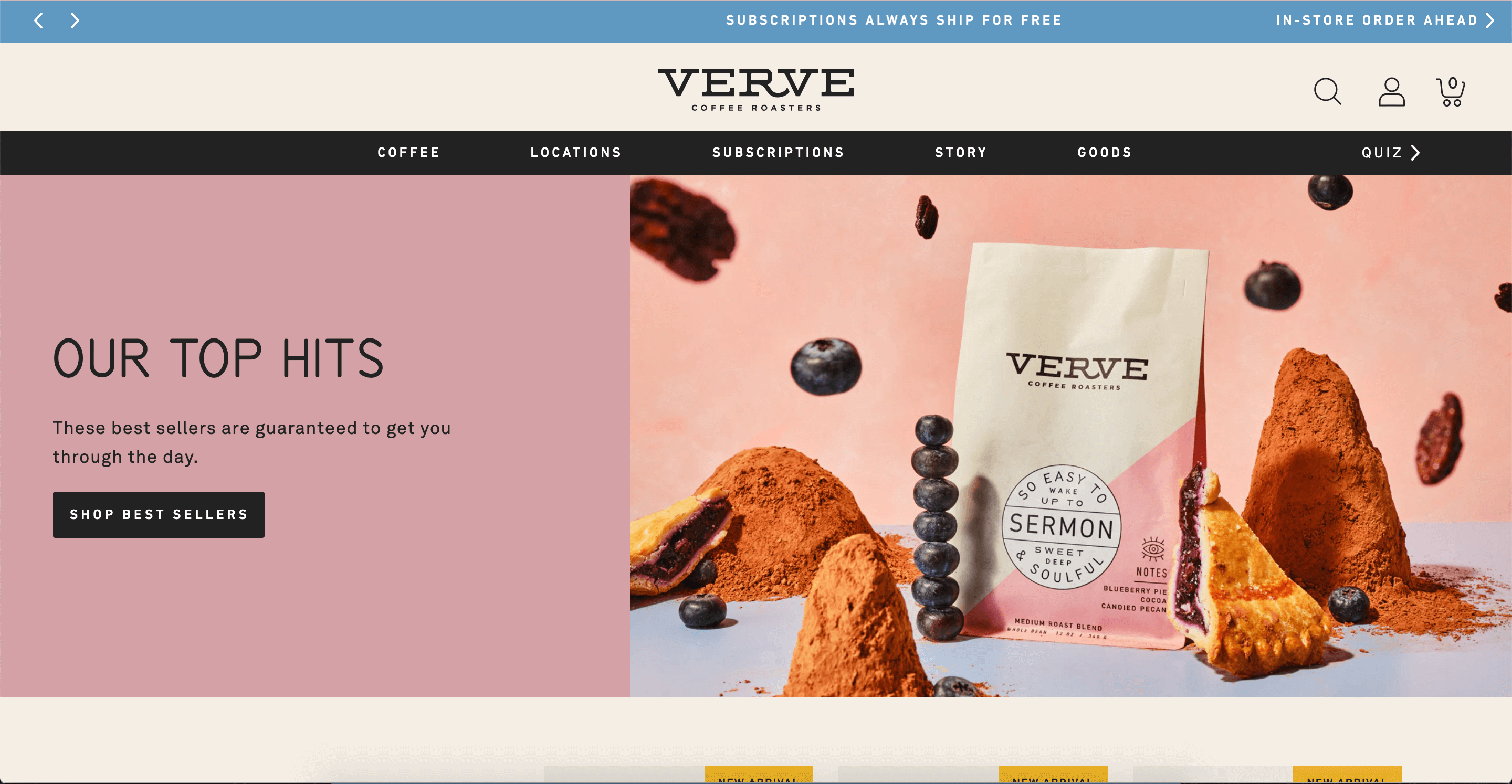 Verve Coffee Roasters leverages customer feedback to enhance trust on its e-commerce platform.
This digital coffee shop integrates compelling wording with captivating images to retain customer interest. They set an expectation of being "classic and delicious," and reinforce it with vivid descriptions like "the sweetness of golden marmalade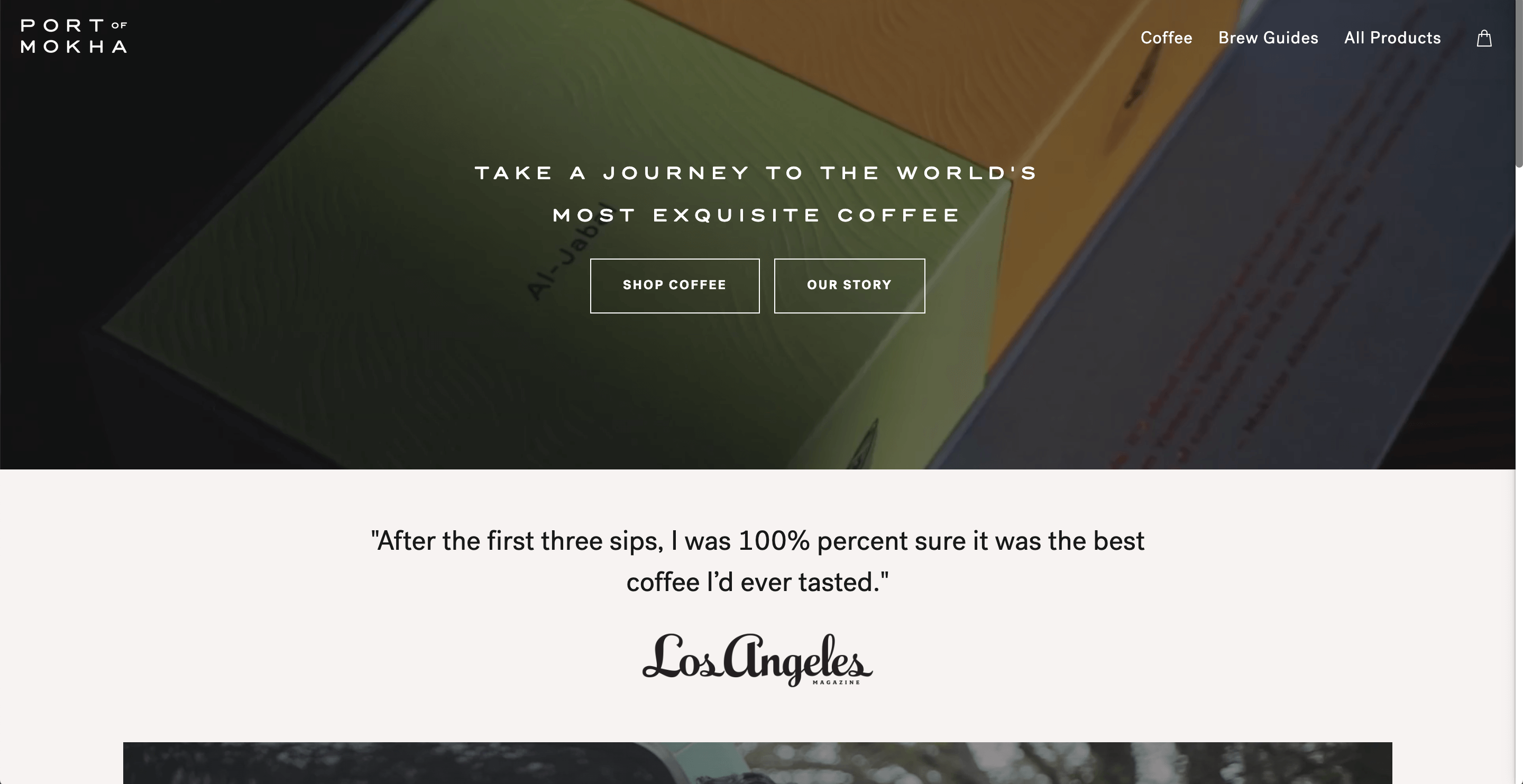 The Port of Mokha website is an excellent example of a website built around a compelling brand narrative.
It accomplishes this mainly through its copy. For example, a seductive title invites visitors to explore the behind-the-scenes tour of Moka Harbor Coffee. Strong statements like "coffee worth risking their lives" encourage users to invest in stories.
The website uses a typographic hierarchy to capture the visitor's attention to ensure copywriting gets proper attention.
On top of that, there's plenty of social proof to boost a brand's reputation – from endorsement sliders to showing citations from top publications. Customer ratings and reviews are also featured on product pages.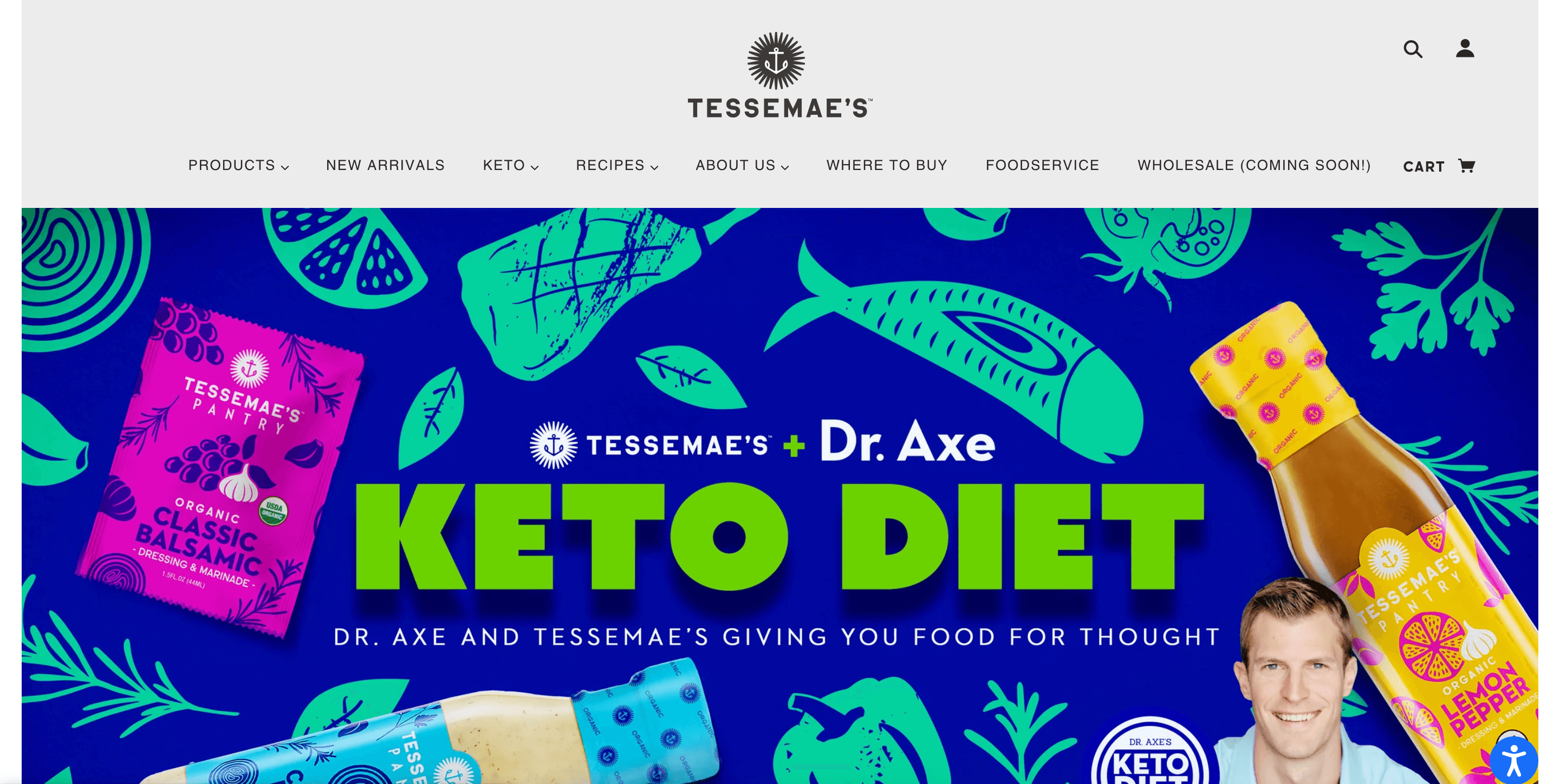 Condiment shop Tessemae's offers discounts, giving customers a reason to shop right from the start. In the process, Tessemae's will receive newsletter emails from customers to further nurture them. Its website design is rich and colorful, and it feels like a modern brand for the younger generation.
Tessemae also uses fan photos (user-generated content to help build trust). It tells visitors that existing customers deeply love Tessemae's products.
In addition, they inspire the many ways condiments and condiments can be used to make delicious dishes, adding extra motivation for buying.
The table is filled with country bread, crunchy granola, tea, orange juice, and other neatly arranged food and utensils, and you will feel hungry as soon as you log on to the L'intendance website. Their e-commerce store offers food storage kits and a variety of culinary delicacies such as spices, flour, and oil.
Product photography matters. L'intendance showcases great product images of all they carry with attention to details.
L'intendance offers an e-commerce experience that will inspire you to enhance your culinary skills with attractive visuals, a clear product catalog, and a user-friendly interface.
Krave Jerky uses a dynamic and colorful e-commerce website design. It creates an exciting browsing experience and is enhanced with content-rich copies.
After opening the website, an email marketing form will pop up. Those who sign up receive a discount-a valuable reward that customers might appreciate.
The solid color background is exciting without distracting visitors from the content. The product category is first presented on the homepage, making it easy for visitors to purchase products.
Scrolling down the home page will reveal more information, such as Krave Jerky's brand philosophy and customer and media recommendations. These details can increase credibility and encourage visitors to buy products.
Whether you are a beginner behind the lens or the next Ansel Adams, The Camera Company has everything a photographer needs to pursue art.
They carry many different cameras, lenses, and accessories. Although they sell many products, their drop-down navigation keeps everything in order, with a precise organization of product categories. All their products are just a few clicks away.
This is the best practice for any large commercial online business. Well-planned and organized product categories are crucial for a good user experience and improved conversion rates.
Bon Bon Bon sells handmade candies made with classic French techniques, local ingredients, and creativity.
This company reminds you that you don't have to compete on price to create a brand image that resonates with your target audience.
A box of 10 pieces sells for $35, and their candies are not cheap. But this business is booming because the company is producing high-quality products and selling them to people who appreciate this quality and are willing to pay for it.
Bon Bon Bon's website design perfectly reflects their brand spirit. Retro elements, unique typography, and endless Bon Bon images show the artistic aspects of the team, their passion for craftsmanship, and their sense of humor. This adds to the creative, casual, and exciting brand image that their customers can relate to.
This beautifully designed online flower shop website is an excellent example of a remarkable and straightforward e-commerce store.
Design-wise, the website looks minimalistic yet colorful. Its white background contrasts with vivid product shots, and the green call-to-action buttons are easy to see.
The homepage features a full-width banner with a giant headline and product footage, making a solid first impression. When scrolling down, the page shows a testimonial slider and a compelling Why shop with us section.
Product categories are based on occasions instead of sorting products by flower type. This helps customers who do not know about floral design choose the right product.
Microbrasserie À la Fût's website is primarily a restaurant website, but there is also an e-commerce section where customers can purchase merchandise and craft beer products.
The checkout process is particularly prominent. You can immediately access the checkout page if you click the shopping cart button, reducing loading time.
Each step of the transaction is divided into multiple tabs so that customers can view their progress. After filling in all the details, you can return to the previous tab to double-check the information
SoFlow is an electric scooter company, and its e-commerce website is a model of first-class web design. The company offers a lifestyle of buying its products, seen through their videos and lookbook pages.
A moody color palette with bright call-to-action buttons for easy navigation is used in the website design. In addition, the menu bar items are widely spaced, and the bold font draws attention to the copy.
SoFlow's large borderless images and videos are strategically placed in specific sections not to overwhelm visitors.
Urban Drivestyle focuses on a niche that provides e-bikes. For those looking to hit the dirt with a bit of modern technology, these are the bikes you want to ride.
Just like their bike, this e-commerce design has movement. With text shifting horizontally, parallax, and a bicycle frame appearing in the foreground, there's not a single block of content that doesn't have some animation baked in.
In addition, product photography captures the toughness of these bikes and showcases the sleek sophistication of electric motors.
Often e-commerce sites can be a long scroll through static content. The UDX bike shows how animations and other dynamic decorations can bring a design to life.
The Smokehaus website demonstrates how you can simulate the feel of a physical store to create a memorable user experience.
Instead of using a grid to showcase products, the site opts for a draggable slider to simulate the look and feel of a butcher shop. The welcome message also hints at how to navigate the store.
Every time you add an item to your cart, a message appears with something brief like "Good choice!" or "Yum! We love that. Such details add a personalized element to the shopping experience, triggering customer delight.
5 Critical Elements of A Great Ecommerce Store
1. Optimizing Clear Navigation
This is the most basic thing for an e-commerce website. Yet because they are the basics, sometimes businesses forget to enhance them, but the ones with great websites improve customer experience right from these pages.
These are the most important pages that you'll see on every cool e-commerce website on this list:
Homepage
About page
Product pages
Checkout page
Terms & Conditions + Privacy policy
2. Cultivating Trust in Customer Relationships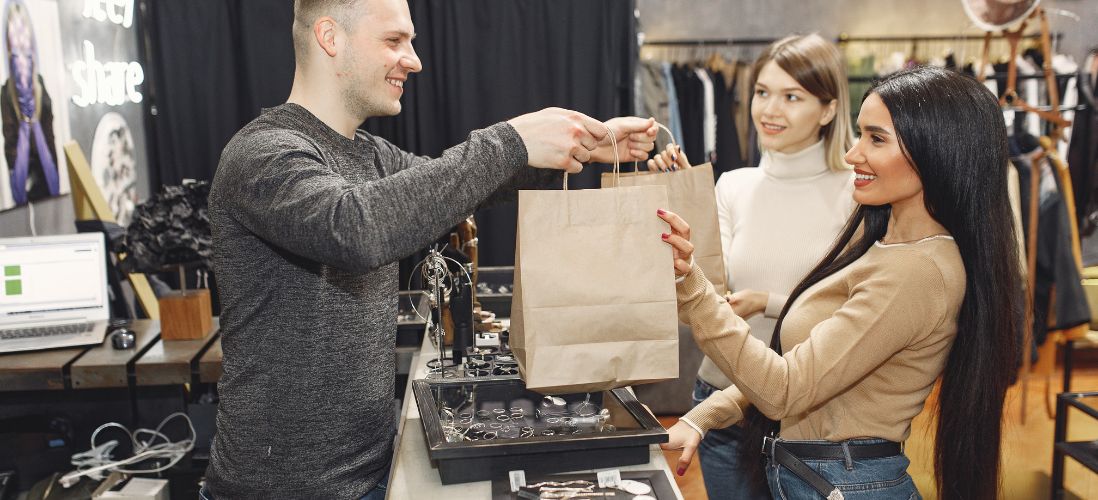 When someone visits your store for the first time, they may not know anything about your brand, product quality, or your commitment to customer satisfaction. The transaction may win their consideration, but they need to trust you before completing the purchase.
Customers need to know that they will receive the advertised product when they buy from you.
Every business should include two essential trust indicators when building its website: contact information and return policy. This information can help potential customers feel like they can trust the seller and be encouraged to process their purchase.
3. Designing a Captivating Visual Interface
Product photos
Visual appeal is essential to help customers imagine your product online and click to buy.
Your product photography is like an ambassador, sharing your product promise online. Your customers cannot try, taste, feel or wear your product before buying, so they will rely heavily on your visual effects to decide whether it is suitable for them.
Colors
You may sell the most incredible product, but if the beauty of your website-especially its colors and fonts-doesn't work, your customers will be delayed and will not buy. The appearance of your store affects the overall experience of buying products.
Color is one of the most powerful tools you can use to stimulate interest and emotions. It can also attract people's attention to specific parts of your website and guide your customers through the buyer's journey.
Fonts
Finally, think about typography. Clients want to see dynamic and engaging typography on the website, rather than obsolete fonts like Times New Roman. Although the text you write shares information, typography conveys the emotion behind the data.
Unique headline fonts can add vitality to your brand, and body fonts will become your workhorse.
4. Responsive design for mobile and web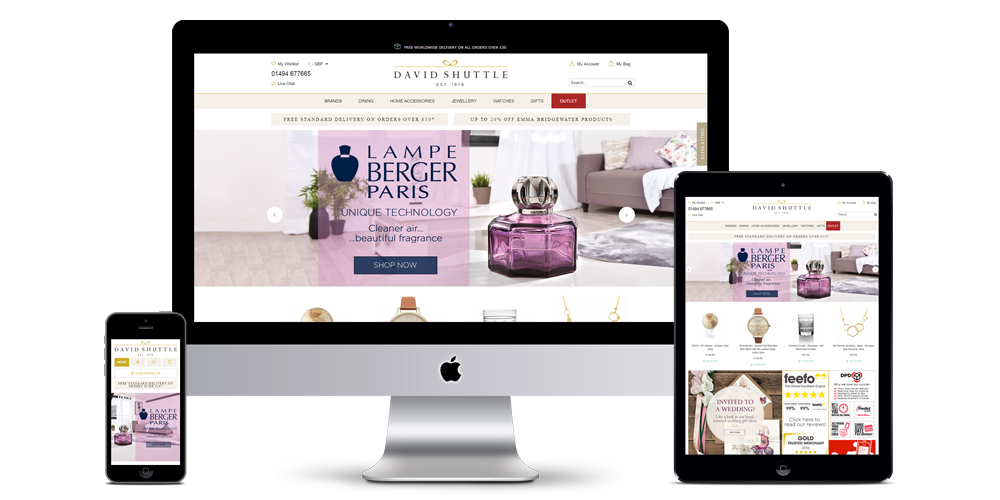 Mobile traffic makes up about half of web traffic, hovering around the 50% mark since early 2017. If your site isn't optimized for mobile, you're at risk of losing many potential customers.
In addition to using a responsive, mobile-friendly website theme, make sure to:
Adjust your layout for finger scrolling.
Use clear, pop-up product images.
Minimize the number of fields on the checkout page.
Include large call-to-action buttons (Add-to-cart buttons, etc.).
5. User friendly
The first and foremost sign of a user-friendly website is its easy-to-grab navigation.
Good navigation can improve the online shopping experience and help businesses increase sales and profits. Navigation will also affect the theme you choose. For example, if you have a large product catalog, a theme with a more extensive menu might suit you best.
Wrap Up
If you want to create a beautiful design with good features for your website, gain inspiration from the examples above e-commerce website examples. Each offers unique and distinct creative ideas, so consider them to decide what elements to incorporate into your website.
Building a great e-commerce site by yourself isn't impossible. However, it's not recommended. There are many things involved in this process, thus why handling the e-commerce web development to an expert like Tigren remains the best option.
We have many attractive e-commerce website development packages or custom e-commerce store design and development services for you to choose from. We will build your website into an e-commerce site with many of the best features available today, especially with an eye-catching design that attracts customers. And if you have any requests about refreshing and differentiating the structures and features, and creating a website with your signature, we will fully support you.