These days, customers care more about secure, easy, and fast payment methods. Ecommerce payment can bring users and merchants a lot of benefits. As a result, store owners need to have a clear idea of eCommerce payment processing to improve customers' experience.
This article will explain how eCommerce payment works in less than 10 minutes read!
Ecommerce Payment Processing
Ecommerce payment processing is the online money exchange method. It is used for products purchases made via the Internet.
Payments in classic stores remain a popular method. However, there are more benefits of online payments.
Let's look at how it can help you and your customers.
Reaching global audiences
It is much easier for you when offering products with online payment. It can help you reach global customers. Therefore, your business is likely to expand sales revenue.
Regarding physical stores, you have to employ a cashier. This makes you bear so many costs. However, online payment allows you to set up payment systems often at no expense.
Every transaction is recorded digitally. Therefore, you will have a lot less paperwork. For example, you do not need to care much about administration, accounting, and auditing.
Better customer experience
Payments by card or mobile wallet can save much more time. Moreover, being offered ways to pay online makes your site seem more trustworthy. If customers can pay quickly and securely, they'd likely return.
4 Types Of Online Payment
1. Credit cards
It is one of the most common payment methods, both offline and online. When a purchase is made, the credit card issuer pays on the customer's behalf. The customer then has to pay the bill on the credit card.
2. Direct debits
With a debit card, you must have enough money in your bank account when making purchases. The money is deducted directly from your bank account.
3. Alternative payment methods
Alternative payment methods include e-wallets and buy-now-pay-later solutions. Examples are PayPal, Amazon Pay, Google Pay, Apple Pay, Affirm, etc.
4. Digital Currency
For e-money, funds are transferred from one institution to another. Moreover, transfers can be made without a third party. It also enables you to make online payments quickly using credit cards, debit cards, or smart cards.
Elements Of Ecommerce Payment Processing
Typically, there are 3 elements of eCommerce payment processing.
1. Payment Gateway
Payment gateways are the payment methods users see on the checkout page. PayPal, Amazon Pay, or Stripe are payment gateways.
Through payment gateways, users can make transactions for online purchases. Moreover, you use payment gateways to get customer data to your payment processor.
Payment gateways provide users with two main features:
Send the customer payment data to the payment processor.
Accept payment information from the payment processor without involving your website.
2. Payment processor
A payment processor is a third-party service that connects your store with your merchant account. It handles the actual transactions, putting money in your merchant account on behalf of customers.
A payment processor has 3 functions:
Transfer payment information from the customer's bank to the merchant's bank.
Provide physical equipment for retailers to accept card-based transactions.
Support setting up a merchant account by a third-party merchant services provider.
3. Merchant Account
A merchant account connects the store's gateway to your bank, and it's where you receive the payments.
Also, it is connected to the store's gateway, which charges the customer's payment information directly.
How Does The Ecommerce Payment Processing Work?
Step 1: Information input at the payment gateway
Customers start an online purchase by inputting their credit or debit card information at checkout.
Step 2: Data transfer to the payment processor
Customers then click the submit button to send information. Next, the payment gateway sends the payment data to the payment processor.
Step 3: Payment is authorized/ rejected
The payment processor informs the card-issuing bank to examine the transaction. If the funds are enough, the transaction will be permitted. Otherwise, it will be declined. Next, the money from the user's account will be deducted.
Step 4: The status of a transaction is notified
The payment processor will notify the payment gateway. If the transaction is successful, the gateway will notify the merchant's website.
Step 5: The merchant account receives confirmation
Finally, the customer receives an order confirmation. The funds are then withdrawn from the customer's bank account and transferred into the merchant's bank account.
In summary, eCommerce payment processing starts by inputting payment data details for transaction checking.
Successful or failed transaction information will be sent to the merchant's website. At the final step, the funds are deducted and deposited from the bank account of the client and the merchant respectively within a certain time.
How To Select A Payment Gateway?
By now, you should have had a clear idea of eCommerce payment importance and how it works.
Another question that businesses usually have regarding this topic is how they can select a patent gateway accordingly.
There are two main types of payment gateway on the market.
Customers must leave your website to finish the payment process for this type. The hosted gateways redirect the customers to your e-store after the transaction is completed.
The provider of hosted gateways is responsible for all data security. However, there are some downsides to it. For example, if customers think the process is complicated, they may abandon it.
Hosted payment gateways are the best options for local or small businesses.
The most popular gateways of this type are PayPal, Amazon Pay, and 2Checkout.
Integrated payment gateways
Integrated payment gateways keep the customers on your website throughout the purchase process.
Integrated payment gateways bring users a smooth experience. They reduce human errors and double data entry. However, you will need to integrate a payment gateway solution into your web.
This solution fits best for mid-sized and large businesses that care about user experience and branding on their website.
The most popular gateways of this type are Authorize.net and Stripe.
5 Popular Payment Processing Providers
Here are the 5 popular providers offering eCommerce payment processing.
PayPal may be the first option if you need to add a payment gateway to a website or portal. Many people all over the world have PayPal accounts. So, it is renowned for being dependable and adaptable.
PayPal helps users to monitor all activity and superior encryption for fraud protection.
Fee structure of PayPal: from 2.4% to 3.4% + $0.30 per transaction with no setup fee.
PayPal is available for some eCommerce platforms, including Magento, Shopify, WooCommerce, OpenCart, and Joomla.
Stripe is an easy-to-use payment platform. It takes all major credit cards and integrates with Apple Pay, Alipay, Android Pay, and WeChat Pay.
Fee structure of Stripe: 2.9% + $0.30 per transaction. An additional 1% is applied to international cards.
Stripe is used by Kickstarter, Twitter, Shopify, and Pinterest.
EWay is an all-in-one online payment solution. It supports all payment kinds and distribution channels. Moreover, this provider supports digital wallets, including Click to Pay and soon-to-be Apple Pay.
Fee structure of eWay : 2.7% + $0.30 per transaction.
Popular platforms that use eWay: WooCommerce, Magento, Shopify, Joomla.
Opayo is a well-known payment provider that accepts MOTO (Mail Order/ Telephone Order). Merchants can take payment through phone, mail, fax, or internet communication with this method.
Fee structure of Opayo:
Flex Plan: £20.90/month with 350 transactions
Plus Plan: £45/month with 500 token purchases
Corporate Plan: Bespoke pricing with 3000+ transactions
Popular platforms that use Opayo are WooCommerce, Magento, Shopify, and BigCommerce.
Checkout.com is a payment provider that supports both Google Pay and Apple Pay. Additionally, it has direct access to all major international cards.
Fee structure of checkout.com: 2.90% + $0.20 per transaction
Popular platforms that use checkout.com include Magento, Prestashop, Drupal Commerce, OpenCart, Shopify, SalesForce Commerce cloud, and WooCommerce.
Read more:
How To Integrate A Payment Gateway Into Ecommerce Websites
You can opt for either approach to integrating a payment gateway into your site:
Using available extension
For each eCommerce platform, you can choose an available extension to connect the payment gateway to your website.
For example, your eCommerce platform is Magento. In case you want to use Stripe as a payment gateway provider. So, all you need to do is search out the Stripe extension for Magento.
Hiring a web developer or development company
If there are no available modules, you need to hire a developer or a development company. They will integrate a payment gateway by using the API provided by the payment gateway provider.
You will have 100% control, but spending a lot of time planning the flow, the experienced specialists from development companies can help you out of it.
So, do you want to integrate a payment gateway into your website? Or, are you planning to develop an eCommerce website from scratch with secure payment processing?
If yes, Tigren is your solution. With 10 years of eCommerce website development experience, we can quickly help you start your online business.
We are now offering two packages for web development with payment gateway integrations included. Even more, we ensure that each aspect of your website is developed for top performance. Our packages can meet your demand at the best quality at an affordable price. You can contact us at [email protected] for more details.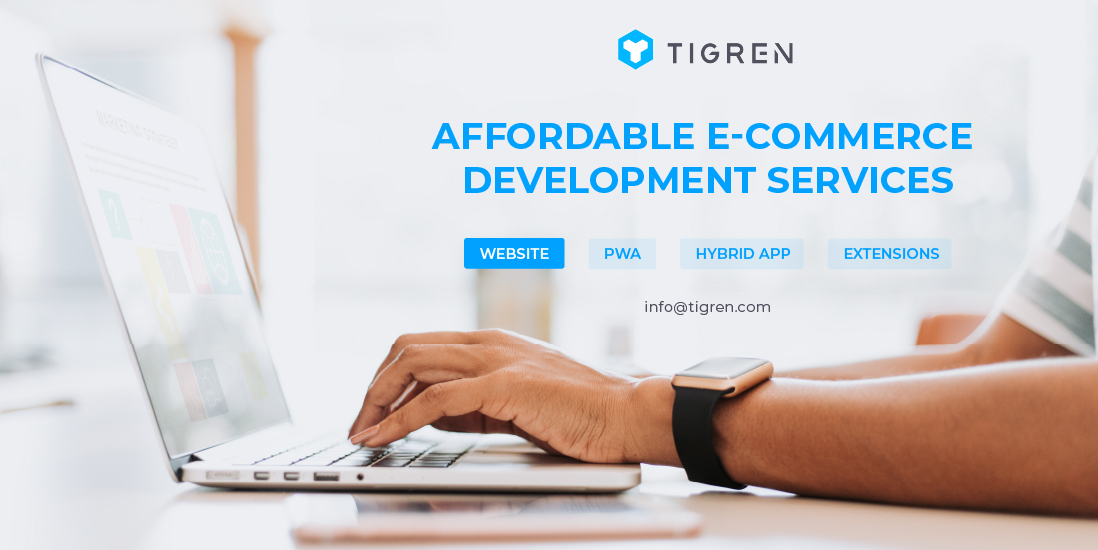 Final Words
That's all the basic information you need to know about eCommerce payment processing as a business owner. Ensuring a smooth and secure payment journey is likely to encourage customers to purchase and return in the future. Find the appropriate payment gateways to integrate to offer your buyers an outstanding experience!
Read More:
Why It's Crucial To Accept Credit Card Payments Online?
Top 8 Payment Gateways For Magento Stores