There is no denying that an eCommerce warehouse plays a pivotal role in any online commerce ecosystem. Apart from the main purpose of storing and getting products ready for shipment requests, it also yields many other benefits for online retailers. Better order fulfillment, more efficient inventory management, and higher customer satisfaction, to name but a few.
eCommerce businesses worldwide are constantly seeking to step up their "warehousing" game. Investing in the warehouse itself is out of the question, but warehouse management is also a sector that is receiving more and more corporate attention.
So how can you, as a business owner, understand all these above-mentioned concepts and apply them to your own company? Here in this guide, we save your precious time by introducing everything about eCommerce warehouses and their related matters.
Read on to learn more about the nuts and bolts of warehousing in eCommerce.
Ecommerce Warehouse: Definition, Classification, Criteria & Examples
What exactly is an eCommerce warehouse?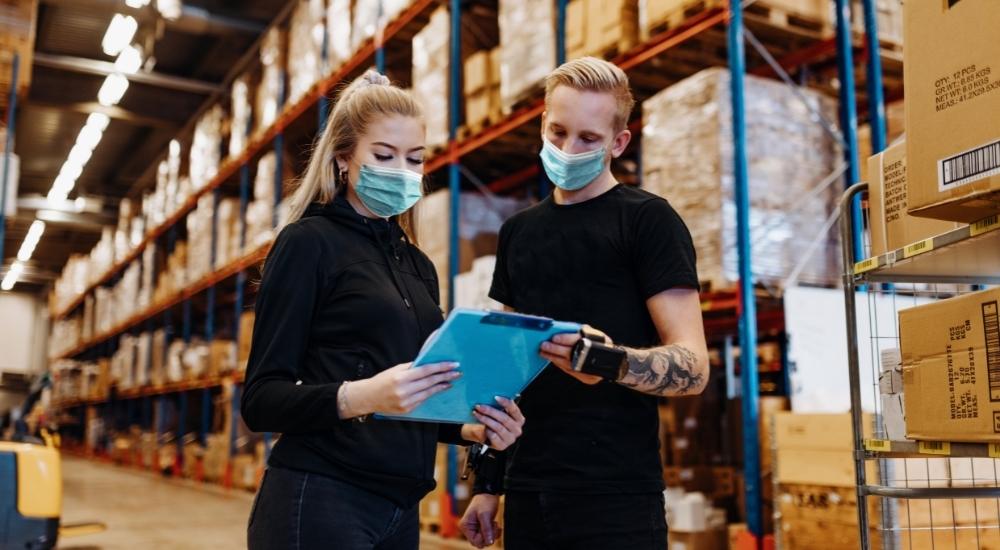 An eCommerce warehouse is simply defined as a large and enclosed space for storing goods prior to online sales, packaging, and distribution to customers.
Ecommerce warehouses are different from traditional warehouses in that eCommerce businesses deal with the requirement of specific space and storage, as well as the number of orders and fluctuations in demands. In other words, warehousing in eCommerce is much more demanding and complicated.
One funny thing is that from the get-go, many eCommerce warehouses are garages, living rooms, bedrooms, basements, etc. They can be literally any place where you can stock your inventory to the maximum storage. However, as businesses grow, many more types of eCommerce warehouses rise to meet the growing demands.
What types of eCommerce warehouses are there?
There are various types of eCommerce warehouses available, and each of them has its own pros and cons. Below is a detailed guide on some of the most popular eCommerce warehouses currently in use.
1. Private warehouses
This type of warehouse is typically owned by large businesses such as retailers, manufacturers, wholesalers, or distributors. Amazon, the world's online retail giant, is now running such warehouses.
Private warehouses are often built to meet specific business requirements such as appropriate size, more amenities, better security, and other specific features that tolerate the local environment.
More often than not, they come with a huge cost, but long-term benefits make them a worthy strategic move for SMBs to consolidate their presence in a market.
2. Public warehouses
Public warehouses are owned by the government and are available for businesses to rent. In general, they are more affordable than private ones. Public warehouses are also suitable for short-term storage, which is an ideal pick for small businesses and eCommerce startups.
The only problem with this type of eCommerce warehouse is its size, technology, and functionality.
3. Government warehouses
They are similar to public warehouses. However, the name speaks for itself: this type of warehouse is entirely owned and controlled by the government.
Sometimes they are for rent at an economical price. Higher security is also guaranteed. In case the rental fee is not fully paid on time, the government has the right to sell the goods to make up for lost revenue.
4. Cooperative warehouses
Cooperative warehouses are essentially private warehouses with more than one owner. They belong to several businesses working together on a common sector or project.
Normally, businesses outside such a partnership can use the warehouse, but will not benefit from the reduced price that is shared among members of the co-op.
5. Consolidated warehouses
This is a place where small shipments from suppliers are collected, grouped and delivered to consumers. The perks include low pricing and suitability for eCommerce start-ups. However, the destination of customers must be the same region, be it a city or any other random area.
6. Bonded warehouses
The good thing about bonded warehouses is that companies store their products in bonded warehouses before customs duties are paid. They only need to pay once the goods are delivered and withdrawn from the warehouse.
The name originates from the "bond" issued by the authority to certify that companies are using the warehouse to store their items, thereby preventing any financial loss. This type is an ideal choice for businesses involved in international trade.
7. Smart warehouses
This final category is probably the most desirable for any eCommerce business. A smart warehouse is technologically advanced, fully automated, and operated by AI. Needless to say, it comes with higher efficiency, better productivity, and reduced errors. Machines such as robots and drones are employed to help with storage and fulfillment.
The downside, as you may guess, is the massive cost of construction and maintenance.
What are the criteria for choosing the right eCommerce warehouse?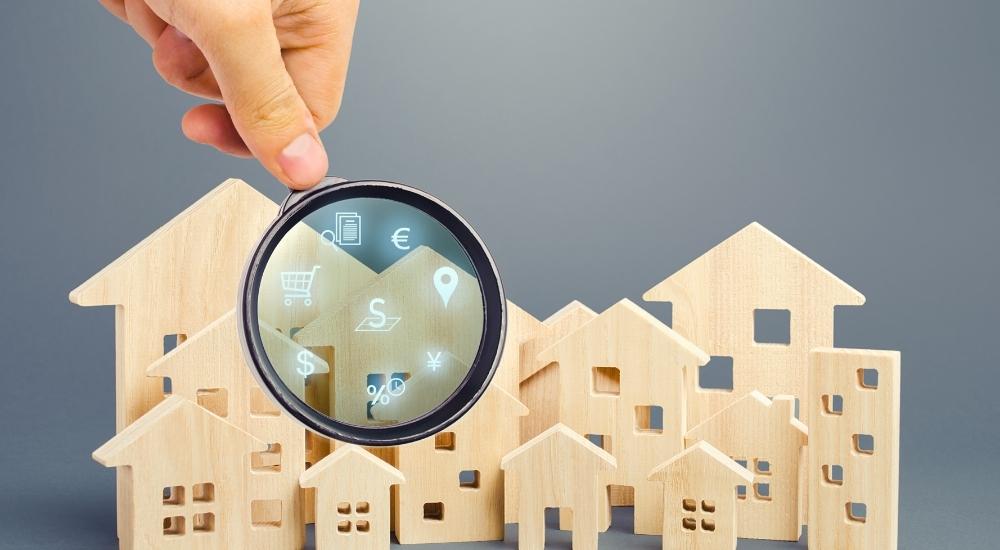 1. Space availability: This depends on your quantity of products, so make sure to find a warehouse with sufficient storage.
2. Types of stored inventory: Different types of stock require different ways to properly store them.
3. Budget: Don't splash out on an eCommerce warehouse if your corporate budget does not allow it. Remember you have other business sectors to spend on!
4. Local climate: For many kinds of products, the local climate can make or break their quantity. For instance, an F&B distributor wouldn't invest in a warehouse built in an extreme climate.
5. Distance to customers/suppliers: The cost of distribution may well blow your budget if your warehouse is miles away from your buyers
6. Security: Losing products prior to shipment would be a nightmare for any business. Make sure to scan the surrounding area and take steps to enhance security for your warehouse.
7. Customization needs: These needs can be product rearrangement, layout modification, amenities equipment, or anything that meets your business requirements.
A real-life example of an efficient and advanced eCommerce warehouse
Cainiao, which has been dubbed 'China's smartest warehouse', is a case in point. This warehouse currently belongs to the eCommerce giant Alibaba.
Besides WiFi and self-charging, Cainiao is equipped with 'the largest population' of Chinese robots. These robots mainly handle the task of transporting goods inside the warehouse and to human clerks for delivery. The wonderful thing is that, rather than losing their jobs, human workers also benefit from these machines. As stated by Alibaba, working efficiency among staff has tripled during the last few months.
Ecommerce Warehouse Management: Everything You Need To Know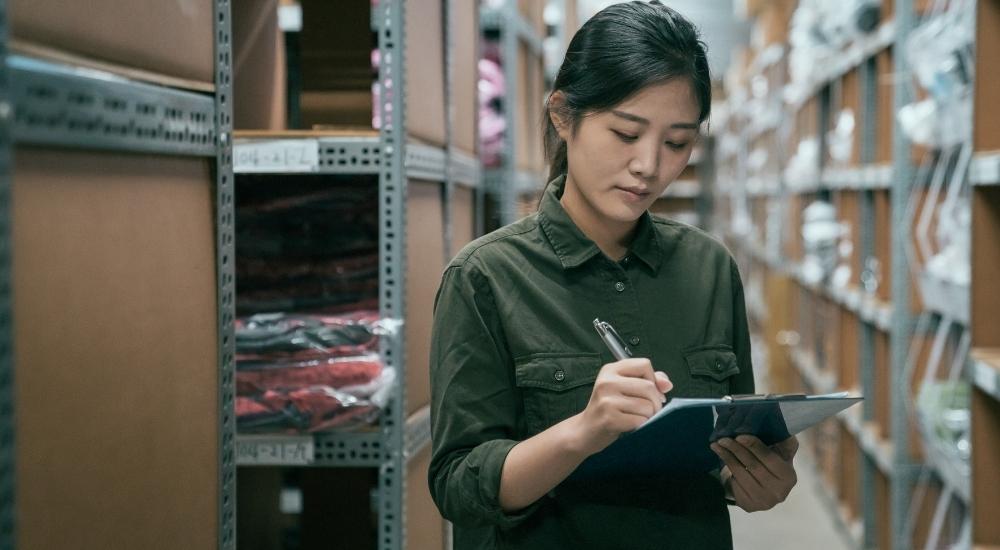 Ecommerce Warehouse Management: Understanding The Concept
Well, the name definitely speaks for itself. eCommerce warehouse management covers all the processes required to operate an eCommerce warehouse. Some specific tasks include:
– Train and manage warehouse employees
– Manage stock and equipment
– Establish and grow relationships with shipping companies
– Enhance security for both staff and products
– Track and control the process of order fulfillment
– Assess and forecast demand fluctuations to avoid shortage or excessive storage
Ecommerce Warehouse Management: Main benefits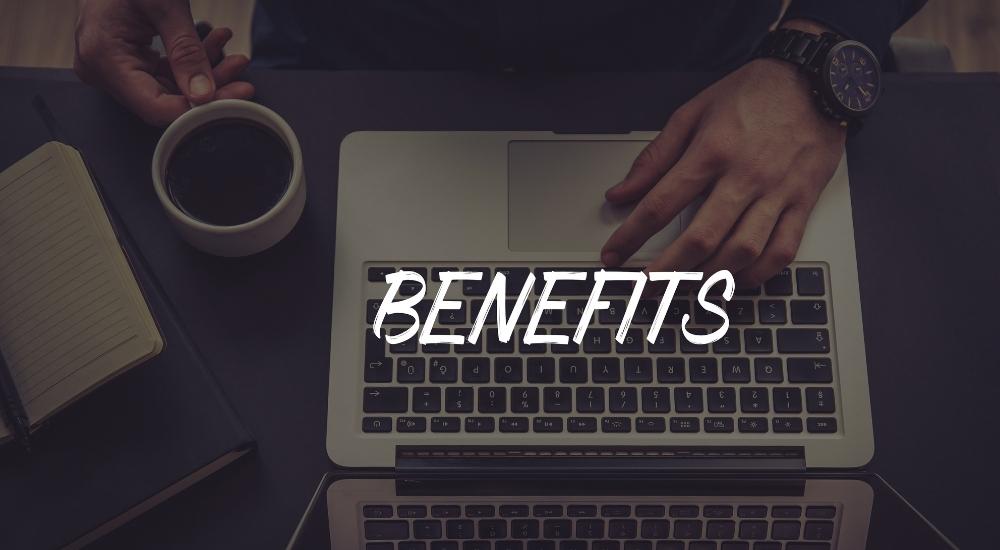 1. Better order fulfillment
Without adequate attention, a place where all sorts of things are stored can become a big mess in the blink of an eye. Warehousing in commerce is no exception, but that's when management comes in. A good warehouse management system helps you to keep things in place and cater to the demands of buyers.
Once every process inside your warehouse (e.g. order confirmation, packaging, delivery) runs smoothly, your customers are likely to receive their products faster. The sooner the product is shipped to buyers, the higher their satisfaction level is. This comes with better feedback, higher loyalty and above all, more revenue. Things just get better with it.
2. Efficient inventory management
As a matter of fact, an eCommerce warehouse is a huge place. Huge amounts of stock from multiple categories, together with lots of gigantic shelves, can easily turn your warehouse into a big maze.
Not knowing what or where you have in stock can be a dangerous thing, especially during the high time when your eCommerce demand fluctuates wildly. A good management system helps sort things out, as it tells you how much A you have in stock, where you put B or whether C is currently the "in" thing. All of this serves to make you become an efficient (and precise) manager.
3. Less stress
Staying organized and keeping up with all of your orders can be a big relief, as you know your warehouse is functioning at its best. Effective eCommerce warehouse management saves you a lot of time (and sometimes, money). As a result, you have less on your plate and are allowed ample time to focus on other sectors of your eCommerce business.
Keep in mind that warehousing in eCommerce is just part of your company's activities. Don't let it become a burden, you have a lot more to take on.
Ecommerce Warehouse Management: Best Practices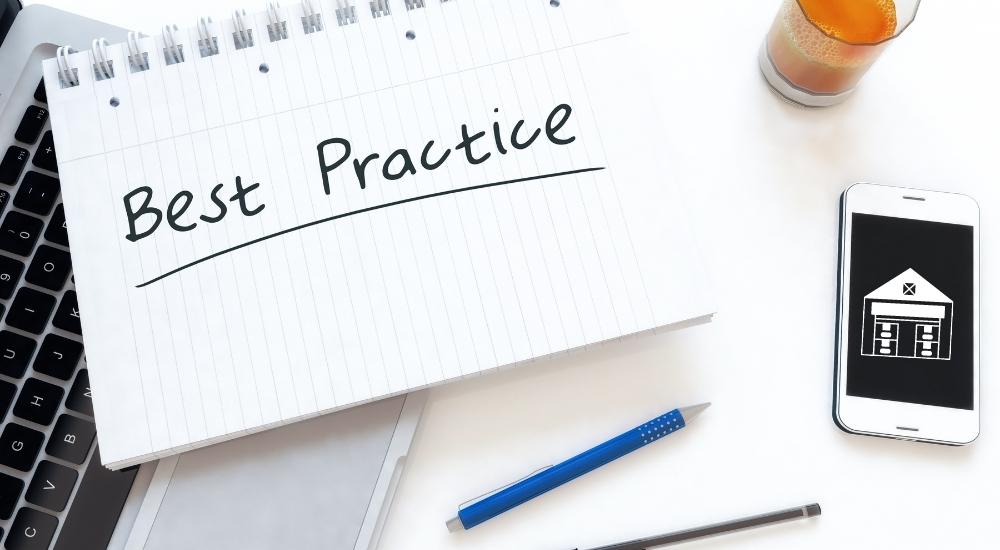 Here are 4 recommended strategies to efficiently manage and get the most out of warehouse management.
1. Use an eCommerce warehouse management system (WMS)
This is essentially a tool to help you monitor your warehouse more thoroughly and comprehensively. For instance, it gives you a closer look at your inventory, i.e. how much of this product is left or whether demands for that product are peaking, etc. These data assist in your decision-making process.
2. Try different picking systems to find the most suitable one
This strategy goes hand in hand with the previous one. As warehouse management systems vary, it's best to test them out and see what works best for you. Some of the prominent WMS software include Sortly, NetSuite WMS, and Fishbowl Inventory.
3. Integrate your online store
Online store integration facilitates smoother workflow, as customer order information is seamlessly transferred between your store and your warehouse. At this point, we return to the above benefit of better order fulfillment. Link to your online store makes things even better than that!
4. Set inventory minimums/maximums for your warehouse
The final strategy has something to do with the benefit of efficient inventory management mentioned earlier. Inventory minimums reduce the chance of your product being out of stock, while inventory maximums prevent all unnecessary capital. Either way, the profit is all yours!
A Brief Overview Of The Relationship Between Warehousing in Ecommerce And 3PL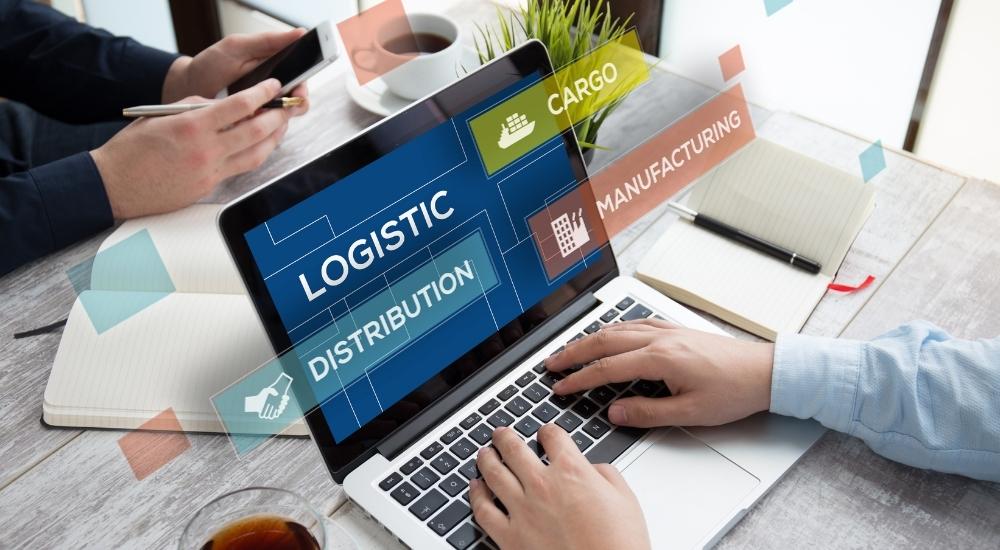 To begin with, 3PL (Third-Party Logistics) is normally referred to as a partner or a service that provides assistance in managing merchants' supply chain. They help businesses to focus more on their main competencies, thereby promoting growth and gaining better competitive edges in the market.
Outsourcing logistics to a 3PL provider can be a great way to step up your eCommerce supply chain, including the warehouses. They are expected to help with warehousing itself, inventory management, order fulfillment, and other relevant tasks.
"Do we, as eCommerce business owners, really need a 3PL provider?", some may ask. The answer lies in the following 3 main benefits of outsourcing eCommerce warehousing to 3PL:
1. Higher proficiency for your eCommerce business: 3PL providers are often linked to both eCommerce platforms (Shopify, Magento, WooCommerce, etc.) and online marketplaces (Amazon, eBay, AliExpress, Walmart). Needless to say, such connections should serve as a real helping hand when it comes to, well, selling online.
2. Less stress: So you've come across this "less-stress" thing twice in this guide, but it is what it is. Tasks such as inventory management and order fulfillment are made even less burdensome as you have someone else take them off your plate. A good eCommerce warehouse management system? Cool. What about a 3PL provider? Even better!
3. More opportunities to grow your business: More efficient eCommerce supply chain means more revenue and of course, more room for the business to thrive. Things are as simple as that!
Wrapping Up
The advantages of 3PL have concluded our guide to warehousing in eCommerce. Throughout this guide, you've familiarized yourself with everything related to eCommerce warehouses: their definition, classification, criteria for choosing as well as how to manage a warehouse effectively. As you finish reading, we hope that you got the answer to any question you may have.
Nowadays, the role of eCommerce warehouses is undeniable in all eCommerce businesses. Investing in them is expected to do wonders for your company, but watch out for any overspending. This is repeated a decent number of times in this guide, so much so that (we hope) it should be borne in your mind.
Read More:
Top 40 Best Ecommerce Consulting Firms (Updated 2023)
Global Ecommerce in 2022: Statistics, Trends, and Growth
Ecommerce OKRs: Leading Your Business to Success