Are you chasing after reliable but affordable eCommerce website development services in UK? You have a fantastic idea and want to turn it into a powerful website? Look no further and start scrolling down this page. We got several names for you.
Top Companies Providing Ecommerce Website Development Services In UK
Address
15-16 Brunswick Square, St Paul's, Bristol BS2 8NX
Overview
Determined to create a real impact for the world and the customer, Noughts & Ones became one of the first planet-conscious agencies in digital development.
By putting effort into minimizing the environmental impact of website development, they can help build your eCommerce store stand-out from the beginning and thus attract more eco-conscious prospects.
Services
Noughts and Ones is a Shopify-centred, fully rounded digital agency from planning to launching and maintaining. They can help with market research, sketching strategic branding, and development plans.
Address
Future Business Centre, King's Hedges Road, Cambridge CB4 2HY
Overview
Officially recognized as one of Clutch's top-performing B2B companies in the UK, the specialty of 2buy1click lies in the ability to stay agile and be well-adapting to their clients' needs. They are Magento specialists who aim to create real impact yet easy-to-use solutions to benefit both store owners and end-users.
Services
They provide a wide range of Magento solutions from development, integration to marketing. 2buy1click Ltd has substantial experience in Fashion, Beauty, Giftware, Manufacturing, and Industrial Products.
Address
Craftwork Studios, 1-3 Dufferin Street, London, EC1Y 8NA
Overview
Vaimo is an experience-rich, global-scaled digital agency for e-commerce. Since 2008, the company has expanded to 20 branches in 15 countries. This Adobe platinum-certified partner is broadly known for delivering high-quality solutions, trusted by 400+ brands and online merchants in B2B & B2C.
Services
Vaimo design and optimize your eCommerce site based on critical analytics. Technical solutions include full- and part-service packages and expanded site managing services such as security enhancement, DevOps, and Cloud. 
Address
2nd Floor, 8-10 Christchurch Rd, Boscombe, Bournemouth BH1 3NA
Overview
Media Lounge is an exciting agency with many winning awards, focusing on delivering dynamic solutions for modern eCommerce with innovative and emerging technology. They are a 30-people team of great passion for sustainability and impressive expertise in digital marketing, site development and design.
Services
They offer full eCommerce services through diversified platforms, from design and development to effective conversion rate optimization strategies.
Address
Rear Of No 7 Northfield Ave, London, W13 9QP
Overview
Rocket is a London-based full-service website agency with a strong specialization in Magento, commonly packed with strong technical support and proven strategies for SEO.
Services
Rocket offers a wide range of design services from web storefront, eCommerce presence, and graphic design to logos. They provide in-demand redesign, custom modification, and promotion services to leverage companies' performance. The agency keeps your website in stable, high-performing condition with a 24/7 reachable customer line for urgent and unexpected cases.
Average Cost When Working With Ecommerce Website Development Services In UK
The price of eCommerce web development depends heavily on the hourly rate and the complexity of project requirements.
UK developers' salaries start at $60/hour for juniors and middle-level, with experts, it's around $100- $150/hour. Many start-ups and small businesses claim that hiring a capable team of developers in the UK is challenging and costly. 
Basic Ecommerce Development
The basic websites building route utilizes ready-made solutions from regular or functional themes, extensions to default eCommerce features.
Ecommerce development is at heart a complex process with interaction-rich activities. That's why the installation for web launching can range from $20k to $30k. This sum doesn't include the ongoing support for optimization and maintenance, which adds hundreds of bucks each year to the total cost.
Advanced Ecommerce Development
This high-level website building selection allows you to have a unique and well-streamlined site with custom web design, custom functions, and modification services.
To scale up your online business painlessly, you can choose to integrate complicated third-party tools and can ask for a partial build for a feature from scratch if needed. The average cost for these extra spices starts at $50k and up to $100k.
UK Business Owners' Ideal Alternative Ecommerce Development Solution
The world now is a global market, and offshore has never been easier. With the help of technology, aspiring entrepreneurs and small businesses can reach out to first-rate eCommerce development agencies in low-cost countries seamlessly.
This might be your most profitable way to acquire a coveted website with powerful built-in features and tailored design for conversion that helps your business stand out from the crowd.
Here at Tigren, we help small businesses get their shot and achieve goals with a reasonable budget. We have proudly partnered up with 800+ global companies in many industries since 2012. 
We are determined to help you increase your ROI through proven development strategies, high-quality projects, and dedicated services. So if you'd like to work with an experienced and transparent agency that gets your things done before the deadline, drop us a message!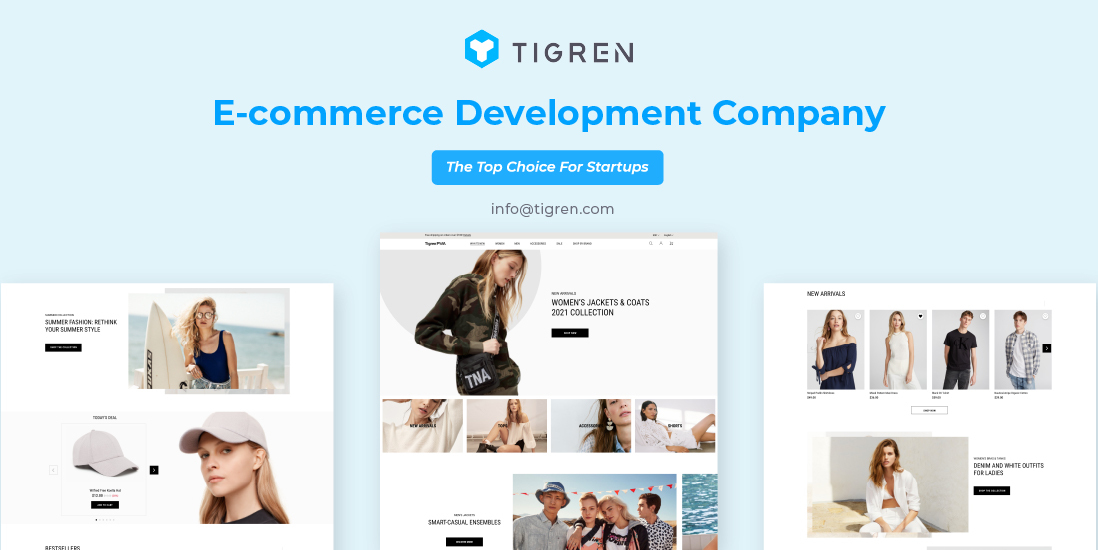 Recap
Above is the list of top eCommerce website development services in the UK. All of them are skillful and innovative trams. Still, all come with a highly coveted price range that not many ambitious owners can afford.
That's why multiple small businesses in high-paying countries decide to offshore their eCommerce web development to stay close with up-to-date technologies and better compete in this global market.