If you are a merchant planning to build an eCommerce store using a simple yet effective platform, we recommend developing an eCommerce website on WordPress. Many experts have admitted that this platform has various strengths suitable for eCommerce activities, such as seamless integration, easy-to-use, many themes, no setup fee, etc.
Although WordPress is relatively uncomplicated for beginners, for those who have little knowledge of websites, having a neat little guide is still essential to ensure no problems arise during their eStore building process.
If you are also seeking a helpful guide, today is your lucky day! This article will give you all you need to know about WordPress and how to build a store through it successfully! Now let's start!
Overview Of Ecommerce WordPress Website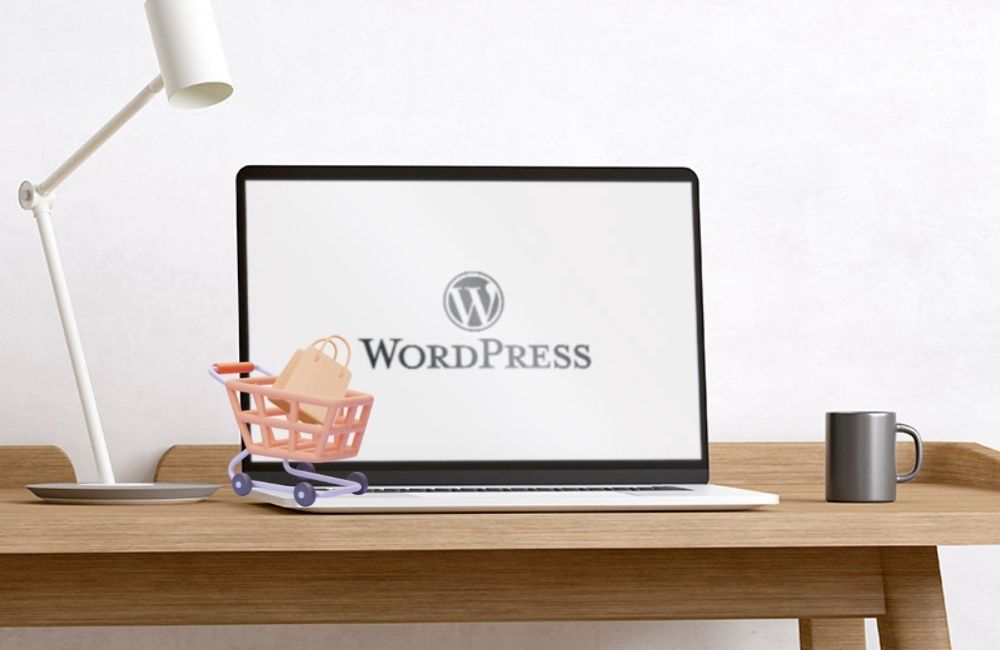 What is a WordPress eCommerce website?
WordPress is one of the most well-known website-building platforms. WordPress eCommerce website is an eStore built by WordPress. Of course, it can help you create many types of websites, not just eCommerce ones. The most typical ones are blogs, magazines, businesses, portfolios, and photography sites.
In essence, WordPress works on plugins. These plugins help users successfully equip their websites with the functionality they need for their business. So, if you need an e-commerce website, you just need to focus on using plugins for this purpose on your WordPress site. The most used e-commerce plugin is WooCommerce. We will show you how to use it later in this article.
What are WordPress's advantages?
Now you understand what WordPress is and how it works. However, here is the following question: why should we use it?
To help you answer this question, we will cover three significant strengths of building an eCommerce website on WordPress.
First, WordPress is an open-source platform so that you can build your website without additional fees. On the other hand, the WordPress provider makes sure that new features and bug fixes are constantly updated even though it is free to use.
Thanks to many developer users, WordPress has a wide variety of ready-made themes. This is why WordPress themes are very diverse and suitable for businesses of different sizes and in many fields.
Finally, WordPress is designed to maximize its flexibility. As a result, there is almost no limit to how far you can change the web. You can control what you are doing and what WordPress displays. It is possible to add the features that other sites of different e-commerce platforms have, such as inventory management, wish list, checkout process, etc.
Ecommerce WordPress website examples
A survey has shown that more than 39% of all websites on the internet are built on WordPress. Therefore, finding good examples of eCommerce websites on WordPress is not a challenge.
Besides, since this platform is suitable for businesses in various fields, you can find examples in all industries, such as cosmetics, education, fashion, etc.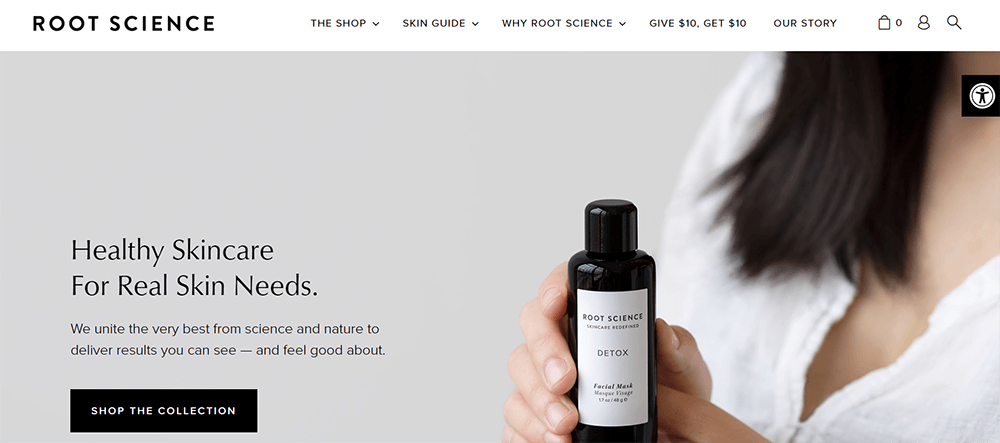 If you are looking for an ideal business model in the beauty industry, you can refer to Root Science. This is a brand that specializes in providing organic skincare products online. Its WordPress website does a great job of expressing a simple, modern brand personality. As a result, brand awareness and customer loyalty both increase.
On the other hand, if you are looking for a senior in the online jewelry business, Robert Coin will be a practical example. This is a luxury, expensive jewelry brand (its main products are: necklaces, bracelets, earrings, rings, and the like) founded in 1996. With WordPress, Robert Coin gets a website with an elegant and luxurious design. Moreover, its eStore is integrated with a few product videos, increasing the liveliness of the website. Thanks to those factors, Robert Coin's site won a few web design awards.
If you are looking for a great example of fashion, then Disruptive Youth will surely satisfy you. This is a women's fashion company wanting to help their target customers express their difference and independence in personal style.
Thanks to its beautiful products and innovative ideas, Disruptive Youth has a vast loyal customer base. According to a statistic of this company, they usually have more than 1 million brand views per month.
Momofuku is one of the most successful foods & beverage eCommerce WordPress websites. This brand has attracted a lot of customers thanks to its unique cooking method before it develops its online selling channel. However, it only became prominent in the American & international market after successfully building a WordPress website.
The Momofuku website' arrangement is neat, convenient, and logical. Its product images are always of high quality. But that's not everything. The business consistently enhances its brand personality by attaching those photos to the website in a most colorful but modern way. As a result, brand awareness significantly raises since most customers will be deeply impressed by this eStore.
Pros And Cons Of Building An Ecommerce Website On WordPress
You now understand the majority of the crucial definitions of WordPress. You also know WordPress examples. Next, to get the most out of WordPress, you also need to learn about its strengths and weaknesses. So, what benefits and disadvantages will you get from this platform?
Pros of WordPress
#1. Various yet unique web design templates
Often businesses do not like ready-made templates because they lack uniqueness. Anyone can buy the same website template as you, making your brand image appear plain. But if they want to stand out, it may take lots of time and money for web design.
As a solution to this issue, WordPress offers a ton of different templates. Most of them are beautiful and practical, with a good balance of text and images/videos. WordPress currently provides more than 8000 website themes, of which 1200 templates focus solely on e-commerce.
This variety allows you to freely choose the templates that match your brand without worrying about overlapping with other eStore that also use WordPress. Moreover, most themes will allow customization to highlight brand identity.
#2. SEO Friendly
If you do not know what SEO (search engine optimization) is, this is a digital marketing process that helps you attract more organic website traffic. If you are successful with your SEO effort, your website will appear at the top of the SERPs (search engine result pages).
Many studies have proven that the higher a website ranks, the higher the customer purchase rate. In fact, with a successful keyword in the top 1, about 35% of users searching for that keyword may visit your website. This rate is better than any other digital marketing campaign.
With WordPress, website settings will be optimized to best suite SEO. WordPress websites often have a fast loading speed along with a search engine-friendly website structure. On the other hand, it is also full of items to help you write SEO standard content or format SEO standard pages. One of the most popular plugins for WordPress users is Yoast SEO, which can analyze and give suggestions on how to improve your content for SEO.
#3. Less technical skills required
Finally, the most vital point of WordPress is that it is an open-source platform that works on the principle of drag and drop. This is also the reason why WordPress is the choice of the majority.
To offer users this ability, WordPress needs the help of Visual Composer Website Builder. This is a drag-and-drop editor that allows users to design their website interfaces freely and manage their content. Anyone without HTML and CSS knowledge can also build a standard website on this platform.
Besides, although designed to be suitable for beginner websites, Visual Composer Website Builder is still beneficial for pros' work. Its ease of use reduces the time and effort of building UX/UI for web developers.
Cons of WordPress
#1. It's not for eCommerce
This is the biggest weakness of this platform. It is a foundation for building many different website types, so it should have enough basic features for all of them. Therefore, WordPress cannot focus on developing more specialized eCommerce features.
Although it has quite a few plugins to help you build an eCommerce website, it is unlikely that these plugins will meet your expectations of a complicated eCommerce website. This won't be the case if you're on other e-commerce platforms like Magento, Shopify, etc. So, if you want a multi-functional eCommerce website, then WordPress is not necessarily the right choice.
You might want to read: Magento vs WordPress Side-By-Side Comparison
#2. Some plugins don't work well together
While plugin diversity is one of WordPress' pride, it is also a weakness. Sometimes, plugins may not be compatible with each other. There are plugins that may conflict with your web theme or your current WordPress version. In some cases, there are bad plugins created by bad guys to sabotage your business.
The consequences of this are the downtime of problematic plugins or even website errors. The editing process is quite strenuous, you may have to try disabling plugins to find the main culprit. This is a real headache if you try to upgrade your website.
How To Create An Optimized Ecommerce Website On WordPress
As you have seen, besides the great strengths, WordPress still has several different weaknesses. However, these drawbacks are still fixable if you want to build an eCommerce website on WordPress. Its strengths are still very potential for online merchants.
So, here's how to build a website on this platform!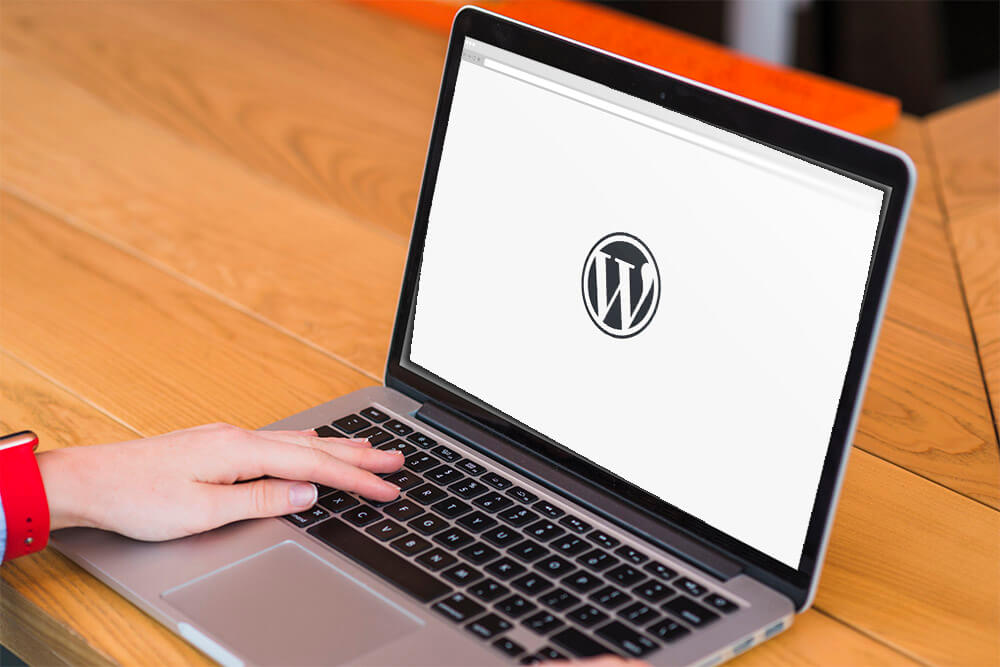 #1. Choose A Domain Name and hosting provider
To start building an online store on WordPress, you first need to buy a domain name. You can understand a domain is your store name sign. It is what you want your customers to remember every time they visit, buy and leave. Therefore, make it as easy to memorize and ensure it is not duplicated with any other store's domain name.
A domain name is usually relatively cheap, from only $10 per year for professional-looking domain names. Hence it is not a big deal for most merchants.
Besides the domain name, you also need to pay for the hosting provider where your web data is stored. Therefore, your WordPress online store's speed will be faster once you equip it with hosting.
Currently, the two most popular service options are shared or dedicated hosts. The first one is cheaper, but you won't have full access to your host, you have to share it with others. You will have to pay an extra amount for the latter, but you will get full access. We highly recommend the second option if you don't have many financial problems. If you need suggestions, here are the best ecommerce hosting providers.
#2. WordPress installation
After completing your domain name and hosting purchase, it's time to download WordPress – where your eStore will be built on.
Currently, there are two ways to install WordPress:
The first way is to 'One-click' install through your hosting dashboard. This will be easier and less troublesome for most WordPress users. All you need to do is click on the "install WordPress" button in your hosting dashboard when using this method. However, you need to understand that not all hosting providers offer this option. Therefore, you can rank it as one of the factors to consider when choosing your hosting provider.
The second way is to manually download WordPress, then upload it to your hosting account. This process will be much more complicated and laborious. Since the process is quite lengthy, we will only guide you briefly. You can learn more about it later in some other articles.
First, you need to download WordPress and extract it. Then add a database for your WordPress on your web server so you can edit your website using it. Next, you will need to find, rename and edit some files to help WordPress identify your database. Finally, upload the WordPress files to the web server and run the installed script files.
#3. Choose an eCommerce plugin
As we said above, you will need eCommerce plugins to build your eStore. However, you can't use them immediately, you will also need to install them first.
Tired of downloading and installing already? Don't worry because this process is much easier. You need to search for your required eCommerce Plugin, choose it, and click "install now." We highly recommend WooCommerce, one of the highest quality WordPress eCommerce plugins. This is what most users pick when wanting to develop their eStore from WordPress.
In the next step, WooCommerce will ask you to provide information about your business, such as payment and shipment options. Fill out all the required fields.
After filling out your business details, WooCommerce will continue to ask you to choose its complementary plugins, which include: Product pages, Cart and checkout, Secure payments, Shipping options, and label printing, Automated tax calculations, and Integration with some marketing tools (Google Analytics, Facebook, MailChimp, etc.)
#4. Choose your favorite theme
Now is the step everyone is looking forward to! It's time to design your web interface with a WordPress theme. In fact, you can entirely create your eStore from scratch. However, there's no reason why we shouldn't take advantage of the platform's multiple theme strengths, right?
Usually, we will divide ready-made themes into two categories:
Paid themes: Ranging from $20 to $100. Better appearance and more function. Here are some popular third party sites for buying themes: ThemeForest (huge selection) and Elegant Themes (smaller, curated selection).
Free themes: Free to use. Nice looking and standard WordPress features. You can find a selection of free WordPress themes in the theme directory.
Completing the purchase process does not mean it will be added to your eStore immediately, you will have to install the themes instead. The installation process is quite simple:
First, you need to download the .zip file of your new theme.
Then log in and access your WordPress Dashboard.
Reach "Appearance", then click "Themes". This action will bring you to the theme dashboard.
Click the "Add New" button, then choose the blue button at the top that says "Upload Theme" to start uploading your recently bought theme.
A pop-up notification will now appear. It will prompt you to choose a .zip file from your computer. Choose your new theme file.
After the uploading process finishes, you'll see a success notification go with a link to activate your new theme. Follow the link and everything is now ready!
Pro tip: In case you don't want to go too far to find new themes, WooCommerce also provides its storefront theme. Most of them work well with WooCommerce, and their appearance is pretty sleek.
#5. Add your products
After finishing setting up the store, it's time to display the goods on the shelves. This process will be much easier than selling items in a brick-and-mortar store. All you have to do is press some buttons with your mouse.
However, there is some information that newcomers often forget but must have. For example, Product Name; Price; Main product image; Additional product images (optional but recommended); Product description (long); Short product description; Product category (if you have more than one).
Also, your eStore's product adding process isn't always the same. This process will vary depending on the type of product you distribute. Currently, there are six main product types, which are: Simple, Grouped, External/Affiliate, Variable, Downloadable and Virtual. WooCommerce will have detailed instructions on adding all of the above product types. You can check it out later at WooCommerce's website.
However, the most common way to add products to your product catalog is to go to your dashboard, select "Products" in the lower-left corner, and select "Add New".
Besides the vital information we listed above, WooCommerce may also ask you to add all the specific details of your product, such as:
General – You will have to specify the price and tax in this tab.
Inventory – If you want to keep track of your goods list well, you should add the SKU codes here.
Shipping – Product dimensions and shipping cost.
Linked products – Add related products to stimulate users to buy more.
Attributes – You can add other product versions here (other colors, size, etc.).
#6. Get some plugins
You may want to retrofit some plugins for your business later on. As we said above, WordPress, in general, and WooCommerce, in particular, have many useful plugins. So why not make the best out of these powerful add-ons to increase your online business's revenue and success rate?
Currently, 3 most popular plugins are favored by numerous online merchants:
Yoast SEO: This is an SEO expert that will help you optimize your content and website, thereby improving your eStore's Google ranking.
Sucuri Security: This is a protective add-on that helps you improve the security of your website, especially during money transfers.
Site Reviews: This extension allows customers to leave reviews on your website, creating FOMO and enhancing your business's credibility.
#7. Choose suitable payment gateways
Last but not least – payment gateway adding. It is what helps you diversify payment methods for your eStore. On the other hand, the processor also plays an essential role in payment security for both the seller and the buyer. Some extraordinary ones can even support fraud and hacking prevention. Therefore, customers will trust you more if you partner with a well-known payment gateway.
Some of the famous payment gates in recent times are 2Checkout, Asia Pay, and Paypal Express. Before deciding which is the most suitable choice, you should find at least 5 potential candidates. Then carefully check their pricing, functions, special features, policies, and customer service. Besides, don't forget to ask for a free trial, this will help you avoid wasting money and time on an unsuitable cooperator.
Bottom Line
It is not surprising that recently many merchants are trying to learn how to create an eCommerce website on WordPress since this platform has a lot of outstanding advantages. With it, you can own a good-looking eStore with typical features in a short time without a minimum cost. However, this process still requires spending a certain amount of effort to own a good website.
Above is the complete guide to building an eCommerce website on WordPress. We hope you find it helpful. Thanks for reading!