Business owners often prefer to do the work rather than plan it because they might involve back-and-forth decisions to make. Especially it's the lengthy process for any ecommerce website development project plan.
But the truth is, you can't constantly adapt to any circumstance that happens at an instance. Understandably, every business would like to save up in the bank account, but leaving room for avoidable risks can cost them much more in the long run.
Now don't worry. Our reliable checklist of 10 steps for elaborate project planning for your ecommerce website launch is here to help.
5 Points To Notice For A Successful Ecommerce Website Development Project Plan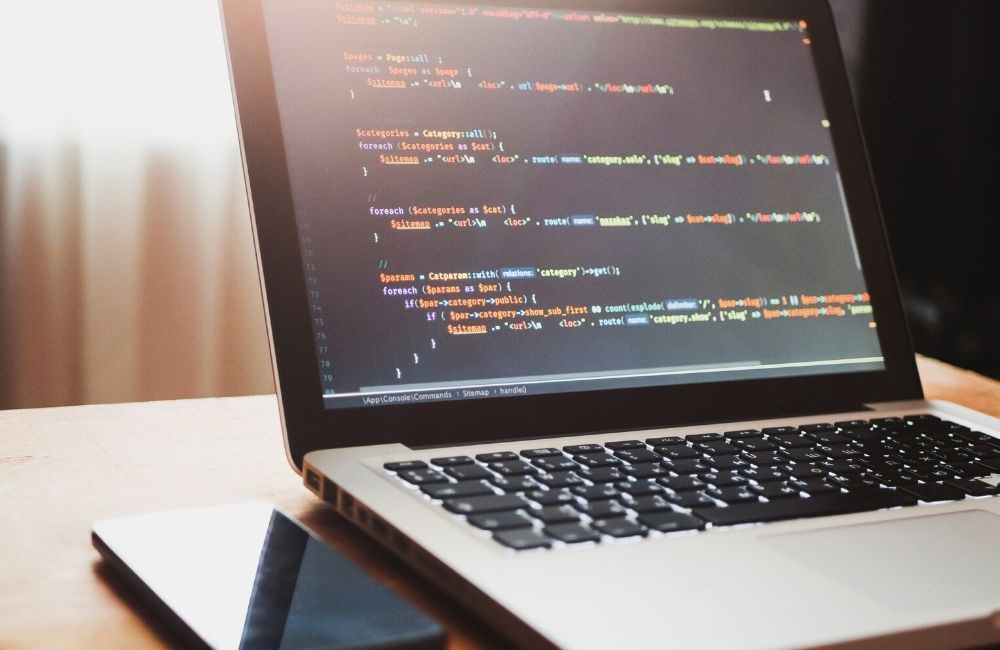 Safety First
You should pay attention to the security of your online store. Unlike a brick-and-mortar where only your property is lost to robbery, you'll lose something more damaging in the digital world: customers' trust.
Careful note in the project requirement about the protection system of the checkout and payment process where customers trusted you to handle their highly sensitive information. It's recommended to consider a legit third-party integration with blockchain technology.
Registration
Now protocols and paper things aren't the most priority but don't let the administration bother you when the store is busily taking off. You'll need to register your brand-new store to Google for it to be featured on the SERP.
And then, a couple of online forms need to be filled out to inform the government as required. Execute these tasks carefully so that you can avoid trouble later.
Plan For Optimization
Optimization is a continuous action that affects almost any part of your eCommerce website, from the backend to the frontend, from the code bundle to the layout and elements.
So instead of what most merchants think that optimization only happens after the execution and testing, a kick-off push right before the launch. An early optimization effort will result in better performance from the start for your website.
Room For SEO
When you decide to transfer your business to a virtual address, you think that you'll stand a greater chance of attracting visitors, leads, and ultimately customers, right? Not so fast.
Google has the power to activate your store to obtain flows and flows of customers, but how does it know that you should be in the top 10 when there are millions of stores out there?
That's when SEO comes in. Take time to craft your SEO strategy and intercept it in the build when deciding on the layout and words on your site. Choose the suitable types of online businesses, and implement the right method.
Assign A Technical Project Manager
As the owner, you should focus on every phase of your business from the beginning. But if you have little experience with technical things, you should let someone capable on your side communicate with the agency.
The person who works directly with the web development agency needs to have sufficient knowledge to at least know how the project is going on and its issues. You can have them report to you weekly or follow the project milestones.
4 Benefits Of Ecommerce Website Project Plan To Your Launch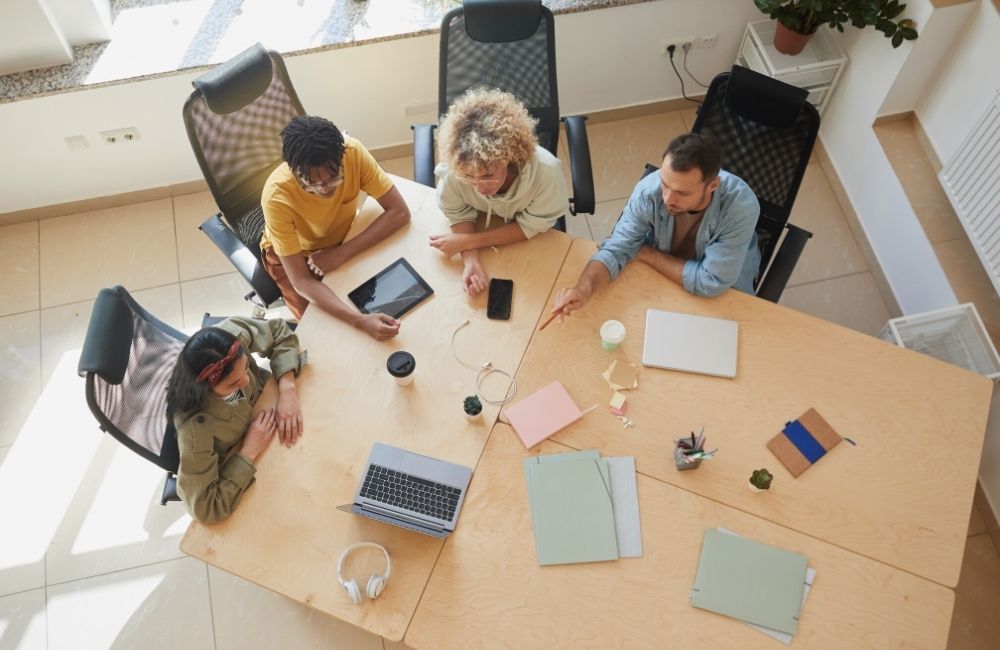 1. Keep It Timing
An ecommerce website development project plan has to cover every aspect before the execution to ensure a business has considered all of the crucial points.
After having consent from both parties, a concrete list of actions needed at specific timeframes, with enough buffer time, will help you keep track of the process and the developer team to go through them at once and deliver results by the deadline or preferably faster.
2. Keep It Focused And Streamlined
Without proper project management for the long-winded website development for e-commerce business, it is easy to overindulge in one aspect over another. Specifically, business owners often tend to focus on business plans more.
Owning project management gives space to make strategic-driven decisions, including choosing relevant, customized functionalities and avoiding unnecessary funds.
It is easier to handle the project smoothly and efficiently with an effective system, thus utilizing available resources. Plus, you'll be able to make changes quickly with the least effort to adjust the progress.
3. Keep It Budget-Tight
Good project management will make sure your money goes within the flow as you will estimate all the needed expenses and additional fees in the planning.
Another good side of this is that you can compare other balance sheets in your niche and opt for the best deal.
4. Avoid Missing Out On Important Pieces
Jumping straight to the tactical tasks can blur your vision from must-needed information like market context, data on trends, and competition moves. They are all critical inputs to make million-worth decisions and stand on the edge of the competition.
At its core, project management is built on assessing risks and reducing their impact. A plan for website development is also based on the business's goals and objectives, thus ensuring every touchpoint aligns with your strategy.
With requirements and criteria written, the plan serves as the checklist to measure and analyze how much progress you and the team have made, then what else needs to be done.
8 Major Steps For A Qualified Ecommerce Website Development Project Plan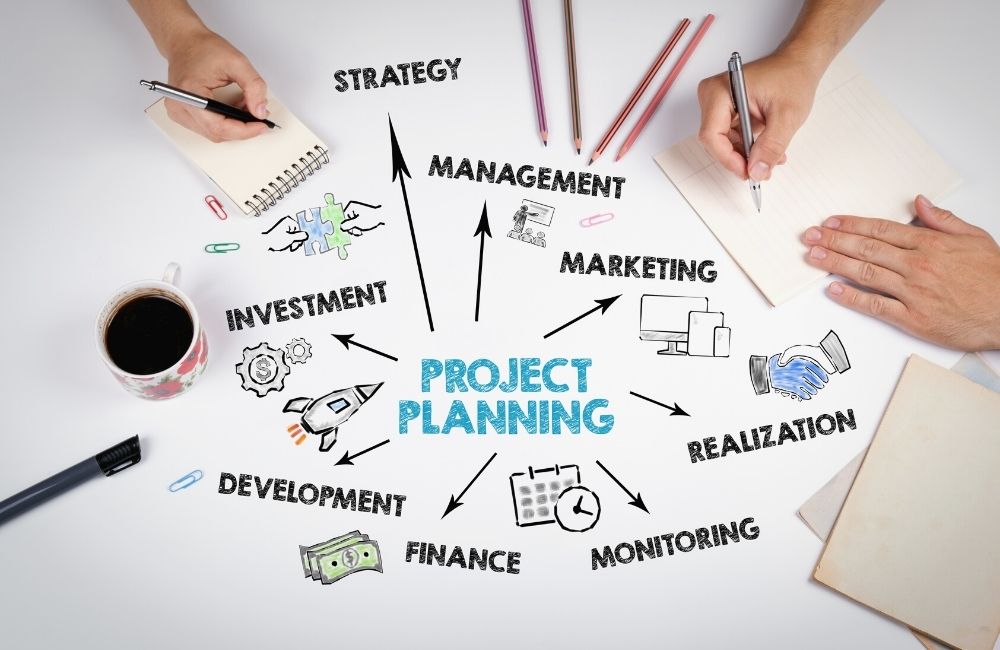 Step 1: Collect The Data
Work on the demand analysis if you want to produce moves that your customer base approves. Relevant knowledge of the current trends or issues within the market, your target demographic, sales data, and other competitors' measurements will help you make decisions that inspire your customer to buy.
For example, learning about competitors' websites to know whether to raise your current standard or not. You should get inspiration to build your wireframe mockups. Basically, it's like a blueprint when deciding what design elements are allowed for your website.
And don't forget to consider a budget plan, with the intended ratios over milestones, depending on whether the project you carry is simple or complex and more or less time worked. To save time, you can start collecting data for SEO strategy during the research, defining the key terms you'll need.
Step 2: Discuss With A Consultant
When you aren't sure how much you should spend, look for advice from experts or consultants. Then justify your decision to optimize for the best use of resources.
Or what about not knowing the specific actions needed to tackle the issues in making your online store? Book a call or two to discuss until you figure out the project structure and possible deliverables.
Step 3: Draft The Work Scope
There are two types of plans: scope and timeline.
First, you'll need to be clear on what's in a project plan, for an ecommerce website development project will comprise all the docs and files that form a complete work.
Specifically, contents are divided into sections, separated by the person in charge, schedule, and timeframe. The plan will show the budget and its allocation for actions to complete at each step.
Next, the scope of work focuses on the project's purpose and clarifies its deliverables, ensuring most likely risks and constraints are covered to keep the project on the right path.
Finally, a project timeline serves as the brief for project execution, with a time range for an action or two simultaneously to start working on.
Now to the main part, where you set the standard and define the scope statement. You should briefly sum up these components:
Project purpose: a brief description of the project.
E.g.: [your website's name] project is to create a friendly, fun, and hassle-free one-stop shopping site for young moms.
Objectives: we usually follow the SMART model – Specific, Measurable, Attainable, Realistic, and Time-bound.
E.g.: Obtain 3 rough drafts of the website's design after 7 days covering all of the requirements.
E.g.: The designs are accessible to the eye, and prospects can navigate the new web in a few minutes.
Project milestones: here, you sketch out the big tasks like having the design done, having the code set up, completing the first round of testing, etc., once you consult with the agency based on your niche and unique demands. This serves as the prerequisite for the project timeline.
Constraints: these are limits that your project will be undergone, such as budget, schedule, and third-party reliance.
Foreseeable risks: look around the project and notice key areas that might arouse risks.
Step 4: Handle Your Deliverables In A Work Breakdown Structure
You'll have tons of deliverables in a project, so you want to effectively keep track of them with a Work Breakdown Structure (WBS).
It serves as a visual, simple graphical breakdown so both sides of the team can understand what is to be taken at any phase, what is after, and so forth.
Generally, the project manager will be in charge of building this system. They need to start with the project scope, then the main tasks, and split into subtasks.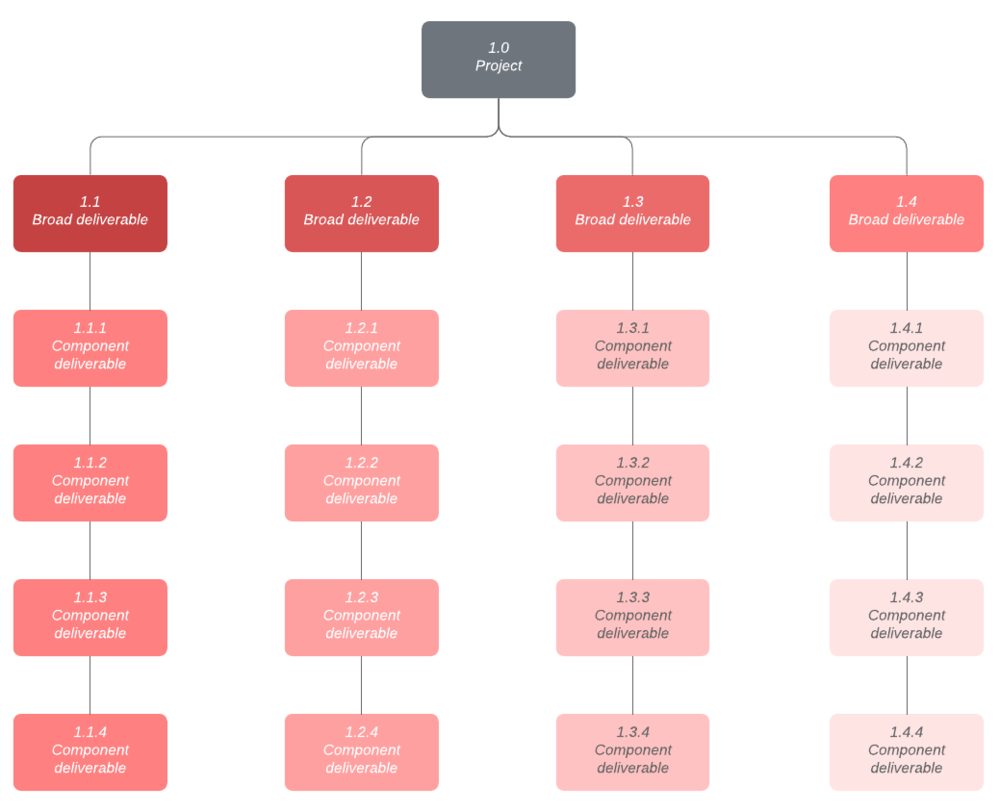 Step 5: Reveal The Dependencies
Here you would take a further step into the subtask and break it down into a step-by-step list of actions.
The idea behind this is that independent tasks can be executed same time as others, while some require the results of precedent ones.
And this is important to know as it's better to allocate people to work effectively at their own pace rather than pushing all at the end. With this knowledge, it is easier to create a smooth working process.
Step 6: Set The Project Timeline
There can be many methods to accomplish this step, but here's the better way to present those data. The easiest way is to use the Gantt chart to set the timeline.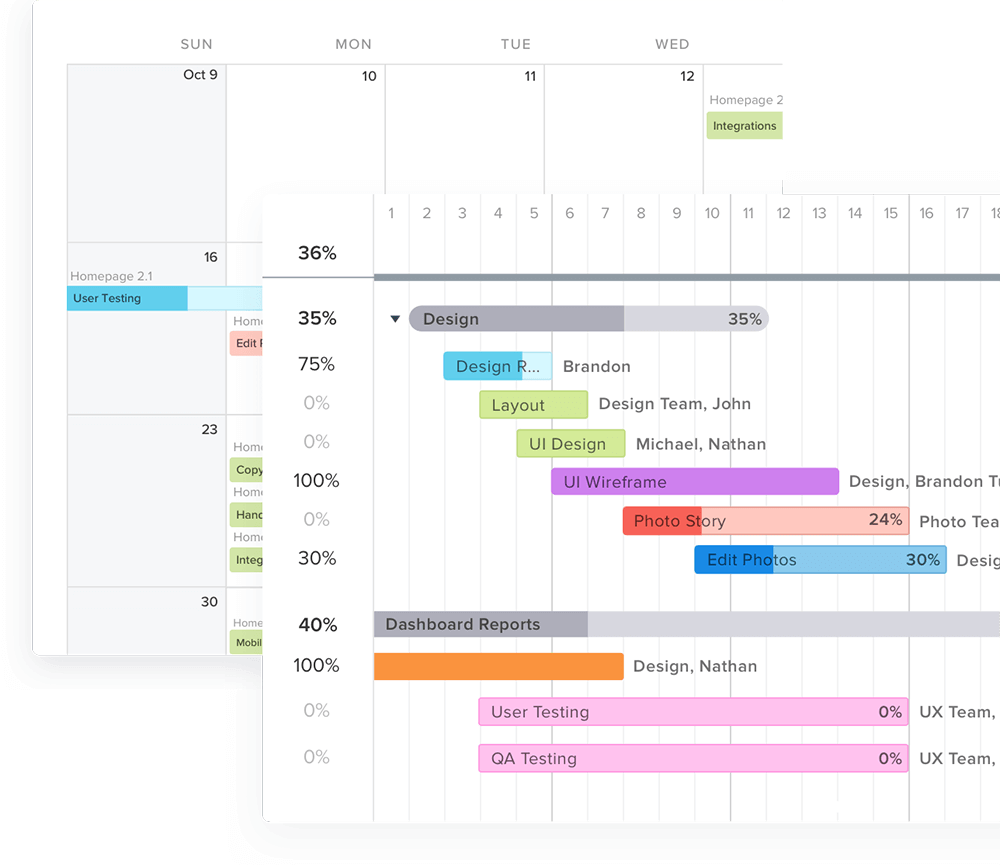 In a Gantt chart, the vertical axis represents the given tasks while the horizontal axis occupies the given time-bound. It can reveal the starting and closing date, the people in charge, the duration to implement each task, and the link between group tasks.
Step 7: Put Budget Boundaries
You'll have two methods to establish the budget range that suits you best. Both are useful depending on what data you have and your approach.
#1: Set aside specific amounts for each big scope, then make appropriate allocation and adjustments for each task and subtask. This way, you can assure you won't overspend on the little things as you've decided on the sum for that scope of work.
#2: Select the type of ecommerce development that fits you, whether it's a simple selling site with no effects or a unique store with high-quality images and smart layouts. Each development package has its own estimations of the work hours. You can base on that to figure out the total budget. This way, you have every subtask delivers the best of what it can be, customized to your demands.
Step 8: Finalize The Project Plan And Get Ready For Implementation
To ensure it's all glossy and acts as the ultimate guide to scan and compare the end result with what have planned, there are quite a few actions to take on:
Build up commitments: plan out the responses needed when the project pace isn't on the right schedule.
Decide on the alternatives or corrective measures once the incidents or unexpected risks occur.
Make it official by setting up a formal process to deal with changes.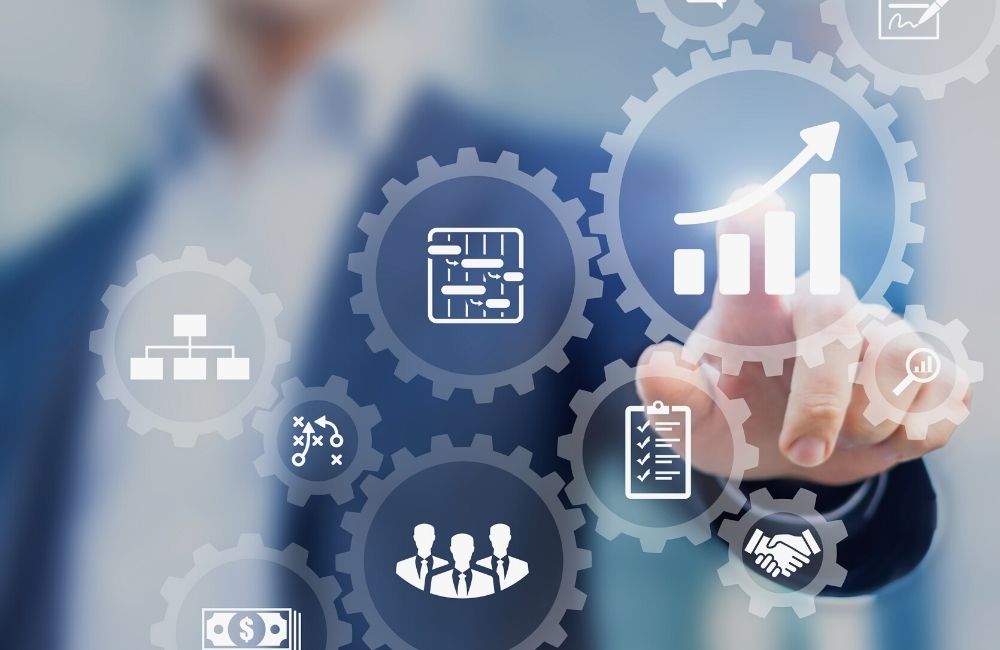 Wrapping Up
Hardly any big company ever decide to spend thousands of money on a project without its plan. They won't leave their faith, future, and finances on the idea of chances or lucks. And that's why they usually succeed when launching a new product or a new office.
These are essential steps for a successful ecommerce website project plan. Remember, the steps can change according to your needs.
In case you need a reliable agency to build an ecommerce website, look out for Tigren. We have a decade of expertise with over 800 global websites launched. And the best of all? They are all world-class yet budget-friendly services.
We'll be looking on your future call!