Capturing and retaining the attention of potential customers is a constant challenge. With countless websites vying for attention, it's easy for visitors to quickly scroll past your site without even noticing your newsletter signup form.
That's where Magento 2 newsletter popup extensions come into play.
Magento 2 newsletter popup extensions can transform the way you connect with your audience and pave the way for your business.
In this blog, we have listed the top 9 Magento 2 newsletter popup extensions that open the door to boundless possibilities. Let's explore the unique features, and understand why they stand out in the marketplace.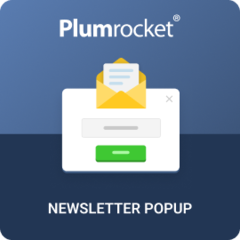 Overview
Newsletter Popup by Plumrocket Inc is a professional marketing tool designed to boost your email subscriber list for Magento 2 websites. This extension allows you to display eye-catching email popups with multiple display options and offer discount coupon codes in exchange for email subscriptions.
Key Features
20 Responsive Themes: Choose from over 20 free popup templates to match your store's design, ensuring a visually appealing user experience.
Facebook Email Collection: Allow one-click subscription using Facebook account email addresses, simplifying the signup process.
Discount Coupon Codes: Send static or auto-generated coupon codes to new subscribers, incentivizing customer engagement.
Impressions & Conversions Tracking: Monitor popup performance with detailed statistics to refine your marketing strategies.
Flexible Display Settings: Trigger popups based on user behavior or conditions, delivering targeted content to your audience.
MailChimp Integration: Sync subscribers and custom fields with MailChimp effortlessly, streamlining your email marketing efforts.
User Interaction History: Review the history of user interactions with popups, helping you understand customer engagement patterns.
Disposable Email Blacklists: Prevent disposable email addresses from signing up, ensuring a clean and valuable subscriber list.
Theme Compatibility: Works seamlessly with custom and third-party Magento 2 themes, providing flexibility for your store's design.
Price
This extension is priced at $299.00, with an optional installation service available for $59.00.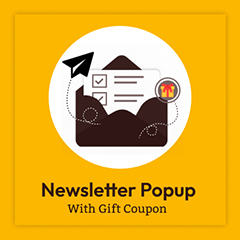 Overview
Newsletter Popup With Gift Coupon by Expound Coderz Private Limited is a responsive newsletter subscription popup designed to enhance your e-commerce website. It entices visitors with a subscription popup on their first visit to your home page, boosting orders and newsletter sign-ups.
This extension offers easy customization of background colors, text colors, and text, ensuring a seamless user experience.
Front Office Features include the ability for customers to choose from various Gift Card values, schedule Gift Card deliveries, preview designs, and purchase Gift Cards at a discounted rate. Customers can conveniently check Gift Card details without leaving the website.
Key Features
Customizable Popup Designs: Admins can choose from three different popup designs and customize elements like background color, border, title, and button colors.
Social Media Integration: Easily link up social accounts like Facebook, Twitter, and Pinterest for enhanced engagement.
Subscriber Management: Admins can manage subscriber details and synchronize them with marketing platforms like Mailchimp.
Offer Discount Coupon Codes: Automatically email coupon codes to new subscribers using customizable coupon formats.
Back Office Controls: Easily configure the newsletter popup and its settings, including design and colors.
Front Office Features: Customers can select Gift Card values, schedule deliveries, and preview designs, all at a discounted price.
Compatibility: Compatible with custom and third-party integrations for a seamless experience.
Price
The "Newsletter Popup With Gift Coupon" extension is priced at $69.00.
Installation service is available for an additional $50.00.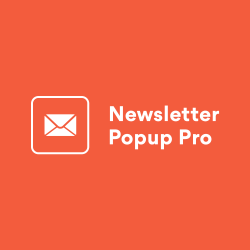 Overview
Newsletter Popup Pro by Magetrend is a powerful tool that benefits both customers and shop owners. It aims to improve the sales conversion rate while building a substantial newsletter subscribers list.
This win-win approach offers customers discounts for their orders, and in return, shop owners benefit from increased sales conversion rates and a larger subscriber base, potentially growing by up to 300% or more.
Key Features
Single-Use Popups with Discount Coupons: The extension displays a popup to customers, urging them to subscribe in exchange for a one-time discount coupon (e.g., €5). This motivates customers to complete their orders and provides shop owners with valuable email contacts for future newsletters.
Multi-Popup Functionality: Create an unlimited number of popups and display them in various locations. The extension includes four responsive popup themes, and you can easily customize popup colors and translate content through the admin panel.
Multi-Store and Multi-Language Support: Works seamlessly with multi-store and multi-language shops, ensuring adaptability to diverse business setups.
GDPR Compliance: The extension adheres to EU General Data Protection Regulation (GDPR) by allowing you to add opt-in checkboxes to subscription forms and making them required. It collects evidence of subscription details, including the source, date, time, and terms & conditions.
Targeting Capabilities: Easily manage popups by specifying the pages, stores, and parameters for display. For example, you can target customers who arrived from specific sources like AdWords.
Unique Discount Code Generation: Utilizes default Magento "Shopping cart price rules" for generating discount codes, with customizable discount conditions.
Social Links Integration: Encourage more likes and subscribers on social networks by adding social links to the popups.
Popup Delay Function: The PRO version includes a delay function, ensuring popups aren't displayed immediately upon page load. This encourages customers to first explore your store before encountering the popup.
Additional Popup Fields: Create custom fields to collect more customer information and tailor your marketing strategies.
Price
The "Newsletter Popup Pro" extension is priced at $49.00.
It's designed for Magento Open Source.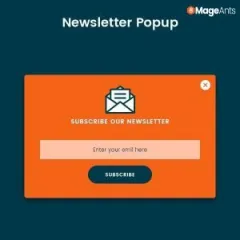 Overview
Newsletter Popup by MageAnts is a powerful tool designed to help e-commerce businesses grow their customer base and enhance their email marketing efforts. Email marketing remains a top lead generation strategy, outperforming other social media platforms in generating leads.
This extension empowers store owners to send updates about upcoming events, promotions, offers, and deals to their customers, fostering trust and brand loyalty.
Key Features
Newsletter Configuration: Easily enable or disable the extension from the backend panel. Set up email templates and select a newsletter popup template. Configure the loading conditions and choose popup effects.
Newsletter Pop-Up Design: Create custom templates for newsletter pop-ups through the backend admin panel. All custom templates are listed in a grid, along with theme titles and status.
Subscribe to Newsletter: Customers and guest visitors can quickly subscribe to your newsletter by entering their email IDs in the newsletter popup. Subscribers receive frequent updates about new activities, promotions, discounts, and upcoming events.
User-Friendly Marketing Tool: This extension offers a user-friendly experience thanks to its Ajax-based interface, eliminating the need for page loading delays. You can display the newsletter subscription popup on the homepage, ensuring it appears as soon as customers open your website.
Price
The "Newsletter Popup" extension is priced at $199.00.
Installation service is available for an additional $89.00.
Overview
Customer retention is crucial for running a successful online store. The WeltPixel Newsletter Popup extension for Magento 2 focuses on boosting newsletter sign-up rates by offering four fully responsive popup designs. These popups can be customized with your own content and used to promote campaigns and relevant content, ultimately keeping customers engaged and informed.
Key Features
Fully Responsive Designs: The extension includes four conversion rate-optimized responsive popup designs that adapt to various screen sizes and devices, ensuring a consistent user experience.
Display Control: Choose where to display the popups – on the homepage, all pages, or after a specific number of visited pages. Control timing by setting delays in seconds.
Mobile and Desktop Options: You can decide to display popups on mobile, desktop, or both. Ensure your popups are mobile-friendly and responsive.
Popup Lifetime: Configure the lifetime of the popup, defining the period before the popup reappears for the same user after closing it, providing a non-intrusive experience.
GDPR Compliance: Add a checkbox to request user consent and link to terms and conditions and privacy policy pages for GDPR compliance.
Google Analytics Integration (PRO Version): Track event impressions and successful signups to analyze and optimize your newsletter campaigns.
Exit Intent Trigger (PRO Version): Detect when visitors intend to leave your store and initiate an exit-intent popup, which can be customized separately.
Multi-Step Signup Process (PRO Version): Implement a two-step signup experience, improving conversion rates by first engaging customers and then asking for their information.
Custom Trigger Button (PRO Version): Allow customers to trigger the newsletter popup at their convenience by clicking a button on the website.
Price
The "Magento 2 Newsletter Popup Extension" is available for $199.00.
Installation service is available for an additional $89.00.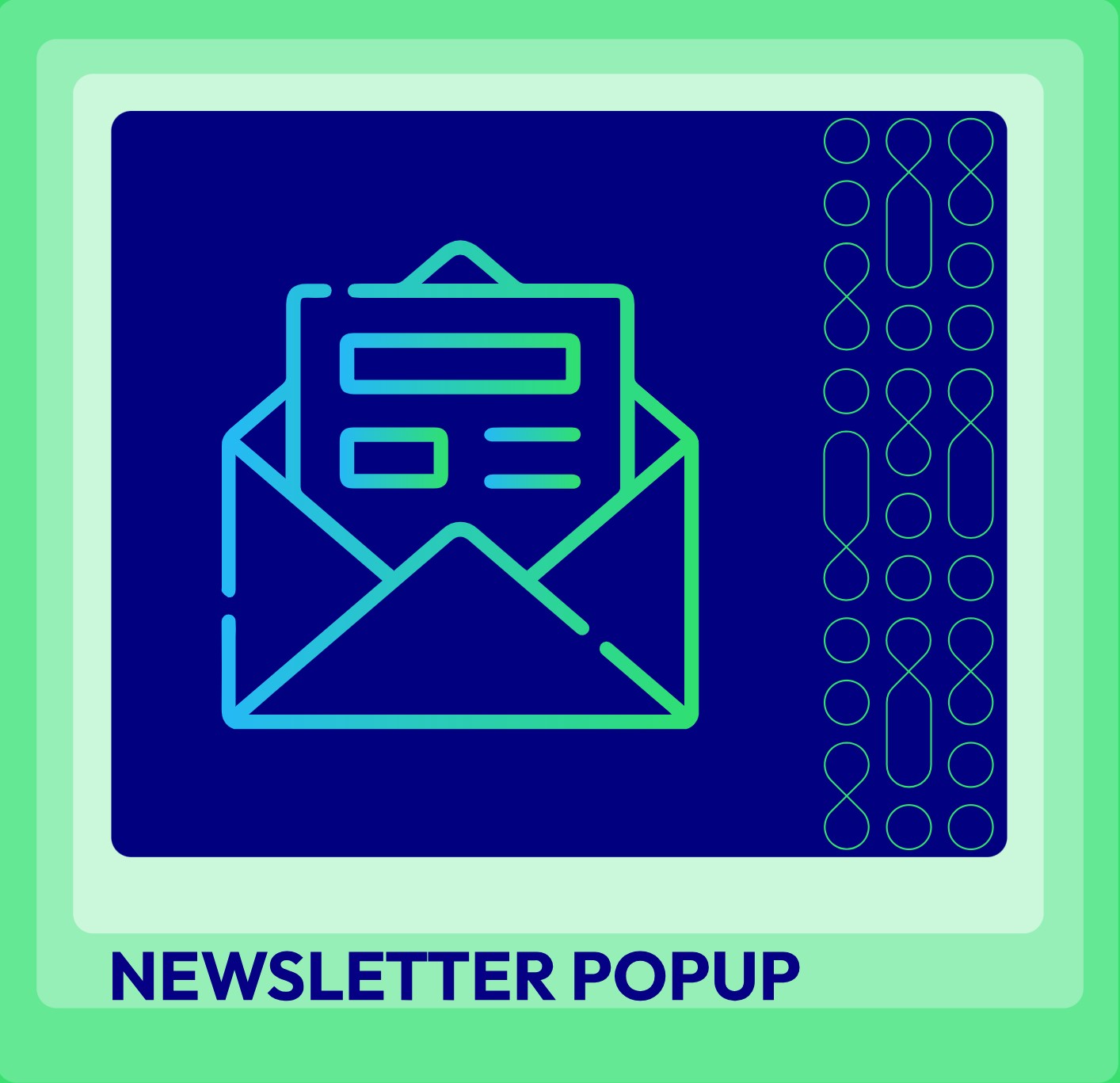 Overview
The Magento 2 Newsletter Popup extension by Mageplaza is a valuable tool for enhancing brand awareness and marketing strategies. It helps online stores share the latest updates, hot deals, and important information with their customers. By using newsletter popups, online stores can increase sales and create a more loyal customer base.
Key Features
API/GraphQL Support: Seamless integration with other systems or platforms is possible with API/GraphQL support.
Universal Popup Placement: Display newsletter popups on every page for maximum visibility.
Customizable Content: Tailor your newsletter popups to create subscription invitations, surveys, or promotions.
Subscription Block and Reporting: A built-in subscription block collects customer emails, summarizes, and reports weekly to the store admin for efficient list growth.
Flexible Display Timing: Control when the newsletter popup appears – instantly, after a specific time on the site, or after scrolling a defined percentage down the page.
Appreciation Popups: Show a gratitude popup after visitors submit their emails to express their appreciation.
Ready-Made Templates: Use pre-designed templates with a visual builder, customize colors, and choose between full or center-screen displays.
AVADA Marketing Automation Integration: Seamlessly integrate with AVADA Marketing Automation by Mageplaza for advanced email marketing solutions, automation campaigns, newsletter emails, advanced segmentation, and lead collection with signup forms and spin-to-win functionality.
Price
The price for the Magento 2 Newsletter Popup Extension is $79.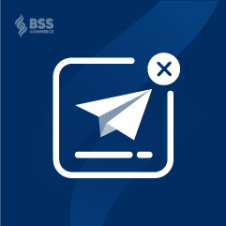 Overview
The Magento 2 Popup Extension by BSS enables you to create various types of popups for your online store, including popups for discounts, newsletters, promotions, and more. It's designed to help you capture customer attention and boost your marketing efforts.
Key Features
Create Different Popups: You can create unlimited popups for your website, including contact forms, age verification, newsletter subscriptions, hot deals, and social sharing.
Segment Customers: Target specific customer groups and store views to display relevant popups.
Set Start and End Dates: Schedule when popups appear by setting start and end dates for campaigns.
Display Rules: Define rules for when popups should appear, such as after a certain time, percentage of page scrolling, or page views.
Floating Popup: Offer the option for customers to reopen the popup with a floating icon or button for secondary offers.
Popup Effects: Choose from six different animation effects for your popups and display them in various positions on the page.
Responsive Design: The extension is responsive and works seamlessly on all devices, including mobile and tablets.
Customize Popup: Design your popups with templates or by uploading your images. Customize popup appearance using CSS.
Other Features: Additional features include popup auto-close, frequency settings, and more.
Price
The price for the Magento 2 Popup Extension by BSS is $119.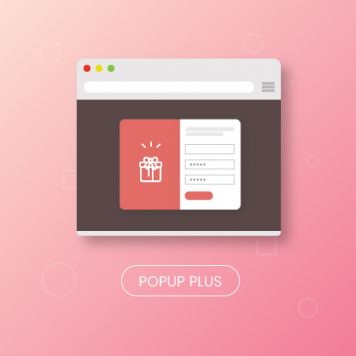 Overview
Magento 2 Popup Extension allows you to create captivating popups with pre-designed templates to engage your customers and drive their decisions using call-to-action (CTA) elements.
Key Features
Create Unlimited Popups: You can create an unlimited number of popups tailored to your needs.
45+ Popup Templates: Choose from a wide range of appealing popup templates that are continually updated.
Multiple Trigger Rules: Implement various trigger rules to determine when the popups appear, including time spent on the page, percentage of page scrolled, number of pages viewed, and exit intent.
6 Popup Types: Use different popup types for different occasions, including Yes/No Button, Subscribe Form, Contact Form, Social Sharing, Static Content with CTA link, and Hot Deal.
Display Positions: Display popups in up to 9 different positions on any page to maximize visibility.
Floating Button: Edit and show a floating button to catch customer attention and provide an option for reopening the popup.
WYSIWYG Editor: Customize popup content using the What You See Is What You Get (WYSIWYG) editor.
Performance Tracking: Track popup performance with data logs, including views, clicks, and click-through rates (CTR).
Schedule Popups: Set specific start and end dates for popups to manage campaigns easily.
Mobile Responsive: Ensure that popups are responsive and compatible with mobile devices.
Compatible with Alotheme: The extension is compatible with Alotheme for seamless integration.
Price
The price for the Magento 2 Popup Extension is $99.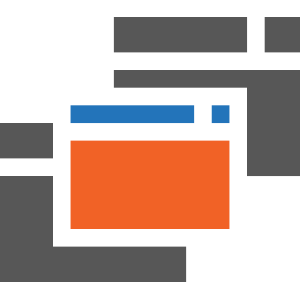 Overview
Popup Pro for Magento 2 is a powerful extension designed to help you create and manage popups effectively. It allows you to configure and display popups in a way that engages customers without being intrusive.
With features such as customizable triggers, animation effects, and customer segmentation, Popup Pro enables you to run sophisticated promotions and boost conversion rates while maintaining a positive user experience.
Key Features
Display Options: Display popups on catalog and product pages, shopping cart, checkout, and more. Control the number of popup displays per customer and set timing to avoid overwhelming visitors.
Popup Design: Customize popup design using CSS or a WYSIWYG editor. Preview popups to ensure they match your branding and content.
Customer Targeting: Define customer segments for precise targeting. Show popups to specific groups of customers based on their characteristics.
Display Position: Choose where to display popups within your store. Specify conditions for popup display and set positions on different pages.
Animation Effect: Enhance user engagement with visually appealing animations. Select from 7 animation effects, such as Fade-zoom, Fade-slide, and more.
Trigger Events: Trigger popups based on user actions, such as cursor hovering over the page or exit intent. Keep customers engaged and prevent them from leaving.
Statistics: Access analytics for your popups, including views, clicks, and click-through rates. Monitor the performance of your campaigns.
Integration with Customer Segmentation: Define which customer segments are allowed to see specific popups, enabling targeted marketing.
Price
License Fee: $152.00
Support and Upgrades Subscription:

Monthly: First payment of $152.00, followed by regular payments of $8.99 per month starting from Dec 2023.
Annual: One-time payment for the annual subscription.