In the hyper-connected world of 2023, where customer feedback is more than a necessity—it's an expectation, the search for the perfect tool to understand your consumers is more vital than ever. Your Magento 2 store isn't just selling products; it's building relationships, fostering loyalty, and adapting to the ever-changing whims of the marketplace.
Enter Magento 2 Survey Extensions—a lifeline in this dynamic and competitive digital age. With the power to unlock insights, preferences, and the very desires of your customers, these extensions aren't merely tools; they're the key to unlocking the full potential of your online store.
We've looked around and found the 9+ best Magento 2 survey extensions for your store in 2023. They're easy to use, and they can make a big difference. Are you ready to find out more?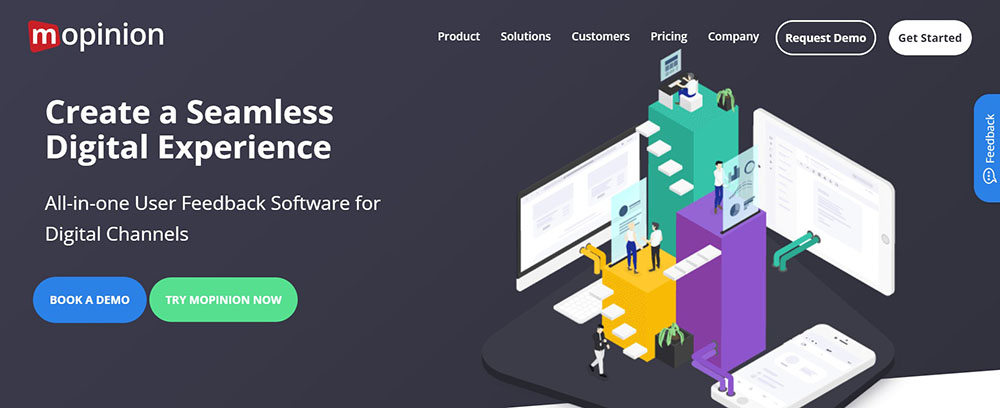 Mopinion is a Magento 2 survey extension that enables users to record recommendations, issues, and praises, as well as gather visual input (screenshots) on specific page components. The feedback form is entirely editable, allowing users to alter or add feedback questions, add their design or brand, select their preferred language, and set up triggers for actions like leave intent.
Besides, when feedback is gathered, it is immediately accessible on a personal Mopinion account that is generated when the extension is downloaded. Users also have the option of getting email-based feedback alerts.
Features:
Utilize feedback forms that are entirely customizable to enhance the functionality and user experience of your website.
Gather visual feedback from your visitors (screenshots) to understand what they want and what is blocking them from getting it.
Ask the appropriate questions at the right time to fully comprehend why your visitors are not converting.
Take complete control of your data visualizations and analyses for feedback.
Utilizing native text analysis software enables you to explore vast volumes of data.
Price:
Growth: $229/month.
Turbo: $579/month.
Enterprise: contact for quotation.

Understanding customers is an important yet difficult requirement for a successful business since you cannot meet customers face to face to communicate with customers. However, with the help of Survey Magento 2, you can solve this difficult problem in the blink of an eye.
Specifically, this tool provides all you need to prepare a multitude of different polls as well as comprehensive questionnaires. Besides, the answer boxes are also optimized so that customers can quickly tick without any problem arising. As a result, the comment collection process will be easier and smoother.
Features:
Fast and easy access for detailed reports.
Manages and represents the survey results effectively.
Guarantees an ideal customer experience.
Price:
Open Source: $69
Commerce: $169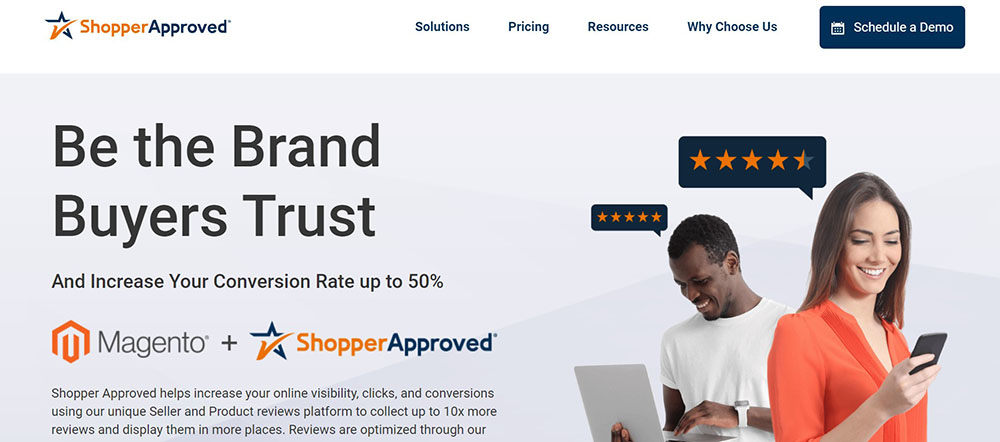 By gathering up to 40 times more reviews and displaying them in more locations than typical review tools, this extension helps you enhance your online exposure, clicks, and conversions. Through its connection with Google, reviews are optimized for exposure in sponsored, organic search results as well as Seller Ratings.
According to client data, after equipping Shopper Approved, the click-through rates have grown about 17–20%, and conversion rates have climbed by more or less 50%.
Shopper Approved even gives you the resources you need to quickly gather, prepare, and submit customer evaluations to the parts of your website that will be most valuable to you. Thanks to this, you can manage customer reviews, enhance search listings, and establish a reputation on third-party review websites.
Features:
Actively gathers consumer feedback on the merchants and the products.
With the reviews integration functionality, reviews may be shown on the product, category, and search sites, as well as gathered on product pages.
The Customer Care Resolution system makes managing customer reviews simple.
Fast and easy to set up with free integration.
Automatically import all of the reviews you've previously collected.
Price:
Rating & Review Optimizer: $124/month.
Rating & Review Optimizer Pro: $199/month.
The Traffic & Conversion Stack: $294/month.
Ultimate Traffic & Conversion Stack: $449/month.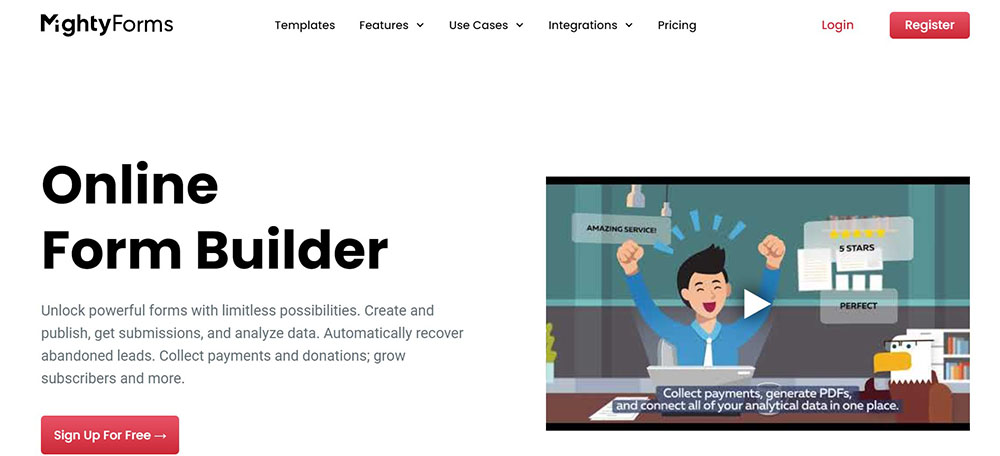 For those without coding experience and knowledge who wish to create Magento forms for one or more websites, MightyForms is the ideal option. When a group of highly qualified developers created it, their initial intention was to make it become an internal solution. However, they quickly discovered that more companies required a form builder with the adaptability, automation, and features that MightyForms was completely capable of offering.
Therefore, MightyForms Form Builder is free to use to design an infinite number of forms with an unlimited number of fields and submissions to aid more businesses in developing effectively.
Features:
Utilize the autoresponder and the numerous connectors at your disposal to automate activities and save time.
With the drag-and-drop builder, create web forms rapidly without knowing any code.
Validation of native forms and anti-spam.
All forms made with MightyForms are completely responsive, and you can track and lower form abandonment by using features like Real-time Data Capture.
Price:
Starter: $15/month.
Pro: $29/month.
Business: $55/month.

Similar to the names above, Survey For Magento by Mageants also allows you to build surveys easily, effectively, and professionally. On the other hand, it also ensures the visibility and smooth operation of the questionnaire to your customers.
In addition, Survey for Magento also allows you to control the real-time responses to various questionnaires. Thus, you can provide long-term surveys and continuously monitor the movement of customer insight. In particular, this tool has the function of giving rewards to respondents. You can use it to increase your questionnaire response rate.
Features:
Making polls based on various groups of shoppers.
Respondents' rewards (vouchers, discounts, etc.).
Easily manage survey's expiration date.
Multiple poll types support.
Price:
Open Source: $59
Commerce: $199

Without prior coding knowledge, you can still easily construct an infinite number of custom forms for Magento 2 with the help of the Custom Contact Forms extension from Plugin Company. It has a straightforward drag-and-drop form builder, an extensive range of form fields, 18 lovely front-end themes, and a variety of different styles and display possibilities.
Any sort of contact form, whether a sales inquiry or product question form, an RMA or request for quotation form, a customer satisfaction survey, or a suggestion can be created quickly and effortlessly.
Features:
Widgets with User-Friendly Contact Forms.
Convenient Multi-Page & Multi-Column Forms.
Prefilled and automatically completed forms.
Dynamic Forms With Field Conditions.
Price: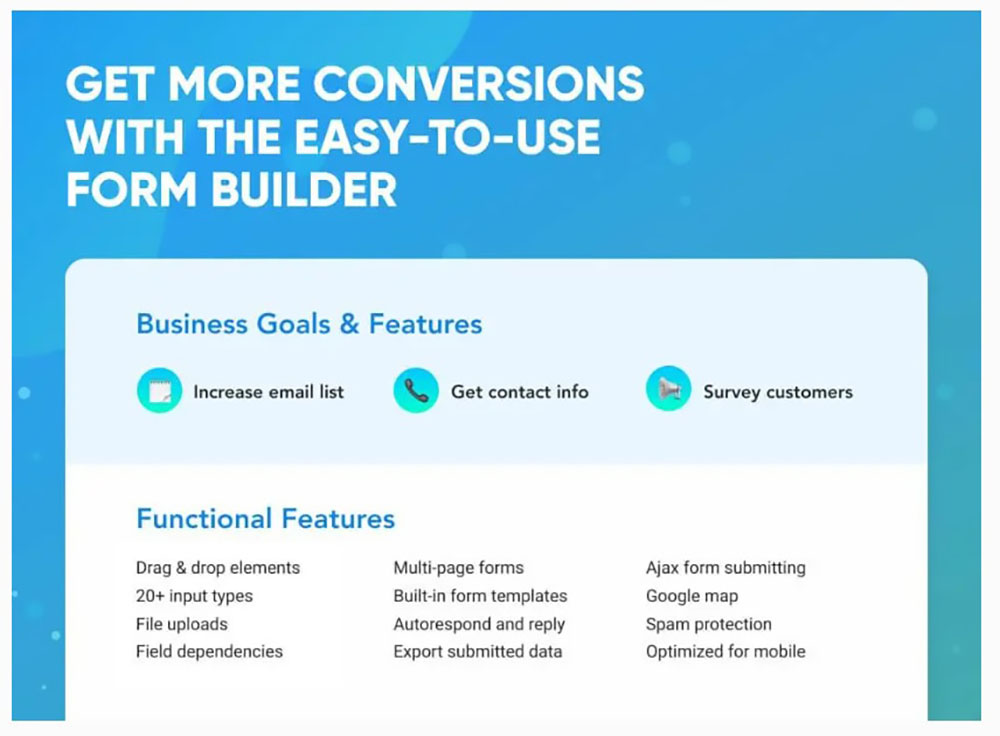 The extension offered by Amasty, is one of the most outstanding options for enhancing your customers' buying experience. Thanks to this tool, you can understand your client's perspectives on your products and services.
In the feedback form, you can find all buyer real-time reports. It is a good idea to continuously make the necessary modifications for your online store based on it.
Features:
Create multiple questionnaires.
Unlimited customization options to configure forms display.
Custom Form Pro for better data management.
Price:
Open Source: $229/first year, $139/next year.
Commerce: $529/first year, 319/next year.

The Sparsh development team's Magento 2 testimonials extension is a good method to show your target shopper that your brand or website is well-regarded in the industry, has positive user reviews, and perfectly satisfied customers. It enables you to launch numerous customer polls and feedback to determine which services and products enjoy more significant popularity.
With the majority of businesses focusing on customer loyalty and upkeep, this extension helps the site owners increase customer loyalty and attract customers for their goods, services, and excellent bargains.
Features:
Manual and computerized validation of the testimonies.
Include checks conducted by unregistered new visitors.
Multi-store and multi-language support.
Keep track of and verify the whole testimonies process.
Price:

With the help of Form Builder from Webdul, any eCommerce store admin can ideally develop a unique and effective form. It is also capable of adjusting webpage elements.
As a result, any page of yours can contain the form. In this form, the administrator can add a checkbox, date field, file upload, number, paragraph, radio button, and text field/area choices. In the admin panel, there is a choice to examine the customer's answer and a list of forms that have been produced.
Features:
Survey management tools.

Multiple form creation.

Lead generation tool.

Customizable form display and fields.
Price:
Open Source: $99
Commerce: $198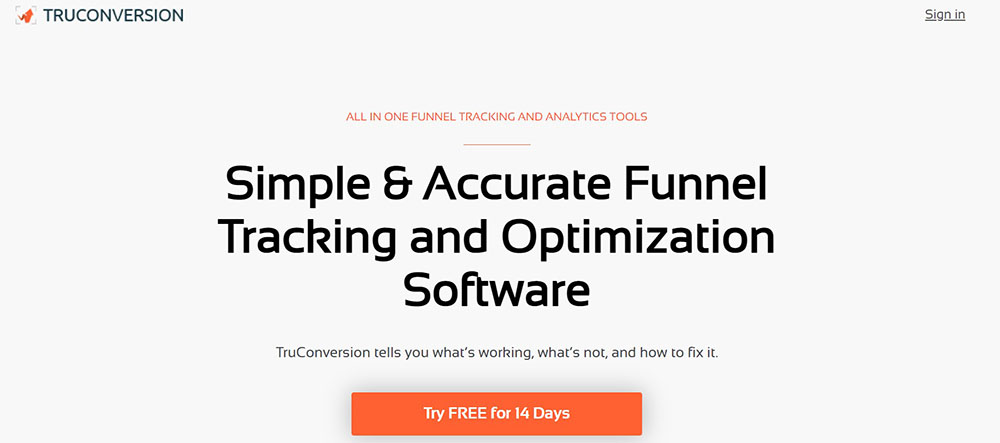 TruConversion Connect is a great Magento 2 survey extension that offers seamless interaction between your TruConversion account and your Magento store.
Clicks, scrolling, form submissions, and user journey are all tracked by this extension when visitors engage with your pages. By determining where your visitor is experiencing difficulty, you may use this knowledge to guide your design selections.
Features:
Microsurvey: asking visitors what they want.
Customer surveys: understand customers better with a diverse system of questions.
Price:
Conclusion
Understanding what your consumers want for any business is critical. This is especially true for online retailers since you can not sell your product directly. Performing multiple customer requirements analysis is an effective solution to understanding your target buyers accurately and deeply.
Believe us, this specific effort can provide a path to your online business success. For instance, you can identify your trendy products using the collected data and create some sale-triggering campaigns with it.
In short, with the help of the Survey Magento 2 extension, you can create a plethora of client surveys to determine the categories of goods and services that are in high demand and then use that as a base to improve your products and services quality.