If you want to build a B2B website for your company, cost-efficiency should be at the top of your consideration. To create a sales website with outstanding features to support wholesale business activities, Magento is an excellent choice. As a result, this article will provide an overview of Magento B2B pricing by each cost head. We'll assess the key factors that influence Magento B2B cost so you can pre-plan for your webframe investment.
Magento Open Source vs Enterprise Vs Commerce Cloud: Which Edition Fits Your Business the Best?
Before you can develop a Magento 2 B2B pricing strategy, you must consider your company's size, budget, and also the goals you wish to achieve with an online store. Then you need to select the best-fit Magento 2 license for future B2B website development.
Here a quick table view:
| | | | |
| --- | --- | --- | --- |
| Annual Revenue | Open Source | Commerce | Commerce Cloud |
| <$1,000,000 | $0 | $22,000 | $40,000 |
| $1,000,000 – $5,000,000 | $0 | $32,000 | $55,000 |
| $5,000,000 – $10,000,000 | $0 | $49,000 | $80,000 |
| $10,000,000 – $25,000,000 | $0 | $75,000 | $125,000 |
| >$25,000,000 | $0 | $125,000 | $190,000 |
Let's take a closer look at each edition of Magento 2. And help you make the best decision for your company.
Magento Open Source
Because it is free, this is the most popular Magento edition. However, you will still be required to pay web developer fees and hosting fees. And these remain some significant costs.
Despite some limitations in B2B functionality and support service, a business can make up for that by installing B2B extensions for their Magento Open Source store. This is the cost-effective approach to upgrade your site at a much lower cost than the rest of Magento's editions.
Magento Commerce
This edition is intended for larger businesses that require high-quality service as well as a broader set of functions. Here's the comparison chart of Magento Open Source and Commerce based on their functionalities: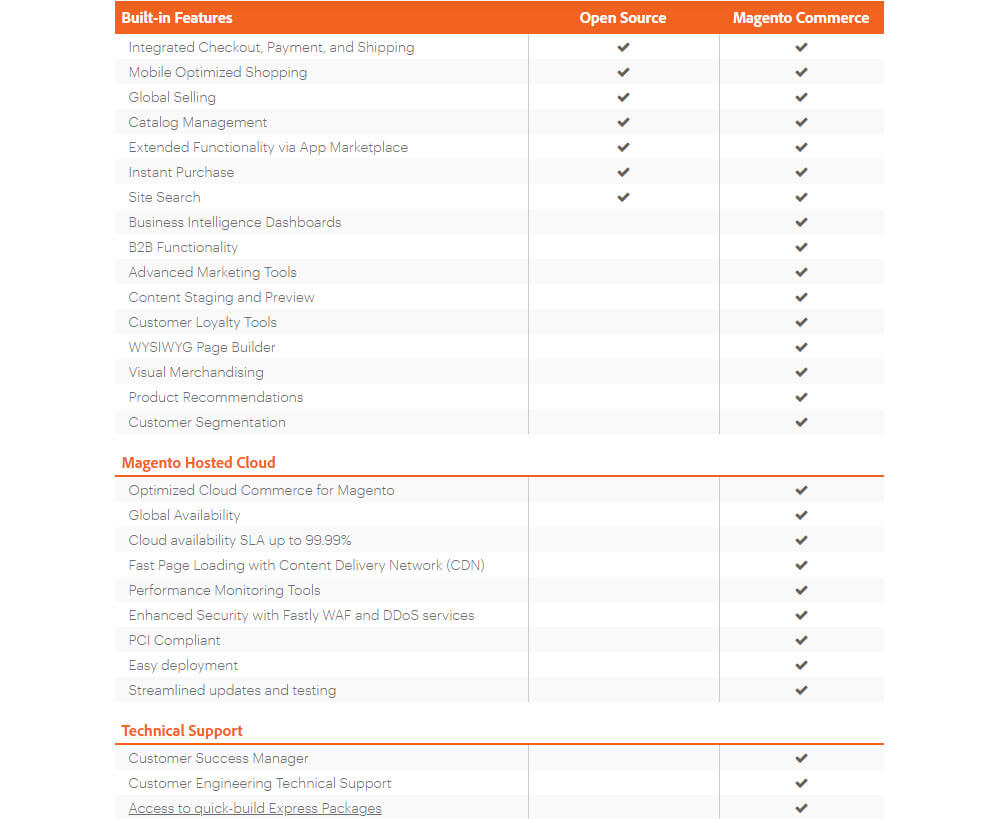 It is easy to see that the Commerce edition offers much more features than the Open Source does. So there is no surprise when their prices have a significant gap.
While Magento Open-source is free, the minimum annual cost for Magento Commerce is $22,000 USD. Magento Commerce pricing is determined by your gross sales revenue and the type of support you choose.
Magento Commerce Cloud (Hosted)
Commerce Cloud is a popular option to take advantage of self-hosted eCommerce without having servers for its new cloud-based product. Furthermore, Magento Commerce Cloud pricing is even higher than Magento Commerce pricing (around $40,000 per year).
In addition, Magento allows new Cloud Edition customers to pay for the system on a monthly basis as an incentive.
Magento B2B Pricing Break Down: How Much Does It Cost?
Here, we will give you a detailed guide to calculate all cost heads for a Magento B2B website. This way, you can manage the budget effectively and prevent any unexpected costs from popping up during construction.
Here is the essence of B2B pricing for the above 3 versions:
| | | | |
| --- | --- | --- | --- |
| Cost Head | Magento Open Source | Magento Commerce | Magento Commerce Cloud |
| License | 0 | $22,000 – 125,000/year | $40,000 – 190,000/year |
| Webframe | $100 – 500/year | $500 – 6,500/year | $500 – 6,500/year |
| Web development | $10 – 400/year | $10 – 400/year | $10 – 400/year |
| Extensions | $50 – 300/year | 0 | 0 |
| Payment gateway | 2.9% + $0.30/transaction | | |
| Marketing | $1,800 – 10,000+ | $10,000+ | $10,000+ |
| Maintainance & Support | $500 – $12,500/year | | |
| Total Magento website development fees | $12,000 – 57,000+ | $43,000 – 189,000+ | $60,000 – 247,000+ |
Let's have a deep dive into each one of these costs.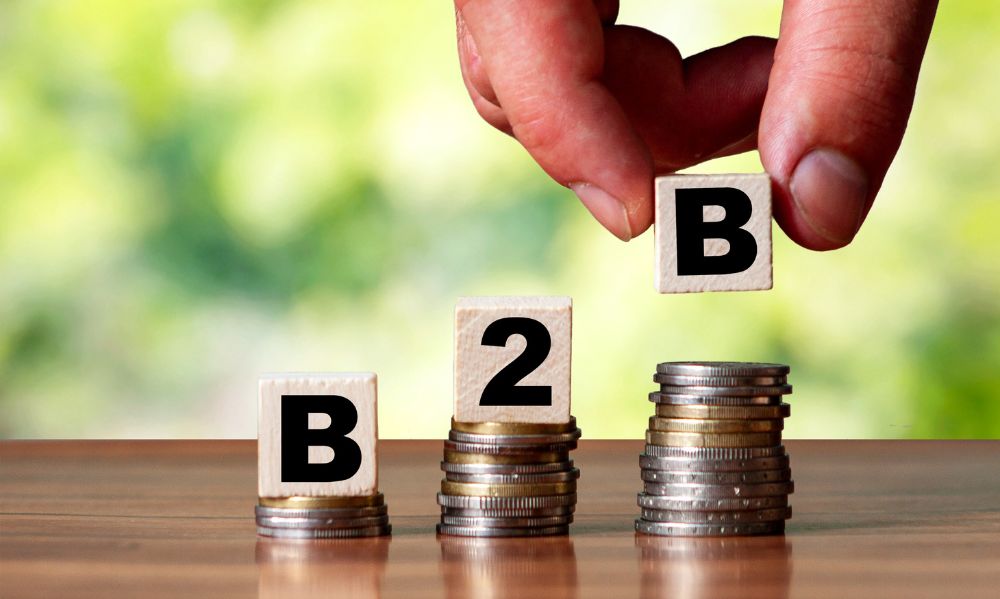 Magento Open Souce B2B Pricing
Magento B2B webframe cost
Domain price – $10 to $500/year
Running a B2B website demands a high level of branding attached. Your domain, hence, must be a custom one.
Domain prices vary depending on whether they are new or expired. A one-year-old domain will typically cost between $10 and $15 per year. If the site is already outdated, you may have to pay up to $500.
Hosting fee – As low as $10/month & as high as $300/month
This Magento 2 B2B cost is entirely dependent on your business size & monthly traffic. Naturally, if you running a wide range of products, you will need a better budget for media storage. More customers also mean better bandwidth to accommodate.
Please see the following list to estimate the cost of website hosting:
Shared hosting costs between $2.49 and $15 per month.
VPS hosting costs between $20 and $80 per month.
Dedicated hosting costs between $80 and $300 per month.
Cloud hosting costs between $4.5 and $240 per month.
Magento 2 B2B theme pricing – From $0 & up to $1000
A Magento theme costs between $0-180 on average for eCommerce website design.
You will, however, need to hire a website designer to create your own design.
A custom-made theme takes Magento developers 40-160 hours to complete.
The minimum hourly rate is $40/hour, with a total cost of $5,000 or more.
It is critical to consider the increasing mobile usage and revenue of customers when implementing custom designs. Choosing the right theme is critical in conveying your voice to corporate customers, and reinforcing a strong brand image. So, never overlook this factor!
SSL certificate ($50–300/year)
To improve the dependability of a Magento website and ensure the security of your data, you must purchase and use a Secure Sockets Layer (SSL) certificate.
SSL certificates are typically included in hosting services or even Magento (Let's Encrypt SSL Certificates). However, you can use the hosting provider's certificate or purchase another from a reputable Certificate Authority alternatively.
Depending on the hosting service and your demand, the cost now ranges from $10 to more than $100 per month.
Magento B2B web development
There are 4 most important pages on an eCommerce website that contribute to customer retention and engagement:
Category page on the homepage
Product information
Page of the shopping cart
Page of Checkout
To make these pages run the best, here are some directions you can take.
Start an in-house team ($60,000 – $120,000/Year/Personnel)
Being full-control and highly responsive, an in-house development team is a popular choice among medium-to-large B2B companies.
A junior Magento developer will cost between $60,000 and $80,000 per year, while a senior Magento developer may cost up to $120,000 per year.
Hire Magento web development freelancer ($50/hour on average)
With an hourly rate of $50, the minimum Magento website development in this style will be $1,800. Here's common Magento B2B pricing for hiring an individual developer:
South-East Asia with $10 – $20/hour;
Eastern Europe with $20 – $60/hour;
US, UK, and Western Europe with $150 – $200/hour.
When hiring a freelancer, it's critical to understand their level of expertise in areas such as development, design, and customization. Furthermore, they must be capable of managing their workload because multiple website development tasks can fire at the same time.
Rely on full service from agency ($25 – $200/Hour)
It's no coincidence that despite the high cost, many B2B store owners still choose an agency for website development. When you run a sales site for corporate customers, where professionalism is essential, a reliable agency demonstrates its worth.
Customization is also a big plus with the agency approach. If you hire an agency that implements Magento in a one-size-fits-all, you will end up with a site riddled with technical issues.
Given the popularity of Magento, you will not be short of companies that can assist you with Magento integration. The real challenge will be determining which of these companies is best suited to create your ideal website. Tigren is a veteran on this front with a diverse portfolio, you can see more on our website.
Magento B2B extension pricing – $500 to $3000/month
Integrations are difficult tasks that necessitate experience and knowledge of multiple systems. Integrating your Magento B2B open-source store with extensions would cost between $5,000 and $30,000. This price point depends on the complexity of the integrations needed.
When using multiple extensions together, you should approach a suitable agency that specializes in customizing Magneto. This way, you can ensure the solution works best with your demands. Plus, since they come from one source only, you're less worried about conflicts.
Then, you can get all of its benefits without paying extra fees or having unnecessary features enabled by default.
Magento B2B payment gateway pricing (2.9% + $0.30/transaction)
Stripe, Authorize.net, and PayPal are the most popular eCommerce payment solutions, accounting for 75.6% of global payment transactions. These payment service providers do not charge any setup fees.
The fee for a successful transaction, on the other hand, begins at 2.9% plus $0.30. You can conduct additional research to find the most cost-effective payment service provider for your company.
Magento B2B marketing cost ($4,000 – $40,000/year)
Marketing is an important part of any business, and the cost varies greatly depending on what you require. To attract customers, online businesses must make significant investments in website promotion and SEO.
Here is a quick breakdown:
| | |
| --- | --- |
| Marketing Strategy | Monthly cost |
| Content Marketing | $3,000 – $5,000 |
| Social Media Marketing | $400 – $20,000 |
| Pay per Click (Google Ads) | At least $1000 per month |
| Search Engine Optimization (SEO) | $300 – $1,500 |
| Email Marketing | $100 – $1,000 |
Magento B2B Maintainance & Support cost
Magento store support and maintenance is a major concern for any business. Professional assistance may be required for tasks such as:
Performing routine platform upgrades,
Squashing bugs,
Addressing performance-related issues
In fact, we rarely define the exact Magento B2B pricing for site maintenance because it varies depending on the severity, scope, frequency, and other factors. Nonetheless, you can estimate a range of $500 to $12,500 per year.
Magento Commerce & Commerce Cloud B2B Pricing
As the graph shows, the total cost of Magento Commerce could range between $22,000 and $125,000. In addition, you will be charged an annual platinum support fee. This fee varies depending on your purchase package but can range between $40,000 and $200,000 per year.
Aside from the cost of Magento 2 B2B extensions, which you do not have to pay since this function is already included, you must still pay other Magento B2B costs, such as themes, development costs, maintenance, and support, which are the same as in the Open Source version.
So remember to include the Magento B2B cost in the calculation process.
Conclusion
Creating a sales website is not a simple task. However, with the assistance of experienced and certified Magento developers, you can effectively reduce costs.
In summary, we've shown you how much money you'll need to invest in Magento 2 B2B website development. Please keep in mind that this is only the introductory Magento B2B pricing; additional fees may apply during the building process. You should select the most cost-effective solutions.
Tigren is the leading Magento website development company, providing solution packages to launch a fully-function Magento website from scratch. Contact us with your requirement and our consulting team will reply to you accordingly.