When establishing an online store, the Content Management System (CMS) always lends a helping hand to your business. Magento is one of the most popular e-commerce platforms these days. So is it Ok to use Magento CMS on your website? Here in this article, we will let you know!
What Is A Content Management System?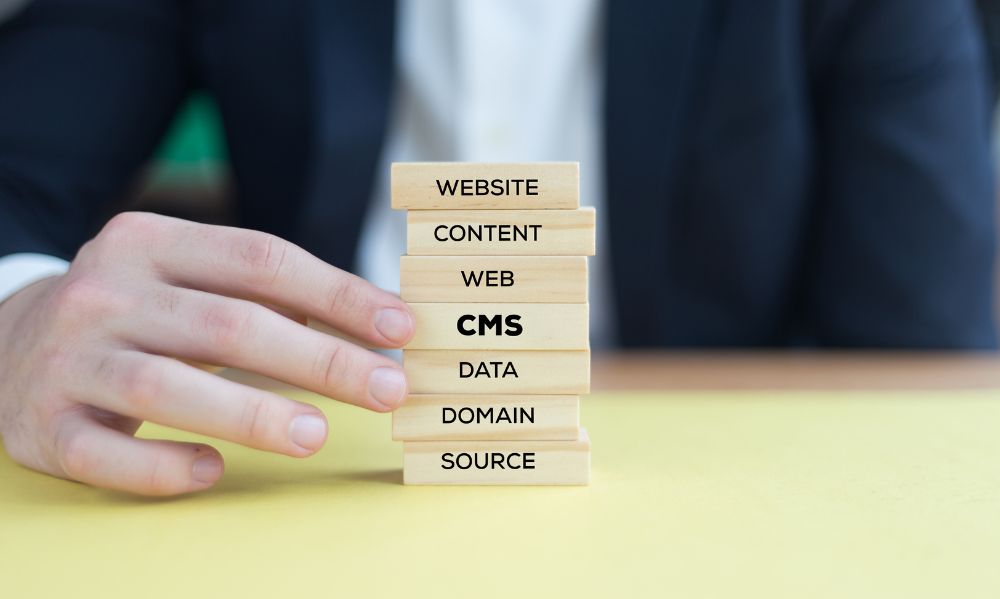 A content management system is a software application that allows users to build and manage a website. CMS is essential for any website because it allows for the easy creation, management, editing, and publication of content. Instead of using code, you can alter the appearance and operation of your website by downloading or buying templates and addons.
How To Choose The Right CMS?
Understandably, you may find it challenging to choose a suitable CMS as various options are available. Therefore, when choosing a CMS platform for your sites, you need to consider some factors:
Website type: for example, WordPress is best for building blogs, while Magento is ideal for developing eCommerce sites.
Cost: check whether the overall cost is within your budget.
Performance and Scalability: choose a CMS with a vast extension and template directory that provides you with more options.
Marketing and SEO: your chosen CMS should be capable of optimizing your web pages for search engine crawlers.
Security and support: make sure the CMS's built-in security features are up-to-date, and it provides you with proper support.
Can You Use Magento As A CMS?
The answer is Yes!
Magento does employ content management; this aspect is only one facet of the platform's capabilities. Magento is a flexible piece of software with impressive security features and plenty of features that all eCommerce owners need.
Understandably, seeing Magento as e-commerce rather than only CMS software gives a more comprehensive picture of its use case.
Why Should You Choose Magento As A CMS For Your Business?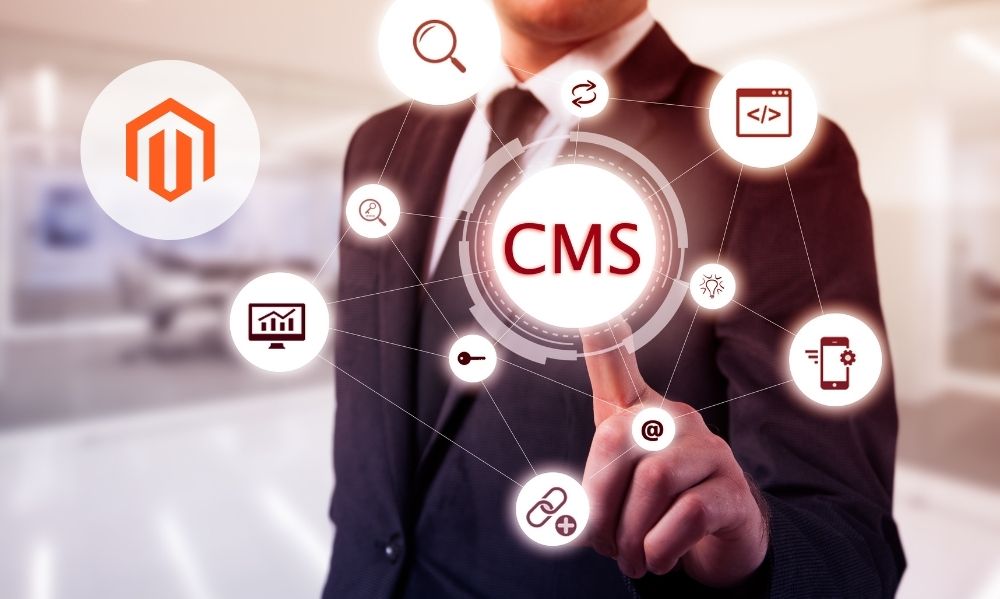 Magento content management system is considered as a multi-features and strong platform especially for building eCommerce sites. All sizes of e-commerce sites can use Magento to explore countless opportunities for business expansion. There are some very solid reasons why Magento can support you in providing your audience with useful content that will increase their engagement.
Magento Facts
Here are some facts that will convince you to give Magento CMS for your eCommerce site:
Magento powers 250000+ sites globally.
It is the third most popular CMS in the Top 10k sites in the Open Source category.
It is the fifth most popular CMS in the Top 1 Million sites in the Open Source category.
Magento content management system allows anyone to create a completely new page with multiple sections, each with multiple widgets. Similarly, you can edit existing pages and change the design elements to bring them to the accepted Magento 2 CMS standards.
Benefits of Magento CMS
Magento CMS can bring a lot of benefits to your business:
SEO-friendly. Both automatically and manually generated title tags are available in Magento. Additionally, you can order pages, goods, and categories.
High Performance. The performance of the website is improved as a consequence of Magento's loading time being reduced from 5-6s to 1-2s.
Gives Hosting freedom. You can utilize any hosting for your online stores while using Magento. Moreover, you can select the hosting company, the model, the package, or anything else that best suits your company's requirements. Not all eCommerce platforms on the market offer this option
Enables Third-party integration. Magento provides many third-party extensions for different needs, including a payment gateway, comments plugin, analytics tool, etc. You may quickly upgrade services thanks to this flexibility.
Scalability, flexibility, speed. Magento is built for e-commerce, thus, it has significant scalability, meaning a fast-growing company should be able to expand its product range and quantities at ease, and the web's performance retains its quality. Plus, being open-source, Magento is highly customizable.
Magento CMS features
Magento CMS contains 3 main elements which are: Magento pages, Magento CMS blocks, and Magento Widgets. Each of these elements comes with an exhaustive number of features that make it simple for users to utilize.
Magento Pages
Default content available
Magento CMS has created various default content pages which cover almost all significant basic information for an e-commerce store. The list includes Home, Private policy, Customer Service, About Us, etc. With this feature, you may quickly change these pages to deliver the ideal message and brand image for your online business.
Workspace Controls
With this Magento CMS page tool, you can easily discover a page, carry out bulk actions on numerous pages, or make quick modifications to any current page. Additionally, the workspace has a Category Landing Builder. That enables the creation of category material using one of three display types: static blocks only, goods only, or both.
Adding a New Page
A freshly built Magento CMS page can have any type of content added to it in the form of text, photos, blocks of material, or widgets.
Using the Editor
The editor in the Magento 2 CMS offers a user-friendly interface that makes altering the content of any page simple. The module provides a toggle for skilled users to access the HTML mode.
Magento CMS Blocks
Magento CMS blocks contain static information (text, images, and videos) and dynamic information which can be displayed through widgets.
Adding New Blocks
Once a new Magento 2 CMS block has been established, it can be added to any website page, group of pages, or even inside another block.
Placement Blocks
The Magento 2 CMS blocks can be positioned at precise points on the page or even within the product and category regions.
Widgets
Widgets assist Magento CMS users to create a better e-commerce store by developing stronger marketing strategies for landing pages and showing promotional content on any page of the website. Additionally, widgets can show other content, live, interesting activities, or similar features.
Pricing
The Magento Open Source platform is free but requires a web hosting provider and a custom domain. Hostinger's Cloud Hosting plans have free parts:
Startup: $9.99/month.
Professional: $14.99/month.
Enterprise: $29.99/month.
When Should You Not Use Magento As A CMS?
You shouldn't use Magento as your CMS platform if your business intends to operate an online magazine rather than a typical e-commerce website. Working in a captivating magazine with numerous categories, authors, editors, and advertisers and a distinctive news/magazine style layout is very different from running a simple blog or an e-commerce site.
For the eCommerce component, you can still utilize Magento; this is not rare. Although it is possible, running a magazine with Magento would be difficult.
However, there are cases where you'll use a different CMS as the face of the site, which is a form of Headless Commerce. The Magento CMS and similar CMS systems frequently complement one another rather than compete, which is precisely why such alternatives and integrations exist.
In addition, Magento CMS is not aimed at beginners or non-technical users. To effectively set up a CMS, you must be familiar with it. Alternatively, you can choose a premium plan and hire the development team to set up your store.
Since the Magento pricing plan starts from $2000 a month, we'd only recommend this CMS for startups or major companies with plenty of preorders or robust funding. 
Other Best CMS Platforms To Use
Besides Magento, there are many more CMS platforms for the clients to choose from based on their plan and budget. Here are the top 10 CMS platforms we recommend for you.

WordPress is undoubtedly one of the most popular content management systems. It can work for all levels of users, from those who wish to start a simple blog to those creating a complex site. One of the most outstanding points forms this platform is a strong community. If you have any issues or get stuck at any point, there's a forum topic about it with solutions or someone willing to assist you.
Features
User management ‒ assign roles and access to different user types: administrators, editors, authors, contributors, and subscribers.
Media management ‒ include alt text and captions when inserting images to improve SEO.
Built-in comments ‒ allow visitors to comment on pages and posts.
Pricing
Starter : $3.99/month.
Business: $6.99/month.
Pro: $11.59/month.

Joomla is best for business websites managed by multiple people. To make the most of Joomla, you'll need to have some background in web development; otherwise, you run the danger of underutilizing the platform.
Features
Banner management tool. Create advertising campaigns to monetize the website.
Multilingual setting. There are more than 70 languages available.
Search. Use a built-in search tool or smart search function to assist site users in finding the relevant information.
Pricing
Premium Shared Hosting: $2.99/month.
Business Shared Hosting: $4.99/month.

This CMS platform suits advanced users with great technical knowledge to build intricate and large-scale websites. It is renowned for having a flexible taxonomy system that simplifies managing massive volumes of content. Additionally, it has a built-in architecture for user permissions that makes it simple to add users with various rights and roles to your website.
Features
Multilingual. Automated language translation supports over 100 languages.
Personalization. Create a personalized customer experience using data from geolocation, browser history, device type, and behavior taxonomies.
Marketing automation. Create automated marketing campaigns to increase reach.
Pricing
Premium Shared Hosting: $2.99/month.
Business Shared Hosting: $4.99/month.

Concrete5 is a CMS that strives to be as user-friendly as a text editor. This CMS platform is best for creating a complex website for medium to large businesses. With Concrete5, you can be confident that your site is secure at all times thanks to auto-updates for both its CMS software and the add-ons.
Features
Responsive design. On various devices, every Concrete5 website functions the same.
Marketing tools.
Security. Protecting the sites using SSL, login history, content approval, captcha, audit trail, and email verification
Pricing
Self-Service Hosting: $2.78/month.
Managed Hosting: custom price

Typo3 is a good pick for enterprise-level sites and ideal for managing multiple websites under one CMS. While it's not our recommendation for first-timers if you consider yourself a more technical user already, Typo3 is ideal for managing multiple websites under one CMS.
Features
Multisite and Multilingual.
Smart Content Management. From content planning to optimization, create and deliver content across all digital channels.
Digital Marketing. Integrate the marketing tools to assist in communicating a distinct and unified brand message.
Pricing

If you're searching for a headless CMS designed with larger enterprises in mind, Kentico is the ideal option for you. Because it's not a beginner-friendly platform, you just should use this platform if you're prepared to learn more about web development or have access to assistance.
Features
Built-in spell check. Check all web pages for typo mistakes.
Scheduling. Schedule regular actions like data synchronization and the execution of nightly summary reports.
Lead scoring. Gain insight through the behavior and journey of visitors
Pricing
Developer plan: free.
Scale plan: $2,449/month.
Enterprise plan: custom price.

A fantastic option for marketers and simple websites is the HubSpot CMS. One of HubSpot's software's most intriguing features is that it provides both coding options for technical users and a drag-and-drop editor for those who are new to web development.
Features
Smart Content. Personalize the website's content and calls to action by utilizing visitor insights and data.
Design manager tool. A simple drag-and-drop tool to facilitate customization.
SEO. Optimize content for the website.
Pricing
Starter: $23/month.
Professional: $360/month.
Enterprise: $1,200/month

In terms of accessibility and user-friendliness, PrestaShop is a CMS similar to Joomla. With over 6000 plugins available to customers, this CMS has a sizable add-on and theme library, so there is sure to be something for everyone. PrestaShop is an excellent platform for small to medium-sized eCommerce businesses.
Features
SEO. Manage meta titles, descriptions, and URLs for content optimization.
Various payment options. a wide range of payment options, including offline processing including PayPal, Skrill, Stripe, and WorldPay.
Multiple store management. Manage multiple stores that standard components and features.
Pricing
Premium Shared Hosting: $2.99/month.
Business Shared Hosting: $6.99/month.
Cloud Startup: $12.99/month.

Being a cloud-based headless CMS, Contentful requires its users to have several technical knowledge to avoid the steep learning curve. This platform is appropriate for businesses or individuals building a custom website with other digital channels integrated.
Features
User Management. To generate content with one account, add additional users and assign them roles.
Content modeling. Use different categories to arrange the different types of content like images or text.
App Framework. Integrate additional applications and third-party cloud software to optimize tools and functions.
Pricing
Free option
Additional tools and support, starting from $489/month.

Large-scale corporations and IT companies with the time to devote to developing various platforms would benefit significantly from this CMS.
Features
Content reuse. Features like Create Once, Publish Everywhere (COPE) make it easier to manage material centrally and make sure it's all up to date.
Omnichannel campaigns. Create focused campaigns to optimize the customer experience.
Single-page app (SPA). Use the same editor for web pages to edit and manage single-page applications (SPAs) content.
Pricing
FAQ
1. Is it worth paying for a CMS?
It depends on the kind of website you intend to run. A free CMS will undoubtedly save you money if you run a small business with a straightforward website that requires only infrequent updates and that you can handle on your own. A paid CMS package, however, might be the most excellent use of your money if you own a medium- to large-sized business or oversee a website with a ton of material.
2. Which CMS platforms do big companies use?
It varies on the business; some may continue to run their websites and business on Magento, Shopify, while others may use WordPress, Drupal, or Magento. Multinational corporations also invest in creating their intranets and CMS platforms.
3. Which big companies choose Magento CMS?
Many huge companies are now using Magento to construct their websites since it is the ideal option for large-scale businesses. Here are some of the big brands using Magento websites: Coca-Cola, Land Rover, and Olympus.
Wrapping Up
There is no one-size-fits-all solution for businesses or individuals when choosing a CMS platform for their sites. It depends on their plans and budgets. Magento CMS is one of the best CMS platforms on the market right now. However, you have to consider very carefully if you intend to use this as your CMS framework because Magento CMS is more suitable for medium to large-scale eCommerce stores with a solid funding base.