When it comes to increasing the effectiveness of your marketing, segmentation is the most outstanding solution. Magento Customer Segmentation extension is a comprehensive technique to understand each customer better and provide services that meet their needs. It has become a pillar of customer insight and an essential method across the current digital business.
In this post, we'll go over all of the top Magento Customer Segmentation Extensions for streamlining all customer-centric tasks and increasing the productivity and efficiency of your Magento store.
What Is Customer Segmentation?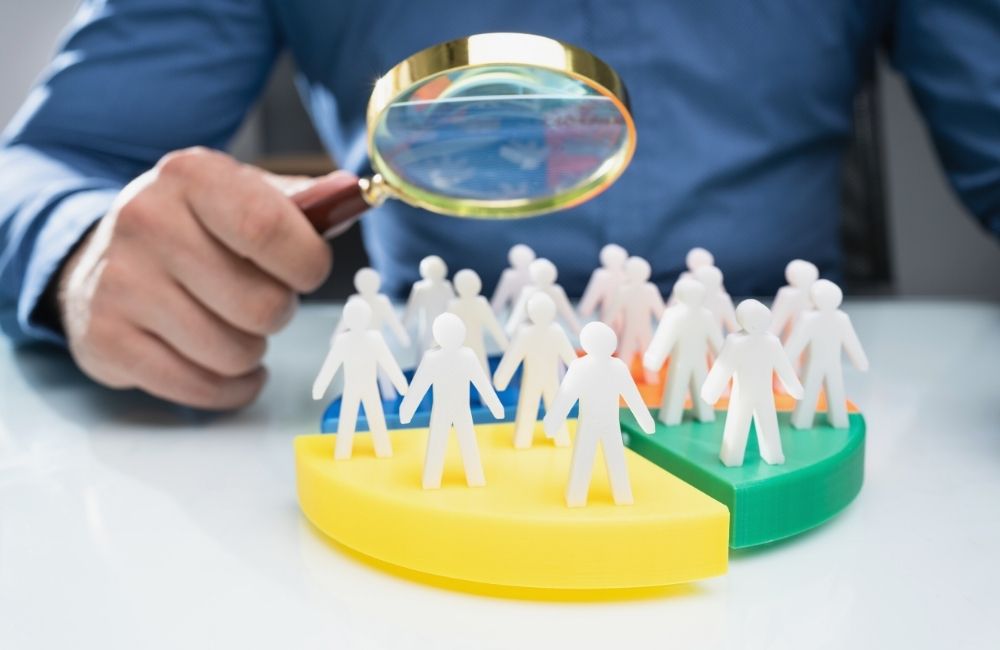 The practice of grouping several customers who share similar qualities is known as customer segmentation (also known as market segmentation). It's not only about connecting clients with suitable product offers; it's also about adjusting how you approach them based on what you know about them. In other words, the customer segment is responsible for creating appropriate purchasing experiences that foster brand loyalty.
The Magento extension providers have created the Magento Customer Segment extension to solve these issues. The extensions allow automatic customer segmentation based on specific characteristics, helping businesses in creating more efficient marketing campaigns.
4 Factors To Consider When Choosing A Magento Customer Segmentation Extension
1. Reliability
As Adobe provides a tier system for solution partners that starts with community partners and ends with premium partners, an extension must pass exams and demonstrate client satisfaction to move up the ranks. As a result, their plugins must be of high quality and meet the expectations of Magento users.
2. Social proof
Magento extensions have reviews on the Magento Marketplace and/or review sites like Trustpilot. These are excellent resources for evaluating their general quality and advantages and disadvantages.
3. Functionality
The most effective extensions must improve your website. In this article, we've compiled a list of extensions with various features that have been shown to assist eCommerce stores in increasing sales.
4. Support
Make sure that the Magento 2 customer segmentation extension is still under active development so that you receive on-time support from the provider.
10 Best Magento Customer Segmentation Extensions
This module is a complete tool for accurately categorizing your clients into relevant groups, regardless of how many customers your store has. You can categorize clients based on their name, shipping address, amount of orders, shopping cart data, and other factors.
Furthermore, being fully compatible with Magento 2 Cart Price Rules and Newsletter Queue improves the functionality of both. This module, in particular, has a unique function that allows you to use charts to keep track of the number of orders and clients in each segment.
Price: $129 (3-month support)
Highlight Features:
Segment customers based on rules.
Enhance Cart Price Rules functionality.
Export customer segmentation list.
Keep track of consumers and orders.
4 analytics charts.
Multiple stores and languages supported.
Compatible with Magezon Promotion Banner, Popup Builder, Customers Attributes, and Newsletter Queue.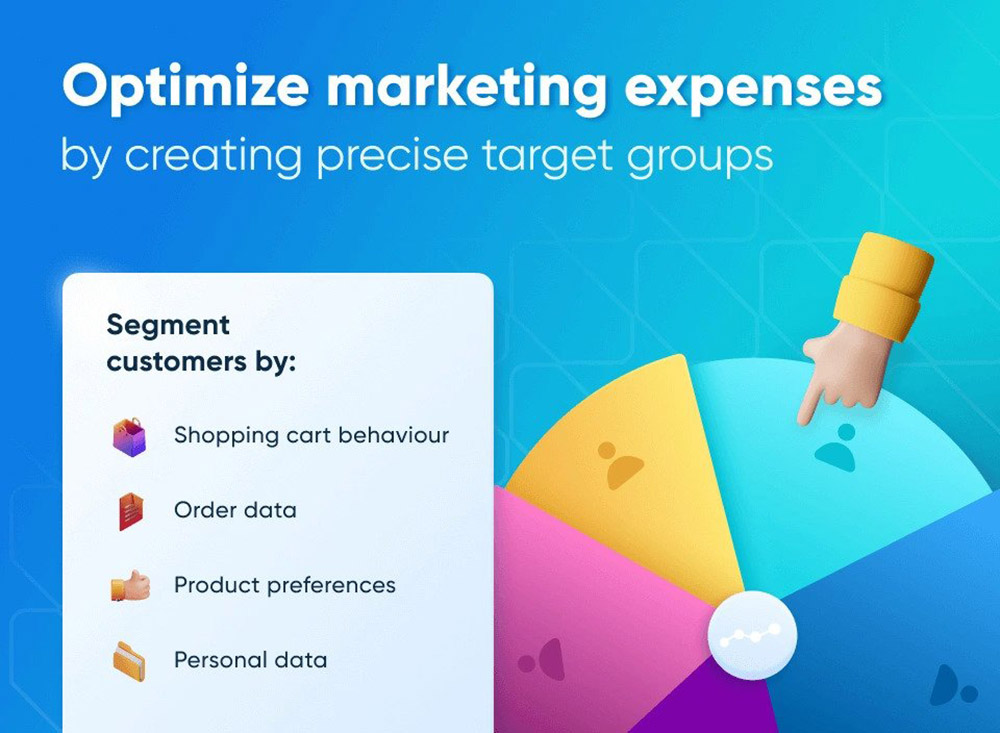 Another highly recommended extension is Amasty Magento 2 Customer Segmentation. Don't be put off by its price; it has many valuable features and is well worth your money. With this extension, you may segment register and guest clients using sophisticated rules and condition combinations and launch highly targeted marketing campaigns.
This extension allows you to set automatic cron updates hourly, daily, weekly, and monthly. It also works well with Magento 2 Cart Price Rules.
Price: $199 first year, then $125/year (12-month support)
Highlights features:
Customers divided into two groups: registered and unregistered.
Improve the Cart Price Rules' functionality.
Allow sophisticated rules to use conditions and their combinations.
Update segment lists based on cron execution time.
Exporting segment lists to a CSV or XML file.
Use in Amasty Abandoned Cart Email campaigns.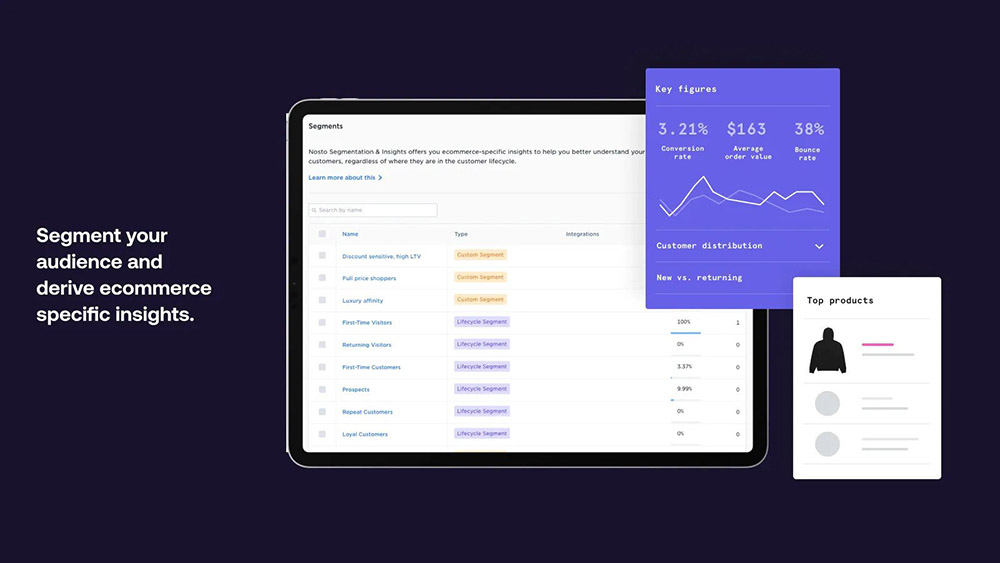 When it comes to Magento 2 personalization, Nosto is the most significant competitor of Adobe Sensei. The system allows merchants to create personalized shopping experiences for their customers. The Nosto Commerce Experience Platform was designed to provide fully tailored e-commerce experiences with minimal effort.
It works effectively in using available data and expected conversion to predict the success of campaigns for the best results.
Price:
$99/month for the Incubator plan.
Additional pricing options are available upon request.
Highlights Features:
User-friendly interface.
Advanced product suggestions based on previous purchases.
Show product lists for each visitor group in each category.
Deliver diverse audiences with varied page content.
Combine various factors such as category affinity, brand affinity, and lifecycle stage to segment customers.
Yotpo, Klaviyo, MailChimp, and other popular Magento utilities are integrated.

Aheadwork's Magento 2 customer segmentation contains nearly all of the functionality offered by the other four vendors. You can separate both registered and non-registered consumers using rules, and you have the flexibility to change those rules and circumstances using various factors.
Furthermore, it's possible to assign segments to appropriate categories and export segment lists for further processing.
Price:
$169 (first payment)
$9.99/month
Highlights features:
Allow admins to segment customers by customer attribute, order, cart, or product.
Export segments to CSV or Excel files.
Integrate with other marketing modules.
Using segment results to create customer groupings.
Compatible with Magento 2 Newsletter and Cart Price Rules.

Mirasvit's Magento 2 Customer Segmentation offers all necessary features. This module counts both registered and non-registered clients. Furthermore, sales reports for each segment are provided once a section has been created.
This extension allows administrators to allocate clients to relevant groups based on the segment to which they belong. Not only that, but administrators may look up each segment's history to see how its quantity has evolved.
Price: $149 (free support and updates for one year)
Highlights features:
Customers can be segmented using configurable rules.
Individualized discounts.
Assign customers between groups.
Support segment insightful reports.
Customers Segment Preview.
Create a CSV file from segment lists.
Keep track of segment history.
Other Mirasvit expansions can be integrated.

Licentia's Customer Segment makes it simple for store owners to segment their customers. It also allows you to reduce your cash resources significantly.
Magento 2 store owners can define an endless number of criteria. Furthermore, the extension preserves all of your segment numbers so that you may see the evolution of each segment's record. There are no hurdles to implementing your wish if you want to dig further into the behavior of an element.
Price: $399
Highlights features:
Allow automatic updating of client activity information.
Enable or disable access to sites, blocks, and products per segment.
Customers are segmented into a variety of client categories.
Manual control.
Follow a consumer group's whole history.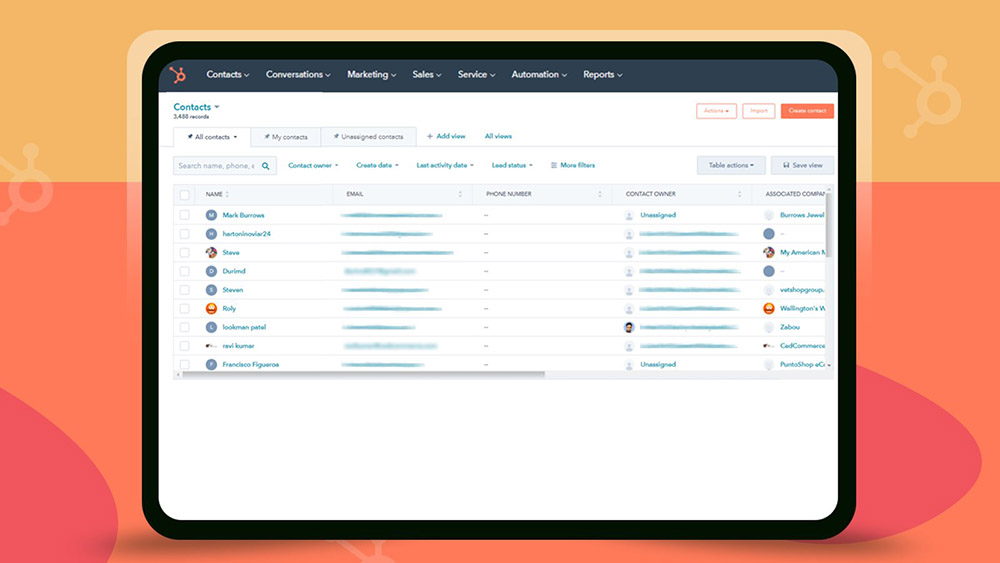 HubSpot is one of the most complete Magento CRM systems on the market. It provides a comprehensive all-in-one business solution that manages all areas of your Magento store's sales, marketing, and customer service.
HubSpot CRM takes minutes to understand and helps you to track every element of your business interactions, whether your Magento store simply receives a few orders per day or you have to manage thousands of new customers weekly. You can also track and address customer support issues and the sales pipeline all in one spot.
Price:
$50/month (Starter)
$1,750/month (Professional)
$5,000/month (Enterprise)
Highlights Features:
User-friendly interface.
Marketing automation workflow.
RFM customer segmentation (recency, frequency, monetary).
Smart List.
Free tools for managing adverts.
Live chat and chatbots builder.
Connect management should be automated.
Customize the CRM system to fit your company's growth.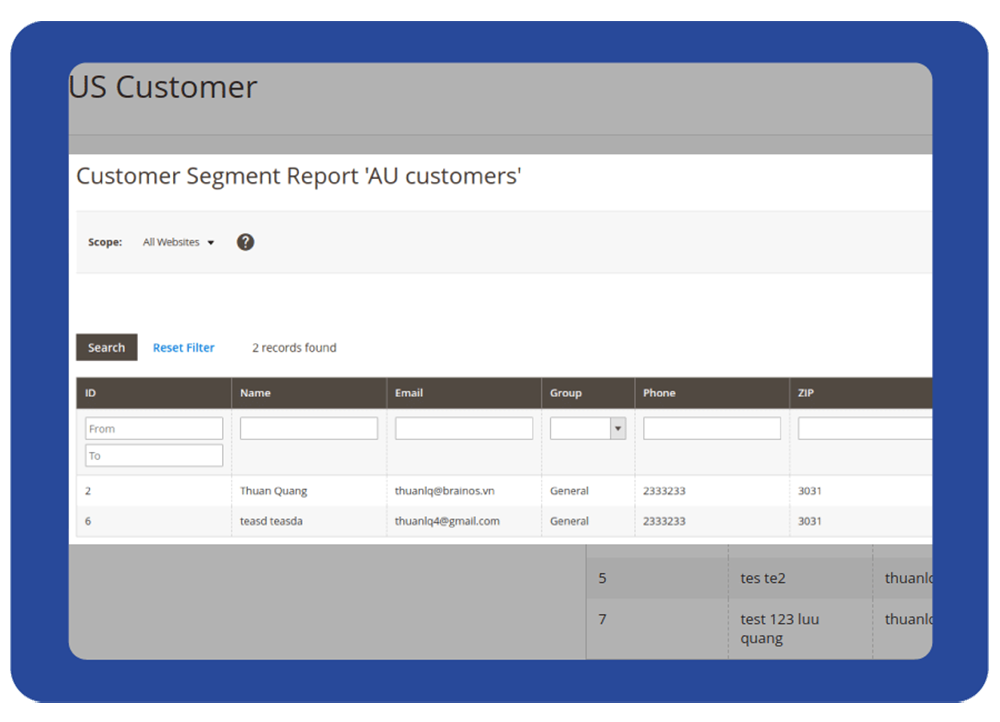 Landofcoder introduces a new level of segmentation, allowing clients to be divided into appropriate groups depending on changing rules and criteria. You can sort customers and visitors by various factors, including gender, group, product amount, and purchased quantity.
It allows you to create detailed consumer segmentation lists, making increasing sales a realistic aim. This supplier also enables cron to refresh and update segment lists automatically. If you're on a tight budget, this is a good option.
Price: $129 (6-month Support)
Highlight Features:
Separate registered customers and guest visitors.
Create unlimited number of segments using numerous rules.
Set up sale rules for different segments.
Update and produce segmentation lists automatically.
Lists can be exported as XML or CSV files.
New attribute choices can be enabled/disabled.
Support cron for segment refresh and reindexing.
API compatibility.

Suppose you want to segment your customers for your marketing strategy to contact them quickly. Customer Segments extension by Knolseedtech on the Magento store is your best choice. It will assist you in reducing your marketing strategy's financial resources. By targeting specific client segments and employing predictive analytics, you can receive a 50% greater email conversion rate.
Price: Free
Highlight Features:
Segment customers based on previous purchase history, browser history, email campaign responses, and customer qualities.
Create and deliver personalized email offers to targeted groups.
Send the best version of each communication to customers automatically.
Use interactive charts to analyze performance.
Predict the suitable target for each email campaign.

Magento allows you to integrate Magenest Zoho CRM with your e-commerce store. Along the customer's journey, the CRM divides data into distinct groups. It assists managers in better defining clients and conducting active sales and marketing activities.
It also enables you to link Zoho CRM and Magento 2 stores for better customer relationship management. You may view client purchase history and other account information with Zoho CRM.
Price:
$14/user/month – Standard
$23/user/month – Professional
$40/user/month – Enterprise
$52/user/month – Ultimate
Highlight features:
From the Zoho dashboard, communicate with consumers across numerous channels.
Get real-time notifications when customers contact.
Automate the marketing and sales process.
Automate email follow-up.
AI sales assistant.
In-depth reports.
Create rules to prompt immediate actions and improve workflow management.
Real-time sales reports and insights.
Conclusion
While increasing profits is the ultimate goal of any company, customers should be at the center of all corporate operations. Magento Customer Segmentation Extensions will help you streamline all marketing, sales, and customer care, resulting in a seamless and outstanding customer experience that will keep customers coming back. We hope this article has made deciding on the best extensions for your Magento store easier.
If you're looking for a Magento support service to assist you in integrating extensions to boost your store's performance, contact us at [email protected]. We can consult and help you in optimizing your Magento site.
Related Posts:
20+ Best Magento 2 One Step Checkout Extensions
Top 45 Magento 2 Best Extensions To Skyrocket Sales
20 Best Magento 2 FAQ Extensions For Your Store