Magento is a platform that has not only revolutionized online retail but has also become synonymous with e-commerce success. As we venture into 2023, the influence of Magento has reached unprecedented heights.
In this article, we embark on a data-driven journey via Magento statistics into the heart of this platform. We'll uncover numbers that not only illustrate its growth but also highlight its enduring significance in the world of online commerce.
Whether you're a seasoned Magento user or simply curious about the powerhouse behind online shopping, join us as we delve into the captivating world of Magento in 2023. Get ready to be intrigued by the numbers, insights, and even some unexpected controversies.
Magento Development History and Ownership
To truly grasp the magnitude of Magento's influence in the e-commerce landscape of 2023, it's essential to journey back to its beginnings. This section invites you to explore the fascinating history and ownership transitions that have defined Magento's evolution.
From its humble inception in 2007 to its acquisition by Adobe in 2018, we'll unveil the key milestones and decisions that have molded Magento into the formidable force it is today.
Early in 2007, Magento officially began development
In the early days of 2007, Magento was quietly taking shape. Founded by Varien Inc., a US-based company headquartered in sunny Culver City, California, Magento's development was a collaborative effort, driven not only by dedicated volunteers but also by the open-source software community.
Originally, Varien had a different plan. They were no strangers to the e-commerce world, having previously worked with osCommerce. At first, the idea was to fork osCommerce, but as the vision grew, they decided to embark on a complete rewrite, birthing what would become Magento.
Seven months into this ambitious endeavor, on August 31, 2007, the world got its first taste of Magento with the release of its public beta version. It was a moment that marked the beginning of a digital transformation.
Source: Wikipedia
Magento was acquired by eBay in 2011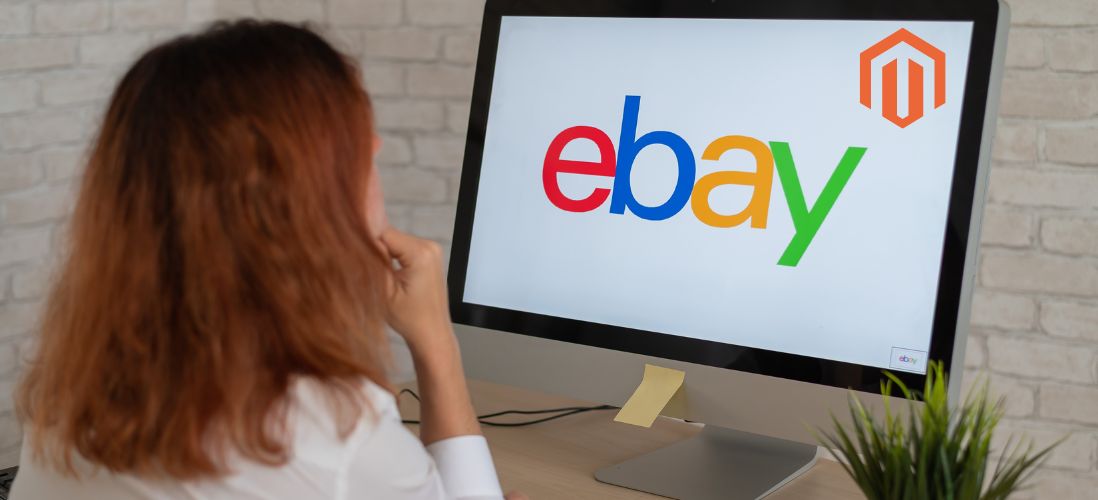 eBay made a decisive move in 2011, acquiring Magento. This wasn't eBay's first interaction with Magento; in fact, they had already secured a minority stake in the company the year before, in 2010.
However, this acquisition marked a pivotal moment as eBay now held full ownership, acquiring 100 percent of the outstanding shares of Magento. What made this acquisition all the more intriguing was the purpose behind it.
Magento wasn't just integrated into eBay's portfolio; it became an integral part of X.commerce, eBay Inc.'s visionary initiative—an integrated open commerce platform group. This event, undisclosed in terms of financial specifics, has played a significant role in shaping the trajectory of both eBay and Magento.
Source: eBay
Magento 2 was released on November 17, 2015
November 17, 2015 was a pivotal moment in e-commerce history. On this day, Magento 2.0 made its grand entrance, bringing with it a wave of transformative features that reshaped the landscape of online retail.
At its core, Magento 2.0 was engineered for speed and security. It boasted substantial performance improvements, especially when paired with PHP version 7 and beyond. With integrated server-side Apache Varnish caching that required minimal tuning, websites powered by Magento 2.0 saw a remarkable boost in efficiency.
Magento 2.0 wasn't just about performance; it was also designed to enhance user experience and search engine optimization. Rich snippets for structured data were introduced to improve online visibility. Moreover, a new file structure simplified customization, making it more accessible to developers.
Source: Adobe
Adobe acquired Magento in May 2018 for $1.6 billion
In May 2018, Adobe, the global leader in content creation, marketing, and analytics, announced its acquisition of Magento Commerce. This strategic move came with a hefty price tag of $1.68 billion, making it a significant milestone in the e-commerce landscape.
By integrating Magento Commerce into the Adobe Experience Cloud, Adobe aimed to create a singular platform that would seamlessly serve both B2B and B2C customers on a global scale.
Mark Lavelle, CEO of Magento at the time, shared this vision for the future of digital experiences, one that hinged on the fusion of Adobe's content and data capabilities with Magento's prowess in open commerce innovation.
Source: Adobe
June 30, 2020 marks the end of support for Magento 1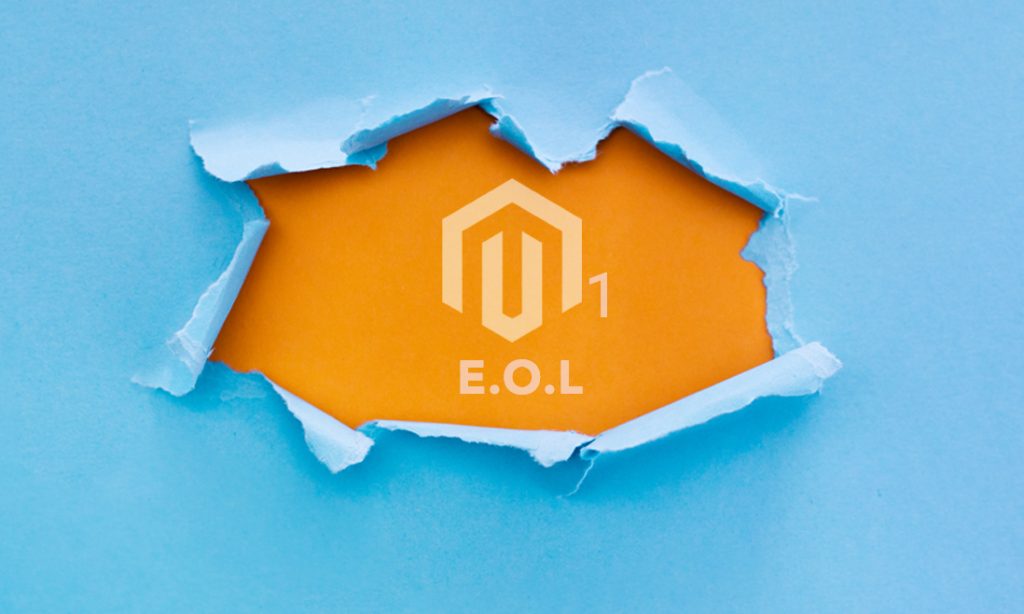 June 30, 2020 marked a significant turning point in the history of Magento as it signaled the end of support for the long-standing Magento 1.x release line, which had been a cornerstone of e-commerce for 12 years. This decision was initially announced in September 2018 by Adobe, the parent company of Magento, and was part of a carefully planned transition.
In preparation for this pivotal moment, Adobe released the final Magento 1 security patch to help businesses safeguard their operations. It was a symbolic end to an era, signifying the need for businesses to adapt to newer, more secure, and feature-rich e-commerce solutions.
Source: Adobe
Magento Commerce was rebranded to Adobe Commerce in April 2021
Since Adobe's acquisition of Magento Commerce, the partnership had proven fruitful, driving remarkable progress in product development. In April 2021, Magento Commerce, under the umbrella of Adobe, underwent a rebranding.
The groundwork for this rebranding was laid through the seamless integration of sales, marketing, and product teams within the Adobe Experience Cloud business unit. The outcome of these endeavors was the unification of two influential brands into a single entity—Adobe Commerce.
It's essential to note that while Magento Commerce transformed into Adobe Commerce, the branding and support for Magento Open Source remained unchanged, preserving the vibrant open-source community.
Source: Adobe
Magento Usage and Popularity
In this section, we dive into the numbers and trends that showcase just how widely embraced and popular Magento has become. From the sheer number of online stores built on the platform to its presence in the global e-commerce landscape, we explore the statistics that shed light on Magento's significant role and continued relevance.
More than 700,000 online stores have been created using Magento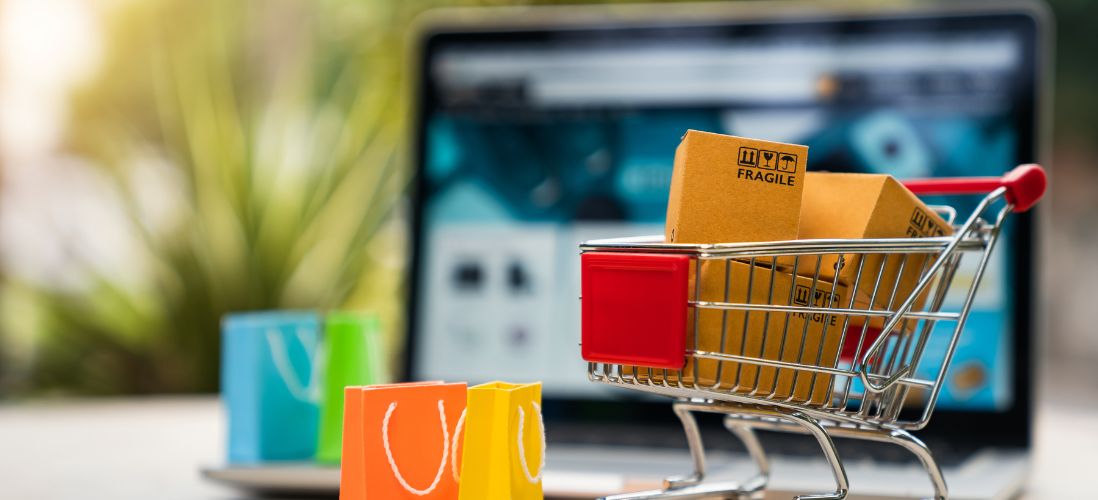 As of September 2023, the numbers speak volumes—more than 700,000 online stores have found their digital homes on the Magento platform. This statistic is a testament to Magento's enduring appeal and effectiveness in powering e-commerce ventures across the globe.
These 700,000 online stores represent a diverse array of businesses, from budding startups to established enterprises, all entrusting their digital storefronts to Magento's robust capabilities. This figure underscores Magento's adaptability, scalability, and ability to cater to a wide spectrum of industries and needs.
Source: BuiltWith
Magento is used by 0.5% of all the websites on the internet
In the vast digital expanse of the internet, standing out is no small feat. Yet, as of September 2023, Magento has achieved just that—making its mark by being the choice of 0.5% of all websites online. This statistic is a testament to Magento's enduring relevance and its role as a trusted companion for businesses seeking to establish their online presence.
While 0.5% might seem modest in isolation, it's a substantial figure when you consider the sheer number of websites across the internet. This statistic underscores Magento's reputation as a robust and reliable platform for businesses, from small enterprises to global giants.
Source: W3Techs
In the top 1 million websites, 1.09% use Magento
In the upper echelons of the online world, where competition is fierce and innovation is key, Magento continues to shine. As of September 2023, an impressive 1.09% of the top 1 million websites have chosen Magento as their preferred e-commerce platform.
This statistic highlights Magento's presence among the digital elite, solidifying its position as a powerhouse in the world of online commerce. These top-tier websites have recognized the value of Magento's capabilities, from its robust features to its scalability, and have entrusted it to power their online storefronts.
Source: BuiltWith
There are over 140,000 live websites using Magento
As of September 2023, there are over 140,000 live websites actively using Magento—a testament to its enduring relevance and widespread popularity.
These live websites come from diverse industries and serve various purposes, highlighting Magento's versatility and adaptability. Whether they're e-commerce giants or niche businesses, Magento remains the trusted choice for creating engaging and effective online platforms.
Source: BuiltWith
The top 3 countries with the most Magento sites are the US, the UK, and the Netherlands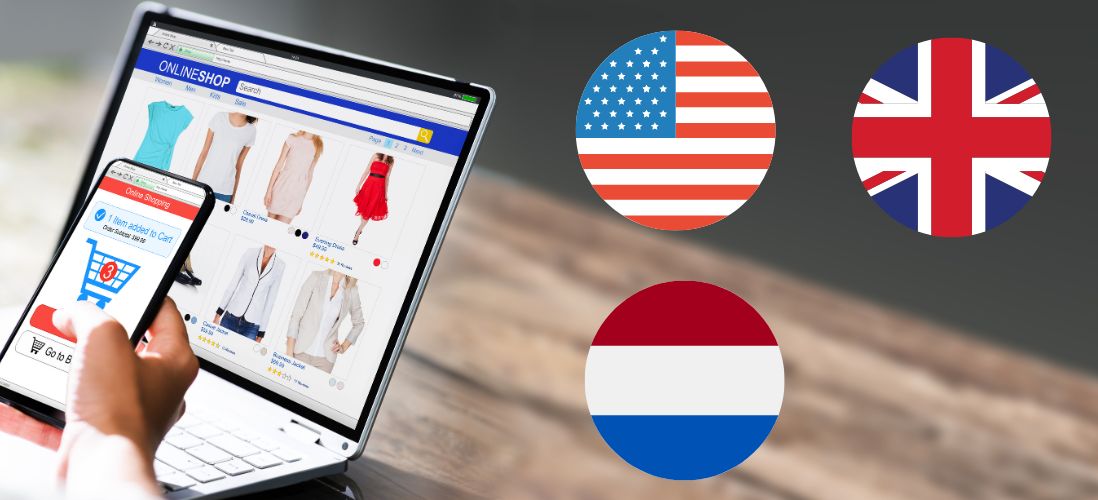 When it comes to global e-commerce, Magento has not only made its mark but has also carved out a prominent presence. As of the latest data, the top three countries leading the charge with the most Magento sites are the United States, the United Kingdom, and the Netherlands.
In the United States, Magento reigns supreme, powering over 47,000 websites. This comes as no surprise, given the country's vibrant e-commerce landscape and entrepreneurial spirit.
The United Kingdom is next in line, with over 11,000 Magento-powered sites. The UK's penchant for online shopping and innovation has made it a natural fit for Magento's versatile platform.
The Netherlands rounds out the top three, boasting more than 9,000 Magento sites. Known for its tech-savvy population and flourishing digital economy, the Netherlands has embraced Magento as a preferred choice for online ventures.
These statistics underscore Magento's global appeal and effectiveness in catering to the needs of businesses across different regions. While these three countries lead the pack, Magento's influence extends to countless other nations, making it a truly international force in the world of e-commerce.
Source: BuiltWith
There are more than 4000 extensions on Magento official marketplace
In the dynamic world of e-commerce, adaptability and customization are key, and Magento has embraced this ethos wholeheartedly. As of September 2023, Magento's official marketplace boasts a rich collection of over 4,000 extensions.
These extensions serve as a testament to Magento's commitment to empowering businesses with limitless possibilities. Whether it's enhancing functionality, streamlining processes, or optimizing user experiences, these extensions cater to a wide spectrum of needs.
Source: Adobe Commerce Marketplace
Adobe Commerce was featured in the Forrester Wave ™ in 2022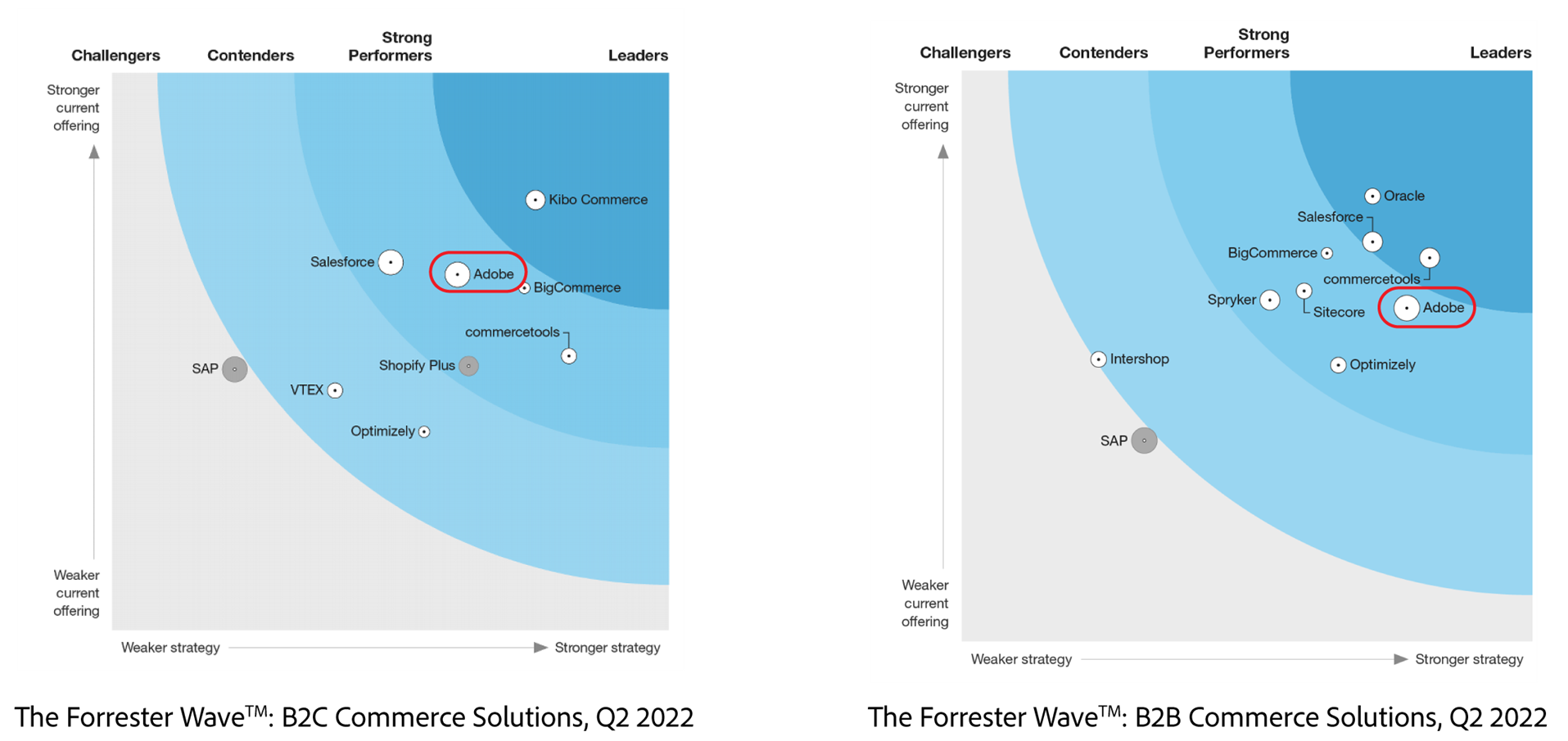 In 2022, Adobe Commerce stepped into the spotlight, earning recognition in The Forrester Wave™—a trusted guide for technology buyers navigating complex marketplaces. This accolade highlighted Adobe Commerce's substantial strengths and reaffirmed its position as a leader in the e-commerce landscape.
Forrester's analysis and opinion celebrated Adobe Commerce's remarkable journey since its acquisition by Adobe three years prior. This period had seen continued revenue and customer growth, with an increasing number of prestigious companies, including those in the Internet Retailer 1000, placing their trust in Adobe Commerce to power their e-commerce endeavors.
Source: Adobe
Magento ranks number 8 among all the eCommerce platforms on the market
As of September 2023, Magento holds a prestigious rank of 8 among all eCommerce platforms available in the market. This ranking underscores Magento's enduring appeal and its ability to stand tall in a highly competitive field.
With a proven track record of empowering businesses, from startups to global enterprises, Magento's versatile and scalable offerings have solidified its status as a top-performing choice for online commerce.
Source: SimilarTech
Adobe Commerce has a 1.6% market share of the CMS market
As of September 2023, it claims a substantial 1.6% market share, a testament to its prowess in managing digital content and commerce.
This statistic highlights Adobe Commerce's ability to bridge the gap between content and commerce, offering a comprehensive solution for businesses seeking to excel in both domains. With a growing user base, it's evident that Adobe Commerce resonates with organizations seeking an integrated approach to managing their online presence.
Source: W3Techs
Magento 2 usage has shown a steady rise since its release in 2015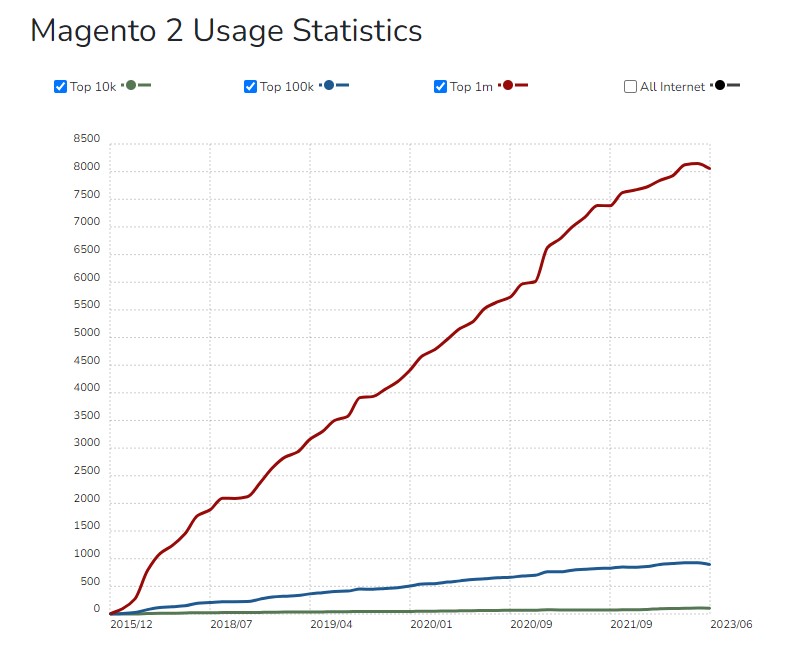 Magento 2's progress has been marked by a consistent climb, gathering momentum with each passing year. It has garnered widespread recognition for its improved performance, heightened security, and enhanced user experience.
This upward journey reflects Magento's dedication to innovation and its ability to meet the evolving demands of businesses.
Source: BuiltWith
The top 3 industry verticals where Magento is being used are Lifestyle, Home & Garden, Ecommerce & Shopping
Magento shines as a preferred choice in three prominent verticals:
Lifestyle: From fashion to wellness, Magento's versatility adapts seamlessly to the Lifestyle vertical. Businesses in this sector harness Magento's capabilities to create engaging online platforms that cater to the aspirations and preferences of consumers seeking a lifestyle upgrade.
Home & Garden: Magento provides a sturdy foundation for businesses offering everything from furniture and decor to outdoor living solutions. Its flexibility empowers companies to showcase their products and enhance the digital shopping experience.
E-commerce & Shopping: As a leading platform in the E-commerce & Shopping vertical, Magento's influence extends far and wide. Its adaptability and rich feature set make it a go-to choice for businesses aiming to excel in the fiercely competitive online marketplace.
Source: SimilarTech
Magento Community and Contributors
Beyond the lines of code and the digital storefronts, the beating heart of Magento is its vibrant community and the dedicated contributors who fuel its growth. We'll delve into the numbers and statistics that highlight the power of collaboration within the Magento community.
The official Adobe Magento forum has over 470,000 members and more than 191,000 posts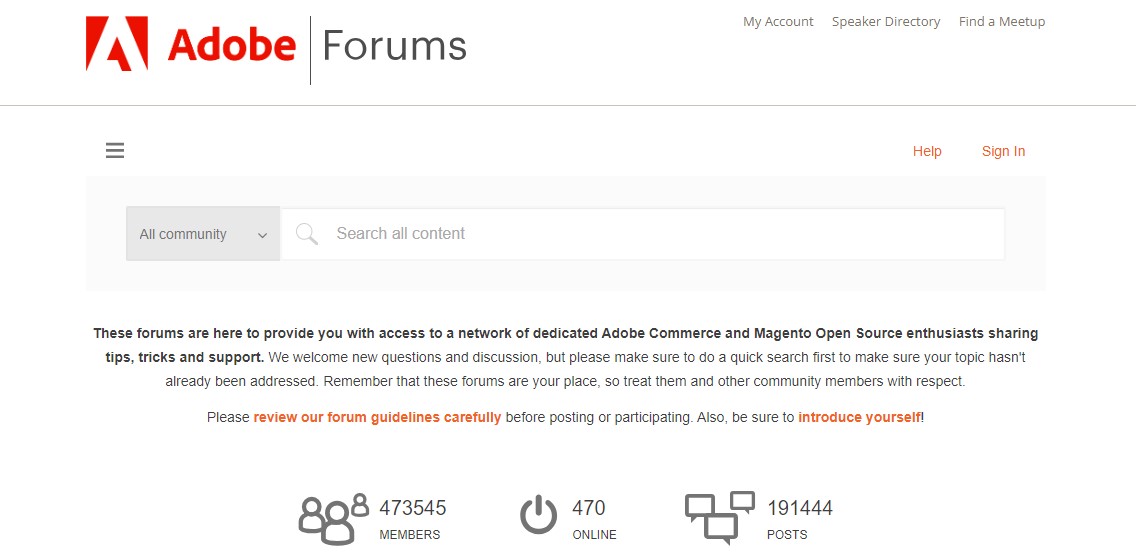 The official Adobe Magento forum shines as a beacon of collaboration. As of September 2023, this dynamic forum boasts over 470,000 active members and a treasure trove of more than 191,000 posts.
Here, Magento enthusiasts and experts from around the globe converge to share their wisdom, tackle challenges together, and celebrate their collective successes. It's a testament to the strength and solidarity of the Magento community.
Source: Adobe Magento Forum
The Magento 2 GitHub repository has over 1,500 active contributors working to improve the platform
In the world of open-source software, collaboration fuels innovation, and Magento 2's GitHub repository is a prime example. With over 1,500 active contributors dedicated to improving the platform, Magento 2 remains a dynamic and ever-evolving force in e-commerce.
Source: GitHub
There are over 160,000 Magento professionals on LinkedIn
With over 160,000 Magento professionals actively connecting and engaging on LinkedIn, it's clear that Magento isn't just a platform; it's a vibrant community.
Professionals from various roles, whether developers, marketers, entrepreneurs, or experts in diverse e-commerce fields, unite on LinkedIn to share insights, forge connections, and collectively contribute to the growth and success of the Magento ecosystem.
Source: LinkedIn