Online businesses usually find it hard to choose the right e-commerce platform for setting up, operating, and maintaining their online store. The e-commerce platform can determine the success or failure of your company. On the other hand, Magento and Opencart are two widely acclaimed and popular e-commerce platforms. If you are stuck in choosing between Magento vs OpenCart, this blog will help you find the better choice for your e-commerce venture. We will give you clear information and expert comparisons of these two platforms. Both similarities and differences between Magento vs OpenCart will be uncovered to give you a general overview.
Magento vs OpenCart – A General Overview
About Magento

Magento is an open-source e-commerce software with built-in PHP, which allows programmers to set up online stores. It was launched on March 31, 2008, by Varien Inc. and developed on Zend Framework.
Up to now, nearly 200,000 websites are using Magento to empower their businesses. In 2018, Adobe bought Magento at a value of $1.68 billion to dominate the e-commerce market. Magento can be hosted on-premise or through cloud hosting services such as AWS, Azure, or Google Cloud.
Moreover, Magento offers personalized shopping experiences, customizing backend eCommerce management, marketing your products, tracking orders, managing payments, and coordinating shipping. Therefore, Magento can help you achieve your objectives whether you're trying to run your first online store or scale up your current business. Hence, some renowned brands also choose this open-source e-commerce solution to start their online store including international players like Adidas, Puma, Christian Louboutin, etc.
With over a million downloads under its credit, Magento is the most widely used e-commerce platform in the online market. According to Magento, over $155 billion in transactions are handled annually on the eCommerce platform. Hence, there must be various outstanding benefits that Magento offers online merchants that make it to the top of eCommerce platforms.
About OpenCart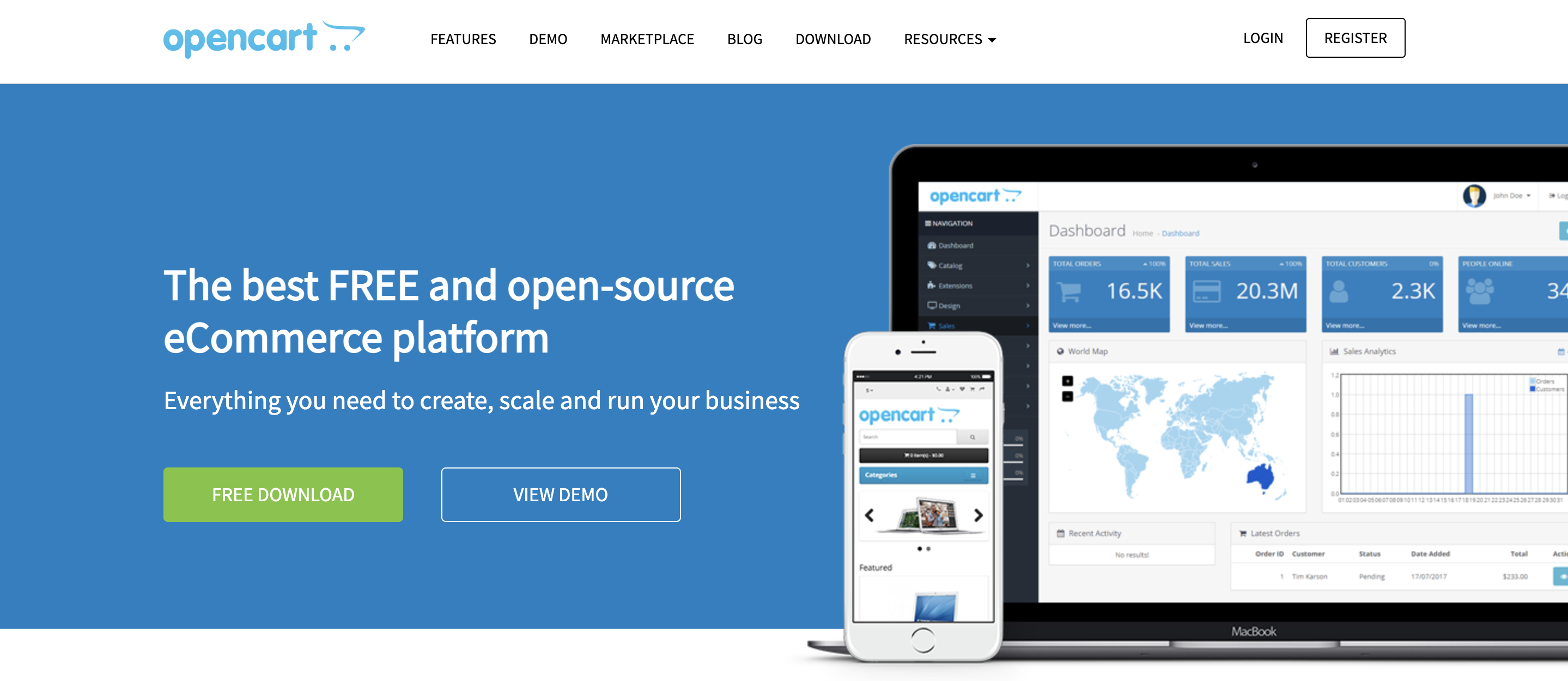 OpenCart is an open-source eCommerce platform built upon PHP and MVC architecture. It features a strong store administration capability but an easy-to-use dashboard interface. In other words, you can handle customers, products, promotions, tax regulations, and orders. In addition, businesses empowered by OpenCart can take advantage of its built-in SEO.
Additionally, OpenCart enables you to select outstanding themes and modules to increase the functionality of your online business. 13,000+ modules and themes are available in the OpenCart marketplace to help you launch, develop, and grow your business. Moreover, service integrations, payment options, shipping options, promotion, social networking, marketing, accounting, reporting, sales, and language packs are all available.
With Opencart, you can get free downloads and frequent updates without monthly fees. In addition, OpenCart users can get paid or unpaid community support to get counseled when necessary. This e-commerce platform aims to provide web developers with a trustworthy solution utilizing specialized modules and plugins. Thus, thousands of eCommerce companies use OpenCart to fuel their operations worldwide.
Pros And Cons Of Magento vs OpenCart
Every product or service comes with benefits and drawbacks that businesses must consider. Below, we will give you the key pros and cons of Magento vs OpenCart to take a closer look at these two platforms.
Magento
Advantages
It is user-friendly.
There is an extensive community of support.
It is a highly scalable solution.
You can customize virtually anything on Magento.
Disadvantages
It's a rather large platform to implement.
The premium versions of Magento are costly.
You'll likely need a dedicated server.
OpenCart
Advantages
It offers a complete set of reports and metrics.

It makes it easier to manage your store.
You are given dedicated technical support.
Many of the add-ons for OpenCart are free.
Disadvantages
It creates canonization issues for SEO.
The different installations do not always work with each other.
It can be difficult to import your inventory list.
It offers a slow checkout experience.
The system itself might be too lightweight for some users.
Magento vs OpenCart: What Do They Have In Common?
Both Magento vs OpenCart have been among the top picks when it comes to building and operating an online store. Before making a thorough analysis of 2 platforms, we will first highlight some similarities between Magento vs OpenCart:
Both are open-source and developed in PHP
Both deliver powerful features and a world of add-ons and extensions
Support selling on multiple currencies and languages
Downloading and installing are completely free of charge
Self-hosting your online stores requires additional costs
Key Differences Between Magento vs OpenCart
Online businesses usually find it hard to choose the right e-commerce platform for setting up, operating, and maintaining their online store. Therefore, enterprises must pay particular attention to many factors of an e-commerce platform before installation. Although Magento and OpenCart are both ideals for building online merchants, they have their strengths and weaknesses.
Considering Magento vs OpenCart requires analyzing key categories such as user-friendliness, available payment methods, security, and search engine friendliness. In other words, you can easily find the right software based on your business needs.
1. Built-in features and extensions
Magento
Magento is the ideal platform for larger online stores with its vast collection of extensions. There are more than 5,000 free and paid Magento extensions and approximately 500 themes. Almost everything an eCommerce site needs are accessible in the Magento marketplace and renowned Magento extension third-party providers. Especially, every extension is carefully checked for coding standards, compatibility, and security.
Besides, Magento has a significant advantage over other competitors. It provides 350 built-in features for users and developers. Also, you can customize Magento's open-source code to suit your preferences.
OpenCart
There are around 13,000 OpenCart extensions with distinctive features and themes. Compared to Magento, the OpenCart marketplace provides much more apps and themes. Hence, merchants of OpenCart stores have more options to improve the interface and integrate new features of their online store.
For the volume of default features, security level, and integrity issues, Magento does it better than OpenCart. It provides users with a wide range of options to customize their online store.
2. Ease of use
Magento
Magento is a powerful eCommerce platform but installing Magento is a challenging task. You will need to engage a Magento developer or Magento development company to carry out installation if you are not an experienced developer.
Even with the licensing versions of Magento Commerce and Magento Cloud, you still need some technical know-how to make your website a professional and well-operational one that will perform over the long term.
OpenCart
In contrast to Magento, OpenCart is more well-known due to its user-friendly interface and uncomplicated installation procedure. OpenCart is a far better option for individuals finding a web solution requiring little coding expertise. Beginners can utilize and control things even more simply. You only need a foundational understanding of hosting, FTPs, and security.
Nevertheless, unlike Magento, the OpenCart system is not geared for rapid expansion. It also lacks several sophisticated eCommerce features and functionality for building a very strong and scalable eStore.
In conclusion, OpenCart is less complex. However, Magento can meet all your business needs regardless of your business size. Hence, it is still a suitable choice for large businesses or small businesses that want to expand in the future.
3. Cost
Magento and OpenCart have similar running expenses. Despite being free to download and install, they both require hosting fees. The price of a hosting package, a domain name, a quality template, extensions, and an SSL certificate are hidden fees behind open-source eCommerce platforms.
Unlike Magento, OpenCart will have lower hosting costs because it is a lightweight platform. Besides, small enterprises are usually OpenCart's target market. In contrast, Magento usually empowers large businesses or companies with high scalability.
Most Magento extensions fluctuate from $50 to $500, while OpenCart extensions can cost anywhere between $10 and $489.
In conclusion, every firm faces a unique set of expenses when operating an eCommerce website. Running costs will rely on many factors like size, business requirements, and financial capacity.
4. Page Speed
Page speed is the average time it takes for a page to appear on your screen. One of the aspects Google takes into account when developing its algorithms for search engine results is loading time. Because faster pages are more effective and offer a far better on-page user experience, users place a high value on fast page speed.
Compared to OpenCart, Magento has a faster online page loading time (665 milliseconds), while OpenCart's is substantially slower (831 milliseconds), which is much slower than what Google advises for SEO. Customers these days are very impatient. Hence, slow loading times have a detrimental effect on the purchasing experience.
Therefore, page speed is one of the things that OpenCart needs to work on. In this aspect, Magento wins over OpenCart. It is proven that if a website takes more than three minutes to load, visitors will abandon it. Thus, it is a better choice to empower your online store with Magento to decrease your loading time.
5. Marketing, promotions, and SEO
Magento
When it comes to SEO, Magento has endless possibilities. Magento provides its users with a wide range of powerful features and extensions that let them rank higher on popular search engines:
Magento can offer the ideal meta-titles, keywords, URL content, product descriptions for products, CMS pages keywords, and categories.
Google Analytics, Google Tag Manager, and Google Adwords can be integrated with Magento.
They can also benefit from page layout, rich snippets, speed enhancement, and XML sitemap setup.
Canonical tagging is activated
Magento helps users to optimize mobile responsiveness. It offers responsive themes, mobile-friendly checkout, progressive web applications, and more.
OpenCart
OpenCart may disappoint a lot of users in terms of SEO tools:
It does permit some modifications, such as changing the meta tags friendly to SEO and including rel canonical and 301 referrals.
Additionally, it does not support Individual URLs. This method will be too annoying if you are simply a newcomer.
OpenCart offers the most fundamental functions needed for a typical eCommerce platform. However, essential is the extent of it.
In conclusion, OpenCart might not be the best option for individuals who require powerful and integrated SEO tools. Without a doubt, Magento has many SEO-related capabilities that surpass many rivals in the market, including OpenCart.
Magento is the preferable option for anyone looking for a complete SEO solution. Because OpenCart's SEO system only offers several crucial SEO capabilities that are sufficient for merchants to employ on a fundamental level.
6. Themes and customization
Magento
In the Magento marketplace, there are over 3,500 (both free and paid) extensions for coding standards, compatibility, and security.
More than 350 built-in features provide Magento a competitive advantage over its competitors by default. Almost all Magento's extensions are simple to install and configure in the store's backend. In addition, you can further personalize your eStore with a wide range of add-ons and themes from third parties. You can modify Magento's open-source code to suit your preferences.
Additionally, there are 17 attractive themes in the Magento Marketplace that range in price from $0 to $499. Before making a purchase, users of Magento themes can see whether their website will match with the theme or not. Although Magento doesn't offer a ton of themes, its open-source nature gives you countless customization options to create your store from the ground up.
OpenCart
When compared to the Magento marketplace, OpenCart's user communities are impressed by the wide range of plugins it offers and how quickly they can be installed.
OpenCart has 13,000+ plugins, extensions, and themes. Include both free and paid versions so that retailers have a choice. Compared to Magento, it is simpler to set up and configure at the backend.
Without a doubt, the OpenCart marketplace has more apps and themes than Magento. Users of OpenCart have more options for modifying the look and features of their store. The OpenCart Marketplace lists more than 1,600 themes. Additionally, customers can purchase other popular OpenCart themes and templates from independent suppliers like Themeforest or Template Monster.
In conclusion, the installation process for all plugins, extensions, or themes is simple on both systems. So, based on the quantity and quality of add-ons offered in the market, we will assess them in terms of customizability.
Compared to Magento, which has about 3,000 extensions, OpenCart provides a wider range of customization options with more than 13,000 plugins and themes. However, Magento outperforms OpenCart in terms of feature richness, security level, and integrity issues. It allows you to integrate third-party extensions to meet your unique requirements.
7. Security
Magento
As an eCommerce-based platform, Magento prioritizes security:
Release security updates and patches to protect every client's website from attacks by hackers or fraudsters.
CSP (Content Security Policies) are included and available for the Magento open-source version. It helps reduce Cross-Site Scripting and other related sorts of assaults with the assistance of the Magento Security extension (for instance, card skimmers, and session hijacking).
Offer a variety of Magento 2 security plugins to strengthen your defenses against hacker attacks.
Every version of Magento complies with PCI.
Provide a Magento Security Center where customers can access information and download the newest patches and updates.
In other words, you must seriously monitor the availability of patches for the Magento Open-Source version.
OpenCart
OpenCart provides fewer patches and upgrades. It is hence much more exposed to cyberattacks than Magento is. Of course, installing third-party add-ons from the marketplace will help you fix this issue.
It is your responsibility to secure the security of your server since OpenCart is not in charge of keeping your website safe. An open-source platform increases its vulnerability to attacks because the public can access its internal code and structure. As a result, hackers are able to find and utilize their security flaws.
Between Magento vs OpenCart, Magento is more likely to meet your needs if you're seeking a platform with more reliable and security features. Thanks to its built-in security capabilities, Magento makes it simpler for you to protect your e-commerce ecosystem.
8. Analytics
Magento
Magento provides a wide range of analytics tools that cover various aspects of your online store. This platform offers nine kinds of Reports that keep you updated on every change in your store.
Through Sales Reports, you can keep up with Orders, Taxes, Invoiced, Shipping, Refunds, Coupons, and settlement reports. With Product Reports, you can identify Views, Bestsellers, Low Stock, Ordered, and Downloads of every item in sales. Hence, you can modify it to boost sales for trending products. With Customer Reports, you can track and monitor Order Total, Order Account, New, Wish Lists, and Segments are all included in customer reports. You can also utilize Marketing Reports, Review Reports, Private sales and events, Statistics, Customer Engagement reporting, and Business Intelligence Tools to follow your store's development.
On the other hand, Magento can be integrated with Google Analytics. It allows you to build extra custom dimensions and metrics for keeping track of offline and mobile app interactions.
OpenCart
Business owners can track the number of clients and related activities thanks to different OpenCart reports. On the administrative section of OpenCart, you can go to four kinds of reports including Sales Reports, Product Reports, Customer Reports, and Marketing Reports. Although Magento provides more reports and helps track more aspects of your business than OpenCart, OpenCart reports still cover all fundamental factors.
In addition, OpenCart can integrate with Google Analytics to deliver critical real-time information about your website's organic traffic.
In this case, Magento also surpasses OpenCart because it provides more types of reports. It helps you monitor all business activities and their efficiency to modify them if necessary.
9. Payment
Magento only provides users with two payment options: PayPal and Braintree. However, there is a wide range of Magento 2 payment extensions available on the marketplace. Hence, online merchants can add as many payment methods as they desire. Additionally, you may make the most of your checkout experience by utilizing some cutting-edge features, such as one-click payment or one-step checkout, etc.
OpenCart has more payment gateways available than Magento. With OpenCart, you may incorporate up to 36 different payment methods. Even though OpenCart has more payment gateways available. However, Magento's features are more advanced and modern.
10. Inventory Management
Due to their extensive feature sets, Magento and OpenCart can all manage a large inventory. Online retailers must manage the huge product database and several pages.
Since Magento has more extensions and capabilities that enable better inventory management, it defeats OpenCart. Moreover, your Magento 2 store needs accurate inventory management, and Magento excels in the delivery of on-schedule orders.
11. Community Support
OpenCart primarily offers its users two sorts of assistance. They get access to a global community forum where they may exchange information and experience. Additionally, they offer guaranteed support for $99 per month.
The majority of open-source platforms do not offer customer support. For Magento users, there is no live chat, email, or phone assistance available. The Magento Community has almost 300,000 active individuals who offer their technical expertise. Even questions relating to your inquiries are acceptable.
Direct technical support from the support teams of both platforms is available to those who stick with the licensed versions of both platforms from the beginning.
However, compared to OpenCart, Magento support appears to work better. Compared to the OpenCart community, Magento is more active and substantial. The Magento documentation system is more thorough and informative. It contains two sections: for business owners and developers. Hence, consumers can quickly and easily find the tutorials when necessary.
Wrapping Up
It is hard to answer the question: "Which one is better between Magento vs OpenCart?". Because your final choice between Magento vs OpenCart will depend on many factors. For example, Magento requires more advanced technical experience. However, it has more powerful features than OpenCart.
Hopefully, you can choose the best option based on your business needs. However, if you have a large budget, it is a better choice to choose Magento.
Whether you plan to switch your current platform to Magento or OpenCart or build a store from scratch, this blog can assist you in determining which platform is best for your company.
If you want to find a reliable Magento development services provider, feel free to contact our experts for consultation. Our experts will match your needs with the most suitable e-commerce platform.