In today's tech-driven era, our smartphones have become indispensable companions, offering access to a vast world of innovative mobile applications. And behind every revolutionary app, there's a team of visionary developers and companies driving the digital landscape forward.
In this blog post, we'll embark on an exciting journey through the top five mobile app development companies in the UK. These tech powerhouses have not only mastered the art of transforming brilliant ideas into user-friendly apps but have also made a lasting impact on the global app development stage.
If you're a business owner seeking to boost your digital presence, this list is your portal to excellence.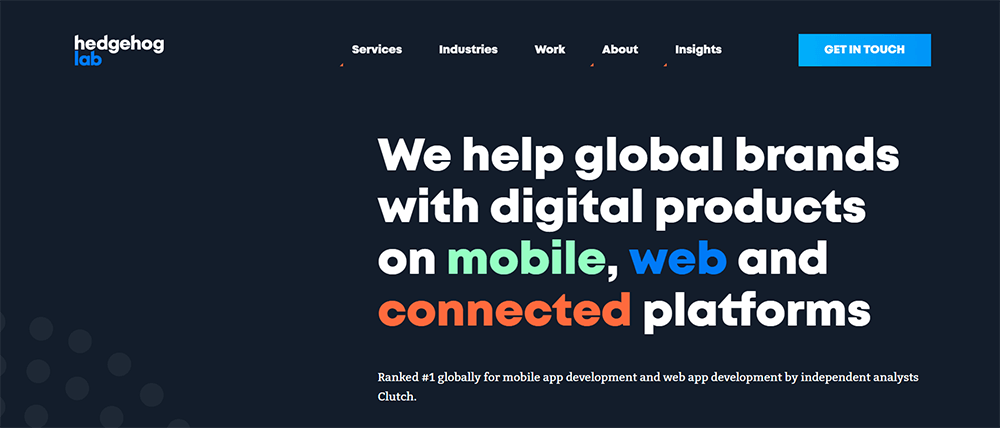 At the forefront of our list is Hedgehog Lab, a mobile app development company that embodies the spirit of innovation and a relentless pursuit of excellence.
Founded on a set of unwavering values, Hedgehog Lab's commitment to their craft and clients has made them a standout player in the UK's app development landscape.
Hedgehog Lab's mantra is to do what they do best, and they do it exceptionally well. They specialize in designing and building exceptional software while providing top-notch product consultancy. Unlike the one-size-fits-all approach of some agencies, Hedgehog Lab remains laser-focused on their niche, allowing them to excel where it matters most.
Hedgehog Lab's commitment extends beyond their clients to the end-users. They act in the best interests of their customers, recognizing that a successful project isn't just about delivering a product; it's about ensuring that the end-users become passionate advocates.
With a diverse team of experts in User Experience Research (UXR), User Interface/User Experience (UI/UX) design, engineering, artificial intelligence (AI), cloud computing, and data science, they have set the standard for custom app development and digital transformation services worldwide.
Track Record
Hedgehog Lab's track record speaks for itself, having consistently delivered industry-leading results for a roster of household names from all corners of the globe. Some of their notable partners include Kodak Alaris, Globe Life, Microsoft, etc.
This impressive client portfolio demonstrates that Hedgehog Lab is trusted by an array of industries, from tech giants to the insurance sector and beyond. Their ability to cater to diverse sectors and create tailored solutions that meet each partner's unique challenges underscores their versatility and expertise.
"Hedgehog Lab invests time and effort into our products and creates greater opportunities for us to explore together."
"I have nothing but good things to say about Hedgehog Lab."
"We're impressed with Hedgehog Lab's high technological capabilities."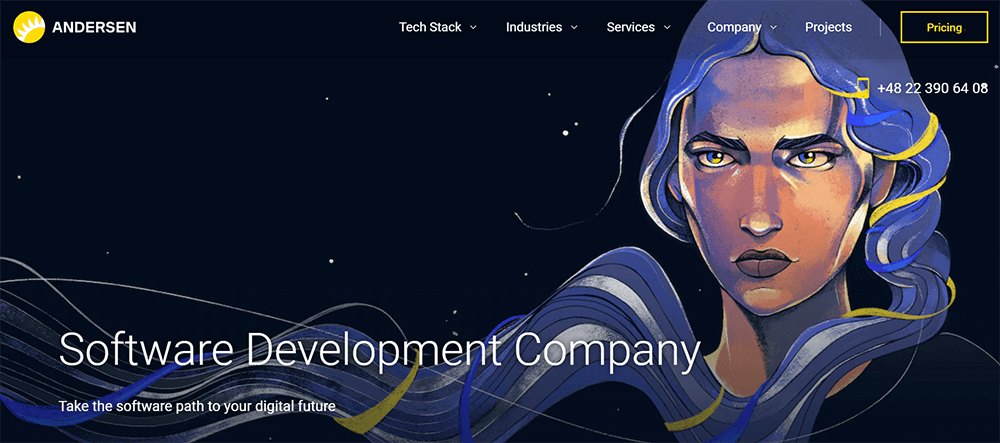 Andersen is a powerhouse in the realm of IT solutions, boasting a remarkable journey spanning over a decade. Since its establishment in 2007, this tech giant has continuously evolved, delivering over a thousand projects that have propelled their clients towards their business goals.
Founded with a vision for innovation and client-centricity, Andersen has earned its reputation by successfully completing more than 1000 projects. Their growth has been fueled by collaborative efforts with both clients and experts, resulting in a deep well of experience that they bring to every new project.
One of Andersen's standout features is its well-established processes and an extensive pool of in-house IT experts. This dynamic combination enables them to swiftly assemble teams and kickstart projects within an astonishingly short span of 10-15 days.
Andersen stands as a formidable entity with a team comprising over 3500 developers, QA engineers, business analysts, and other software development professionals. Over the years, they have matured into an organization that adheres to the highest standards of excellence and reliability.
Track Record
Their extensive portfolio includes collaborations with globally-recognized companies, including Samsung, Mercedes, and Verivox. Andersen excels in the following key sectors:
Financial Services: They assist financial institutions in automating business flows and implementing innovative software systems in FinTech, Banking, Investment, and Insurance.
Logistics: Andersen's IT specialists have honed their expertise in logistics and supply chain, offering tailored solutions for order management, transportation, warehousing, and inventory systems.
Healthcare: With a focus on healthcare, they contribute to the development and enhancement of Electronic Health Records (EHR), Electronic Medical Records (EMR), TeleHealth, remote patient monitoring, and other health information management systems.
"The team is very professional, everything is clearly documented, and the quality of the work produced is outstanding."
"Even though we're not geographically near each other, the team works very effectively."
"The team is highly flexible and responsive to any business need in no time."

Innowise Group stands as a formidable force in the world of software development and IT consulting, founded with a vision to empower both IT and non-IT organizations with cutting-edge digital solutions and the latest trend technologies.
With over 16 years of unwavering commitment to excellence, this company has consistently helped its clients achieve a myriad of goals and objectives through their innovative digital offerings.
Their strength lies in their team, which comprises over 1500 highly qualified IT specialists. This diverse talent pool includes not only developers but also business analysts, UI/UX designers, QA specialists, and DevOps engineers, ensuring comprehensive support for every project.
With experience spanning across 40+ domains, Innowise Group has amassed a wealth of experience in numerous technology and business sectors. They select specialists for each project based on their specific industry experience, ensuring the perfect fit for every client.
Their dedication to excellence, clean code, and user-centered solutions has earned them the loyalty of their clients, with an impressive 93% of customers returning for new projects and recommending their services to others.
Track Record
Innowise Group has a track record of over 850 delivered projects in diverse sectors, including FinTech, MedTech, eCommerce, eLearning, Enterprise, Public Services, Logistics & Transportation, Construction & Real Estate, Tourism & Hospitality, Telecommunications, Media & Entertainment.
With 200+ customers from 30+ countries, Innowise Group is truly an international player. They prioritize a customer-oriented approach and nurture their client relationships as professionals serving professionals.
"Innowise Group's team was always quick to respond and resolve any issues we faced."
"What I found most impressive about this company was their exceptional ability to adapt to our specific needs."
"Everything was carried out in a timely and efficient manner, and the team was a pleasure to work with."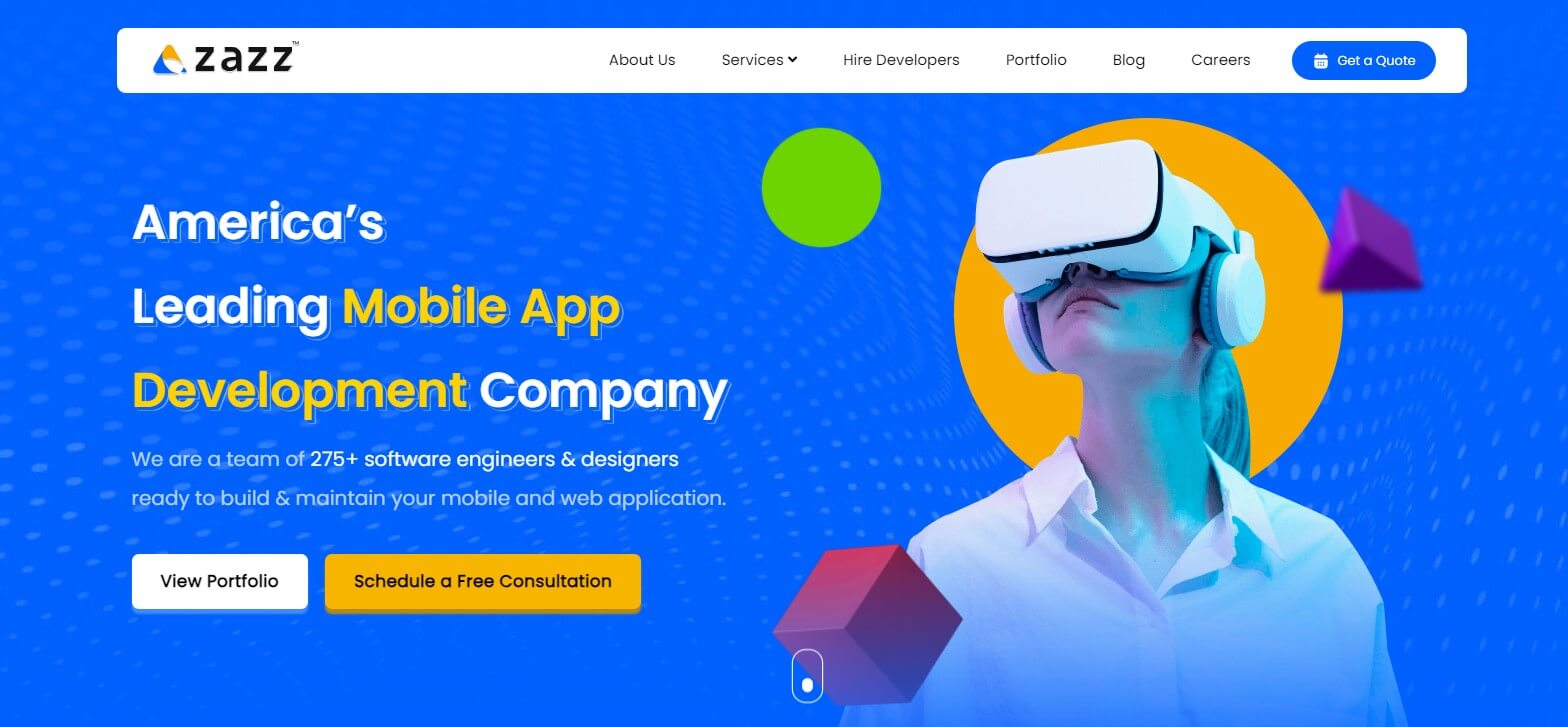 For over a decade, Zazz has stood as a trailblazing force in the world of digital innovation, architecting and maintaining digital solutions for a diverse clientele that includes VC-backed startups, government agencies, and Fortune 500 companies. Their journey is guided by a core mission that each member of their organization passionately aligns with.
In today's tech landscape, user experience reigns supreme, and at Zazz, they take this to heart. They approach every project with meticulous attention to the user's journey, behavior, and engagement, ensuring that every digital experience they craft leaves a lasting impression.
Zazz offers a comprehensive suite of services, including iOS and Android App Development, Web App Development, React Native Development, etc.
Whether it's a scaling startup aiming to A/B test an MVP, an SME seeking process optimization, or an enterprise in pursuit of digital transformation, Zazz has the expertise and resources to meet end-to-end project needs.
Track Record
Zazz's portfolio boasts a history of architecting and maintaining digital solutions for numerous VC-backed startups, government agencies, and Fortune 500 companies. If you want more information, check out their website for detailed case studies or engage in a tech-focused conversation with one of their consultants.
"Zazz was proactive in ensuring that the developed product met the quality standards and was free of bugs or errors."
"We were absolutely delighted with the passion and hard work they demonstrated."
"They maintained effective communication, adhered to timelines, and efficiently allocated resources."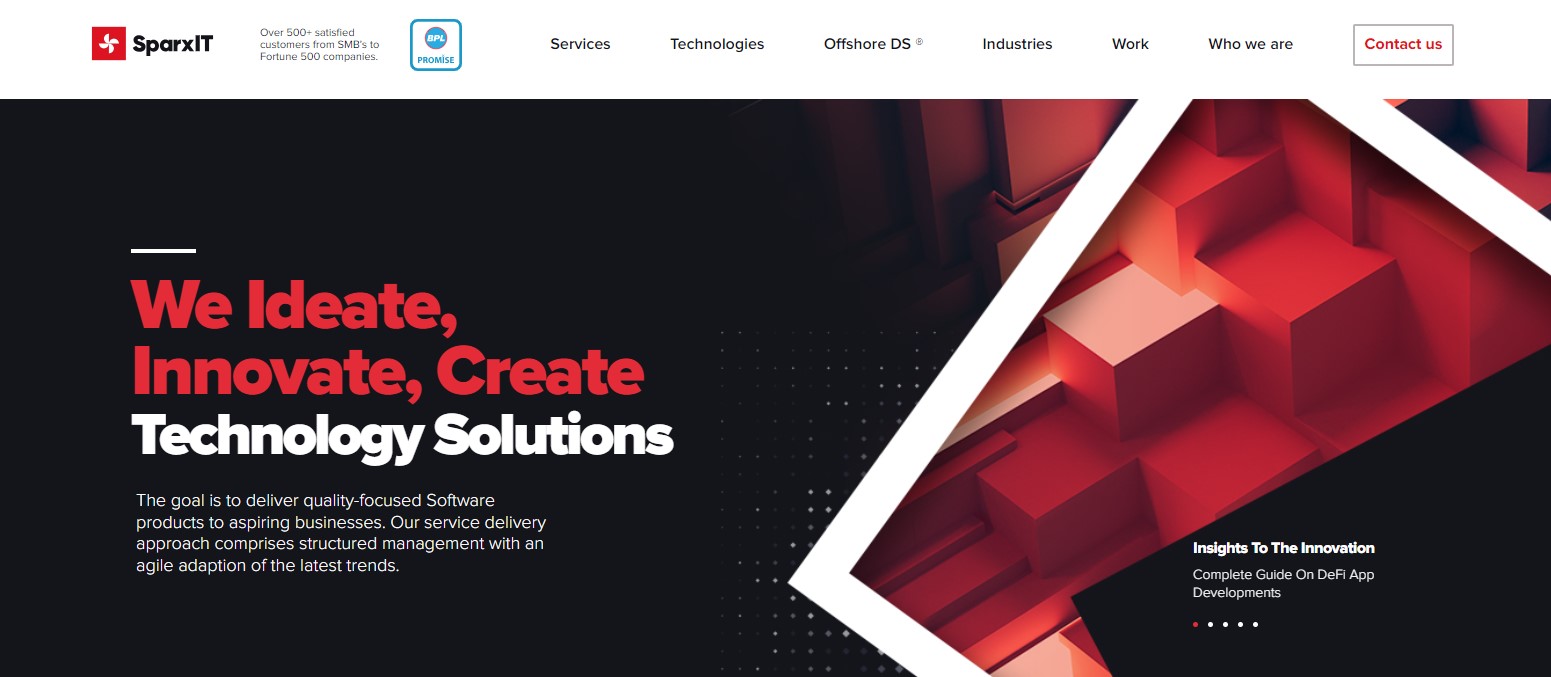 SparxIT stands as a beacon of innovation and digital excellence, recognized by NASSCOM and accredited with ISO:9001 certification. For more than 16 years, they have been at the forefront of delivering quality services in the IT-Software industry, earning them numerous prestigious recognitions.
Their portfolio spans a wide range of services, including mobile and web app development using the latest technologies. SparxIT is committed to delivering client-centric solutions that maximize productivity while adhering to principles of service excellence.
SparxIT is not bound by borders; they are a top-rated web and mobile app development company with a presence in the USA, UK, UAE, and India. With their efficiency and a well-versed team of technology professionals, SparxIT crafts tailored software solutions for businesses of all scales and industry domains.
Track Record
SparxIT extends its transformative solutions across a spectrum of industries, including FinTech, Edtech, Healthcare, Logistics, eCommerce, SaaS, Entertainment, Travel, Wellness, Social Media, and more.
SparxIT's unwavering commitment to innovation, excellence, and client satisfaction has garnered them accolades and prestigious awards. Whether your business is a startup or an industry giant, SparxIT is equipped to deliver transformative digital solutions that drive success in today's digital world.
"SparxIT's technical expertise, high-quality work, ability to meet deadlines, and communication impressed us the most."
"SparxIT is good with mobile apps; they have experience."
"SparxIT is very collaborative. From the start, they've understood our requirements and delivered accordingly."