In 2021, there are likely that 72.9% of global e-commerce sales generated via mobile. Asides from mobile sites, mobile apps are also rising as a potential channel. Are you also intrigued by having a mobile app for your business? Then the next thing you might want to check is the mobile app development cost. We've got your back. This is the 2022's version, with updated information on the expenses to build a mobile app.
What Makes Up The Mobile App Development Cost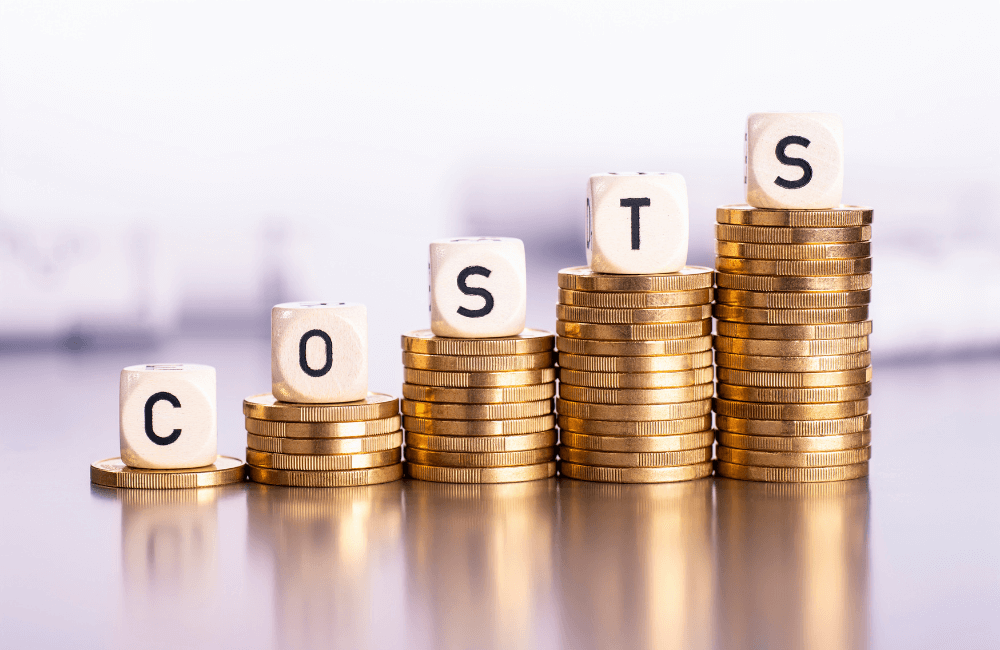 To know how much it takes to build a mobile app for your online store, you should understand how developers charge you.
First of all, it's a service to help you, so it'll depend on your request, whether it's a high-performing app with many features or an eco-conscious, energy-saving app. Then the other half of the coin depends on the provider side.
The development processes most likely go through the app UI/IX design, the execution, testing, and post-service development. The fee also varies due to their hourly rate, location, and level of expertise, which is their skillset.
To decide which type of app to build, how skillful developers you would like to hire, and where's the best to outsource your mobile app development.
Now you've understood this formula: Mobile app development cost = App UI/UX design cost + App development cost (+ Maintenance & support) + Other factors.
The Design Phase
The beginning is when you sit down with the project manager to discuss your requirements, fees, work process, etc. They will generate at least 3 sample designs from your request and desire.
Until you agree on one design and the set milestones, due date, and cost, they start to turn the plan into reality.
Project Proposals
Have you imagined how your mobile app would be? Who is the audience? Does it run on iOS or Android? Or both?
It's the most critical decision you must make. In a broad sense, choosing which development approach is considering how it will help your business and the huddles of each.
The thing about mobile apps to this day is that you have choices to build a native or a hybrid app. The native app is specially designed to fit the chosen mobile operating system, while the hybrid app, or the cross-platform app, brings the best of websites into a native wrapper.
On average, the price of a hybrid app starts from $10,000, while the same for a native app is $40,000. The difference is that with natives, you have to build one for each platform.
Next, you sketch the rough design for your developers. Discuss the app pages you want and how the sitemap will be. For more details, on each page, do you want thick or loose arrangements, any special effects, customization for elements or layers, etc.
The design cost largely depends on the developer's experience and reputation, and it's their own quote rather than hourly rates.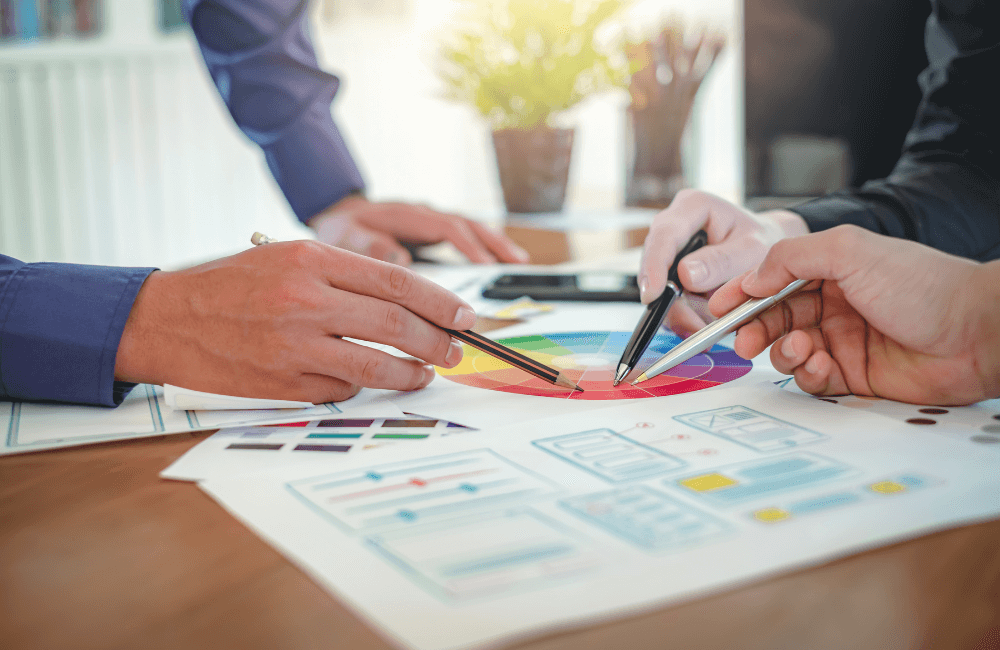 Research & Development
The prominence of mobile apps brings users a more satisfying, enjoyable experience. So take time to invest in your app's technology and features, ensuring you pick the right appeal that's worth the mobile strategy from the beginning.
Developers can show you similar demos with tailored suggestions based on your project objectives. Then you can give feedback and add different specialties or requests to increase any index you want.
According to Clutch.co, 60% of companies spent around $5,000 to $50,000 on designing, 32% only willing to pay below $5,000 while 9% dare to venture up to $50,000 for an app design.
Development Phase
After the design stage, all that's left, like execution, testing and optimizing, launching, maintaining, and supporting, will happen at this phase.
In general, all app types fall into 3 levels as presented below, each occupying a time and cost range according to what's inside and how many, how complex it is to build.
Native App Development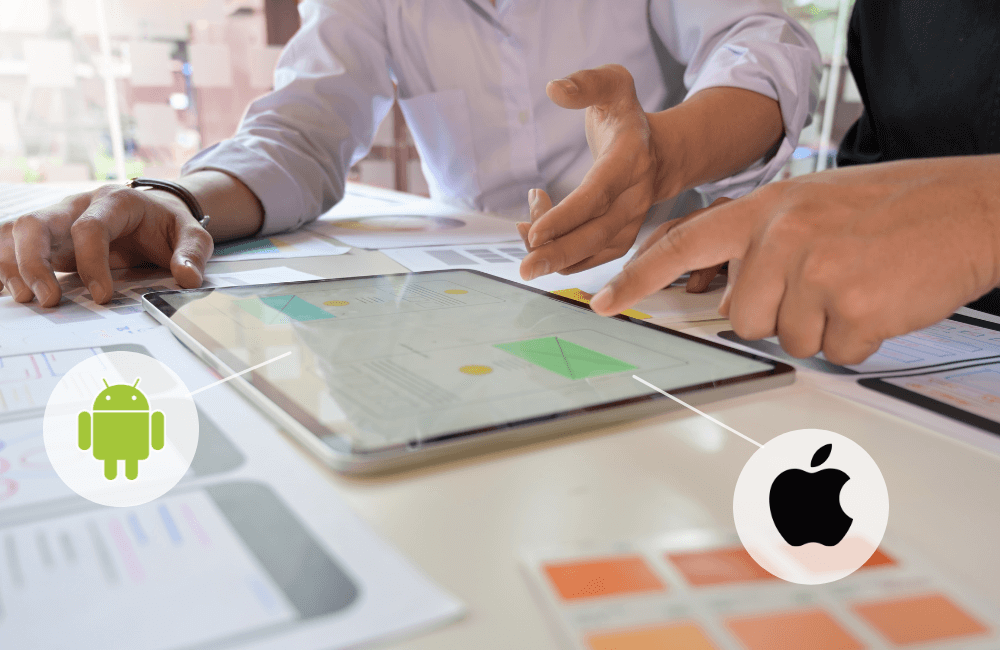 Low Capacity App: $40,000 – $60,000
Mostly is the minimum-viable-product (MVP) type, this depends on how you pick what's most needed
Don't require remote data servers, no backend
No added benefits, low-resolution screens, necessary UI solutions
Around 2-4 months to develop
Examples: Calculator, Calendar.
Medium Capacity App: $60,000 – $150,000
The number of pages increased, and screen quality is improved.
Extra in-built features, i.e., real-time messages, in-app purchase, social media integration, location tracking.
Custom UI
6-10 months to develop
In another Clutch survey, most US online businesses pay less than $5,000 for a native app feature; pop-up messages and ratings & reviews are the most popular. Take McDonald's Loyalty App as an example.
High Capacity App: $200,000+
Multifunctions, advanced and complex features, build from scratch
Smooth, stable, and consistent performance, codes are highly coherent across apps
Excellent looking, with animated UI, UX design
At least 8 months to build
Examples: Apple Appstore, Facebook Messenger.
It would take a team, preferably top software developers, to help you build the perfect mobile app.
Hybrid App Development
Hybrid apps use the same code to build, which is applicable on multiple mobile platforms so that they would save you money and time over native apps.
Simple hybrid apps: contain few features, and they're somewhat saggy, and interrupted functioning. Developers take a short time to build, and they can charge $10,000.
Mid-complex hybrid apps: improved motions and designs, with extra features. It takes around 2-3 months, charging between $11,000 and $50,000.
Highly-functional hybrid apps: diversified features included, top-notch design and interaction, smoothly run across systems. They take 4-7 months and cost around $50,000 – $150,000.
Games: are the most challenging apps for any hybrid apps development. They need complex interactions, many hours to build and test, and the cost can quickly jump to $250,000.
Outstanding examples: Instagram, Twitter, and Uber.
Testing Stage
Testing for apps may require you to buy sample data for performance testing or run basic to advanced testing systems in production modes and marketing measurements.
Developers will run several times on trial, and before final launching, they will fix and optimize all the details. The possible cost is $1,000 – $5,000.
Post-Services
Every app needs a good maintenance service to run correctly and powerfully from time to time. You can subscribe to a yearly package that's approximate $5,000 – $10,000.
It includes cyclical checkups and improvements, updating and optimizations, and technical support in urgent times.
Others: Location-Based Cost
With the same kind of app, design, development process, and developers' expertise, an outsourced mobile app project can cost much less if you are a business owner in high-paying countries.
So let's go through some hourly rates, shall we?
North America and Australia: $60-$200
Asia: $15-$80
Latin America and Eastern Europe: $30-$100
Reduce Time And Cost Of Mobile App Development With Alternatives
In 2015, Google introduced a new type of web app that could resemble native app features and overcome the weakness of both users and merchants, with the strength of the web browser.
Its stable performance, cost-efficiency, and availability of multiple powerful features lead to its increasing popularity in app development. Alibaba, the world's biggest marketplace, switched to Progressive Web App and achieved impressive results.
Progressive Web App (PWA)
Overview
PWA is the future-next standard of websites, delivering a more responsive, engaging, and cyber-protected experience. A PWA is a website, but being progressive allows it to adopt new web technologies and best-established practices.
To illustrate, Service Workers represent what PWA's famous about. With the support of Web App Manifest and Storage API, they enable push notifications of native-like features for retention, offline usage for a better experience, and instant loading for fast and responsive interaction.
Benefits Over Native Apps
To users, they prefer PWA as it helps them worry-free about mobile storage since they can install the app for almost zero weight.
PWA saves many merchants from the double cost of mobile app development. They work across platforms, allowing you to reach a wider group of prospects.
PWA's features aid in ranking on Google, thus giving your mobile PWA better visibility to customers than a native app. Plus, owning a PWA can help you cut down on upfront investment and allows you to launch sooner to generate profits.
Introducing Tigren
About Us
Suppose you need something more than native apps, more suitable, and still highly scalable for your fast-growing business, then Tigren can help you.
Our experience with e-commerce web and app development for over a decade. During that time, we carried 8000+ projects to SMBs all over the globe. If you need inspiration for your future mobile app, head to our homepage to see some of our previous works.
Our mission is to provide high-quality services to every growing business needed at a reasonable price.
Our Services
We have been renowned for our excellent-performing alternative app development for many consecutive years. Trust us with either your progressive web app or hybrid app for a creative, aesthetic look and feel while being user-friendly and high-converting.
We use React Native and Ionic frameworks to build feature-rich applications. We take pride in our work, so we offer free support after-service to assist in any way we can, all to help you increase your ROI.
Wrap Up
Native apps aren't taking the lead anymore, although remaining high in delighting user experience. Hybrid apps are highly trusted by many big firms these days, while PWA is considered the match made in heaven for e-commerce as its huge attribution to search ranking.
Each stands its own pros and cons, mainly depending on your business objectives and available resources. Whichever you choose, find a reliable service to help you turn strategy into real life.