The Covid-19 pandemic has undoubtedly created substantial impacts on every industry. Due to the decline in sales, a massive number of brands' branches are forced to close. Meanwhile, the number of online stores witnessed rapid development. As a result, businesses are all beginning to sell their products online. However, the process of building an online store is not as easy as it may sound.
To help people can easily set up their online store from scratch, we bring this article. Let's dive in!
#1 Choose A Domain
In simple terms, the domain name can be understood as the website's name. It is a critical element of the store's identity. A unique, easy-to-remember name can help increase both brand recognition and site traffic.
Besides, the domain is also the first thing that an online buyer notices from the online store. Hence, having a great domain name can also leave a good impression on customers and promise a second visit from them in the future.
For buying a domain name, store owners can visit the domain name registrar to check if the domain is available or not. The price starts from $10 per year, depending on the domain firms choose for their website.
A tip for merchants to choose an appropriate domain is to use a common domain name extension (.com, .org, .net). Familiarity can increase the trust of customers. They would not be afraid that stores can misuse their personal information for the wrong purpose.
The length of a domain should be around 10 to 15 characters. The reason is a long domain name would make it impossible for purchasers to remember.
And it would be better if merchants can include keywords in the name. It can help businesses attract more new clients and gain a high Google ranking.
#2 Choose An E-commerce Platform For Your Online Store
With the increasing development of technology, various e-commerce platforms are on the market merchants can choose from.
Here we would take a quick look at the top 3 e-commerce platforms favored by businesses.
Magento
At the moment, the total sales of the e-commerce website on Magento have reached 155 billion. The majority of the reviews from merchants claim that Magento owns an excellent and stable performance with high security.
Features
Even though Magento 2 requires more time to learn how to manage their e-commerce websites than other platforms, it includes more functions. In addition, firms could get help from the Magento agencies they worked with previously to offer support in managing the shopping site.
Some outstanding features that make this e-commerce platform popular are store management (inventory, shipping, order, etc.) and able to integrate the Progressive Web App.
User Interface
With the release of Magento 2 in 2015, the new version has made several improvements to enhance store owners' and online buyers' experience. The most significant improvement is in the site's user-friendliness. Merchants only need a few days to be accustomed to managing their Magento stores, and buyers find it way more convenient and easy to view and order products.
Editions
Magento offers clients two options: Magento Open Source and Adobe Commerce (Magento Commerce).
The Open Source edition provides businesses with the opportunity to access the powerful features and flexibility of the Magento platform free of charge. This option is ideal for businesses looking to test the waters with Magento or have a limited budget.
On the other hand, the Adobe Commerce edition is a more comprehensive and powerful solution that comes with additional features such as built-in B2B capabilities, advanced marketing tools, and robust support. This edition is designed for businesses that require a more robust, enterprise-level solution to take their online operations to the next level.
Whether you choose Open Source or Adobe Commerce, our team at Tigren can help you navigate the Magento platform and create a customized solution that meets your unique business needs.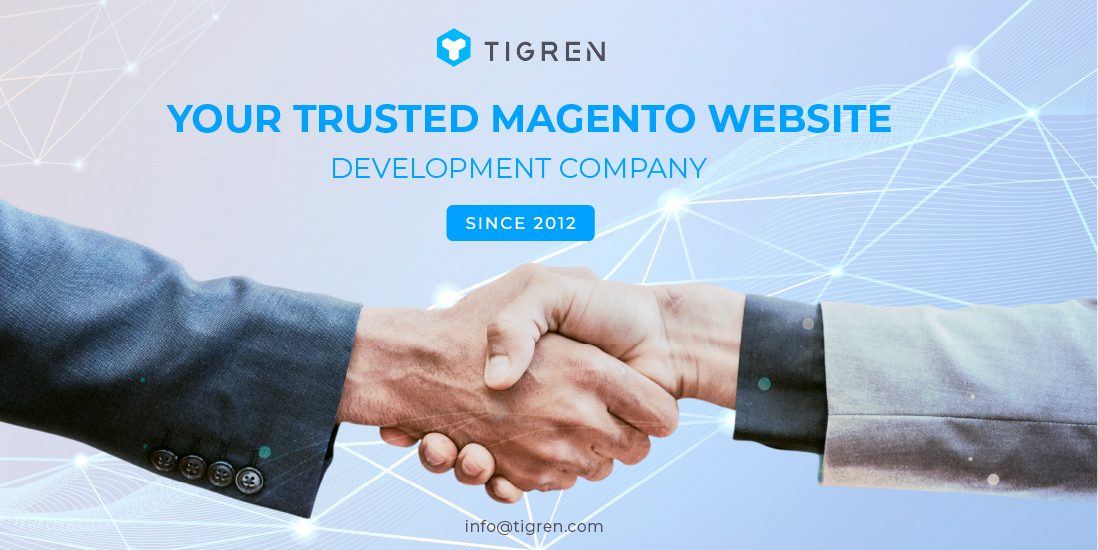 Security
For security, Magento regularly updates the new version integrated with the latest technology to avoid insecurity risks.
User
Magento is an e-commerce platform that suits companies of all types and sizes. It is an open-source platform and owns a large community of developers. As a result, there are also many resources, extensions, and themes available at different prices to fit merchants' budgets.
Scalability
Also, the scalability of Magento helps it become appropriate with all online stores. It can fit with all business forms, including B2C, B2B, C2B, C2C, or D2C. Moreover, Magento stores can combine these business forms to sell products on one channel.
WooCommerce
WooCommerce is an open-source eCommerce plugin that allows online merchants to use WordPress for selling products.
Features
It only includes the basic functions of an online store. Meanwhile, it is easy and straightforward for merchants to learn how to use and manage their online shop. However, the limited features of Woocommerce prevented the business's expansion.
Security
WooCommerce has been reported to sometimes encounter severe problems relating to insecurity. If firms can figure out the problem early, the issue can easily be tackled. However, this is a big weakness of Woocommerce.
SEO Friendly
An outstanding advantage of this WooCommerce is an excellent SEO score. This is understandable as it is based on WordPress – the top content management system.
User
Apparently, WooCommerce is a perfect choice for startups during the initial stages. Nevertheless, once firms start to expand, they need more complex functions to manage their website, which is not available on WooCommerce.
Overall, WooCommerce is only suitable for mini-companies or bloggers who want to start a small business for products advertised on their blogs.
Shopify
Shopify is also among the top e-commerce platforms.
Features
Recently, Shopify has made announcements about its corporation with Amazon. Merchants can now sell their products on Amazon through the Shopify Admin Panel.
Similar to Magento and WooCommerce, e-commerce business on Shopify also gains a high SEO score.
Security
According to customers' reviews, the performance of Shopify's online businesses is stable. Merchants rarely face any risk related to insecurity or data loss.
Cost
For pricing, merchants need to pay from $29 to 299 per month to use Shopify. In the short term, the cost is quite affordable. However, the fees continue to increase as the business grows. Shopify's final cost could quickly end up exceeding the price to hire a Magento developer (from $3,000/project).
Additionally, Shopify has the most costly themes among the three platforms. There are only ten templates available for free. For other themes, store owners need to purchase, and the price starts from $140. If there is theme customization, the cost could be up to $5,000.
User
Overall, we recommend businesses choose Magento as the platform to develop their e-commerce store. It is suitable for stores of all types and sizes. Another reason to opt for Magento over others is its fantastic performance with the best experience it brings to both firms and purchasers.
#3 Choose An E-commerce Service Provider
The final step is finding an e-commerce service provider, they play a critical role in determining the success of the online store. 
The increasing demand for online shopping has also led to a rise in online store development companies. Hence, to meet the needs, website development services came with a variety of prices. And the tip is agencies in Asia always offer a better price than in the US, and UK.
There are two common forms of service for merchants to choose from custom web development services and web packages. For the second option, the price is less high, and various packages can suit the requirements of different websites for online business.
Wrap Up
Overall, the process of bringing your store to an online store includes three stages: choosing a domain, finding an appropriate e-commerce platform, and hiring an agency to set up the online store.
We hope that through our post, merchants can find the process to grow their online business less complicated and survive through this challenging time of 2020.
Read more: