With online business, you can reach and sell to tens of thousands of people daily through the internet. However, you need a specific and realistic eCommerce marketing strategy to do so. It sounds simple, but this is a headache for many people accessing eCommerce for the first time.
Have the same issue? No worries, this article will help you with the most accurate mindset and valuable tips that help you reach thousands of customers!
What Is Ecommerce Marketing Strategy?
An easy-to-understand definition
Ecommerce marketing strategy refers to activities that aim to drive traffic to a brand. Normally, these tactics are intended to increase brand exposure and sales.
Experts have affirmed that online marketing is hugely diverse and transforms frequently. This change can come from policy updates of eCommerce marketing platforms, new technology, or government policy. Therefore, businesses must constantly adapt to achieve the most positive results.
Is eCommerce marketing strategy important?
Customers can't buy your products if they don't know you. Ecommerce marketing strategy is the main method of attracting customers, introducing products, and generating cash flow to help companies survive. Without a strategy, your business will soon be out of the game.
In addition, online marketing campaigns have a lot of metrics to help businesses evaluate their effectiveness. Thanks to those data, you can set KPIs for each campaign more efficiently, thereby detecting immediately when campaigns are ineffective.
In short, marketing is an inseparable part of eCommerce!
6 Pro Tips For A Successful Ecommerce Marketing Strategy
It is quite challenging to list all the eCommerce marketing strategies. You should find some courses to grasp them more easily, we will only list the top 6 tips to make your marketing activities more effective.
1. Impress customers with your website
For direct businesses, the store is their face. A clean, beautiful, and impressively decorated store will definitely catch customers' eyes.
The same works for online marketing. Remember that most marketing activities will gradually bring users to the website. All purchases, sales, and payments will take place here. Therefore, a quality website is a decisive factor in customers' purchase decisions.
 A standard online store needs to meet design and performance requirements. More specifically, it needs to show the brand personality and have a beautiful, eye-catching design.  When it comes to marketing in the Netherlands, as per consumer market insight for the Netherlands cosmetic adjustments to a web shop have far less influence on the turnover than making changes based on behavioral science.
On the other hand, the website's performance also needs improvement. A web with high speed, no errors, no broken links will retain customers better than websites that do not meet these factors.
However, you will have to invest a certain amount of money to get such a website. Do not hesitate because this is the premise for all future business development. Choose a credible web development agency like Tigren to assist you in this regard.
2. Real-time personalized and time-limited voucher
Many studies prove that people are more interested in what relates to their individuality than just general content.
Therefore, personalized vouchers can make customers feel cared for and noticed. Such utilities are like telling customers that they are special.
Many types of promotions like this are being used by businesses, such as women's day sales, first 100 person priority, etc. These are all typical eCommerce marketing examples of customized vouchers.
Also, the offers should be within a limited time. This limitation will make the customer feel rushed, boosting the customer's buying decision process. It can even create a sense of pride when owning favor goods with a particular cost. As a result, regrets after buying will decrease, and brand love will increase.
3. Increase traffic from social media
You can get more customers by building an online presence on social media platforms such as Facebook, Instagram, TikTok, Youtube, and the like.
These social networks are often perfect for interacting with customers constantly if they forget about the brand. Brands' daily posts on Facebook and Instagram will help maintain your touchpoints with customers. Videos on TikTok and Youtube will help you make a stronger impression on your users. From there, the connection between users and you will be tighter.
In addition, advertising on social networking platforms also makes it easy to attract customers' attention. Then draw this attention to your website and convince them of your excellent product and limited-time offers.
4. Write about what your customers care
There's more chance to attract customers with an excellent blog SEO strategy. The key is to target what customers care about and bring them into your writing.
Firstly it's recommended to carry out keyword research. Estimate the number of customers that can be reached through keyword searches. Imagine just 30% of your articles to the top of Google, surely the ability to reach thousands of people is possible.
You can open a blog to share experiences related to your product or provide a user guide. Each blog post will have a different keyword ranked by search engines. Also, interact with your blog readers/customers to make them feel more connected to your brand.
5. Invest in eCommerce marketing automation
Several small shops have an erroneous assessment about the need for eCommerce marketing tools. Many people feel this is wasting and superfluous. They don't want to cut their budget while spending a little more time running the campaign themselves.
However, the reality is precisely the opposite. Automated marketing tools help reduce the workload and increase sales and customer care efficiency. Businesses that know to utilize available tools can take the lead in understanding and connecting with their customers.
You can make a revenue ten times higher than currently with quality tools. The most common tools for e-commerce marketing strategy are Google Analytics, Google Ads, SemRush, Ahrefs, etc.
6. Find your companion
Another tip is to look for an eCommerce marketing company to be your companion in solving marketing-related issues for your business. They have an optimized process to fix every problem.
Find the one with suitable services and budgets for your business. Set a revenue KPI or lead in marketing activities (e.g., SEO, ads, etc.). This is commonly one of these companies' eCommerce marketing services.
Bottom Line
Along with online business growth, eCommerce marketing strategy has also become more necessary for business owners. The effective campaign can lead thousands of customers to your online store every day.
However, don't forget that no matter how many customers you drive to your store, it won't work if your website can't afford to convert. Therefore, invest a reasonable amount of money and effort in building your store. If you are a non-technical person, you can consider the eCommerce services of Tigren – a reliable website development agency.
We hope this article was helpful to you! Thanks for reading!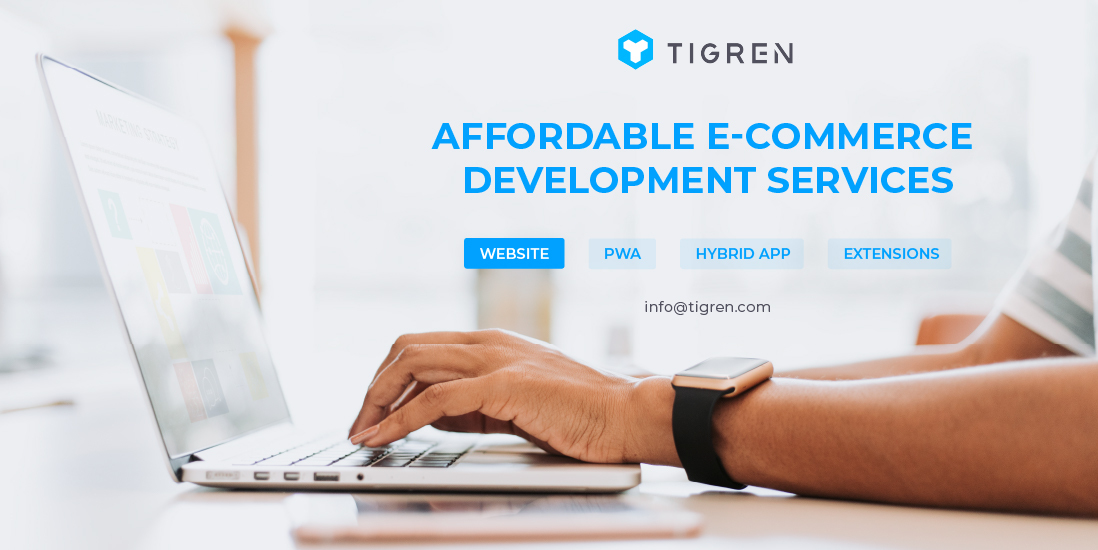 Read More:
Is Ecommerce Email Marketing Still Effective?
How To Reduce Marketing Costs While Still Approaching More Customers?
Trending E-commerce Marketing Strategies To Liven Up Your Online Store