Being a popular individual data administrator of the MS Office suite, Outlook is one of the most common email customers nowadays, especially among students and employees of large corporations. In 2019, Microsoft has converted Outlook.com into Outlook PWA. After this, Outlook has demonstrated several intriguing capabilities that provide users with considerably improved user experiences. You should learn more about this remarkable Outlook PWA story! Let's get started!
An Overview Of Outlook

Microsoft Outlook is an email application that includes a calendar, contacts, and task manager. With the application, you can create folders to easily organize your communications for future reference. At the same time, you can keep your calendar up-to-date to avoid missing any deadlines.
Utilize Outlook on your PC, tablet, or mobile device to:
Organize email to let you focus on the messages that matter most.
Easy to share and manage your calendar for meetings.
Cloud-based file sharing ensures that receivers always have the most recent version.
Stay connected and productive wherever you are.
Why Has Microsoft Turned Outlook Web Into Outlook PWA?
Microsoft has stated their intention to make Progressive Web Apps (PWAs) available to more than 500 million Windows 10 devices since 2016. They believe PWAs are the key to the web's future. The company also expects their potential to enable more immersive web app experiences across all device form factors.
As a result, in 2018 they began to make significant progress from the vision to reality. This begins with minor improvements on Windows PWA previews. Then to continue with the publication of their roadmap to deliver PWAs to the Microsoft Store.
In 2019, Microsoft has officially turned Outlook.com and Outlook for the Web version into Progressive Web App.
This modification might be seen as the most significant step in Microsoft's PWA adaptation process. Additionally, Outlook may be a precursor to the creation of the PWA version for the company's other Office products like Word and Excel.
Overview Of Outlook PWA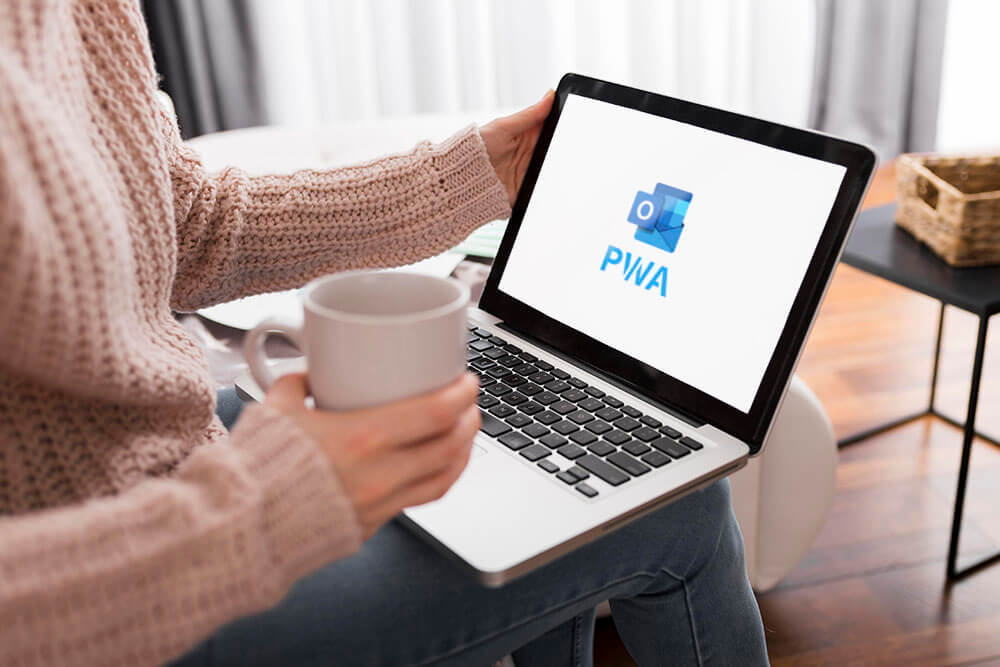 Let's go over some main points about PWA first!
Progressive Web App is a website developed with modern technologies, which give it an app's features. Or you can that it's a combination of a traditional browser and mobile app experience. PWAs are build with the purpose of optimizing user experience on diverse devices, especially on mobiles. On computers, PWAs appear like regular webs, but on mobile it resembles a mobile app more.
Thanks to Microsoft's decision to turn the mail services on Outlook.com into PWA, any Outlook user can now install the web app from Windows, macOS, Chrome OS, and other browsers that support PWAs. In short, Outlook PWA is an alternative to the Outlook web application. It operates precisely like the Outlook desktop application and does not require the user to navigate or enter their email account.
What Makes Outlook PWA Different?
Outlook PWA has all the features that web one has, plus some additional functions to bring the user experience to a new level.
Below are some of Outlook PWA's new features:
Work when the device is offline.
Available for installation.
Can be added to the start menu and pinned to the Taskbar like a native app.
Supports push notifications.
Access hardware features.
The Outlook PWA has a much more straightforward appearance when compared to the Mail and Calendar apps on Windows 10. Although it doesn't have as many aesthetic customization choices as Outlook, it's much cleaner and includes the same email features, as well as Calendar and To-Do list views.
Accessible shortcuts to other Microsoft applications including Word, OneDrive, One Note, Meet, and Skype are also included in the Outlook PWA. You can manage both your Skype and Xbox Live accounts from the profile settings if they both use the same email address.
What Is The Future Of Outlook?
Outlook apps
Microsoft will eschew dedicated desktop apps for Outlook in place of a single client powered by the web. Their "One Outlook" program, which aims to converge Outlook across all platforms, includes this. Project Monarch, which aims to replace all Microsoft email clients, including the built-in Windows Mail program, is underway.
Microsoft aims to provide a unified user experience that will be available to both businesses and consumers.
While Outlook may technically be installed as a PWA right now, Monarch will have more connectors. For instance, Monarch will offer offline storage, notifications, and share targets. While maintaining the same look and feel as the Outlook website, Microsoft aims to make sure that it seems "local" to each platform.
The development of Outlook PWA
Microsoft intends to include Google Drive, Google Calendar, and Gmail in its Outlook.com webmail service. You can easily link a Google Account to an Outlook.com account after a brief setup procedure, and Gmail, Drive documents, and Google Calendar will all be visible inside Outlook.com on the web.
Because the Google Drive integration supports documents and files from Google's service so you can quickly attach them to Outlook or Gmail emails. It's unclear how many users of Outlook will have access to this feature or when Microsoft will make it more widely available. While most people would just go to Gmail to check their email, those who utilize both a personal Outlook PWA account and a G Suite email account for work could find this new connection helpful.
Simple Steps To Install Outlook PWA
The Outlook PWA support is available if you're using a Chromium-based browser like Chrome or Edge.
So, on the Microsoft Edge browser, you need to:
Sign in to Outlook on the web or Outlook.com account.
Select Settings and more at the top of the window.
Click Apps > Install this site as an app.
Once the installation is complete, you can easily access Outlook by double-clicking on the Outlook icon on your computer screen.
On Google Chrome, you can start with these below steps:
Sign in to Outlook on the web or Outlook.com account.
Select Customize and control Google Chrome at the top of the window.
Click Install Outlook.
Wait for Outlook to be installed, and you're done.
On your local computer, an app will be installed then start launching right away. The app can be used offline and has features that aren't available online. Additionally installed in your default location is the Outlook PWA icon. You may access Outlook directly from there, as well as the pin and launch from the home screen to the Start Menu or Taskbar.
Frequently Asked Questions
1. How does a PWA work?
A PWA is essentially a webpage that can be downloaded and installed on your device (phone, tablet, PC, or Mac), complete with an app icon and shortcut. It will automatically download updates every time a user launches it in the background. The update process is effortless with PWA, for users only need to agree to the pop-up request.
The PWA can verify the capabilities of the user's device and load additional data in the background when the user interacts with the PWA. PWAs can also give websites access to extra features that are generally found in apps, such as offline use, new data notifications, and a host of other benefits. This progressive unfurling of functionality based on the user's device runs on the same code base and concurrently with users of browsers on your website.
2. How does Outlook PWA work?
Outlook PWA works by sending users' email and calendar items to the Microsoft cloud. With Outlook PWA, those resources are accessible from any device.
3. Where can Outlook PWA be used?
Outlook PWA is compatible with Windows 10, iOS, and Android devices. The user can use them on many devices like laptops, desktops, smartphones, tablets, and more.
4. How can I turn my business's website into a PWA like Outlook?
To convert the website of your company into a PWA, you should find a PWA development agency. You can asset them by years of expertise, clients they've worked with, and lists of prior projects they've completed. It's recommended that you access some PWAs listed on an agency's portfolio. This way, you can check an ahency's service quality.
If you're interested in PWA, have a store based on Magento, and strive for a premium-quality solution with a reasonable price, we'd love it if you check out Tigren's PWA development service. With 10 years of experience, Tigren's PWAs are well-developed, with advanced features that can help businesses achieve better performance. Depending on your needs, you may opt for the ready-made TigrenPWA theme or go for our tailor-made PWA service.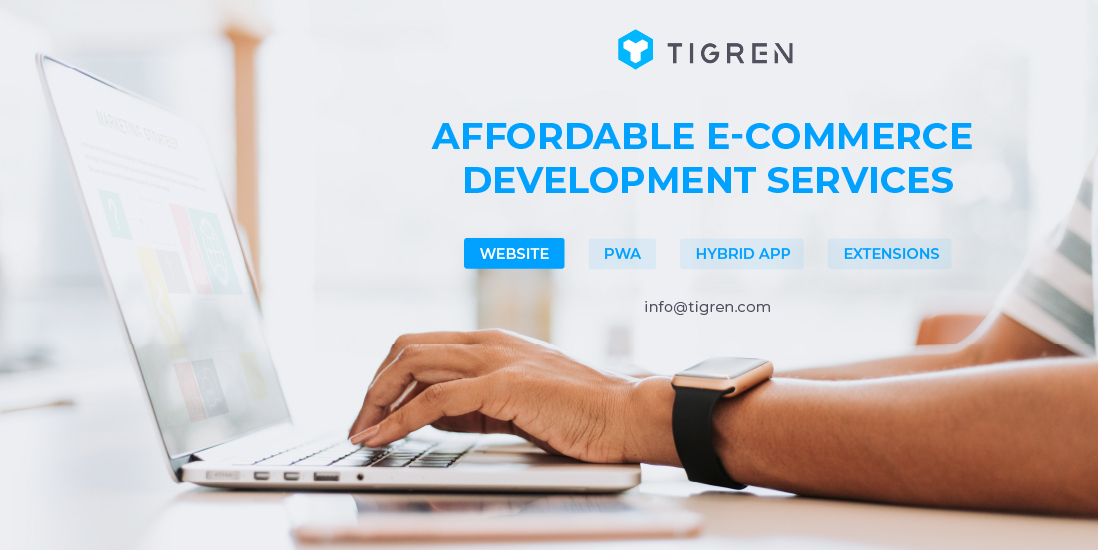 Final Words
With PWA's various outstanding features, Microsoft has expressed their viewpoint that PWA will be the future of all the business websites. And Microsoft itself is not an exception. This is the reason why besides Outlook, Microsoft has also turned Onedrive into PWA and this corporation is going to turn their Microsoft Office into PWA as soon as possible.
So if you're interested in learning more about additional PWA tales from large corporations and worldwide businesses like Microsoft, visit Tigren's blog to read more of our frequently published articles. If you want to have our consultation as fast as possible, don't hesitate to drop us a message at [email protected].