A study by Statista shows that 30% of online shoppers abandon their purchases if they encounter a complicated or unclear checkout process. As a business owner, I am pretty sure that you understand the importance of a smooth and secure payment process to customer experience and more directly, your revenue.
In this post, we'll point out top payment gateways in Ireland, explore the key features, benefits, and potential drawbacks of each payment gateway, giving you the confidence to choose the one that best aligns with your unique business needs.
How To Choose The Suitable Payment Gateway In Ireland
Choosing the right payment gateway in Ireland is crucial for any online business, as it directly impacts your customers' payment experience and your overall success. Begin by researching the various payment gateways available in Ireland. Look for reputable and established providers that have a strong presence in the country and cater to your specific business needs. Here are some criteria that you can use to access whether a payment gateway is suitable for you or not:
Payment Methods Supported
Check which payment methods the payment gateway supports. In Ireland, major credit/debit cards such as Visa, Mastercard, American Express, and Discover are widely used. Ensure that the payment gateway also supports popular digital payment options like PayPal, Apple Pay, Google Pay, and any other local payment methods that are prevalent in the Irish market.
Security and Compliance
Security is a top priority when dealing with online payments. Verify that the payment gateway complies with industry-standard security protocols, such as the Payment Card Industry Data Security Standard (PCI DSS). This ensures that customer payment data is protected and reduces the risk of data breaches and fraud
Transaction Fees
Payment gateways typically charge transaction fees for processing payments. These fees can vary based on factors like the transaction volume and the payment method used. Compare the transaction fees of different payment gateways to find a provider that offers a competitive rate without compromising on essential features and security.
Integration
Consider the ease of integration with your website or e-commerce platform. Many payment gateways offer plugins or APIs that make integration seamless. Choose a payment gateway that aligns well with your existing website or e-commerce system to minimize technical challenges during implementation.
Customer Support
Good customer support is crucial when dealing with payment-related issues. Look for a payment gateway provider that offers reliable customer support with multiple communication channels, such as phone, email, and live chat. 24/7 customer support is a plus, as it ensures assistance is available at any time.
Reputation and Reviews
Research the reputation of the payment gateway providers you are considering. Look for online reviews and testimonials from other businesses that have used their services. This will give you insights into the quality of their services, reliability, and customer satisfaction levels.
Flexibility for Future Growth
Choose a payment gateway that can accommodate your business's growth. Consider whether the gateway can handle increased transaction volumes and support additional features or payment methods as your business expands.
Local Regulations
Ensure that the payment gateway complies with all relevant local regulations and legal requirements in Ireland. This includes tax regulations, data protection laws (such as GDPR), and any other financial regulations that may apply to your specific industry.
Top 9 Payment Gateway In Ireland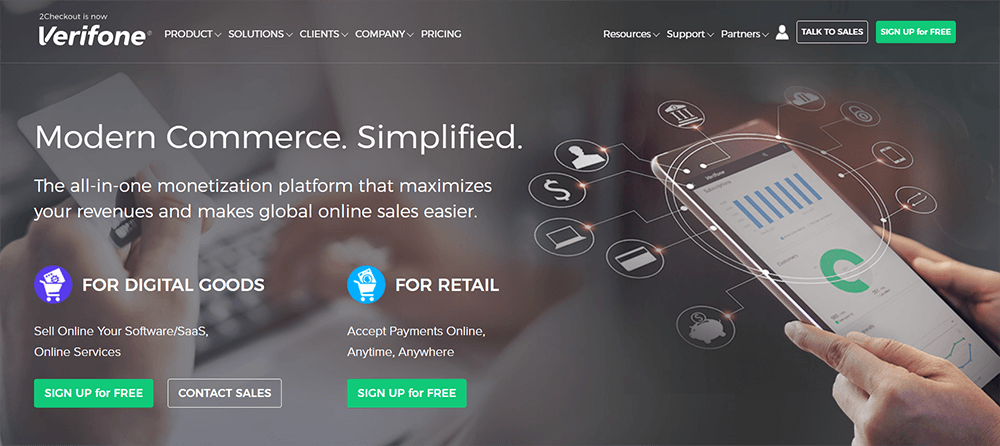 2Checkout is a payment gateway that serves over 234 countries and territories worldwide. After nearly 25 years of providing online business support services, 2CO now has many clients. Their service is of excellent quality, and the support is on point. Yet, note that the company doesn't offer a free trial for new businesses.
Transaction fees: 3 pricing plans
2Sell: 3.5% + $0.35 per transaction.
2Subscribe: 4.5% + $0.45 per transaction.
2Monetize: 6.0% + $0.60 per transaction.
Payment methods:
Credit and debit cards (Visa, Maestro, Eurocard, Bancontact, Diners Club, JCB, etc.)
Digital Wallets (Webmoney, WeChat Pay, PayPal, Alipay, Skrill Wallet, Apple Pay, etc.)
Online Banking (SOFORT Banking, Giropay, iDEAL, OP-Pohjola, Nordea, etc.)
Direct Debit and Offline Payments
Pros: Multiple Localized Payment options. Advanced Security & Fraud Protection. Fantastic customer support.
Cons: High cost. Not suitable for card-present merchants nor high-risk merchants.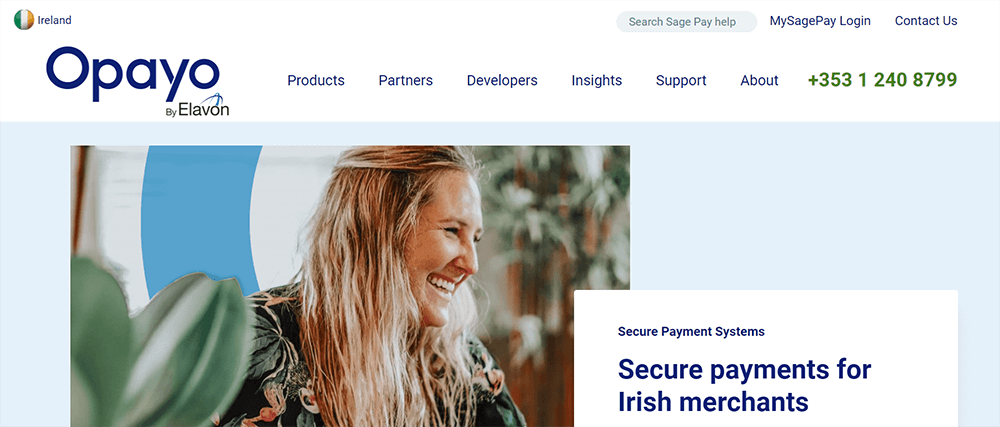 Opayo Ireland (formerly SagePay) is a company owned by Elavon. It operates mainly in Ireland and England. Opayo provides various payment solutions for businesses, such as online payment, card terminals, telephone payment, and POS. Its products are generally straightforward to integrate, have a high level of security, and have transparent costs.
Pricing: 3 pricing plans
Flex: £32/month
Plus: £50/month
Corporate: Bespoke pricing
Integrations: BigCommerce; PayPal; CubeCart; Egg Basket; Kartris; Drupal Commerce.
Pros: Modernized design contributes to an ergonomic interface. You can find each software tool quickly and easily if you have some prior experience.
Cons: Its biggest weakness is the inability to search for payment history outside pre-set periods. Besides, there is no Opayo mobile app. Customer support requires a long wait time.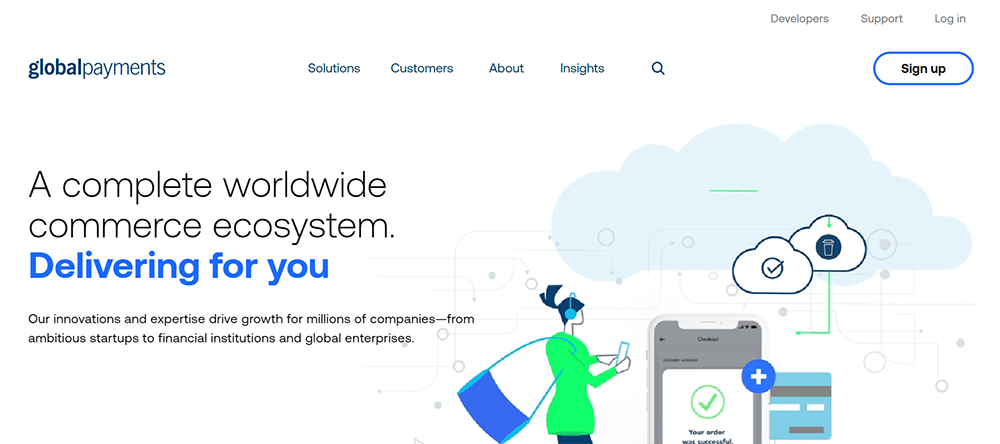 This is one of the leading payment gateways in Ireland. In fact, Realex has been at the forefront since 2000, when the payment market was starting to take off. Today, the company accepts 120 payment solutions and processes up to €35 billion for about 14,000 retailers annually. It's now known as Global Payments after being acquired by Global Payments Inc in 2015.
Pricing:
SMEs: Free setup but service is £19 per month or 1.75% + 9p per transaction
Enterprises: Exact price can be decided after negotiation
Integration: Full integration with shopping carts from all the major players, including Magneto, Opencart, Shopify, WooCommerce, etc.
Payment methods: Accepts all major credit and debit card payments, plus PayPal and some local alternative payment methods.
Pros: Excellent customer service. Good tech support. Excellent product for businesses of every size. Easy to set up.
Cons: Customer service is not good. Realex is relatively slow in responding to the mailbox, sometimes even unavailable; long wait on the telephone line.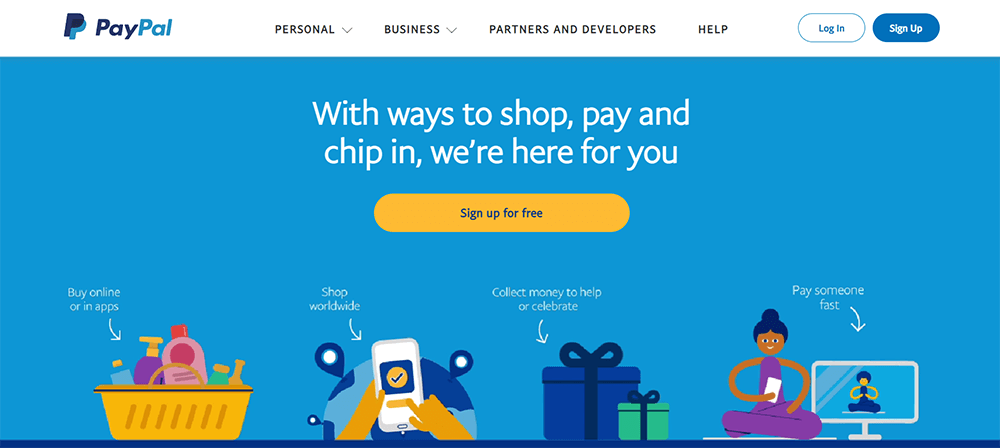 PayPal is one of the most famous online payment gateway providers in Ireland. It was established in 1998, and its headquarter is in the US. Its services fit best for small businesses, eBusiness, eCommerce platforms, marketplace, etc.
Pricing: based per transaction, 2.5% + Fixed fee ($0.041).
Integration: PayPal balance, a bank account, debit or credit cards, and rewards balance.
Pros: Robust functionality, automated and seamless account establishment process. No annual fee, no setup fee, no PCI compliance fees, and no cancellation fee.
Cons: Long wait time and no email address for customer support.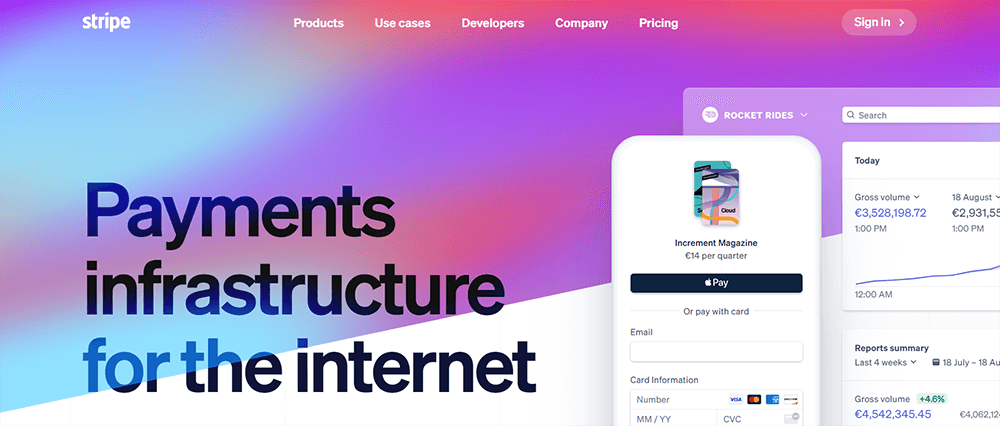 Stripe payment is a robust payment gateway for online businesses. This company was founded in 2009, headquartered in San Francisco. After nearly 15 years of development, it now accepts approximately 135 currencies and dozens of payment methods.
Pricing: 2 services
Online: 2.9% + $0.30
In-person: 2.7% + $0.05
Payment methods:
Credit card networks: Visa, Master Card, Discover, American Express.
Digital wallets: Alipay, Apple Pay, Google Pay, Click to Pay, WeChat Pay.
Buy now, pay later services: Klarna, Afterpay.
Pros: Good for online credit card processing. Convenient for companies capable of leveraging the free API to build a custom e-commerce experience.
Cons: Sudden account holds. Not very user-friendly. Slow customer service.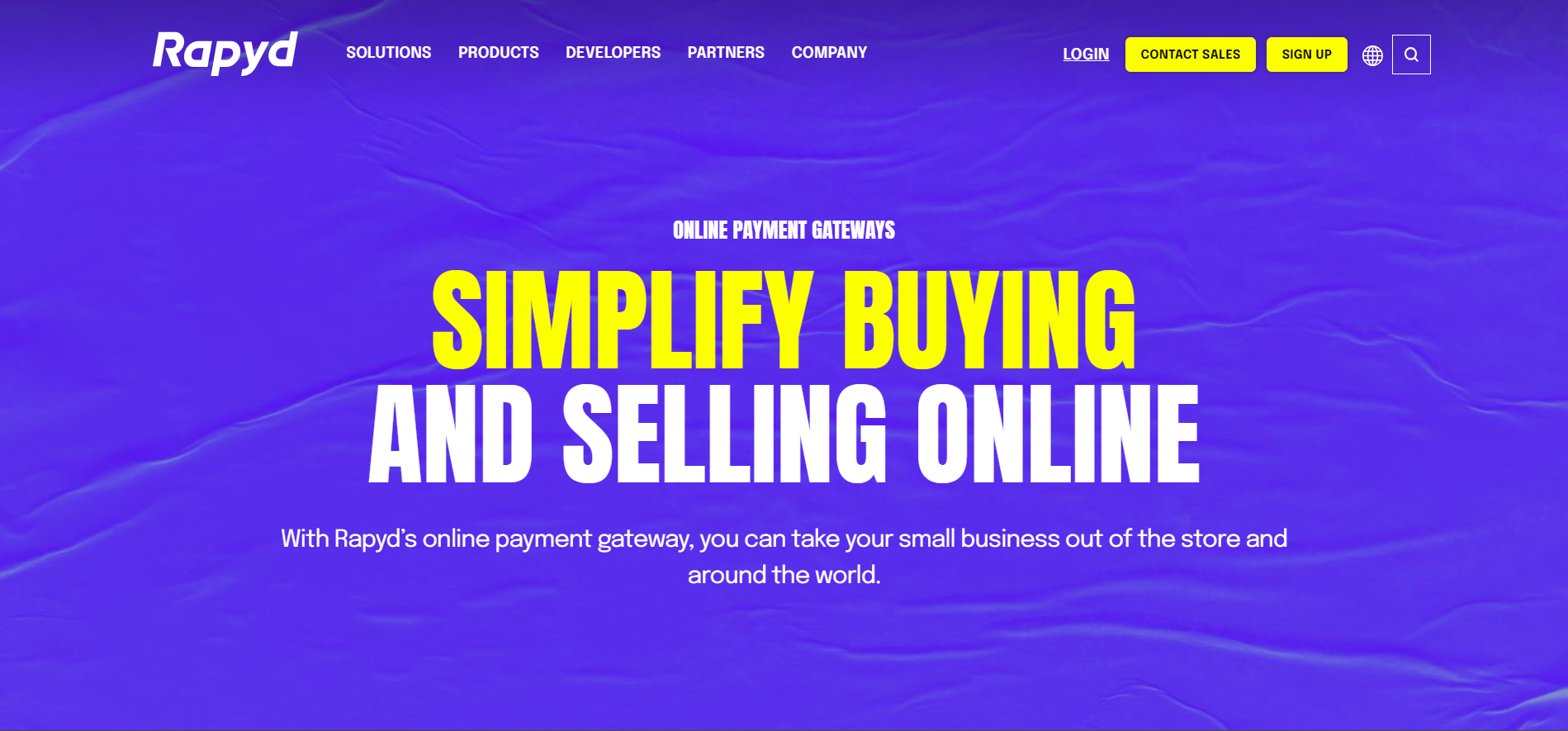 Rapyd Payments is a versatile payment solution that allows Irish businesses to integrate payment systems into their websites or applications using the Rapyd API. With Rapyd Collect, an innovative platform for worldwide payment processing, online stores can accept payments via credit and debit cards and a wide range of local payment alternatives in more than 100 countries.
Pricing:
Set up: Free
Charges on refunds: $25.00
Payment methods:
Credit/Debit Cards: Visa and MasterCard
Other Accepted Payments: Bank Redirect and eWallets
Pros: Rapyd allows businesses to reach customers in over 100 countries, making it an excellent option for companies with international ambitions. Besides that, the customizable REST API empowers businesses to create payment solutions tailored to their specific requirements.
Cons: Businesses should consider the $25.00 refund charge when processing customer refunds.
Adyen is a global payment company that has gained popularity in Ireland for its reliable and efficient payment gateway services. Established in 2006, Adyen offers a wide range of payment options and serves as a one-stop solution for businesses looking to expand their online presence and streamline payment processes.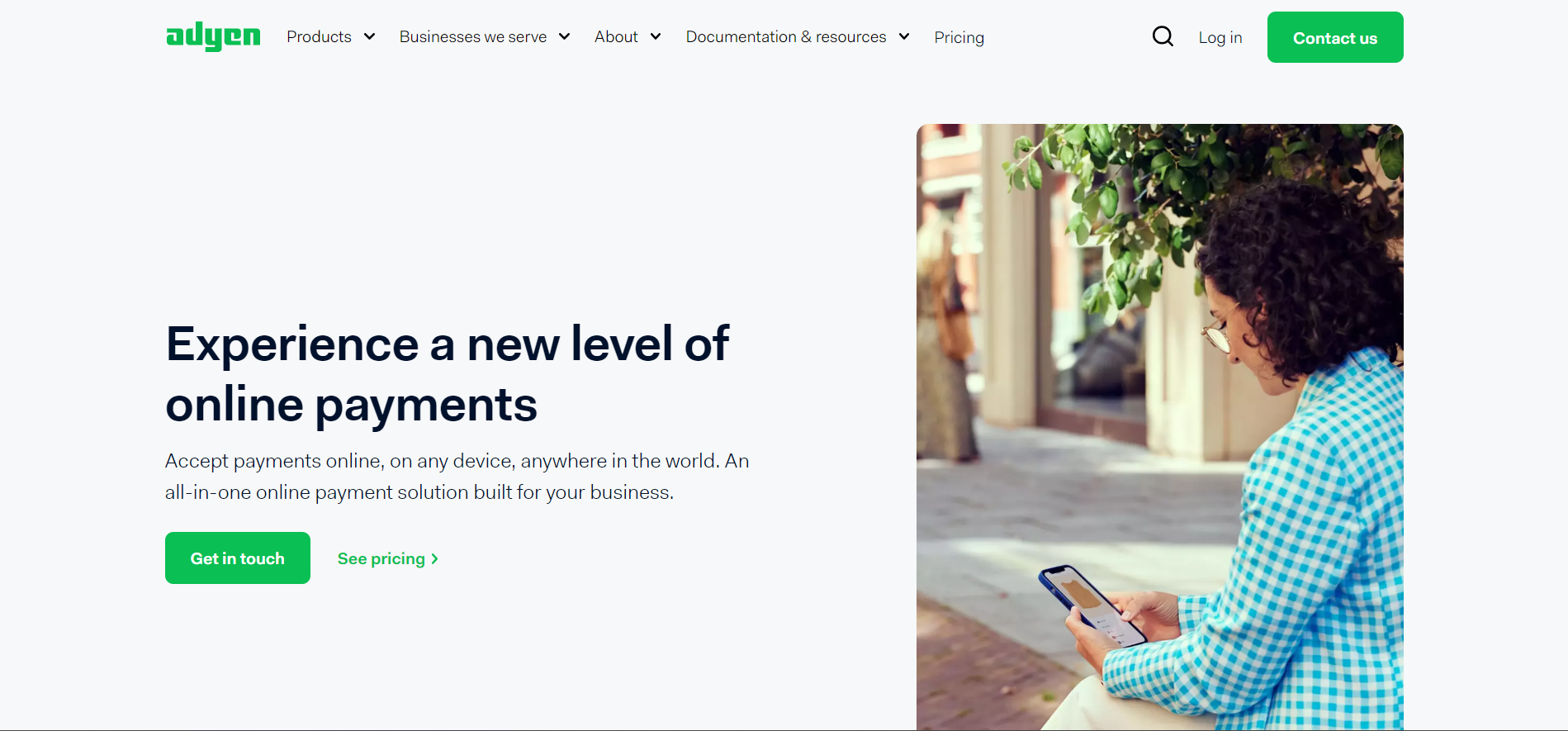 Pricing:
Setup fee: Free
Commission per transaction:
2.59% plus 49 cents for credit cards, debit cards, and digital wallets.
3.49% plus 49 cents for Venmo (U.S. only), transactions in non-U.S. currency, or transactions outside the U.S.
0.75% for ACH (maximum fee of $5). Discounts are available for enterprise businesses.
Payment methods:
Credit/Debit cards: Visa and MasterCard
Various other accepted payments
Pros: Ayden support for multiple currencies allows businesses to expand globally without payment processing limitations. The quick onboarding process is a significant advantage, enabling businesses to start processing payments promptly.
Cons: Adyen's transaction fees may vary based on the payment method and location, which could lead to higher costs for some transactions. While Adyen supports a wide range of payment methods, businesses may still need to evaluate if all those options are necessary for their specific needs.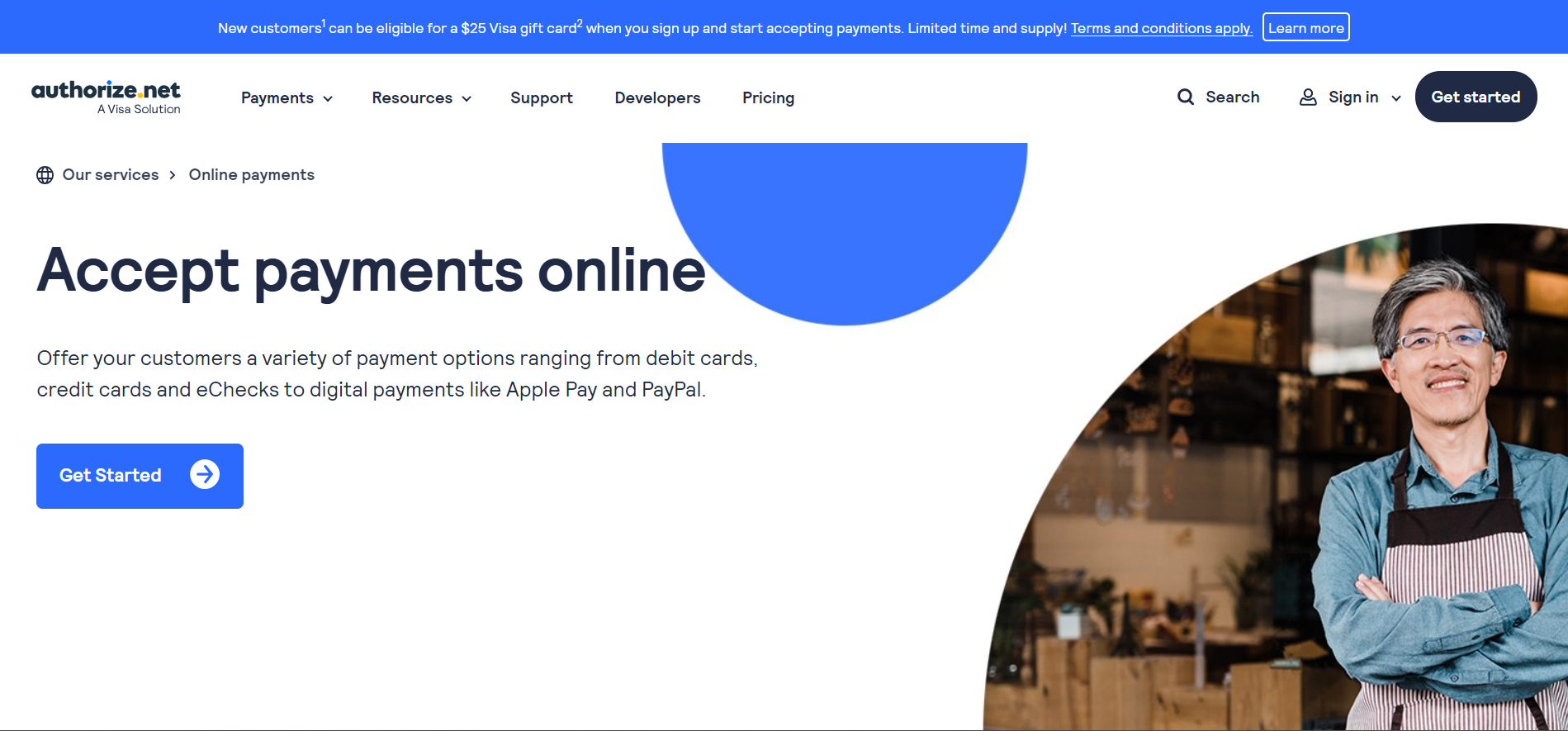 Authorize.net is a widely recognized and trusted payment gateway that has been serving businesses in Ireland and around the world for many years. Owned by Visa, it offers a comprehensive suite of payment solutions to cater to various business needs, from e-commerce to brick-and-mortar stores.
Pricing:
All-in-One Option: $25 per month with a transaction fee of 2.9% + $0.30 for each transaction.
Payment Gateway Only: $25 per month with a transaction fee of $0.10 per transaction and a batch fee of $0.10.
Payment methods: Accepts all major credit and debit card payments
Pros: Authorize.net has been in the industry for a long time and is widely recognized and trusted, which can provide peace of mind to businesses and customers alike. The payment gateway offers robust customer support through email, phone, and live chat, ensuring that businesses can get help whenever they need it.
Cons: While Authorize.net is popular and widely used in the United States, it may not be as extensively supported or available in some regions compared to other payment gateways.
Checkout.com is a global payment gateway that also serves businesses in Ireland. It offers a wide range of payment solutions to facilitate online transactions, catering to businesses of all sizes, from startups to large enterprises. Checkout.com is known for its advanced technology, high-level security, and comprehensive support for various payment methods.
Pricing:
Set up fee: Free
Interchange Rate: Intercha
European Cards: 0.95% + $0.20
Non-European Cards: 2.90% + $0.20
Payment method:
Credit/Debit cards: Visa and MasterCard
Other accepted payments: Apple Pay, PayPal, and Alipay.
Pros: Checkout.com supports a wide range of currencies and payment methods, making it suitable for businesses with international customers. This allows you to expand your business globally without worrying about payment processing limitations.
Cons:
Integration with Checkout.com may require some technical expertise, especially if you're implementing advanced features. While the company offers extensive documentation and developer support, less tech-savvy businesses might need additional assistance.
Bottom Line
Payment gateways Ireland is becoming increasingly diverse. The services of these companies are also gradually becoming more and more perfect and developed. This is not only good for businesses but also beneficial for consumers. All can make transactions safely, conveniently, and quickly.
However, there are many different payment gateway companies today, each with its strengths and weaknesses. Therefore, consider carefully before choosing your partner to avoid wasting time and money. If the above businesses haven't satisfied you, check out Shopify payments Ireland or Bluesnap Ireland.
If you are looking for a company to assist you in optimizing your eStore and installing a new processor, check out Tigren.
We will help you install a payment gateway from scratch or add another one with a minimum budget. In addition, we will also assist you in optimizing your website with bug fixes, code reviews, security updates, and online training.