The Covid-19 epidemic has completely changed consumer behavior. Buyers are prioritizing online shopping and cashless payment. This is the same situation in Ireland. Therefore, it's more important than ever to own secure payment gateways Ireland for e-commerce businesses.
However, finding a reputable partner is not easy since there are too many payment processors. This article will help you solve this problem, we will introduce the top 5 providers. Scroll down to learn more!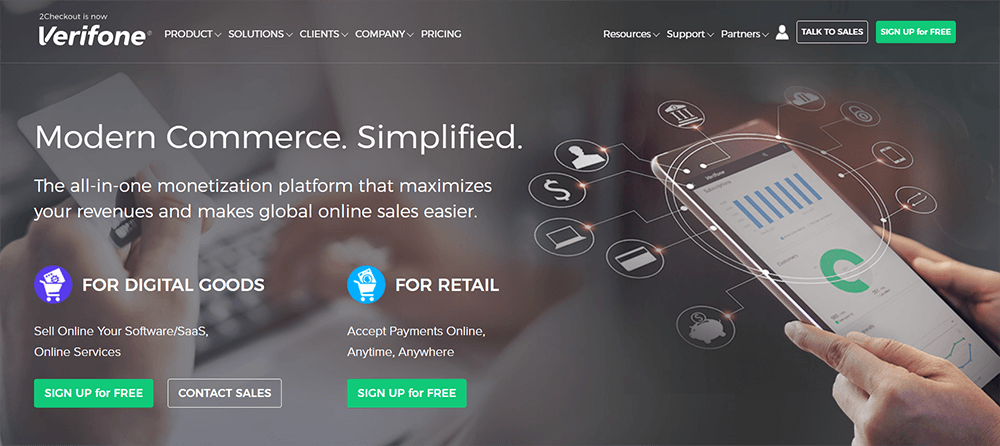 2Checkout is a payment gateway that serves over 234 countries and territories worldwide. After nearly 25 years of providing online business support services, 2CO now has many clients. Their service is of excellent quality, and the support is on point. Yet, note that the company doesn't offer a free trial for new businesses.
Transaction fees: 3 pricing plans
2Sell: 3.5% + $0.35 per transaction.
2Subscribe: 4.5% + $0.45 per transaction.
2Monetize: 6.0% + $0.60 per transaction.
Payment methods:
Credit and debit cards (Visa, Maestro, Eurocard, Bancontact, Diners Club, JCB, etc.)
Digital Wallets (Webmoney, WeChat Pay, PayPal, Alipay, Skrill Wallet, Apple Pay, etc.)
Online Banking (SOFORT Banking, Giropay, iDEAL, OP-Pohjola, Nordea, etc.)
Direct Debit and Offline Payments
Pros: Multiple Localized Payment options. Advanced Security & Fraud Protection. Fantastic customer support.
Cons: High cost. Not suitable for card-present merchants nor the high-risk merchants.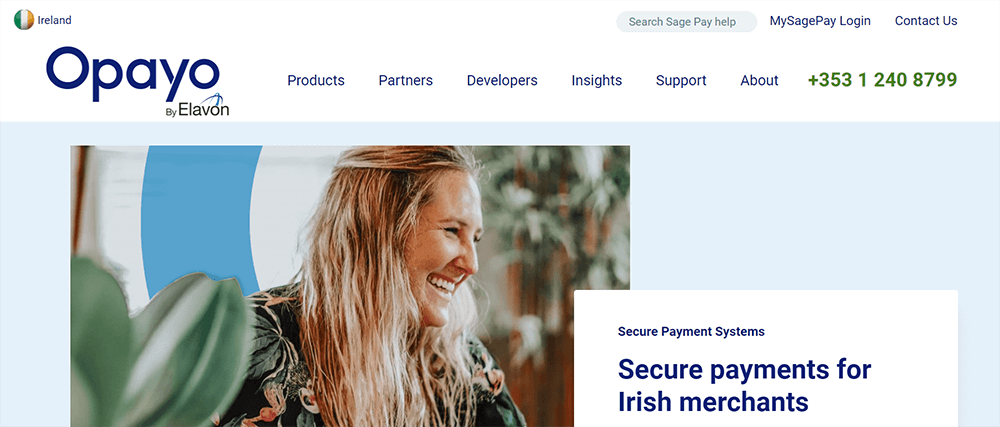 Opayo Ireland (formerly SagePay) is a company owned by Elavon. It operates mainly in Ireland and England. Opayo provides various payment solutions for businesses, such as online payment, card terminals, telephone payment, and POS. Its products are generally straightforward to integrate, have a high level of security, and have transparent costs.
Pricing: 3 pricing plans
Flex: £32/month
Plus: £50/month
Corporate: Bespoke pricing
Integrations: BigCommerce; PayPal; CubeCart; Egg Basket; Kartris; Drupal Commerce.
Pros: Modernized design contributes to an ergonomic interface. You can find each software tool quickly and easily if you have some prior experience.
Cons: Its biggest weakness is the inability to search for payment history outside pre-set periods. Besides, there is no Opayo mobile app. Customer support requires a long wait time.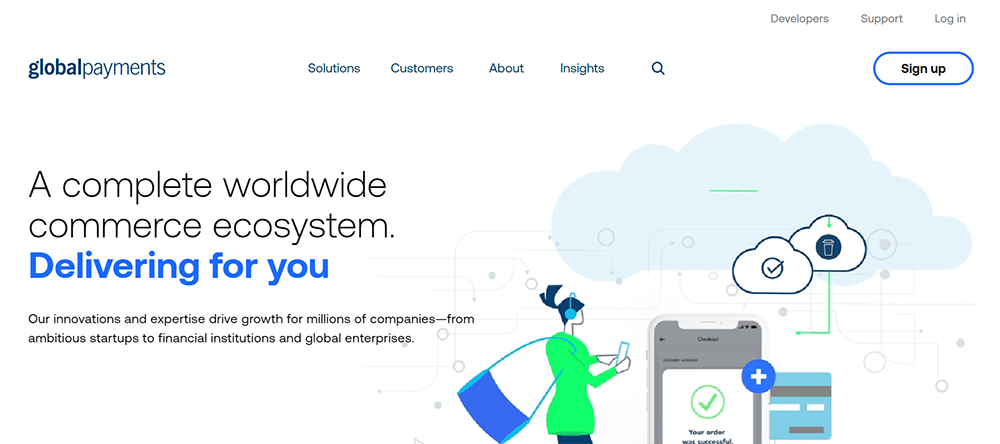 This is one of the leading payment gateways in Ireland. In fact, Realex has been at the forefront since 2000, when the payment market was starting to take off. Today, the company accepts 120 payment solutions and processes up to €35 billion for about 14,000 retailers annually. It's now known as Global Payments after being acquired by Global Payments Inc in 2015.
Pricing:
SMEs: Free setup but service is £19 per month or 1.75% + 9p per transaction
Enterprises: Exact price can be decided after negotiation
Integration: Full integration with shopping carts from all the major players, including Magneto, Opencart, Shopify, WooCommerce, etc.
Payment methods: Accepts all major credit and debit card payments, plus PayPal and some local alternative payment methods.
Pros: Excellent customer service. Good tech support. Excellent product for businesses of every size. Easy to set up.
Cons: Customer service is not good. Realex is relatively slow in responding to the mailbox, sometimes even unavailable; long wait on the telephone line.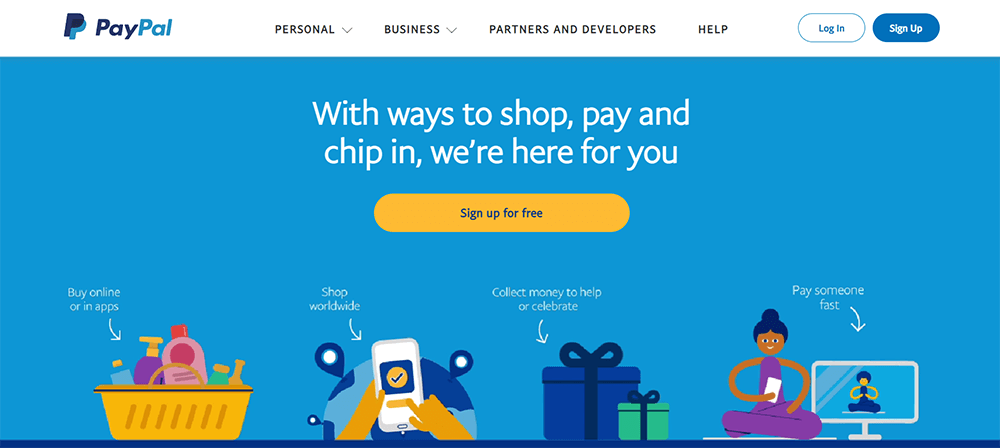 PayPal is one of the most famous online payment gateway providers in Ireland. It was established in 1998, and its headquarter is in the US. Its services fit best for small businesses, eBusiness, eCommerce platforms, marketplace, etc.
Pricing: based per transaction, 2.5% + Fixed fee ($0.041).
Integration: PayPal balance, a bank account, debit or credit cards, and rewards balance.
Pros: Robust functionality, automated and seamless account establishment process. No annual fee, no setup fee, no PCI compliance fees, and no cancellation fee.
Cons: Long wait time and no email address for customer support.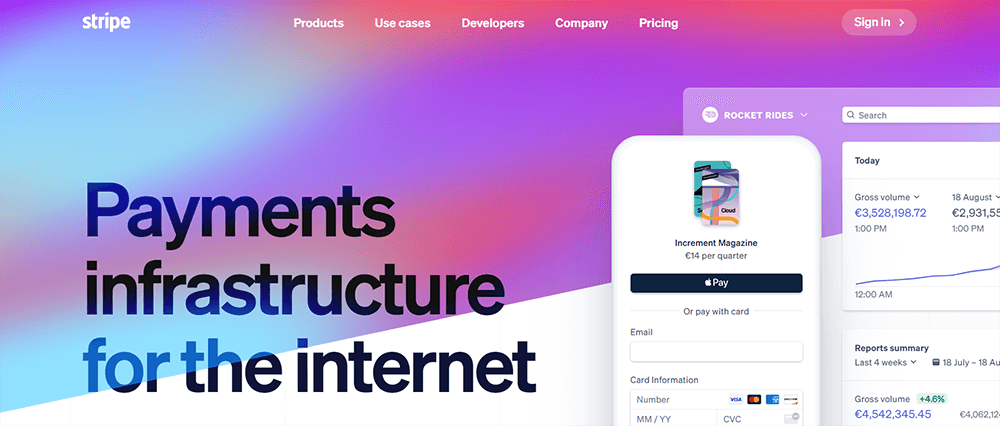 Stripe payment is a robust payment gateway for online businesses. This company was founded in 2009, headquartered in San Francisco. After nearly 15 years of development, it now accepts approximately 135 currencies and dozens of payment methods.
Pricing: 2 services
Online: 2.9% + $0.30
In-person: 2.7% + $0.05
Payment methods:
Credit card networks: Visa, Master Card, Discover, American Express.
Digital wallets: Alipay, Apple Pay, Google Pay, Click to Pay, WeChat Pay.
Buy now, pay later services: Klarna, Afterpay.
Pros: Good for online credit card processing. Convenient for companies capable of leveraging the free API to build a custom e-commerce experience.
Cons: Sudden account holds. Not very user-friendly. Slow customer service.
A Reliable Web Support Service
Although these payment gateway enterprises provide good and convenient services, not all companies support the setup. Meanwhile, the installation process requires technical knowledge, especially for Magento users.
If you are looking for a company to assist you in optimizing your eStore and installing a new processor, check out Tigren.
We will help you install a payment gateway from scratch or add another one with a minimum budget. In addition, we will also assist you in optimizing your website with bug fixes, code reviews, security updates, and online training.
Bottom Line
Payment gateways Ireland is becoming increasingly diverse. The services of these companies are also gradually becoming more and more perfect and developed. This is not only good for businesses but also beneficial for consumers. All can make transactions safely, conveniently, and quickly.
However, there are many different payment gateway companies today, each with its strengths and weaknesses. Therefore, consider carefully before choosing your partner to avoid wasting time and money. If the above businesses haven't satisfied you, check out Shopify payments Ireland or Bluesnap Ireland.