While Shopify is an excellent platform, however, not every business model is suitable for it. Although this is undeniably an excellent place to start, it is only ideal for small businesses since it has quite a few annoying weaknesses. As a result, some merchants decided to start a Shopify to Magento Migration after a period of operation since Magento is a more function-rich and fast-loading platform.
However, this process is quite complicated for first-timers. On the other hand, if you are a Magento newbie, you may not be aware of the strengths of Magento. This can lead to not taking advantage of the platform's full potential.
Starting to feel anxious now? Don't worry, cause we will introduce you to all you need to know here!
Shopify To Magento Migration: Why Choose Magento Over Shopify?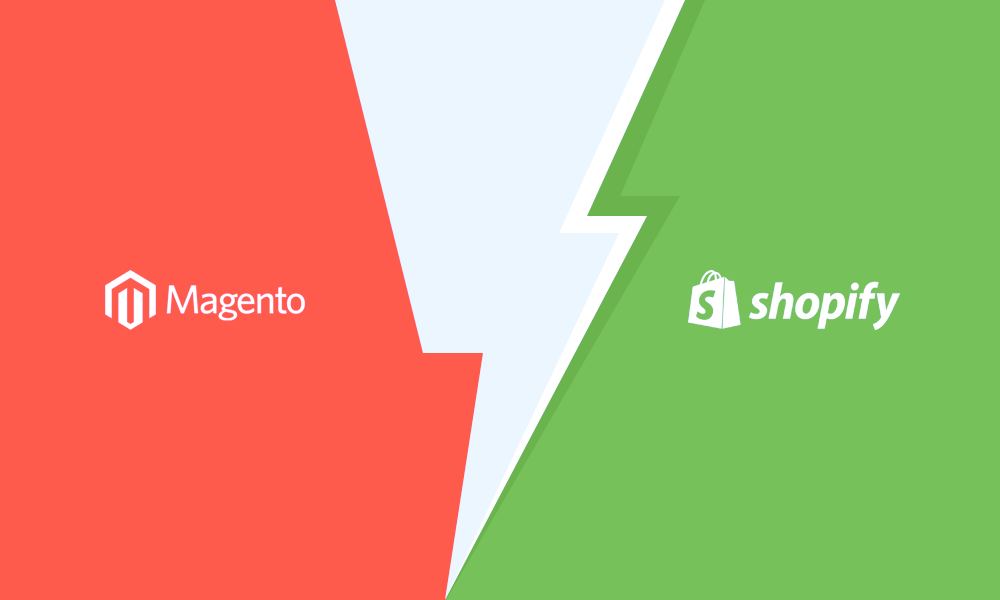 Web theme variety
Magento and Shopify both offer a vast great theme marketplace. Although both provide free and paid web templates, Magento seems to have the upper hand here, thanks to its theme quantity. You can find its theme everywhere, from Magento Marketplace to Theme Forest. Shopify has some quality themes as well, such as Minimal Shopify theme – Storepify.
Besides, it comes with premium Magento themes that are cheap compared to Shopify. On the other hand, Shopify offers themes that are easy to install and customize but are a bit expensive. Shopify's premium themes range from $200 to $300, while that of Magento costs $100 to $130.
Limitless customization
As a Shopify user, you probably already know that although Shopify gives you a more straightforward web design method (drag and drop), you can only adjust certain elements of your store like fonts, colors, etc. This limitation can be quite annoying for some people.
Meanwhile, you can do almost everything you want with Magento since its customizability is as high as possible. It is an open-source web builder, meaning you can change the code and add any properties you like. The only caveat is that you need to have coding experience to do this. The only limit here is that you need to have good coding knowledge and skill to do this.
Lower long-term cost
You probably already know that Magento is a challenging platform to use. You will need to deeply understand web programming language and site structure to use it. This is a demanding requirement for most non-technical merchants. As a result, most people choose to pay an additional fee of $1,000 to $5,000 for hiring a website-building agency. This is larger than Shopify's $299 required cost.
However, with Magento, you only need to pay once and can use it forever. For example, if you hire an agency in Asia to build your store, you only need to pay between $800 and $1,000. This cost is only equal to 3 months of using Shopify's service.
Seamless integration
Although both platforms already provide almost every function you need to start an online business, we still highly recommend you consider equipping some third-party plugins & apps to improve your website.
Shopify offers more or less 4000 extensions on its marketplace, which is much less than the current quantity of Magento apps on its market (more than 5000).
Besides, Magento not only delivers more extensions in quantity but in quality as well. Specifically, its apps cover all aspects of store enhancements and improvements, such as accounting and finance, digital marketing, content and web customization, customer service, review corner, billing, security, reporting & analysis, and the like. Besides, thanks to Magento's limitless customization strength, you can freely select and integrate any plugin you need with no issue.
Lively & active community
Both Magento and Shopify have a vast user community. Thousands of websites are being maintained and developed thanks to those people. They are also the primary source of support for new users of both platforms.
Currently, Shopify's community has nearly 960000 people. This number of Magento is 465000. However, the Magento community is full of professionals in the field of website development. According to some statics, the number of experts on the Magento forums is much more significant than Shopify's. Therefore, they can support solving problems for new members thoroughly and comprehensively.
What Data Can You Migrate From Shopify To Magento?
Fortunately, you can migrate most of the important data in this case. Here are the most common types of importable data:
Products & Product Categories: Nearly all the product-related data, such as title, SKU, full product description, photo in the description, goods status, manufacturer name, cost, special price, URLs, meta title and meta description, product weight, product variation, inventory number, and the base image.
Product image: more product details, such as shape, size, and color.
Order: previous purchased goods list, amount purchased, payment info, user data ID, order status, order product, order price, product amount, order date, subtotal expense, discount cost, tax expense, shipment price, total expense, order feedback, buyer name, billing and shipping address.
Some Static Site Content: About Us, Blog Contact Page, and the like.
Images: Most images on the main pages and between the web content.
Benefits: Discounts, vouchers, coupons, etc.
Shopify To Magento Migration Checklist: What to Prepare?
Before starting the Shopify to Magento migration, you must set up a suitable environment and create a Magento store. Here are 5 must-do things:
Download and install the required software: PHP, Apache, MySQL.
Download and install the Magento platform.
Ensure that Magento software was correctly installed by checking the Magento administration panel.
Generate API Password of your Shopify store: To get this, access "Apps" from the admin panel of your Shopify store > "Manage private apps" > "Create a new private app". After that, fill in the blank box with all the essential details for your private app. A pop-up notification will appear, mark all needed fields as Read and Write. Finally, click "save."
Back up important Shopify data before making any change: You can export all the data from your Shopify admin panel to some CSV files. First, you need to sign in to your Shopify account. Choose the category you want to export from the menu bar on the admin panel's left side. Finally, click the "Export" button and choose your desired choices. Next, select 'Export Product Data' to start the process.
3 Effective Ways For Shopify To Magento Migration
Migrate From Shopify to Magento With LitExtension

Step 1: Create Your LitExtension Account
After navigating LitExtension's homepage, click the "Sign In" button in this page's top right corner.
On the sign-in page, select "Register". Fill in all the blanks with your email, full name, and password to create a new LitExtension account.
Step 2: Set Up The Migration Process
On the admin dashboard, choose the "Create New Migration" button.
First, find 'Shopify' and select it as your 'Cart Type'. Next, paste your Shopify eStore URL in the 'Cart URL' box. Finally, fill in your API password that we generated earlier from your Shopify private app.
Similar to the setup process, now select Magento as the final shopping cart on the 'Target Cart Type' section.
After that, you will need to download and install the LitExtension connector, then extract and place it in the root of your store. This special bridge is vital in connecting your Source Cart and your Target Shopping Cart.
Step 3: Choose The Entities That You Want To Migrate
After those initial phases, it's time to pick the entities you want for your Shopify to Magento migration.
With LitExtension, you can comprehensively transfer the most critical entities, including products, shoppers, orders, pages, blogs, and vouchers.
At this point, select the data you want to relocate from the option list of LitExtension. However, people usually simply click "Select All" to move all commodity kinds.
Besides the main features, LitExtension also allows you to get some additional options to extend your migration, such as:
Recent data migration (add new entities only)
Erase present data on Target Store before moving
Maintain order IDs on the Magento Store.
After choosing your entities, scroll down to find the "Next: Start Free Demo Migration" button. Click on it to run performance and migration tests (if you want to try them first).
On the other hand, if you don't want to waste time on testing, you can immediately go to the official process, click the "Skip demo" checkbox and choose "Next: Start full migration".
Pro tip: There is an instruction for every additional option. To watch them, all you need to do is hover over their name or watch some video tutorials. Those will help you find out which additional option is necessary.
Step 4: Run The Full Migration
In the last step, you can check your total chosen entity and overall cost.
If you run the demo, select the "Next: Start Full Migration" button after your trial is done to start your Shopify to Magento migration.
LitExtension is responsible for taking care of your data transfer during this process. You'll get an email from it when the work is done perfectly, so do not forget to keep an eye on your mail notification.
Migrate From Shopify to Magento With Cart2Cart

Step 1: Connect your Shopify platform
Pick Shopify as your Source Cart. To do this, you must fill in your current Shopify eStore URL and API details by pasting that information in Source Store URL, Admin email, and Admin password blank boxes.
Step 2: Connect your Magento store
Specify your online Magento shop URL and set up the Connection Bridge. You can do this manually on your Magento root folder or do it automatedly with Cart2Cart.
To help Cart2cart identify your Magento eStore, just fill in all the blank boxes in the Target Store section:
Target Cart: Select Magento in this field.
Target Store URL: Paste your Magento store URL.
Now it's time to link Shopify and Magento stores together. You will need the Connection Bridge we mentioned above.
Click on DOWNLOAD BRIDGE. A zip file will be sent to your computer. Unzip and move it to the root directory of your Magento shop. If things are done correctly, you will see a message saying 'connection bridge was built successfully.' appears.
Now, choose the "CHECK CONNECTION" button > "CHOOSE ENTITIES".
You will be navigated again to the Source and Target Cart Setup page. Add the prepared API Password of your Shopify shop. And then choose "CHOOSE ENTITY".
Step 3: Select the data to migrate to Magento
Now, like LitExtension, Cart2Cart will provide an option list and ask what entities you want to migrate from Shopify to Magento. Select the data sorts to move, and try to match them to the corresponding Magento ones. Some critical information Cart2Cart offer migration for free are categories, taxes, manufacturers, orders, and the like.
There are also additional options you can choose from in the following checklist, such as preserving order IDs, clearing current data, migrating SEO URLs, etc.
Step 4: Launch your Magento migration
Your Shopify to Magento migration setup is now ready. Click on the START FREE DEMO button. This will begin the Shopify to Magento migration trial process. You can run the official one after this demo. If Shopify to Magento migration is successful, you will receive the completion notification.
Before verifying Shopify to Magento migration result, you have to run some CLI commands in the root directory of your Magento 2 store. You can look for those comments on the internet.
And finally, everything is done! Enjoy your brand new store!
Manual Shopify – Magento migration
Step 1: Data export
You can skip this step if you have already exported a CSV Shopify in the preparation step. If you have not, here's something you should notice:
First, determine what data you will be migrating. Note that a CSV file can't have more than 9000 rows. If your data need more size than this, you will have to use automated tools.
Now export all the needed information from your Shopify shop to a CSV file and manually import them into your new Magento store.
Step 2: Import Data
After finishing exporting the data, go to the Magento admin panel and access the "System" > "Import/Export" configuration. Here you can import your CSV files containing Shopify data. Remember that you can only import some specific information like Product, Customer and address, Customer Key File, and Customer Address.
Bottom Line
Shopify to Magento migration is a pretty popular keyword on Google these days. This is understandable since Magento contains all the elements to help you own a robust, quality, scalable eStore.
However, this migration process requires the help of some particular extensions, so it can be pretty tricky for some newcomers. Our guidance above will help you successfully migrate to Magento with no issues.
Above is all the information on migrating data from Shopify to Magento. We hope it is helpful to you. Tigren also offers a Magento migration service, don't be hesitated to contact us if you need further assistance. Thanks for reading!