WordPress is one of the most popular open-source e-commerce platforms. It allows thousands of businesses reach to their customers. Many merchants are keen to harness WordPress to extend their market presence.
Yet, professional help for web design is also important. Choosing a reliable WordPress web design agency might be confusing when developing businesses.
If you find yourself in search of a skilled web developer, you're in the right place. Explore our curated list featuring the top 20 best WordPress web design companies. We offer in-depth insights into their company size, client reviews, and notable achievements.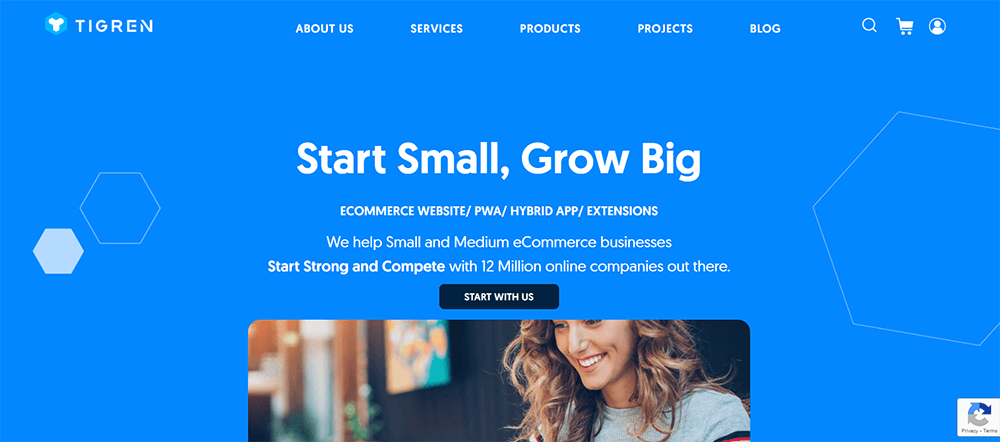 Founded: 2012
Location: Hanoi, Vietnam
Company Size: 11-50 employees
Tigren, an industry leader since 2012, offers top-notch WordPress web design services. With over a decade of experience, Tigren has delivered visually appealing and SEO-friendly websites, uniquely tailored to match your brand identity. Their focus on security, including HTTPS and reCAPTCHA, ensures your site's protection from threats.
Tigren's services encompass the entire web design and development process. They begin by understanding your business objectives and offering a comprehensive project proposal.
From wireframe design to a real website with interactions, Tigren ensures your site is visually striking and user-friendly. They conduct user acceptance testing, gather your feedback, and provide ongoing support to ensure your website's success.
With Tigren, you have a trusted partner for WordPress web design that excels in crafting websites that stand out and perform well, ensuring your online presence resonates with your target audience.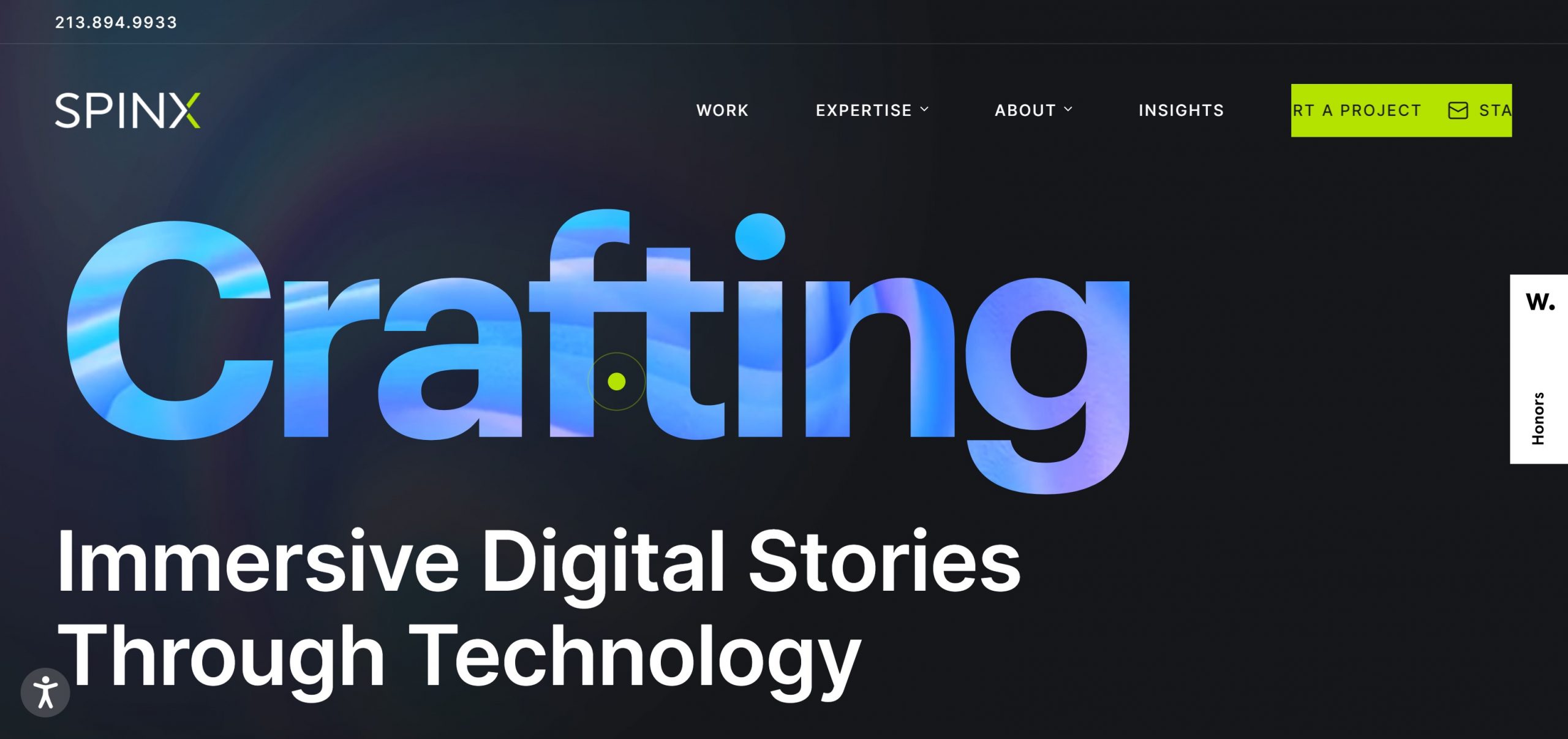 Founded: 2005
Location: USA
Company Size: 10-50
Meet SPINX Digital, a Los Angeles-based web design powerhouse with over 18 years of experience. They are your go-to partners for crafting visually stunning and user-friendly websites that truly stand out. Their flexible, dynamic, and responsive design elements adhere to the highest industry standards, ensuring your website's success.
SPINX Digital's expertise spans creative web design, user research, usability testing, and market and competitive analysis. They excel in industry-standard platforms and technologies like Magento, WordPress, Shopify, Umbraco, Microsoft .NET, and more. Their portfolio boasts exceptional work and a list of awards, solidifying their position as industry leaders.
With clear and transparent communication from project inception to completion, SPINX Digital stands by your side, even after the project is launched, offering web maintenance services for your continued online success.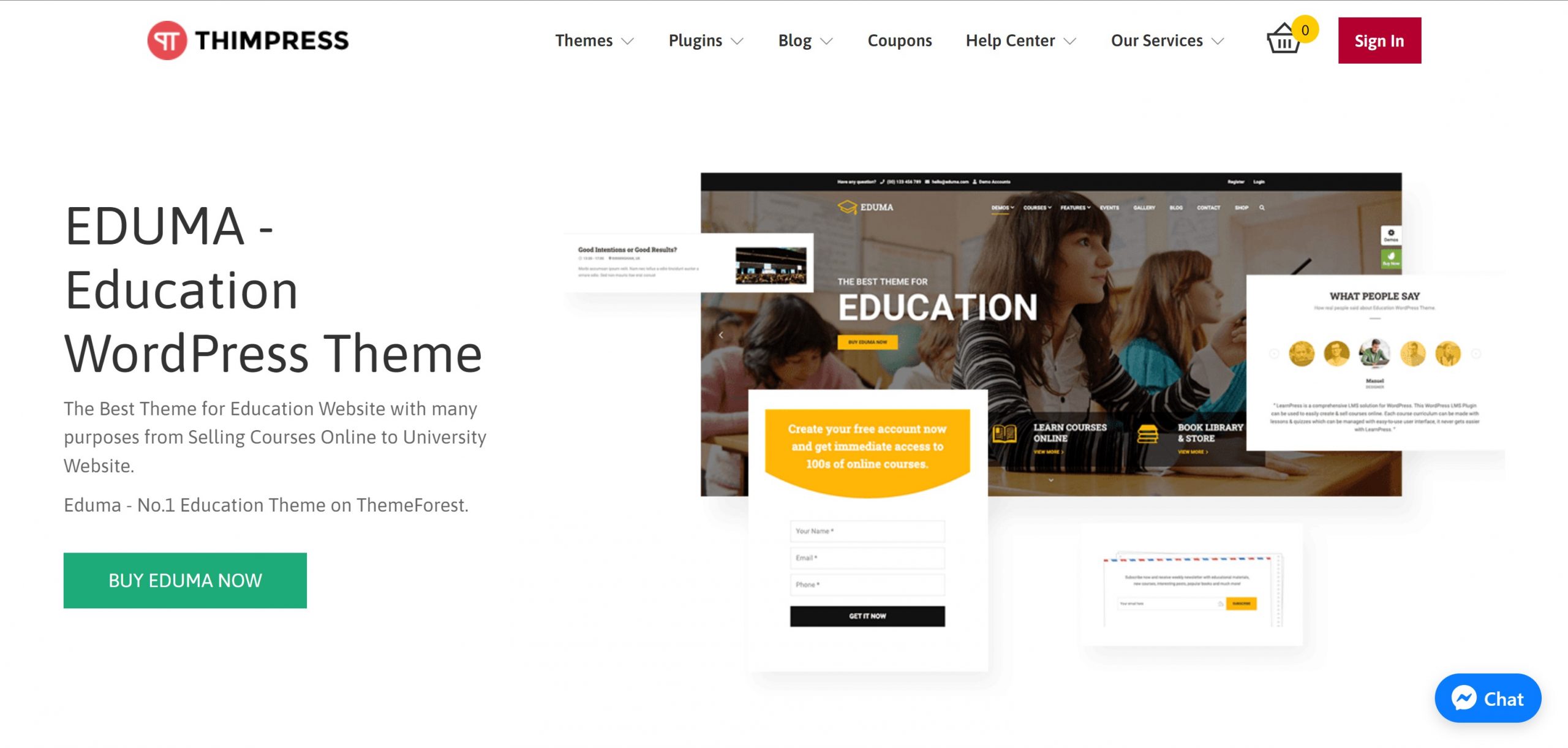 Founded: 2010
Location: Vietnam and Korea
Company Size: 11-50 employees
ThimPress is your gateway to expert WordPress and Magento development services. With a decade of experience, this agency has perfected the art of crafting high-quality themes and plugins, tailored customizations, and top-notch customer support.
At the core of ThimPress is their unwavering commitment to quality and customer satisfaction. Their team of seasoned developers is well-versed in the intricacies of WordPress and Magento, ensuring that their products are rigorously tested and updated with the latest versions of these platforms.
What truly sets ThimPress apart is its exceptional customer service. They offer a range of support options, including email, chat, and phone, and are always ready to go the extra mile to assist their clients. Whether you're looking for captivating themes, custom plugins, or tailored customizations, ThimPress has the expertise to bring your vision to life.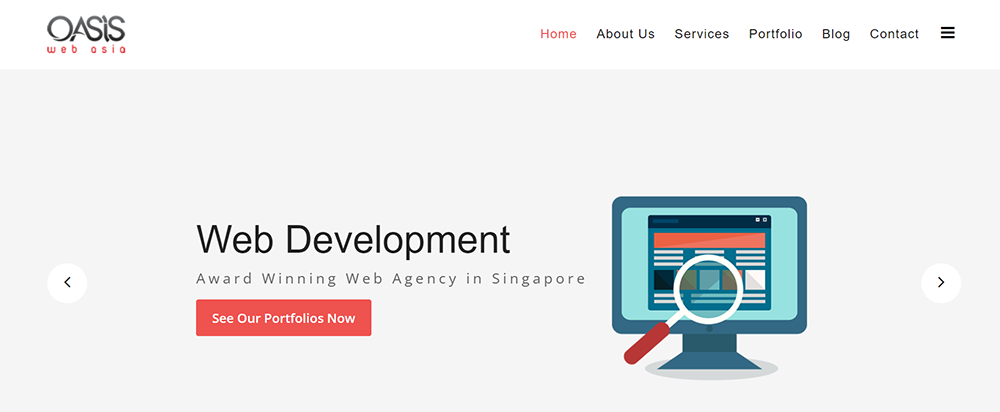 Founded: 2009
Location: Singapore
Company Size: 2-10 employees
Oasis Web Asia, a celebrated web technology consultancy, excels in web design, development, and mobile apps. Since its inception in 2009, they've crafted over 100 websites and mobile apps, serving a diverse clientele in Singapore. Their core pillars—Design Thinking, Data Privacy, Web Security, and Data Analytics—guide their consultancy.
Awards and recognitions have marked their journey, including the Promising SME 500 award from the Small Medium Business Association in Singapore. They've been lauded for Excellence in Mobile Marketing and were named a Top 10 Singaporean Mobile App Development Company by RHA Media in 2023.
With certifications in Personal Data Protection, Management Consultancy, and ScrumMaster®, Oasis Web Asia's expertise is unparalleled. Their growth led to the formation of Oasis Technologies Asia Pte. Ltd in 2020, catering to Singapore's growing digital transformation needs.
Oasis Web Asia offers a wide array of services, from web and mobile app development to real estate solutions, web design, branding, e-commerce, business technology consultancy, and more.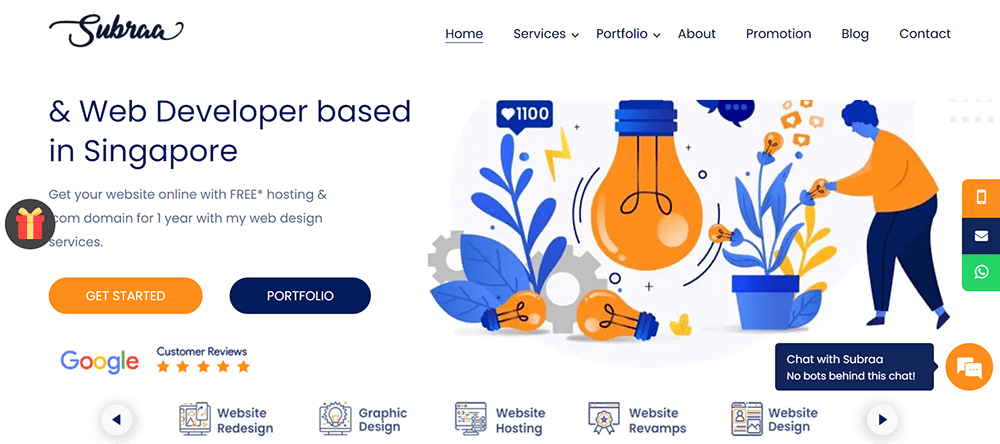 Founded: 2010
Location: Singapore
Company Size: 2-10 employees
Meet Subraa, an accomplished freelance Web Designer, Web Developer, and WordPress Website Designer based in Singapore. His journey began with a hobby in graphic and web design, eventually evolving into a full-fledged profession marked by unwavering commitment and exceptional work.
Subraa specializes in translating clients' website requirements into visually compelling HTML/CSS, WordPress websites, and PSD to HTML/CSS projects. His recent web design projects, showcased in his portfolio, reflect his creativity and expertise.
His approach includes meticulous planning and analysis, emphasizing long-term client relationships and ongoing support. With a rich portfolio of website design and graphic design projects, Subraa has earned the trust of numerous top businesses in Singapore.
Whether you require website design and development, logo design, branding, digital marketing, or graphic design services, Subraa has you covered. His extensive expertise spans various domains, ensuring your digital presence aligns with your brand identity and captivates your target audience.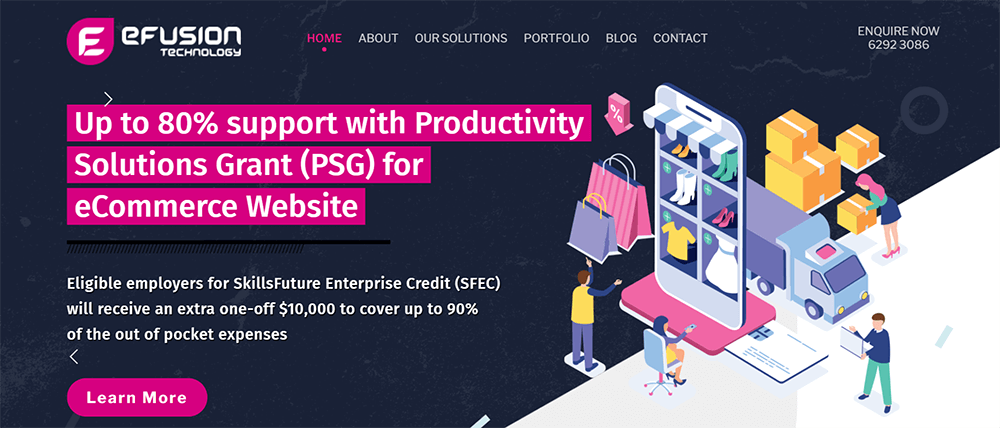 Founded: 2004
Location: Singapore
Company Size: 11-50 employees
eFusion Technology, established in 2004, is a leading Singapore-based website design company that consistently raises industry standards. With over a decade of experience, eFusion remains dedicated to evolving its services to meet the dynamic demands of the digital landscape.
Known for exceptional digital design, eFusion's creative team seamlessly blends innovation with a deep understanding of digital commerce. Their personalized approach to each project ensures custom eCommerce design solutions that truly reflect each client's unique needs.
eFusion has garnered several accolades, including the Gold Award for Digital Transformation in eCommerce, reaffirming its capabilities and resilience during economic challenges. They prioritize building long-term customer relationships and emphasize strong local knowledge.
eFusion empowers clients to use and update their websites effectively, providing comprehensive support, from strengthening website security to enhancing on-page SEO. eFusion is a trusted partner dedicated to building long-term customer relationships, emphasizing strong local knowledge, and offering continuous support.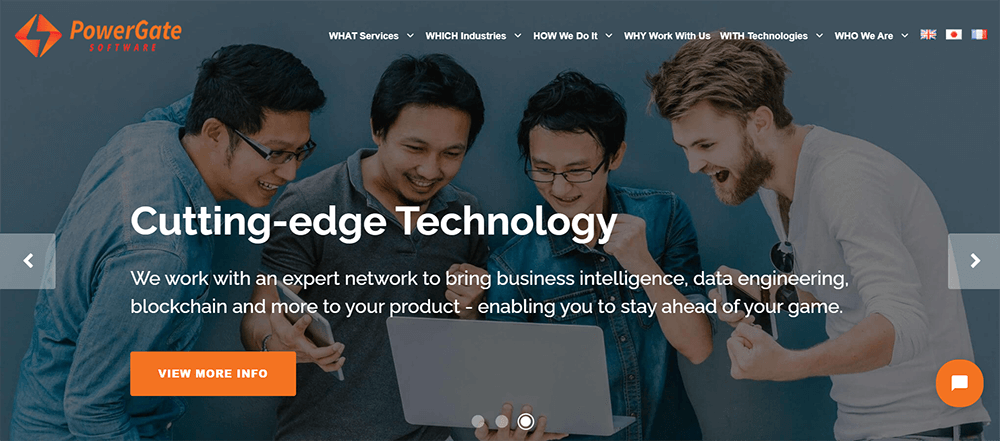 Founded: 2012
Location: Hanoi, Vietnam
Company Size: 201-500 employees
PowerGate Software, a Global Software Product Studio, leverages over a decade of experience to bring innovative ideas to life across diverse industries. They've successfully completed 200+ projects with an impressive 96% client satisfaction rate, serving startups and multinational corporations.
PowerGate aspires to be among the Top 10 international software service companies in Southeast Asia, prioritizing high-quality standards, effective Agile processes, and a unique working culture. Their mission is to assist global clients and partners in building technology products that are high-quality and cost-effective.
Their core values encompass quality, efficiency, sharing success, continuous learning, ownership, and a positive work environment. By eliminating the risk associated with freelancers, PowerGate helps companies accelerate software development with their "Right the 1st Time" delivery model, delivering quality and cost-effectiveness.
With a focus on transparency, cloud solutions, and strong client relationships, PowerGate simplifies technology development while offering a range of services, from product development to data analytics. Led by a handpicked team of in-house engineers and experienced leaders, they adopt a modern approach to software product development.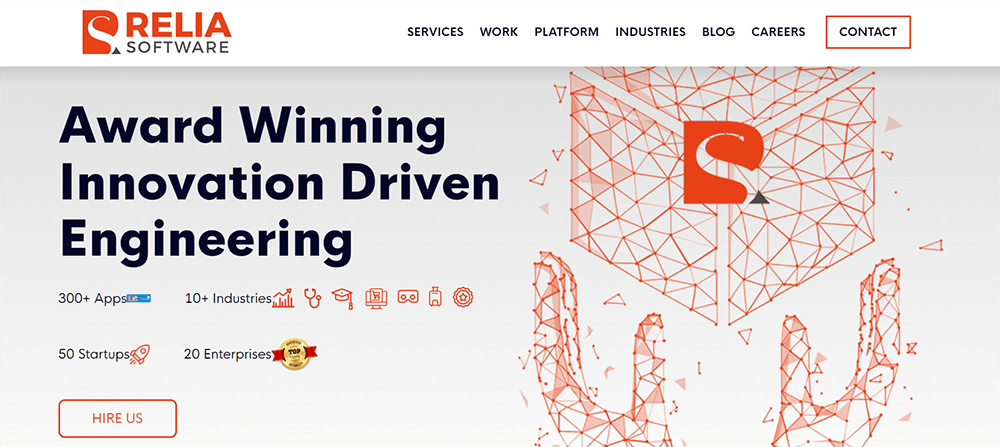 Founded: 2011
Location: Ho Chi Minh City, Vietnam
Company Size: 51-200 employees
Relia Software, an award-winning innovation-driven engineering company, focuses on creating intuitive web and mobile apps with an emphasis on user experience. They excel in delivering scalable software solutions for startups and enterprises, having completed over 300 applications since 2011, spanning diverse industries.
With a strong foundation in design thinking, Relia Software offers services in UI/UX design, AI, ML, blockchain development, and chatbot development. They provide end-to-end solutions for web and mobile app development, including enterprise app development and the use of modern technologies like Flutter, AngularJS, ReactJS, NodeJS, and more.
Relia Software stands out for its offshore development centers, a cost-effective approach for clients. They follow a design thinking process to bring project ideas to life, focusing on ideation, discovery, product strategy, and maintenance.
Notably, they've received recognition for their work and have been named a top developer in Asia by Clutch. With an impressive track record and expertise, Relia Software is dedicated to creating high-quality digital solutions for its clients.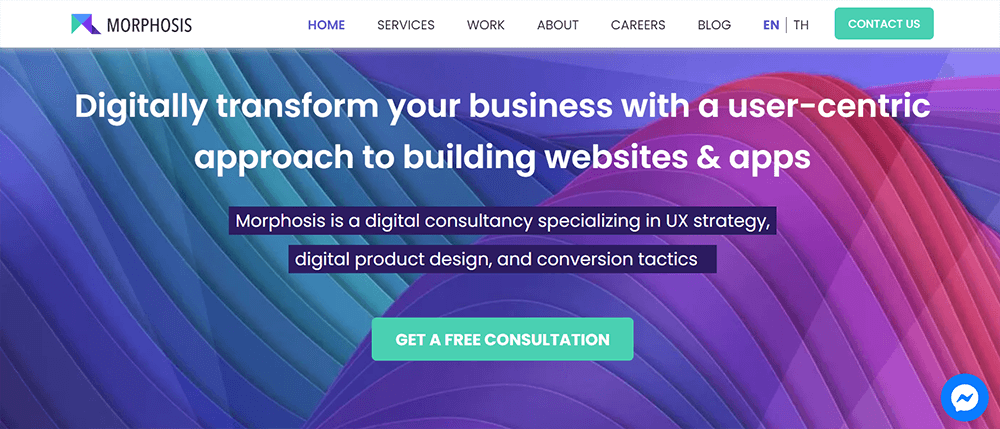 Founded: 2004
Location: Bangkok, Thailand
Company Size: 201-500 employees
Morphosis is a renowned digital product design consultancy with a human-centric approach. They excel in creating impactful digital products, offering services like UX research, product design, development, and digital marketing.
Their commitment to end-to-end solutions spans the entire product lifecycle, from ideation to growth. With over a decade of experience and a diverse team representing 25 nationalities, they've served 400+ clients globally.
Their impressive portfolio includes collaborations with TMBThanachart Bank, Mastercard, Agoda, and Prudential, among others. Morphosis is dedicated to understanding clients' businesses and their users, resulting in user-friendly product designs. Their working models, such as dedicated teams and staff augmentation, emphasize agile principles and flexibility to deliver premium digital products.
Morphosis has also partnered with Seven Peaks Software, combining design expertise with software development to offer clients comprehensive solutions. Clients have lauded Morphosis for their creative and user-centric designs that prioritize user experience and problem-solving. Their focus is on making strategic choices and building products that truly resonate with their users.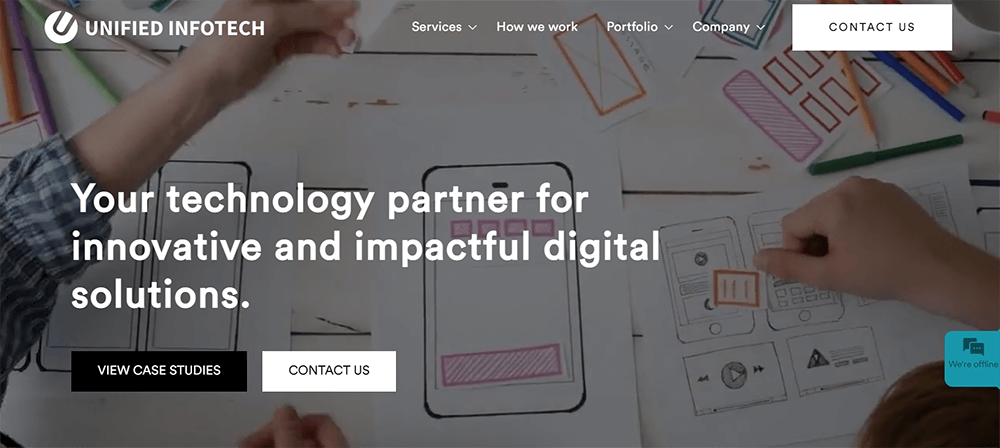 Founded: 2010
Location: 79 Madison Avenue, New York, NY 10016
Company Size: 51-200 employees
Unified Infotech is all about you and your digital journey. As a website design and development company with over 12 years of experience, they've delivered 100+ solutions and engaged with 150+ global digital experts. With a track record of delivering $50M+ in business value, their story revolves around passionate minds coming together to transform your visions into reality.
Unified Infotech focuses on providing an exceptional digital experience for your users. They offer services ranging from website design and development to scalable mobile apps and SaaS platforms.
Committed since 2010, they constantly strive for excellence, leveraging technology to deliver end-to-end solutions to a diverse range of clients, from multi-million dollar funded start-ups to small and medium enterprises. With offices in New York and Kolkata, their presence reflects their dedication.
Their ethos revolves around considering clients as friends, tackling problems through careful analysis, and embracing ownership and accountability as daily practices. Unified Infotech understands the digital landscape and knows how to leverage it to enhance brand value. They are your one-stop destination for consumer engagement, known for their eye for functional design and impactful content.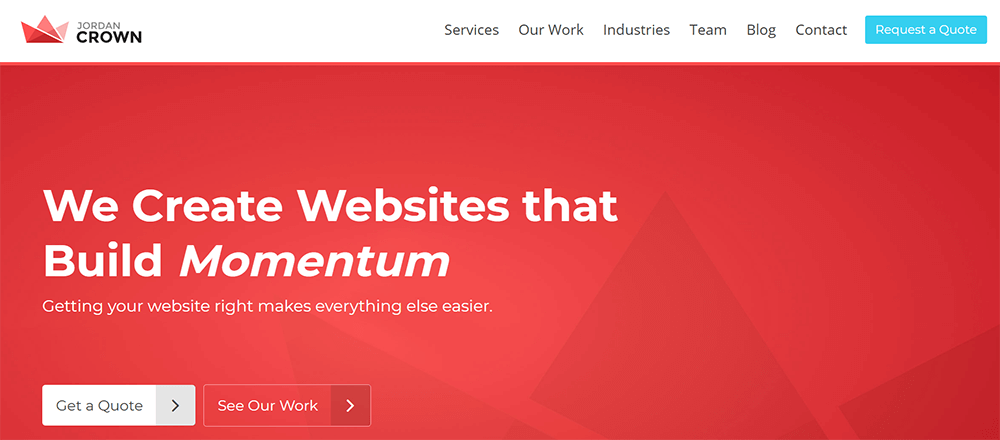 Founded: 2006
Location: 3102 Hoyt Ave #5173 Everett, WA 98206
Size: 8 – 10 employees
Jordan Crown Agency is your go-to solution for digital transformation, offering expertise honed over a decade. They specialize in research-based digital strategy, focusing on delivering a unified message and a clear audience direction to create effective websites.
With a conversion-focused approach, their web design combines modern aesthetics and a human-centric perspective for a compelling user experience. Leveraging highly customized WordPress development, they provide trusted solutions that align precisely with expectations.
Over the years, Jordan Crown Agency has enabled numerous clients to elevate their online presence and realize their potential. Their tight-knit team, led by Owner & CEO Cameron Rahman, excels in collaboration and client support.
The agency's commitment to open and honest communication ensures long-term client relationships. Partner with Jordan Crown Agency to uncover the value they bring to your digital transformation journey.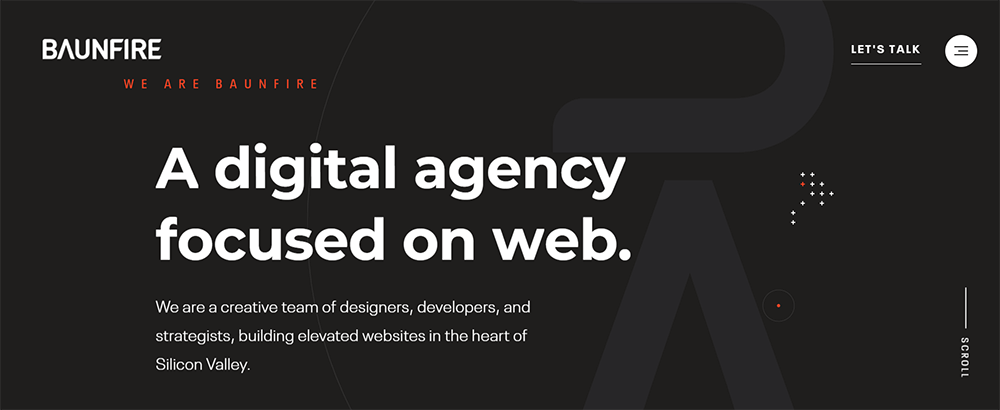 Founded: 2001
Location: San Jose, California
Size: 11-50 employees
Baunfire, a dynamic Silicon Valley digital agency, specializes in advancing brands in the online realm. Their services span website design, insights, and analytics, exemplifying a digital-first strategy. They follow a systematic five-step approach, commencing with a deep understanding of clients' businesses and audiences.
In the execution phase, they leverage creativity and a user-centric approach for compelling designs. The launch phase transitions concepts into live programs, while the evolve phase fine-tunes performance through data analysis. Baunfire offers flexible partnership models, appealing to Silicon Valley brands.
Located in the heart of Silicon Valley, Baunfire's dedicated team excels at crafting top-tier websites. They challenge boundaries in digital design and prioritize quality over quantity. Baunfire values entrepreneurial thinking, and feedback, and embraces input from team members and clients.
With a strong work ethic, they've gained recognition for their outstanding project management and design expertise, solidifying their position as a creative digital agency in the industry.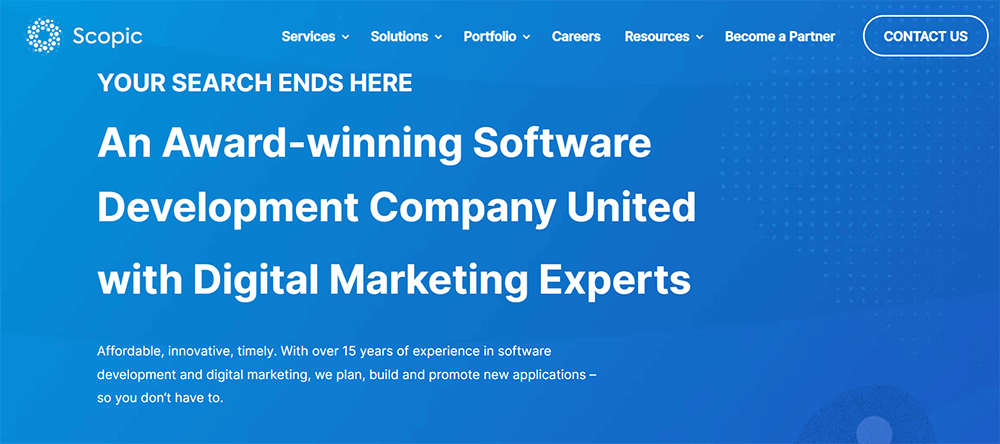 Founded: 2006
Location: Rutland, Massachusetts
Company Size: 201-500 employees
Scopic, your cross-continental digital partner, excels in merging software development and digital marketing expertise. Founded in Massachusetts in 2006, they provide custom software development and digital marketing solutions globally.
Going beyond functional applications, Scopic strives for excellence. Their approach combines software development, custom UX design, and full-service digital marketing to ensure client products thrive in various industries. The Scopic Flow adapts to projects' needs, emphasizing growth, integrity, and character.
With over 15 years of experience and 1000+ projects, Scopic delivers high-quality, end-to-end software development services. They cater to clients in various industries, offering a proven track record of success and outstanding testimonials from satisfied clients.
Whether you need CRM solutions, enterprise resource planning, payment processing, big data analytics, artificial intelligence, augmented and virtual reality, IoT, blockchain development, or more, Scopic has you covered.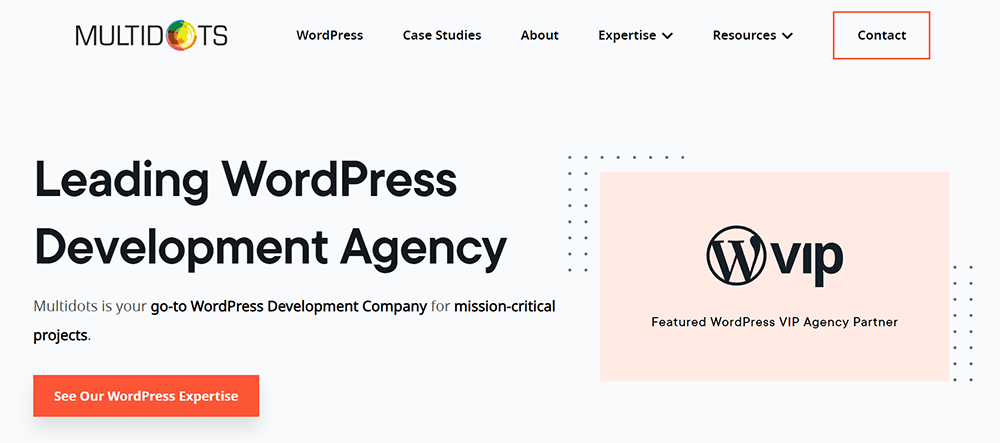 Founded: 2009
Location: Austin, TX
Company Size: 201-500 employees
Multidots is a renowned WordPress development company, listed on the Inc. 5000, and a WordPress VIP Gold Partner chosen by Automattic. With a global presence, they serve clients across North America, Asia, and Europe. They also offer WordPress Plugins and Products through their brands Multicollab and Dotstore, catering to small-medium businesses.
Multidots is dedicated to providing scalable CMS solutions and efficient editorial workflows for publishing businesses, focusing on website performance and reducing technical debt to maximize monetization initiatives.
Their commitment to valuing the engineering talent in India and offering top-notch customer service led to the birth of Multidots. Since then, Multidots has grown into a multi-million dollar enterprise with a strong team.
With a people-centric culture and the capability to tackle complex WordPress and multi-platform integrations, Multidots has earned the trust of enterprise brands like Ask Media, Tropicana, the Association of American Publishers, and Storyful. Their commitment to serving people and solving problems continues to drive their success.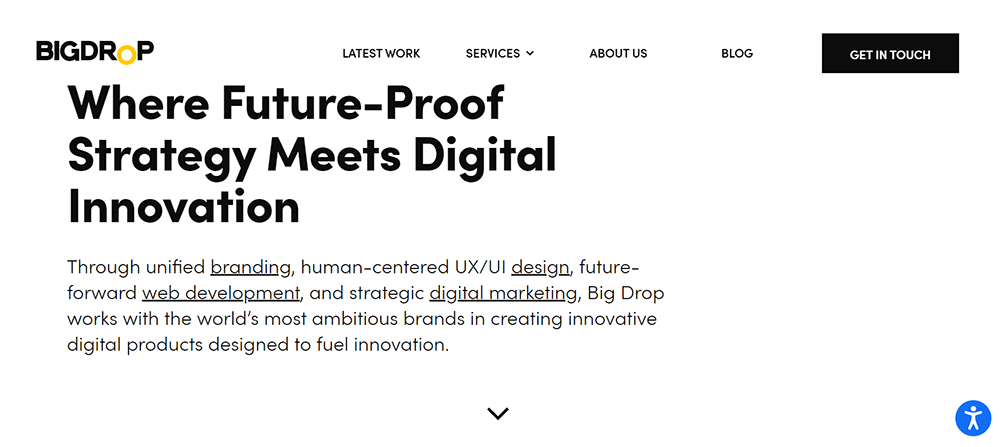 Founded: 2011
Location: New York
Company Size: 51-200 employees
Big Drop Inc. is a dynamic digital advertising agency with a diverse team of over a hundred experts spread across locations like NYC, Europe, and LA. They love tackling challenges and are committed to redefining the realms of web design, development, and digital marketing.
They stand out as the singular Big Drop among the sea of over fifty thousand digital agencies in the US. Since 2013, they've joined forces with a wide range of clients, from Fortune 500 companies to startups, delivering innovative digital experiences.
Big Drop Inc. gathers a multicultural team to deliver website design and digital marketing services. They offer a transparent process for building websites through five steps: Identity, Research, UX/UI, Content Strategy, and Design.
Highlighted partners of Big Drop are Samsung Next, Source, Dataiku, AMC Networks, Bank Of China, and many others.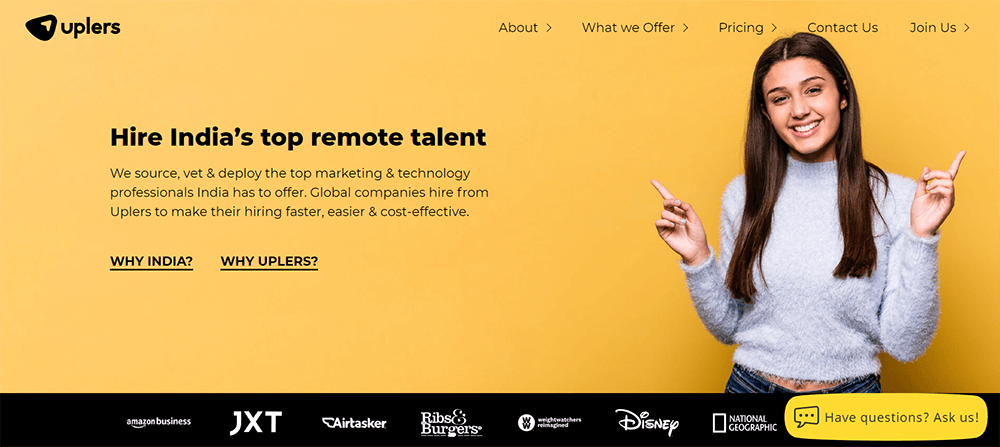 Founded: 2012
Location: San Diego, CA
Company Size: 1,001-5,000 employees
Uplers, established in October 2019, resulted from the merger of three successful marketing and technology companies: EmailMonks, WebbyMonks, and Octos. This transformation reflects the evolving expectations of the outsourcing industry, moving beyond cost-cutting to provide value through innovation, processes, and people.
Uplers now operates as a unified team of over 500 professionals. They specialize in UI/UX, web development, digital marketing, and marketing automation, offering services across various domains and niches.
Additionally, Uplers serves clients like Disney, Amazon, and major digital agencies, delivering more than 10,000 web projects, 5,000 search campaigns, and coding over 60,000 emails. Their impressive portfolio includes brands such as Disney, National Geographic, DHL, Oracle, Century Fox, Amazon, and more.
They have achieved many certifications in quality confirmation (ISO/ IEC, Best IT/ITES companies to work, most promising company). Their outstanding projects are Scaleforce, Tanium, Incubeta, Studio Marche, JXT, and Divergent Consulting.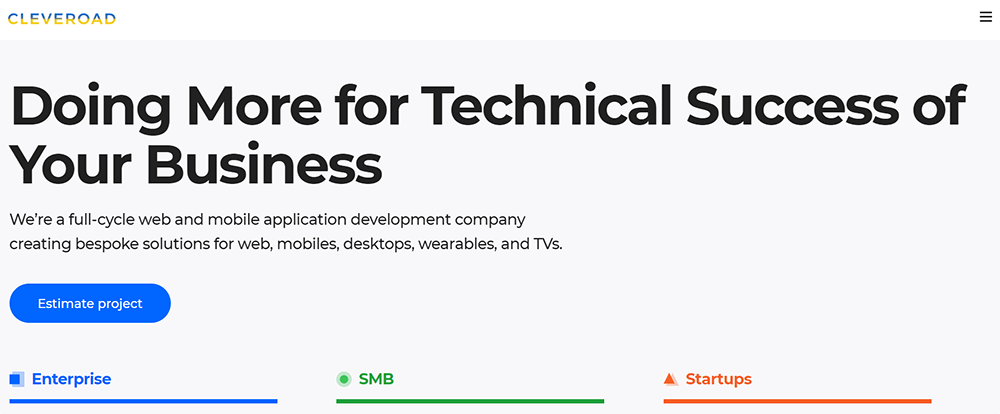 Founded: 2011
Location: USA, Claymont
Company Size: 201-500 employees
Cleveroad has delivered good website designs for the last 10 years of operation. The big team goes beyond to deliver top-notch service to their clients.
Cleveroad is a prominent web and mobile app development company known for crafting bespoke software solutions tailored to diverse businesses. Their services span dedicated development teams, full-cycle software development, PoC/MVP development, and legacy software modernization, earning them recognition on top industry review platforms.
With a decade of experience, Cleveroad excels in core industries like Healthcare, Supply Chain, Finance, Marketplaces, Media, Retail, Travel, Social, and Education. They use state-of-the-art technologies for web and mobile development, offering a wide range of expertise.
Cleveroad collaborates globally, delivering tailored solutions for unique tech challenges. Their insightful blog covers topics like enterprise website development, CRM implementation, and cross-docking systems. Cleveroad has empowered clients with industry expertise and a client-focused approach, holding multiple certifications.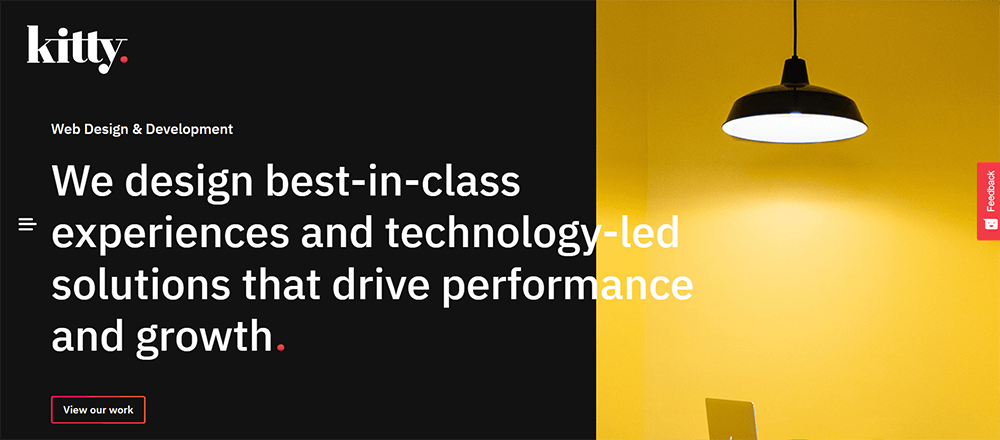 Founded: 2017
Location: London, UK
Company Size: 51-200 employees
Kitty is a dynamic digital agency known for its versatile approach. They cater to clients of all sizes, from startups to enterprises, offering services such as Design/UX, Consultancy, Development, Testing, and Hosting. Partnering with the SEO/PPC experts at ROAST, Kitty ensures top-notch search optimization solutions.
Kitty's specialization lies in crafting seamless and user-centric UX/UI designs that align with brand guidelines. They are SEO-focused, guaranteeing every website they create is optimized for maximum visibility and traffic growth. Kitty also provides consultancy services to help clients plan projects and enhance their website investments.
Their robust Conversion Rate Optimization (CRO) process enhances marketing efficiency, and they are well-versed in headless CMS for innovative design. Kitty also offers services for maintenance, data migration, eCommerce consultancy, site security audits, and streamlined payment solutions.
We Are Kitty is an award-winning web design & development agency. They have helped many brands fulfill the demand for dynamic and attractive websites. Highlighted projects are XP21, Big Grin Distillery, Starlight Children's Foundation, Signature Staff, The Chuffed Store, and Mediworld.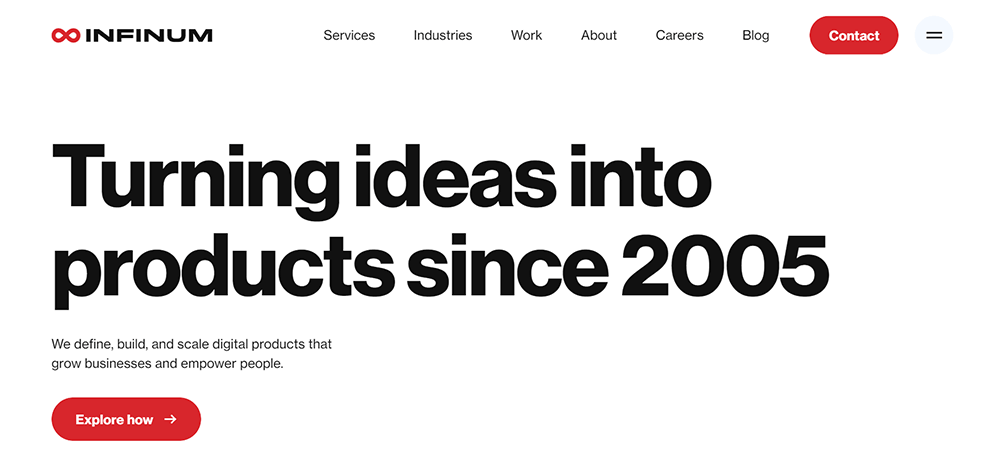 Founded: 2004
Location: London, UK
Company Size: 201-500 employees
Infinum is not just any digital agency; they've spent over 18 years creating digital products that have garnered industry recognition, including Red Dot, Webby Awards, and Inc. With a team of 400 skilled professionals, they tackle complex problems and provide simple solutions.
Their services encompass strategy, design, engineering, and data, making them a one-stop shop for digital transformation. Infinum brings strategic expertise to various industries like health, mobility, and finance, setting brands up for success.
For nearly two decades of working in web design/development, Infinum has gained a great reputation confirmed by many prestigious organizations.
The company has gained many awards from well-known organizations such as Deloitte, Red Dot, Websi, and German Design Awards. Highlighted projects are Underline, MAISTRA HOSPITALITY GROUP, Go Telecom, The Danube, and GO.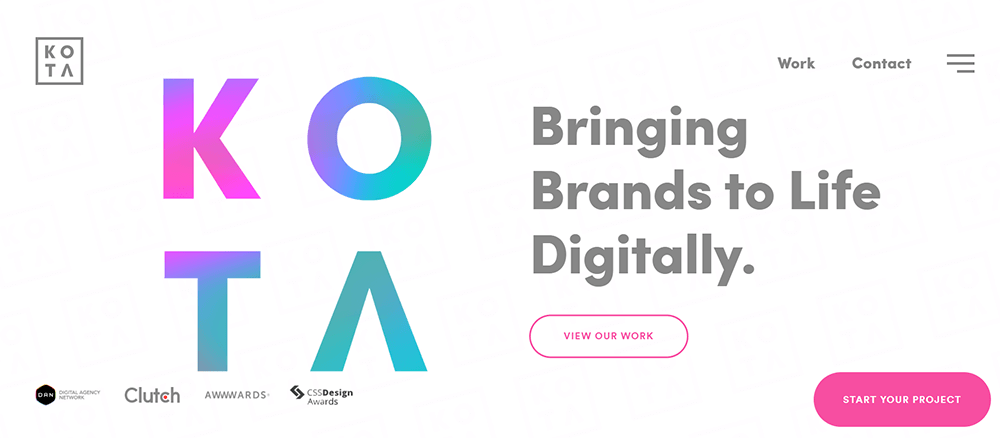 Founded: 2013
Location: London, UK
KOTA Agency is not your typical digital agency. They're artists and rebels, blending creativity from music, film, and the arts into their work. With over 9 years of experience, their services encompass creative web design, web development, branding, digital marketing, and more, making them experts in bringing brands to life digitally.
With an impressive track record, KOTA has transformed various brands and businesses through engaging websites, immersive digital experiences, and impactful branding. They've worked with clients like Tangerine, Wogan Coffee, and PixelArtworks, creating websites that stand out.
KOTA combines creative design with technical expertise to ensure your brand's best digital self. With a talented team that lives and breathes great design, they're not just a digital agency but a group of creatives who turn work into works of art.
The company focuses on high-quality projects for many worldwide brands, including Tangerine, Love Brands, Martin Building, Bounce, HollandGreen, Matchroom, etc. They are certified by famous organizations such as Clutch, DAN, and CSS Design Networks.