Although B2B eCommerce has the potential to bring a sizable source of profit. However, since its customer acquisition process is quite laborious, not many merchants dare to try their hand at this industry. Thus, the demand for B2B eStore is also quite low. This leads to the fact that there are quite a few web builders that are optimized for sales activities for business customers. In other words, even if the internet has brought the world to you through a single computer, searching for the best B2B eCommerce platforms is still quite challenging.
However, in our point of view, as long as you find a suitable companion, you can still achieve a huge amount of revenue because corporate customers often order in very large quantities. It's a pity if you pass up this opportunity just because you can't find the right platform.
To help you with this, in today's article, we'll cover you with important information about the best B2B eCommerce platforms and showcase their great features. Let's dig into this!
Best B2B Ecommerce Platforms: A Quick Overview
B2B e-commerce or business-to-business e-commerce is an economic term used to describe transactions between two businesses. These trades are usually done in the form of long-term cooperative contracts to sell goods or services in bulk.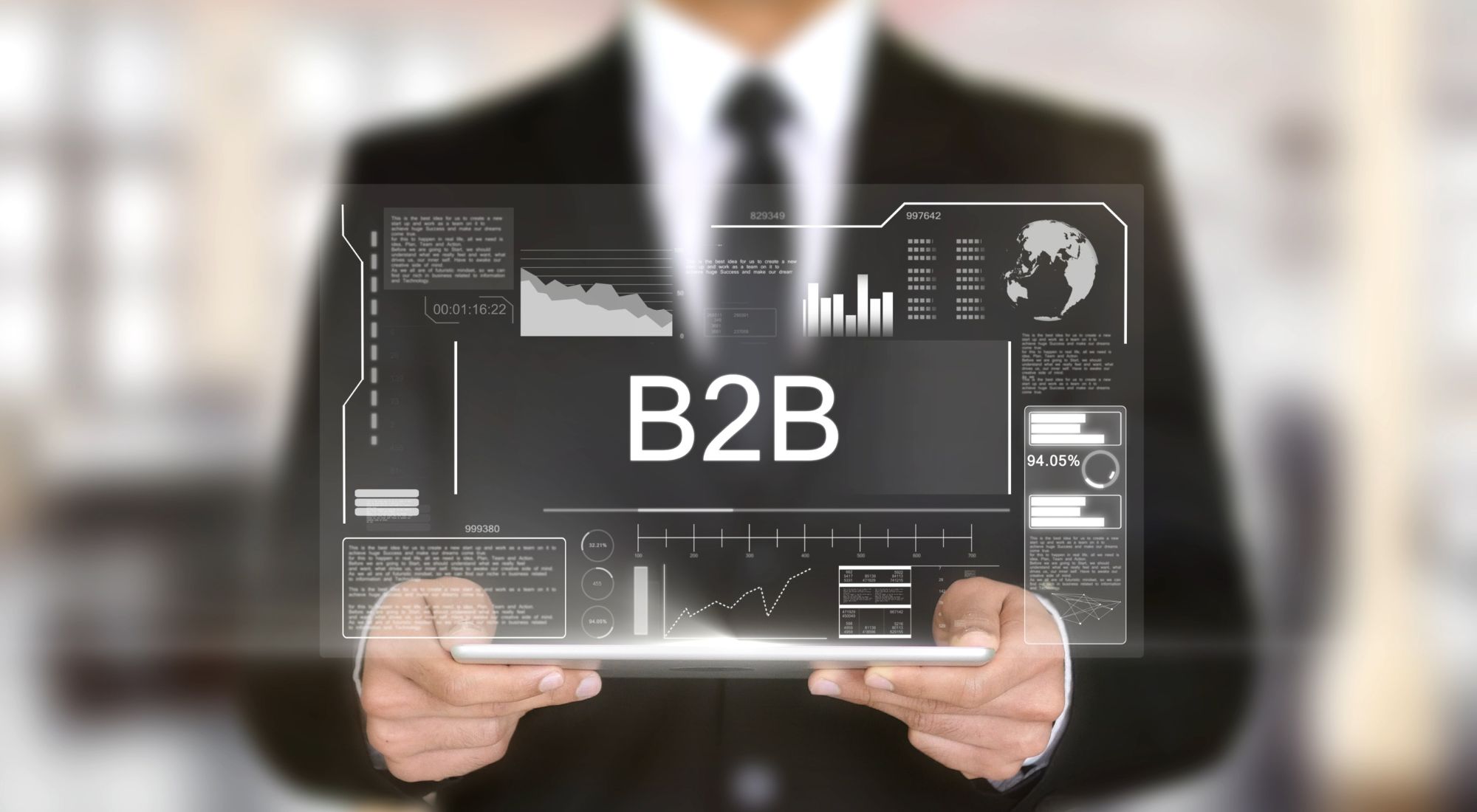 However, unlike B2B commerce, these exchanges will be conducted in a digital environment. More specifically, instead of ordering in person, by phone, or by mail, buyers will access the internet to conduct shopping with suppliers. This helps to reduce a large number of intermediary costs.
On the other hand, this term also has a very different meaning from B2C eCommerce (business-to-customer eCommerce). For B2C, businesses will sell to individual customers, these shoppers tend to make emotional buying decisions. As for B2B, businesses will sell to businesses – people who buy products rationally. Therefore, for effective convincing, you must clearly show them the benefits they can gain.
Top 10 Best B2B Ecommerce Platforms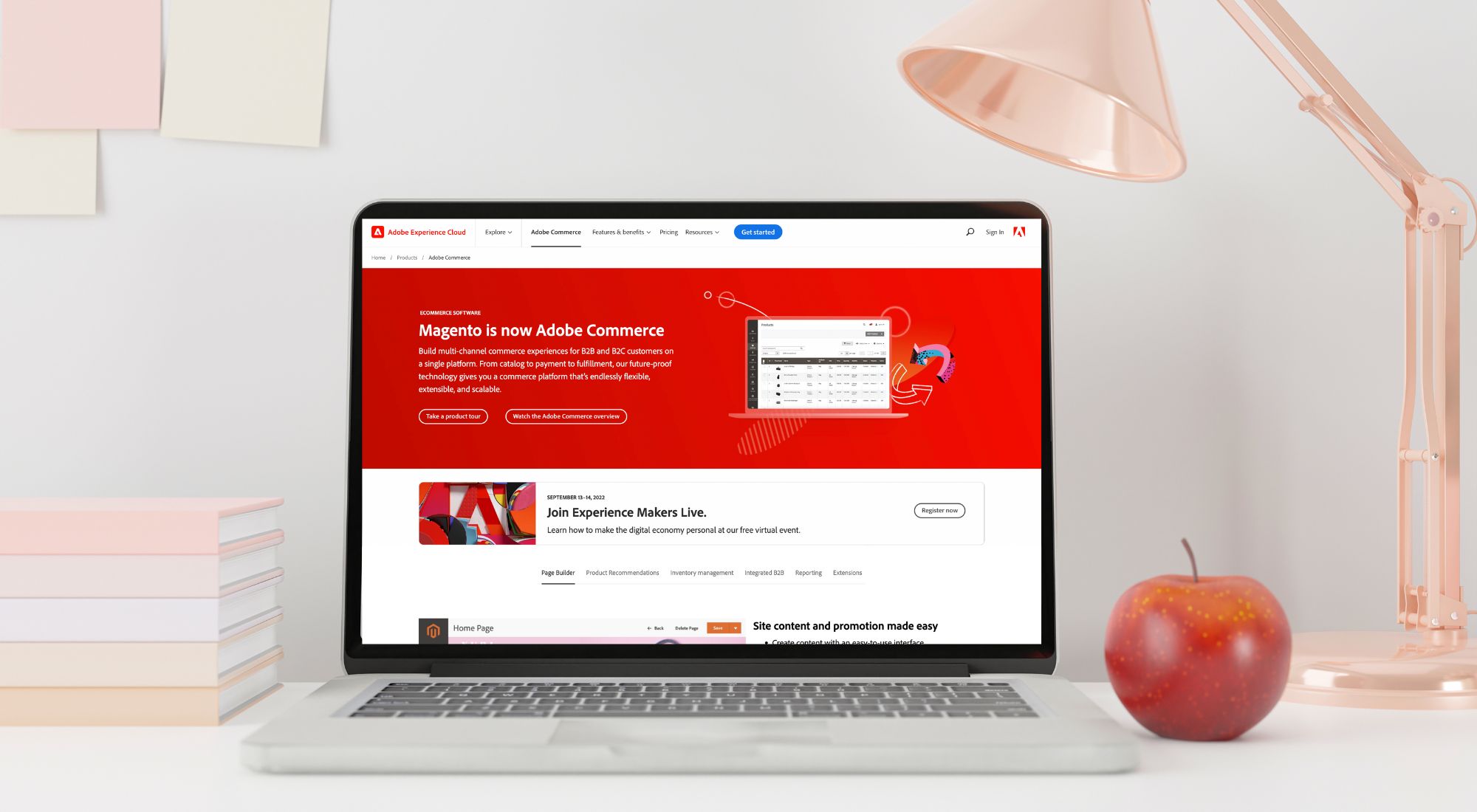 Cost: The lowest service cost is $3,000.
Portfolio: About 260,000 businesses using Magento Commerce, including well-known names like 3M and Procter & Gamble.
Magento was one of the first platforms to develop built-in B2B functionality. Therefore, its features are quite comprehensive and diverse, we believe you can find most of the necessary functions here. Let us list some of the coolest Magento features:
Drag and drop merchandising – The function allows you to create an optimized product interface by the famous drag-and-drop technique.
Quick order – Enhance the customer ordering process by supporting SKUs direct enter, request list use, or previous orders copy.
Credit limit – An important feature that allows you to set a specific credit limit for each specific customer. You can also increase or decrease this limit in the future.
Customer segmentation – You can group your clients based on their web browsing history, buying history, products viewed, products in the cart, etc.
In addition to the above features, Magento B2B also provides a lot of other great functions about shipment, account management, marketing, inventory management and the like. However, listing them here would be too much, so for now we'll just mention the most interesting ones.
Pros:
Have the best functionalities for eCommerce eStore development
High scalability
Limitless customization
A vast users and developers community for 24/7 support
Beautiful, effective, and professional themes and designs
Multi-store or multi-warehouse features are available
The instinctive and easy-to-navigate end-user storefront
Advanced data collection, storing and analyst features
Vast plugin marketplace with robust functionality
High speed
Cons:
Magento Commerce cost is quite high for SMEs
Professional web development knowledge is required. You will have to look for skilled and high qualified Magento web developers
Limited B2B selling functions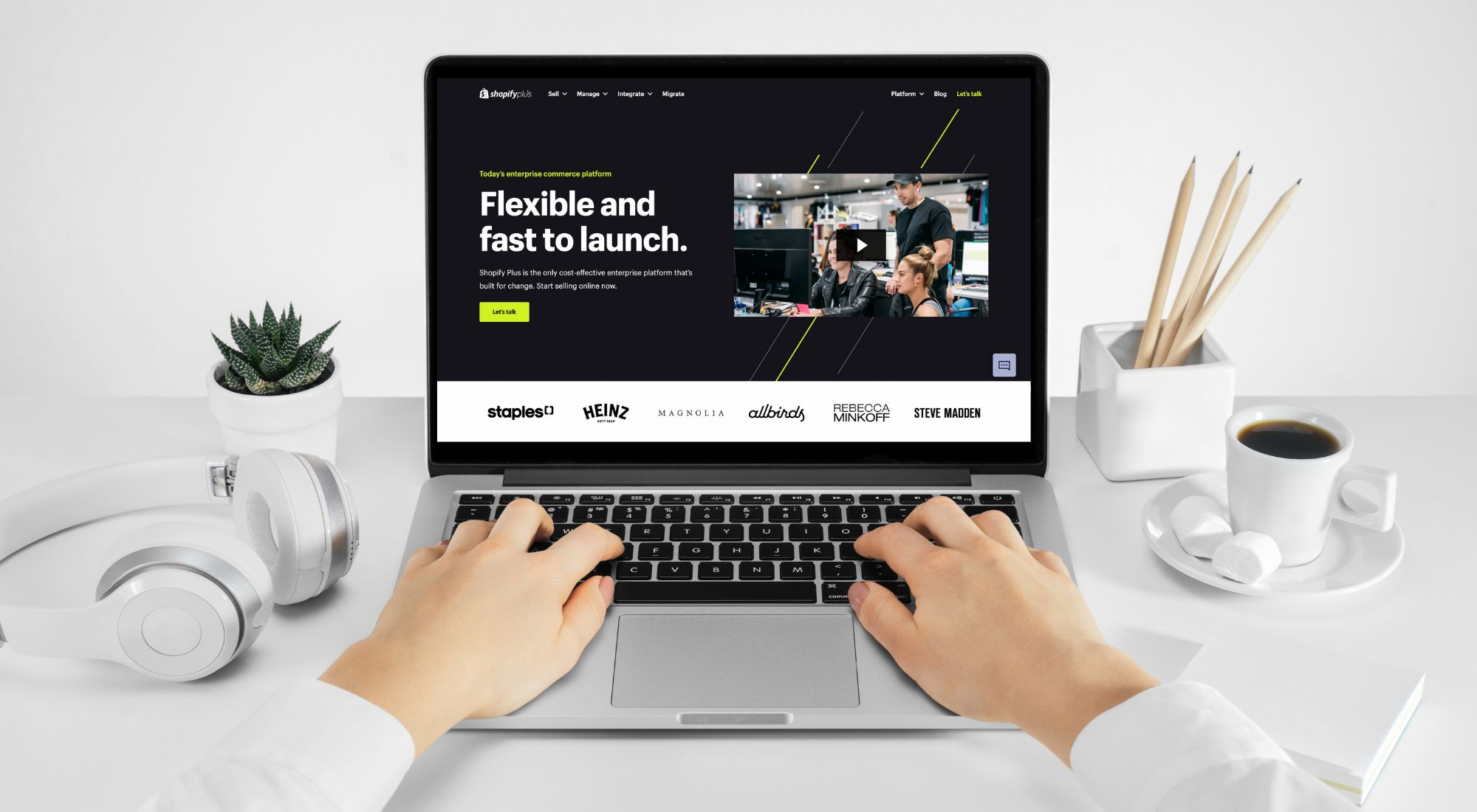 Cost: Ranging around $2,000 to $40,000 monthly, base on your revenue. For example, once you reach the $800,000 revenue milestone, the cost will transform from a subscription price to a revenue-based fee of 0.25% of monthly revenue.
Portfolio: Over 7,000 B2B brands are using Shopify Plus, including famous ones like Nestle, Pepsi, Bombas, and Leese.
Shopify Plus is one of the best B2B eCommerce platforms specifically for small and medium businesses. Similar to Magento Commerce, this is an additional service package provided by Shopify. For those who do not know, this is one of the eStore building platforms with the highest market share in the world. According to some statistics, up to now, there have been over 1 million websites from different brands built from this platform.
The best feature of Shopify Plus is probably its ability to manage important B2B and B2C metrics (such as sales, revenue, etc.) from the same manager. In addition, it can also integrate with any third parties, like ERP, CRM, and more than 100 other payment service providers. Therefore, Shopify Plus' ability to personalize user experience and optimize conversion rate cannot be underestimated.
Pros:
Pretty straightforward to use, even for a beginner
Affordable pricing
Massive collections of extensions and attractive web themes
Adjustable online and offline selling with Shopify Point of Sale options & hardware
Able to assign attribute sales to a specific staff
Free to import or export store data using CSV files or some third-party apps
Support up to 100 variants for each product
Save time with automated product collections to deal with large product ranges
Automated product collections are available, this helps merchants to save time while dealing with large product ranges
Multiple shipment options and rates
Cons:
Limited scalability and functionality for extensive business growth
Most plugins and themes are not free
Built-in SEO tools are available but not good enough, must install extensions for better performance.
Limited customization and integration
AMP is only unrestricted if you install a paid app plugin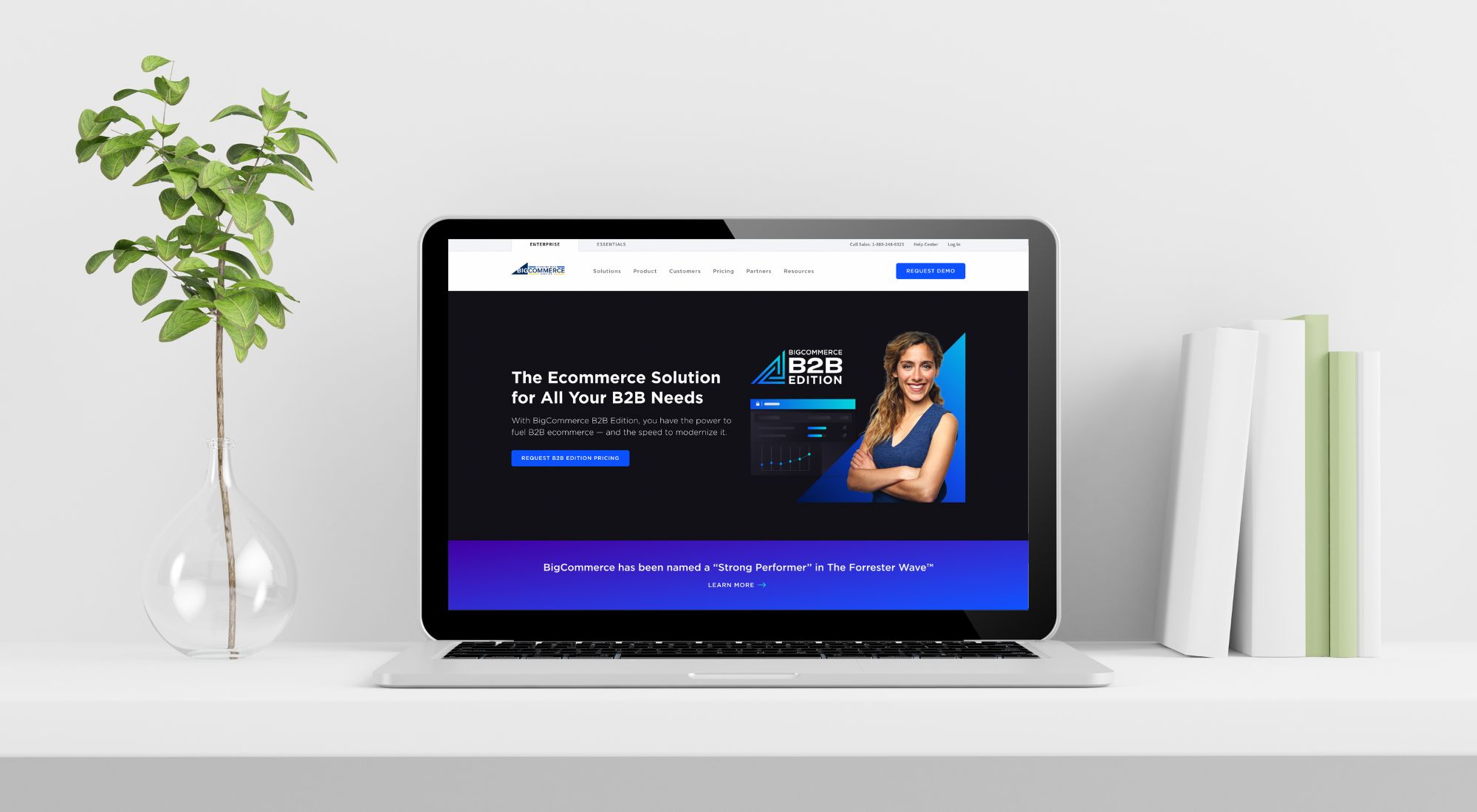 Cost: Pricing available upon request.
Portfolio: Their B2B service is relatively new, so the client quantity is unknown for now. However, around 60,000 businesses have used BigCommerce's B2C web development packages, some of them are Toyota, The Real Yellow Pages, and Avery Dennison.
BigCommerce B2B is another great tool for serving online B2B entrepreneurs. The platform is famous for its seamless integration as it can connect to quite a few different plugins without much effort.
For example, BigCommerce B2B has some great shipment integration partners like ShipperHQ, BrightPearl, and the like. Thanks to such logistic support, BigCommerce allows merchants to create shipping charges that are customizable to each institutional customer.
In addition, BigCommerce B2B is also known as the world's leading cloud technology platform. Hosting costs are a thing of the past thanks to this special ability.
Pros:
Straightforward and flexible to add any product. A limitless product variant is available
Scalable for most business kinds
No transaction costs
SEO friendly
Blaze pace and a rock-solid protection
Interactive and responsive design
Cons:
It will automatically upgrade your service plan if the revenue exceeds the package limit
Not good enough for content editing
Quite costly
Costly when moving to a self-hosted setup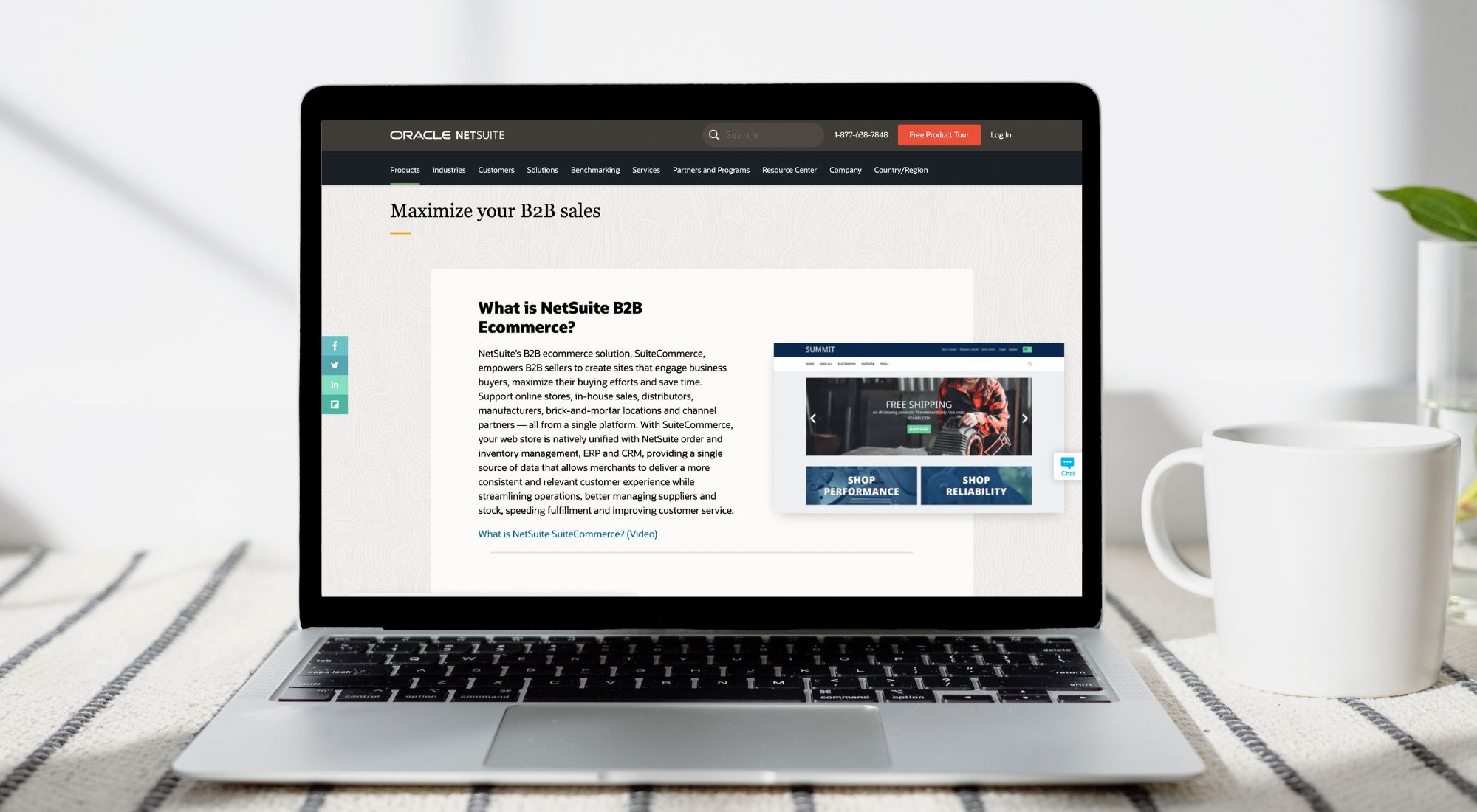 Cost: Pricing starts at more or less $2,500 per month.
Portfolio: About 3,000 brands are using SuiteCommerce, including The Noerr Programs and Lovesac.
As you may already know, this B2B platform is a member of the Oracle NetSuite family – a huge system focused on ERP.
Thanks to this inherent advantage, NetSuite is also considered one of the best B2B platforms for the mid-size corporation with ERP. It is equipped with an efficient and comprehensive set of tools, which play a vital role in helping your customers get purchase support, transparent pricing, a simple automated checkout process, and the like.
Especially, with NetSuite, you can even set up a B2C store and combine it with your B2B store management from the same management platform.
Pros:
A quality-stable and secure web builder
Flexible to configure and adjust to best suit your business needs
In-depth and accurate business data reporting
Highly personalized and branded customer shopping experience
Cons:
Not enough features for large corps, lack of integration scalability and automation
Function-limited data report
Currency update takes lots of time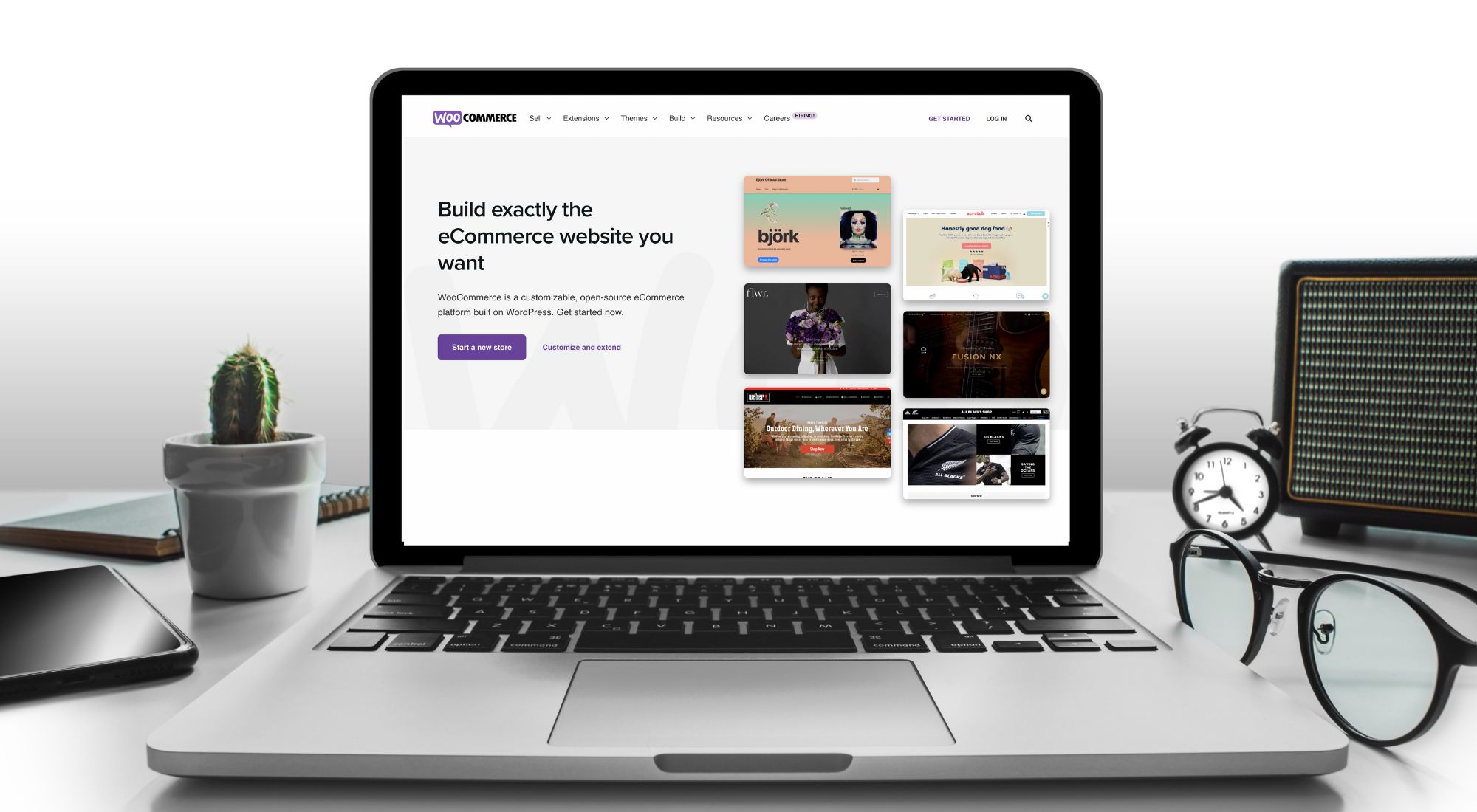 Cost: There is no charge to use WooCommerce but you may have to pay for additional plugins.
Portfolio: About 26% of all eCommerce sites is powered by WooCommerce, there are some famous clients like Ghostbed, AeroPress, and Weber.
About 26% of all eCommerce sites are powered by WooCommerce, there are some famous clients like Ghostbed, AeroPress, and Weber.
Unlike the listed above options, WooCommerce is not a separate eCommerce platform. Instead, it's just WordPress's eCommerce plugin.
However, it is still extremely powerful since it is almost completely customizable. Besides, although functionality is not WooCommerce's strength, it still offers all the basic features of a standard e-commerce platform.
On the other hand, WooCommerce was originally designed for B2C businesses, so you will need to install some plugins to use it for B2B business activities. This process is pretty easy-to-do since WooCommerce is a seamless integration platform.
Pros:
100% free and open-source
Various customizable web templates
Adjustable eStore configuration to sell any kind of goods
Optimal private and transaction security
Mostly full management of content and eStore
Vast plugins marketplace
Large community with 24/7 support
Cons:
Some WordPress and WooCommerce knowledge required
Numerous paid plugins
Pretty tricky for non-tech savvy to create a powerful website
WooCommerce can't match the WordPress periodic updates well
challenging to equip multi-currency
No multi-lingual option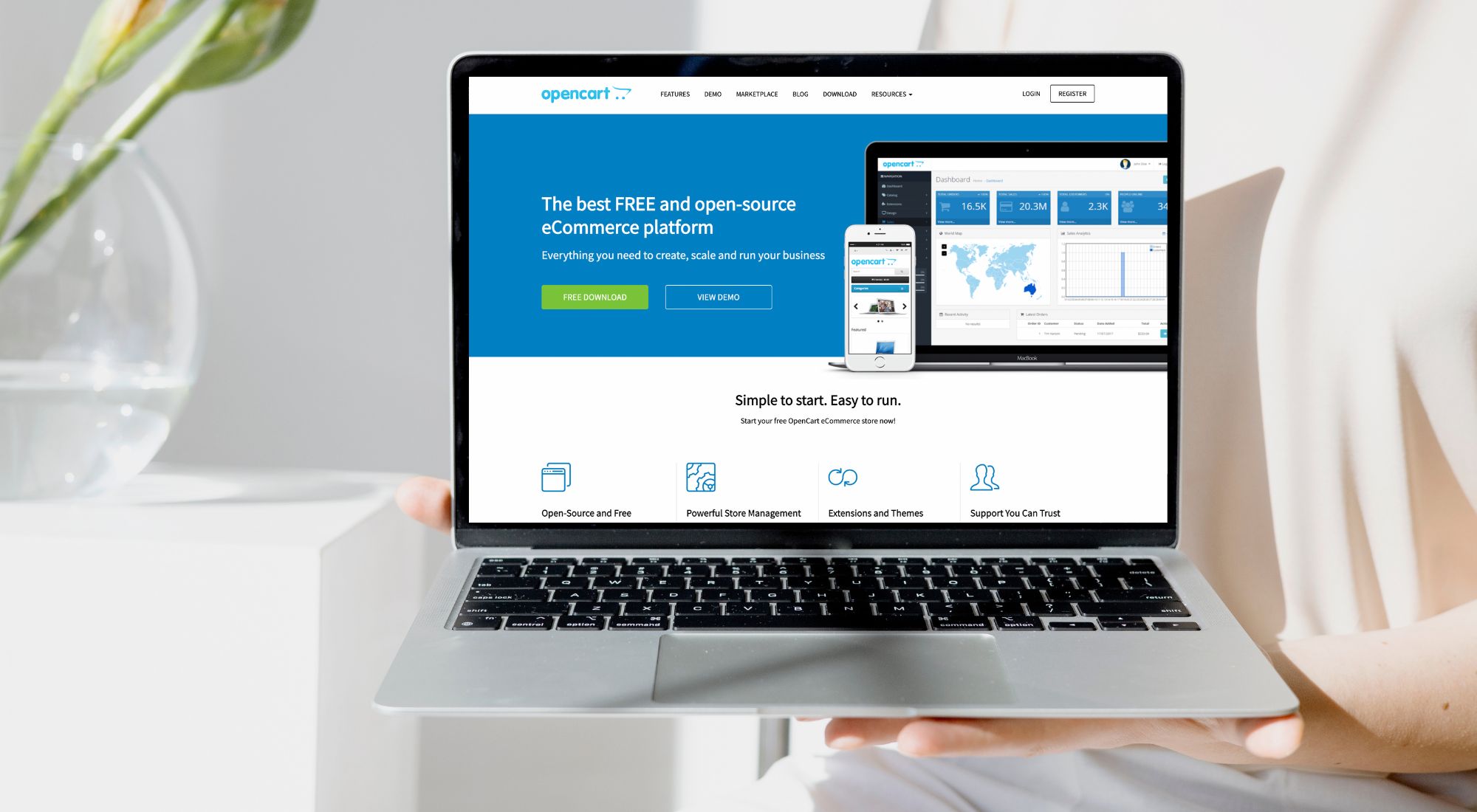 Cost: OpenCart is also a free-to-use platform, with zero monthly fees. However, extensions and templates may contain additional fees.
Portfolio: More or less 342,000 eCommerce brands have tried OpenCart, including some big enterprises like British Red Cross, Ace, Volvo, and FX Creations.
OpenCart – as the name implies – is a free-to-use open-source platform. How it works is similar to Magento Open Source and WooCommerce. However, this platform is built to serve B2C eCommerce so it does not have the functionality to support B2B activities.
However, since this is an open-source platform, you can easily install additional B2B extensions to serve your business model. Some of the well-known features of this B2B version are SEO enhancement, advanced product management, and customizable promo codes.
Pros:
Dedicated and on-time technical support
Many of OpenCart add-ons are completely free
Lots of shipping options
Cons:
It can be challenging to import your goods list.
The different extensions do not always match each other.
Sometimes, there are canonization problems for SEO.
It offers a slow and inconvenient payment experience.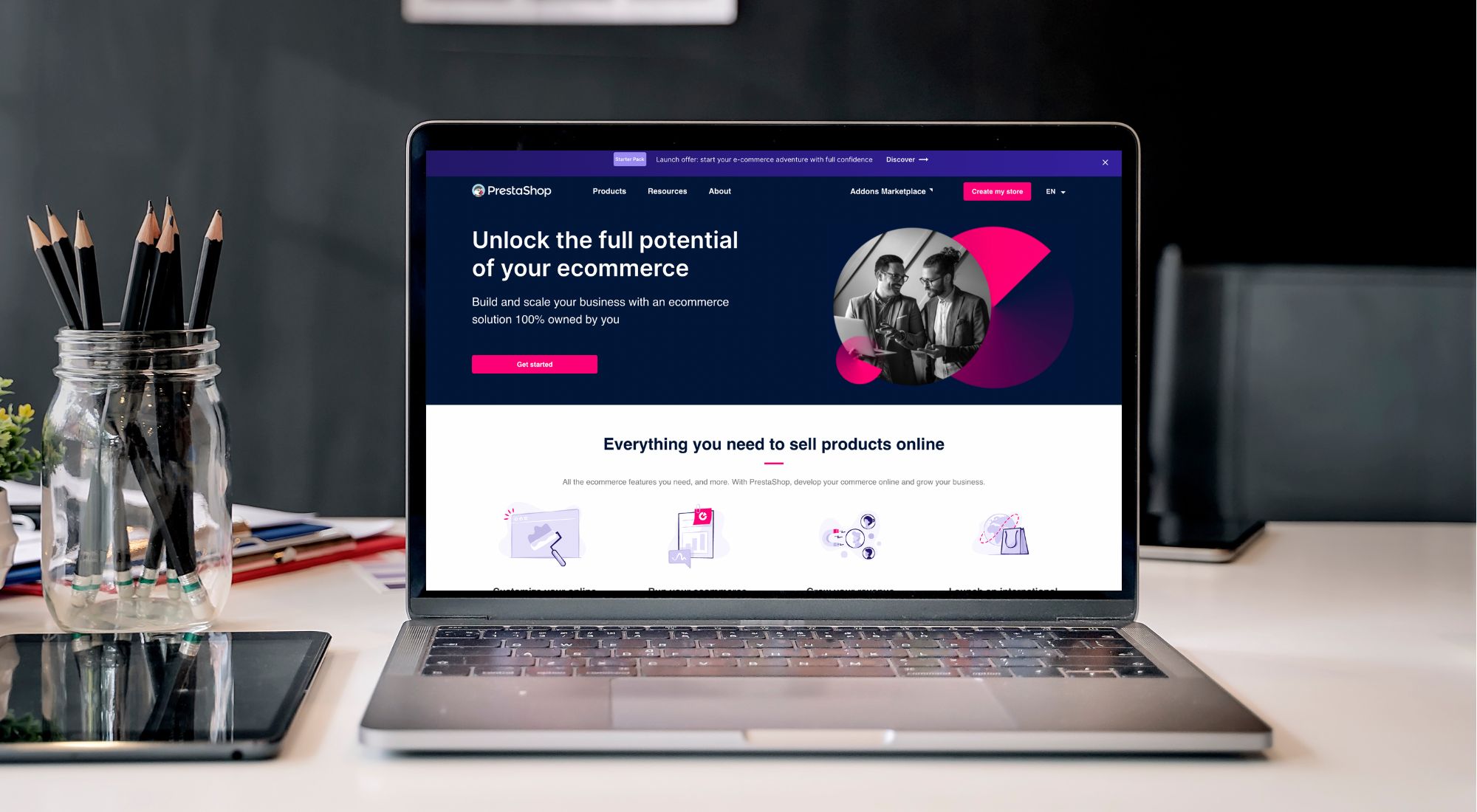 Cost: PrestaShop is also free, you don't have to pay any fee or commission to use it. However, as with all the web solutions mentioned above, web templates and add-ons may include additional fees.
Portfolio: PrestaShop has about 300,000 customers worldwide, most of them based in France, the U.S, and Spain.
The next name in today's best B2B eCommerce platforms list is PrestaShop. We have to admit PrestaShop is a great companion for start-ups and SMEs since you can use most of its services at no charge or reasonable price.
For those who don't know, PrestaShop is also an open-source platform. Therefore, like other open-source web builders, it is extremely flexible. You can customize it according to most of your creative ideas.
However, the default setting of this platform is B2C, so you need to enable B2B mode to use the features that match your business model. Here are some of the things you can do with these great capabilities: Quickly create products, categories, and values, modify product navigation, track product inventory and get insights about products, marketing performance, sales, and customers
Pros:
Straightforward to download and install
Not costly at all
Able to bring great customer experience
Limitless customization
Support multiple safe and private payment options
Cons:
Low scalability
Unprofessional platform design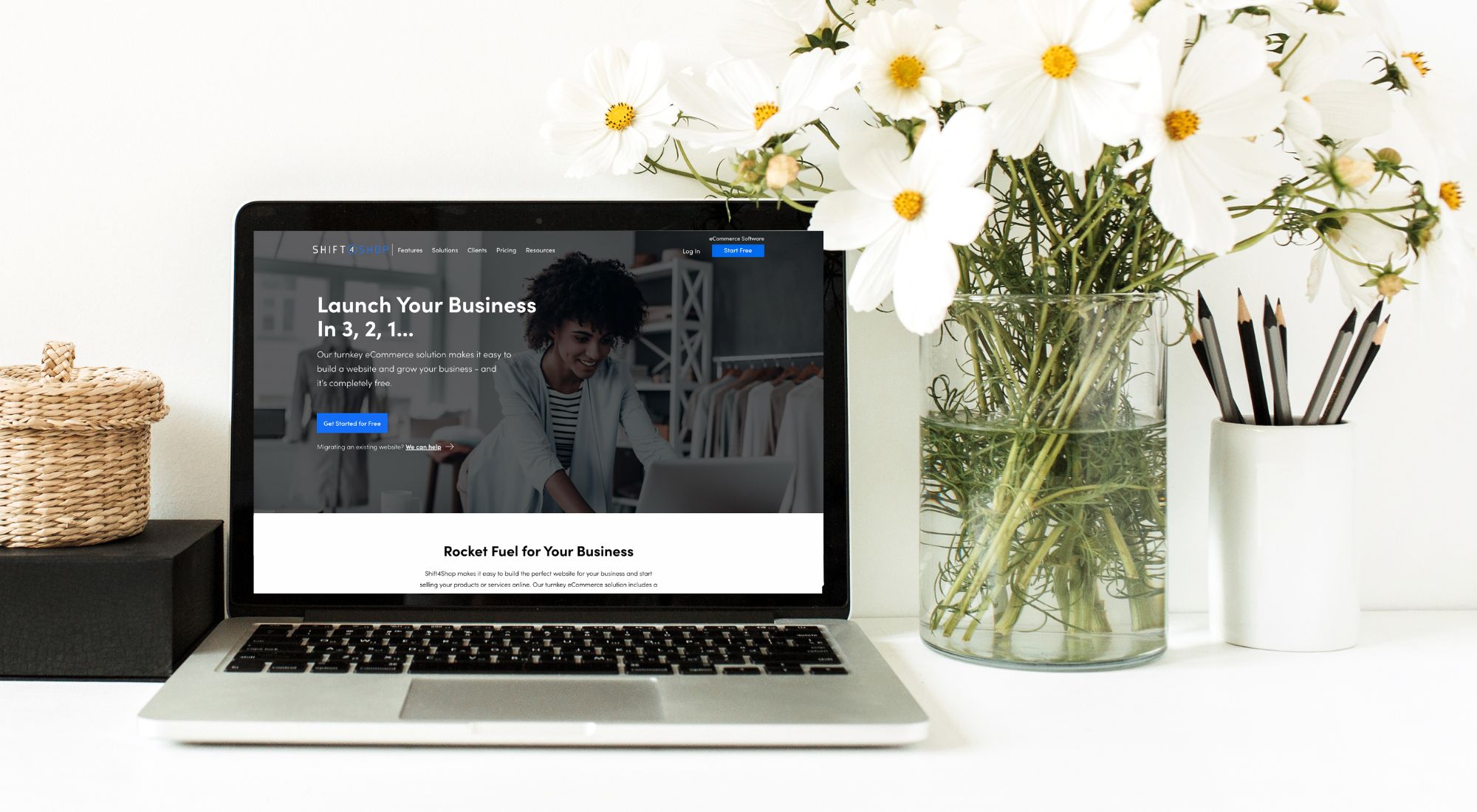 Cost: at least $379 every month.
Portfolio: About 3,000 merchants have tried 3dCart, lots of them were B2B merchants.
Shift4Shop was once known as 3dCart until 2020 when this company was bought and renamed by Shift4 Payments.
However, this can change the fact that Shift4Shop is one of the best eStore builders we've ever known, it has almost all the marketing tools a seller needs, such as social media optimization, SEO enhancement, email marketing, order tracking tools, or advanced data analytic features.
In addition, Shift4Shop has also been recognized as one of the best B2B eCommerce platforms by many experts thanks to its ability to build simple but powerful websites. With the help of this platform, even if you don't have any technical knowledge, you can still build your own stores with out-of-the-box B2B features such as sales tax management, global shipment, customer segmentation, and lots of marketing tools.
Pros:
Have more features than most B2B platforms
Have an unlimited goods list
Blazing loading pace for most device
Various payment choices
No additional transaction cost
Plenty of built-in marketing functions
User-friendly storefront
No order quantity limit
Cons:
Hard to upload multiple variations of goods
Most templates have a too simple and basic appearance
There is a charge for more optimal samples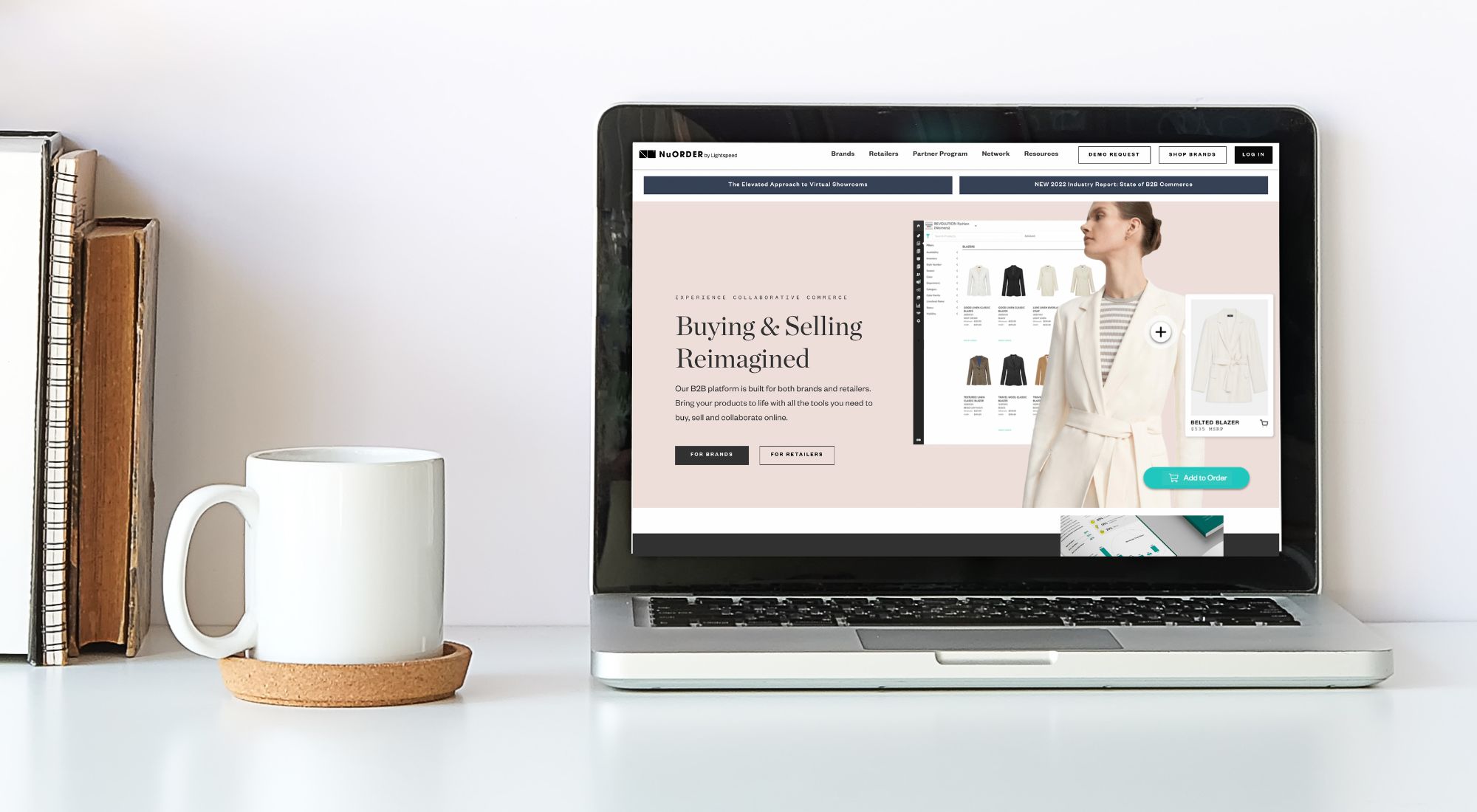 Cost: Charged annually, ranges from more or less $7,000 to over $100,000.
Portfolio: NuOrder powers around 2,000 brands and 500,000 retailers globally, including Lacoste, Rag & Bone, and the like.
Thanks to NuOrder's outstanding competitive advantages – great functions and reasonable prices, it can confidently bring its users a great wholesale experience with a fast, beautiful, easy to use, and optimized store. Not only that, this platform also claims to be able to gain profits by serving enterprise customers with an interactive and responsive storefront.
It seems NuOrder's promise of profitability is valid as this B2B eCommerce platform can create a special digital catalog that supports 24/7 two-way ordering between buyers and sellers.
In addition, NuOrder also supports management when it allows sellers to manage orders by storing them on an online spreadsheet. Catalog tracking also operates more smoothly as the platform allows sellers to continuously monitor the situation through the website or via the iPad.
Pros:
Excellent for inventory and order management
Users can set up different pricing for as many clients as they like
Affordable price
Cons:
Promo code functionality sometimes is not available
The product edit process often takes more tiresome and time-consuming than other platforms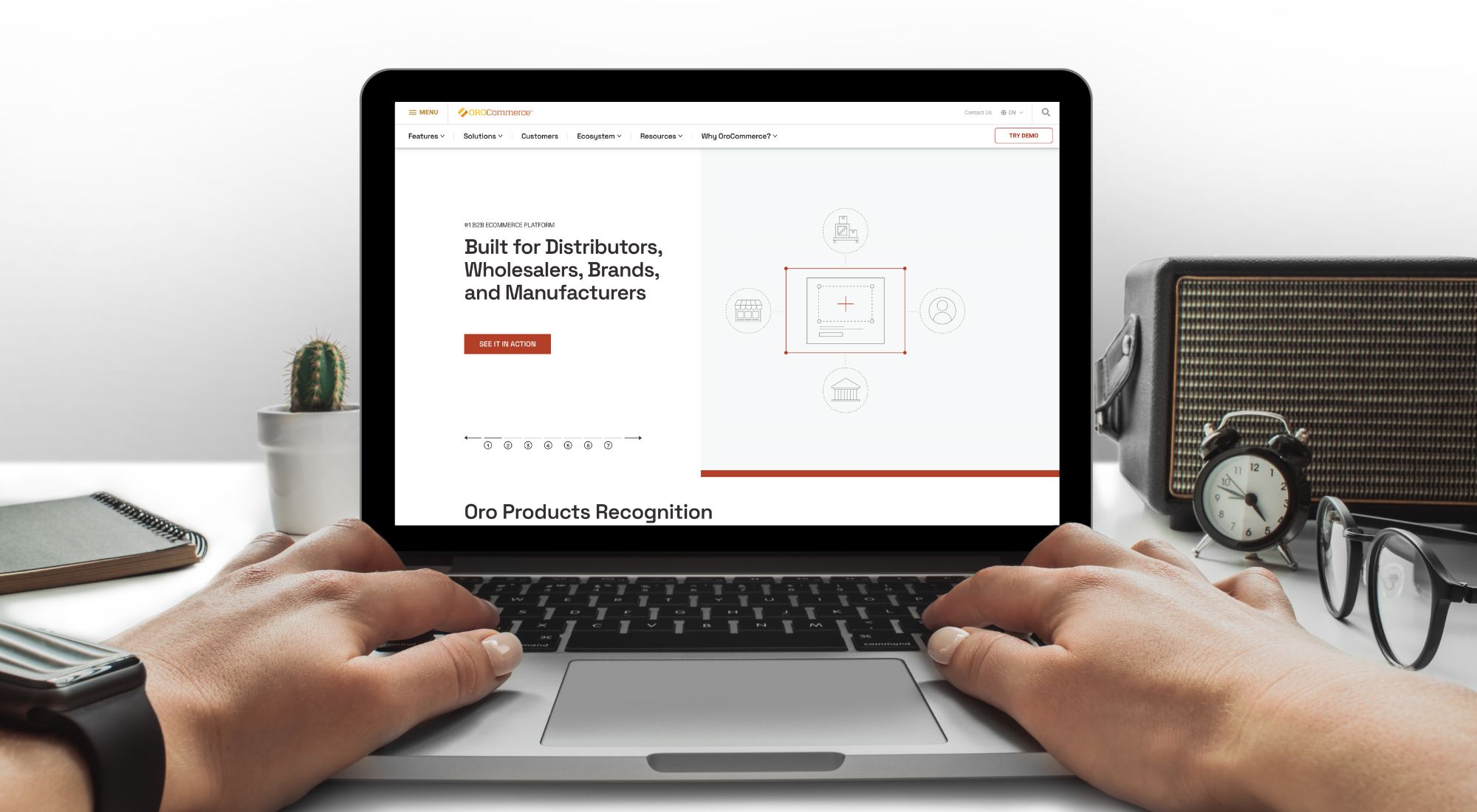 Cost: Currently two different editions: 100% free OroCommerce Community Edition and Paid OroCommerce Enterprise Edition (no detailed price available)
Portfolio: Various well-known firms of various industries, such as Ecoburo, Dunlop, Igual, and the like.
OroCommerce though holds a smaller market share than the other names on our list today. However, it is still an ultimate solution capable of providing a great online presence for B2B merchants.
Besides, CRM is also integrated into this platform. This allows the store's administrators to more efficiently manage the sales process and the content on their website.
Pros:
Great implementation
Useful and various account users levels
Vast and effective features
CRM effectively boosts user experience
Cons:
Have a big learning curve to implement and customize
Not many integrated extensions
Slow working speed in most local environments
How Do I Choose The Best B2B Ecommerce Platforms?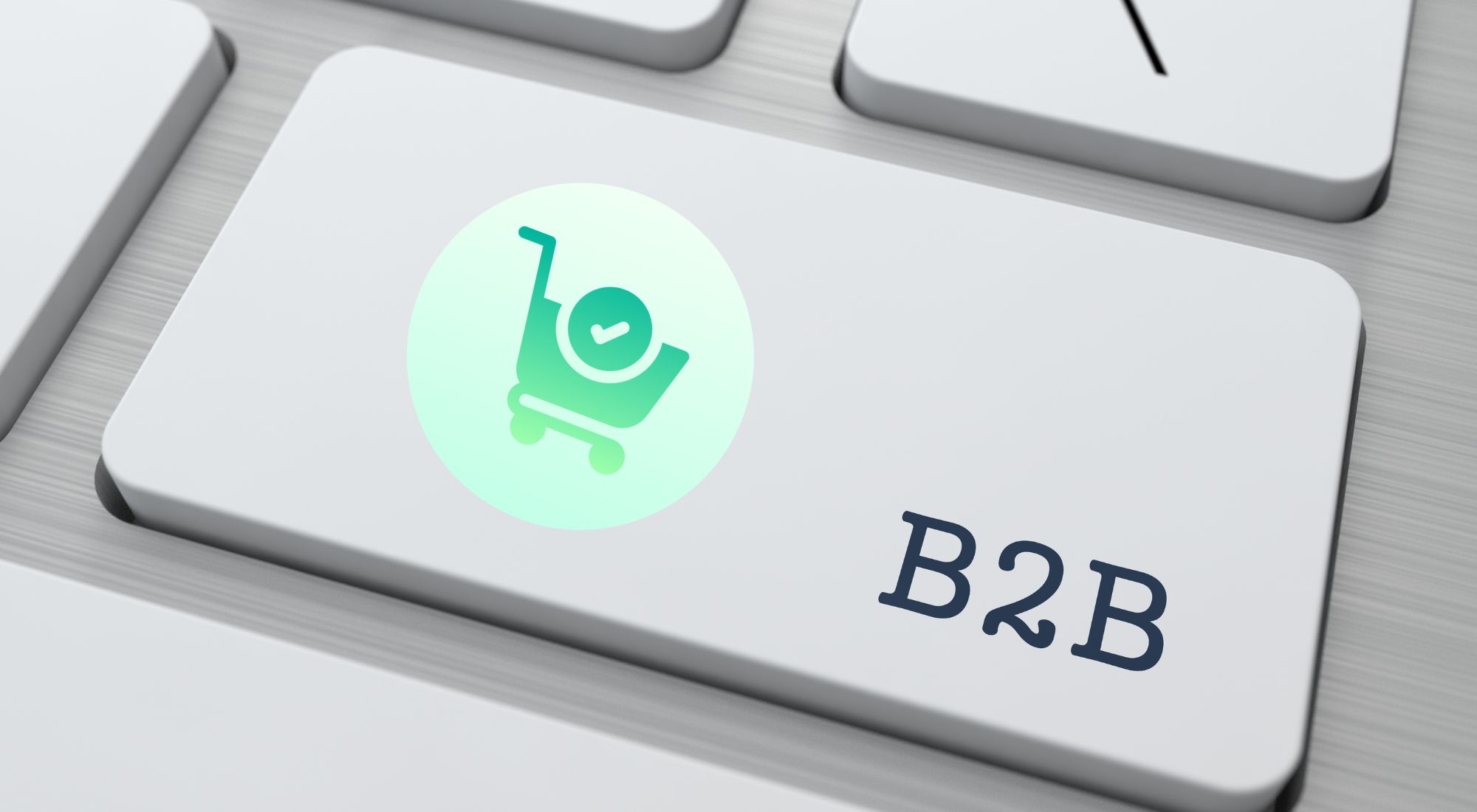 You need to rely on a few factors to find the best B2B eCommerce platforms. These factors can be based on your business (budget, business size, etc.), on the platform (vast plugin market, customer service, price, etc.), or on many other units. However, we will only suggest to you the elements that are related to the web builder.
Responsive & consistent design
Before officially making a purchase, your client will have a few glances through your store to ensure you are a credible partner. Moreover, there will certainly not be only one person visiting your site, but many people of different business roles. Thus, they will use many various devices to access.
In addition, B2B online customers purchase across different devices. They might check the cost on a smartphone or tablet, but then process their purchase on a desktop. It would be great if your eStore can bring a perfect and consistent experience to these buyers. Therefore, a platform that helps you develop such a website should be a preferred choice.
Self-Service functions
Your customers will access your store from far away. Therefore, unlike traditional commerce, you cannot help your customer's shopping process or recommend best-sellers to them. You also cannot answer customer inquiries online 24/7.
On the other hand, many studies show that corporate customers usually feel more comfortable doing their own research online. They also trust what they discover for themselves.
Therefore, your web builder's features should be enhanced to enable users to do it themselves. At least, it must support your user strong enough to manually search for products, checkout, find shipment information, track order status, or manage accounts. These functions, though simple, can greatly trigger your revenue.
Volume Purchase and Bulk Discounts
Businesses will often have a much larger capital than individual customers. Thus, they always prefer to buy in bulk to simplify the workflow. This is also a way for them to show you that they want a long-term partnership.
Therefore, it would be a big mistake if your store targets B2B customers but doesn't support bulk ordering. In addition, since the relationship between you and the customer is a long-term partnership, you should take good care of your customers to promote this cooperation. Bulk vouchers are one of the best ways to do that, they can both stimulate your customers to buy and makes them feel special. Hence, we highly recommend that you look for platforms that fulfill both of the above features.
Customer Specific Pricing
Business customers often don't like to purchase at listed prices. Since they buy bulk and great value shipments, they want special treatment with personalized prices.
You need to satisfy this requirement by offering user-specific pricing, vouchers, and goods for sales. It would be best if your platform supported creating different costs and coupons for different customers. In particular, some eCommerce builders also support creating their own credit limits. This not only helps you limit your payment risk but also helps stimulate customer demand.
Checkout process
As we said above, B2B customer orders are often of great value and repeat frequently, so the check-out features also need to be enhanced to accommodate these behaviors.
Specifically, payment gateways need to be secure, ensuring all transactions are secure and anti-hacking. On the other hand, accompanying features such as credits or information auto-fill are also very important. it will help stimulate shopping and minimize inconvenience for customers.
Bottom Line
Due to the impact of Covid-19, contactless transactions are becoming more and more important. This has contributed to promoting the development of eCommerce in general and B2B eCommerce in particular. Business models aimed at institutional customers are becoming increasingly profitable.
However, since a website is the most important thing in the digital environment, you need to choose the best companion for your business.
Need help to select one among the best B2B eCommerce platforms and develop your online business? Contact Tigren now ([email protected]) or find out more about our eCommerce services!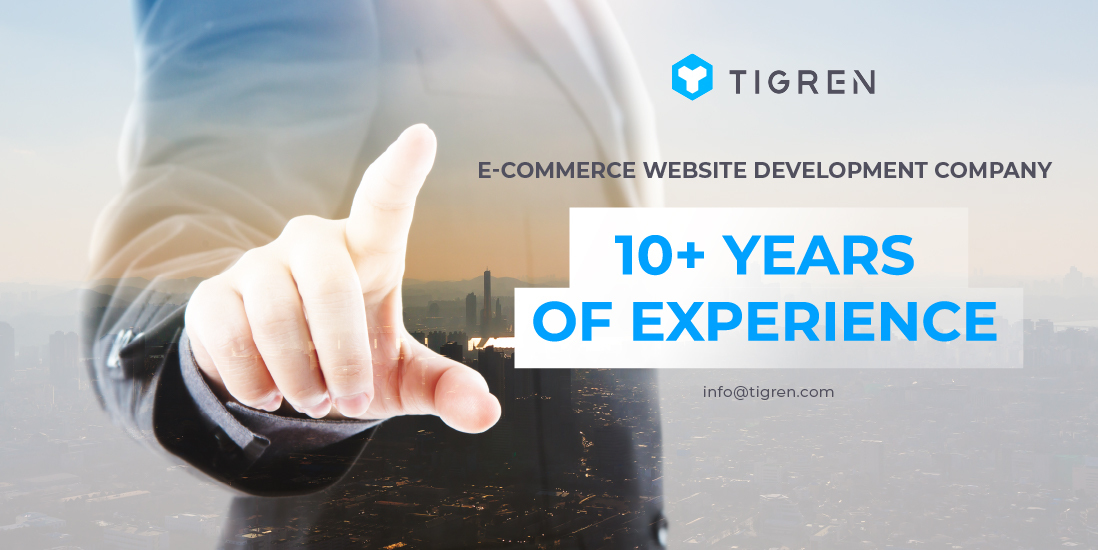 Read More:
Top 9 Best Ecommerce Platforms To Build Your Auto Parts Online Store
Self-hosted & Hosted Ecommerce Platforms: Detailed Comparison
20+ Best eCommerce Platforms For Small Businesses And Startups
Comparing Top 5 Ecommerce Platforms For Dropshipping. The Best Is?
Top 30 Open Source Ecommerce Platforms