One of the big concerns for every business is choosing reliable wholesale suppliers. The product quality, brand's image, credibility, and customers' trust depend heavily on the moments you decide your input sources. It won't be so tiresome if it isn't that important. That's why in this article, we'll help you go through the process better with the 20+ best wholesale websites that you can trust.
What Is An Online Wholesale Vendor?
Wholesale vendors (wholesale suppliers) are merely intermediaries that connect manufacturers and product distributors such as secondary wholesalers, small businesses, and retailers.
Online wholesaler refers to wholesale vendors that allow international suppliers, and/or also are available for worldwide distribution. The best wholesale websites usually provide an almost endless list of every product type on the market.
Values Of Partnering With An Online Wholesale Vendor
As an online business owner, after finding legitimate online wholesale suppliers, you can choose the product you want to sell and later on expand your business with their massive range of products listing.
Small businesses usually find it hard to work with manufacturers or producers because they require you to buy in bulk every order time. Best wholesale websites, on the other hand, let you choose a lower minimum order quantity.
Criteria To Find The Best Wholesale Websites
To smoothly start off with selling online, you need to find the best wholesale websites among thousand choices out there. This could be quite a headache. Here are some filters to strengthen your scanning radar:
Product quality
Product is the backbone of businesses, and quality is the only thing that keeps your online customers stay with you for a long time. But, it's hard to know the quality only through pictures. 
You should seek warrant factors such as years of experience, reviews from previous customers on social media groups or third party review sites, approvals of e-publication.
After that, make a final check by ordering a small amount to test and ensure the quality is just what you're looking for.
Reliable Shipping
When it comes to shipping, a reliable one would be the one that is on time and securely delivers your items.
Shipping speed depends on many factors like operation time, location, border gate entering process,… And it could take up to months to ship your package. So it's important to ask about delivery estimation beforehand.
You can also consider checking the shipping costs and service to see if one online wholesale vendor suits you better than the other. Some shipping systems offer tracking services or automatic shipping alerts.
Flexibility
With countries like the US or UK, choosing international wholesalers can be more profitable than domestic ones as you would get the lowest prices to better compete on the market.
However, dealing with overseas supplying vendors causes you several other issues such as longer inventory circulation.
Since it takes quite a long time to receive your package, you'd like to get a large amount in one order. That's why working with flexible vendors that allow you to make needed changes to production levels and according to timelines would be much help.
Service Line
There are many people involved in the process so sometimes, errors are unavoidable. An awful service line is the one delaying your urgent messages for months, leaving you struggling to deal with it alone.
Bad-handling delivery that results in the loss of your packages or deficiency in final delivery unintentionally could create a really bad image for your online customers.
So you would like to choose the best wholesale websites with the least interrupted service line possible.
Negotiation Power
You will see more below that the best wholesale websites allow you to directly deal with their suppliers while some don't.
Gaining the power to negotiate with manufacturers means that you would have a chance to receive the best discount possible for bulk purchasing. Thus resulting in a higher profit margin for your business.
The Best Wholesale Websites You Should Take A Look
Overview
Alibaba is one of the world's biggest online marketplaces for e-commerce, part of the Alibaba Group based in China.
wholesale suppliers turn to Alibaba to buy products in bulk at a promisingly low wholesale price and gain a comfortable amount of profits from reselling them. This vendor offers the most diverse collections of wholesale products out of all the other names on this list.
Pros
Alibaba has the largest and widest range of assortment currently.
You get access to products from Chinese verified suppliers and others from across the globe, thanks to Alibaba's extensive network.
Merchants sometimes can make direct transactions with manufacturers on this platform to gain even more discounted prices.
Alibaba has a trustworthy system to classify and evaluate each supplier.
Increase your brand differentiation with the product labeling process on Alibaba.
There are a variety of international payment methods on Alibaba.
You can get support through chatbox, email, or phone.
Cons
Bulk trading is highly preferable with Alibaba so oftentimes, the minimum order quantity level or MOQ tends to be higher than other platforms.
For the free shipping option or a standard one, all of the packages sent to places outside China must reach quite a large quantity for them to be delivered. So the shipping time might take longer.
Overview
Surely this isn't an unfamiliar name, as long as you've shopped online. eBay has developed to be one of the US's best wholesale websites.
This trading market has been busier than ever before, serving both B2B and B2C but with the domination of wholesale business.
Pros
eBay sells a crazily wide range of products, rare and unique goods are especially prosperous here.
There are many vendors providing free shipping, which you can take advantage of.
Cons
On eBay, you could buy wholesale from manufacturers, liquidators, and other wholesale suppliers. But be careful of items liquidated by businesses as they could be partially damaged.
Not all items listed as lots on eBay are indeed for wholesale, but they could be "clothing lots" or "bulk lots" as eBay doesn't monitor this keyword for one specific meaning.
Overview
You can recognize Costco as the American corporation that ranks fifth among the biggest multinational retailers in 2020, and Walmart's most challenging rival.
With already 804 warehouses across the world, Costco keeps expanding its size every year.
Pros
Costco acquires a speedy delivery service, no matter what and how many items you order.
Costco offers many advantages for online small and medium businesses (SMBs) through a separate website, Business Center, mainly focused on product sorting and packages for reselling.
65% of online suppliers on Costco are local, making it localized to certain areas.
Cons
The delivery process is only superior within US territory, while international shipping might take up to weeks.
The low prices may apply to memberships only.
Overview
Global Sources is the one-stop product sourcing platform since 1970, based in Hong Kong. This marketplace also provides product sourcing services and is a China trading facilitator with the world.
Global Sources operates heavily in the Asian market, with the largest supplier belonging to Chinese manufacturers and some across India, Vietnam.
Pros
They have high-quality merchandise and exclusive suppliers.
They run trade shows annually, which allows you to connect with suppliers and further examine their products.
With 15 supported languages and various enhanced security methods, Global Sources has wide connections with massive price-cut Asian suppliers.
They provide a flexible option that allows you to make requests for custom quotations after purchasing.
Cons
Complicated process – you have to send inquiries to the suppliers, then together decide the shipping and payment.
They don't have strong customer service, instead, a live chat feature would let you deal directly with the supplier.
Overview
Worldwide Brands is the online premium wholesale directory, with over 2 decades of experience in connecting businesses with outstanding bulk suppliers.
Pros
Worldwide Brands has implemented strict verification with suppliers for quality service.
Their catalog goes up to 20 different items with around 16 million products of all types.
You only pay once for membership ($299) of Worldwide Brands and gain lifetime access.
You'll be working directly with manufacturers, with no middlemen service charged.
Less risk and start comfortably with low MOQs.
Worldwide Brands have quickly connected customer service line.
Cons
There are fewer categories are available than other "the best wholesale websites" on our list.
The discounts depend heavily on how you negotiate with verified suppliers.
Overview
IndiaMart is listed as the world's second-largest wholesale marketplace online by Economic Times. This wholesale marketplace has dominated the Indian wholesale market for a long time.
More than 66 million products.
IndiaMart holds a certification fee for suppliers who satisfy basic requirements.
Pros
Cons
As part of wholesale online shopping process, wholesale buyers must contact their suppliers to finish the order. This could be a nuisance when a merchant imports products from various stores.
A lax validation process results in implicit threats.
Delayed service line.
Overview
eSources is the UK's most comprehensive wholesale directory of distributors, suppliers, wholesalers, and products catalog.
Pros
300,000 and more UK-based companies and 200,000 international suppliers are involved.
A straightforward website to navigate products from popular to the niche.
Approach to numerous reputable wholesale providers.
Free access for limited suppliers and databases.
Excluded from middlemen fees.
Cons
You pay monthly expenses to upgrade to the premium version and gain full access.
You'll have to work directly with suppliers for each order.
Overview
SaleHoo is an expansive wholesale directory with over 8,000 suppliers providing 1,600+ branded products. Its markets scatter across the world, and suppliers majorly come from the US, UK, Australia, Canada.
Pros
SaleHoo guarantees a strict validation check on suppliers.
A refund is available if the directory doesn't satisfy your need.
Diversified list of products to resell at a high-profit margin.
Early and easy access to trendy and most-wanted items through a powerful market researching lab tool.
Highly accredited always-on customer support line.
Cons
Expensive fees – an annual fee of $67 or a lifetime offer at $127.
Small and limited product assortment.
Overview
An aesthetic made-in-Japan-only wholesale online store for global wholesale online shopping, Takaski partners with some of Japan's most renowned brands namely Shiseido, Muji, Suntory, Kao, Glico…
Takaski focuses primarily on F&B, health, clothing, home decor, and handmade crafting.
Pros
Free shipping from a minimum order of $149, Takaski also reduce 30% cost for Fast and EMS Express applied to numerous countries.
They strictly implement a Quality Assurance Policy, ensure the highest quality possible and guarantee a refund for any mistake.
Get 3 to 5 free products samples for every order purchased.
Secured transactions with various payment methods.
Detailed policy and process explanation and supportive customer service.
Cons
The warehouses are all located in Tokyo, making the delivery time longer.
You won't receive much profit margin unless you order huge amounts over time.
Overview
SeeBiz is an emerging wholesale marketplace and business networking platform that connects manufacturers, distributors, wholesalers, and retailers all across the USA.
With this wholesale marketplace you can go wholesale online shopping with over 1,000 verified vendors and more than 650,000 products. With this versatile range of products and vendors, you can easily find the best items for your business.
Pros
A well-designed and easy-to-use marketplace for wholesalers where they can list and sell their products for free without any subscription charges.
Advanced email and chat systems, and specialized invoicing system.
Over 10 major industries including food, apparel, health, etc.
Cons
SeeBiz is only operating in the USA for now.
It does not provide integration with other software as of yet.
Probably charging users in the near future.
Overview
China Brands is famously known for providing wholesale online shopping and dropshipping to more than 200 countries in the world.
It's also is a great place to search for a full catalog from clothing to accessories to gardening and electronics at dime a dozen prices in bulk.
Pros
New, trends creating, and diversified lists of products are added to the platform every day.
Excellent shipping speed and quality. Almost every delivery (99,67%) will be made within 24 hours.
The Quality Check Teams are technically qualified, well-trained staff assigned to examine at 2 phases, before and after packing, to prevent any damage during transit. So you can be at rest waiting for final products to come in high condition.
This Chinese platform also offers you 24/7 online customer service.
You can find high-end brands with decent quality here at an unbelievably reasonable price.
Cons
Chinabrands sometimes inaccurately or irrelevantly set the production descriptions leading to certain issues and uncomfortableness to buyers.
Complaints have been made about the delayed process and complicated procedures and yet no tracking system is available to solve the problem.
Overview
SourceLow is a free wholesale directory that connects B2B buyers with global trustworthy manufacturers, wholesale suppliers, dropshipping suppliers.
Pros
High reselling income as you work directly with suppliers
Simple to use website with free e-commerce guides and training resources
Reaching 1,000+ reliable wholesale providers across the US, UK, China, EU, and more
Saving times with advanced search filters to find your best match
Cons
Low on the diversity of choice
Price cut depends largely on negotiation with direct suppliers
Overview
Amazon Business is an upgraded purchasing solution, dedicated to online B2B trading for every business, at any stage of growth.
Trusted by over 5 million businesses worldwide, including local governments and 80 companies of Fortune 100.
Pros
Seamless buying experience from sign-up to check-out step.
Useful tools, advanced analytics, and resources to achieve effective ROI
Frequent purchasers get a 5% discount for the next orders.
Cons
Huge commission fees, minimum profit margins
The cost for unlocking valuable features started at the cheapest of $179 a year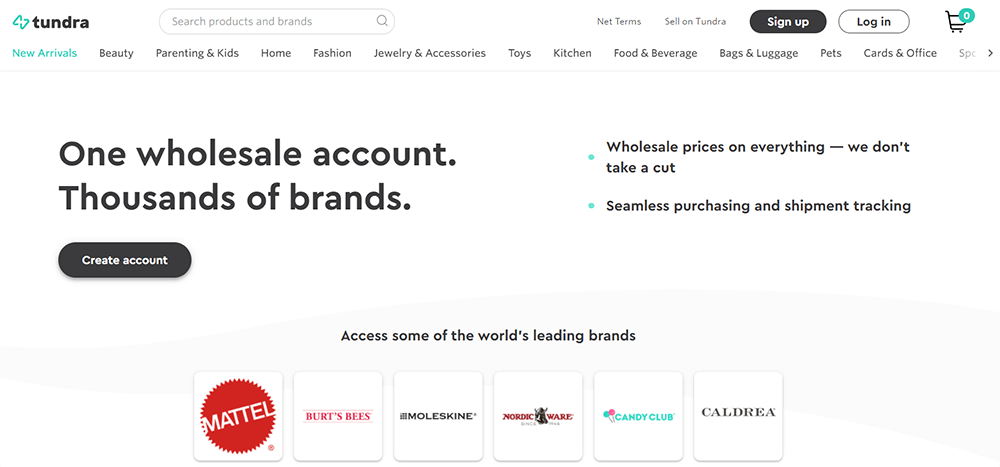 Overview
Tundra is a new, innovative, and fast-growing online wholesale marketplace. Their ambition is to distribute US and Canada suppliers to retailers across the globe.
Since its appearance in 2017, Tundra has been trusted by thousands of customers from over 180 countries, accredited by CNBC, TechCrunch, and smallbizdaily.
Pros
Get high-quality products from world-leading brands, at a minimum charge, even below wholesale fees.
No commission or membership fees are required.
Easy to navigate, user-friendly site with an expansive range of categories.
Provide real-time order updates with various checkout methods.
Flexible and trusted Net Payment Terms with guaranteed damage refund.
Cons
Free shipping is available for Pro users' accounts, with over $500 payment a month.
Tundra will block you from purchasing in other marketplaces like Amazon and eBay.
Amazon Business gets 20% of your revenue and 15% from recurring services.
Overview
Boutsy is one of the best wholesale websites for global resellers and retailers, known for a customer-based, innovative approach. Owned by one of the biggest, decade-long suppliers in soap and candles, Boutsy is North America based.
Pros
One-stop shopping with 25,000 branded products.
Prosperous niche products for local and small businesses.
Free of commission for buyers.
Seamless and easy user experience.
6 months of interest-free and net 90 terms of approved credit.
Cons
Suitable for online boutiques with a lower profit margin.
No product tracking service is provided.
Overview
Asian Beauty Wholesale is a giant Hongkong-based wholesaler specializing in beauty products and cosmetics from Asia's best household brands.
YesStyles, the leading online retailer, and Asian beauty wholesale are owned by the same company.
Pros
MOV is at $250 with a 30% coupon for the first order, no MOQ is required.
Massive product sources from over 700 brands.
Earn a promising profit return with a deep wholesale discount.
Reasonable international freight fee.
Delivery to 54 countries, supported with notifications.
Cons
High-priced shipping options, expanded waiting time were taken in several cases.
Accept traditional payment methods.
Overview
AliExpress is another gigantic marketplace from Alibaba Group, launched in 2010. Just like Alibaba, this platform is famously known for its cut-rate price range that hardly anywhere else can provide.
Pros
AliExpress accepts worldwide shipping.
You can buy samples on retail yet pay for wholesale price.
Provide high-quality items within the lowest price range.
Warehouses are located in different regions, adding to speedy delivery.
Buyer protection: full refund for delayed shipping time or damaged product.
Quick customer service reach.
Cons
Weak supplier verification system.
Loose transaction security.
Overview
As the name suggests, when joining this platform, global buyers will gain access to 50K+ Korean suppliers expanding in diversified categories from F&B, beauty, health to home tools and furniture.
Operated by Kotra – the state-funded organization working in trade and promotion, Buy Korean can be your trusted wholesale partner.
Pros
With 260,000 units in stock, you can find various quality Korean-made products for a cost-effective price range.
Simple to use the website.
High rate of on-time delivery.
Helpful customer resources and tutorials, virtual trade shows available.
Allow direct connection with manufacturers.
Cons
MOQ is terminated by a certain category and manufacturer.
No order tracking system.
Overview
TopTenWholesale is a trusted online store providing helpful B2B wholesale solutions, founded by JP Communications Inc in 2005.
JP is a highly experienced corporation with a huge network of qualified US suppliers, thus making TopTenWholesale one of the most reliable and the best wholesale websites that you can trust.
Pros
Secured ways to check suppliers' legitimacy.
A great variety of branded products is available.
Proving full support relating to wholesale from video tutorials, community forums, and regular trade shows.
A flexible place for after buying unique requests and changes to order size.
Available product sourcing, warehouse fulfillment, and broker services in need.
Provide factory close-out for seasonal or extra new-coming products.
Cons
Basic membership ($99) provides limited functions while a premium one ($425 for half a year) is costly for most people.
Support is only accessible by premium users.
Overview
Tradewheel is another US-based well-established online vendor with over 6 million wholesale suppliers located in the US, Asia, and the EU. They are trusted by 7 million frequent buyers worldwide.
Pros
A wide range of categories with up to 22 million stocking units.
Every supplier is strictly abiding by their comprehensive verification system, Tradewheel creates badges for the most qualified sellers.
Get a human-to-human connection with their assigned ISM (International Sales Manager).
Seamlessly manage the product sourcing process.
Secured transactions.
Cons
Doesn't support B2C trading.
Overview
Akorstore is a professional online B2B wholesale trading site between brands and Europe's leading shops. With over 9,000 boutiques and concept stores internationally, their main goal is to connect highly qualified suppliers with large and well-known brands.
Pros
The low minimum order value of 100€.
Brands get paid on delivery with Ankorstore takes care of payment risk.
Free shipping for every order paid by Ankorstore, plus tracking service.
Receive great opportunities to expand the business online.
Complete control of distribution.
Get helpful support.
Cons
Product price range ranks at a premium.
Limited categories.
Low-profit margin.
Business-approved Practical Ways To Work With Online Wholesale Vendors
Understand Your Industry and Your Business
Spending time thoroughly researching the specific category you're selling will help you make valuable decisions. Knowing the market demands and the price range will help you to successfully negotiate with suppliers.
Plus, the market value of certain products will differ from region to region, online retailers should always target the most lucrative segment in their chosen industry.
Always request samples
For newcomers, ordering samples would allow them to test a whole buying process and avoid higher risks with bulk purchases.
Each wholesale platform has certain differences in the operation process, so even experienced buyers have to do some testing when changing suppliers.
Effective negotiation
Some wholesale vendors let you contact directly with their suppliers to decide the final price for both. This is good and bad. Unless you know how to effectively arrange speeches, you can be overpowered by experienced and skillful suppliers.
So here are some tips to sharpen your negotiation skills:
Reach out to various suppliers: it's useful that they know you know other suppliers' lowest wholesale discount rates compared to theirs.
Be supportive and empathetic: don't push them too hard as you still have to maintain a healthy supplier-buyer relationship.
Be clear and open: show your genuineness and interest in a long-term commitment with them to earn a deeper price cut.
Don't trade-off your position for minimum prices: In many cases, higher payment would let you have more power over suppliers.
Recap
Hopefully, you have found this list of over 20 best wholesale websites informative. You probably know this all too well, that deciding to work with any supplier is at the same time deciding the sustainable partnerships.
But of course, to find the best match for the long-term journey together, you need to put effort into the trial and error process. Especially when there are so many wholesale vendors and so many suppliers out there.
After finding your trusted suppliers, the next thing to consider is building an online store to start creating your brand and selling to direct customers.
Developing an effective and engaging e-commerce website is by no means easy and simple. But we are here to help you.
Tigren is the leading company in e-commerce website development with over 10 years of experience. We have accompanied numerous boutique brands globally and left an awesome impression with our professional service.
If you are interested, don't hesitate to check out our e-commerce development service and drop us a question!