Can you convert Magento website to mobile app? The answer is yes. What seems close to impossible before now comes to reality.
Thanks to the constant evolvement of technology, you can now develop a mobile app for your Magento web in several ways and deliver a user-friendly mobile experience to the customers.
The growth of m-commerce is accelerating at a dizzy speed even though it just emerged in recent years. Why would buyers open any other devices when they can easily shop right on their smartphones with a few clicks?
We will reveal a simplified guide on converting your Magento site to a mobile app.
Hire A Reliable Magento Development Agency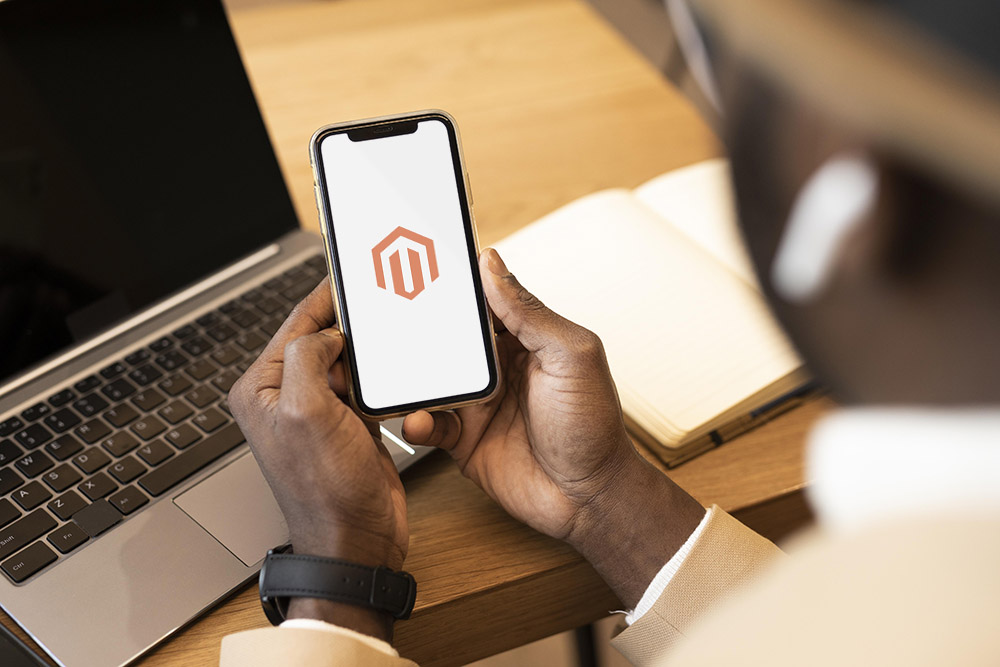 Let's start with the good old way – contacting an expert team in Magento development and hiring them to build you a mobile app. Creating a highly functional, complex, and performance-wise mobile app takes an extremely long time from start to finish.
We always recommend looking for an experienced and reliable agency to build a high-class app for mobile marketplaces, or you can call for an investment that is enough for an extra budget and move faster with m-commerce.
Next, you'll have the choice of developing a native app or a hybrid app for your business.
Let's go into specific of each.
Native Magento App
Creating a brand-new native app, each for a separate operating system (iOS and Android), is what we are talking about. Like any option, there are advantages and disadvantages to native app development. Despite this classic choice being the most expensive option, the final result will satisfy you in UI and UX design with the requested effects, robust functionality, and a sound performance.
The service fee would be high with such dedicated effort, not to mention if you partner with local developers in high-paying countries. So keep a close eye on your budget for this approach.
Also, prepare yourself for a much longer time to launch the app. Commonly these projects take place for months, or even counted in years. You would need to communicate with the team for reviews and feedback rounds after rounds closely.
And because the app request is already complex, integrating with Magento would also require extra effort. Therefore, the final mobile app would need greater care, improvement, and optimization.
Pros
High functioning for smooth interactions
Customized with uniques features and effects
Outstanding and compelling design for satisfying customer experience
Cons
Super pricey
Long time to market
More complicated when integrating with Magento
Higher investment for maintenance
Hybrid App Development
These days, many apps are going hybrid, namely Gmail, Twitter Lite, and Uber. This transition comes from many ways in which hybrid apps have overcome native apps.
So what is a hybrid mobile app development? Hybrid mobile app is essentially a web app but is conducted into a native app shell. Once it's located, the hybrid app can perform up to any mobile platform's capability via an in-app embedded browser.
They deliver faster results with fewer resources required for building and testing. Also, being a single open code allows hybrid apps to work on multiple platforms all in one, providing the business owners quite a discount.
Although the performance of hybrid apps is outweighed by native apps, most ecommerce businesses today feel only the need for above minimum functionality. They still can request curated adaptation to serve their audience while facing higher chances of appearing on top of search queries.
Pros
Cheaper to develop
Fast time around
Utilize the power of SEO
High customization
Cons
Weaker performance
Require frequent maintenance
Alternative: Use The Available Magento Mobile App Builders
Another way for Magento owners to take the mobile development into their own hands and save more bucks is using the Magento mobile app builder extension.
You can see clearly that this third option can save you a lot on the upfront cost since some are available for free, and they only ask for a low monthly payment plan to keep the performance running smooth.
However, everything comes with a price. The journey will be easy with you as these extensions are newbie-friendly for you to learn and build your app.
The problem lies with the journey your audience has. These pre-made solutions are generic and not capable of being scaled up. It's hard to say it will make a satisfying buying experience, but you can work on it to make it acceptable.
Our suggestion is to use the free version to test and estimate what you really want for your mobile app.
Pros
Quick turnarounds, counted by days
Easily connect and integrate with a Magento site
Non-expensive
Cons
Weak performance
Lack of features
Lack of customization
Useful Tips When Creating Your Mobile App For Magento 2
Improving the UI And UX Design
One of the best ways you can improve the customer journey is by drafting, testing and building a well-rounded UI and UX design.
Think from the customers' viewpoint, considering how you can support them better by facilitating their interactions in your store? When testing your app, experience it yourself. Besides, check out popular brands and learn from them.
Integrating
After downloading the zipped version of the Magento mobile app builder, you unzip it, and access the site panel using your admin account, then use FTP provided to install the Magento mobile app builder system into your backend.
This will help manage your app easier by making sure the Magento app and your Magento website are dynamically synchronized.
Minimizing The Checkout Process
Let's face it. No one likes to wait in line for long, that's why they first came for ecommerce. So avoid strictly asking a long, mundane queue of complex questions.
A survey shows that 26% of online shoppers would abandon their cart because of the time-consuming checkout. So keep only the best-chosen selections for your customers and clients to choose from.
General Advice
When designing the app, note that more than 80% of mobile users are right-handed, so all the essential features should be accessible for the right thumb to reach and move around.
When converting the Magento website to mobile app, ensure you have updated to its latest version.
Don't hesitate to invest generously in the security protocols of the app. Even a small bleak of sensitive info can leave your brand reputation in damage.
As you rely almost entirely upon the Magento mobile app builder extension, consider the provider with many positive reviews, skilled design, and decent functionality, followed by a suitable pricing plan for your business.
Wrapping Up
Mcommerce is on the right buzz. As more and more individuals adopt online buying behavior, there's no better channel than through their little handy smartphone.
Many ecommerce stores have developed their mobile app and received significant boosts in conversion rates and repeat buying. If it's the right strategy for your business growth, shouldn't it be a big priority of yours?
So remember why you want to convert your Magento into a mobile app in the first place, the best fit should outweigh the best price. Then consider the methods we've mentioned.
We hope this article on "how to convert Magento website to mobile app" has been useful, and if you have any inquiries, contact Tigren for help!