Every online store follows a specific business approach. Yet, choosing between ecommerce business models can be challenging, especially for beginners with little experience.
Selecting the suitable model for your ecommerce business is crucial to growing and generating sustainable profits. And to do that, the first step is to understand business model concepts, which will all be explained in this article.
Traditional Ecommerce Business Models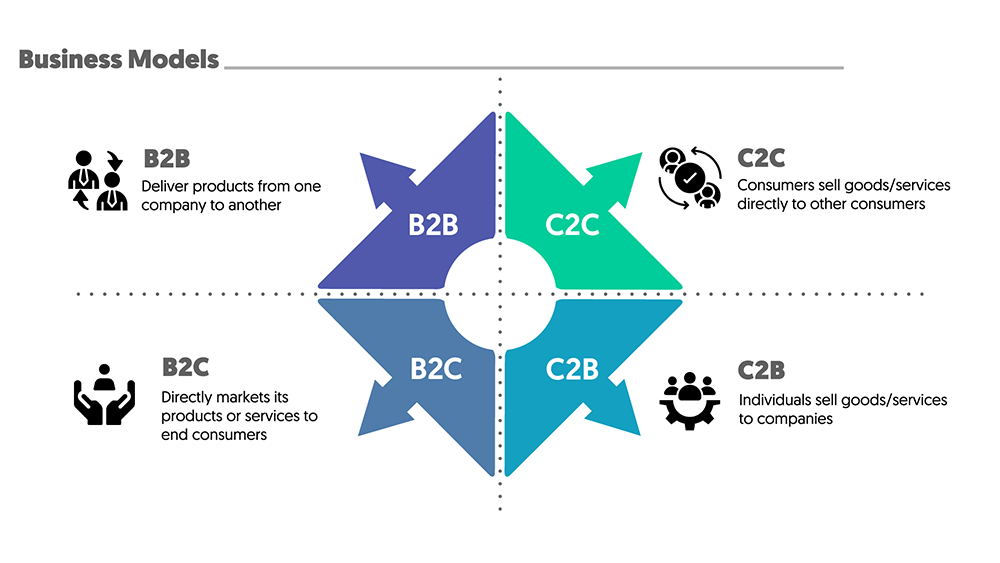 1. B2B: Business to Business Ecommerce
The B2B model focuses on delivering products from one company to another. Historically, B2B companies have lagged their direct-to-consumer counterparts, especially in business innovation and digital sales. The problem is price negotiation and collaboration, and many companies are accustomed to using salespeople as their primary source of revenue.
However, with the pandemic as a catalyst for change and more millennials entering the B2B space, and the rise of digital. B2B ecommerce is reaching new heights. In 2020, the global B2B ecommerce market valued at $14.9 trillion – 5 times the B2C market. On top of that, Forrester predicts that B2B e-commerce will account for 17% of all B2B sales in the US by 2023, reaching $1.8 trillion.
2. B2C: Business to Consumer Ecommerce
A B2C company directly markets its products or services to end consumers. This is the most common form of trading. Every time you buy groceries at the store, eat at a restaurant, go to the cinema or get a haircut, you complete a B2C transaction. You are the end-user of the products and services sold by these companies.
There are five different B2C business models in ecommerce: direct sellers, online intermediaries, advertising, community, and paid.
The number one benefit of B2C ecommerce is the global reach. Even small businesses that operate out of the home can sell to customers on the other side of the world. This availability for sale to anyone anywhere is specific that success is inevitable.
3. C2B: Consumer to Business Ecommerce
C2B businesses enable individuals to sell goods and services to companies. In general, a website lets individuals provide information about their skills/experience, and companies bid on the opportunity to buy their services. Affiliate marketing service is also a type of C2B.
One of the main benefits of this business model is that it allows consumers to set their prices and often helps expand their reach by giving them more visibility.
4. C2C: Consumer to Consumer
In C2C ecommerce, consumers sell goods or services directly to other consumers.
This is often accomplished through third-party websites (like the examples mentioned earlier) or marketplaces that facilitate transactions on behalf of buyers and sellers. Online businesses like Craigslist and eBay developed this model in the early days of the internet.
Revenue ECommerce Business Models
1. Dropshipping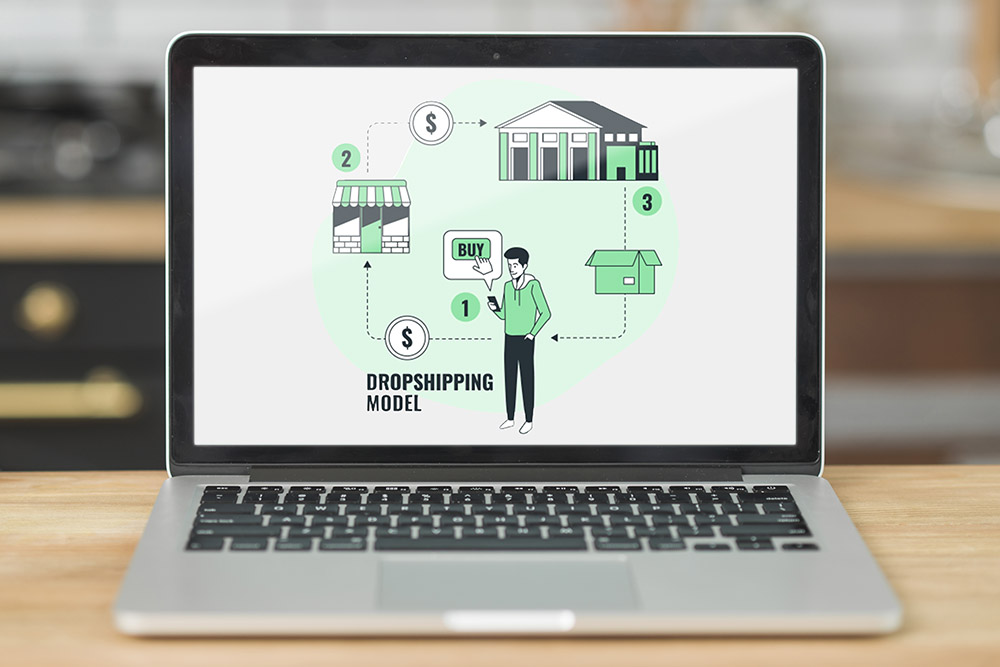 Dropshipping is an order fulfillment method in which a company's products are stored, packaged, and shipped by a third party.
The owner doesn't have to worry about managing inventory, stocking warehouses, or handling shipping for dropshipping companies. They can focus on front-end customer experience and building customer networks.
One of the most significant caveats you need to consider before taking this approach is that your company has no control over the supply chain. If a product arrives damaged, delayed, or of lower quality than expected, this will hurt your brand.
2. Wholesaling and Warehousing
Wholesale is a business type in which an ecommerce store sells products in bulk at prices below the general market price. Wholesalers make money by selling their products from their ecommerce site or storefront, usually to the end consumer, at a higher price. The benefits are evident: higher order volumes, fewer lead times, and associated costs.
Many ecommerce stores have warehouses to store products. When people buy them, they are shipped directly from the warehouse. That's why it's called warehousing.
A wholesale and warehousing ecommerce business requires a significant investment to start. You need to manage inventory, track customer orders and shipping information, and invest in the warehouse space.
3. Private Labeling and White Labeling
Companies will hire third-party manufacturers to make the products based on their unique ideas and designs. You have the exclusive right to sell products. This is private labeling.
Once items are made, you can have the manufacturer ship them directly to the customer or handle this step yourself. Initial costs can vary, but private labeling can be a great way to create or test new ideas if you have enough product design and capital to get started.
With white label, you can market and sell the product under your name and logo, but a third party manufactures it. This approach can increase your brand awareness, save you from self-manufactured, and allow you to leverage the knowledge and experience of retailers.
4. Print-On-Demand
Print On Demand (POD) is a popular way to manufacture and sell products. POD works by using your designs on items like shirts or coffee mugs, then selling on your website. Once a person places an order, your supplier will fulfill and then ship it.
POD services offer a way to eliminate the time, investment, and risk associated with inventory management by going from creation to selling custom products at a fraction of the cost of manufacturing your own.
5. D2C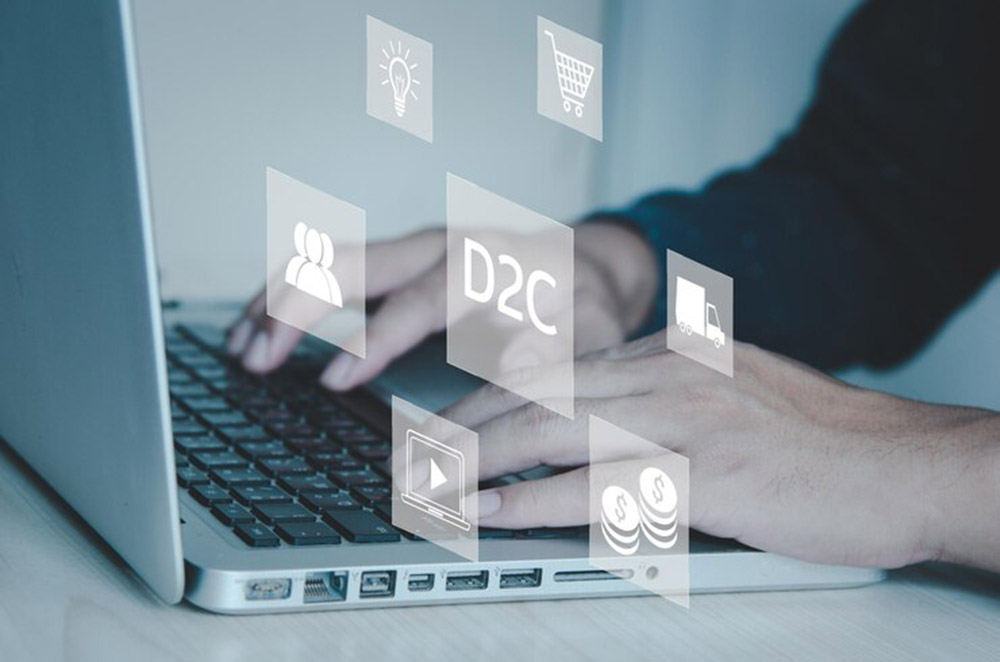 D2C occurs when manufacturers sell their products directly to consumers without hiring distributors or retailers at the most basic level.
This is a popular choice for brands looking to market quickly with lower entry costs. With the rise of technology, more businesses see an opportunity to eliminate intermediaries and sell directly to consumers.
A significant benefit of D2C is that manufacturers have complete control over all activities, from packaging to marketing. This means they can also create an omnichannel experience for the end consumer.
Should all types of businesses own an ecommerce website?
Yes, businesses should have an ecommerce website made for online transactions. Regardless of the business type, owners need a platform that suits their specific requirements for the website. Then, you'll need a professional team to build your website. In that case, we recommend you use Tigren's ecommerce web development services. We provide reasonable price services with excellent qualities, satisfying even the most demanding customers.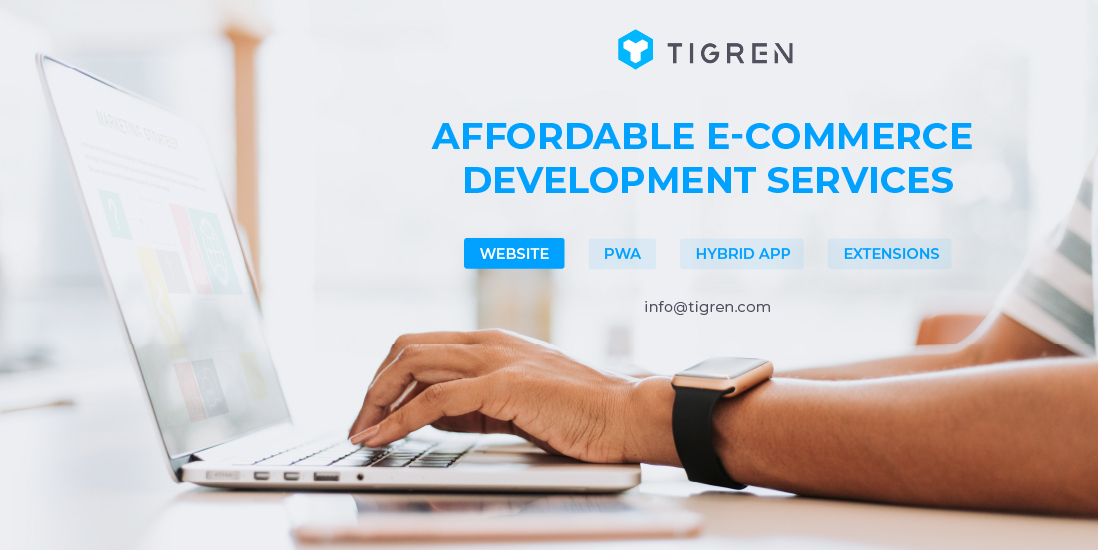 Sum Up
Choosing and adopting a suitable ecommerce business model for your online store can be a more significant challenge than you think, especially if you are new to the industry. We hope that all the information gives you a hand in picking the right one for you. The key is to adopt a model that aligns with your goals and strengths.