Several factors need to consider when finding a suitable e-commerce development company in Dubai. To help you save time and find the best solution, we have listed top-rated companies below with helpful suggestions. Check it out!
Benefits Of Hiring An E-commerce Development Company
1. Optimized website
An e-commerce development agency knows how to build a site that is optimized and can boost their client's sales, thanks to their knowledge and experience.
They can put in the most suitable elements and features for your e-commerce site regarding your request and budget.
2. Time-saving solution
Hiring e-commerce web development will save you valuable time and effort. You don't need to put extra effort into hiring, training, and managing the entire team to complete this job.
Merchants gain maximum flexibility and devote their precious time and energy to their core business operations.
3. Technical support
The development company understands the workflow from the technical aspects required. According to e-commerce standards, they know the best type of software currently available and support you wholeheartedly.
4. Better allocation of workforce and resources
The entire project is completed independently by the development company, and the client's project manager does not have to participate in a lot of development work. This makes the process smooth enough from the development side and simple enough to be missed quickly.
Criteria For A Good E-commerce Development Company
1. Company's portfolio and background: This is strong evidence of the company's expertise in design and development services.
2. Credibility in the market: This factor can be shown by their service quality, customer reviews, and testimonials.
3. Cost & Support Policies: Ensure you are provided with transparent cost and support policies. The prices also need to fit the situation and your needs.
4. Technical expertise: The company should have a team of experienced professionals with proven results.
Top E-commerce Development Companies In Dubai
Address: Opal Tower – 701 705 – Dubai
Si3 Digital is a full-service digital agency based in Dubai. The company focuses on delivering the best experience, generating skyrocketing sales in the shortest time possible.
Additionally, their dedicated professionals provide an end-to-end coding experience to speed up the development process. The company addresses the unique needs of established and SMEs through its industry-oriented business needs.
Address: 12A-04, Damac Smart Heights, Tecom, Dubai
Wisdom Information Technology Solutions is a practical choice when compiling a list of UAE e-commerce companies. Their team focus on creating elegant, intuitive, and efficient e-commerce websites for your business.
Rooted in Dubai, the company provides design and development services to transform brands, expand the business and improve quality of life. They have developed strategies to streamline operations to foster growth and gain potential benefits.
Address: 2602, 26th Floor, Mayaza Business Avenue, BB2, Jumeirah Lakes Towers, Dubai
Branex is a leading company that provides a one-stop solution for all business needs: e-commerce websites, mobile applications, or website design and development work. The company strives to exceed customer expectations by providing superior quality and timely solutions.
They guide customers to choose the right e-commerce platform to drive online business and offer a great web design experience from premium e-commerce themes to custom customer-centric stores. Their solutions leverage modern technology to turn visitors into loyal customers.
Address: Saeed Tower 1, floor 24, office 2406, Sheikh Zayed Road, Dubai
Go Gulf Company is a full-fledged international e-commerce web development company. In addition, it also provides custom website development and business consulting services to its valued clients in the UAE and other parts of the world.
Go Gulf claims that its custom e-commerce solutions allow clients to become more competitive in the market. They develop e-commerce web projects, custom enterprise solutions, portal development, payment gateway integration, multi-platform-based development, and more.
Address: 804, B2B Tower, Al Abraj Street, Business Bay, UAE
GCC Marketing & Web Design has an impressive brand among its key clients. So it's no surprise that the United Arab Emirates-based company has seen widespread success across industries.
The agency's services include web/app design, marketing service, web development and maintenance, and custom e-commerce development. They work with a spirit to boost clients' success, as they believe that's how they become successful too.
Address: Oxford Tower – #304, Business Bay, Dubai
Global brands use WebEngrave to take their branding needs to the next level. Based in Dubai, WebEngrave was founded on helping brands develop into their best, most human selves.
WebEngrave provided their clients with a dedicated service that continues to this day. Their process includes refining the client's unique voice and visual identity to become more effective in a crowded digital space.
Average Cost of E-commerce Website Development In Dubai?
Hiring a local e-commerce development company in Dubai is quite expensive. The average price for a project ranges from $5,000 to $300,000. This is not the price a small business can pay, and it seems impossible to claim a quality website at a low price.
Our recommendation
If you are looking for a solution that satisfies both price and quality, we suggest you outsource the website from Tigren. We have nearly ten years of experience building websites with many clients from the UAE.
We strive to meet client requirements and even exceed them. Our final goal is to make sure the client is happy, and our work can boost their growth.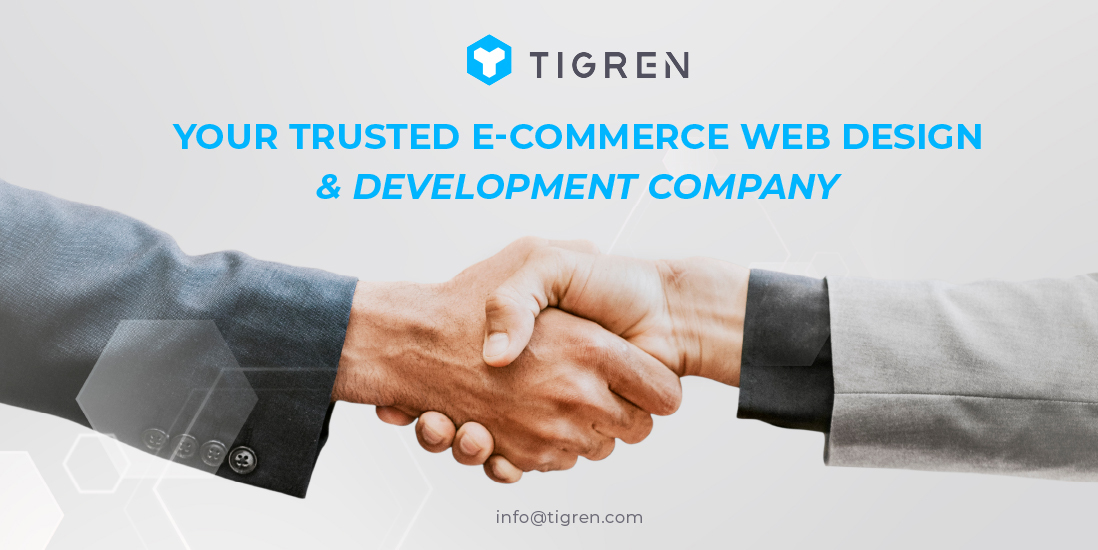 Wrap Up
Finding a suitable e-commerce development company in Dubai may not be the easiest option. If you are hesitant because of your budget for the development, outsourcing a company from other regions is also a brilliant option. As long as the agency you work with can deliver quality results within your budget, they are a great partner.
Read more: Top 7 Payment Gateways In UAE For Your eCommerce Websites