Owning a pleasant and straightforward checkout page can reduce the rate of cart abandonment for e-commerce businesses. Yet, it's challenging to know where to start or which essential features to be included. To help web owners have a comprehensive view of a good checkout page, in this article, we will introduce 7 great examples of checkout pages. Be inspired and make an outstanding one of your own!
What Is A Checkout Page?
A checkout page allows customers to enter payment details and complete the order. It collects the customer's shipping details, billing details, shipping method, and payment method and provides the option to submit the order.
There are two common types of checkout: One-page checkout and multi-page checkout. These days, the first type is becoming more popular.
Best Examples Of Checkout Pages
Byredo creates a checkout page that surely leaves an impression. They use best practices, creating a simple, sleek design to provide concise and easy-to-understand information. They also have form validation and error messages to ensure customers enter their data correctly.
Features
Accordion-style checkout
Order summary prominently displayed.
Additional costs (shipping/taxes/etc.) displayed
Multi-choice payment options
Helly Hansen's checkout page design is simple and elegant. Users can choose their language, which is convenient for international customers. Information is displayed upfront, so there are no surprises at the end.
Features
Order summary
Additional costs included
Isolated checkout with limited distractions
Form validation and error notification
Different payment choices
Tommy Hilfiger's checkout page design is highly stylish while ensuring legibility. The order summary section shows clear information for users to easily understand, including tax and shipping fees.
The two highlights of this page checkout are that it has a back-to-top button for easier navigation. Moreover, a donation section encourages users to contribute to the community.
Features
Order summary
Total cost components displayed
Guest checkout
Sigma gives users a checkout page with a simple design, easy to use. The beauty retailer clearly demonstrates two steps in their checkout process: delivery and payment. Sigma provides users with shipping packages at different prices, which offers customers more options for delivery.
Features
Checkout contents saved for later use
Discounts available to all customers
Variety of delivery and payment options
Omega checkout page impresses with its elegant and luxurious design. The checkout steps are easy to follow. Customers have all the information on one page, thus it's more convenient if they need to recheck any field.
Features
Access login and sign-up options easily
Accordion-style checkout guides the process
No distractions
Paul Smith's checkout page design lies in the user support features. If you want to edit your cart, such as adding or subtracting quantity, simply edit the order at this step. You can rest assured that the information you fill in the fields is saved, and you do not lose time filling it again.
Features
Variety of delivery and payment options
Live chat support
Solated checkout with distractions removed
Harvey Nichols impresses customers with instant checkout. Once you add an item to your shopping cart, the web will ask if you want to pay now or continue shopping. They also add a review step so customers can recheck everything once again.
Features
Available guest checkout
Variety language options
Live massage contact
How To Create A Checkout Page Effectively?
1. Choose the right e-commerce platform
Choosing a good platform is the must-taken step to have an excellent checkout page. Each one already has a particular flow checkout.
Some platforms set one-page checkout as their default (like Magento), and if this is what you want, then you can make minor changes and use it right away.
2. Enable Guest Checkout
It's recommended to always provide guests with a checkout option, asides from sign-in. Having more choices of checkout can encourage customers to proceed to payment.
3. Include Trust Signals
Prominently display security badges and seals to show customers that your e-commerce platform takes safety very seriously. These badges should be displayed during the checkout process to ensure security in the system.
4. Provide different payment options
Provide customers with multiple payment methods, prioritizing the primary payment method. The more payment methods a customer has, the more customers will complete a purchase.
5. Prioritize mobile user experiences
When creating, designing, and optimizing checkouts, you need to prioritize mobile-friendly designs so that checkouts for these users are seamless and unified across all device types.
6. Minimize Distractions
Checkout should generally be clear and limited distractions. Eliminate any distractions to keep customers on the purchase and focused on tracking to the end of the conversion funnel.
7. Test, review, adapt, repeat
Your checkout needs to be kept up to date, and you need to regularly review best practices and use these strategies to deliver the best possible checkout to your customers. Continue to do this regularly, creating a cycle of review and progress that steadily makes your checkout better for your customers.
Wrap Up
There are more excellent examples of checkout pages out there, but the 7 mentioned are among the most impactful ones. To develop an excellent checkout page, you need to understand your customers' expectations and experiment with different styles.
If you want to build a professional checkout page but don't have much experience in web development, then it's best to let a web development provider like Tigren handle the task.
With more than ten years of experience in e-commerce web development, we ensure that each page of your website will be built carefully and optimized with essential elements and functions. The final goal is to improve the customer experience, help you to sell more, and grow your business.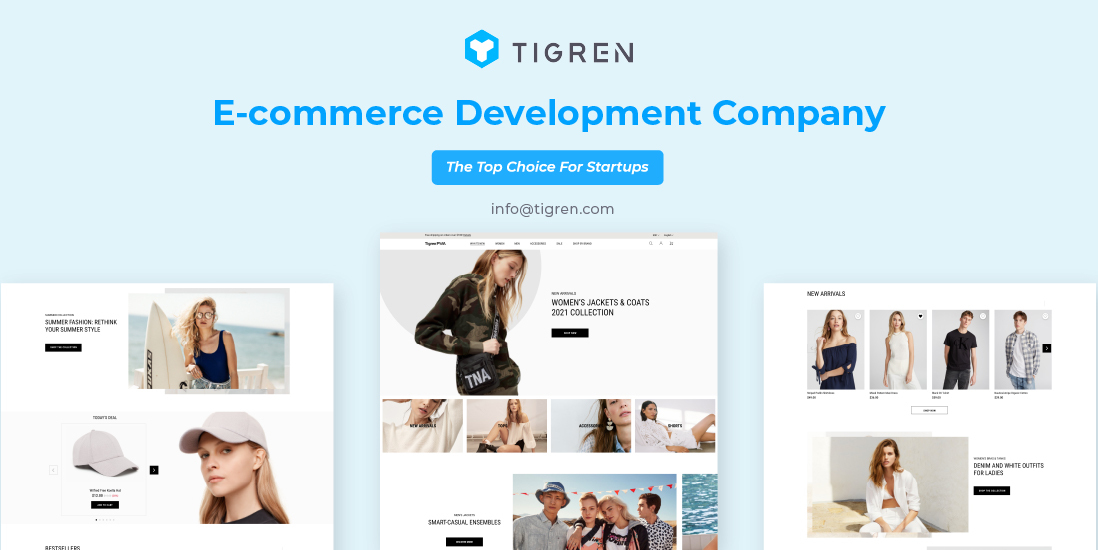 Read More:
Improve Your Ecommerce Checkout Page Now Or Continue Losing Your Customers