People doing online fashion business for the first time usually have the same question: "how much inventory do I need to start an online boutique?". Answering this question with a specific number is not easy since it depends on numerous factors.
Although challenging, you still need a number. Too little or not enough stock may cause business interruption. On the contrary, too much may lead to difficulties in capital turnover. This is a headache issue for any business owner.
How Much Inventory Do I Need To Start An Online Boutique?
The amount of needed inventory depends on many factors, but you can come up with a number by considering these factors:
Your budget
This is one of the most significant factors in answering the question "how much inventory should I start with an online boutique." Whether you have large capital or a small budget, always spend wisely.
With a low budget of just $3,000 or less, buy one pack and one color per style only on your first purchase. This buying method will help you find products that have the potential to become best-sellers, thereby easily balancing your purchase list in the future.
If you have a high budget, you should not buy too much. Only buy up to 3 packs and 3 colors per style. Expand your product catalog as much as you can to see which one will attract customers.
Your business model
Asides from the ordinary business approach, where you hold your own inventory to sell, there's another emerging trend – dropshipping model.
If you're the one holding the inventory, you have the most control over how everything runs and its quality. This ensures you can deliver the best service to your customers. On the other hand, you face the risk of overstock.
With dropshipping, you don't hold the inventory. You receive the order from a customer (probably via an e-commerce site), then send it to a supplier responsible for preparing and shipping the item to the buyer. This model helps avoid overstocking or out-of-stock, but it also limits your control over the service quality.
The selling area
If you have identified your favorite products after the first wholesale import, do not rush to import goods for the second time. You need to consider the breadth of your target market first.
If your selling area is large nationally, you should prepare a larger inventory to avoid customers having to wait too long.
In the second batch, prepare based on the available budget and the quantity of the most popular products in the first sale. From there, you can estimate the subsequent batches of goods.
The number of categories
The more categories, the more goods you will need to prepare.
Therefore, you should advance your attention to the categories related to your brand first. For example, if you have a clothing store, you should look for the best clothing sellers before opening the jewelry, shoe, and the like types.
It would be best to expand the product category when your online shop already has stable customers and finances.
Product classification
This is the last factor to evaluate before answering the question, "how much inventory do I need to start a boutique."
Best-seller is usually the most steady source of income for businesses. Therefore, you should import a decent number of best-seller products and accompanying goods.
The second type of product you should bulk import is seasonal clothes, such as jackets, life jackets, etc. These products are essential because customers usually buy clothes based on the weather.
Finally, remember always to enter new goods in small quantities for testing. This action will help reduce the risk if customers don't like your new product as much as possible.
Tips For A Successful Online Boutique
Know your customer
Knowing how much inventory to start an online boutique is just the first step. To have a successful cloth business, you must understand your customers. Identify your customers' age range, personality, habits, etc.
Try to visualize your target customer personas. You can research through Google trends or small surveys to achieve this. Research can be time-consuming, but it will benefit the business in the long run.
Invest in packaging
Packaging is significant for every fashion business. Beautiful packaging can leave the perfect impression on customers.
This is a valuable form of branding for you. You don't have to overdo it, but make sure each order is packed neatly and delivered to customers in perfect condition.
The way the item reaches your customers can increase the repurchase rate. If you do well, they may even recommend your store to their acquaintances.
Have a professional website
Website is the first touchpoint between your customers and you. So make it professional and gorgeous.
Imagine a customer visiting your website. But what they get is endless page load times, a clunky interface, and a cluttered product arrangement. They will lose all affection for the brand, even get out.
Your e-commerce website is no different from your store in the real world, take care of it.
Tigren – A Prestigious Online Store Building Unit
As mentioned above, Tigren is a business with many years of experience working with numerous fashion businesses. Check our portfolio here.
Suppose you also need a website for your clothing business. In that case, we are confident that we can provide you with an e-commerce website with a fashionable, attractive and convenient storefront design.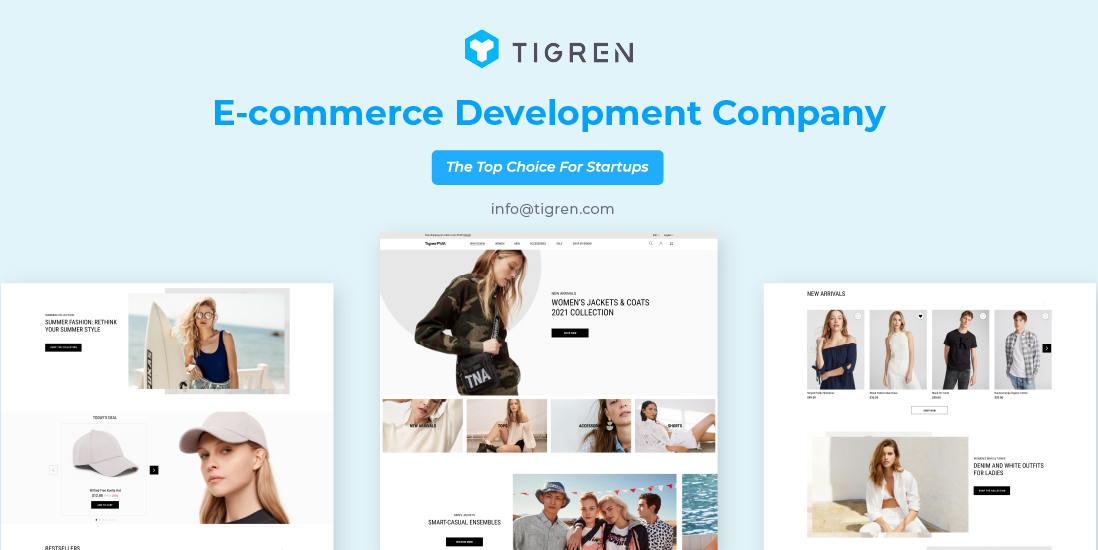 Bottom Line
"How much inventory do I need to start an online boutique?" is never an easy question to answer. Inventory management is a job that requires careful and methodical calculations. On the other hand, those strategies must also match the status and positioning of the business.
We've listed the factors that have the most considerable influence on the amount of merchandise you need to prepare before your start-up, along with some tips to increase your success rate. We hope you find it helpful!
Read More:
Starting An Online Boutique Checklist: 20 Points To Success
A Complete Guide To The Cost To Start An Online Boutique