Due to the impact of Covid-19 and the advancement of technology, eCommerce quickly became a golden egg-laying hen. It allows you to reach millions of customers through search engines and social media every day. As a result, more and more online businesses are established, and the competition is also getting fierce. However, you can still make a large amount of money in this context if done thoughtfully and correctly. So, how to make money with eCommerce? Let's dig into it!
What Is Ecommerce?
To know how to make money online with eCommerce, you should understand what it is first.
E-commerce is a business model that allows buyers and sellers to exchange goods and services for money over the internet. Nearly every kind of goods and service can be transacted through this form of business. Music, airline tickets, movie tickets, online movie services, etc., are the best examples.
Many experts admit it is a breakthrough technology as buyers and sellers can use many different devices to conduct exchanges, such as phones, computers, tablets, and the like.
Why Should You Choose Ecommerce?
Minimum cost to start
This business model can help businesses cut expensive expenses such as space, personnel, and marketing costs.
You only need to spend a few hundred dollars on renting a website domain name every year. This cost is certainly less than thousands of dollars monthly to rent a good store real estate location.
Regular business will require many staffs, such as security, sales, etc. However, with an online store, most processes will be automated. As a result, the number of personnel can be significantly reduced. You can even optimize the cost with software development outsourcing.
Chance to reach customers worldwide
Currently, online platforms have massive daily organic traffic worldwide, leading to an excellent opportunity for online businesses. If done correctly with a proper plan, your website can naturally reach thousands of customers every day.
Legal customer data gathering
Finally is the ability to collect and analyze customer information. Today, many tools can help you organize and store customers' data. You can find out who has accessed your website and even who hasn't finished their purchase with them. Thanks to that information, the remarketing process will become much more manageable.
How To Earn Money With Ecommerce?
Now you understood e-commerce and its benefits. Let's find out how to make money online with eCommerce!
Sell ​​physical products
Everyone knows selling all kinds of goods on your e-commerce site is how to get rich in eCommerce. However, did you know there are many ways to sell?
The first and also the most popular one is B2C e-commerce. With this business model, you will sell directly to end customers. You can find examples of B2C stores everywhere, such as Nike, Hogl, Cocacola, etc.
Next is B2B eCommerce, which is one of the best answers to the question "how to earn money in eCommerce". With this form of sales, you will provide products directly to other businesses. The most significant difference between B2B compared to B2C is that the orders will be more prominent in value, and the buying decision will take longer.
In addition, often businesses will have a desire for profit while end customers need to improve their lives.
Multivendor e-commerce marketplace is also a reasonable choice for merchants. However, you will have to face many competitors directly selling on the same e-commerce platform here. In return, you will have more natural customers than trading on your website.
Fourth, dropshipping is a fairly how-to earn money online eCommerce for beginners. You do not need to import goods or rent a warehouse. Instead, you need to find a dropshipping company and sell their products to customers. That company's distributors will be responsible for bringing the goods to the buyer and giving you the revenue.
The last selling method is affiliate marketing. With this business method, you won't have to sell products directly. Instead, you need to promote the product and get a commission if the customer you refer buys the product.
Provide online services
Similar to selling products, this making money strategy also has many different types.
If you have your own services, selling them is how to make money using an eCommerce website. Currently, there are many specialized platforms for building websites. As a result, an online service store is not as challenging as it once was. More and more online medical and educational businesses are born.
Don't worry if you don't have your own services because you can consider drop-servicing. This type of making money online is similar to regular dropshipping. You need to find customers, sell services from a third-party business, and get a commission for successful transactions. The service provider will be responsible for performing the benefits to your customers.
How To Get Rich With Ecommerce?
Due to the growth of technology, eCommerce is becoming more and more popular. Making money through eCommerce is uncontroversially simpler and more effective than offline ones.
However, Rome wasn't built in a day. Earning through eCommerce may be more convenient but by no means easy. You still need to invest time and effort to get rich through it seriously.
Besides, you will be able to answer the question "how to earn money from eCommerce" earlier if you do your business methodically and adequately from the beginning. Here are three practical steps to start & promote an e-commerce website.
Market Research
This is the first step but also the most critical and complex step. Research is the foundation of any business. This is similar to when you open a brick-and-mortar clothing store. You will need to look for a good location, find out the general price range and keep an eye on your competitor's promotions.
However, this step will be a little more straightforward with an online business. First, you must find the market gaps. They are products that have medium-to-high demand but low supply.
These products will help your business become unique in the competitive market. Customers will immediately remember you when they need it.
In addition, seasonal trending products are also essential. They can attract new buyers from competitors' stores or stimulate customers to buy more products.
It would be even better if you could find products that are both market gaps and trending ones to sell online. Once you can find a potential niche market, you can make a huge profit from it.
Build
Ecommerce Website – The most critical factor
The next step is to build your store. Build your own brand identity so that customers can easily remember your business.
A few tips are choosing names, slogans, and colors related to your product and business personality. For example, if you are going to sell men's clothing, you should pick black to represent your brand instead of pink.
Besides, if the store is the most crucial thing for brick-and-mortar business, then the eCommerce website is what defines the e-business. So don't be afraid to invest in it.
An excellent online store needs to meet two criteria in design and functionality.
About the first one, your site needs to show the brand's designed unique personality clearly. Customers will not be able to buy from your store again if they have no memory of your brand.
In addition, e-commerce needs trust from customers. Therefore, the website interface must be clear, easy to see, eye-catching, and professional. Don't forget to ensure that there are no errors in the text presentation.
Regarding the latter one, it should have all the standard features of a website. Furthermore, the store must meet all customers' requirements during the purchasing process, such as product comparing, product searching, payment gateway selecting, etc.
Besides, website performance is also significant. Its speed should be fast with no broken links.
With the advancement of technology, more and more new types of websites are born. Typically Progressive Web App (PWA) is an advanced form of a website. It has a decent speed, app-like interface, and excellent functions. This technology will help your business increase the ability to stimulate shopping and take care of customers. If you want to have a perfect start with eCommerce, you can consider building a modern PWA instead of a typical website.
A trustable web design firm
Through the above factors, you must have realized the importance of a website now.
Yet, it is undeniable that building a standard website is not easy for non-technical people. More problematic is that there are too many web design firms in the market that not all companies are reputable.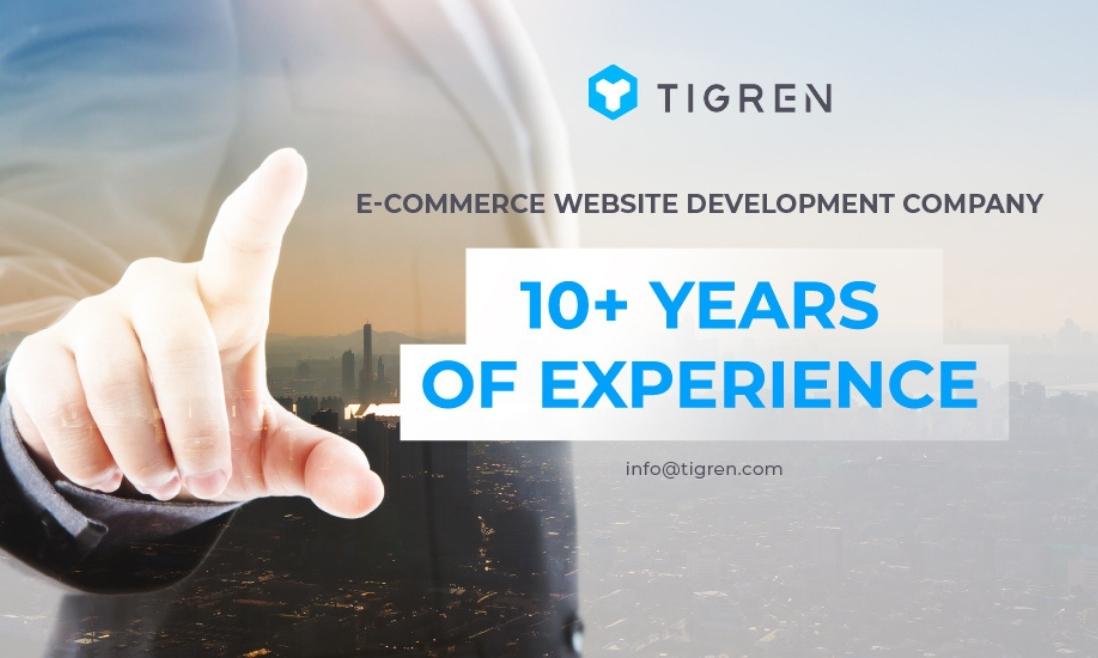 If you are also facing this headache problem, you can refer to the services of our company – Tigren. We have a team with more than 10 years of experience specializing in developing eCommerce websites.
Those sites are all made with optimized methods that reduce cost and time-to-market. Not only that, with our technology and relationships, we are confident in our ability to build beautiful websites and up-to-date features.
Promote
Continuously promoting is how eCommerce makes money. There are many ways to promote your e-commerce website to consumers. However, we will only list the most effective and economical techniques.
Short-term activities
Ads (Google shopping, social ads): This is an effective way to attract millions of Google and social media users to your brand. However, this method requires a fee, so prepare yourself with a certain amount of knowledge about the tool.
Influencer Collaborations: With the development of social media such as Facebook, Youtube, Tiktok, the number of influencers is increasing. As a result, the price to hire an influencer is also very diverse. You can choose those who are suitable for your business to advertise.
Email marketing: This is a form of remarketing to customers who have interacted with your business. Since you don't have to start looking for customers, the cost and conversion rate will also be higher.
Long-term activities:
SEO (on-page, off-page, blog): This is one of the most important forms of promotion because it helps you reach the audience with buying needs. Many experts claim that SEO is how to make money on eCommerce with the least cost.
Social profile: Branding activities on social networking sites will help you organically reach many users from here. It also helps them better understand your business, thereby generating positive feelings for you.
Affiliation Programs: Different from the affiliate form we listed above, here, the store owner will find a way to link up with other parties to sell their products.
Bottom Line
Ecommerce currently still has excellent growth potential. You can still make a lot of money if you operate this business model properly. Don't be afraid to invest time and effort in research, building, and promotion because this is the premise for all success.
Above is all information about online business. We hope you can answer the question "how to make money with eCommerce" now.
Related Posts: