Have you ever wondered what makes a product description not just good, but great?
In the bustling marketplace of the internet, catching a customer's attention is more challenging than ever. Well-written product descriptions have a big impact on customers' decisions on whether to buy your products or not.
This blog post is your guide to mastering the art of crafting compelling product descriptions. We'll explore the key elements that make a description stand out, share tips on how to engage your audience effectively, and discuss how to communicate the unique value of your product.
Now, without further ado, let's get into it!
What is a Product Description?
A product description is a copy describing the features of a product and showing the reason why it's worth purchasing. The main purpose of a product description is to provide customers with helpful information about the product so that customers will feel the need to buy it.
What Makes a Good Product Description?
An effective product description plays the role of a salesperson who would tell your customers what they should know about your products. Simply put, a good product description is the one that helps boost sales on your e-commerce website.
The best product descriptions go beyond mere functionality. They weave a narrative that connects the product with the customer's needs, desires, and lifestyle. It's where the practical meets the persuasive, blending facts with storytelling to create a vivid picture of how the product can enhance the buyer's life.
The key elements of a good product description include:
Product Features: These are the factual details about the product – its size, material, functionality, and any technical specifications. It answers the 'what' about the product.
Benefits: This answers the 'why' – why the customer should care about the product. Here, you transform features into benefits, showing how the product's characteristics solve problems or improve the customer's life.
Brand Voice and Personality: A product description should reflect your brand's voice, whether it's professional, playful, or anywhere in between. This helps in creating a consistent brand experience.
Target Audience: Tailoring your description to resonate with your specific audience is crucial. The language, tone, and information included should be relevant and appealing to those you're aiming to reach.
SEO Keywords: Integrating relevant keywords helps in making your product easily discoverable on search engines, but they should be used naturally within the text.
Sensory Words and Storytelling: These elements bring your product to life, allowing the customer to imagine owning and using it. They evoke emotions and build a connection between the customer and the product.
Why Should You Pay Attention To Product Descriptions?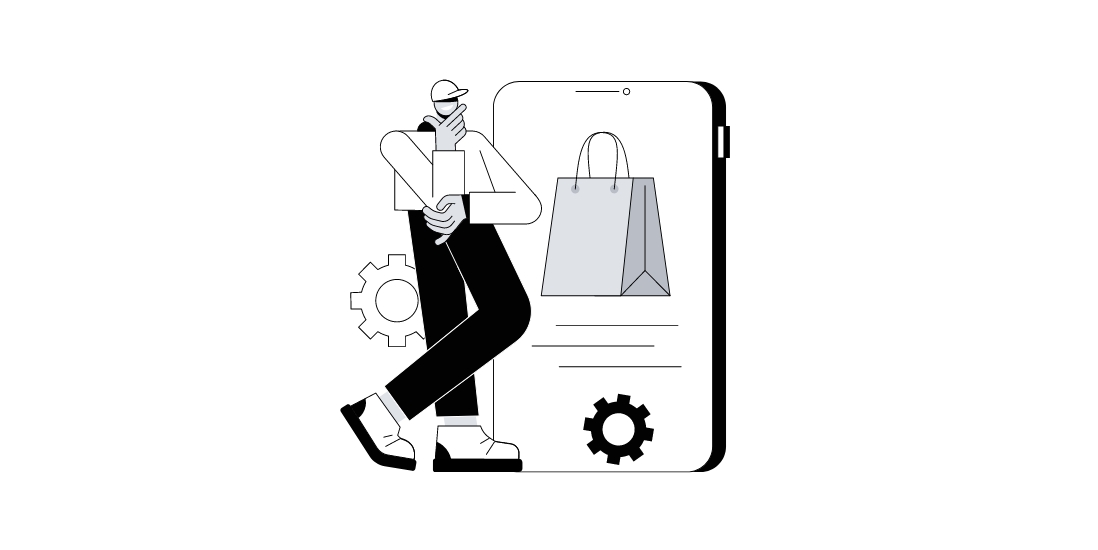 A compelling product description can be beneficial for both a business and its customers. It makes a site look professional while enhancing the user experience when shopping.
A well-crafted product description addresses potential doubts and questions, providing the customer with enough information to make an informed decision. This clarity can directly boost conversion rates. Detailed and accurate product descriptions also help customers understand what they are buying, reducing the likelihood of returns and dissatisfaction.
Product descriptions can be used across various marketing platforms, from social media to email campaigns. A well-written description can be a versatile tool in your marketing arsenal, amplifying your outreach efforts.
Besides, good product descriptions can also avoid the risk of looking scammy. Effective product descriptions allow your customers to shop with ease, so they would feel more comfortable when shopping in your online store.
In summary, product descriptions are not just a formality; they are a powerful tool for driving sales, enhancing customer satisfaction, and building your brand. Investing time and effort in crafting exceptional product descriptions is an investment in the success and growth of your business.
How to Write Product Descriptions That Grow Sales
All business owners may know the importance of a good product description, but not many of them know how to write a great one. Below are some tips to help you write product descriptions on your websites with ease.
1. Know your target audience and put your focus on them
The first step to writing product descriptions is to find out who your target audience is. If you do not know who will buy your product, you will not know what information to provide.
When it comes to writing a good product description of your own, try to picture your ideal customers. These five questions will make it easier for you to determine your target:
Who will find your product useful?
Why do they need your product?
What do they expect from your product?
What features would attract them?
How can they use your product?
When you keep your buyers in mind, you will become much better at writing a product description. Remember to treat your buyer as a friend, and use words you normally use in a conversation, which is "you". Imagine you are trying to sell to your customers face to face and use language they may use to create a personal connection with your customers.
2. Turn your product's features into benefits for customers
Do you know the secret weapon to draw your customer's attention? Figure out your product's unique qualities and features, and turn them into appealing benefits.
Customers want to know what's in it for them, what they can get out of your product, and how your product can address their needs. So writing a good product description is to highlight the benefits of your product's features and know what could appeal to your customer.
Take the Dollar Shave Club's product description for example: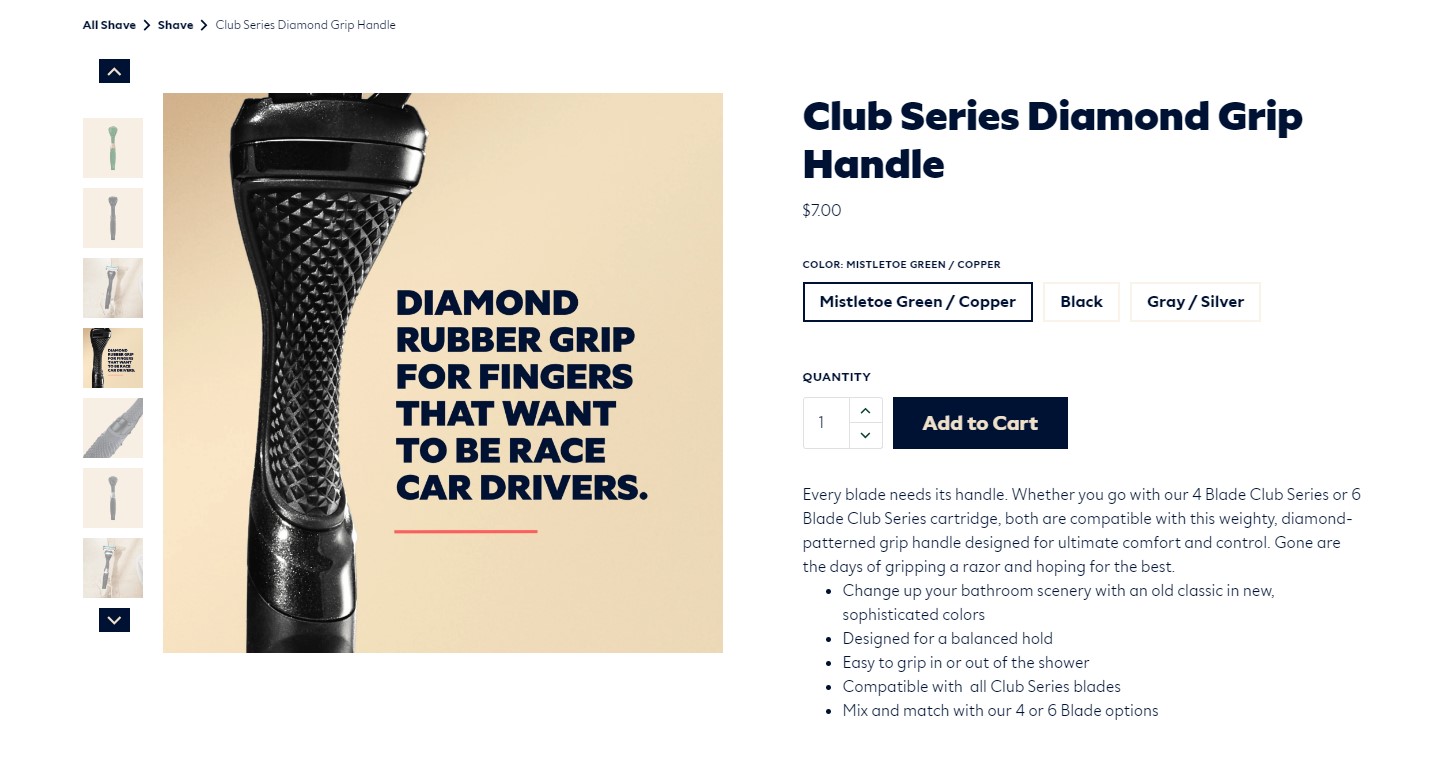 Note that the consumer may not know what a rubber diamond grip is, but the important point is that it helps reduce slipping and sliding when shaving.
So how to make a feature become a benefit?
Turning features into benefits requires some creativity and understanding of both your product and your customer. A tip that would help you is when writing a product description, pay attention to the answers to these questions.
Who wants to buy your product?
What do they want from your product?
What is their problem and how your product can help solve it?
3. Choose the most suitable format to show your product's features and benefits
It is essential to choose which format you will use when it comes to writing a perfect product description. The perfect format to write a great product description should not only include some bullet points for the buyers to scan easily and quickly, but also prose to tell a story about the product.
This is the perfect simple formula for an effective product description that grows sales:
One or two paragraph(s)
Bullet points of features and benefits
Eye-catching product images to catch customers' attention
Big font size for easier reading
White space
Long technical details in a different tab or after a cut from the main information
Take Wayfair's product description of this chandelier as an example.

The content writer did a pretty good job in following the formula with a paragraph of prose and some bullet points to mention the features and details of the products.
4. Take advantage of storytelling
Emotions usually have a big impact on consumers' behavior, so taking advantage of emotion is always a great way to boost sales in business. Trying to touch your customer's emotions when you know what they need is a great trick.
But how can you write a product description that packs an emotional punch? The answer is quite simple, tell a full story and fill in any gap your ideal buyer may have about your product. To write a product description with a story, you can:
Set a scene or provide a context where your product can be used
Describe the feeling brought to customers by your product
Utilize simple and natural language like day-to-day conversations.
5. Keep it short and reader-friendly
Buyers will not stick around for a long time to read everything you read, so you should write a concise and to-the-point product description with only one sentence for each benefit. This means every word matters in your product description.
6. Use natural language
It is a good idea that you use natural language in your description like you are talking to a friend. This will make your customers feel close and connected. Nevertheless, make sure that the tone in your product description lines up with your brand tone and brand values. Remember that a good product description is the one that sounds like you, like your business.
7. Make it scannable with bullet points
The fact is that most buyers usually scan through your product descriptions on your website instead of reading them carefully word by word. Thus, It's a good idea to use bullet points to make specs, features, and benefits stand out so your buyers can read them quickly and easily.
However, bullet points are not always the solution as they are not good at creating a story and convincing your ideal buyers that the product will help them get rid of their pain points. Therefore, you should consider combining bullet points with paragraphs together for a better product description.
8. Optimize it with keywords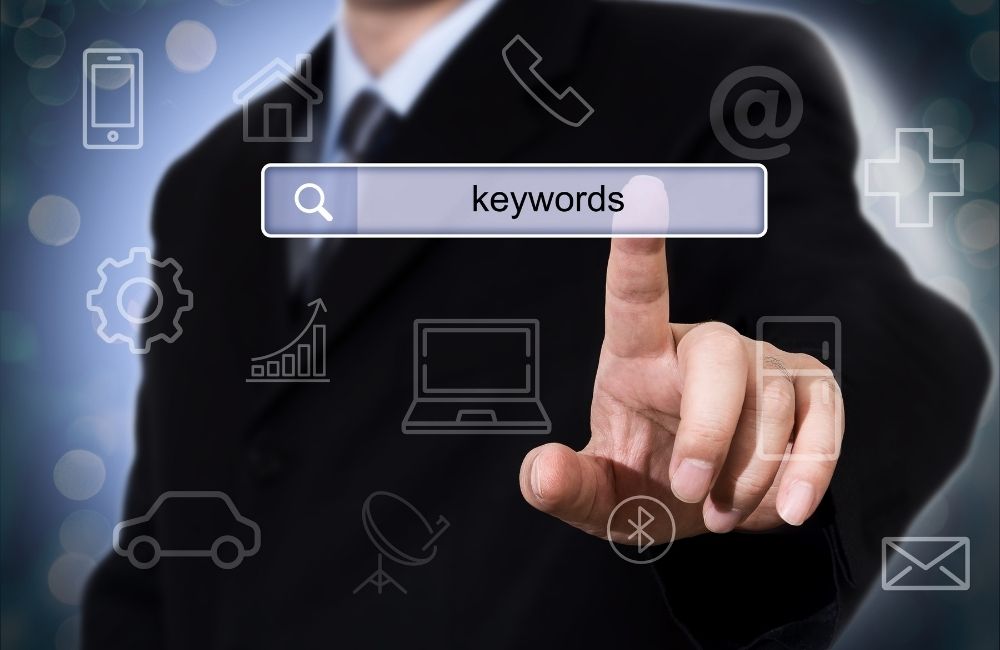 From a Search Engine Optimization perspective, using suitable keywords in your product description will help with your website rank, so it's crucial that you keep keywords in mind while writing your product description.
Before writing a product description, consider doing research to find what keywords are right for your product and your business. Also, keep your main keyword in the product title since it affects search engines the most.
Including keywords in your product title and product description may not make your website rank first on the search results, but for people who are searching for your products, it will definitely help make your product easier to find for them.
9. Use influential words to persuade
There are certain words that can naturally improve the persuasiveness of your product description and motivate customers to make a purchase.
When you write product descriptions, remember to use descriptive words and adjectives to prove why your product is better than others. Instead of using words like "nice" or "high-quality", choose to use words like "wonderful", "stunning", or "sensational".
10. Use high-quality images of products
Writing a captivating product description is not everything, you still need high-quality images of the product to go with it. Having quality photos will help show your customers all the features that make you proud of your product. Plus, these images will help your customers imagine how their lives would be with the product.
11. Include customer reviews to add credibility
Customer reviews help provide social proof that your product makes your customers satisfied and encourages ideal customers to make a purchase. These reviews increase credibility and customer trust, which can boost the sales of your business.
Depending on your website's layout and format, you can choose to include a link to a product reviews page or have the reviews right under the product description.
Examples Of Good Product Descriptions
Let's find out how these brands below do a great job with their product descriptions:
1. Oxygen Boutique – Short, useful words with a great picture
Oxygen Boutique is a UK-based fashion brand with a super short but useful product description. It both describes the beauty and details of the dress and shows how you can wear it. It answers the simple question of why you should buy the product. The picture that comes with the description does most of the work in showing how beautiful the dress is and probably is the reason why customers make a purchase.
One interesting thing to notice about Happy Skin Co's product description is how they separate their product benefits and package contents, using extendable tabs like "What You'll Love" and "What's Included". When you click on them, you will see the product's benefits and the package contents displayed with short texts and graphic pictures next to them.
3. Notebook Therapy – The one with value and a free shipping tab
The first impression of Notebook Therapy's product description is the 'premium feel' they create for their products. They use phrases like "inspired by the cherry blossom season", "Sakura limited edition" to make their notebooks more unique and special.
You can also see how this business adds features and benefits in its product description. Here are examples of how to write product descriptions in a similar way:
5mm distance light grey dot grid (feature) – perfect for bujo photography (benefit)
Handcrafted vegan leather cover (feature) – high quality, durable and sustainable (benefit)
2 bookmark ribbons (features) – easily swap between your 'go-to' pages (benefit)
4. Hot Miami Styles – Natural language with knowledge about their audiences
Note how Hot Miami Styles uses words like "babe" to connect with the customers. They obviously know who their target audiences are and use the language that their customers may use. Although they write product descriptions in just a short paragraph, it is to the point and describe well how the dress would look on their customers.
5. Yellow Tail – Simple and straight to the point
Yellow Tail, an Australian wine brand, takes advantage of headings and subheadings to give a compelling product description and keep it scannable.
The product's name – PURE BRIGHT SPARKLING – is bolded and large suggesting this is the place to start to read. After that, the "flavor" and "enjoy" subheadings give details about the product, and every word in this product description counts.
6. Indestructible Shoes – Benefit-focused description with amazing pictures
Indestructible Shoes makes use of great images and puts their shoes to the test to show their product's features and benefits. By hitting the shoes with a hammer, walking the shoes on nails, etc, they show how flexible, resistant to fire and how light the shoes are. Each benefit of a feature of the shoes comes with an image and instead of using words to describe, they let pictures do their work.
At the top of the product page, they put customer reviews to show some social proof to their visitors.
Google Home's strategy is to write product descriptions that are unique because of their brevity. They just use a few words to describe their product and reduce the confusion for customers.
What we can learn from this product description is that for items that are already popular, unique, and high in demand, their product descriptions don't need all the extra words since the product can basically sell itself.
Invest Your Time to Write Product Descriptions That Sell
When it comes to online shopping, your customers cannot physically see and interact with your product, which makes it difficult to convince them to buy your product. The solution that can make a difference is to make use of language and photography to connect with your customers and show them why they should purchase from your website.
A compelling product description will get the attention they deserve. By following the tips and formulas provided above, you will be well on your way to creating a good product description that can inspire your customers to place an order from your e-commerce business.
Read More:
Top Product Page Examples That Inspire You