In the fast-paced world of e-commerce, staying ahead of the curve is the name of the game. With the rise of mobile shopping, having a responsive and user-friendly mobile app for your Magento 2 store is no longer a luxury – it's a necessity. Whether you're an established e-commerce giant or just starting your online venture, the power of mobile apps cannot be underestimated.
But fear not! We've "scoured" the digital landscape to bring you the best Magento 2 mobile app builders on the market. In this blog post, we will introduce you to the game-changing tools and platforms that can transform your e-commerce business into a mobile shopping powerhouse.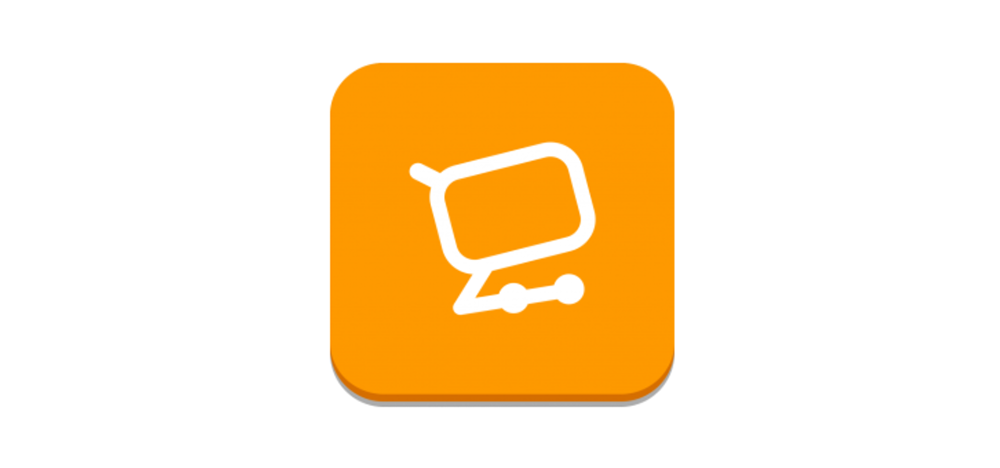 SimiCart Mobile App Builder is a complete solution that requires you to know the minimum about coding skills. The prominent point about this extension is that it's fully integrated with Magento, ensuring that layouts to features are well configured in the Magento backend.
Whether you want to develop a native iOS or Android mobile app, you can quickly build and publish it to App Store or Google Play and reach more prospects to convert into repeat buyers.
Features
Integrate directly with Magento

Support all product types
3 homepage layouts
Localization: multi-language, multi-currency, multi-store view
App Promotion: deep-link, push notifications
Catalog Management
Native Checkout, web-view checkout
Multiple payments
Multiple shipping options
Pricing Plan
The package price at $299
Rating
4.7 on Magento Marketplace.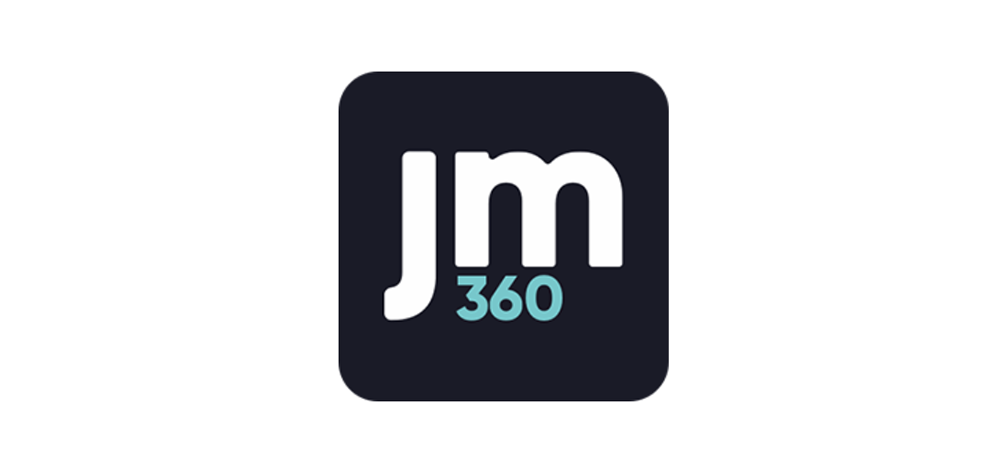 JMango360 mobile app builder aims to bring an easy and affordable solution to create and design a satisfying mobile app and appeal to a much larger potential audience. Their features and design templates are promised to increase by 20% and above in revenue. Managing the stock amounts or payment gateways becomes effortless once the extension is synced with your Magento backend.
Features
User-friendly shopping cart
Fully Magento synchronization
Push messages
Intuitive DIY platform
High-converting designs
For both iOS & Android
Pricing Plan
Monthly plan starts at $299 for Magento Open Source and $599 for Magento Commerce.
Rating
5.0 on Magento Marketplace.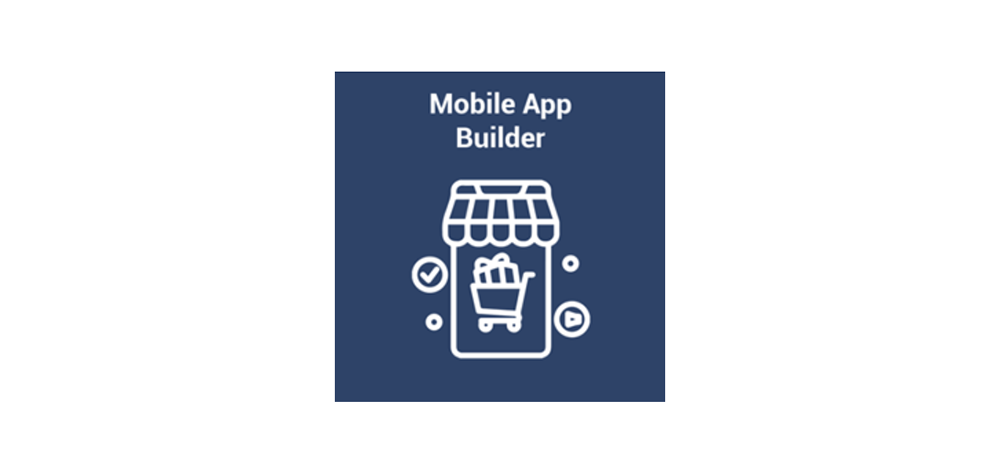 A fully occupied mobile app builder solution ready to go without any code experience needed from MageComp. Their extension comes to you with exclusive features comprising many amazing benefits that a selling mobile app can do for your business.
After you purchase this extension from the store, give them all the required info, then sit back and relax as your store will be well taken care of. Evolve to attract extra sales and stay on the game with a new Magento-based mobile app.
Features
Attractive banner sliders
Showcase and shop by brands
Simplified login process
Multiple currency support
Coupon code
Push notifications
Efficiently manage products layer by layer
Multiple payment methods
All Magento default product types support
Real-time synchronization
Pricing Plan
The package starts at $249.00
Installation service: $39.00
Rating
4.9 out of 5 by users.

Magetop achieves the Magento Module Development badge of expertise for their 5 and more years in the work to provide one of the best functioning, newbie-friendly extensions to help you build your mobile app from scratch today. It is simple, no additional setup is needed, and you can launch with your current interface as their REST API will allow your store to sync wonderfully with your Magento backend.
Features
Easy customization
Push notifications
Customizable products, banners, and colors of the app
Complete user profile handling
Simple checkout process
Multi-languages support
User profile management
Pricing Plan
The extension package starts at $299.00
Rating
4.9 out of 5 by users.
Knowband released a no code required add-on to help you build a native app connecting seamlessly and fittingly with your Magento existing layouts. It is fully compatible with the latest Magento version 2.4 to keep you updated and well-protected. Knowband Magento 2 mobile app builder offers a free trial.
Features
Native Android/iOS App
Home Page Layout Optimization
Social Media Login
Fingerprint and OTP
Customizable White Label App
Tablet and Mobile Optimization
Multilingual and RTL Support
Real-time Synchronization
All Product Type Support
Multiple Payment and Shipping Support
Push Notifications
Pricing Plan
The extension package starts at $168.00. Per feature starts at $299.00 as a one-time payment.
To use both iOS and Android, pay an extra $30.
Rating
4.9 out of 5 by users.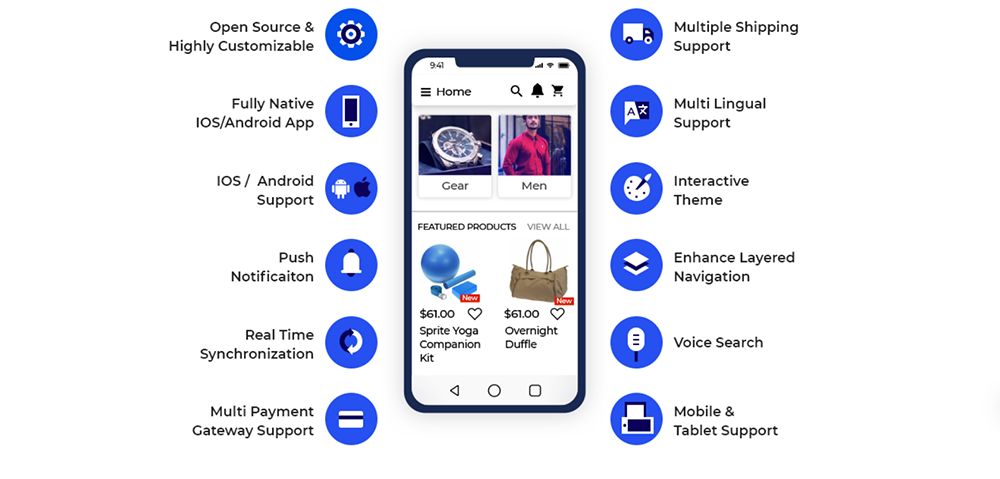 Mobikul Magento 2 App Builder is a Magento 2 fully compatible and well-rounded extension to build native Android and iOS applications to strengthen your online store presence. Seamless synchronization spares you the burden of administration.
Features
Support 6 product types
Intuitive design
Current, featured, and new category carousels
Enhanced layered navigation
Advanced filtering and product search
Various shipping and payment methods support
Multi-language and RTL Support
Pricing Plan
The extension package starts at $299.00
App Publishing (Business Accounts) Fees: +$75.00
Rating
4.9 out of 5 by users.
Bigziel Magento 2 Mobile App is a quick, complete solution that is ready to use, thus staying helpful to code-newbie Magento owners. It is built to deliver great authority, facilitate brand image, and enhance the shopping experience of your online store to the next standard. Bigziel focuses on bringing brilliant designs that help your mobile store look attractive.
Features
Short-time launch
Extra stores
Various payment gateways
Multi-languages
Push notifications, email, and text messages
Product listings and categories
Product filter and sort
Ratings and reviews
Magento default marketing features
Pricing Plan
Hidden fee and future plan.
Rating
4.5 by users.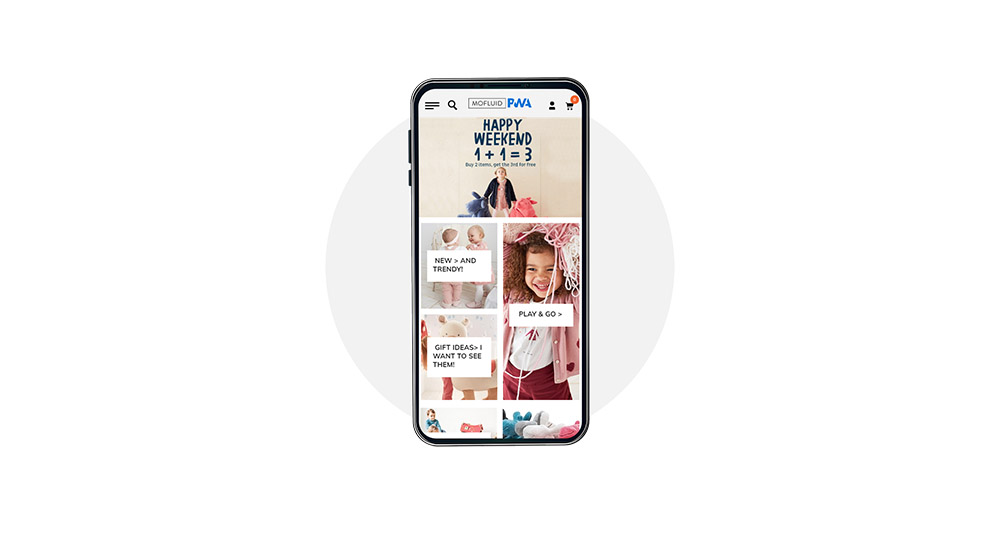 Mofluid Magento App Builder was built to support any size ecommerce business entering the lucrative Mcommerce seamlessly and effortlessly. Within a matter of days, you'll have a high-performing native app for mobile and enhance your brand presence and impression.
Features
Support Android and iOS
Delivery tracking via push notification
Various custom themes
Payment gateways by default: Paypal and EBS
Fast loading speed
User-friendly interface
Pricing Plan
Hidden package price.
Rating
5-star by users.

Mobile App Builder Mininest helps non-savvy technical merchants to convert their existing Magento 2 to a fully native mobile app on Android and iOS. Built by Magenest, a Top Business Solution Partner of Magento, you'll be ensured to have a simple and hassle-free experience in customizing multiple premade templates. Thus elevating your site to a more satisfying and high-converting shopping journey.
Features
Support 6 Magento product types
Smart search
Review & ratings
Social media sharing
Display multiple banners
Log in with Facebook or Google accounts
Multistep checkout
Pricing Plan
Custom quote.
Rating
4.9 out of 5 by users.

Re-imagining your Magento 2 store on a newly transformed mobile native iOS or Android app with Magento 2 Mobile App builder by Magento Mobile Shop. It's the improved and trending solution to help tech-newbie merchants overcome code struggles with a ready-to-use extension. Start to amaze, engage, and support better with over 50 features strong comes handy.
Features
Attractive design
Showcase trending products
Store locator support
Multiple languages
Multiple currencies
Secured different payments
Pricing Plan
Custom quote.
Rating
No rating yet.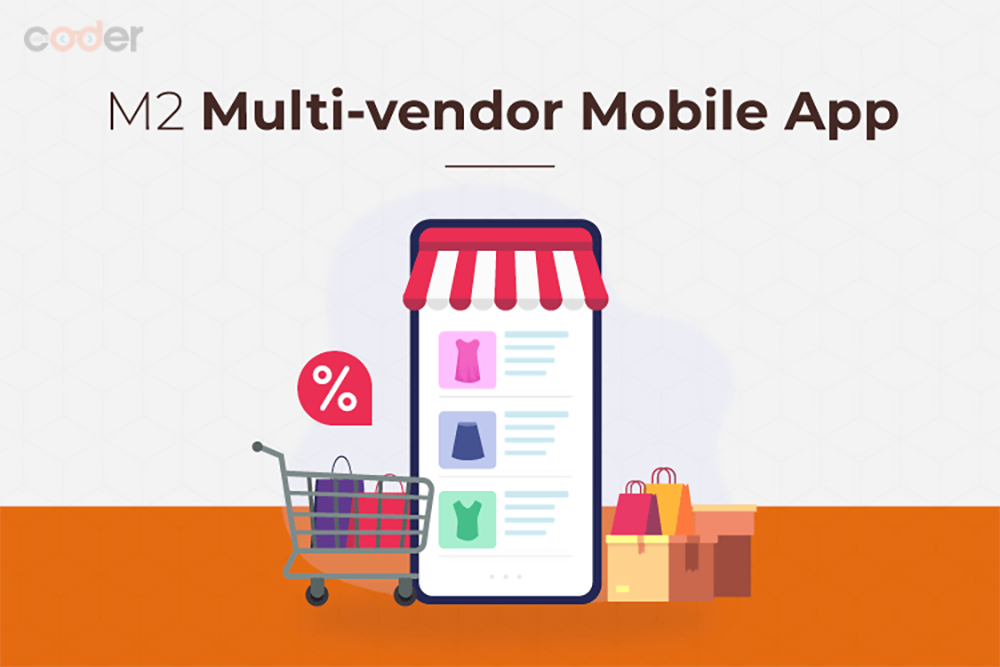 This Magento 2 Marketplace Mobile App Builder is built from the renowned web design and development on the Magento platform, where you will get a fully rounded solution to quickly and easily create your mobile app and connect various vendors and individuals to join your safe platform.
Features
Home Page Configuration
Real-time Customer Dashboard
Manage Customer Profile
Find and view Seller Profile
Manage Order Details
View Product List
Add/Update Products on Cart
Add to Wishlist
Push Notification
Support Magento 2 Default Features
Support Multi-language
Pricing Plan
The extension package starts at $299.
Open for custom quote.
Rating
4.9 out of 5 by users.

Amasty brings merchants a code-free and affordable solution to build a native iOS or Android mobile store and integrate seamlessly with your Magento 2 without hiring any developer. With this Magento 2 Mobile App Builder, you'll obtain full basic and essential tools to start attracting a large audience and delighting them with the convenience of Mcommerce.
Features
Immediate sync with Magento 2
Social, fingerprint, and OTP Login
Custom mobile theme
All default product types, payment gateways, and shipping options support
Push notifications
Multiple payment and shipping methods
Pricing Plan
Custom quote.
Rating
No rating yet.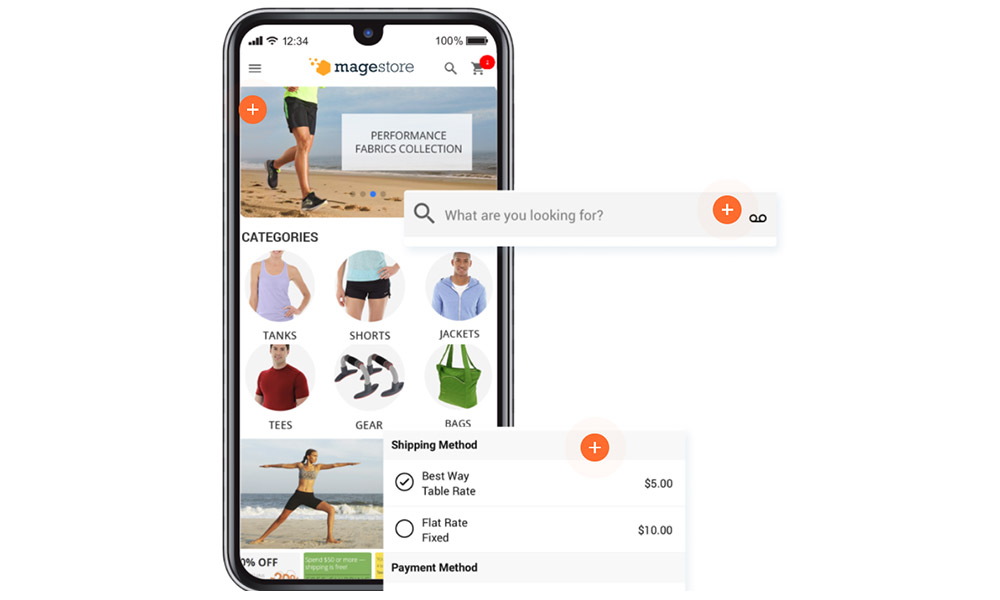 MageStore offers a highly customizable solution for Magento merchants to own a native mobile app. With Magestore Magento Mobile App, you can now push your online business beyond limits, erase the boundaries between online and offline, and leverage your power with in-demand support from one of the beloved Magento development agencies.
Features
Well-designed UI/UX
Fast checkout
Real-time data synchronization
Customer engagement
Multilingual and multi-currency support
Pricing Plan
Custom quote.
Rating
No rating was provided.

Building your own mobile app for both Android and iOS platforms has never been easier! Within one day, you can confidently create a high-functioning native app with a fast loading speed and the latest technology. Activate inclusive promotion strategies such as direct marketing with your new mobile app and maximize your revenue.
Features
Custom branding
Push notifications
Customizable layout
Google Analytics tracking
Multiple vendors and multiple languages
Live store connection and auto-sync data
User profile and wishlist products
Payment gateways
Pricing Plan
Starter package: $299
Standard plan: $499
Premium plan: $999
Rating
No rating yet.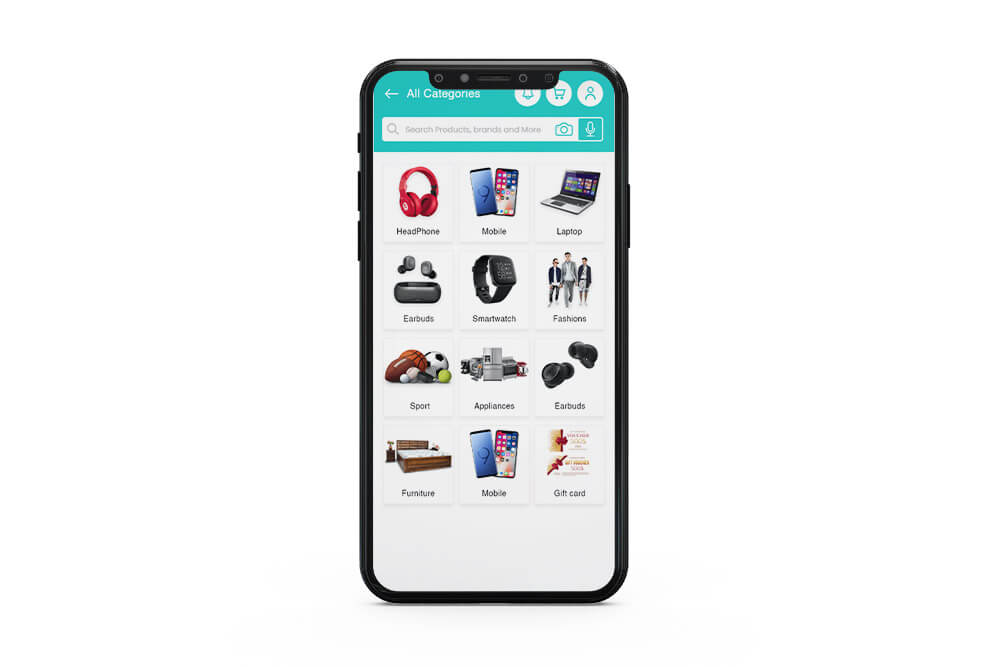 The Magento 2 mobile app builder by AA Logics will help you build promising Android and iOS apps for your Magento 2 eCommerce store. This plugin is aimed to provide the highest possible usability and accessibility to the customers.
Features
Better UI/UX
User-friendly admin panel
Multiple features
One-step login
Real-time data synchronization
Easy order and user profile management
Multiple languages
All product types support
Multiple payment gateways
Pricing Plan
The extension package starts at $400.
Rating
No rating yet.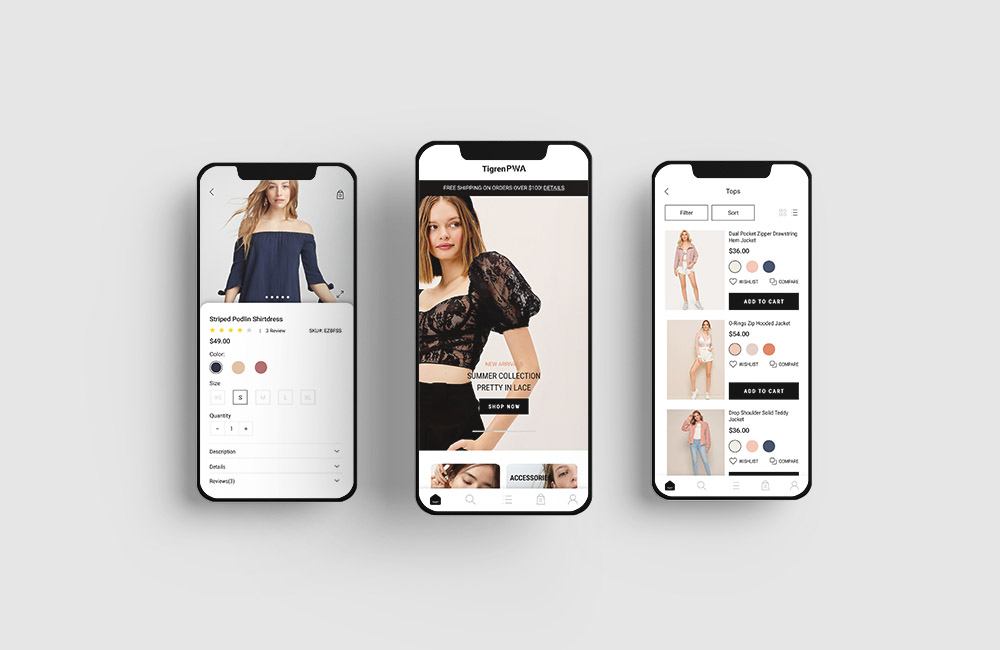 Enter the high-level quality range at the minimum purchase with mobile PWA app development from Tigren. Save hours of stressing consideration back and forth plus thousands of money to hire expensive developers from your local and transform your Magento 2 store today.
Tigren's world-class ongoing support will ensure you bring excellent mobile app experiences that lead to happier clients and more sales.
Features
Advanced layered navigation
Eye-catching UI/UX design
Live chat
Native bottom navigation
Various pre-made Magento themes
Magento defaulted features supported
Fully integrated with Magento backend
Pricing Plan
The theme is available for $799.
Rating
No rating yet.
Wrapping Up
With Mcommerce, it's so easy for customers to access your store and revisit it multiple times. We hope to inspire you to start your mobile app development project as soon as possible.
And to help you make better decisions after seeing this compounded list, we've noted down a few points on How to choose a Magento 2 Mobile App Builder that is worth your investment:
Read the review first
Carefully check the features and functionalities
Learn about each solution, determine the process you gotta carry, and then figure out which one is the easiest for you to build
Listen to their sales call to consider the long-term plan
Remember, this list is in order, if the first bullet is checked, you can move on to the next.