For online merchants, generating promotions is a fantastic strategy to win over customers and retain them for future returns. Promotions help differentiate a company from its rivals. If there was no competition, no business would ever need to conduct any promotions. When other competitors offer the same products or services, the only way you can convince clients to buy from you is to run a promotion plan. Fortunately, Magento 2 Promotions gives online businesses a wide range of options for creating different promotions within their online stores.
With Magento 2 Promotions, you can set up coupons for discounts on particular products, plan a special promotion for a set amount of time, or even let customers obtain Y items as bonuses when buying X items and free shipping. As a result, Magento 2 will give you opportunities to boost sales and draw in new clients.
In this blog, Tigren will give you a full introduction to Magento 2 Promotions, the benefits they offer, how to set up them, and the top 10 Magento 2 Promotion Extensions based on client reviews.
What Is Magento 2 Promotion?
Magento 2 Promotions are useful extensions that Magento offers users to integrate promotion tools into their online stores. Thus, Magento 2 Promotion Extensions give shop owners the freedom to quickly create various, attractive discount rules based on specific criteria.
For online businesses, it is a helpful tool to attract more customers, raise conversion rates, and improve revenue. Moreover, they design intricate but alluring promotions to attract new customers and retain old ones.
How To Set Up Promotions In Magento 2?
You might sometimes want to include discounts or offers on the products you have for sale on your Magento e-commerce site. A seasonal discount, for instance, can significantly increase your company's revenue, therefore it's critical to be able to control when it automatically begins and finishes.
In addition, online merchants can provide free shipping on orders that total a specific amount or on specified products. When Black Friday is approaching, you can give each item on your website a special discount. Besides, you send a message to your social media followers with a promotion offering them a coupon code for X percent off all non-sale goods. Magento 2 Promotions can enable you to complete all these tasks.
Two types of promotion programs
There are two different types of price rules in Magento 2 to assist with business promotions and discounts. For both types, discounts can be automatically generated. In addition, shipping online merchants can utilize incentives or discount codes. Before products are placed into a customer's shopping cart, you can discount them using the first type, which is called Catalog Price Rules. The second type is known as Cart Price Rules. It is utilized in the customer's cart. We will demonstrate the setup development of both types below.
To set up promotions in Magento 2, please follow three following steps:
Step 1: Add Rule Information
Step 2: Apply Rule Conditions
Step 3: Configure Rule Actions
A rule is a set of requirements (one or more) that, when satisfied, cause price modifications to be applied to products. Each rule may have more than one condition, each of which may be satisfied when all (or any) (or some but not all) of the statements are true or untrue.
Conditions are clauses that narrow the range of objects and circumstances in which the rule can be used. The qualities and alternatives for conditions vary depending on the sorts of rules that are accessible. You can choose to set up rules as simple or complex as necessary to suit your company's requirements, seasonal sales and promotions, and year-round opportunities.
Use Magento 2 default promotion & pricing features
Catalog Price Rule
Your clients will notice the discounted price for each product on the product details pages because the Catalog Price Rule only applies to certain products. Because a Catalog Price Rule is applied before a product is added to the shopping cart, coupons cannot be utilized with this sort of rule.
The Catalog Price Rule has the following responsibility:
For a single product, a collection of products, or all products, fix a special fixed price.
For a single product, a collection of products, or all products, reduce the price by a set amount, a percentage, or both.
Schedule the rule's start and end dates.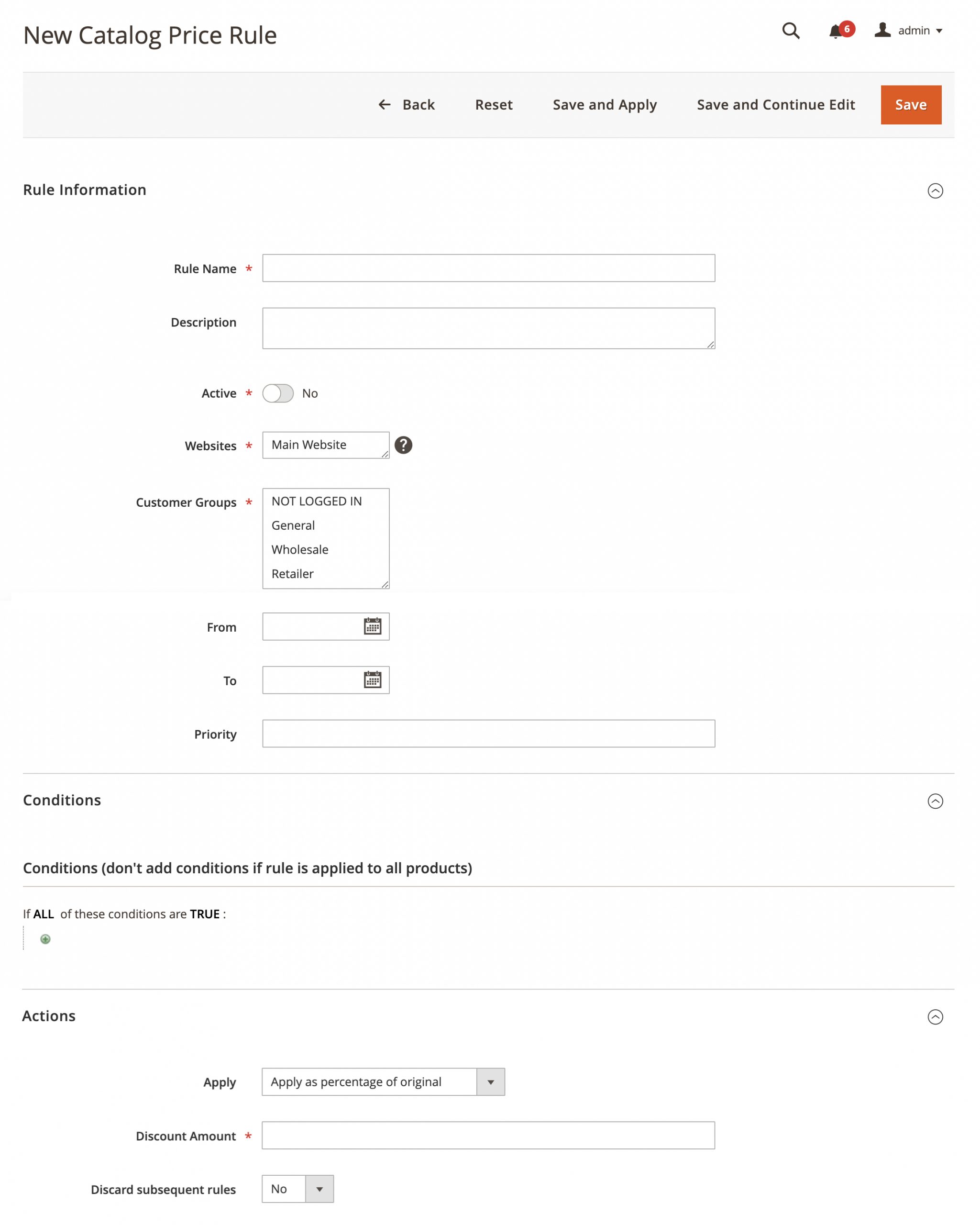 Rule information
Getting started with a catalog promotion requires logging into your Magento admin panel. After successfully logging in, select "Promotions" from the top menu, then "Catalog Price Rules."
The major repository for all current and previous catalog promotions is the section on catalog price guidelines. Select the "Add New Rule" button option in the upper right side menu area to establish a new catalog price rule.
Depending on your advertising, of course, you may make a rule as simple or as complicated as you choose. As a result, the conditions in this process can be simple or logically challenging. However, we begin by giving our "rule" a name, outlining who it applies to and when it will take effect.
"Rule Name": The rule needs a name. Since this is the name you will use to monitor the rule, make sure it is crystal clear and descriptive.
"Description": What task will the rule carry out? Complex rules benefit the most from this because it makes it easier to maintain control of the rule. You can completely disregard this field if you want to use simpler rules.
"Status": Select whether you wish to temporarily turn the rule active (on) or dormant (off).
"Customer Groups": If you have different groups of your customers, you can select here whether you want to give that group the discount or just apply it to everyone. Typically, you would anticipate that the options here would be "NOT LOGGED IN" and "General" customers.
"From date": From what date does the promotion begin?
"To date": When will the promotion end, as of "to date"?
"Priority": If you currently have other rules in place and want this rule to be the best promotion available, set the priority to 0. You don't need to finish this section if you don't have any other rules.
Conditions
After entering the data, choose "Conditions" from the menu on the left.
It gets difficult at this point. Conditions are combined to form the basis of catalog price regulations. By clicking on the corresponding bold words, you can create conditional combinations. Significantly, you can add numerous conditions by choosing the "+" icon. If you don't agree with the selection, just click the "x" icon to get rid of it.
Once finished, choose "Actions" from the menu on the left.
Actions
The next step is to specify the action that will be taken when the newly formed rule is satisfied with respect to the product or product group you have chosen. The left menu's Actions menu can be used to accomplish this. The rule's percentage or flat discount rate can be selected, along with the amount, on the next page.
The four actions for your catalog price rules are as follows:
Apply as a percentage of the original: The initial price will be reduced by an amount based on a percentage. For instance, to apply a 20% discount, type 20% after the discount amount.
Apply as a fixed amount: Add a predetermined discount to the starting cost. For instance, set the discount amount to 50 to create a $50 discount (assuming the chosen currency is in USD).
Adjust final price to this percentage: Set the ultimate cost as a portion of the purchase price. For instance, if the item's original price was $100 and the discount percentage was set to 20%, the item's price would be changed to $20.
Adjust final price to discount value: Adjust the final price to a discounted amount. For instance, the item's original price is $100. Then, the discount amount is 15. Therefore, the final price will be $15.
Click the Save Rule button in the top right corner if you are satisfied with your settings. You must apply the rule for it to take effect after being saved. Apply Rules, which is located on the right, can be used for this.
Cart Price Rule
When the requirements are satisfied, or if the consumer enters a valid coupon code, the Cart Price Rule can be immediately applied to the goods in the shopping cart. Once used, the discount is displayed in the cart next to the subtotal.
You may build unique sales like Buy X, Get Y Free in Magento 2 by using the Cart Price Rule (buyers must buy X things to receive Y (quantity) products for free). Additionally, by allowing it to Apply to Shipping Amounts or by applying Free Shipping for approved carts, Cart Price Rule regulations can also apply to shipping.
Cart price rules can be established using sets of conditional combinations, much like catalog price rules. Due to the addition of cart characteristics and more product sub-selections, condition combinations in Cart Price Rules are now more diverse.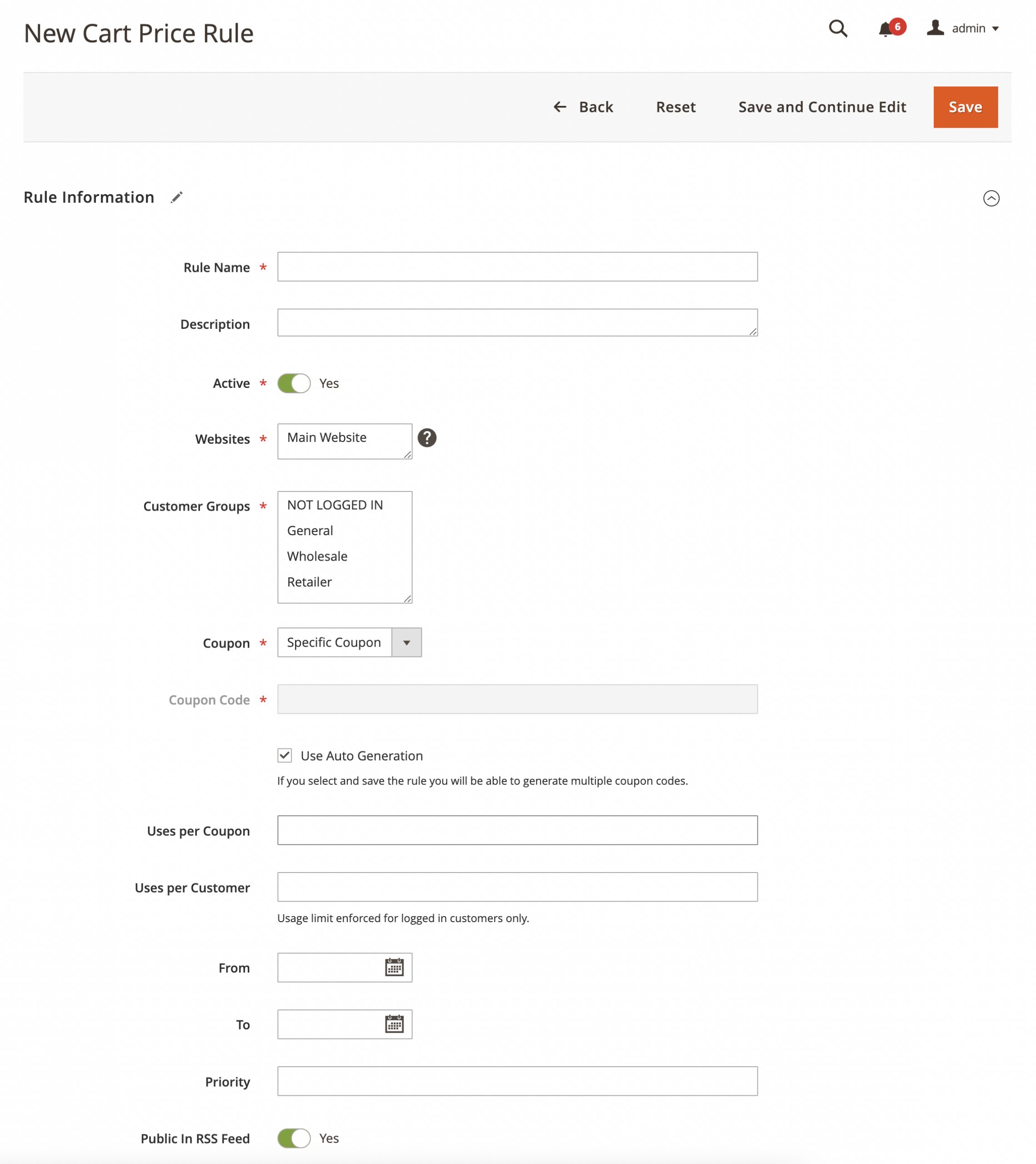 Rule information
This section's fields should all be self-explanatory to you. You can select to set Coupon Code, Uses per Coupon, and Uses per Customer, in addition to all the fundamental parameters like Rule Name and Description, in this area.
Conditions
Decide which combinations of conditions your Actions will be applied to. By clicking on bold words, you can define conditions similar to how you configure conditions in Catalog Price Rule.
Here, for instance, there is a restriction on purchases over $200.
Actions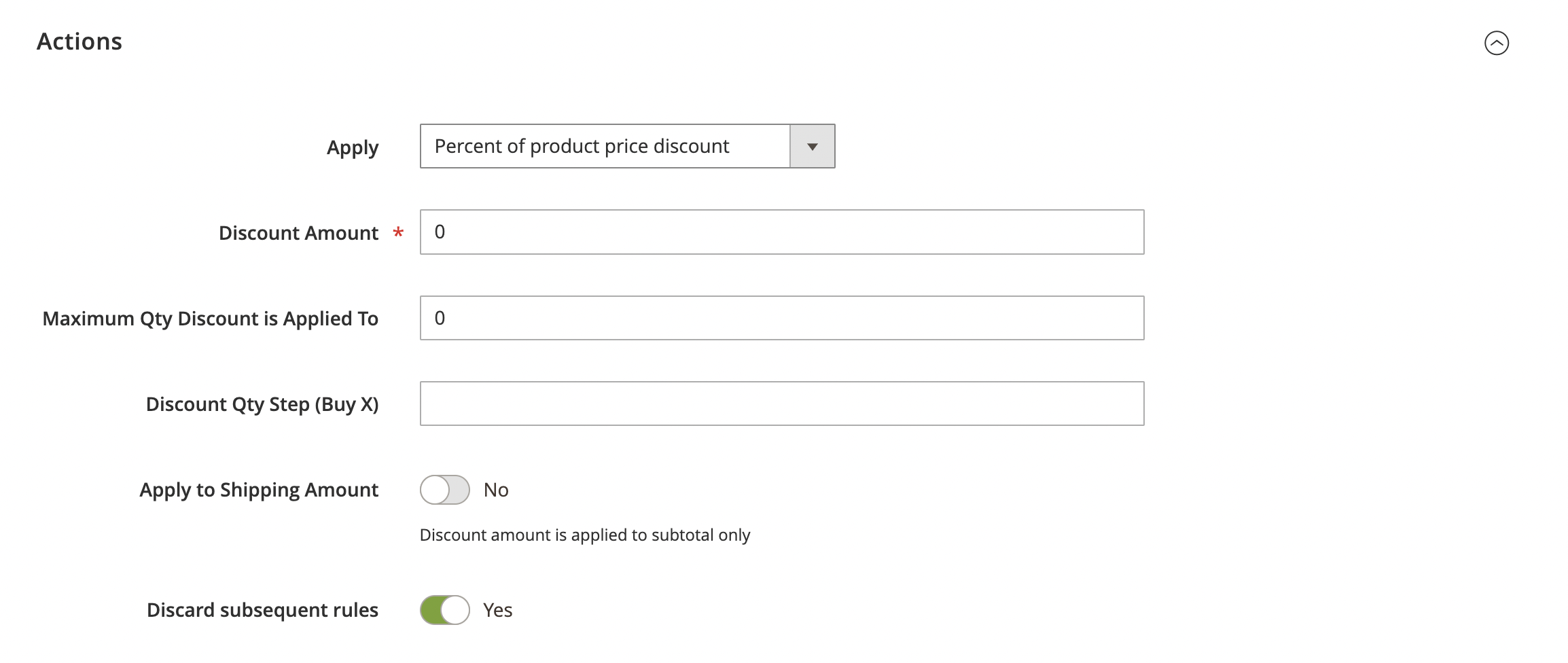 Set the discounts that you wish to apply to the conditions that you had previously defined. There should typically be four options for you to choose from:
Percent of a product price discount: Adding a percentage-based reduction to the initial price of the product. For instance, put 30 in the Discount Amount field to specify a 30% discount.
Fixed amount discount: Each qualifying item in your cart will receive a fixed percentage of its original cost. Take note that your Magento configuration determines the currency of the discount amount.
Fixed amount discount for the whole cart: The total cost of the cart will be reduced by a set amount.
Buy X get Y free: Decide on a minimum X number of products that clients must buy to receive a minimum Y number of products for free.
Labels
For the discount, create a label. The label appears next to the word Discount in parentheses in the Total column. Labels may be either universally applicable or tailored to a particular store view.
That completes the fundamental Cart Price Rule. Click on Save and test for yourself if the new cart price rule works.
Install third-party Magento 2 Promotion Extensions
Why should online merchants install Magento 2 Promotions from third-party providers?
Even though Magento provides two price rules that help online merchants customize their promotion plans for products and services, the fierce competition in the industry requires more than that.
When Magento stores install Magento 2 Promotions from third-party providers, they can unlock diverse and more advanced promotion features.
Top 10 Magento 2 Promotion Extensions rated by users
The Special Promotions Pro for Magento 2 extension from Amasty allows online businesses to create creative conditions for your discounts. Depending on consumer information and past purchases, it can help you create suitable promotions.
Create 20 or more promotion kinds for exceptional offers.
Customer characteristics are used as rule conditions.
Depending on past purchases from clients, restrict promotions.
Choose the base price to use for calculating discounts.
Limit sales to items at discounted prices
The Special Promotions Pro for Magento 2 extension has two versions: community and enterprise. You have to pay $319 for the first year and $195/ year later for the community editions. With the enterprise, you can unlock more complicated features at the price of $619 for the first year and then $315/ year.
With this extension, you can create a sophisticated discount strategy instead of only running occasional special offers. Besides, businesses can gain customer loyalty by providing exclusive discounts and promoting repeat purchases by offering discounts. Unique pricing labels and banners can make your promos very enticing to customers.
There are two versions available: Community and enterprise. You have to pay $299 for the community edition and $499 for the enterprise edition.
The promotions are implemented more precisely and appropriately as a result of the improvement in order circumstances. Store administrators can limit the scope of a discount application to specific cart items with Magento 2 Special Promotions. The module adds up to four different discount categories over those currently accessible in Magento 2 Default.
The Cart Rules Grid has been updated with useful features to assist store administrators in managing promotion rules more simply and effectively.
The pricing plan for the community and enterprise editions will be $199 and $299 respectively.
The extension expands the shopping cart price rules with 26 new action kinds. The Additional Promotions extension shows the price in the mini-cart and the cart both before and after the discount. The buyer will then be aware of the exact amount of the discount applied to each item in his shopping basket. The extension additionally shows the subtotal after discount in addition to the overall discount amount in the mini-cart.
By displaying badges/ribbons and banners in the product categories, product listings, and product pages, you may let your customers know about active specials.
It gives the customer hints in the shopping cart about the actions they need to take to receive their discount. Once a consumer has applied an invalid coupon, a hint message will be displayed in the cart. The consumer will be informed by the suggestion of what steps must be taken in order for the coupon to be usable.
Online customers can use every available coupon code for their orders when you use the Multiple Coupon Codes for Magento 2 extension. Thus, it results in a great shopping experience, boosts client loyalty, and motivates them to make additional purchases.
You have to pay $159 ($459) in the first year and then $99 ($279) per year after buying this module.
It gives every visitor the same opportunity to use their coupons and take into account the allure of making a purchase with a discount.
The extension enables users to specify these Magento coupon codes as unique and create a list of the main offers (for instance, the general rule "25 percent discounts for everything").
With Magento 2 Advanced Promotions, you can create unique cart rules to offer discounts and specials, and elevate your online store promotions. By using the Buy X, Get Y Magento Extension, you may give combo discounts, and custom rules, and buy X, Get Y products.
You can add a coupon discount to the Magento 2 Special Promotion module to make it simple to identify the deals. Admin can specify which price—a special price, the price after prior discounts, or the original item price—will be used as the discount foundation for the activity.
You have to pay $249 for the open-source edition, and $499 for the Commerce and Commerce Cloud.
There are three editions with different pricing plans:
Open Source: $128 for the first year and then $76.8 for the next years.
Commerce & Commerce Cloud: $278 for the first year and $166.8 for the next years.
Magento 2 Custom Promo Conditions extension enables the use of custom promotions based on customer attributes, purchase history, and other complex attributes like weight, currency, and location.
For instance, a customer who has been a customer for a year would receive a special discount. Otherwise, you can offer free delivery on the third order to a customer who has made two purchases from your company.
There are three editions with different pricing plans:
Community Edition: $99
Enterprise & Enterprise Cloud Edition: $198
With the help of Magento 2 Special Promotions, a site's administrator can build up to 16 promotional rules that clients can use to receive fixed or percentage discounts. These promotional guidelines apply to both individual products and groups of products, regardless of price point. The Buy X Get Y in its extended form is also made possible by this module.
Feature highlights:
Fixed or percentage discounts are acceptable for special promotions.

If coupons are permitted, discounts will be applied to products when discount coupons are added.
A product set or collection of products is subject to promotional restrictions.
The Magento 2 extension "Promotion Bar" enables store owners to design eye-catching and effective notice and promotion bars to promote new products and convey essential information.
Store owners may design and customize the most eye-catching promo bars or banners thanks to the Magento 2 Promotion Bar extension:
Create notice and marketing bars with flexibility.
Visible in up to five spots on pages.
Display one or more notice and promotion bars in a slider.
Target client demographics and store views using the promotion bar.
Set the expiration and valid dates for the promotion bar display.
Responsive across all platforms.
For the community edition, you only have to pay $79. For the Enterprise edition, you have to pay $229.
Community Edition: $149
Enterprise Edition: $318
The Magento 2 shopping cart rules extension features a smart notification system for potential discounts. It has a variety of new unique promotion rules and shopping cart criteria:
Encourage clients with new marketing guidelines
Use a longer list of criteria for your shopping rules.
Encourage sales with adaptable notifications
Apply coupons for savings on certain items and amounts
Reduce the rate of cart abandonment
Community Edition: $75
Enterprise Edition: $130
Technically speaking, this module adds new rules, like the Free Gift rule, to Magento's standard rule-based promotions. This module also offers a large number of extra cart rule conditions based on attributes connected to customers and sales histories.
Supported extensions for Magento 2 Promotions
Above, Tigren has presented a list of promotion extensions for setting up promotions. Besides, there are more extensions that help boost the efficiency of promotion.
Wrapping Up
Hopefully, this article can present you the sufficient information about Magento 2 Promotions so you can utilize it to make fantastic promos for your customers.
Marketing tactics and promotional techniques go hand in hand. Effective marketing and promotion plans increase customers, guarantee long-term success, and boost a company's bottom line. Thus, go ahead and work with a Magento development service provider to integrate your eCommerce store with promotion extensions.
If you want to install any promotion extensions, consider Tigren as a potential partner. We provide professional Magento integration services to make your store more powerful and efficient at an affordable price. So, if you have any inquiries, get in touch with us to learn more.