Rich Snippets, those small yet powerful pieces of structured data, have become an invaluable tool for web administrators seeking to take control of how their Magento 2 websites appear on search engine results pages (SERPs). These structured data enhancements are more than just visual aesthetics; they are a gateway to driving increased traffic, higher user engagement, and ultimately, elevated sales for your online business.
In recent years, as the significance of Rich Snippets has grown, the marketplace has witnessed a proliferation of providers offering snippet extensions. With so many options available, it can be challenging to discern which ones truly deliver the best results for your Magento store.
To help you navigate this wealth of choices, we've curated a comprehensive list of the top 20 best Magento 2 Rich Snippets extensions, ensuring that your store's performance in 2023 reaches new heights. Join us on this journey as we explore the most effective tools and strategies to enhance your e-commerce success.

Extended Rich Snippets add additional appeal to your search results and social media posts. Better visibility in SERPs will be made possible by this extension. And since customers already know what your pages are about, it increases the amount of focused search traffic to your online store.
Features:
Product/Category Page Rich Snippets.
Open Graph/Twitter Cards.
Website/Business Markup.
Breadcrumbs Markup.
Price:
Open Source: $99.
Commerce: $198.

When Rich Snippets are used, search engines can offer more details about the results. It also enables users to interact directly with specific categories of material from Search. Rich Snippets by Atwix can help you stand out from the competition, enhance your click-through rates, and raise your page rank.
Features:
Structured data for breadcrumbs & category pages.
Additional website name meta tags.
Configurable Open Graph meta tags.
Additional Open Graph snippet – Product Rating.
Configurable Twitter Cards meta tags.
Social meta tags.

Search Box rich snippets

.
Price:
Open Source: $129.
Commerce: $210.

This Rich Snippet Suite plugin enhances the markup for your store's products, website, organization, and local businesses by adding a rich JSON markup. In addition, you can add attributes like description, brand, SKU, GTIN, and more to the comprehensive product data. This extension has a remarkable feature that allows you to remove or disable the default Luma/Magento snippets.
Features:
Product Rich Snippets.
WebSite Rich Snippets.
LocalBusiness Rich Snippets.
Organization Rich Snippets.
Price: $85.

Rich snippets, which are structured data in Magento, make it easier for users to find what they're looking for in organic search as soon as they can see it. You may segment clients in advance and drive relevant traffic to your website by displaying more detailed information in organic search results.
By implementing Rich Snippets, you may increase your brand's reach among your audience by providing additional information about your products in enhanced search results. Links with rich snippets appear higher in search results and have a 20–30% greater click-through rate.
Features:
Product Structured Data.
Website Structured Data.
Twitter Cards.
Facebook Open Graph.
Pinterest Rich Pins.
Price:
Open Source: free.
Commerce (on-prem): $299.
Commerce (cloud): $499.

Using this extension, you may promote your website to potential clients and display all pertinent information immediately on Google, increasing your store's sales. By adhering to schema.org standards, the Mconnect Google Rich Snippets Extension enables you to add rich snippets to Google's search engine and display all relevant information alongside your store name.
Key functions:
Breadcrumbs Display In Google Search Results.
Show Rich Snippets.
Offer A Search Box For The Homepage.
Manage Appearance Of Sitename With Breadcrumb.
Display Business Information.
Show Twitter Cards.
Show Product Information On Pins.
Price:

To increase your website's visibility and generate relevant traffic to online stores, this extension helps highlight crucial information in search results.
Features:
Enable rich snippets of breadcrumb.
Initiate rich snippets.
Display search box as a homepage input.
Show average-rating products and starting price data.
Add availability status and condition tag of products to rich snippets.
Price:
Community: free
Enterprise: $240

This extension adds more details and eye-catching displays to how your Magento 2 store and its products appear in search results. If you adhere to the rules for structured data markup, this feature will guarantee that your brand stands out and that website traffic improves.
Display various Rich Snippets for the product.
Show rich snippets for categories.
Enable breadcrumbs in the search result.
Show Rich Snippets for business information.
Support Open Graph and Twitter Card.
Price:
Community: $79.
Enterprise: $229.

Powered by real customer reviews, Feefo is an independent review and insights platform that provides businesses with the tools to improve customer relationships, customer experience, brand reputation, and sales. It also offers rich snippets for reviews on Google search results to help boost web traffic.
Features:
50 feedback requests per month.
Offer online review widgets.
Comprehensive reporting.
Your own dedicated Feefo reviews page.
Email support.
Price:

The Magento 2 Advanced SEO Suite gives you complete control over all SEO-related features in your store, including meta tags and the sitemap. This great package will help you save significant time and money while guaranteeing that your website will appear at the top of search results.
Features:
Generate meta tags.
Overwrite meta tags, descriptions, and H1 tags.
Show rich snippets in Google search results.
Format category and CMS pages for Facebook Opengraph and Twitter.
Automatically add crosslinks to pages.
Install redirects for URLs.
Define canonical, language, and relationship tags for any page.
Evaluate any page's SEO health in real-time with an SEO Toolbar.
Price:
Open Source: $179
Commerce: $378
Commerce On Cloud: $448

You do not need to change any code when you install the Magento 2 SEO Extension. This extension will automatically add meta keywords and meta descriptions for your products and contribute to better SEO performance.
Features:
Stop Duplicating Content.
Structured Data for SEO.
SEO Metadata template rules.
Hreflang tag.
SEO Report.
SEO Analysis.
Advanced HTML/XML Sitemaps.
Price:
Standard: $99/first year.
Professional: $229/first year.
Ultimate: $349/first year.

This extension employs the privacy-friendly no-cookie domain for embedding videos. You can also configure video-rich snippets separately for each video for the best SEO practices.
Features:
Enable/Disable Extension.
Enable/Disable and Configure Privacy Notice.
Layouts.
YouTube Video URLs embedded.
Video Display Options.
Rich Snippets (Name, description, upload date, duration).
Price:
Open Source: $79.
Commerce: $159.

This extension adds structured data markup to the product page and displays rich snippets for breadcrumbs in search results. Whether customers access the product page from search engines or any other page on your website, it can add a category path to the breadcrumb.
Features:
Adds breadcrumbs on the product page.
Use shortest or longest breadcrumbs navigation.
Prioritize categories.
Adds structured data markup.
Adds breadcrumbs.
Support mobile devices.
Support multiple websites, stores, and store views.
Price:
Open Source: $79.
Commerce: $158.

The Magento 2 rich snippets plugin automatically adds structural data to your product pages' HTML, which helps search engines better grasp the content. It improves click-through rates, lowers bounce rates, and fixes the pricing problem by making your website stand out on search engine results pages. The module enables you to incorporate breadcrumbs in Magento 2 rich snippet, making your website more friendly to search engines.
Features:
Use schema.org and Google standards.
Include breadcrumbs in Magento 2 rich snippets.
Tag the currency and price separately.
Fully supports the multi-store setup.
Price:
Open Source: £104.99
Commerce: £204.99.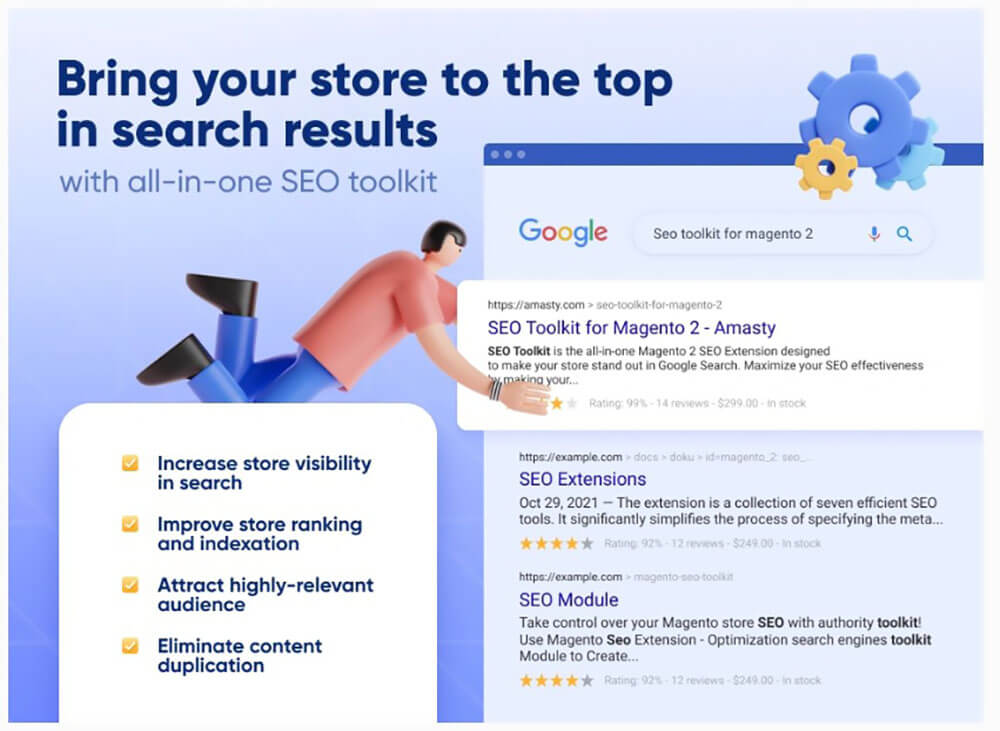 The Magento 2 d SEO Toolkit helps your business rank higher in Google searches. It can also improve organic traffic while spending less on sponsored advertising.
Features:
Track SEO effectiveness.
Auto-generate meta tags.
Show more info in search with rich snippets.
Optimize SEO architecture with cross-links.
Create SEO-friendly URLs.
Configure HTML and XML sitemaps.
Price:
Community: $349/first year.
Enterprise: $649/first year.
Magento Cloud: $949/first year.

The Magento 2 Advanced SEO Suite is a collection of well-known tools to boost your business's visibility in Google Search. It lessens the workload associated with search optimization and significantly increases store visibility. Apart from that, this extension enables you to coordinate your store for optimum search indexing performance precisely.
Features:
Site Map.
Canonical URL.
Rich snippets.
SEO Catalog URL.
Add Hreflang Tags.
Build internal and external cross-links.
Price:
Open Source: £179.99
Commerce: £279.99

Magento Rich Snippet is a fantastic extension that makes your store's products more visible to visitors in search engines. Your Magento store will get markups, making it easier for Google to crawl and promote a more user-friendly experience.
Features:
Show Product Name.
Show Breadcrumbs.
Show Price.
Show Product Rating.
Price of Product.
Stock Details availability.
Add SEO Brand Name, Model, and Manufacturer.
Show Number of Reviews.
Price:

The Magento 2 SEO Extension can improve search engine ranks, traffic, and visibility for Magento websites. It can also boost Facebook Pixel functionality.
Features:
One-Click SEO Analysis With SEO Toolbar.
Facebook Pixel.
Site-wide Cross-Linking.
404 Redirection.
Canonical URL Redirection.
Price:
Open Source: $149.
Commerce On Prem: $299.
Commerce Cloud: $399.

You may boost targeted website traffic and search engine rankings with the help of the Magento 2 Rich Snippets Extension. It is one of the best tools for quickly improving structured data and adding Google Rich Snippets to your store.
Features:
Product Reviews and Rating.
Navigation Path Display.
Organization Rich Snippet.
Social Media Links.
Add Sitelinks Search Box.
Price:

This toolkit is ideal for handling various on-page SEO tasks, including eliminating duplicate content, improving site indexation, and optimizing any URL form. The extension also includes the extensive capability for rich snippets, cross-linking, SEO redirects, and HTML and XML sitemaps.
Features:
Canonical URLs.
Crawling & Indexing.
Cross Links.
Product SEO Templates.
Category SEO Templates.
Layered Navigation.
Hreflang Tags Support.
Extended Rich Snippets.
SEO Redirects.
Advanced Breadcrumbs.
HTML & XML Sitemaps.
Price:
Open Source: $299.
Commerce: $598.

M2 Rich Snippets by Swissuplabs provides a fantastic feature package that makes it easier for Google's crawlers and structured data crawling on Magento websites.
Feature:
Aid Google's indexing.
Rich snippets for products, reviews, organization, breadcrumbs.
Price:
FAQs
1. What are rich snippets?
A "snippet" refers to the structured code of the information that Google displays to online users. Rich Snippets mark up a website's content in a way that makes it easier for search engines to identify and index information. They help search engines understand the content of web pages.
2. How many types of snippets are there?
Featured snippets typically come in one of three formats:
Paragraph snippet
List snippet
Table snippet
3. Are rich snippets important?
Rich snippets simplify the process of finding products by enabling users to search for essential items directly from Google and Facebook for sharing on social networks.
Rich Snippets in Magento 2 boost your products with an eye-catching display to customers in place of the regular unwanted product descriptions in the search results.
As a result, click-through and bounce rates go up, and your website stands out on the search engine results pages. To make it easier for search engines to find and index content, it adds rich snippets for breadcrumbs markup/code to your web pages.
4. In Magento 2, how do you create a schema markup?
Shema markup, a type of code (semantic vocabulary), makes search engine results more detailed for users. It is crucial to improve your website's appearance in search results.
It enables rich snippets, which are additional material like photographs or videos, to be displayed in the SERPs. Users are more likely to click on results when they see the required precise information.
To add a schema markup in Magento 2, you must work with HTML structure and CMS site. The process requires specific technical knowledge of web components and operations. If you need someone professional to help, contact us at [email protected]. Our well-skilled developers can help flawlessly add schema markup for your Magento 2 store.
Related Posts:
20+ Best Magento 2 One Step Checkout Extensions
Top 19 Magento 2 Best Extensions To Skyrocket Sales
20 Best Magento 2 FAQ Extensions For Your Store