Magento One Step Checkout extensions have created a groundbreaking impact as these have revolutionized the checkout process, simplifying it for both store owners and customers. With responsive designs and seamless payment integrations, customers can now complete their purchases effortlessly, reducing cart abandonment and boosting conversion rates. For store owners, these extensions provide a user-friendly interface, streamlining store operations and improving efficiency.
With a diverse selection of 20+ One Step Checkout extensions available, businesses can find the perfect match for their goals and requirements. Let's check out the post and explore the vast possibilities of Magento One Step Checkout extensions to elevate your e-commerce journey. Embrace simplicity, optimize efficiency, and propel your Magento store management to new heights of success.

Overview
TridhyaTech brings your a simplified, user-friendly one-step checkout solution. This extension offers one smart single page that has been optimized for a high-converting and hassle-free checkout experience. It can be customized in various factors to suit your essential and extra offerings.
Features
Optimized checkout page.
Guest checkout.
Gift message and order comment.
Delivery date and shipping method selection.
Autofill previous/saved address and countries-limited auto-suggestions address.
Price

Overview
Checkout AS has designed its extension to be highly modular, offering merchants the next-level solution to twist and shape the checkout process anyhow they want, regardless of their technical knowledge and development skills. This extension has been trusted by over 1,000 stores, namely Nestlé, Everlast, Maxi-Cosi, and Acer. It is considered the finest alternative to the Magento 2 default checkout.
Features
Country auto-fill with GeoIP localization.
Auto-update price regarding order changes.
Responsive.
Disable unnecessary fields.
Auto-update available payment methods according to the shipping method.
Price
Open Source: $590
Commerce: $2035

Overview
Aheadworks makes it irresistible by pioneering the data-driven checkout performance for their Smart One Step Checkout. The tracking and analyzing tool helps merchants better understand where and how to optimize to satisfy customers' expectations and lower abandonment rates.
Features
One page checkout.
Configurable Checkout Fields.
Customer Information Fields.
Fields Relations.
Checkout Performance Reports.
GeoIP Detection & Auto Suggestions.
Quick Order Edits.
Price
Open Source: $279
Commerce: $559

Overview
This one-step checkout allows the admins to squeeze multiple checkout pages into one single simple page effortlessly. Now merchants can easily optimize the checkout process on the front end by tweaking any needed changes to the layout, themes, and colors.
Features
Customizable Checkout Page.
Google Auto-Address Suggestion.
Easily Modify Product Attributes on the Checkout page.
Customizable theme.
Move/Drag Checkout Fields.
Pricing

Overview
Understanding the frustration behind losing customers at the last minute, Mageplaza offers the ultimate solution to help cut down and minimize the order abandonment rate. Make your checkout process as fascinating and effortless as the rest of the buying journey with no redundant motions and optimized features for customers' favor.
Features
Google address suggestion.
User-friendly checkout interface.
Optimized and streamlined one-page checkout.
Compatible with nearly 100% payment methods.
Easy to customize checkout layout.
Pricing
Standard: $199 first year
Ultimate: $299 first year
Professional: $229 first year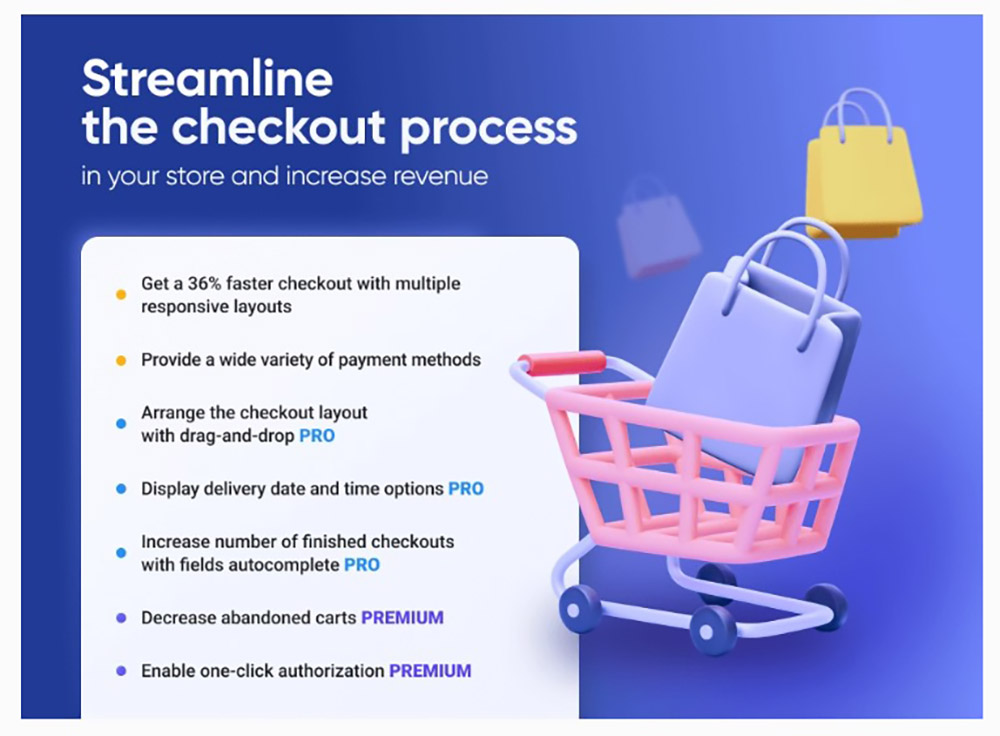 Overview
Amasty One Step Checkout extension offers Magento 2 merchants a resolution to walk users through the latest necessary process. With user-friendly installment and setup, exclusive built-in functions, and optimized for poor usability, online store owners can now create an instant and effortless journey and save their conversion momentum.
Features
Customizable checkout page.
Support diverse payment and shipping methods.
Display delivery date and time options.
Responsive.
Pricing
Open Source: $319/first year; $195/next year.
Commerce: $619/first year; $375/next year.

Overview
Fire Checkout extension is a specialty for merchants who want to impact the checkout process greatly. With constantly advanced new features exclusively, enhance and continue a positive customer experience for expecting a surge in the conversion rate in return.
Features
5 customizable page layouts.
1-click checkout for registered customers.
Guest checkout.
Checkout Success Page tool to create a Thank you page and CMS blocks.
Address Field manager.
Auto-detecting location via IP and postal code autocomplete.
Multi-language.
Price

Overview
Designed to optimize the checkout process to best guide online shoppers via a hassle-free and non-confusing experience, Mageworx One Page Checkout Suite aims for a clean, well-visualized, and user-friendly extension that any merchant could easily get hooked up and love.
Features
One-page checkout.
Store Locator & In-Store Pickup.
GeoIP functionality.
Customizable delivery date and time layout and payment and shipping methods.
Guest checkout.
Price
Open Source: $349
Commerce: $698

Overview
OneStepCheckout.com takes the checkout performance to the next level, making it friction-free and well-connected with the whole ecosystem. It's a highly specialized extension for reducing cart abandonment rate across all industries with Magento 2, at the same time, leveraging the conversions with a fast-loading checkout page, dynamic suggestions, and auto-filling.
Features
Auto-update prices when modifying item quantities in the order summary.
Compatible with Magento 2 API for shipment and payment functionality.
Multiple registration scenarios, including auto-registration.
Pricing
Open Source: €485
Commerce: €1,685

Overview
The One Step Checkout by BSS Commerce is developed to help store owners overcome the limits of the Magento 2 default checkout procedure with a simpler, quicker, and easier information filling process. Merging and upgrading 2 steps into one smooth single page that performs in a much more user-friendly interface.
Features
Geo IP to detect customer location and autocomplete customer address.
Auto-update related information.
Allow editing quantity in the Order summary.
Option for the delivery date and shipping requirement.
Custom fields for checkout page.
Price

Overview
A feature-rich, all-in-one one-step checkout Pro with powerful customer attributes and more comes from the expert developers of Landofcoder. This extension helps your finishing-up process fast and responsive across different screen sizes. It saves customers time and effort with one view, smart suggestions, and info auto-filling.
Features
Powerful Customer Attributes Management.
All-in-one checkout page.
Mobile optimization.
Search and Direct pick up product.
Tracked abandoned rate and account login.
Fast login with social accounts.
Geo IP support.
Auto-fill address.
Order comment.
Price
Basic: $89
Enterprise: $399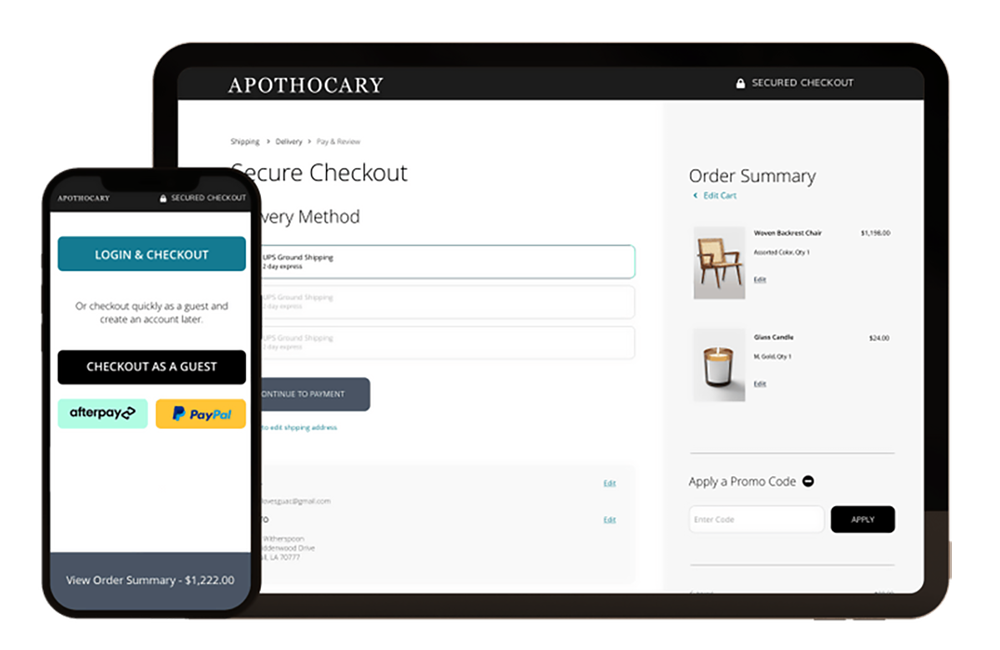 Overview
Powered by Paypal, the Dominate Checkout Suite by IWD Agency offers you the Pay in 4 feature, which is paying in four interest-free payments with no extra cost. It comes with the support from PayPal's fraud detection tools, enhancing the security needed to keep your customers' sensitive information safe.
Features
Optimized Checkout-Page layout.
Easy to Customize.
Cloud-based Checkout-Page for faster process.
Accept major payment methods.
Pricing

Overview
Being developed upon Magento 2 default checkout page, Webkul had simplified and merged into one dynamic single checkout page. By facilitating a fast and useful checkout journey, Magento 2 One Step Checkout saves customers the hassle of going back and forth to fix and compare info, enabling a higher conversion rate.
Features
One-page checkout for registered and guest users.
Ajax-based payment fields processing.
Google Address Autocomplete.
Multi-Shipping Address Support.
Customizable Layout.
Improved Checkout Functionality.
India-only: GST Field On Checkout.
Pricing
Open Source: $79
Commerce: $158

Overview
Easy to install, with a large room for customization, and highly functioning, MageTop offers an integral solution to conduct all the checkout requirements in one place. Everything is automated and consistently connected, run using ajax. Designed with 3 sections on 1 layout, making every section visible in one view.
Features
Geo IP auto Detects And Fills Buyer's Location.
Friendly Checkout Interface.
Include Billing & Shipping Address Box, Shipping Delivery Time, Payment Methods Box, Order Summary Box.
Allow Guest Checkout.
Auto-redirect to Checkout Page.
Support major Payment Methods.
Custom CSS, Static CMS Block, and various design styles.
Pricing
Open Source: $99
Commerce: $149

Overview
Developed by Magento-certified developers, the MageSolution one-step checkout is your must-have extension for conversion encouragement at the international level. This convenient and straightforward checkout will help customers remove barriers to completing the order. It's the feature-rich extensions optimized for conversions and repeated purchasing processes.
Features
User-friendly and customizable checkout interface.
Automatically update the Grand total on alteration of shipping method.
Flexible displays for fields.
Configurable payment method and delivery options with country-based delivery calculation.
Gift message box.
Enable/Disabled Terms and Conditions agreement.
Support multi-store and multi-languages.
Ajax loading.
Price
Open Source: $39
Commerce: $139

Overview
The Pro of One Step Checkout for Magento 2 by MageWorld fastens up the last-minute order completion by compacting 6 major steps into one handy checkout page. To increase customer satisfaction, this extension also seeks optimization for reducing cart abandonment and huge customization opportunities for a personalized experience.
Features
All steps on one single page.
Easy customization.
Auto detects and fills buyer's location with Geo IP.
Manage checkout fields display.
Multiple payment methods support.
Responsive design, mobile-optimized.
Optional delivery time and date.
Price
Open Source: $149
Commerce: $377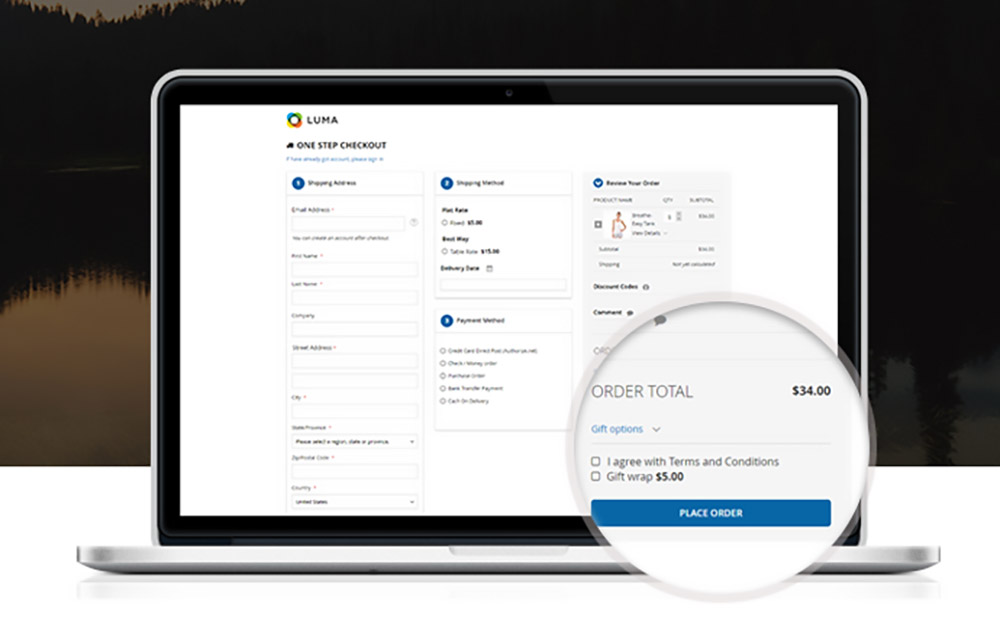 Overview
CMSmart brings a solution for Magento merchants to amaze their users with how convenient it is to check out in less than 3 minutes. Merchants can also select all available payment method that suits them, edit, tweak, and modify any field block at the maximum capacity with a handy customization tool. This extension will save customers' time while ensuring store merchants a steady reduction of abandonment rate while increasing conversion rate.
Features
Only One Step Checkout.
Google Suggest Auto-Fill.
100% Responsive across devices.
Auto AJAX updates.
Customizable styles.
Flexible setup of the default values.
Support Various Payment Methods.
Multiple Shipping Methods.
Delivery Date & Time Selections and Configuration
Discount Codes and Comment text box.
Price
Standard payment: $138.95
Auto-renewal option: $129.86.

Overview
Make your customers highly engaged till the last minute, increasing customer satisfaction, credibility, and reliability from time to time with this one-step checkout extension. Eager users will be happy with this extension as it takes care of every checkout demand and makes it as simple and convenient as possible.
Features
Allow registered and guest checkout.

Special requirements on order.
Apply coupon code during checkout.
Multi-shipping and multi-payment methods.
Auto-update total price, discount.
Auto-detecting location.
Responsive for different screen sizes.
Powerful and user-friendly admin features.
Price

Overview
Facilitating the customer shopping experience to stay simple and hassle-free till the end, the MageDelight responsive one-page checkout for Magento 2 will support merchants to boost the conversion rate by 40%. Delivering a smart checkout to drive higher customer satisfaction and deteriorate the shopping cart abandonment, this extension is highly recommended by numerous ecommerce business owners across the globe.
Features
A smart single page for all checkout steps.
Registration during checkout.
Delivery date and time option.
Extra fees option for special occasions or specific requests.
Gift message description and wishes.
Display Static blocks as custom header/footer on the checkout page.
Drag & drop features to swap on the checkout steps easily.
Price
Open Source: $199
Commerce: $399

Overview
Bootsgrid's one-step checkout solution is here to assist store owners with Magento 2. It helps achieve the conversation rate they deserve, leaving a good impression on users till the end while lowering the order bounce rate. Automation and smart suggestions are utilized to benefit users, and considerable space is dedicated for merchants to customize and optimize to the best of their needs.
Features
Compatible with all payment methods.
Google Maps Suggestion.
Friendly checkout interface.
Powerful Layout with Responsive functionality.
Gift Wrap & Gift Messages.
Checkout Login available.
Order Comment.
Delivery time and shipping options.
Terms and Conditions popover box.
Price

Overview
Template Master knows the importance of the checkout page, the final touch that closes the deal and converts. With this extension, they offer a solution for merchants to stay streamlined, smart, and simple with their checkout page, eliminating the customers' frustration with automation and smart suggestions. At the same time, enhancing their satisfaction, fastening the process, and quickly wrapping up the purchase.
Features
Customizable checkout fields.
Newsletter subscription.

5 page layouts.

Address autocomplete.
Delivery date and time option.
For EU market: Validating the VAT in checkout shipping and billing address forms
Price

Overview
Cart abandonment because of the complex checkout can be the worst nightmare for businesses. Avoid the hassle of multiple steps and save time and effort in filling out the information with SoftProdigy solution of one-step Magento 2 checkout. A neat and clear journey for finishing up the order is the key to evolving in ecommerce today and encouraging future repeated purchases.
Features
One-Page Checkout only.
Dynamic Loading.
Multiple payment methods.
40% Faster Checkout.
Responsive Design.
Billing Address and Shipping options.
Price
Wrapping Up
The checkout phase is the last important phase that sets the tone for any effort to maintain a great user experience. Don't let the sales drop, all effort goes to waste because of any confusion or complexity in the checkout process. Instead, stay competitive and favorable with these brilliant one-step checkout extensions made exclusively for Magento 2. We hope you'll find the list helpful to assist you in picking out the best suitable option for your website and witness the conversion rate surges.
Related Posts:
Top 20 Magento Websites From World-Famous Brands (Updated)