Magento is the platform that powered more than 12% of all the online stores in the world. Do you know why people love this platform? It's because all of the Magento websites (either based on Magento Open Source or Adobe Commerce) are well-structured, SEO-optimized, and stunning. Let's take a look at Top Magento Websites in this blog post.
These Magento Websites Will Inspire You…
This list of Magento websites is created based on the UI/UX, loading, and responsiveness. And you will see that many popular brands worldwide are big fans of the Magento eCommerce platform.
The Best Brands On Magento 1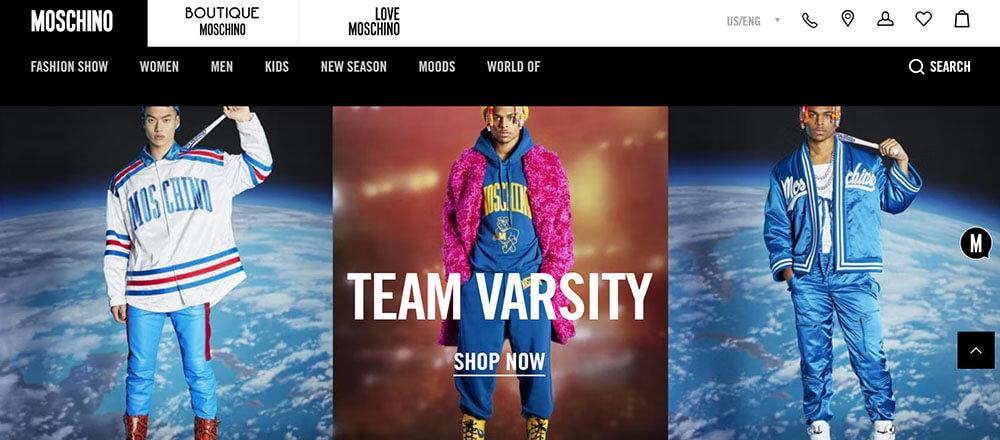 The first name of the top Magento websites is a luxury fashion house from Italy founded in 1983 – Moschino. The products that Moschino specializes in are leather accessories, shoes, luggage, and fragrances.
With the Magento platform, Moschino can incorporate the animation on the homepage, and implement the Instagram feed. Moreover, the categories and product catalogs are very intuitive.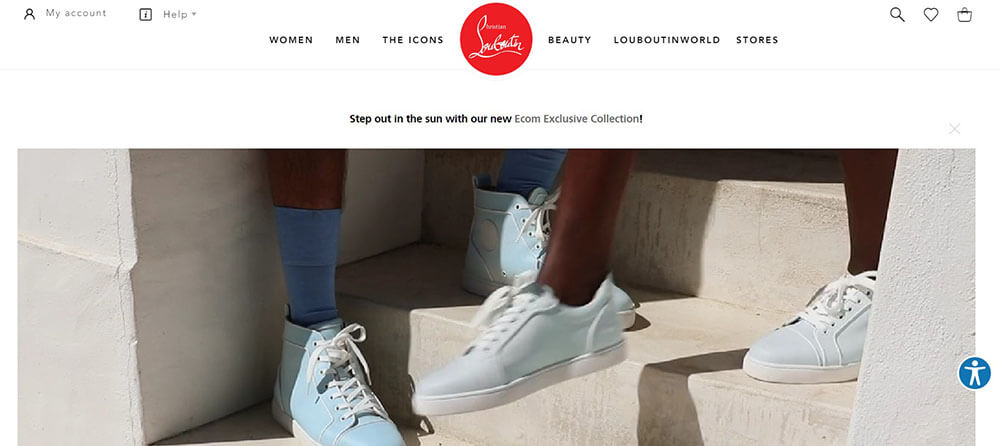 It will be flawed if Christian Louboutin is not mentioned in this best Magento websites list. This iconic footwear brand made the history in fashion. Besides that, this brand also releases handbags, accessories, and cosmetics.
Christian Louboutin's website leans more on a simple (yet still eye-catching) style because its features result from its minimalist. They focus on the products; hence the fantastic shopping experience is made of visual merchandising and a fast loading speed.
There are more secrets to creating an impressive website like Christian Louboutin's, find out more here.
Olympus Corporation is the leading provider of optics products and medical and surgical equipment from Japan. They are another example of Magento stores.
Magento helps Olympus to communicate with the customers via the website by the following: excellent website navigation, informative product descriptions, comparison list, etc.
Roughly a 70% share of the global endoscopy market is accounted for by Olympus. The 2019 annual revenue of Olympus is $7,145 billion came from both offline and online operations. And Olympus uses Magento/ Adobe Commerce as a CMS for its achievements.
The Biggest Companies That Use Magento 2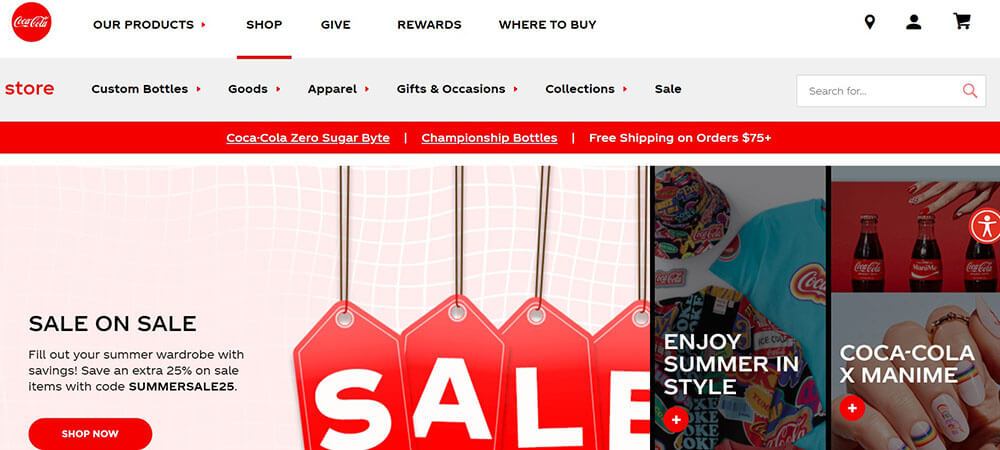 Maybe we don't need an introduction because Coca-Cola is beloved all over the world by people of all ages. Not only increase the market share by using the offline distribution system, but this brand also takes advantage of e-commerce. Due to the booming of online shopping, Coca-Cola entrusted the Magento eCommerce platform with its brand in 2014.
With Magento Commerce, Coca-cola has been successful in engaging with the customer. Specifically, Coca-cola created the "Where's my name?" campaign on the website, and more than 600,000 names were captured in the database via Magento.
Also, Coca-cola Store should be one of the best Magento website examples because of its UI design, which will impress the customer at first sight. The site is adjusted every holiday and designed to focus on personalization.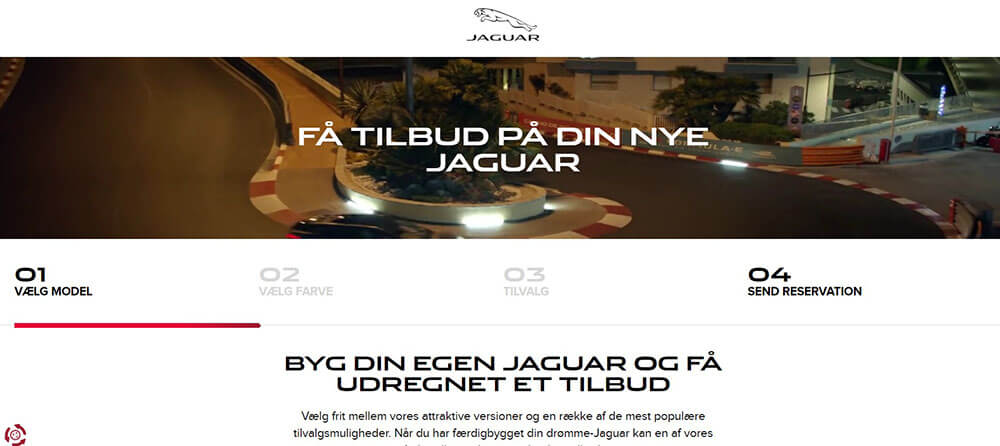 A well-known athletic sports car and luxurious sedan – Jaguar is also on the top 20 Magento websites list. This website is directly launched for the Jaguar I-PACE – the first Jaguar's fully-electric car.
At first sight, Jaguar created a four-step progress bar with an appealing design and convenient functionality to draw the customers. Thus, this makes it easy for customers to select the model they need.
Moreover, Jaguar's website concentrates on personalization. Walking through those steps above, the customers can choose the preferred details, and color palette, and create their design.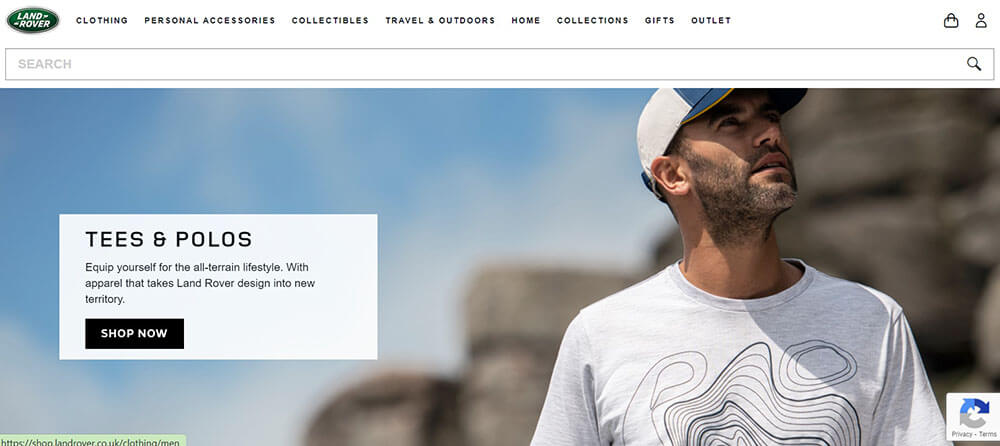 Apart from the Land Rover main website, the brand has added an online store to sell clothing and accessories. This website even sells gifts and other products like keyrings, mugs, baseball caps, etc.
The brand name goes impeccably well with the layout, design, and user-friendliness. Moreover, to enhance the customer experience, the checkout process is quite simple.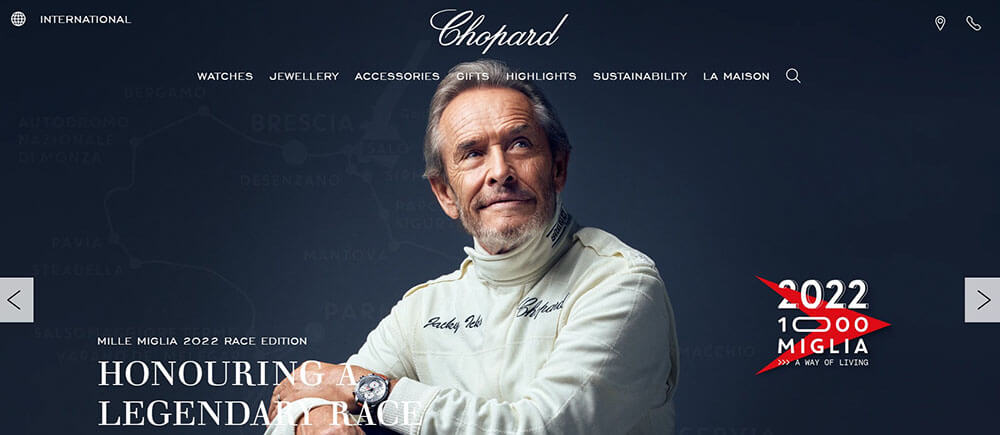 Chopard – the luxurious Swiss watchmaker, is now using Magento 2 for its website.
It's undeniable that this website has an elegant and gorgeous design to keep the customers staying longer. Besides, the site also facilitates the users to maintain their wishlist and choose the appropriate options.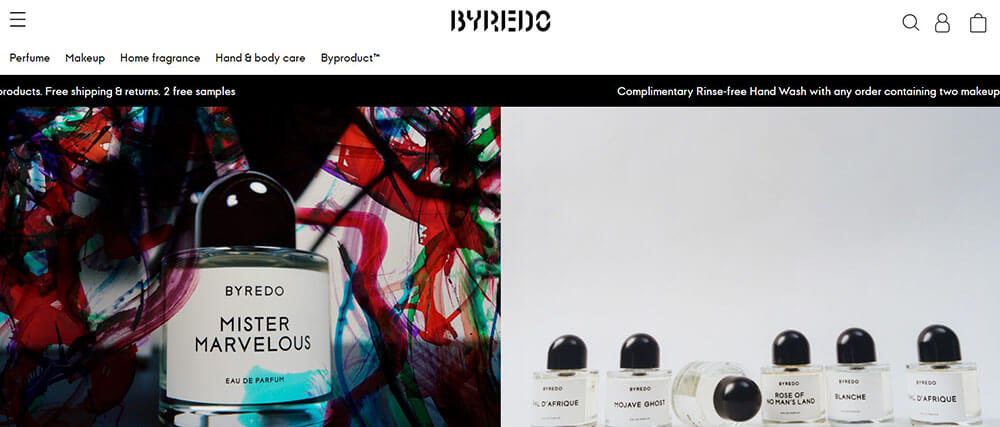 The last name is Byredo – a European brand famous for perfumes, body care, and hand care products. This brand is one of the pioneers to upgrade its website to Magento 2. With the platform, Byredo's site is allowed to have easier customization, improved organization, etc.
Minimal and sleek is the style of Byredo, and we can see it on the website. The blocky style fits well with the brand and makes it more appealing.
Helly Hansen is always mentioned because it's one of the most well-known Magento websites. They provide sailing, skiing, and outdoor apparel with stores located in more than 40 countries.
This company has a long history and deeply-rooted traditions. It was founded in 1977. At first, the company's products were made to help people with severe climatic conditions. Along with the evolution of the fashion industry, Helly Hansen not only brings us professional-grade gears to stay dry, warm, and safe but also fashion clothing.
In 2016, the company built its website on Magento 2 platform to increase online sales. The site is a global one that operates 30 stores in 6 languages.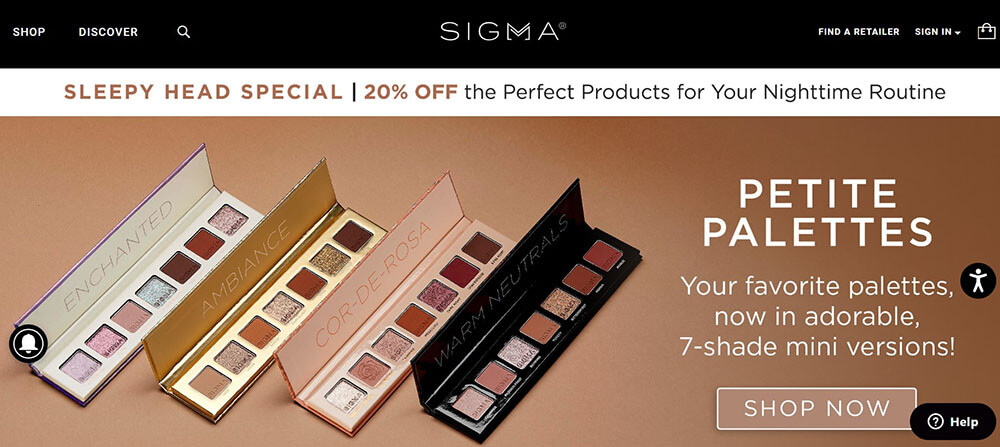 Sigma Beauty is a famous makeup brand in Britain. Founded in 2009 and reached great success, this brand is not only renowned in England anymore but also internationally. Their makeup brushes are signature and become bestsellers all over the world.
The beauty and cosmetics industry nowadays is developing at an unbelievable pace. Sigma Beauty saw them as a chance. They need a scalable platform to get them to market quickly and create an engaging experience for beauty enthusiasts and global retailers. Thus, they choose Magento 2.
The unique point of Sigma Beauty's website is that they not only show the products for us but also offer us a list of approved vendors. Moreover, this website has a beautiful design and a user-friendly interface.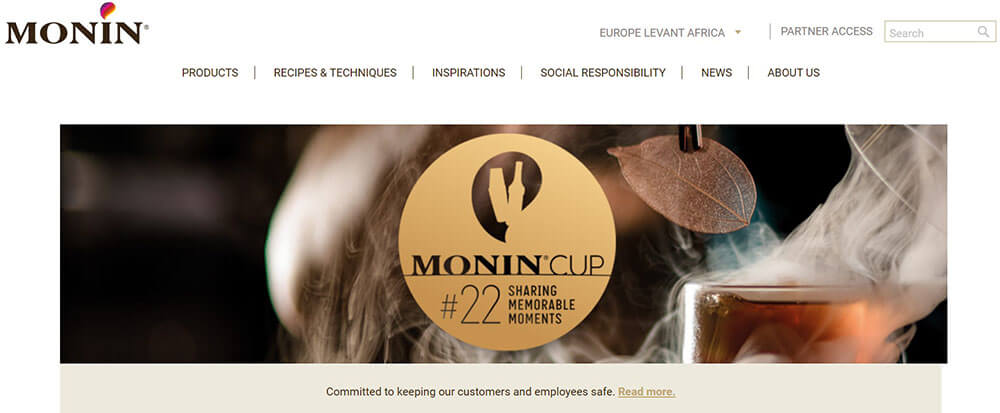 Another successful brand on the top Magento 2 websites list is Monin. With more than 100 years of experience. Monin is a world brand in manufacturing syrups, concentrated flavors, mixes, sauces, liquors, sweeteners, etc. Those products are provided with more than 200 flavors.
As a growing business, Monin' decided to expand its market share by building a website. The critical point is they need a high-performing platform to fit with a multi-national and robust customer base. In 2013, Monin successfully ran their Magento commerce 1 website. Then to adapt to the booming of online shopping, they decided to upgrade to Magento Commerce 2 in 2018.
According to the Magento case study, Monin increased their sales by over 400% after using the Magento platform. The conversion rate is also raised by 20%. Moreover, email-driven revenue increased by 10%. Hence, the decision of Monin to upgrade the website to Magento Commerce 2 brought them many positive results.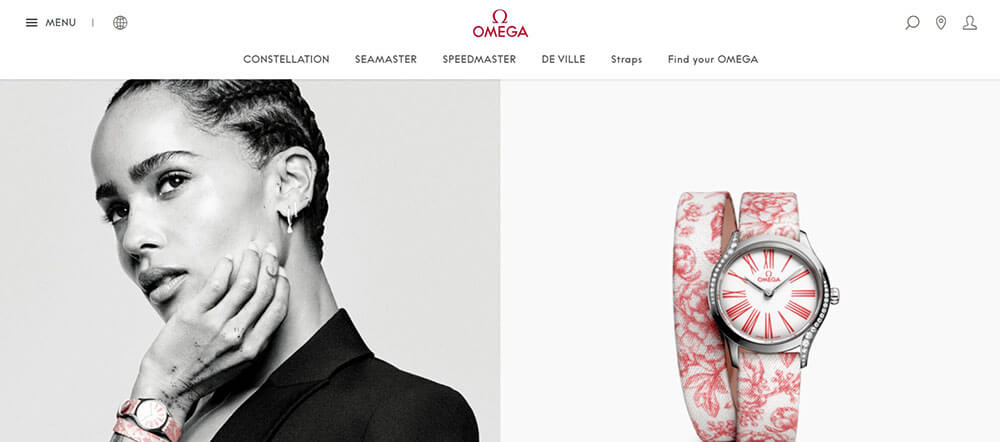 Another super sleek Magento website with so many impressive details is Omega Watches.
The most important feature of this website is helping people locate the product they want to buy in the location finder display throughout the site. Then recommend the nearest shop for the customers (including both own stores and third-party stockists).
Additionally, the website design is clear and eye-catchy.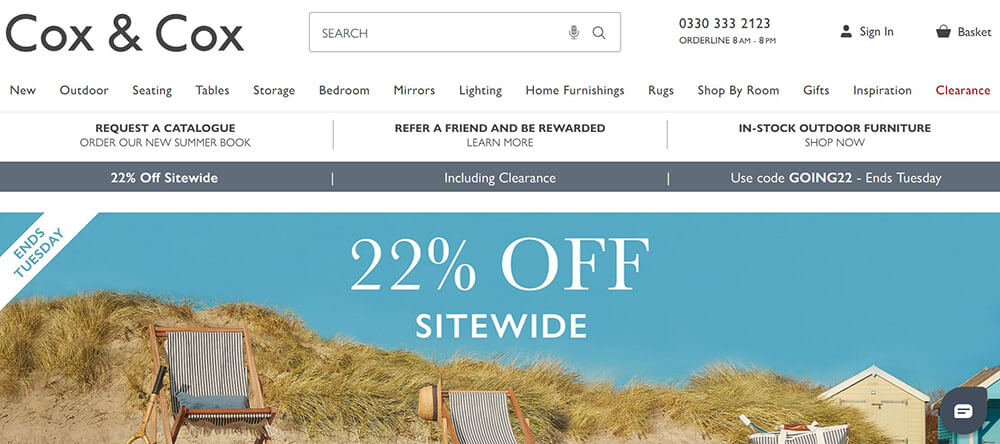 Cox & Cox is one of the most reliable online homeware, furniture, and textiles retailers in the UK. It's not a surprise that this brand is on the top Magento websites list too. At first, Cox & Cox used Magento 1 for its website. To offer its users a powerful and flexible platform and expand its range, Magento 2 is chosen to use in 2016.
Visiting the Cox & Cox website, everyone will be impressed by a wide range of beautiful visual images. Besides, Magento helps Cox & Cox maintain its e-commerce features: a strong main navigation panel, numerous sorting and filtering options, etc.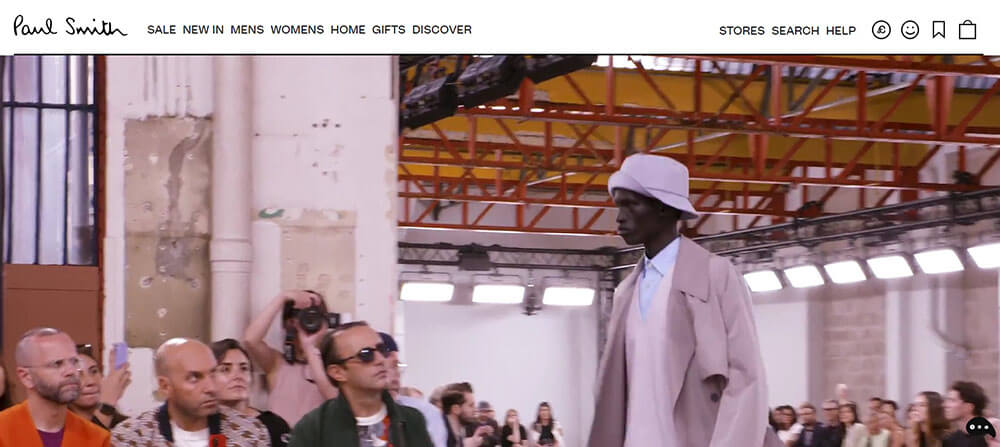 Paul Smith is a brilliant fashion designer from Britain and desires to expand his business to the world. Hence, he decided to choose the Magento platform for his e-commerce business.
Paul Smith is worth to be appeared in this list of Magento websites because of its outstanding performance. The super-fast checkout process makes this website become one of the best Magento websites.
Moreover, the visitors will fall in love with the website's design, color, balance, and energy it brought. Everything that you can expect will appear on Paul Smith's website – a sizing guide, a wish list, a store finder, or a care guideline. All the things on the website are very useful and easy to navigate.
Harvey Nichols is a department store chain in Britain specializing in fashion for everyone, food & wine, homeware, gift, etc. This is one of the biggest Magento stores with a massive number of products. Moreover, the look of this website is stylish. Besides, the filter is good. This website brings an elegant feeling to the customer with plenty of high-end imagery.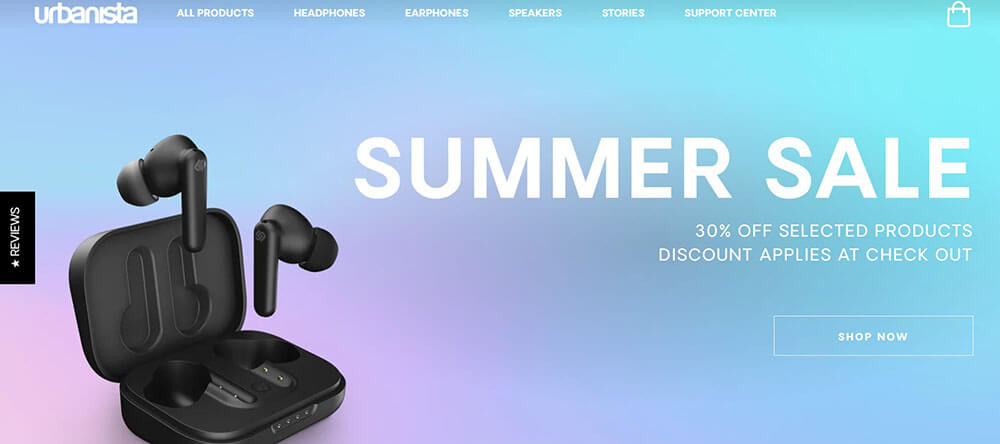 Urbanista is a modern website that provides headphones and earphones. This business was established in 2010 in Stockholm – Sweden.
Through the website, we can get a feel for the product and the lifestyle the brand represents.
They use bold and high-contrast images for their homepage so that the products stand out the most from each picture. The product pages are awe-inspiring with bold photography, video content, and specific descriptions, which makes the customer the most convenient.
Another famous brand joins this list of the biggest companies that use Magento! Tommy Hilfiger's site loads quickly and is designed to show off its best products. The main colors are red, blue, and white, all combine to reflect the brand's logo and create a nice contrast for different elements of the website.
Launched on Magento 2, it's easy to see that the family-run brand has optimized the best features of this platform. It's able to display a wide range of product categories, yet remain as organized as any customer would like. Moreover, their web design stays focused on their core – British Countryside style clothes.
Through time, the brand has expanded and now has over 40 stores all over the world. And what is one of the factors that persuade their customers to purchase? The great user experience on the Magento-base online shop of course.
There's no need to give Nike an introduction. The brand is one of the biggest players in sportswear, and its community counts for millions.
Stay true to its energetic spirit, Nike's website is simple enough without too many details, but its images are in vibrant colors and show the strong side of the models.
And as customers navigate the Magento store, they would have no issue when viewing product details or completing their orders. All of these activities are performed smoothly, regardless of whether they are done on a desktop or a mobile device.
Established in 1989, Asus is now one of the biggest electronic device manufacturers, with their focus on computers, mobile phones, networking equipment, wearables, and monitors.
Embrace a popular design style for brands that sell technology devices, Asus's website uses black as the main color. Asus turns to Magento to power its B2B and B2C operations, and the success of these partner programs has since boosted the business's growth significantly.
Wrapping Up
And above is a complete list of the top 20 Magento websites from widely known companies.
If you desire to make a fantastic Magento website like those brands, you can find more information about Tigren's Magento website development service and get your free quote here.