In online selling, creating a user-friendly and efficient e-commerce experience is the ultimate goal. Magento, a widely trusted e-commerce platform, plays a pivotal role in achieving this. But what takes it to the next level? Integrations!
Magento becomes a powerhouse when seamlessly connected with various third-party tools. These integrations can enhance your online store's functionality, boost efficiency, and increase sales.
In this blog post, we'll take a look at all the popular Magento integrations, revealing how they can supercharge your e-commerce venture. Whether you're a Magento expert or new to online selling, this guide will help taking your business to the next level.
Popular Magento Integrations
Payment Gateway
Payment gateways act as the digital guardians of your online store, ensuring that the exchange of funds between your website and your customers' accounts occurs seamlessly and securely. They function as the vital middlemen in the intricate process of online transactions.
Integrating a secure and reliable payment gateway within your Magento store is crucial for several reasons:
Customer Trust: it builds trust and confidence among your customers, assuring them that their financial data is handled with the highest level of security.
Global Reach: payment gateways support various payment methods and currencies, enabling you to reach a global customer base.
Reduced Cart Abandonment: a seamless payment process can help reduce cart abandonment rates, as customers are less likely to abandon their purchases due to payment-related issues.
Streamlined Operations: payment gateways automate the payment processing, saving you time and effort, and reducing the risk of manual errors.
Security Compliance: they ensure compliance with industry standards and regulations, reducing the risk of data breaches and legal consequences.
If you have done online shopping, you must notice 2 kinds of payment integrations:
Popular Online Payment Magento Integrations

Shipping Carrier
Smooth, reliable, and cost-effective shipping solutions are vital to ensure that your products reach their intended destinations in a timely and secure manner. This is where Shipping Carrier Magento integrations come into play, offering two primary types of carriers to cater to your shipping needs: Long-range carriers and regional carriers.
Long-Range Carriers: Your Global Reach
Long-range carriers are the lifelines of international e-commerce, providing you with the means to deliver your products to customers around the world. These carriers specialize in long-distance deliveries, ensuring that your products reach doorsteps in distant corners of the globe.
Whether it's shipping to a different continent or sending a package across an ocean, long-range carriers have the reach and expertise to make it happen.
Regional Carriers: Efficiency in Targeted Areas
Regional carriers, on the other hand, are your partners in efficiency, offering specialized services to specific areas or regions. They excel at catering to local markets, ensuring that your packages are handled with care and delivered swiftly within a specific geographic zone. This can be particularly beneficial when you want to focus on specific markets or take advantage of regional shipping deals.
Popular Shipping Carrier Magento Integrations

Google Tools (Tag Manager, Analytics, Search Console)
Google Tag Manager (GTM)
Google Tag Manager is a tool for marketers to store and manage 3rd code easier. Tags embedded onto your website and track all activities on it.
These tags collect data source #1 (your website), then they're collected all at once at the GTM site. The raw database is then transferred to data source #2 (like Google Analytics).
Google Analytics (GA)
Analytics takes real-time tracking info of site visits and turns them into valuable insights into user behaviors. It helps you manage all filters and conversion tracking goals, from traffic to CTA clicks.
After analyzing, it presents the data you need (custom segments, time on page, engagement results, conversion reports, etc.). This way, you'll see what works and what not, to make improvements.
If you're running Googles ads, GA is also where you track all the ads' performances.
Google Search Console (GSC)
Search Console is a useful resource to help users measure their site's traffic, observe keyword performance and receive notice to fix contemporary issues.
It tells you how your site is performing in organic search and how to improve your rank on SERPs. But unlike GA, Search Console only collects insight from web search traffic. You can't modify any factors directly on GSC, except for submitting pages to Google index for examination.
By taking data generated in GSC, businesses can discover new opportunities for a rank increase and boost traffic performance.

ERP
ERP (Enterprise Resources Planning) is a powerful software system automating business processes in financials, supply chain, manufacturing, operations, reporting, and human resource.
It brings more internal controls to executives by revealing workplace insights drawn from a central database collected from every department.
Managers will gain a comprehensive performance view once the information is compiled, discover the operation weakness, analyze multiple scenarios, and open room for improvement and innovation.
Moreover, they receive real-time activities and situations, enabling the people in charge to respond quickly to external changes to leverage business outcomes.
Popular ERP Magento Integrations

CRM
A CRM (customer relationship management) system is a central database that gives cross-department accessibility. However, CRM focuses on the customer's most important external factor instead of internal control like ERP.
CRM helps businesses manage relationships with customers by collecting their information and on-site interactions.
Customers nowadays expect brands to be there for them as much as possible. With all of these data to analyze and follow-up events to manage, you can see why CRM is a much-needed tool for business.
Popular CRM Magento Integrations

Accounting Software
Online business owners face a massive amount of daily transactions, and if you don't handle it fast enough, you'll either lose customers or lose payments, which are all profits.
Everything about e-commerce accounting relates to collecting, analyzing, and organizing, reporting financial data surrounding every business transaction and asset. Accounting would comprise 3 core tasks: bookkeeping, reporting, and tax return submissions.
A proper accounting solution is handy, more accurate, and more productive to manage your finances.
Popular Accounting Magento Integrations

Progressive Web App (PWA)
PWA represents the modern web app technology that the core contribution belongs to Service Workers. Google gave it the title because PWA can create a progressively better on-site experience the more you interact.
E-commerce owns a voluminous amount of site data and requires a large capacity for multiple interactions to take place simultaneously.
That's why PWA comes as a solution to improve the user experience for a faster, smoother, lightweight, and more engaging buying journey.
A PWA improves loading speed instantly by the subsequent time a user clicks, reengages, and retains customers better with native apps' outstanding features, including home screen presence, full-page view, popup messages, and offline usage.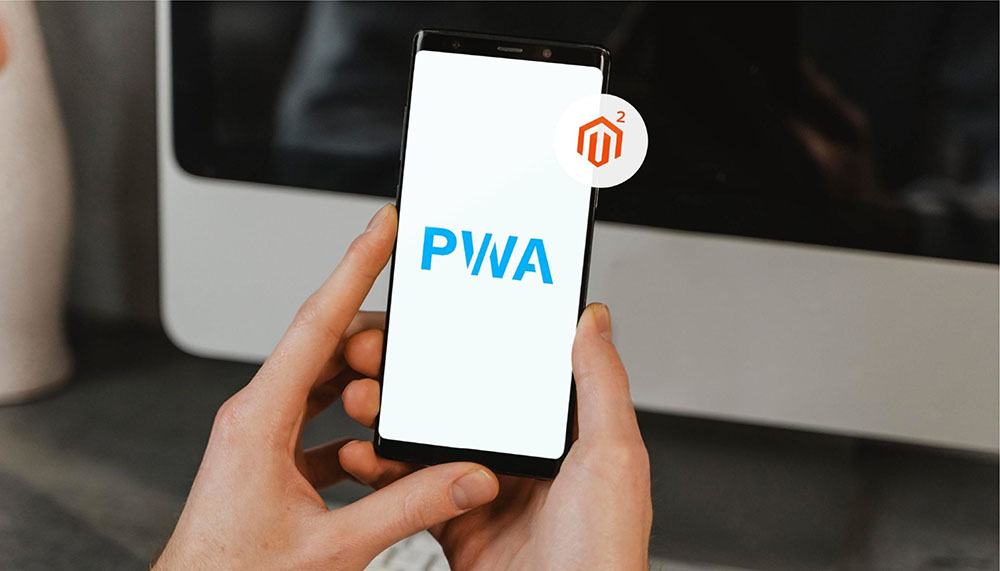 Marketplaces
Marketplace integration is to access any marketplace you've been using to transfer the database to the current e-commerce software. It's about tying any SaaS app to any market to handle the online store's retail activities.
Without this connection, your e-retail store cannot perform functions such as order and inventory management, marketing automation, WMS, ERP, repricing software, shipping management, etc.
You can connect with various marketplaces to sync, add, retrieve or delete any piece of data relating to customers, products, orders, or delivery details.
Popular Marketplace Magento Integrations

Marketing Automation
The integration of any marketing automation system allows it to connect, operate and sync with your Magento store. Marketing automation tools are all about much-needed features that tackle the core functions of the marketing process and turn it into a friendly ecosystem.
Most of these tools can easily be corporated into other platforms and programs and customized and utilized to create and maintain a successful marketing campaign or funnel.
Common marketing automation tools: all-in-one marketing automation, email marketing, social media, advertising, pricing, customer journey, loyalty, and referral marketing automation.
Live Chat
Live chat is a chatbot or one-on-one personal chat box that happens in real time, as you frequently see at the corner of the website, popping up to ask if you need support.
This helpful tool is getting more popular as visitors can quickly connect to staff and clear off any confusion along their journey on your site.
Popular Live Chat Magento Integrations

Review
Having opinions of previous buyers shown close to the purchase button allows customers to feel confident with their choices of products.
This would help increase the conversion rates, reduce the skepticism about the product or service effectiveness and turn to think that this offering may not be right for me, but it's still a good one because it did help other fellas.
On the flip side of the coin, it also benefits your business in knowing what the customers and prospects are thinking and discussing about your offering, thus making an effort for imminent improvement.
Popular Review Magento Integrations

POS
Point of sale refers to the moment when a complete transaction is made between the merchant and the cardholder, in online and offline stores.
The POS system collects all your sales, your customers, and inventory data so you can calculate and apply them to a successful marketing campaign that fosters increased potential leads to your store.
Integrating the POS system into your Magento site will help you sell more at the right time, keep you overselling through the real-time inventory data, and deliver cross-channel promotions and discounts while avoiding manual data entry.
Popular POS Magento Integrations

Where To Find The Reliable Agency For Magento Integrations?
Tigren is the leading Vietnam-based agency in e-commerce development. Over a decade of experience, we have helped numerous online small and medium businesses to increase their ROI and reach their goals.
How can we do that? There is nothing more than reliable and honest consultation advice, high-quality solutions handled by top-rated developers, quick time built, and a reasonable pricing strategy.
If you're thinking of any integration and have inquiries about it, like whether it will suit your business's type and size, feel free to send us an email to [email protected].
If you're wondering about which system providers to partner with for the long term, we can help you.
Or start by telling your request and issues, and we'll research the best ways possible to support you.